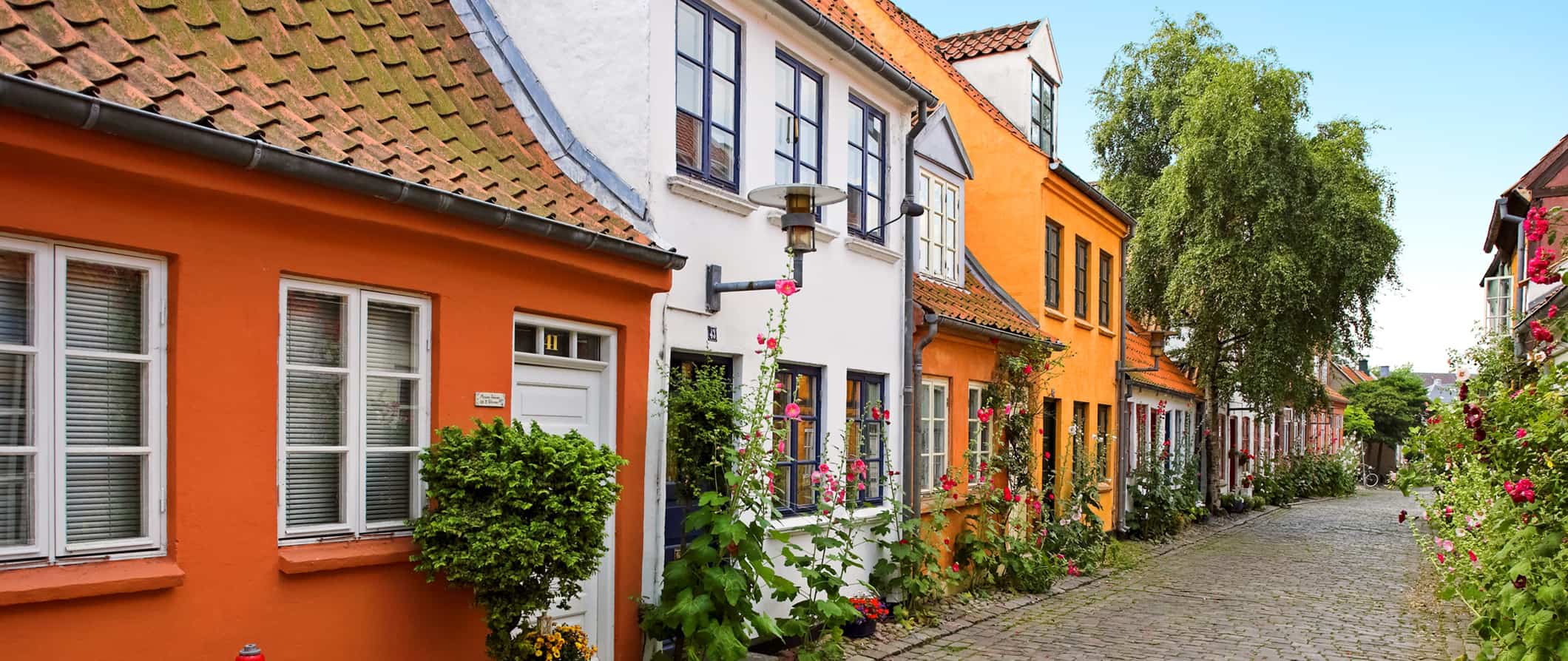 Aarhus is a university town located in Jutland, Denmark's western province. It's a very small town and there's not a lot to "do" here that would keep you here for days and days like Copenhagen does. However, I found that to be the strength of the town. It's quiet. There are a lot of parks to wander through (the one near the university is especially peaceful). There's a great music scene, and a lot of cheap food thanks to a thriving community of poor university students. Aarhus is a good calming contrast to busy Copenhagen.
Top 5 Things to See and Do in Aarhus
1. Aarhus Art Museum
Host to one of the world's oldest collections of Danish art dating back to 1750, this museum offers an awesome variety of paintings, sculptures, and drawings. Adult admission is 120 DKK, however the museum is only 90 DKK for anyone 18-28, and free for those under 18.
2. Dyrehaven
Known commonly as 'The Deer Park', this is an awesome place to catch a glimpse of fallow and sika deer, as well as wild pigs. A short stroll from downtown, this park is a wooded area that offers a peaceful afternoon amongst flora, fauna, and wildlife.
3. Den Gamle By
Den Gamle By refers to the "old town" — an aggregation of 75 historic buildings from the 16th to 20th centuries that serve as an open-air museum. Visit some of the shops and restaurants, especially the period-appropriate ones!
4. Legoland
A huge town built out of Legos…why not? Aarhus is where Lego originate and over 40 million Lego blocks are used within the park to display various scenes from around the world. You're never too old for Legos. If booked in advance, tickets are 280 DKK for children and 300 DKK for adults.
5. Aarhus Cathedral
This cathedral dates back to the end of the 12th century. It is both the longest and tallest of Denmark's cathedrals. The inside is very austere but creates a sense of calm and peace. I really love it.
Other Things to See and Do
(Click the title to expand the text)
1. Clausholm Castle
Built in the 1690's, this castle is one of the oldest Baroque estates in Denmark and features many unaltered rooms. I highly recommend taking a tour of this place. It's quite majestic. Admission to just the grounds is 50 DKK, while access to the park and the castle is 90 DKK.
2. Helsingor Teater
The oldest theater in Denmark features regular performances during the summer. Tickets start around 100 DKK for adults, and will increase in price the closer you get to the stage. There are discounts for students and anyone under 25, as well.
3. Bülow Duus Glassblowers
A glassblowing workshop and store, this place is an awesome sightseeing destination as well as a great place to purchase glasswork. Craftsman are set up blowing glass on huge kilns and are more than happy to make conversation and answer questions. Something different to check out.
4. The Aarhus Festival
Taking place between August 26th to September 4th, this festival is one of the largest cultural events in all of Scandinavia. An awesome showcase of both local, national, and international artists. Art and entertainment can be found in a huge array of bars, galleries, and shops, all over the city.
5. Catch a movie
The Aarhus Students' Film Society regularly screens movies, so if you're a film buff you'll want to check out their program. Tickets for non-members of the club are 60 DKK.
6. Tivoli Friheden
Designed to mimic the world-renowned Tivoli in Copenhagen, this is a popular amusement park surrounded by forest. Often featuring various art shows and concerts, you will also see clowns, various rides, restaurants, and an open air theater. There is always something going on here. Entrance to the park is 110 DKK, however if you want to ride the rides as well then your ticket will cost 235 DKK.
7. Take a mini-historical walk
Leading down from the Moesgaard Museum are some historical trails that head toward the beach. Check out the reconstructed Viking homes, relics and runes.
8. Take a guided bike tour
Guided bicycle tours are available around the city, usually costing between 75-200 DKK. They generally last 2-3 hours and are a great way to experience the city.
Typical Costs
Hostel prices
– Hostel dorms begin at 200 DKK per night. Private rooms with double occupancy are around 1,050 DKK. The quality of hostels is nice, but there aren't many around. Since there's only a handful of hostels in Aarhus, if you plan on staying at a hostel, be sure to book early! my suggested place is:
Budget hotel prices – You can expect to pay at least 600 DKK for a twin/double room, though there are not a lot of budget options in the city so book in advance if you can. The budget hotels in the city are rather basic, so don't expect anything fancy. You'll likely have better luck with Airbnb. Shared rooms (i.e., a couch) through Airbnb average 220 DKK per night, while an entire apartment/home will cost you around 510 DKK. If you are traveling in a pair or group, Airbnb is your better budget option.
Average cost of food – If you are going to eat out in a restaurant, be prepared to pay around 60-95 DKK for a cheap meal while groceries will cost around 320 DKK per week. Because this is a college town, there are a lot of cheap food options. With so much competition, this is one of the better places to eat out as prices will be lower than in Copenhagen and you'll have just as much variety. Avoid the restaurants by the canal in the center of town — they are expensive and cater towards tourists and businessmen. Expect to pay around 40 DKK for a beer when eating out, though if you buy your own you can cut that price in half. A fast food meal (think McDonald's) goes for around 70 DKK.
Transportation costs – Train travel across Denmark (Jutland to Copenhagen) costs around 550 DKK. Local trains and buses cost between 20-40 DKK depending on how many zones you cross. The city, being on the smaller side, is easy to explore on foot. Bike rentals, including free bikes, are available too so you have absolutely no need to waste your money on a taxi. The public transportation covers all major areas and destinations, too.
Suggested daily budget
350-425 DKK / 50-60 USD (Note: This is a suggested budget assuming you're staying in a hostel, eating out a little, cooking most of your meals, and using local transportation. Using the budget tips below, you can always lower this number. However, if you stay in fancier accommodation or eat out more often, expect this to be higher!)
Money Saving Tips
Use a hospitality exchange network – There is not a lot of budget accommodation in Aarhus. It's a small town filled with college students. The best way to save a lot of money here is to stay with a local for free by using a site like Couchsurfing.
Get a city pass – If you plan to do a lot of sightseeing and visit a lot of attractions then I highly recommend you get one of the city passes that offer discounts and free admission to museums and attractions. It comes with free public transportation and free admission to most of attractions and activities in the area.
Buy your own groceries – In a university town you'll want to live like a student in order to save money, and that means cooking for yourself. Budget grocers like Netto and Lidl are great places to stock up on cheap eats.
Bring a refillable water bottle – The tap water in Denmark, as in all of Scandinavia, is perfectly drinkable. In fact, tap water in Denmark is often cleaner than bottled water! Bring a refillable water and save your money — and the environment!
Take a free walking tour – There are several free walking tours available in the city, including tours focusing on the history, architecture, and art. This is a great way to introduce yourself to the area while exploring the city on foot. Tours typically last a couple hours. I like Aarhus Free Walking Tours a lot.
Rent a free city bike – Free city bikes are available around the city, and they are a great way to explore and get around. All you need to do is insert a 20 DKK coin, which you get back upon returning the bike. Guided bicycle tours are also available around the city, usually costing between 75-200 DKK.
Camp – There are a couple camp sites near the city which can save you money if you're on a budget and long for the outdoors. Blommehaven Camping, in Marselisborg Forest is just 5 km south of the city. center. Another options is Aarhus Camping, which is a few kilometers north of the city.
My Must Have Guides For Traveling to Denmark