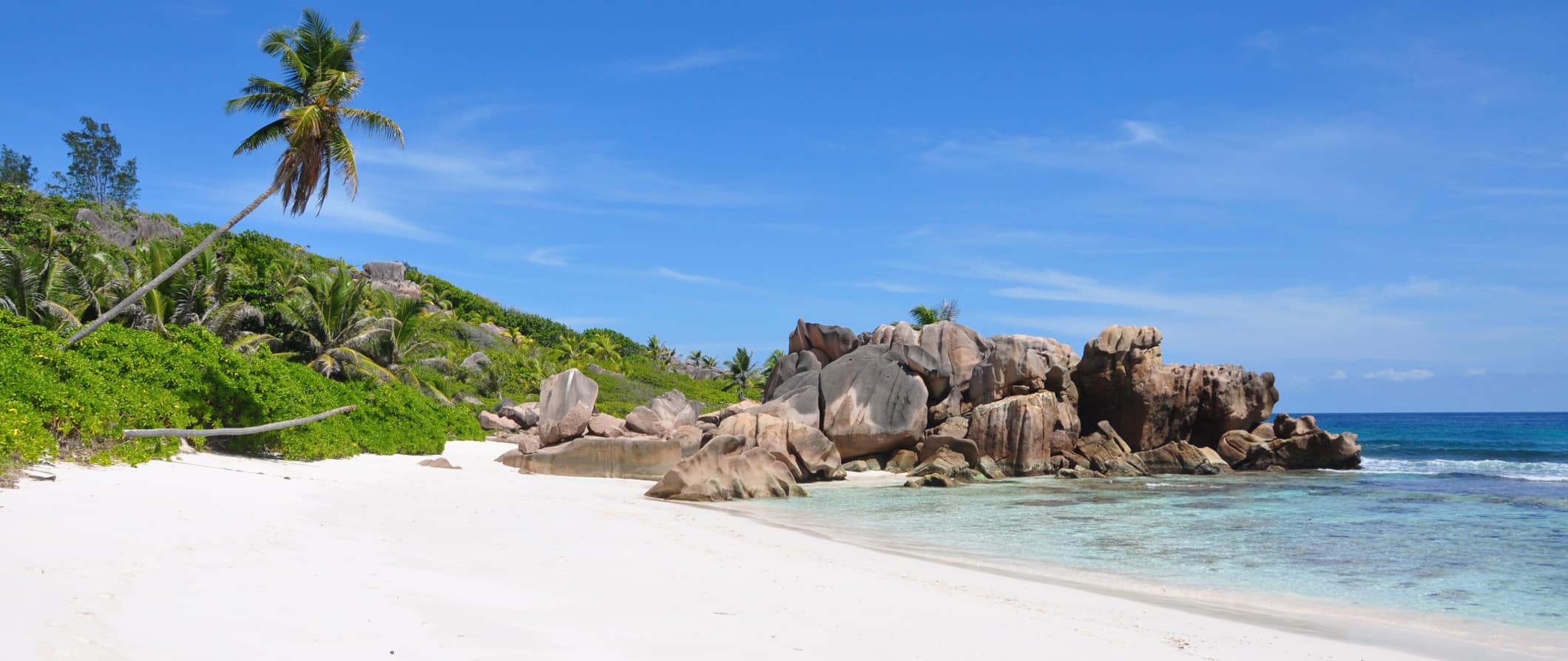 When I think of what heaven would look like, I think of Seychelles. I mean, look at that picture above! It just doesn't look real. But it is and that's what makes me salivate every time I think of these beautiful islands located off the east coast of Africa.
Seychelles is composed of 115 islands, many of which are uninhabited. The main islands can be found over 2,000 kilometers off the east coast of Kenya. It's an amazing place to visit for its diverse marine life and it several nature preserves and marine parks, two of which are UNESCO World Heritage Sites.
Unfortunately, isolation and a pristine environment come with a price, and a visit to Seychelles isn't cheap. This is not a budget destination. Seychelles is a country that caters to honeymooners, celebrities, and high-end tourists. It's a place you visit to indulge.
Fortunately, in recent years, a few budget options have appeared but, for the most part, you're going to find this a place hard on your wallet.
This travel guide to Seychelles can help you plan your trip and show you how to visit without breaking the bank!
Top 5 Things to See and Do in the Seychelles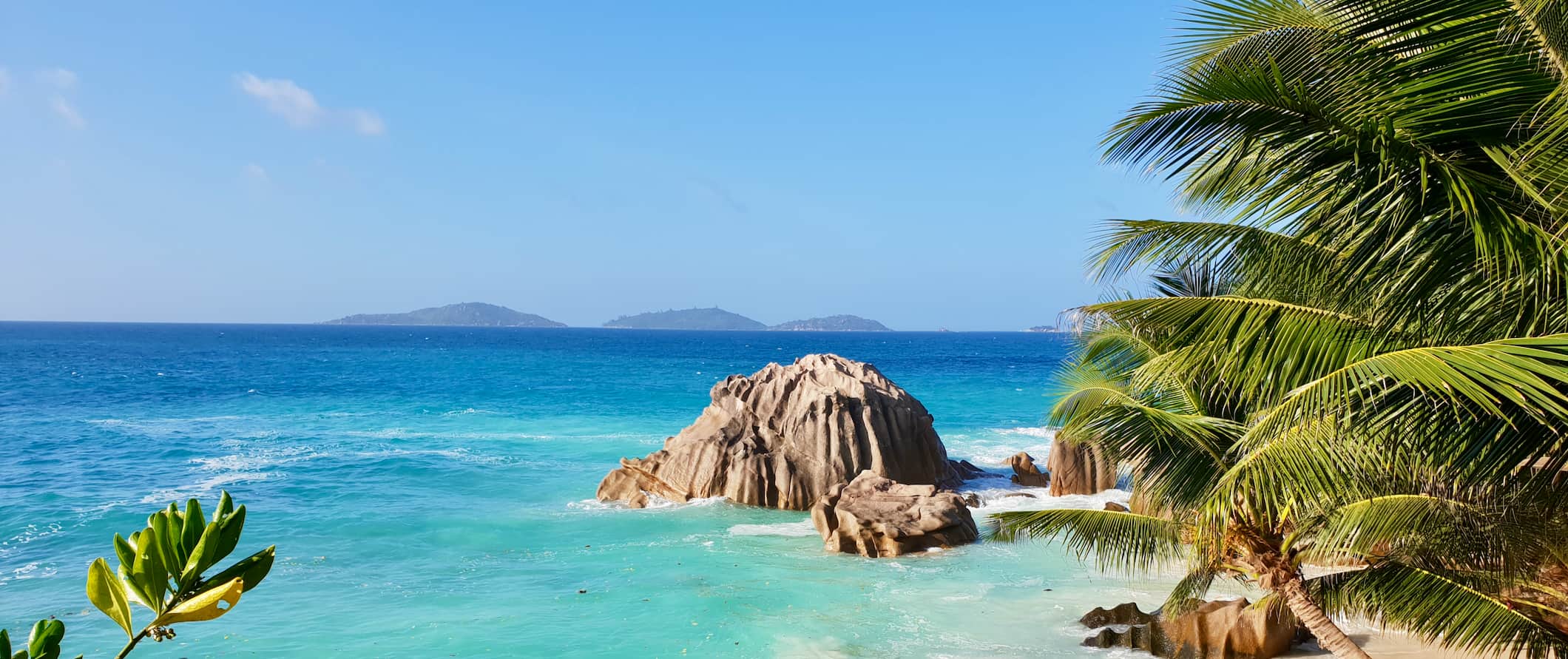 1. Relax on the beach
The beaches here are uncrowded, untouched, and void of any structures. They are beach heaven. The water is clear and warm so it's always a great place to go swimming or snorkeling. Don't miss Anse Source d'Argent, Anse Lazio, and Beau Vallon beaches.
2. Explore Vallee de Mai
This is a national park and UNESCO World Heritage Site on Praslin. It is home to a stunning array of flora and fauna, including the rare Coco de Mer (sea coconut), which can only be found in two places in the world. You can also see several varieties of latanier palms and screw pine.
3. Climb Morne Blanc
Located in Morne Seychellois National Park, this is a fun and challenging hike that takes you through tea plantations all the way to a panoramic view spot above the island. Visit in the morning to beat the clouds. It takes just under an hour to climb.
4. Visit Aldabra Atoll
This UNESCO Site is one of the largest raised coral atolls in the world and is made up of four coral islands with a shallow lagoon in the middle and a coral reef surrounding it. It's considered the original habitat of the giant land tortoise too (there are 125,000 of them here).
5. Enjoy the food
Seafood, coconut, and curry are among some of the main staples on which you can feast. Coco Rogue is considered a 'secret spot' by locals and offers some of the best food around. Bonbon Plume is another popular place to go if you want to sample the tasty local fare.
Other Things to See and Do in Seychelles
1. Get active
After lounging on the beach, spend some time enjoying the island's recreational activities. Golf, squash, snorkeling, kayaking, badminton, paddle-boarding, tennis, and hiking are all readily available and affordable – in fact, it is included in most hotels. Kayak and SUP tours start at 640 SCR per day while you can go on a snorkeling trip for around 400 SCR per day. Bring your own snorkeling gear if you want to save money (rentals and tours add up fast).
2. Explore Cousin Island
Just over a mile southwest of Praslin, Cousin Island is a protected nature reserve (the native bird population here exceeds 300,000!). Opened in 1968 specifically to preserve the bird populations, here you can walk through the thick forest and check out all the different bird species. Keep your eyes peeled for the endangered Seychelles Magpie Robin. Admission is 600 SCR per person.
3. Hike Nid d'Aigle
The highest point on La Digue, this hike is a fantastic way to spend a day. The sweeping views of La Digue and of the neighboring islands are magnificent. It's a 4-kilometer (2.5-mile) hike with 333 meters (1,092 feet) of elevation. Most people complete the hike in 1.5-2 hours. Remember to pack plenty of snacks, sunscreen, and water. Aim to hike in the morning before it gets too hot.
4. Visit L'Union Estate Farm
Back when coconut farming was the main industry on La Digue, this was the center of production. Just south of La Passe, the estate is now a national heritage site and is run as a sort of informal museum/theme park. There are some demonstrations involving how the coconuts were harvested and you can explore the Old Plantation House, the colonial-era graveyard, and the boatyard. There are even a pen housing giant tortoises. Admission is 100 SCR per person.
5. Search for the Veuve Bird
La Digue is home to the Veuve Nature Reserve, which was set up specifically to protect the Veuve (the black paradise flycatcher). It's a small purple and black bird that's endemic to the island and critically endangered. There are less than 300 left in Seychelles as habitat loss has destroyed their traditional ecosystem. You can arrange guided tours which are guaranteed to find the bird. Admission is 150 SCR and 200 SCR with a guide.
6. Check out the Natural History Museum
If the weather is less than perfect, take a break from the beaches and visit the Natural History Museum in Victoria (on Mahé). It's small but worth a stop if you'd like to learn about the island's wildlife and geology. The museum highlights all the flora and fauna on the island and there are also exhibitions on the island's military and militia. The museum also focuses on the environmental issues and natural disasters that threaten the nation's future. (Currently closed for renovations).
7. Wander the Botanical Gardens
Also in Victoria, the Seychelles National Botanical Gardens offers a deeper look at local flora and fauna, with the infamous coco de mer palms as one of the highlights. Spanning 14 acres, the gardens are over a century old and home to fruit bats and giant tortoises (some of which are over 150 years old). Don't miss the orchid house — it's beautiful! Admission is 100 SCR.
8. Go diving
There are plenty of incredible sites to dive in Seychelles, including the Ennerdale wreck, Shark Bank, Dredger Wreck, Fisherman's Cove Reef, and Marianne Island. If you visit during the monsoon season (May-September) you can see whale sharks. There are plenty of sharks and mantas here all year round too. A single-tank dive costs from 785 SCR.
9. Learn to surf
While you can find decent waves here all year round, April-September is when they're at their best. Group surf classes last 3-4 hours and cost 2,000-3,000 SCR per person depending on experience level. A private lesson costs around 3,900 SCR. Carana Beach is a good choice for new surfers, while Anse Bougainville, North East Point, Misfit Baya, and Anse Royale are good options for more experienced surfers.
10. Wander around one of the bazaars
Wandering around a bazaar is a great way to soak up the local ambiance and interact with the locals who live here. The bazaar Victoria, on the road to the New Port, has stalls selling souvenirs, jewelry, and t-shirts as well as local Creole food, drink, and music. Bazaar Oven is held on Sundays at Roche Copra in Baie Lazare and offers a taste of the Seychellois Creole way of life with food, drink, snacks, and music. The bazaar Labrin at Beau Vallon beach is one of Seychelles' most popular bazaars for locals and tourists alike. It's on every Wednesday (afternoon onwards) and has vendors selling lots of local goods and homemade foods. They also do the traditional "moutia" dance next to the fire. Only open for national festivities, bazaar Au Cap is another popular one and is a great opportunity to taste "Kalou," a locally made palm wine.
11. Eat street food
Seychelles has a wonderful Creole history which makes up the basis of the local food. They have some delicious fish and curries (even fruit bat curry for the more adventurous!) for main courses; banana, cassava, and breadfruit chips for snacks; and papaya salads, and banana and coconut cake to name a few desserts. You can find places offering takeaway food along many of the more popular beaches and in the towns. Enjoying sunset while eating at bazaar Labrin on Beau Vallon beach is a must.
Seychelles Travel Costs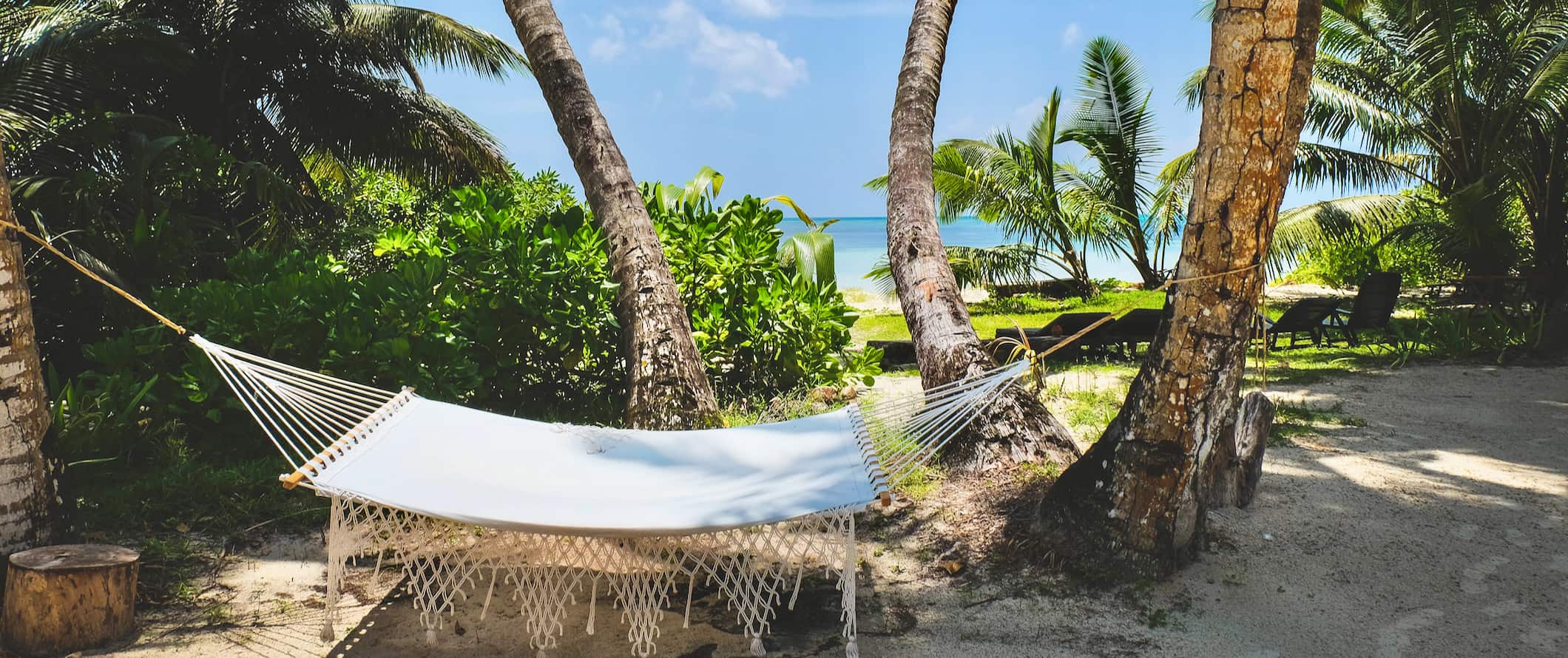 Accommodation – There are no hostels in Seychelles so budget travelers have to find cheap guesthouses instead. The most budget-friendly guesthouses usually cost around 1,000 SCR per night. They often include self-catering facilities and free Wi-Fi.
Airbnb is available on the islands with private rooms starting at 1,400 SCR if you book early, however, 2,500 SCR is more common. For an entire home or apartment, prices start at 1,615 SCR per night but average closer to 3,000 SCR.
Wild camping is prohibited and there are currently no campgrounds on the islands.
If you're looking to splash out, there are tons of upscale resorts and international chain hotels here starting at 4,500 SCR per night.
Food – Seychellois cuisine, unsurprisingly, is heavily based on fish and shellfish. Rice is another common staple, with seafood curries being a popular local favorite. Coconuts and fresh fruits (especially mangoes) are available everywhere. Spinach soup, ladob (a sweet plantain/sweet potato dessert), and lentil dhal are other popular dishes.
Eating out at restaurants is pricey, with traditional cuisine costing around 290 SCR for a main dish. Expect to pay double that for a three-course meal in a mid-range restaurant.
If you stick to small restaurants and beach shacks that serve traditional cuisine and only do take-out, you can find meals for around 50-90 SCR. There aren't really any fast food places here aside from pizzerias. Expect to pay around 130 SCR for a pizza. You can find Indian food around the islands as well, with a main dish costing around 175 SCR.
Both beer and lattes/cappuccinos cost around 70-85 SCR. Bottled water is 24 SCR.
If you are planning to cook your own meals, expect to spend around 1,000 SCR per week on groceries. Most food must be imported but you can find basic foodstuffs like chicken, vegetables, fruit, and rice pretty cheaply.
If you're cooking your own meals, be sure to check out the Anise Royal Market or the Sir Selwyn Selwyn-Clarke Market. They're daily farmers' markets where you can fresh (and affordable) local produce.
Backpacking Seychelles Suggested Budgets
On a backpacker budget of 2,000 SCR per day, you can stay in a cheap guesthouse, cook all of your meals, use public transportation to get around, limit your drinking, and do cheap or free activities like swimming and snorkeling. You'll need to pick one island and stay on it too since island-hopping gets expensive.
On a mid-range budget of 4,100 SCR per day, you can stay in a private Airbnb, eat out for most of your meals, take some taxis to get around, enjoy a few drinks, and do some paid activities like kayaking or diving. You can also do some island hopping on this budget too.
On a "luxury" budget of 7,900 SCR or more per day, you can stay in a hotel, take domestic flights between islands, eat out for all your meals, hire private drivers or rent a car, and do as many excursions as you want. This is just the ground floor for luxury though. The sky is the limit!
Accommodation
Food
Transportation
Attractions
Average Daily Cost
Backpacker
1,000
450
275
275
2,000
Mid-Range
2,200
1,000
500
400
4,100
Luxury
3,900
1,400
1,600
1,000
7,900
Seychelles Travel Guide: Money-Saving Tips
Saving money in Seychelles is difficult. It's not a destination for budget travel and most people don't come here wanting to save money. It's a luxury destination, after all! But there are a few things you can do so here are a few tips to help you save money in Seychelles:
Find cheap flights – Save money on your flight by being flexible and using deal websites like Holiday Pirates, Scott's Cheap Flights, and The Flight Deal. They often have great last-minute fares and package deals to the islands.
Stick to cheap guesthouses that include breakfast – Airbnb and Booking.com both have a few affordable options. Look for places that include breakfast or have kitchens to help keep the cost of food down.
Use hotel points – Since there are a lot of international chains here, you can use hotel points for free accommodation. This will cut your costs drasticallyt. For how to get those points, check out this beginners guide to travel hacking.
Eat take out – If you want to eat out, stick to ordering take-out as dine-in restaurants are pricey.
Avoid taxis – Taxis are super expensive here. Take the bus, rent a bike, or walk. You'll save a fortune.
Travel slow – Flights and ferries between islands aren't cheap. Travel slowly to spread your costs out (or just stick to one island). Regular ferries and flights will destroy your hopes of staying on budget.
Bring a reusable water bottle – The tap water here is heavily chlorinated so having a water bottle with a filter helps make sure your water is safe, clean, and doesn't taste funny. LifeStraw makes reusable bottles that ensure your water is always clean and safe.
Where to Stay in Seychelles
There are no hostels here so you need to stay at budget-friendly guesthouses if you want cheap accommodation. Here are a few suggestions:
How to Get Around Seychelles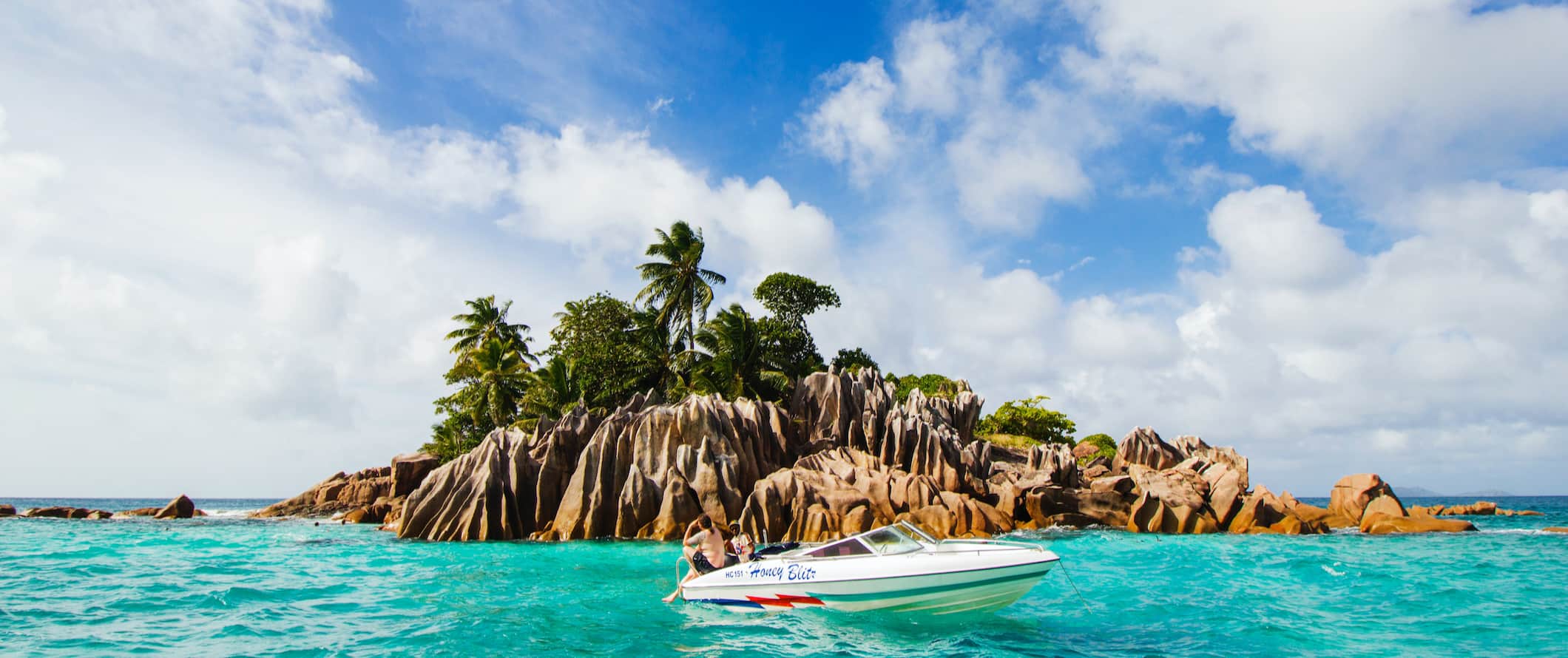 Bus – Public buses are available on the two main islands: Mahé and Praslin. You can reach pretty much anywhere on the islands via bus, though you may need to change buses. Fares range from 5-10 SCR.
Ferry – There is only one ferry provider serving each of the main routes between the three major islands so you're stuck paying whatever Cat Cocos (between Mahé and Praslin) and Cat Rose (between Praslin and La Digue) charge for the tickets.
Ferries between Mahé and Praslin cost around 800 SCR and around 250 SCR between Praslin and La Digue.
Air – Flying around the islands isn't cheap. Most domestic one-way flights cost at least 2,500 SCR. If you're on a budget, avoid flying. The ferries will be much cheaper.
Car Rental – Car rentals start at 650 SCR per day for a multi-day rental. You don't need an International Driving Permit (IDP) here as long as you have a valid license. Drivers need to be at least 23 years of age.
Hitchhiking – Hitchhiking here is relatively easy here as the people are friendly and usually happy to help someone out. You have to wait longer in the more rural regions so make sure you're not in a hurry. Hitchwiki, the world's best resource for hitchhiking, doesn't have any information on Seychelles currently but check the website often as that may change.
When to Go to Seychelles
The best time to visit Seychelles is between April-May and September-October. The islands are less windy during this time and perfect for watersports and lounging on the beach. Temperatures hover around 30°C (86°F) all year round, though it's often breezy so it doesn't get too humid.
Since different trade winds affect the island at different times of the year, certain islands are better than others depending on which winds are blowing. May-November is less windy on the west side of the islands while the rest of the year is less windy on the eastern coasts.
From January-March, you can also see the baby turtle hatching and making their way out to sea. They start nesting and laying eggs in October, making this a popular time to visit.
How to Stay Safe in Seychelles
Seychelles is a relatively safe place to visit and travelers needn't worry about crime here. Petty theft is going to be your biggest worry but even that is super rare. As a general precaution, always keep your valuables secure and out of reach. Don't leave your valuables unattended when eating out or at the beach.
Solo female travelers should feel safe here, though the standard precautions apply (don't leave your drink unattended at the bar, don't walk home alone at night intoxicated, etc.).
If renting a car, be aware that many roads are narrow and winding. Coastal roads often don't have barriers so drive cautiously. And if you rent a vehicle, don't leave any valuables in it overnight. Break-ins are rare but it's better to be safe than sorry.
When swimming, check the conditions before getting in the water to avoid riptides. Dangerous rip can occur off the Beau Vallon beach (among others) when the waters are rough.
Scams here are rare, but if you're worried about getting ripped off you can read about common travel scams to avoid here.
If you experience an emergency, dial 112 for assistance.
Always trust your gut instinct. Avoid isolated areas at night, and be aware of your surroundings at all times. Make copies of your personal documents, including your passport and ID, before you leave on your trip.
If you wouldn't do it at home, don't do it in Seychelles!
The most important piece of advice I can offer is to purchase good travel insurance. Travel insurance protects you against illness, injury, theft, and cancellations. It's comprehensive protection in case anything goes wrong. I never go on a trip without it as I've had to use it many times in the past.
Seychelles Travel Guide: The Best Booking Resources
These are my favorite companies to use when I travel. They consistently have the best deals, offer world-class customer service and great value, and overall, are better than their competitors. They are the companies I use the most and are always the starting point in my search for travel deals.
Skyscanner – Skyscanner is my favorite flight search engine. They search small websites and budget airlines that larger search sites tend to miss. They are hands down the number one place to start.
Hostelworld – This is the best hostel accommodation site out there with the largest inventory, best search interface, and widest availability.
Booking.com – The best all around booking site that constantly provides the cheapest and lowest rates. They have the widest selection of budget accommodation. In all my tests, they've always had the cheapest rates out of all the booking websites.
Get Your Guide – Get Your Guide is a huge online marketplace for tours and excursions. They have tons of tour options available in cities all around the world, including everything from cooking classes, walking tours, street art lessons, and more!
SafetyWing – Safety Wing offers convenient and affordable plans tailored to digital nomads and long-term travelers. They have cheap monthly plans, great customer service, and an easy-to-use claims process that makes it perfect for those on the road.
LifeStraw – My go-to company for reusable water bottles with built-in filters so you can ensure your drinking water is always clean and safe.
Unbound Merino – They make lightweight, durable, easy-to-clean travel clothing.
Top Travel Credit Cards – Points are the best way to cut down travel expenses. Here's my favorite point earning credit cards so you can get free travel!
Seychelles Travel Guide: Related Articles
Want more info? Check out all the articles I've written on backpacking/traveling Africa and continue planning your trip: