When I think of what heaven would look like, I think of the Seychelles. I mean, look at that picture above! It just doesn't look real. But it is and that's what makes me salivate every time I think of these beautiful islands located off the east coast of Africa. Unfortunately, isolation and a pristine environment come with a price, and a trip to the Seychelles will cost you mega amounts of money. This is not a budget destination whatsoever. Seychelles is a country that caters to honeymooners, celebrities, and high-end tourists. There are few ways to save money on the island (thank you Airbnb!) but, for the most part, you're going to find this a place hard on your wallet. That being said, paradise is worth the price!
Top 5 Things to See and Do in Seychelles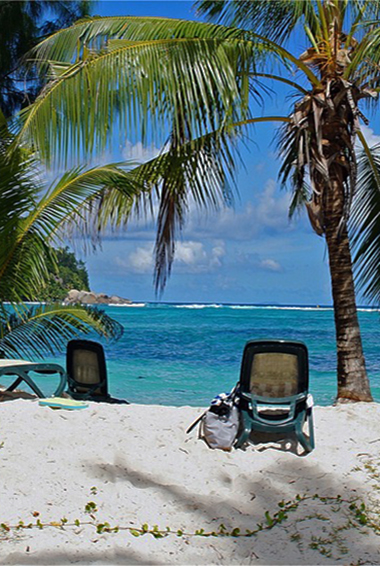 1. Relax on the beach
The beaches here are uncrowded, untouched, and void of any structures. They are beach heaven. The water is clear and bathtub-warm, so it's always a great place to go swimming or snorkeling. The hike from Beau Vallon, along the coastline to Anse Major is awesome.
2. Explore Vallee de Mai
This is a national park and world heritage site. It is home to a stunning array of flora and fauna, as well as the world's largest seed, the Coco de Mer. This is one of two places in the world where the seed can be found. You can also see several varieties of latanier palms and screw pine. Adult entry is 305 SCR, while children under 12 enter free.
3. Climb Morne Blanc
Located in Morne Seychellois National Park, this is a great (and challenging) hike that will take you through tea plantations all the way to a panoramic view spot above the island. If you're looking for a rewarding workout, this is it!
4. Visit Aldabra Atoll
Stretching at over 20 miles in length, this is one of the largest raised coral atolls in the world. At the western end, there is a massive tidal lagoon, which is home to manta rays, tiger sharks, and thousands of seabirds. Aldabra is also considered the original habitat of the giant land tortoise.
5. Dine
The food in Seychelles is delicious, and you will find an abundance of food here. Seafood, coconut, and curry are among some of the main ingredients on which you will feast. Coco Rogue is considered a 'secret spot' by locals and offers some of the best food around. Bonbon Plume, Tante Mimi, and Café Ognibar are also popular places to go.
Other Things to See and Do
(Click the title to expand the text)
1. Get sporty
There is plenty to do in terms of recreational activities. Golf, squash, badminton, tennis, biking, and hiking are all great ways to spend the day if you are tired of the beach. It is pretty cheap to rent a bike for a day and ride around the islands. There are also plenty of centers where you can rent sports equipment as well.
2. Nature Seychelles
Just over a mile southwest of Praslin, on Cousin Island, lies this great little reserve. There is a bird population here that exceeds 300,000 on an island that is less than a mile in diameter. It's awesome to walk through the thick forest here and check out all the different species. Admission is 500 SCR per person.
3. Hike Nid d' Aiglo
The highest point on La Digue, this hike is a great way to spend a day. The views of La Digue and of the neighboring islands are so magnificent, it is almost surreal. Remember to pack plenty of snacks and water.
4. Visit L'Union Estate
Back when coconut farming was the main industry on La Digue, this was the center of production. Just south of La Passe, this estate is now run as a sort of informal 'theme park.' There are some interesting demonstrations to see and you can explore the Old Plantation House, the colonial-era graveyard, and the boatyard. There's even a pen housing giant tortoises. Admission is 100 SCR per person.
5. Search for the Veuve Bird
La Digue is home to a wildlife reserve which was set up to protect the Veuve, AKA the black paradise flycatcher. There are under 20 pairs of birds in the reserve, but you can arrange guided tours which are supposed to guarantee a bird sighting.
6. Check out the Natural History Museum
If the weather is less than perfect (unlikely), you may want to get a break from the beaches and do something more educational. The Natural History Museum in Victoria is very small, but worth a stop if you'd like to learn a thing or to about the island wildlife. Entry is 15 SCR for foreign adults, and 2 SCR for students and children.
7. Wander the Botanical Gardens
Also in Victoria, the Botanical Gardens give you a deeper look at local flora and fauna, with the infamous coco de mer palms as one of the highlights. You may also see some animals, such as fruit bats or giant tortoises. Admission is 100 SCR per person.
8. Cycle the island
This is a great way to see the sights and explore La Digue, and it's also the most economical way to get around. Rentals cost around 140 SCR per day.
9. Go diving
There are plenty of incredible sites to dive in the Seychelles. The visibility is great, and there is plenty of wildlife to see. A single-tank dive will cost around 800 SCR, while and Open Water certification course will cost close to 6,000 SCR.
10. See whale sharks
Seychelles is one of the best places in the world to see these magnificent creatures, so dont pass up the opportunity if you are there between October-November.