Never let money stop your travels again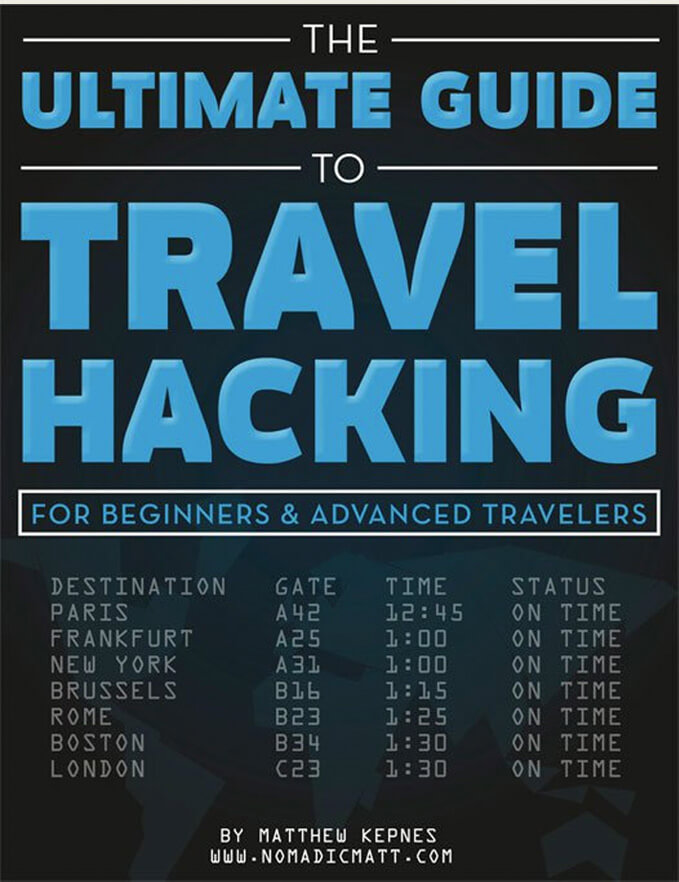 Do you consider yourself someone who is committed to making your dreams a reality?
People think travel is too expensive to do often – because most people aren't like you and aren't committed to making their dreams happen. Most people don't take action. If you are looking to make your travel dream a reality and want to take action, I want to share the #1 thing I — and every other travel expert I know — does to spend less and travel more. We travel hack. Travel hacking is the art of collecting frequent flier points and miles to get free flights, hotels, tours, and more.
But more than that, it will allow you to have those once-in-a-lifetime experiences: the over-water bungalows in Tahiti, the first-class flight with a shower, the African safari, the visit to the Galápagos Islands, or that dream trip to the French Riveria.
Travel hacking makes these experiences possible.
And it's something you can do too — starting today!
The Secret to Traveling for Free
When I was growing up in Boston, travel wasn't something my family or friends valued. I didn't take my first trip overseas until I was 23. I went to Costa Rica and became hooked on traveling.
And like you, I didn't win the lottery or have an unlimited trust fund. I wasn't rich. I had to figure out how to travel on a limited budget. I worked, saved, and had to find ways to make my money last. And I did so by figuring out how frequent flier miles and loyalty programs worked so I can get free flights, hotel rooms, train tickets, and cash back.
I've been travel-hacking for close to a decade – and it is the linchpin of all my money-saving advice. It helps me save tens of thousands of dollars on flights, accommodation, and transportation every year.
I don't spend extra money, take special trips to earn more points, or get into debt. I do this with my normal, everyday spending.
Travel hacking is the solution to the money problem of travel – and I'm going to show you how to do what I do.
My travel advice has been featured in
How Others Travel-Hacked Their Way to FREE Travel
DEFINITELY WORTH THE LOW COST!
Michael: "I bought the guide a few months ago and was able to book a one-way flight from New York to Saint Petersburg for 30,000 miles and $5.60! Matt lays out a great plan on finding the best card for you, how to use it to its full advantage, and quickly building up air miles. The easy explanations and layout take a potentially complicated topic and makes it easy to understand. I would gladly recommend it to anyone with the slightest desire to travel!"
EARNED ENOUGH FOR TWO FIRST-CLASS FLIGHTS
Rusty: "Matt's guide has unlocked a whole new way to travel. His book was an eye-opener — it explained the concept and language of travel hacking in a way that is easy to read and understand. Since buying his book six months ago, I have accumulated nearly 300,000 points. Now, I'm repeating the steps for my wife so we can have double the miles for our future trips!"
THIS SKEPTIC BECAME A BELIEVER
Lisa: "I always thought credit cards were bad, but after reading this book, I realized that they can actually work for you, not against you! After following Matt's advice, I now have two free airline tickets to the US Virgin Islands and I am asking myself, why didn't I start doing this years ago?! If you are dreaming of traveling more, this book is a must-read. I used to be a real skeptic, but I see that it really does work and it doesn't ruin your credit!!!"
TOOK A $25K TRIP TO AUSTRALIA FOR FREE
Tonia: "I was already dabbling in travel hacking, but this book contained ideas that I hadn't thought about. Matt's book helped me get two first-class tickets to Australia and 10 nights in hotels for free for my 40th birthday. My husband and I honestly thought we would have to wait until we were retired to be able to afford this trip, but because of Matt's advice, we will travel there for free. I honestly don't think it gets any better than that!"

GOT A DREAM TRIP TO SOUTH AMERICA FOR FREE
Esteban: "I always thought all the frequent-flyer miles stuff was all a big scam, but after reading this book, I see that is definitely not a scam at all. I've already gotten a few free hotel stays…something I never thought was possible before. With Matt's tips, I've earned enough miles to fly to South America for a three-month trip with my wife! It made this dream trip more affordable and allowed us to have more money for when we arrive!"

EARNED ENOUGH MILES FOR AN RTW TRIP
Matt: "I purchased Nomadic Matt's The Ultimate Guide to Travel Hacking to help ease the financial struggles of a trip around the world. Within four months, I had accumulated 308,682 miles that I can use to lower the costs of flights and accommodation! The guide served as the perfect template to get started, and honestly, if you don't buy this book, you're saying no to free money. I don't need as much money to travel as I thought!"
SAW HER CREDIT SCORE IMPROVE
Carrie: "I bought this book because wanted a more in-depth guide to travel hacking than what you can find online. By following Matt's tips, I earned 100,000 miles within the first couple months. This book broke down the overwhelming world of travel hacking into an easy-to-follow format. I've saved thousands of dollars so far and seen my credit score rise to over 800, and I get to take more trips over the next year than I have in the last ten without altering my normal spending habits."
EARNED MILES FOR HIS ROUND-THE-WORLD TRIP
A.T.: "I'm preparing for an extended round-the-world backpacking trip. With about a year before I depart, I thought the book would be helpful to give some new insight into an alternative way to get tickets. I am currently sitting at 80,000 miles between two different cards, and am working on another 70,000 on two more — and this is just in three months!"
GOT A FREE TRIP TO THAILAND!
Jennifer: "Matt's book was an eye-opener for us. We'd been slogging along, getting 1 point for $1 spent on an airline credit card, and we aren't big spenders, so it seemed like getting enough miles for a trip would take forever. Well, three months after getting the book and using the techniques mentioned, we are planning a trip to Thailand with a free stopover in Tokyo! Thank you, Matt!"
ON HER WAY TO VISITING HER DREAM CONTINENT
Cindy: "Matt's travel-hacking book was a great purchase. It was really informative and covered a lot of different aspects of travel hacking that we were not even aware of or thinking about. Matt explains everything very well and makes it really easy for readers to understand. Thanks to Matt's book, we are on our way to getting a free flight to South America!"
introducing:
The Ultimate Guide to Travel Hacking
Powerful Time-Tested Advice That Really Works
Right now, you want to travel more but you don't have the money for the flights or accommodation or other costs. Maybe it's a solo trip around the world, a family vacation, honeymoon, or quick trip to see your parents. Travel hacking will help you get there. Like you, I was skeptical and thought:
"This sounds too good to be true."
"This sounds too complicated and time-consuming."
"This sounds like you have to spend a lot of extra money."
It wasn't until I was sitting on the first free flight I earned through my regular, everyday spending that I realized this was real.
I know travel hacking may seem confusing — all those reward programs, redemptions rules, flight alliances, credit card bonuses, and promotions. It can seem overwhelming and time consuming to figure out. Too many people look at this and think, "I don't know where to start — so I won't start."
This book is your starting point. There are a lot of travel-hacking websites, but no resource lays it out in such an easy-to-follow, step-by-step format.
what you'll learn
HOW TO SPOT AND GET THE BEST EARNING CARDS
HOW TO MASTER THE INS AND OUTS OF LOYALTY PROGRAMS
HOW TO MAXIMIZE YOUR EVERYDAY SPENDING FOR BONUS POINTS
THE SECRET ART OF EARNING POINTS FOR FREE
HOW TO ALWAYS FIND AN AWARD FLIGHT OR HOTEL ROOM
WHERE TO DISCOVER THE BEST TRAVEL DEALS
THE TOOLS AND RESOURCES TRAVELERS USE TO UNLOCK SECRET FARES AND DEALS
PLUS: RESOURCES AND STEP-BY-STEP CHEAT SHEETS
START TODAY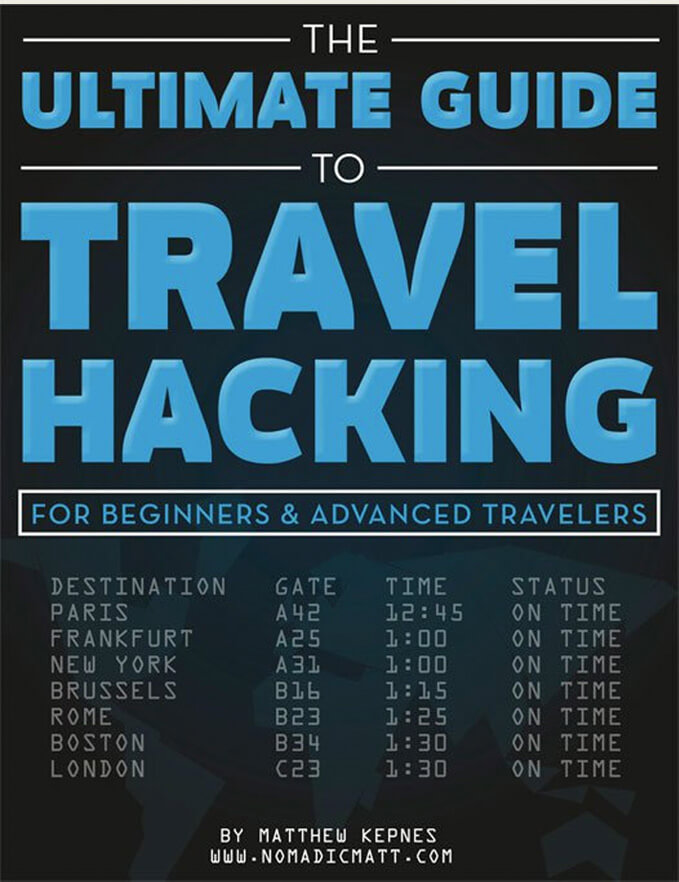 Get 67% off today! Normally $29.99 but you can get instant access for only $9.99 This ultimate guide got Rusty two first-class flights (saving over $10,000), turned Lisa into a believer, and taught Esteban how to save thousands and fly his wife to South America. It helped Matt and A.T. earn enough miles for flights around the world…and it will help you do the same! By getting this book, you'll learn the tips and tricks travel insiders use to travel anywhere they want for nothing. You won't need to change your spending habits, and this guide will save you hundreds of dollars year after year for the rest of your life! Click below to save $20 instantly!

Download the PDF file to get lifetime access
Get lifetime updates and always stay ahead of the curve!
Read the book on your phone, computer, or Kindle.
My Unbeatable 180-Day Guarantee
I'm so committed to your success that I am offering a 180-Day No-Risk Refund Policy. If you use the information in this book and don't earn enough miles for at least one free flight in the first 180 days, I'll refund your money. The only way to get results is to take action, but if you follow the step-by-step tips and it doesn't work, then this book is 100% risk-free. And if you're really confused, I'll call you and we can work it out on the phone! Seriously.
BONUS: 7 Expert Interviews!
From seven of the world's biggest travel hackers
Brian Kelly
Author of The Points Guy and considered one of the foremost experts on this subject, Brian sits down in this audio (and video) interview to talk about finding, using, and maximizing credit cards. He regularly appears on television discussing the subject.
Summer Hull
Author of Mommy Points, Summer is a regularly cited expert on using travel hacking for families (she was recently featured on the Travel Channel). In an exclusive interview, Summer talks about how to use travel hacking for travel when you have a family.
Robert (aka Raffles)
Robert runs the website Head for Points, the premier travel hacking website for the UK. He is considered the leading expert on travel hacking in the United Kingdom, and his opinion and advice is sought after far and wide.
Daraius Dubash
In this written interview, Daraius, author of Million Miles Secret, explains how to get started with travel hacking and the importance of setting goals. Daraius' advice has also been featured on CNN, Flyer Talk, New Media Expo, and more.
Jeffery Kwok
Jeffery is the blogger behind the Boarding Area blog Canadian Kilometers. It's the largest, most popular, and most useful blog on travel hacking for Canadians there is. Jeffery is considered the go-to guy for all things travel-hacking for Canadians.
Scott MacKenzie
From Hack My Trip, Scott, an expert in redemptions and manufacturing spending, contributes his knowledge to this book and explains just how to redeem all those great points you've earned!
Gary Leff
Gary is the blogger behind the blog View from the Wing. He's considered the godfather of travel hacking and is regularly on TV talking about the subject. In our audio interview, he talks about how to maximize your spending and redemptions for the best value.
Frequently asked questions
Is this book only for Americans?
If you're American, you'll get the most out of the book, but residents of Canada and the UK will also find the information in the book relevant. As much as I wish this book could apply worldwide, in my research I did not find anything relatable to residents of other countries. There just isn't that much travel hacking that can be done outside the listed countries. I wish there were.
I don't fly a lot. Should I buy this book?
Whether you fly once or ten times per year, this book will help you get free flights and hotel rooms. There are no restrictions. Use the advice in this book as much or as little as you want.
I'm already an avid travel hacker. Is this book for me?
Simply put: no. If you've been travel-hacking for a long time and know all the rules, this book won't be for you, so don't buy it.
Will this hurt my credit?
No, travel hacking doesn't hurt your credit score. It actually helps it by helping you increase your available credit. There is a detailed section in the book on how credit works and how travel hacking helps your credit.
Will I have to take out a lot of credit cards?
While credit cards help, you do not need a lot of cards to become a travel hacker. You'll need at least one, though; otherwise, this won't work!
The book seems expensive, and I'm not sure it's worth it.
This book is full of information and bonuses that make it worth the price. Most people are able to earn enough miles for a free flight in under three months. And I guarantee that if you don't earn enough miles for a free flight within six months, I will refund your purchase — no questions asked. At least one free flight, guaranteed, in six months, and the tactics to continue traveling all over the world — for free. Easily worth the price a hundred times over.
How will I get this book?
You'll be emailed a download link; you'll be able to open the file on your computer, Kindle, Nook, iPad, or phone.
Will you really call me?
If that's what it takes, yes!
GET ACCESS NOW