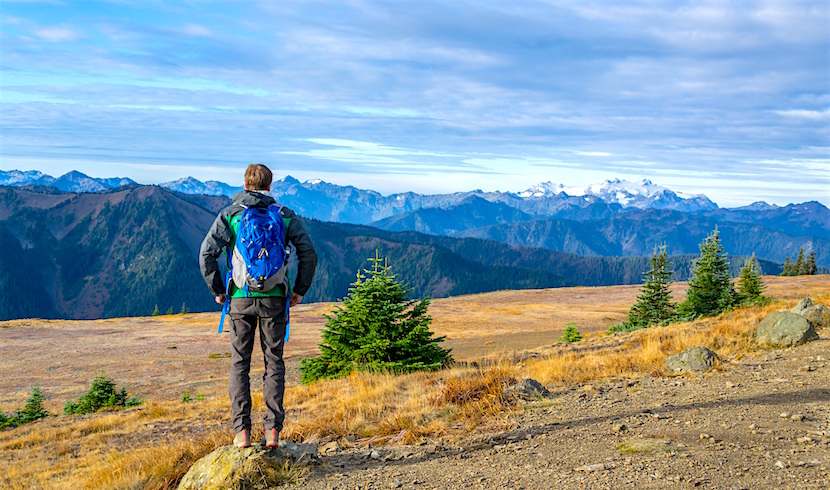 Picking the right backpack is an important part of any trip. Too big, and you'll have too much extra weight. Too small, and you'll never fit anything in. Pick the wrong material, and when it rains, your stuff will be soaked. There are so many options out there that it can be very confusing.
I spent a good hour picking out my first pack, and that was also after hours of online research and that research has paid off. My backpack has lasted me 8 years so far and is still looks and works just as good as it did the day I bought it. I have no plans to switch anytime soon.
I've tried, seen, and experienced many backpacks over the years I know what works. So in order to save you hours upon hours of research, I'm going to lay out all the good qualities a backpack has so when you find one that matches this criteria, you can simply purchase it knowing it's amazing and going to last forever. There are many backpacks in the world and many, many places where you can purchase one.
What to Look for in a Good Pack

The best backpacks – the ones that last the longest – have all the following characteristics that make them durable, protective, and long lasting:
Water resistant material – While your pack does not need to be 100% waterproof, make sure your bag is made out of a semi-waterproof material so everything doesn't get wet in a drizzle (many packs come with tarps you can put over them in case of a severe downpour). Moreover, make sure the material won't stay wet long and thereby get musty. I look for material that is thick but lightweight. I should be able to pour a cup of water over it without the insides getting wet. I'm not traveling a lot during torrential downpours or monsoons but I have been caught in small rainstorms before and because my backpack is made out of a good material, I've never opened my bag to find wet clothes.
Lockable Zippers – Make sure each compartment has two zippers so you can lock them together. While am not really worried about people breaking into my bag and stealing my dirty clothes in a hostel, I like locking up my bag when I am traveling. I'm always paranoid that someone is going to put something in my bag or a grabby baggage handler in airport is going to take my stuff.
Multiple Compartments – A good bag must to have multiple compartments. This way, you can break up your belongings into smaller sections so it's easier to access and find the stuff you need. For example, my clothes are in the main compartment of my bag, my umbrella and flips flops in the top, and my shoes in the separated side compartment (that way they don't get everything dirty). It saves time from having to dig around your bag.
Internal Frame – The majority of backpacks today are internal-frame packs, meaning the support rods and frame are build into the backpack and hidden from view. However, there some are still external frame backpacks made where the rods are separate from the actual pack and stick out. Think backpacks you see in old hiking movies or movies about people backpacking Europe in the 1970s. A big clunky metal frame. Don't get one of those. Make sure you buy a backpack with an internal frame. It not only looks better, but the rods won't get caught on anything and your bag will also be slimmer making moving around easier. Additionally, internal-framed packs tend to be lighter as the frame is composed of a carbon fiber or tough plastic making them easier on your back as well as more durable.
Padded Hip Belt – Most of the weight you will be carrying around will be pushing down on your hips, so you'll want a padded belt to make supporting the weight more comfortable. The belt will help provide support and distribute the weight load more evenly on your back causing less strain and problems. The hip belt should also be adjustable so you can tighten it for extra support.
Padded Shoulder Straps – These make carrying your load more comfortable, as the weight of your pack will be pushing downward on your shoulders. The pads will put less pressure on your shoulders and also help take pressure off your lower back. Make sure the padding is very thick and made up of a single piece of material as it will be less likely to split and thin out.
Contoured/Padded Back – A lumbar-shaped pack makes carrying it more comfortable, as it helps distributes weight more evenly. The same principle applies that is used in contoured chairs. It allows for a more natural arch ensure no back pain. Moreover, this type of pack creates a small space between your back and the bag allowing air to move through and help keep your slightly cool. Lugging your bag around can build up a sweat!
Does size matter?
One of my most frequently asked questions about backpacks is about size. Everyone wants to know what the perfect size is. No one backpack size is better than another. What matters is that your backpack should be both proportional to your body. That might mean a backpack that is 40 liters or 80 liters. If your backpack is too big or too small, the weight won't be balanced properly and will cause back pain or maybe even make you topple over. You don't want a skyscraper rising up from your back but you also don't want a pack that is clearly too small and overflowing with your stuff. When you are at the store (and any good camping/outdoors store will do this), they should be able to stuff your backpack with the equivalent of 30 pounds (15 kilograms) so you can see how that much weight feels on your back.
How Much Should You Spend?
Most backpacks cost between $99 – $300 USD for a large backpack from a brand name. The medium sized store brand names generally cost around $199 USD. Backpack prices depend a lot on size, fabric, and brand. Store brands are cheaper than big name brands like North Face, Osprey, and Gregory.
I don't believe that any backpack is worth $300 USD – no matter how nice it is. These expensive backpacks tend be large and have more bells and whistles, special padding, and material than you really need as a traveler. Anything between the $100 – 200 range will be perfect.
Recommended Companies
There are a lot of camping stores out there – REI, EMS, MEC in Canada, or Go Outdoors in the UK. You can get all the big name brands at any of those stores. I personally use a REI backpack. REI is a sporting and outdoors company in America that sells a wide variety of sporting, outdoors, and travel gear. I've had my backpack since 2004 and it works, looks, and feels just as good as the day I bought it. You know those advertisements where they try to destroy products in order to prove how good it is? Well, my life is that ad. I have put this backpack through the ringer. It's been crushed, thrown around, dropped, squeezed into tiny places, dragged, and kicked around. Most people think it's a brand new backpack and are shocked to find out I've been carrying it around since 2004. (
The quality of their products has made me an REI customer for life. I buy all my travel gear there – from daypacks to bug spray to tents to sleeping bags. Additionally, I love REI's one year warranty and return policy. I know if something goes wrong, I can take the gear back – even after I used it. That's service.
Besides selling their own gear, REI sells gear from other quality gear manufacturers like North Face, Eagle Creek, and Osprey so you have a wide variety of choice. While prices are slightly higher than other sporting good stores, the people who work at REI are experts. I walk out of that store knowing I've got the right gear that won't break on me. In my opinion, it's better to pay $10-20 more if the product is going to last me ten years!
(If you aren't from the US, whatever camping store in your country that sells these major brands and has backpacks that fit the description in this article.)
So use REI when do your backpack shopping. In my mind, they are the premier outdoor and camping store. Don't skimp on gear because you're going to want something that is quality!
READ NEXT —-> What to pack on your trip (For women travelers, click here)
P.S. – If you found this article helpful, consider using this link to purchase your bag (whatever brand you go with). The small commission helps me keep the website running, community supported, and advertiser free.