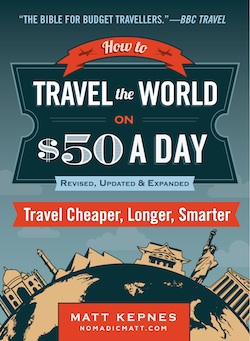 When I first wrote How to Travel the World on $50 a Day, it was just a small PDF guide with some travel coupons you downloaded from this site. It was meant to be a one stop, easy-to-follow guide for planning your trip. When Penguin publishing approached me to turn it into a print book in 2013, I was beyond thrilled. Me? With a book you could buy in a store? For a little kid who used to write in a notebook during English class, it was a dream come true.
And while I LOVED the first edition, I wanted it to be bigger, bolder, and more inclusive. Even before it hit the bookstores, I was already plotting a second edition.
Today, two years later, that edition is out. Besides the cover being totally kickass (I hated the old one), this expanded edition finishes what the first started. With over 100 new pages of content, it contains a lot of new, revised, and updated information that will help you travel even cheaper in 2015. Travel constantly evolves, and this book will help you stay up to date. (And, as part of the release, I'm giving away a lot — up to $1,800 in travel products when you buy the book (see below)!)
What's different?
Added detailed travel sections on China, India, and Japan
Updated all the prices and existing content
Added information on why airline prices are the way they are
Tripled the appendix of recommended companies, hostels, and travel websites
Updated information on how to find cheap flights and RTW tickets
Included tips and advice on how to use the sharing economy to travel cheap
Added information on travel hacking (the art of using points and miles for free travel)
There is a lot of new content in this book, featuring detailed tips and advice that haven't been discussed on the blog (the section on backpacks is three times as long as it is here on the site!).
This book isn't just for Americans either. One of the things I did in this edition was to include a lot more information for non-Americans, such as suggested banks, credit cards, and insurers. When we get to a destination, we all face the same costs, but I wanted to make sure that everyone had the tools they needed before they went away. You'll find most of this most is applicable to you no matter where you are from — I wanted to make sure of that!
Order your copy from: Amazon | Barnes and Noble | Indigo
Here is the book's table of contents:
PART ONE – PLANNING YOUR TRIP
Getting Over Your Fears
Is Travel Really Too Expensive?
Banking Overseas
Getting the Right Credit Card
Airline Tickets
Buying a Backpack
Travel Insurance
Get a Travel Discount Card
What to Do with Your Stuff
PART TWO – ON-THE-ROAD EXPENSES
The Savings Mind-Set
Tips for Saving Money on Accommodations
Tips for Saving Money on Food and Beverages
Tips for Saving Money on Transportation
Tips for Saving Money on Activities
PART THREE – BREAKING IT DOWN BY REGION
Europe
Australia
New Zealand
Southeast Asia
Central America
South America
China
India
Japan
Putting It All Together
Appendix A: Suggested Travel Companies (over 10 pages!)
Appendix B: Suggested Packing List
Appendix C: Vaccinations
[THE BONUS OFFERS ARE NOW OVER! THANKS EVERYONE WHO BOUGHT THE BOOK DURING THAT TIME.]
YOU CAN STILL ORDER A COPY HERE: Amazon | Barnes and Noble | Indigo
If this site has helped you save money over the last few years and you've wondered how you could help support the website, purchasing this book is a good way to give back and help keep the site community supported. Give the book to your friends and inspire them to travel more.
It's a new year and one of things people resolve to do more is travel. If you're looking for ways to do that and spend less money, this book will be your ultimate planning tool.
I'm very, very, very excited about this edition. I think this time around it's going to be even bigger than before. I'm doing a 40-city book tour over the next few months (come say hi!).
I'm looking forward to driving across the country, meeting everyone, and getting people motivated to travel more. Thanks for all your support over the years and helping to make this edition possible.
– Matt