Follow Your Dreams, Make Money, Help Others, Live Well
Have you ever dreamed of creating a blog but weren't sure where to start? Do you already have a blog but feel stuck? Not sure how to grow your website more? Would you like to have more time to do what you love?
Making a living online allows you to be your own boss and do what you love from anywhere in the world. It means working from a beach in Thailand, a cafe in Paris, or the comfort of your couch.
With the right skills and technique (ones anyone can learn), you can create an online business that earns you a full-time income and helps people better their lives.
And you can do this without selling out, being a shady marketer, or compromising your values.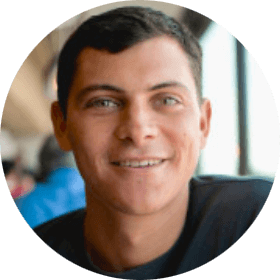 My name is Matthew Kepnes and I've been running this website since 2008. In that time, I've helped millions of people travel on a budget and achieve their dreams. In doing so, I've built a successful online business without any prior business or website knowledge.
Since that time, my website has become the top travel blog in the world (just Google top travel blogs to see) with close to 1 million visitors per month, 140,000 person e-mail list, a staff of 2, a best selling New York Times book, an educational foundation, and revenue in the mid six figures per year.
And I want to help you do the same because I believe there is plenty of room in the travel industry for new quality blogs. There's a lot of room for quality websites out there. There may be 1,000 bloggers out there but few who take it seriously.
And the the travel industry is partly at fault. Instead of programs and conferences teaching business skills, community building, and creating quality, helpful content, most courses and conferences are focused on how to get tourism boards to pay for your trip. It is less travel writing and more destination marketing. There's little discussion about reader-centric content, newsletters, product creation, design, networking, and the other aspects of a business that make websites successful.
But that's good for you because if you come in with the aim of creating a long term, sustainable business, you'll have an edge over all your competition.
In this course, I will reveal step-by-step exactly how I built my website and stood apart from the competition. I'll teach you how I create products, content, rank #1 in Google for thousands of keywords, and built a large community. I created this course because I was tired of the misinformation out there and I genuinely want to help my fellow travel bloggers and writers succeed.
Here are what three of my students have to say:
If it wouldn't have been for Matt, I would have started travel blogging in the completely wrong direction. From day one, Matt pointed me in the right direction. He not only equipped me with the tools to run a successful travel blog now, but also with the knowledge I will need in the future. Matt's advice and guidance was invaluable and his program is a must for anyone serious about getting into blogging." — Stephen
Matt's strength lies in his attention to detail and helping you to create a focus for your blog. It's something he cares about, and he's good at getting you to care about it too. As someone with an existing blog, these have been invaluable lessons in moving my blog past just another website, and turned it into something that can grab people's attention and build an audience."— Andy
The course with Matt was invaluable. His knowledge and advice has helped set me in the right direction for success; a direction I was far from when I began the course. His one-on-one classes offer an amazing opportunity to learn from one of the best. Matt shared a lot of the good, bad and the ugly to help me improve my site's design, content and SEO. If you're trying to be a successful blogger, don't pass this up." — Elaine
introducing:
The Business of Blogging Course
Travel is a trillion-dollar industry and people spend a lot of time looking for quality content and information to help them get to where they want to go. There are still ripe opportunities to create an online travel business, and I want to share what I've learned in the past eight years to help you achieve success. I want to teach other bloggers practical business skills in hopes of reducing the sponsored destination marketing content out there, upping the quality of blogs, and teaching people skills that can be applicable outside their blogs! My blogging advice and expertise works so well it has been featured in the following publications: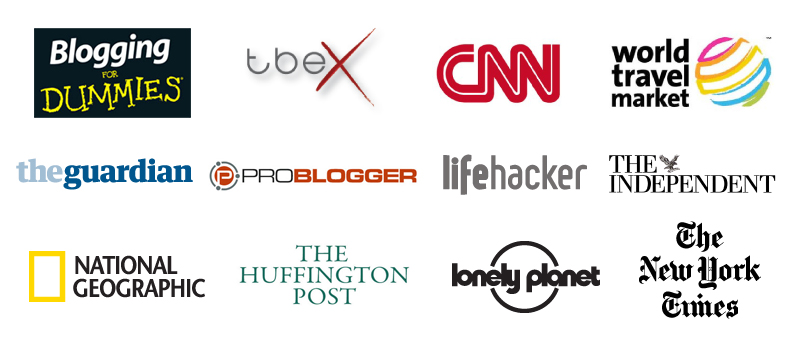 And, more than just providing information and experience, I'm here to be your partner. I want you to succeed. You are looking to create a life that revolves around doing what you love so you can make the most out of your day. That's what I do everyday and I want to show you how to do so too. From monthly webinars, Q&As, and tech support, I'll guide you through the process, answer any questions, and be there to support you when you need it..
If you're looking to build sustainable business with your blog, you're in the right place. My practical, straightforward, and tested strategies will help you stand out from the crowd no matter what your topic.
HERE'S WHAT YOU'LL LEARN
With my course, you'll learn the skills you need to become successful and follow in the footsteps of the over 1,000 other people. Here is what skills you'll master:
How to set up your blog
The importance of creating a strong brand
How to pick a good design
How to maximize your Facebook, Pinterest, and Twitter presence and kill it on social media!
How to pitch the perfect guest post to larger blogs
How to get traffic from other blogs
How to create viral content
How to get media attention and mentions in the press
The key factors Google uses to determine your rankings
How to optimize your website for SEO
Why getting links matter and where to get them
Why blog authority matters and how to get it
How to sell affiliate products
How to create products people want
How to avoid beginner mistakes
How to effectively use a newsletter
How to develop and execute a long term strategy
What's Included in the Course?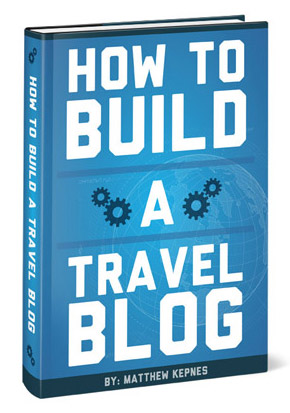 The book How to Build a Blog. I put together this easy to follow step-by-step guide to help build your website from scratch without any previous experience. There are also plenty of screen shots to visually walk you through the process so you won't get lost. This book will teach you all the basic skills you need to know in order to start and build your blog in an afternoon without pulling your hair out in frustration.


The book How to Make Money with Your Blog. The meat of the course, this 25,000+ word book goes into detail on how to start your blog, create a lasting brand, write content people want to read and share, how to optimize your website and rank high in search engines, kill it on social media, and make money with your blog. It features real world examples and screen shots to get help you understand the material.
Monthly webinars where we discuss new techniques, strategies, and dissect in more detail the strategies in this course. There are also Q&A sessions and special guests. You also get access to all previous webinars – from the beginning! Each webinar is recorded so you can listen to it as often as you want.
A list of my TWENTY-TWO favorite business books to improve your game and take yourself to the next level. Don't reinvent the wheel. Learn from those who have been there, done that! These books have taken my business to great places and I can't recommend them enough to other bloggers!
Free themes — Get a free Woo or Genesis theme for your website (an $80 value)!!
Over 3 hours of Interviews
Moreover, you will also get exclusive interviews with some of the Internet's top writers, marketers, and bloggers to help you get even further faster. People pay thousands to attend conferences to listen to these people talk but you get them included with your purchase!
Interview with Rand Fishkin

Rand Fishkin is the founder of Moz.com, the best and largest SEO company in the world. He's one of the foremost authorities on search engine optimization out there. Rand talks to us about the secrets to ranking higher in search, getting links quality links, the future of SEO, and a lot more in this interview.

Interview with Corbett Barr

Corbett Barr one of the founders of Fizzle.co and a leading expert on building and marketing blogs. Corbett joined me for an exclusive interview to discuss how to avoid beginner pitfalls, build long lasting relationships, and grow your audience without selling out.

Interview with Derek Halpern

Derek Halpern is the founder of Socialtriggers.com and is a leading expert in psychology and marketing. We sat down to talk about advanced techniques in gaining traffic, attracting media attention, converting traffic, and how he built a 70,000 person list in 18 months.

Interview with Pat Flynn

Pat Flynn of Smartpassiveincome.com discusses newsletter marketing and his journey to making over $50,000 a month through affiliate marketing by being authentic, helpful, and building trust.

Interview with Steve Kamb

The founder of NerdFitness.com talks about how he built a 25,000+ person forum community and a 250,000+ person mailing list through community building, contests, events, and encouraging members to interact with each other.

Interview with Jodi Ettenberg

Jodi Ettenberg of LegalNomads.com and author of "The Food Traveler's Handbook" talks about her journey into self-publishing, the importance of story telling, and how to use your blog to get freelance writing gigs. Her writing has been on The Daily Beast, CNN, The New York Times, and BBC.

Interview with Geraldine DeRuiter

Voted one of the best blogs of 2012 by Time Magazine, Gerladine DeRuiter runs Everywhereist.com where she her snarky, witty, and personal writing style got her a devoted audience and tons of page views. Geraldine and I discuss how to find your voice and improve your writing skills.
4 Blogger Case Studies – Learn What Others Do Right
You will also get four cases studies of bloggers who exemplify the practices exposed in the course and were able to stand out in a crowded field
Candace from The Great Affair

Candace broke into the tight knit world of freelance travel writing and her work now appears in National Geographic and the BBC as well as the book Americas Great Travel Writing. In her case study, you'll learn how she did it and how you can apply those techniques to your blog.

Wandering Earl from Wandering Earl

Earl is one of the most successful travel bloggers out there – and he's done it all without any marketing. He constantly sells out all his tours and increases his product conversion rates. In his case study, you'll learn how he grows his income 20% each year and the secrets to his success.

Kiersten from The Blonde Abroad

Kiersten decided she didn't want to be just another female travel blogger and combined her love of travel and fashion to dominate a niche that didn't exist before. In her case study, you'll learn why this was so important and how it helped her because one of the biggest names in travel in under two years.

Dalene and Peter Heck from Hecktic Travels

Dalene and Peter Heck quit their corporate jobs and started their blog on housesitting. Recgonizin the need to get ahead, they wrote the first ebook and then shifted gears to running a social media company (their first love). In their case study, you'll how the leverage their contacts to expand beyond their blog.

With so many blogs out there, it can be hard to know where to start or break through the clutter. Successful bloggers and business have clear goals and plans how to reach them. Most bloggers fail because they don't know what they want or where they want to go. They stumble, they fall, they give up.
I really believe that anyone can do this. I really believe we all have our own unique story to tell and I believe others want to hear. I want to help teach you what I know so people hear your story.
4 Other Bloggers Who Succeeded Using These Tips
Matt is honest about blogging: it takes time to build an audience. But he offers great tips such as how to guest blog on already popular blogs, as well as describing the mechanics of what being a blogger is all about. Matt gets into the details by even offering tips on what to say when contacting a popular blogger. Without Matt's advice, my blog would not have the reach it is today." — Neil
How to Make Money With Your Blog
by Matt Kepnes is more than what the title suggests. It is an excellent resource for anyone starting a website within or outside the realm of the travel industry. The book has very insightful and helpful information for planning and building your site from the ground up. The SEO information in particular was invaluable." — Leeann
Nomadic Matt's ebook is an absolute must-read for anyone looking to turn their blog into a business. It turns out there's a whole lot more required than good and frequent writing, and this book is an insightful mix of Matt's personal trials and errors and his now proven tricks of the trade. It's a wonderful introduction in an easy-to-follow format. I highly recommend it to bloggers who want to monetize their adventures." — Jessica
Matt gave me the tools and direction to design a travel blog that was not only appealing to the eye but welcoming to new readers. He pushed me to focus on my niche and expand on the important factors of building an audience to keep people coming back. Using his advice on everything from SEO to social media I now have a growing audience and am confident I am headed in the right direction." — Clint
GET STARTED TODAY!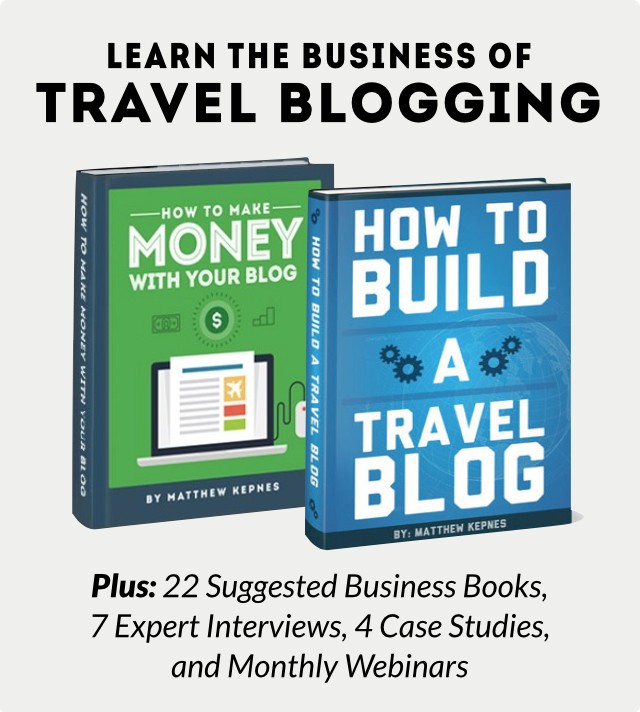 For the one-time price of $199, you'll get all of the above as well as lifetime updates and support. This course is an investment in your blogging future that will help you leap beyond the competition and will give you MORE value for LESS money than any other program out there! Whether beginner or experienced, you'll be able to use the secrets to my success……for your success!! Click the buy button below and start building your empire today:

30 Day Money Back Guarantee
Take the course, implement the tips, start building your site, ask me for help. If you still don't like the book, I'll give you a prompt and courteous refund within 30 days of purchase. I'm that confident that this book will help you succeed but if I can't help you, I shouldn't have your money.
Frequently Asked Questions
What format do the books come in?
The books are PDF files that can be read on your computer or an e-reader such as a Kindle, Nook, or in iBooks.
What if I get really confused?
I'm here to help. You can email me as often you as you need to and I'll help troubleshoot your problems. I want you to succeed not be confused.
I don't have any blogging experience. Is this course for me?
This course for people with no experience in mind. It takes you through all the steps and technical terms of blogging.
I've never heard of these experts. How do I know the quality is good?
The interviewees are leading blogging experts who together earn over $4 million per year. They are people I learn from and want you to learn from too. You can Google them if you don't believe me!
I already have some blogging experience. Is this book for me?
Even those with experience will benefit from the advdanced SEO tips, monetization strategies, and expert interviews.
Will this course make me rich?
If you are looking for a get rich quick scheme, you shouldn't buy this book. This book isn't that. This book is a plan on creating a successful blog for the long term. If you are in it as a get rich, go somewhere else.
How long is each expert interviews?
Each interview is between 30-40 minutes. You will receive a downloadable mp3 that you can play on your computer or iPod.