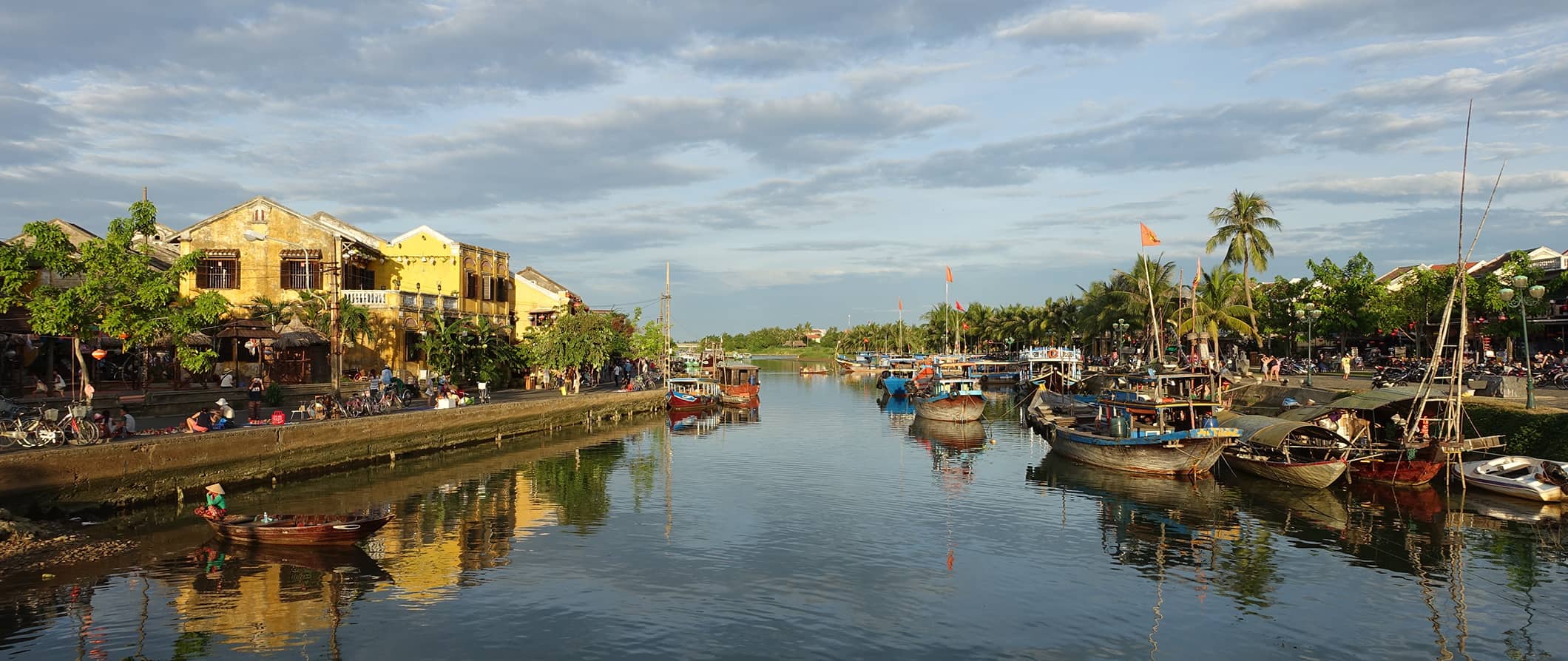 Hoi An was my favorite destination in Vietnam.
When I backpacked Hoi An, I fell in love here.
I loved spending time by the river, watching the sunset, strolling through the narrow streets of the Old Town strung with colorful lanterns, and drinking cheap beer. The city is packed with picturesque historical homes, pagodas and street-side cafes.
It's amazing here.
Hoi An is an extremely popular place for buying handmade clothing and is one of the main reasons why people come here. The garment industry is the city's main non-tourist industry. You can get anything made here – from custom-made suits to gowns to sundresses to leather boots to sneakers. The tailor shops will even mail all your goods home to you.
But, even if you don't want to shop, Hoi An makes for a relaxing destination in an otherwise hectic country.
And the beach is only a 15-minute bike-ride out of town.
This city was also my favorite place to gorge on Vietnamese food (don't miss trying the cau lao that Hoi An is known for!).
Use this Hoi An travel guide to figure out how to make the most of your time in this amazing city. You definitely shouldn't miss it.
Top 5 Things to See and Do in Hoi An
1. Explore My Son
My Son is one of the most important sites relating to the ancient Kingdom of Champa and is said to have been Vietnam's religious and intellectual center. Even in their ruined state, the remaining Hindu temple structures are impressive. Admission is 150,000 VND ($6.45 USD) per person. You can easily get to and from the site for less than 232,207 VND ($10 USD) round-trip.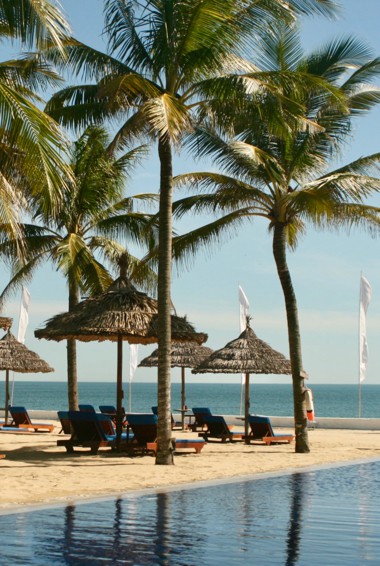 2. Relax on the beaches
An Bang and Cua Dai beaches are both close to Hoi An and are great places to spend an afternoon. Cua Dai is designated as one of Vietnam's five UNESCO World Heritage sites and both beaches offer soft white sand and excellent beachside restaurants.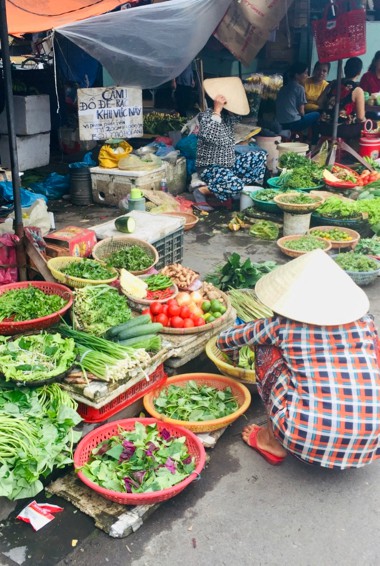 3. Take a cooking lesson
Many places offer lessons where you will start off picking the raw ingredients at a market then learning how to prepare the food. Prices vary, but most cost between 350,000-550,000 VND ($15-24 USD). The Hoi An Eco Cooking Class is the best company.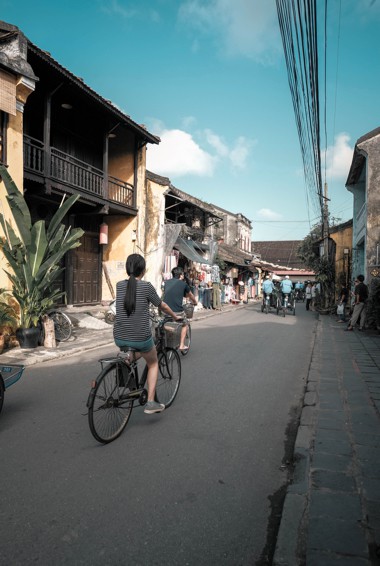 4. Take a bicycle tour
Get guided tour around the city. You'll go through the rice fields and into neighborhoods that you wouldn't normally venture through. A morning of bicycling around in a small group starts at around 300,000 VND ($13 USD). I recommend Heaven and Earth Bicycle Tours or Grasshopper Adentures.
5. Shop at the Central Market
Hoi An's Central Market is probably one of the best in Vietnam. The market sits on the riverside and is packed full of excellent food at rock-bottom prices. This is the place to pick up spices and souvenirs, try local food, and have your tailoring done.
Other Things to See and Do in Hoi An
1. Cross the Japanese Covered Bridge
The bridge is thought to have been built by Hoi An's Japanese community in the late sixteenth century and roughly translated from Vietnamese, its name means "Pagoda in Japan." NOTE: Nearly all of the attractions in the Hoi An Old Town are covered under the ticket price of 120,000 VND ($6 USD), including the bridge, the Old Houses, and the Museum of Folk Culture.
2. Visit Quan Cong Temple
The temple was built in the early 17th century to honor the Chin Dynasty, but nowadays it serves as one of Hoi An's most spectacular architectural accomplishments. Inside there are two huge wooden statues, one of Quan Cong's protector, Chau Xuong, and the other of his administrative official, Quan Binh. Of course, between them is the imposing statue of Quan Cong himself.
3. Experience Da Nang city
Located about 30-minutes from Hoi An, Da Nang is a bigger city famous for its Marble Mountains, sandy beaches, and active surfing scene. There is also an extravagant party scene here that is good for a night out once in a while. Most hostels will help groups of guests arrange transportation to and from Da Nang for the night.
4. Attend the Full Moon Festival
Hoi An's Full Moon Festival is held on the 14th day of the lunar cycle each month and is probably the best time to visit the city if you don't mind the crowds. The streets are shut down to all traffic and are lined with brightly colored lanterns. This is a fun time to party with locals as the streets come alive with folk music, plays, and dancing!
5. Take a trip to Cham Island
Cham Island lies just 13 miles (21 kilometers) from Hoi An in the South China Sea. The diverse marine life around Cham Island draws lots of divers, and because you're in Vietnam, it's very cheap (starting from 1,825,980 VND/$78 USD for first-time divers). Most tours include lunch and free time on the beach, and it's also possible to include a night dive in your excursion. If you are not into diving, a snorkelling tour costs from 47 VND ($35 USD).
6. See the Fukian Assembly Hall
Built in 1697, Fukian is the grandest of the Chinese assembly halls and is a first-rate example of Chinese architecture. The main colorful temple is dedicated to the goddess of the sea, Thien Hau, while the statues of Thuan Phong Nhi and Thien Ly Nhan are said to protect sailors in distress. There is a scale model of a sailboat inside too.
7. Boat along the river
A great way to relax for a bit and to see Hoi An from a different perspective is to hop on one of the boats that leave from Bach Dang Street. Admire the town from the water and overlook the picturesque views of the waterfront. Shop around and negotiate for the best price. Don't just go with the first boat you find.
8. Visit the Museum of Folk Culture
This small museum aims to preserve the traditions and dress of rural Vietnamese culture. It is filled with plaster statues of figures in costume, and although it's a bit strange there's enough to see to give you a good idea about the local culture here.
9. Relax with some yoga
There are a few yoga studios in this relaxing city. If you want to take a class, you'll spend around 250,000 VND ($11 USD) per class, but if you go to the Vietnamese-run Annem Yoga Studio, you can get 12 classes for 500,000 VND ($22 USD).
10. Head to the Marble Mountains
The Marble Mountains are a series of five mountains located 12 miles (20 kilometers) north of Hoi An. Besides the natural appeal, they also have many pagodas, and some also served as a base for Viet Cong fighters during the war. To get there, take the #1 bus from Hoi An towards Nha Trang and get off at the Marble Mountains stop. It costs 40,000 VND ($1.70 USD) to access the mountains.
11. Enter the Old Houses
Some of the houses in Hoi An have had their interiors turned into museums, giving tourists a glimpse at what life was life for wealthy merchants in the colonial and pre-colonial period. The Tan Ky and the Duc An homes are two of the more popular ones to visit.
Hoi An Travel Costs
Hostel prices – Hostel dorms with 10 or more beds go for about 116,103 VND ($5 USD) a night, but dorms with fewer beds will cost 200,000-300,000 VND ($9-13 USD) per bed. Keep in mind that most of Hoi An's main attractions are in the Old Town, so if you want to spend most of your time there, make sure your accommodation isn't too far away.
Private rooms start at about 371,530 VND ($16 USD) for a double. Lots of hostels offer free wifi, breakfast, and bicycle rentals.
Budget hotel prices – Accommodation is inexpensive here with a night in a two-star budget hotel costing from 464,414 VND ($20 USD) for a double room. A number of places have pools, and most will have air-conditioning. Some even have free breakfast.
On Airbnb you can find a shared room starting from around 234,100 VND ($10 USD) per night., while private rooms start from around 304,330 VND ($13 USD).Full villas (some with swimming pools) are available starting from 464,415 VND ($20 USD).
Average cost of food – Street food starts at 15,000 VND ($0.65 USD) per meal. Meals in restaurants start at about 30,000 VND ($1.30 USD) and go up from there. You can get delicious bahn mi at Bahn Mi Phuong for less than 46,440 VND ($2 USD). Wine is expensive so I would skip it (especially in restaurants). Beer will cost you between 12,000-15,000 VND ($0.50-0.65 USD). Vietnamese coffee will cost you about 20-30,000 VND ($0.85-1.30 USD).
Food is so cheap here that I would not recommend cooking your food. Just grab street food, eat cheap, and you'll save. It will cost you more in time and money to make your own meals.
Note: If you're at the beach, restaurant owners will offer you a chair to sit on if you order food or drinks from them. You can relax in the sun while you wait for your pho, fruit platter, bahn cuon, or fresh coconut to arrive.
Backpacking Hoi An Suggested Budgets
On a backpacker budget in Hoi An, you'll spend around 603,740 VND ($26 USD) per day, which will cover a hostel dorm near the Old Town, local street food and cheap sandwiches or restaurants, and some cheap beers. Additionally, you'll be able to get a few attractions in but not too many. If you want to eat better or take a few day trips, add 117,050 VND ($5 USD) per day to your budget.
A mid-range budget of about 1,393,240 VND ($60 USD) per day will cover a private two-star hotel room, dining at sit-down restaurants for all your meals (or eating tons of street food), as many cheap beers as you like, any tours you want, and some extra room to spare! You won't want for anything at this budget.
If you've come for luxury, expect to spend 2,205,967 VND ($95 USD) per day, with prices going up after that. You can get some wonderfully cheap four-star hotel rooms for this price. If you're spending this much (or more per day), there's nothing you can't do in this city.
You can use the chart below to get some idea of how much you need to budget daily, depending on your travel style. Keep in mind these are daily averages – some days you'll spend more, some days you'll spend less (you might spend less every day). We just want to give you a general idea of how to make your budget. Prices are in USD.
Accommodation
Food
Transportation
Attractions
Average Daily Cost
Backpacker
$10
$10
$0
$6
$26
Mid-Range
$20
$15
$5
$20
$60
Luxury
$35
$25
$10
$25
$95
Hoi An Travel Guide: Money Saving Tips
Your dollar goes a long way in Hoi An (like it does in the rest of Vietnam)! Regardless, here are some ways you can save money in in Hoi An if you really want:
Camp on Cham Island – If you're heading to Cham Island on a diving trip, it's possible to save money on accommodation by camping on the beach.
Shop around for handmade clothing – There are hundreds of tailors in Hoi An. If you're having clothing made, check prices with a few places before settling on one. Making a local friend and asking them to bring you to a tailor they trust is even better.
Skip the SIM Card – Hoi An is highly connected to wifi. You can use the wifi in just about every hotel, shop, restaurant, and convenience store for free!
Eat at the market – Market stalls are some of the cheapest food you can find. A meal will cost you 20,000-40,000 VND ($0.85-1.70 USD). There are a variety of dishes to choose from and places to eat. Enjoy everything from Vietnamese donuts, bahn mi, to soups and food with more substance.
Rent a bicycle – Bikes can be rented starting from 30,000 VND ($1.30 USD) per day. This is a great way to leisurely explore the city.
Drink in hostels – Lots of hostels have bars, cafes, restaurants, or something that acts as all three. Hostel owners know their audience, so they keep their prices down to keep people in their space. Win-win!
Pack a water bottle – A water bottle with a purifier will come particularly in handy in Southeast Asia since you can't drink the tap water. Save money and thousands of plastic bottles and get a bottle that can purify the tap water for you. My preferred bottle is LifeStraw ($49.99).
Where To Stay in Hoi An
Hoi An has some of the most affordable accommodation options in Vietnam. Here are some of my favorite places to stay in the city (if you want to be close to the Old Town make sure to check the distance from these hostels before booking):
How to Get Around Hoi An
Everywhere in central Hoi An is within walking distance, so it's unlikely you'll spend much on transportation here. The city is small, and walking the Old Town is part of the experience.
Bicycle or Motorbike Rental – If you choose to explore, you can rent a bicycle for about 30,000 VND ($1.30 USD) or a motorbike for 80,000 VND ($3.45 USD) per day. The Old Town is closed to motor traffic during certain hours of the day, but you'll be able to take your bicycle in there. Many hostels/hotels will have bicycle rentals.
Cyclos – Cyclos are common within the Old Town, and they make a leisurely way to get around. The cyclos can hold up to two people at a time and the drivers are super friendly and often keen to point out landmarks. You can negotiate a fixed hourly rate, or expect to pay about 22,000 VND ($0.95 USD) per kilometer.
Taxi – The taxis are metered (and cheap) here. They start on average at 12,000 VND ($0.52 USD) for the first kilometer and 10,000 VND ($0.43 USD) per kilometer after that. Grabbing a taxi from the airport to the center of the city should take about 30-minutes and costs about 200,000-330,000 VND ($8.60-14.20 USD). Don't go in an unmetered taxi.
When to Go to Hoi An
Hoi An is warm the whole year round, with an average daily temperature of 84°F (29°C). It rarely ever goes below 66°F (19°C) here. Unlike Northern Vietnam, Hoi An only has two seasons: rainy, and dry.
February through May is the best time to visit Hoi An thanks to pleasant daily temperatures and endless blue skies. If you want to hit the beaches (like Cua Dai and An Bang) this is also an excellent time to come. June through August are the hottest months, with temperatures soaring as high as 100°F (38°C). Humidity can be high as well.
Hoi An's rainy season lasts from September to January, with frequent heavy rain showers. These showers typically do not last long, but Hoi An has been prone to flooding in the past. Tourism traffic is also slowest during this time, on the other hand.
If you want some excitement during your visit, plan your trip around the 14th day of the month's lunar cycle. This is Hoi An's Full Moon Festival and the city comes alive with music, dance, and celebrations.
How to Stay Safe in Hoi An
Hoi An is a very safe place to backpack and travel – even if you're traveling solo or as a solo female traveler. Violent crime against travelers is infrequent, and petty crime isn't a huge deal here either. In crowded places (especially the markets) you'll want to keep your purse/wallet close and be mindful of the activity around you.
Be on alert for scams. Mostly people are really just going to try to nickel and dime you and try to get you to spend extra money since they know, as a tourist, you have more than they do. Just keep an eye out.
(Worried about travel scams? Read about these travel scams and make sure you don't fall for any!)
Always trust your gut instinct. If a taxi driver seems shady, stop the cab and get out. If your hotel is seedier than you thought, get out of there. Make copies of your personal documents, including your passport and ID.
If you don't do it at home, don't do it when you're in Hoi An. Follow that rule, and you'll be fine.
The most important piece of safety advice I can offer is to purchase good travel insurance. Travel insurance will protect you against illness, injury, theft, and cancellations. It's comprehensive protection in case anything goes wrong. I never go on a trip without it as I've had to use it many times in the past. You can use the widget below to find the policy right for you: