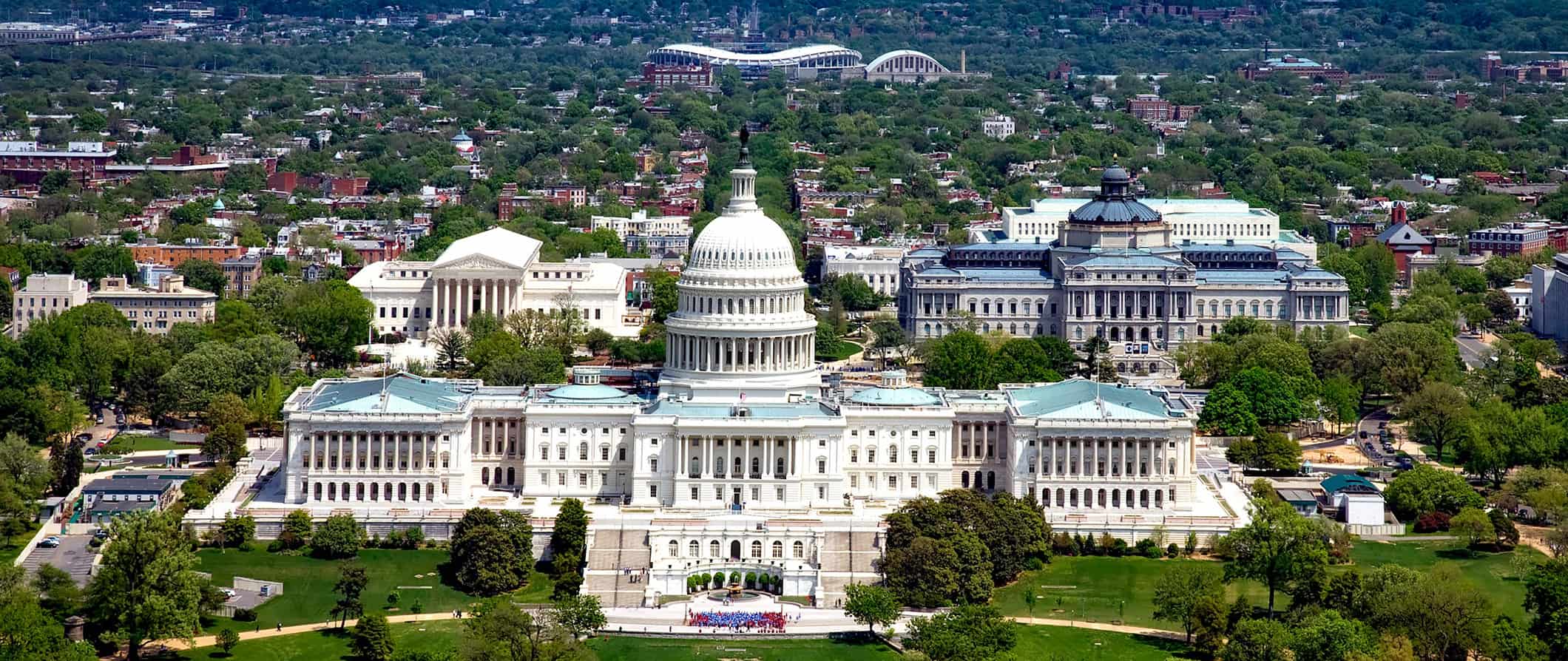 Washington D.C. is an interesting place. As the capital of the country and with a mix of people from around the world, there is a lot of diversity here. While the members of congress and those who attend to them spend lots of money, students keep it cheap and lively, and tons of tourists from all over the world keep it rushed and eclectic. There is a lot of incredible and diverse food in D.C., cool bars, and a lot of history, museums, and monuments. D.C. is an eclectic and fun city that I always enjoy. There's plenty to do here to keep you busy during your visit!
Top 5 Things to See and Do in Washington D.C.
1. Visit the Holocaust Museum
The Holocaust museum is both wonderful and heart-wrenching at the same time. Wonderful because it is so well done and heart-wrenching because, well, it's the holocaust. This museum goes into great detail about the event and can not be missed. Bring tissues.
2. Explore the Smithsonian Museums
From the museum on space, history, nature, art, and more, you'll never be without something to learn. All the museums are free and they even have free WiFi. Two of the museums offer IMAX movies and if you save your stub, you can get a second movie for four dollars.
3. Take a walk through Georgetown
Georgetown is the capital's historic waterfront, which today is bustling with activity. The area is a shopper's paradise and the streets are lined with restaurants from every ethnicity. Take a tour of historic sites, do some shopping and enjoy a meal at a local restaurant.
4. Visit Arlington National Cemetery
Visit the memorial to war veterans and the resting places of President John F. Kennedy along with his wife Jacqueline Kennedy Onassis and their two children, with brother Bobby nearby. An eternal flame marks JFK's grave. Nearby you can find the Tomb of the Unknown Soldier.
5. Check out the monuments
All the major monuments are around the National Mall are free and you can spend a whole day can be spent seeing them. I'm a big fan of the Franklin D. Roosevelt monument – it's not that well known, it's relaxing and quiet, and not very crowded. There are so many monuments here that you'll be able to fill a good three or four days with them.
Other Things to See and Do
(Click the title to expand the text)
1. Tour the White House
Take a tour of the spot where the most powerful person in the world lives. You have to apply in advance to get tickets through one's Member of Congress, so if this is a must-see for your trip you have to plan well ahead of your trip. If you are a citizen of a foreign country you need to arrange tours through your embassy in Washington D.C. You will be asked to provide security information several weeks before your tour to be approved, and submit several forms of identification for entry.
2. Visit the Supreme Court
The Supreme Court is free to enter and there are 40-minute lectures in the main hall for free and will teach you about the history of the court and how it works.
3. Tour the Capital Building
The Capital offers free tours throughout the day. Tickets are available at 8:30am on a first come first serve basis.
4. Visit the National Zoo
A great activity, especially if you have kids. You can see a very wide selection of animals here and they often have special exhibits. Moreover, as part of the Smithsonian, this zoo is also free.
5. Visit the Spy Museum
One of D.C.'s most popular attractions happens to be a pretty fun one – the International Spy Museum. Learn a thing or two about espionage through the museum's many interactive exhibits, artifacts and film clips. See shoes with fake bottoms, photos of infamous spies, and interviews with former intelligence officers. General admission adult tickets for the museum start at $22.
6. See the cherry blossoms
If you're in Washington D.C. around March or April (or better yet, the transition between the two), you may be just in time for the Cherry Blossom Festival. The Tidal Basin has many cherry blossom trees, which were a gift from Japan to the United States. Their blossoming is marked by a celebration that includes concerts and fireworks. The flowers themselves are beautiful and make for wonderful photo opportunities.
7. Visit Old Town Alexandria
Craving some more history? Head across the river to Old Town Alexandria, a small town with cobblestone streets and dotted with colonial buildings and historic landmarks.
8. Explore the National Gallery of Art
This museum has enough to fill an entire afternoon. It's two wings: the east wing, which houses the gallery's more modern works (think: Henri Matisse and Mark Rothko), and the west wing, which contains the collection's older works (from Sandro Botticelli to Claude Monet). You'll see a lot of artists painting here and it's fascinating watching them work to recreate these ancient works. During the summertime on Friday evenings, the Sculpture Garden has live jazz.
10. Visit Embassies during Passport DC
During this annual springtime celebration, more than 40 embassies open their doors to visitors, staging cultural demonstrations, food tastings, and music and dance performances. It's an amazing way to spend a few days, learning about various cultures, countries, and eating tons of delicious food!
Typical Costs
Hostel prices
– Hostels start at about $30 per night for a large 10-person dorm room. You can expect to pay about $50 for a 4-person dorm room. You can expect to pay about $70 for private hostel rooms, though there are fewer options for hostels with private rooms. Many hostels in D.C. offer some version of a common room and a kitchen; though don't expect anything too fancy. My suggested place is:
Budget hotel prices – D.C. isn't cheap, especially during the summer when the city is packed. Centrally located budget hotels cost between $100-150 per night for a double room. All hotels in D.C. usually have air-conditioned rooms, and some have free WiFi and pools. There are a good number of Airbnb hosts here, many with centrally located rooms or private apartments. You can get a private room starting at around $80 per night, and an entire home starting around $110 per night.
Average cost of food – There are plenty of cheap options throughout the city most meals are under $15. There are plenty of sandwich shops or fast food options for under $10. A week's necessities from the grocery store are about $40-60. A nice dinner with wine will cost you around $40. Comet Ping Pong is one of the best places to hang out in the city.
Transportation costs – The D.C. Metro is your best option for getting around D.C., since it travels all over the city. You can get a SmarTrip Metrorail Day Pass for $15. Buses are also a good option for transportation, and you can buy a SmarTrip 7-day unlimited pass for only $18. Taxis are a less cost effective option. There are many surcharges in D.C. on taxi rides, such as a $2 surcharge per passenger over 2 passengers. Taxis will cost you $14+, depending on the zone, so this tends to be an expensive option that adds up fast. Washington D.C. is serviced by both Uber and Lyft, with a base Uber ride fare of $7.
Suggested daily budget
$60-90 (Note: This is a suggested budget assuming you're staying in a hostel, eating out a little, cooking most of your meals, and using local transportation. By using the budget tips below, you can always lower this number and, if you stay in fancier accommodation or eat out more often, expect your budget to be higher!)
Money Saving Tips
Visit the museums and monuments for free – Most of the museums in D.C. are free, due to a public funding initiative. The D.C. museums are some of the most incredible in the U.S. Along with all the museums the monuments are also free for viewing.
Take a free walking tour – Free Tours By Foot offer free walking tours of the city. I suggest doing one of these when you arrive, so you can ask the tour guide all of your questions and get recommendations on what to do in the city.
Check out the public performances – The Kennedy Center's Millennium Stage offers free performances on a nightly basis. Some theaters offer student and senior pricing and you can also save money by purchasing last-minute tickets.
Free outdoor theater – During the summer months free outdoor movies have become popular and are offered at many places around the city.
Find the cheap eats – Head over to Georgetown or DuPont Circle and enjoy great food at a great discount. DuPont circle also hosts a farmer's market every Sunday from April through December, so you can stock up on items for your stay.
Book an apartment – Airbnb has gotten really popular in lots of cities in the US and D.C. is no different. You can usually find a really great deal, and I highly suggest this if you're traveling with a couple of people!
Walk or take the metro – Cabs tend to add up quickly in D.C., but the metro is a pretty affordable option. Since most of the monuments and museums are in the central area, you can hit up many of them within walking distance.
Visit embassies – Since so many embassies have offices in D.C., and love to promote their country's culture, you can find lots of activities that embassies are hosting. Take the time to visit other countries and sample music, history, and food.
Leave the city center – While many of the free museums are downtown, so are the more expensive restaurants! With so many interesting neighborhoods just beyond the city center, it is worth a short metro ride to check out some of the amazing
Save money on rideshares – Uber and Lyft (my preferred company) are way cheaper than taxis and are the best way to get around a city if you don't want to take a bus or pay for a taxi. The shared/pool option (where you share a ride with other people) offers even better savings. You can save money off your first rides with the following codes: Lyft (MATTHEW999 to save $10) and Uber (jlx6v to save $15).
My Must Have Guides For Traveling to Washington D.C.
Photo credits: 2