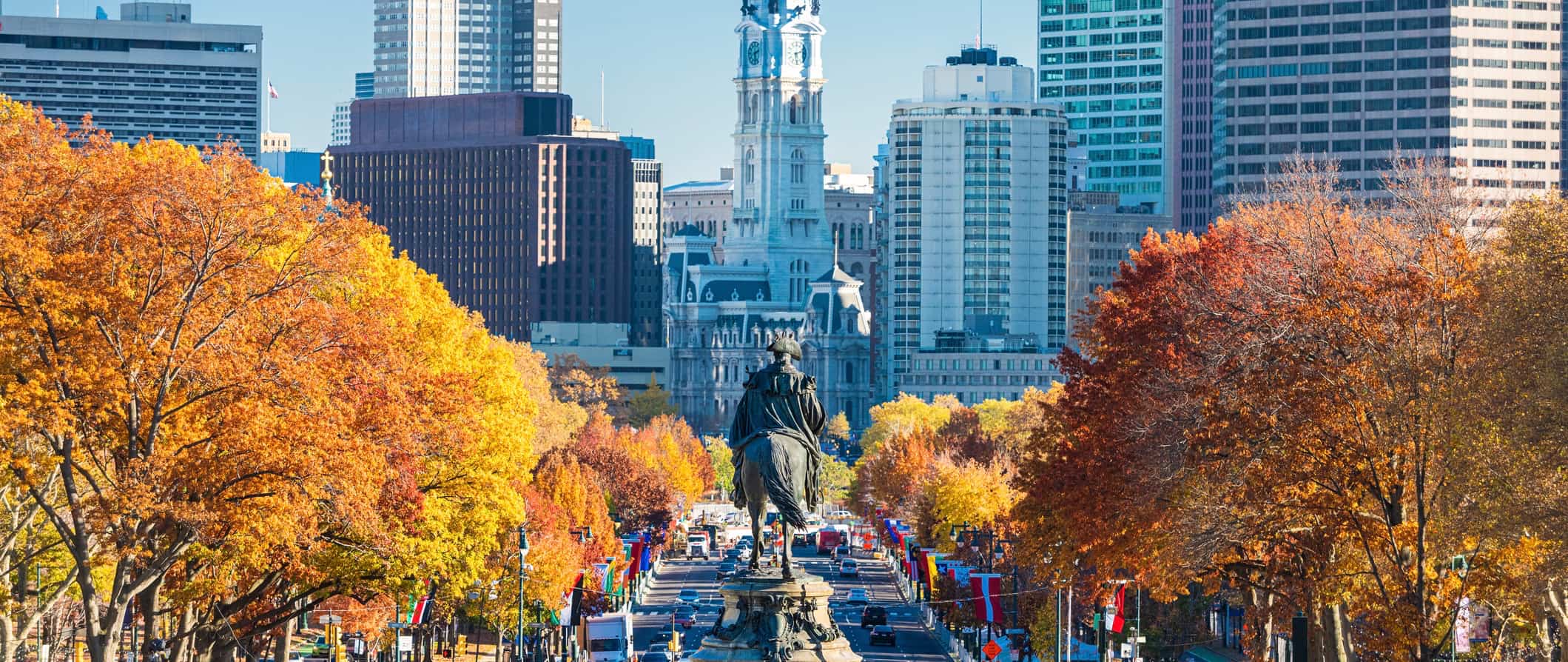 The City of Brotherly Love is a place I've visited often throughout my life (I have family there). While the city has received a bit of a bad rap over time due to poverty, mismanagement, and crime, Philadelphia has changed a lot in the last few years. It's too often overlooked in my opinion.
Today, it's a vibrant destination with a growing population, a rising standard of living, active civic engagement, and lots to see and do.
It's also packed with colonial history (the first Continental Congress was held here in 1774), making it an educational stop for anyone interested in learning more about the United States' past.
There's a lively nightlife and awesome food scene too (it's all about the cheesesteaks here). You can easily fill a few days.
This travel guide to Philadelphia can help give you all the information you need to plan your trip.
Click Here for City Guides
Top 5 Things to See and Do in Philadelphia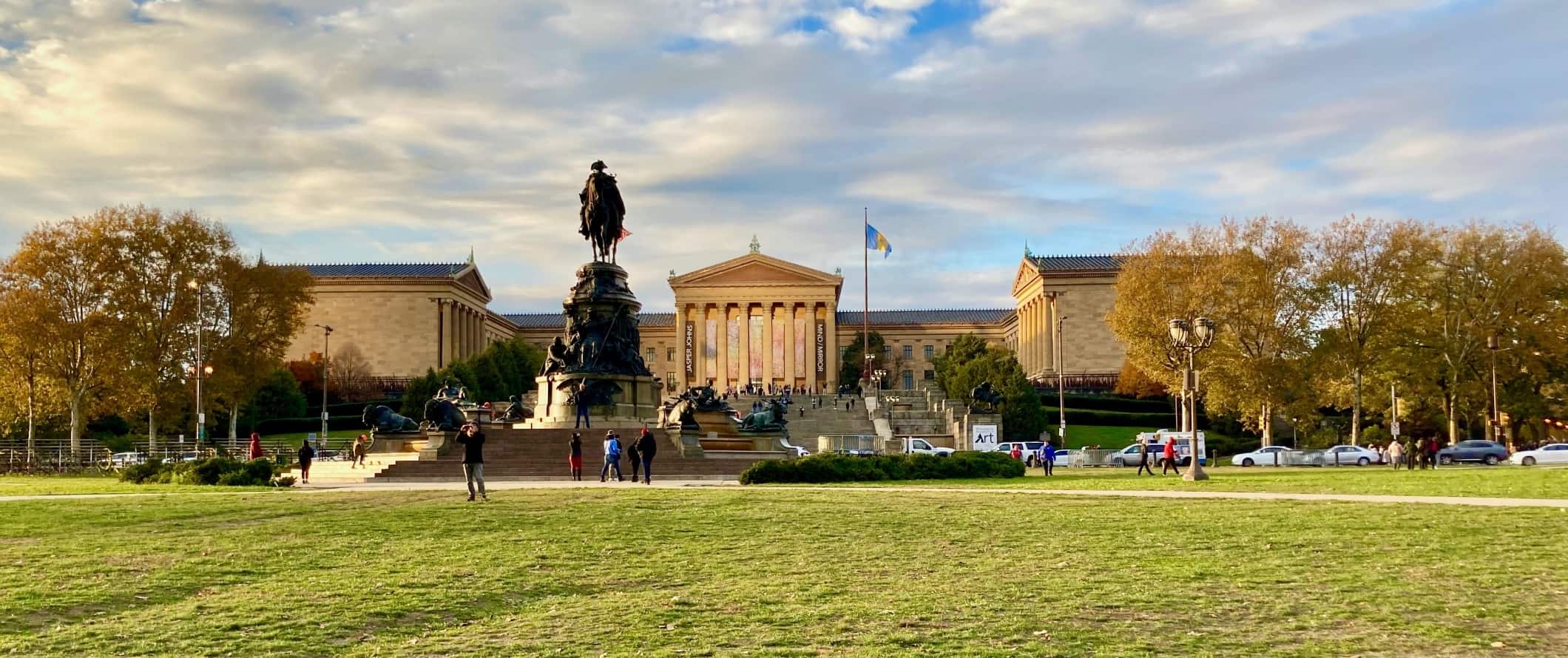 1. See the Liberty Bell
This bell, which dates to 1752, is an iconic symbol of American freedom. It's said to have been rung when the Declaration of Independence was read in July 1776. The 2,080-pound (940-kilogram) bell was cast in London, yet cracked the first time that it was run upon its arrival in Philadelphia. Local metalworkers recast it twice, yet the bell eventually cracked again, leaving the distinctive crack it still bears to this day. Today, the bell is located in Independence National Historical Park, which you can visit for free.
2. Run up the Rocky stairs
The stairs from Rocky, the classic boxing film from 1976, are located at the Philadelphia Museum of Art. You can't visit Philadelphia without running up them and doing your best Stallone impression. Just be prepared – there are 72 steps! When you're done, there's a bronze statue at the bottom of the steps that you can pose with. The 10-foot (3-meter) statue was originally created for a scene in the 1980 film, Rocky III, and later installed at its current location.
3. Photograph the LOVE statue
This sculpture of the word "Love" by Robert Indiana is one of the most iconic sights in town. Installed in 1976 in JFK Park (commonly called Love Park), the aluminum sculpture is a popular place to snap some photos, relax, and do some people-watching. "Amor" is the sister sculpture of "Love," created by the artist to recognize the changing demographics of the country and his desire to connect with Spanish-speaking communities. You can visit "Amor" in Philadelphia's Sister Cities Park.
4. Visit the National Constitution Center
This insightful museum is all about the Constitution (though the document itself is located in Washington, DC). There are interactive displays as well as regular events and lectures where you can learn more about how the Constitution relates to the issues of the day. The center also has hosted Presidential and Senatorial debates. Admission is $14.50 USD and you need to reserve a time slot in advance.
5. Browse Reading Terminal Market
Opened in 1893, this is one of the oldest and biggest markets in the country. There are over 80 stalls, vendors, and merchants offering all kinds of fresh produce, local cheeses, tasty meals, flowers, and handicrafts. This is a great place to grab a bite to eat, including local specialties like the iconic Philly cheesesteak or Pennsylvania Dutch whoopie pies. The market is open daily from 8am to 6pm (though Pennsylvania Dutch merchants don't operate on Sundays).
Other Things to See and Do in Philadelphia
1. Take a free walking tour
The first thing I do when I visit a new city is take a walking tour. They're the best way to get the lay of the land, see the main sights, and meet a local guide who can answer all your questions. Free Tours by Foot runs regular free walking tours that can show you all the main sites. Just be sure to tip your guide!
For an in-depth paid historical tour, check out The Constitutional. Tours last 90 minutes and cost $19 USD.
2. See the President's House
This three-story brick building is where the president lived from 1790 to 1800, when Philadelphia was the capital (George Washington and John Adams both resided here while running the government). Prior to independence, the building was the headquarters for the occupying British forces. The house was accidentally destroyed in 1951, so only the walls remain. Today, the house is an open-air memorial that focuses on the role of slavery in colonial America — including the use of slaves in George Washington's own house. Admission is free.
3. Visit the distilleries
Before the US embraced prohibition between 1920 and 1933, Philadelphia was a thriving distillery hub. While the 18th Amendment wiped out that progress, the city has slowly been returning to its boozy roots after a 2011 law allowed distilleries to run tours and offer samples. The city has a handful open to the public. Some local favorites are Philadelphia Distilling (the first to open to the public after the new law), Stateside, and New Liberty Distilling. Tour prices vary (and some are still closed for COVID), but expect to pay around $15-20 USD.
4. Tour the Museum of Art
Established in 1876 for the first World's Fair, the Philadelphia Museum of Art is home to over 240,000 items, including paintings, sculptures, drawings, armor, prints, photographs, and more. There are works by Monet, Van Gogh, Renoir, Rodin, and other masters. Admission is $25 USD; however, a pay-what-you-can admission is offered on the first Sunday of the month, as well as on Fridays, 5pm–8:45pm.
5. Try a Philly cheesesteak
No visit to the City of Brotherly Love would be complete without trying a Philly cheesesteak. This sandwich consists of thinly sliced beef with melted cheese served on a crusty bun. While every local has their favorite place to grab one, some of the most popular are John's Roast Pork, Pat's King of Steaks, and Geno's Steaks.
6. Visit Christ Church
Completed in 1744, this church is where many of the Founding Fathers and other noteworthy individuals worshipped, including George Washington, Benjamin Franklin, and Betsy Ross. The current brick church replaced the original wooden building, which the community quickly outgrew. Upon completion, it was the tallest building in the US, at 196 feet. In the nearby cemetery, you'll find the grave of Benjamin Franklin himself. Admission to the burial ground is $5 USD.
7. Catch a game
While I'm not a big sports fan, catching a game in person is always a good time. The city's hockey team (the Flyers) was one of the first 12 teams in the NHL, while the Phillies baseball team is the oldest one-name, one-city sports team in the country. Prices vary, but you can usually find tickets for $25-50 USD, depending on the seats.
8. Tour Magic Gardens
This quirky folk art exhibition and art gallery is one of the most unique attractions in town. It's a collection of indoor and outdoor art and mosaics made from broken tiles, glass, and all kinds of odds and ends. Started in 1994 and opened to the public in 2008, it spans three city lots. There's an outdoor labyrinth you can explore as well. Admission is $15 USD.
9. See the Edgar Allen Poe National Historic Site
Born in 1809, Edgar Allen Poe is best known for his macabre short stories (such as The Tell-Tale Heart). While he lived in several houses around town over the years, this home-turned-historic site is the only one still standing. During his time in Philly, Poe published over 30 stories, making it one of the most prolific periods of his life. You can read his works, hear theories and criticisms about his writing, and tour some of the rooms he lived in. Admission is free.
10. See City Hall
Completed in 1894, this building is the world's largest free-standing masonry building, built from granite, marble, and limestone. It was the world's tallest building when it was completed (until 1908). The building is topped with a statue of William Penn, the founder of the city. The view from the top is one of the best. Tours are available on Saturdays for $8 USD (though they are currently paused due to COVID).
11. Visit Franklin Court & Museum
Benjamin Franklin is one of the Founding Fathers of the US. One of the leading intellectuals of his time, Franklin was a gifted writer and thinker. This small court is where Franklin lived from 1763 to 1790 while serving in the Continental Congress and Constitutional Convention. While his house was torn down after his death in 1790, a hollow structure stands where it was located, and there's a museum nearby with information about his life and works. There's also a working reproduction of an 18th-century printing office, as well as a post office here (Franklin was the first Postmaster General). Admission to the outdoor court is free. Admission to the Franklin Museum is $5 USD.
12. Explore Eastern State Penitentiary
This former prison was in operation from 1829 until 1971. It held all kinds of big-name criminals during that time, including mobster Al Capone and bank robber Willie Sutton. Today, it's a National Historic Landmark and open to the public for tours. There are a few solitary confinement cells you can explore, and there are both day and night tours as well. Self-guided tours (narrated by actor Steve Buscemi) are also available. Admission is $17 USD.
13. Take a food tour
Philly is a foodie city, and the best way to sample and learn about the city's culinary delights is with a food tour. City Food Tours offers a few different ones around town, though its Flavors of Philly tour is the best place to start. You'll visit five different restaurants over 2.5 hours, tasting the best eats along the way. Tours start at $44 USD.
For more information on other cities in the United States, check out these guides:
Philadelphia Travel Costs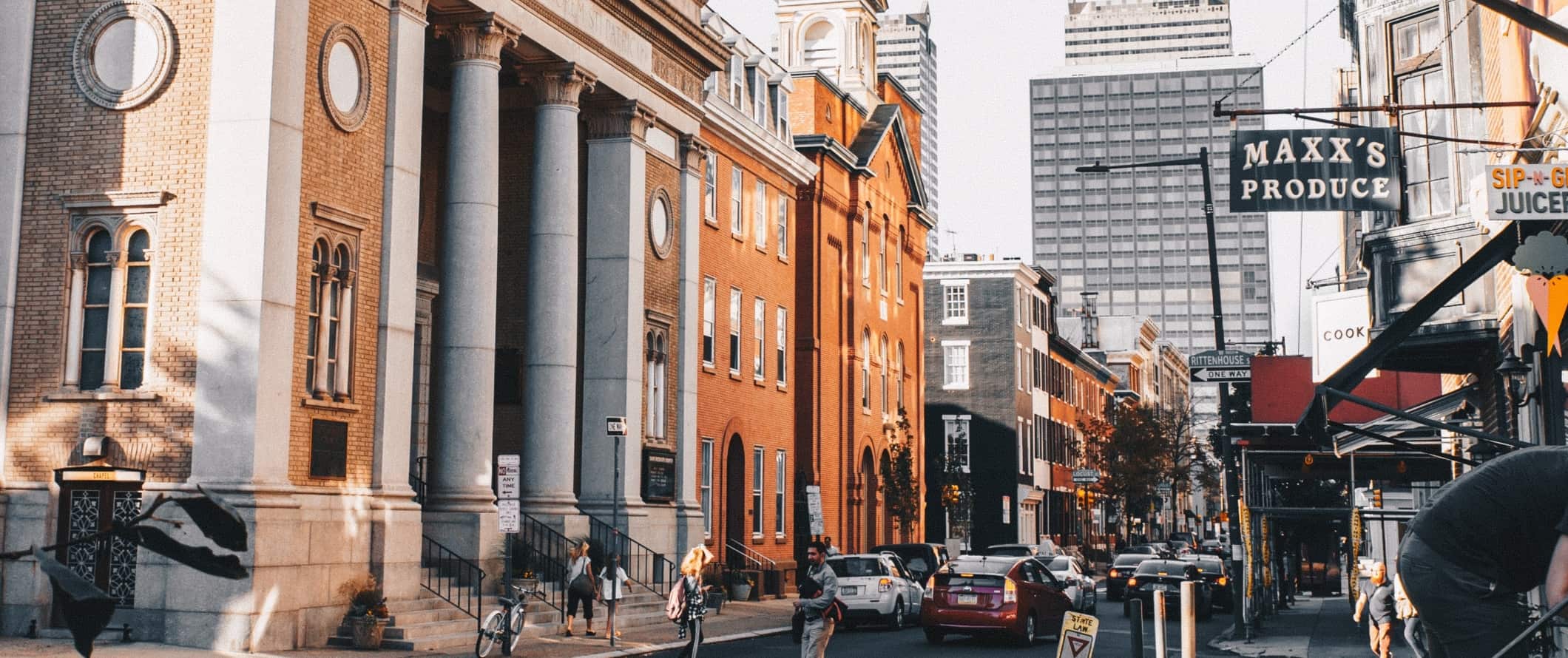 Hostel prices – There is only one hostel in Philly; it starts at $25 USD per night for bed in an 18-bed dorm. For a spot in a 6-bed dorm, prices start at $28 USD. Private rooms start at $83 USD per night. Free Wi-Fi is standard, and the hostel also has a kitchen for cooking your own meals.
Camping is available outside Philly for those traveling with a tent. You'll likely need a car to make it worthwhile however. A basic plot for two people without electricity starts at $20 USD.
Budget hotel prices – Budget hotels start at $115 USD per night, though they usually aren't very conveniently located. For a downtown hotel, expect to pay at least $175 USD.
Airbnb is available around town, with private rooms starting at $40 USD (though they average $65 USD) per night. Entire homes/apartments start at $75 USD per night.
Food – Like most US cities, food here is cheap and plentiful. It's super easy to eat on a budget, though it might not be the healthiest. The city is famous for its cheesesteaks and hoagies (which are like submarine sandwiches), as well as its pretzels. Expect to pay around $10 USD for a cheesesteak (you can find them cheaper, but the best ones will be at least this much).
Hot dogs and sausages on the street, with a drink, can be found for under $5 USD, while fast food (think McDonald's) is around $8 USD for a combo meal.
A large pizza costs around $12 USD, while Chinese food is around $9 USD for a main dish. For a multi-course meal with table service and a drink, expect to pay at least $30 USD.
Beer costs around $5 USD, while a latte/cappuccino is around $4.50 USD. Bottled water is $1.50 USD.
If you plan on cooking your meals, expect to pay around $45-55 USD for a week's worth of groceries, including basic staples like pasta, rice, vegetables, and some meat.
Backpacking Philadelphia Suggested Budgets
On a backpacking budget of $60 USD per day, you can stay in a hostel, cook your meals, use public transportation to get around, limit your drinking, and do free activities like see the Rocky stairs and visit the Liberty Bell. If you plan on drinking, add another $10-15 USD per day.
On a mid-range budget of $140 USD per day, you can stay in a private Airbnb or private hostel room, eat cheap street food for most meals, have a few drinks, take the occasional taxi to get around, and do more paid activities, like visit Magic Gardens or catch a game.
On a "luxury" budget of $350 USD or more per day, you can stay in a hotel, eat out pretty much anywhere you want, drink at the bar, take more taxis, and do as many guided tours and activities as you want. This is just the ground floor for luxury though. The sky is the limit!
Accommodation
Food
Transportation
Attractions
Average Daily Cost
Backpacker
$25
$15
$10
$10
$60
Mid-Range
$60
$40
$15
$25
$140
Luxury
$175
$100
$25
$50
$350
Philadelphia Travel Guide: Money-Saving Tips
Compared to cities like LA or NYC, Philly isn't super expensive. However, costs can add up quick if you're not careful. Here are some tips to help you keep your budget in tact:
Take a free walking tour – If you want to see the main sights on a budget, take a free walking tour. You'll get an expert guide to show you around and answer all your questions for free. Fee Tours By Foot is the best company to go with. Just be sure to tip!
Visit the free sights – The Liberty Bell, Independence Hall, Franklin Court, and Congress Hall are all free. Really, most of the history stuff is free. Stick to the free attractions if you're on a tight budget.
Stay with a local – Couchsurfing is a platform that connects you with locals who can host you for free. You'll not only get a free place to stay, but you'll get to connect with someone who can share their tips and advice about the city.
Cook your own meals – While binging on hoagies sounds fun, eating out can add up. Cook your own food to save money. It's not as glamorous, but it will save you a ton of money!
Get the Philadelphia Pass – If you plan on seeing a lot, get the Philadelphia Pass (for 1, 2, 3, or 5 days). It can save you a lot if you plan on visiting a bunch of attractions (over 30 are available). Passes range from $52 USD to $105 USD.
Get a transit pass – Philly doesn't have a proper transit day pass; however, there is an 8-ride pass for $9 USD, which makes each ride around $0.88 USD — over 50% cheaper than the standard $2 USD fare.
Bring a water bottle – The tap water here is safe to drink, so bring a reusable water bottle to save money and reduce your single-use plastic usage. LifeStraw makes water bottles with built-in filters to ensure that your water is always safe and clean.
Where to Stay in Philadelphia
There is only one hostel in Philadelphia, so you'll need to book early if you're on a budget. Budget hotels are also rare, so be sure to check Airbnb for the best deals. Here are my recommended places to stay:
How to Get Around Philadelphia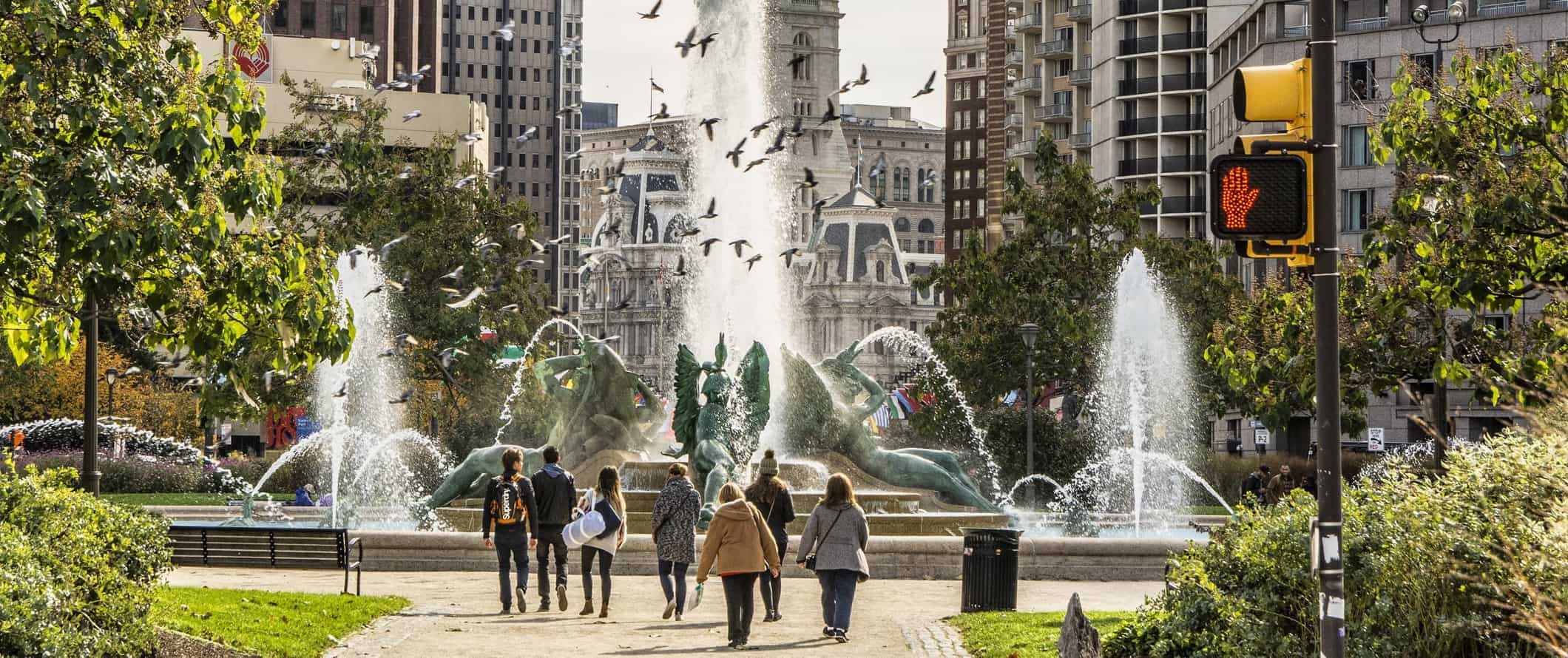 Public transportation – Philly is connected by buses, trolleys, a metro, and regional rail lines. Fares start at $2 USD with a SEPTA card (a reloadable transit pass that costs $4.95 USD) or $2.50 USD if paying cash (exact change is needed).
A pass with 8 rides (regional rail not included) costs $9 USD. This is as close to a day pass as the city offers.
The train to/from the airport takes around 25 minutes and costs $6.50 USD.
Taxi – Taxis here start at $3.25 and charge $5.50 per additional mile. They can really blow your budget fast, so avoid them if you can.
Ridesharing – If you need to take something like a taxi, use Uber or Lyft instead. They are generally cheaper.
Bike rental – Indego is Philly's bike-share program. There are 140 stations around town, with day passes starting at $12 USD for unlimited 30-minute rides. As long as you return the bike to a station within 30 minutes, you can avoid the additional $0.15/minute charge.
Car rental – You don't need a car to get around the city and, since parking isn't cheap, I'd skip the rental unless you're planning to leave the city. For the best rental car prices, use Discover Cars.
When to Go to Philadelphia
Summer is the most popular time to visit. While the city gets busy, the sun is out and there are lots of events and festivals to attend. Expect daily highs between 85 and 90°F (29-32°C). Book your accommodation early if you're visiting in the summer, as budget accommodation fills up fast.
Winter offers cheaper prices, but it's cold, with temperatures hovering around 40°F (4°C). Unless you just plan to visit museums and stay indoors, I'd avoid visiting in the winter.
The late spring and early fall are great times to visit, as the weather is temperate and it isn't busy. While you might get a little rain, it's nice enough to walk around, and you won't have the summer crowds or booked accommodations that are found in the summer.
How to Stay Safe in Philadelphia
While Philadelphia has a bad rap, it is relatively safe, and scams and incidents here are rare, beyond a few specific neighborhoods. Solo female travelers should generally feel safe here, however, the standard precautions apply (never leave your drink unattended at the bar, never walk home alone intoxicated, etc.).
In fact, taking standard precautions goes for everyone. Avoid flashing your valuables while out in public and make sure they are out of sight in crowds and on busy public transportation.
Theft and violent crime are rare outside of a few areas, so as long as you use common sense, you shouldn't experience any issues. Avoid the areas of Nicetown and Hunting Park.
If you're worried about travel scams, you can read about common travel scams to avoid here. There aren't many in the United States though.
If you experience an emergency, dial 911 for assistance.
Always trust your gut instinct. Make copies of your personal documents, including your passport and ID. Forward your itinerary along to loved ones so they'll know where you are.
The most important piece of advice I can offer is to purchase good travel insurance. It will protect you against illness, injury, theft, and cancelations. It's comprehensive protection in case anything goes wrong. I never go on a trip without it, as I've had to use it many times in the past. You can use the widget below to find the policy right for you:
Philadelphia Travel Guide: The Best Booking Resources
These are my favorite companies to use when I travel. They consistently have the best deals, offer world-class customer service and great value, and overall, are better than their competitors. They are the companies I use the most and are always the starting point in my search for travel deals.
Skyscanner – Skyscanner is my favorite flight search engine. They search small websites and budget airlines that larger search sites tend to miss. They are hands down the number one place to start.
Hostelworld – This is the best hostel accommodation site out there with the largest inventory, best search interface, and widest availability.
Booking.com – The best all around booking site that constantly provides the cheapest and lowest rates. They have the widest selection of budget accommodation. In all my tests, they've always had the cheapest rates out of all the booking websites.
Get Your Guide – Get Your Guide is a huge online marketplace for tours and excursions. They have tons of tour options available in cities all around the world, including everything from cooking classes, walking tours, street art lessons, and more!
SafetyWing – Safety Wing offers convenient and affordable plans tailored to digital nomads and long-term travelers. They have cheap monthly plans, great customer service, and an easy-to-use claims process that makes it perfect for those on the road.
LifeStraw – My go-to company for reusable water bottles with built-in filters so you can ensure your drinking water is always clean and safe.
Unbound Merino – They make lightweight, durable, easy-to-clean travel clothing.
Top Travel Credit Cards – Points are the best way to cut down travel expenses. Here's my favorite point earning credit cards so you can get free travel!
Philadelphia Travel Guide: Related Articles
Want more info? Check out all the articles I've written on United States travel and continue planning your trip: