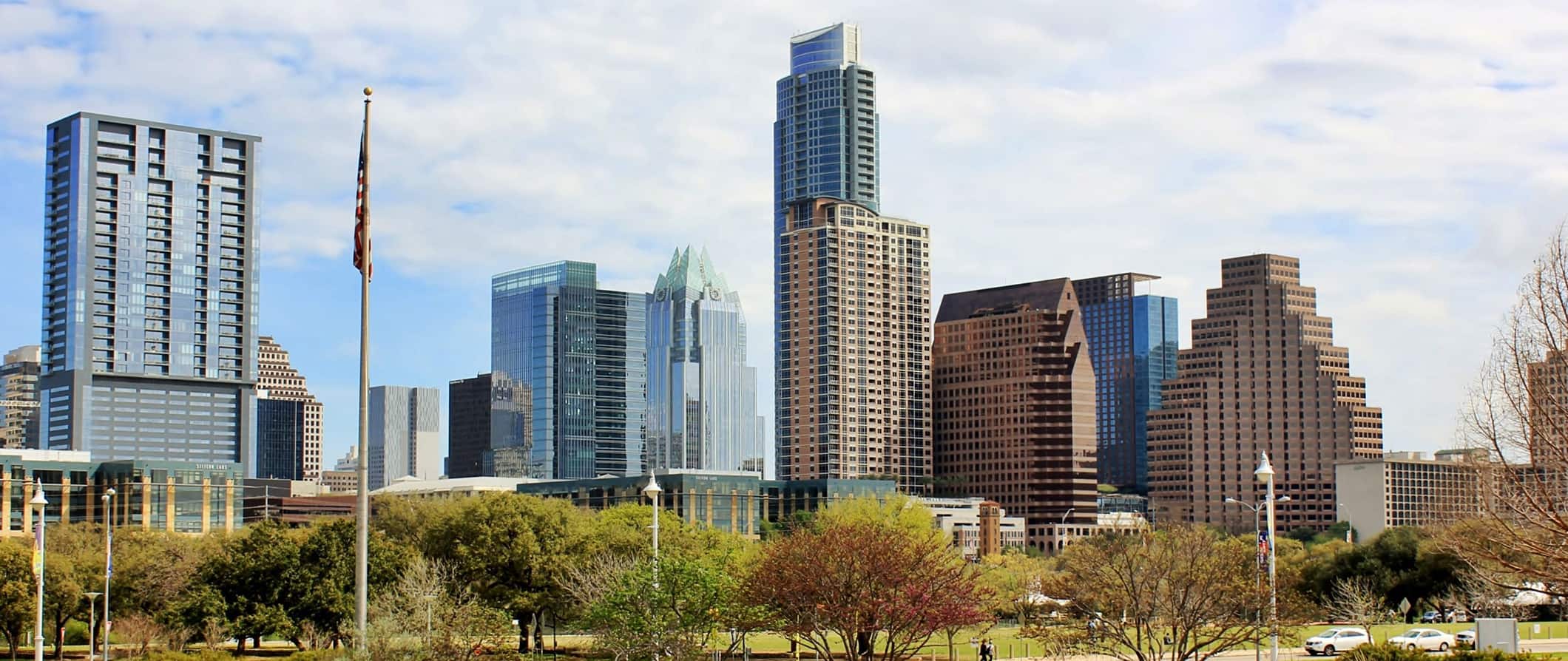 Austin. The weird blue dot in a conservative sea. Located in Texas, Austin has always been home to musicians, hippies, weirdos, and now me. I call Austin my home and I love it. Having grown rapidly in the last five years as a tech hub, this is a city full of start-ups, entrepreneurs, musicians, cowboys, beer lovers, and fitness buffs. It's a cross section of all those who wander. In this city, you'll find line dancing next to an organic food market next to a classic steak house. The beer and food truck scene grows every day and you can throw a stone without finding wonderful music. No one ever walks away disappointed! This city has something for everyone, and this guide will help you make the most of it!
Top 5 Things to See and Do in Austin
1. Listen to music
Austin is famous for its music scene, and there are many opportunities here to listen to some world-class, independent music. Pretty much every bar in the city showcases music. The two big music festivals in the city are Austin City Limits and SXSW.
2. Jump into Barton Springs
Barton Springs Pool is the city's main aquatic treasure. Located in Zilker Park (see below), the natural springs provide a great respite from the summertime heat. If you're up to it, check out Hippie Hollow on Lake Travis, Austin's nudist beach.
3. Visit the State History Museum
This museum focuses on telling the story of Texas, which is a great place to start if you're not familiar with the Lonestar state's past. The museum is home to some interesting artifacts, and they also host regular special exhibitions. Admission is 13 USD for adults, with discounts available for students, seniors, and military personnel.
4. See the LBJ Presidential Library
There are over 45 million pages of historical documents here, including papers from LBJ and many of his close associates. LBJ was a very influential President, so if you're into American history or politics don't miss this! Admission is $10.
5. Cathedral of Junk
The cathedral was built by Vince Hannemann, who sits around while people hang out with his stuff. The Cathedral of Junk is exactly that — a bunch of junk. There are towers of TVs, bikes, old refrigerators, tires, hubcaps, and more. I found the place great for families. Kids + junk + pretend = an easy afternoon.
Other Things to See and Do
(Click the title to expand the text)
1. Museum of the Weird
This museum located on 6th Street is a typical penny arcade featuring weird oddities like a two-headed chicken, a "fish man," a mummy, and even a sideshow. It's one of those "step right up and see some weird shit" kind of places. It's small, taking only 20 minutes to wander through, but it's weird, Austin-like, and sort of fun. Admission is 12 USD.
2. Sample hot sauce at Taste of Joy
This hot sauce shop serves hundreds of different kinds of hot sauces. If you like hot sauce, come here. They offer free tastings for many of the sauces. If you want to go crazy, try all the sauces on the shelves aptly shaped like a coffin. They are for serious spicy addicts only!
3. Visit a Whole Foods
Whole Foods, the nationwide chain, started in Austin and the flagship store is located here in the city. This particular store features a wine bar, smoothie bar, beer locker, roof terrace, giant salad bars, and seemingly endless supplies of vegetables, food, and in-store restaurants. It's a food heaven, and it might be my happy place, too.
4. Watch the bats
From mid-March until November, the Congress Avenue Bridge in downtown Austin is home to 1.5 million flying bats. Visit the waterfront at dusk to watch these beauties head out for their nightly foraging.
5. Zilker Park
Zilker Park is in the heart of south Austin. The park offers many different types of outdoor activities such as hiking, biking, kayaking, jogging, and anything else you can do in a park. Barton Springs (see above) is here as well. And don't forget to visit the statue park.
6. Eat some BBQ
If you like BBQ, you've come to the right city! Austin has some incredible offerings when it comes barbeque, including La Barbeque and Franklins. While it's not uncommon to wait hours, I can assure you the food is worth it! Get there early to avoid the worst of the waiting!
7. Hang out on Lady Bird Lake
This lake is actually a reservoir on the Colorado River. Located in downtown Austin, it's a great place for rowing or kayaking as no motorboats are allowed on the water. There are trails around the lake for hiking and cycling, too.
8. See a movie at the Ritz
This was the first movie theater in Austin to be built for talking films (it opened in 1929!). Located on 6th Street, it's a great place to catch a movie. There is an attached comedy club and music hall, too.
9. Swim in Deep Eddy
This man-made pool is fed from a nearby well with non-chlorinated water. It's the oldest swimming pool in Texas and is open all year around (its hours of operation are shortened during the winter, though). In the summer they show family movies here, projected onto an inflatable screen.
10. Take a craft beer tour
Austin is home to a growing number of craft beer breweries, most of which offer tours of their facilities (with samples, of course!). If you find a local beer you like be sure to check out their brewery. There are also companies like ATXcursions that organize tours of multiple breweries. If you take a tour organized by a third party, expect to pay around 70 USD per person.
11. Try an escape room
Austin is home to a few great escape rooms, which are a fun way to spend an afternoon. The Escape Game Austin is one of the top-rated rooms in the country and offers some really neat challenges. If you've never tried an escape room, this is the place! Admission is usually around 25-30 USD per person.
12. Go two-stepping
Country dancing can be found all over the city, with the White Horse being the most famous spot. If you go on Wednesday, they even give free two-step lessons! The Broken Spoke is another popular place to dance, too.
13. Experience First Thursday
The South Congress Hotel hosts a huge event on the first Thursday of every month. There is live music and all-night happy hour. Don't miss this if you're in town — it's one of my favorite monthly events!
14. Get weird on Rainey Street
This nightlife area is filled with old houses that have been recently converted into bars. Originally the "hipster" part of the city, it's now mainstream and teems with people on the weekend. Personally, I hate coming here on the weekends: it's too crowded and there are too many bachelor/ette parties. I find the scene a little too wild for me (though you may not!)
15. Grab a cocktail
Beer and cheap drinks reign supreme in Austin, however, there is a growing cocktail bar scene in the city. If you're looking for the perfect cocktail, try Firehouse Lounge, Floppy Disk Repair Shop, Midnight Cowboy, Garage, or Whistler's (see, there are a lot!).