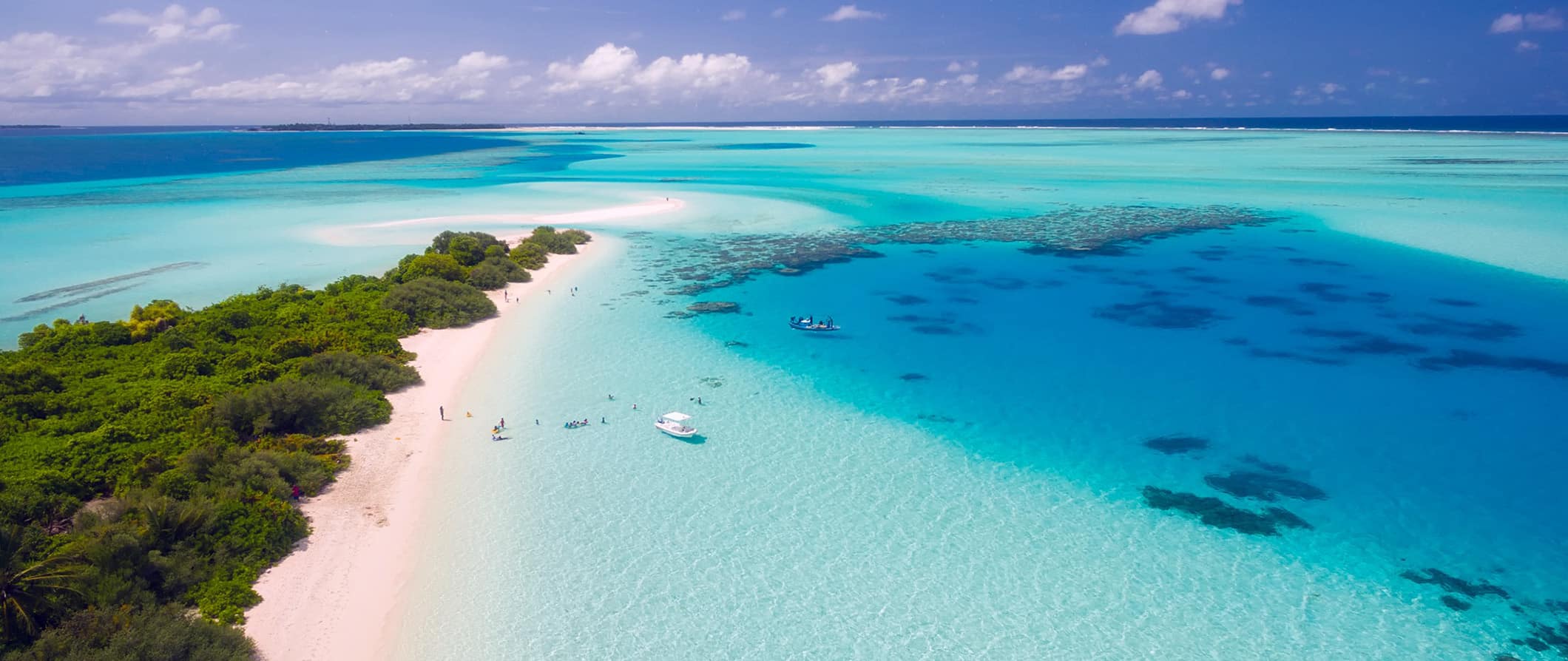 The Maldives are the perfect place for honeymoons and couples looking for a luxury island vacation. This country of 1,000 islands has everything a person could want in a tropical island — clear water, white sand beaches, palm trees, warm sunny days, and lots of great diving. It's as close to heaven as you can get. While the Maldives have always been thought of as an expensive, honeymoon /couple place to visit, it's actually an incredible budget traveler destination. Yeah, the resorts are expensive (even the ones on the cheaper end) but the country has opened up its tourism in recent years and now allows locals to start their own guesthouses and the ferry system is greatly improving. You can easily visit these countries on a budget and still get to experience that picture perfect beach vacation you came here for!
Top 5 Things to See and Do in the Maldives
1. Explore Male
This relatively small city is host to many interesting mosques, museums. The Hukuru Miskiiy, also known as the Old Friday Mosque, is the oldest in the country, dating back to 1656. Some other interesting places to check out are the National Art Gallery, the National Stadium, and Sultan's Park.
2. Dive the Banana Reef
This is a protected marine area that is known internationally for its beauty and incredible diving and snorkeling. The numerous caves, overhangs, and dramatic cliff lines result in stunning photos with every shot you snap. The brilliant coral growth attracts a huge range of sea life, including grouper, barracuda, morays, jackfish, snapper, and more.
3. Visit Mahibadhoo
Mahibadhoo is clean (locals volunteer to clean the island once a week), and the buildings were more colorful, featuring a rainbow of pastel-colored structures. Though it doesn't have a "bikini beach" (as the beaches for foreigners are called), there is good snorkeling right off shore, and it's a launching pad for day trips to deserted atolls and quieter islands like Dhanbidhoo, Kalhaidhoo, and Isdhoo.
4. Eat
The food here is beyond delicious and incredibly fresh. Most of the restaurants in Male offer outdoor dining areas. Some of the more popular places to go include The Seagull Café, Symphony, Royal Garden Café, and Irudhashu Hotaa (for quick meals).
5. Do some watersports
Check out one of the many water sports available throughout the Maldives. The water here is great for a ride, whether it's via a banana boat, parasailing, water skiing, or any other number of things. You are sure to have a thrilling time!
Other Things to See and Do
(Click the title to expand the text)
1. Skip Maafushi
Maafushi, once a sleepy little island, is now the victim of uncontrolled development. There are hotels going up left and right, boats making frequent trips to Malé to pick up tour groups, and one small, increasingly crowded, overbuilt beach. The few restaurants on the island cater mostly to tourists, and outside the area cleaned up for visitors, it's one trash-covered dump. Skip it!
2. Ride the Whale Submarine
This popular excursion takes you along the ocean reef. This is perfect for children and those that aren't into diving. There are several boats that can take you to the launch point — The Whale House. It is best to set up a reservation in advance, even though there are several departures daily. Tickets are 1,850 MVR for adults and 925 MVR for children.
3. Go fishing
Fishing is really popular here, so for those of you that are into it, this is a real treat. There is plenty of big game to go after, and you can spend days doing it. Many of the hotels offer package deals and will set you up with any necessary equipment and bait. Night fishing is also included. Prices will vary depending on how long you go for and whether your book a private charter, but expect to pay at least 700 MVR.
4. Retreat to Bathala Island
This is a beautiful island in the north Ari Atoll. It is just 90 minutes by speedboat from the airport or 20 by seaplane. The beaches here are covered in soft, white sand and there is a lot of natural overgrowth. The island is small and intimate — it only takes 10 minutes to walk to perimeter — but there is something private and humbling about it.
5. Dive the Wreck of the Maldive Victory
This is a dive that is best suited for the more experienced and comfortable. There is a heightened challenge, due to the potential for strong currents. At the deepest point, the ship (which originally sunk in 1981), sits at 115 feet. The structure is almost entirely intact and it is now home to a rich growth of sponges, coral, tubastrea, and a variety of fish.
6. Have a spa day
When you spend the time and money to travel all the way to a place like this, it is almost a must to spend at least a few hours at the spa. The best thing about being here is that it is easy to unwind, relax, and do something great for your body. Massages, detoxes, soaks, wraps, and facials are some of the few things to consider. Prices will vary depending on what treatment you get and where you get it done. Expect to pay at least 600 MVR.
7. Explore the Fish Head
Also known as Mushimasmingali Thila, this is another world-famous dive site among the Maldives. The biggest attraction here is the number of gray reef sharks that can be seen—but you will also see a wide variety of colorful fish, including Napoleons, fusiliers, and even barracudas! The walls run deep into the ocean depths and run like multi-level ledges, covered in anemones, sea fans, and black corals.
8. Go surfing
If you are in the Maldives anytime between March and October, then you are pretty much guaranteed some primo surfing time, with June through August holding the promise of the biggest waves. The Atoll of Male is a popular place to go, but there are tons of great spots to check out. If you want to stay at an all-inclusive surf camp, expect to pay around 1,600 MVR per night.
9. Shop at the STO Trade Center
Located in Male, this is the city's largest supermarket. Picking up stuff here can save you a little extra money, especially if you are staying somewhere with a kitchen. There is a great assortment of fresh fruits and vegetables, as well as some interesting local favorites.
10. Visit the National Museum
Located in Male, this small museum can be found in Sultan's Park. First opened in 1952, this museum showcases the rich cultural heritage and history of the country. Many of the items here once belonged to the former kings and queens of the country. Admission is 100 MVR for adults and 20 MVR for children.
Typical Costs
Accommodation
– Aside from the capital, there are no "hotels" in the Maldives. The cheaper resorts usually start at around 900 MVR in the low season. At most resorts, a double room will cost at least 1,500 MVR per day. Air-conditioning and WiFi are relatively standard at most resorts, however, if you want a resort with a swimming pool, expect to pay several thousand MVR per night! However, thanks to new laws, locals can open their own guesthouses and you'll find many islands with guesthouses. Most start around 600 MVR per night for a room with a private bathroom (and will include wifi and breakfast). Use
Booking.com
as they consistently return the cheapest rates.
Food – All your meals and drinks are included when you are at the resorts. On the main island of Male, you can find local markets and restaurants where meals typically cost around 80 MVR. For a nicer meal at a restaurant with table service, expect to pay around 325 MVR. If you buy your own groceries, and depending on your diet, expect to spend around 1,000 MVR per week. On the non-resort islands, expect to pay, 110-150 MVR each for most meals, 150-230 MVR for the dinner buffets you see around, and 5 MVR for a pot of tea. A bottle of water will cost between 6-12 MVR.
Transportation – Your resort takes care of all your transportation needs and can help you figure out what ferries you need to get around. Getting from the airport to Male via ferry will cost around 40 MVR per person. Public inter-island ferries cost 30-75 MVR while speedboats cost 110-310 MVR. Flights from Sri Lank are the cheapest, with tickets costing as little as 2,300 MVR, round trip. If you are flying from the United Arab Emirates, expect to pay double that.
Activities – Diving costs vary but a single-tank dive will cost around 100 MVR and a week's worth of diving will cost around 5,250 MVR.
Suggested daily budget
770-1,075 MVR / $50-70 USD (Note: This is a suggested budget assuming you're staying the local guesthouses, eating the local food, and using local transportation. If you plan to do a resort Maldives vacation, expect to pay at least 4,500 MVR per night at a resort!)
Money Saving Tips
Fly from the Middle East or Asia – Even getting to the Maldives by plane can be incredibly expensive. Luckily, regional airlines like Air Asia and Sri Lankan Airlines and have begun offering cheaper airfare to get there. Be sure to try to book a flight from either Asia or the Middle East to save on your ticket price!
Use ferries – The Maldives' atolls are served by a series of ferries from Malé. They run on opposite days (to Maafushi on Monday, back to Malé on Tuesday) and rarely on Friday (it being the Muslim sabbath). You can jump from Malé to an atoll's capital island then to smaller, nearby islands in the chain. The ferry is only 30-75 MVR depending on distance. Research the ferries beforehand so you know when and where you can go next. Island hopping is very difficult without planning.
Stay with the locals – The Maldives has recently allowed locals to lodge travelers in their homes and this accommodation option is by far the cheapest. Using sites like Airbnb to find these guesthouses is a good choice. The only alternative to this option (since there are a sparse number of hostels in the area) is to spend the night at an expensive resort. Learn more about the local culture and save a ton of money by staying in guesthouses.
There is no alcohol – As the Maldives is a Muslim country, you can't get alcohol anywhere in the country, except on the resort islands which have a special exemption.
Take lots of USD – Though the Maldives has its own currency (MVR), US dollars are widely accepted, and you often get a better price if you pay in USD. This varies from one restaurant or shop to another, so I carried both currencies with me and paid in whatever currency had a lower price. (Though you're talking the difference of 50 cents, every penny counts!)
Go on the included excursions – Many guesthouses have planned excursions that you can go on anytime you wish. Due to the private nature of staying at a guesthouse, often it will be you and your host enjoying scuba diving or snorkeling for however long you wish. It's also a smart idea to ask around the local towns to see if they know of any special activities to do.
My Must Have Guides For Traveling to the Maldives