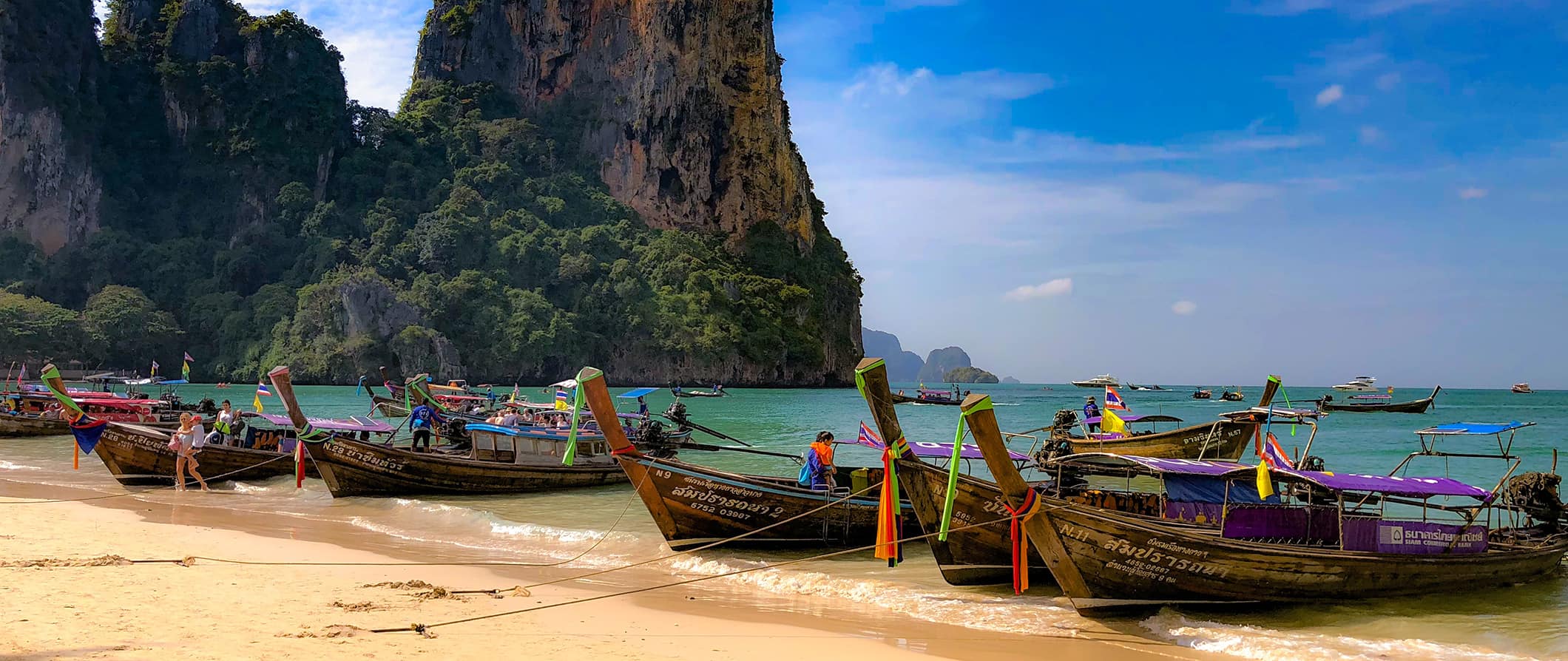 Thailand is the travel hub of Southeast Asia. It's the most visited country in the region — and with good reason!
Most visitors coming into the region fly into Bangkok and make that their base for doing the circuit as they backpack around Southeast Asia.
With its lush jungles, famous beaches, world-class diving, amazing food, and cheap prices, it should come as no surprise that Thailand is my favorite country in the world! I've been coming to the country since 2005, lived there for 2 years, and always seem to be pulled back to it. It's an easy country in which to travel, and because of the backpacker scene, you can meet a lot of other people there.
Thailand has a lot to offer travelers — no matter your budget or interests. You can backpack on a limited budget or you can live a luxurious travel life in fancy resorts on the beach. Or just travel on a modest budget and get a lot of bang for your buck; the country has something for everyone.
Since the country is a such well-worn destination on the backpacking trail, everything is convenient and easy. However, there are still many off-the-beaten-path destinations away from the crowds and the higher prices they bring too.
This Thailand travel guide can show you how to travel the country like a pro, what to do avoid, how much things cost, the best things to see, and everything in between!
Click Here for City Guides
Top 5 Things to See and Do in Thailand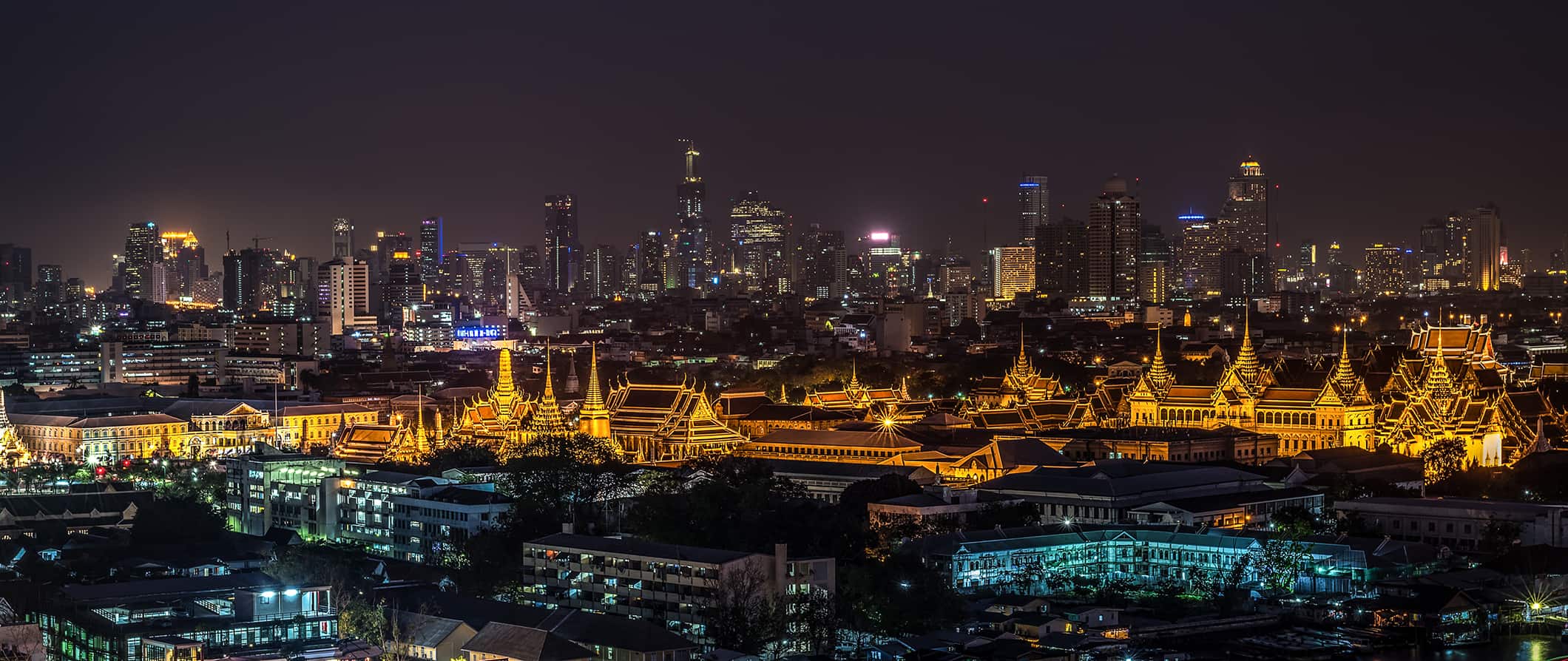 1. Visit Bangkok
Bangkok is a chaotic, must-see city. Explore temples, palaces, amazing markets, shops, one of the craziest nightlife scenes in the world, and of course, the amazing Thai food. At first, I didn't like the city, but now it's one of the places in which I feel most at home.
2. Adventure around Chiang Mai
Chiang Mai is an old city filled with temples, food markets, night markets, amazing food, and a chill atmosphere. It's a good launching pad for jungle treks into the area and there is a nearby elephant sanctuary. It's one of the best in Thailand.
3. Hike in Khao Yai National Park
Khao Yai National Park, located about 2.5 hours north of Bangkok, is one of Thailand's best national parks. It's truly amazing — visually stunning, empty of tourists, filled with lush flora and fauna, and even a few wild elephants. Stay at the Greenleaf Guesthouse for the best tour/accommodation deals in the area.
4. Throw water during Songkran
Every April, Thais celebrate their new year by holding an enormous, three-day water fight. Songkran is meant to wash away the old and begin the year anew. Be prepared to get wet everywhere you go those days (so keep your electronics sealed in plastic).
5. Go to Ko Lanta
While Ko Lanta has become more developed in recent years, it's still a paradise compared to its more developed neighbors. Wide, white sand beaches, cheap food, gorgeous sunsets, great caves, snorkeling, and diving make this is one of my favorite spots in the country.
Other Things to See and Do in Thailand
1. Visit the Grand Palace and Wat Pho
Thailand's royal palace, built at the end of the 18th century by King Rama I, is the official residence of the current monarch (though he doesn't live there anymore; now it's just used for ceremonies). It's a striking place filled with numerous temples, including Wat Pra Kaeo, which houses the 15th-century Emerald Buddha. Nearby Wat Pho is famous for two things: a 46 meter (150 foot) reclining Buddha statue and a very relaxing massage school. It costs 500 THB to enter the Grand Palace and 200 THB to enter Wat Pho.
2. Hike in Khao Sok National Park
Located in the south of Thailand, Khao Sok National Park is constantly rated as one of the best national parks in the country, offering incredible trekking, camping, limestone karsts, cooling rivers, and a glistening lake. The park offers semi-challenging hikes, tons of wildlife (including sun bears, elephants, gibbons, and more), walking paths, and incredible sunsets. Park entrance costs 200 THB. Half-day guided treks cost 940 THB.
3. Hop around the ancient capitals
Thailand's three ancient capitals — Sukhothai, Lopburi, and Ayutthaya — lie between Chiang Mai and Bangkok. Visiting them on your way north is a unique way to head from Bangkok to Chiang Mai. You'll get to learn about ancient Thailand and see rural life at its best. My favorite is Ayutthaya, which is located about 1.5 hours from Bangkok by train. It was the capital of Siam from 1350-1767 (it was razed in 1767 by the Burmese during the Burmese-Siamese War). You can visit on a day trip with Get Your Guide for just 900 THB.
4. Relax on the tropical islands
Thailand has tons of beautiful tropical islands. Some are overdeveloped, while others only have a single bungalow on them. Some of my favorites are Ko Samet, Ko Taruato, Ko Lanta, Ko Chang, Ko Tao, Ko Jum, Ko Lipe, the Similan Islands, and Ko Samui.
5. Partake in the Full Moon Party
There's no better party in the world than the famous Full Moon Party. The Full Moon Party is a giant festival-like party with a lot of drinking, dancing, and drugs. Each bar has its own sound system, so you'll hear different music loudly blasting onto the beach every few feet. The beach itself is lined with people selling alcohol, fire dancers putting on shows, and little booths selling glow-in-the-dark face paint. Sure, it is super touristy, but that doesn't mean it's not a lot of fun. Just don't take part in the fire jump rope — I've seen people get burned badly!
6. Go jungle trekking
There are some great multi-day jungle trekking opportunities in northern Thailand. For longer treks, the biggest departure points are Chiang Mai and Chiang Rai. You can book these sorts of outings through the hostel or hotel you're staying in. If you book online ahead of time, you will pay more. But skip the shorter hikes that include meeting "authentic" hill tribes — they are exploitative and the visits feel unethical.
7. Scuba dive in the Similan Islands
Scuba diving is a popular activity here because of the crystal-clear waters and majestic sea life. The cheapest place to learn is on the island of Ko Tao, which caters specifically to divers. While you can dive all over the country, the Similan Islands offer the best diving. If you dive here, be sure to see Elephant Head Rock, as the reef there is home to plenty of fish, snappers, rays, and turtles. Day trips start at 5,900 THB for two dives, including equipment and park fees.
8. Learn to cook
Thai food is delicious and it's relatively easy to cook — if you know what you're doing. There are cooking schools all over the country, but the best are in Chiang Mai and Bangkok. Even if you don't plan to cook back home, it's a fun experience as you'll get to spend a day making and eating scrumptious food. A half-day cooking class in Bangkok (including a market visit) costs around 1,300 THB.
9. Explore the Khmer temples in Isaan
There are many temples built throughout the Isaan region, all along the ancient roads connecting Angkor (the capital of the Khmer Empire) to the other villages. The largest of these is Phimai, located at the end of the ancient highway. It dates to the 11th century and is one of the largest Hindu Khmer temples in Thailand. Two other magnificent Khmer temples (Phanom Rung and Muang Tum) can be found in the Buriram province, only a few kilometers apart. Phanom Rung is built on top of a hill, and Muang Tum is at the base of the hill.
10. Take the day train
Taking the day train from Bangkok to Chiang Mai is not only cheaper but a much better way to see the countryside than the night train. Sure, you "waste" a day, but you see the countryside, experience how Thais take the train and can eat from vendors coming on and off at every stop. The day train remains one of my favorite experiences in Thailand. Just make sure you have a good book as the journey is 10-13 hours long!
11. Visit Elephant Nature Park
While you can come to Thailand and ride an elephant, once you know how they suffer from abuse in order to provide these rides, you might think twice about this unethical activity. An even better way to get up-close-and-personal to the animals is to volunteer at or visit the Elephant Nature Park near Chiang Mai. It's a phenomenal place, allowing you to give back to the community and letting you help these magnificent animals all at once. After coming here, you will know why you should NEVER ride an elephant. A one-day visit costs 2,500 THB for adults.
12. Admire Wat Doi Suthep
This stunning Buddhist temple lies in Doi Suthep-Pui National Park, 16 kilometers (10 miles) outside of Chiang Mai. A tram or a trek up 300 steps takes you to the summit of Doi Suthep, where the glittering gold temple spire awaits you. The temple dates back to the 14th century and holds rare relics of Buddha. It's too beautiful of a view to miss, so don't leave Chiang Mai without visiting Wat Doi Suthep. Admission is free.
13. Visit the Golden Triangle
The point where the Mekong River meets the Ruak River is known as the Golden Triangle. It's also the meeting point of Laos, Thailand, and Myanmar, and was once known for its opium production. You can take a boat along the river and visit the Golden Triangle Park, check out some of the many Buddha statues, scenic viewpoints, and markets. It's just 9 kilometers (5.6 miles) north of Chiang Saen. Golden Triangle day trips from Chiang Mai cost around 2,200 THB.
14. Party on Ko Phi Phi
Ko Phi Phi is of the most popular tourist islands in Thailand. From the infamous of Maya Bay (made famous in the 2000 film, The Beach, with Leonardo DiCaprio) to the monkeys on the aptly named Monkey Beach, to the diving and nightlife, there are reasons people flock here. Destroyed by the tsunami in 2004, the island has been rebuilt and developed to an even greater extent than before. While I personally don't love Ko Phi Phi, it's nevertheless one of the most popular places in the country. You'll just have to see for yourself whether it's for you!
15. Relax on Ko Lipe
Located in southern Thailand, this semi-off the map island is one of my favorite places in the world. Here on Ko Lipe, the super friendly locals bring in the daily catch for amazing seafood meals. The beaches are beautiful, the water is warm, and the island is cheap. I came for three days and ended up staying for a month. In the last few years, it has become more developed and it's not the sleepy little island it used to be, but it's still way less developed than many other destinations in Thailand. Moreover, you're near a pristine and undeveloped national marine park where you can snorkel and enjoy some beaches to yourself!
16. Shop at the floating markets
Thailand is full of markets. Perhaps the most whimsical of these are the floating markets, which can be found throughout the country. Some of the best are Damnoen Saduak in Ratchaburi and the Taling Chan Weekend Floating Market in Bangkok. At floating markets, rickety boats are piled high with colorful goods and eats, perfect for plenty of great photos! While touristy, they're still a fun thing to see up close. You can take a guided tour of the Damnoen Saduak and Maeklong Railway markets in Bangkok for 1,000 THB.
17. Backpack Kanchanaburi Province
This region is home to a lush forest perfect for trekking, though the history of this area is rather dark. The infamous Death Railway linking Myanmar and Thailand runs through here, which was constructed during World War II by prisoners of war and civilians. Around 90,000 Southeast Asian civilian forced laborers and more than 12,000 Allied prisoners perished in the railway's construction. The bridge over the River Kwai is also located here, built using POW labor and the subject of both a famous film and a book. While visiting is a haunting reminder, it is an essential part of Thailand's history.
18. Motorbike through Northern Thailand
There are lots of picturesque routes for motorbiking around all around the country, but especially near Chiang Mai and Chiang Rai. Many people rent bikes and tour the scenery, taking a day trip or a few days. The Mai Hong Son Province offers a great loop that you can do starting in Chiang Mai and ending in Pai. Note: Make sure that if you're renting a motorbike, you're comfortable with driving it and never (ever) drink and drive. Accidents are incredibly common.
19. Relax in Pai
Pai has grown as a tourist destination in more recent years, but it is still a great place to escape some of the craziness of the larger cities. Located in Northern Thailand, it's nestled in rolling green mountains, surrounded by waterfalls, and near incredible hiking trails. Be sure to take a day trip to the Tham Lot Caves, where you can stop off to swim in waterfalls and hot springs on the way there. Stay on the outskirts of this backpacker town in a lovely little bungalow, rent a bike, traverse the hills, and bathe in the cool waterfalls.
20. Go to Phuket
Phuket is the biggest destination for tourism in Thailand. There are great beaches and amazing activities on this island, and if you stay away from Patong Beach, you can avoid most of the over-development and crowds. Phuket draws a lot of tourists, and if you really want to enjoy the area, get out of the main spots.
For information on specific cities in Thailand, check out the following guides:
(Hey there! Wait one second! Did you know I also wrote an entire guidebook to Thailand filled with – not only even more detailed information on the things included on this page but also itineraries, practical information (i.e. hours of operation, phone numbers, websites, prices, etc), cultural insights, and so much more? It has everything you want in a guidebook – but with a focus on budget and cultural travel! If you want to go into more depth and have something to take on your trip, click here for more about the book!)
Thailand Travel Costs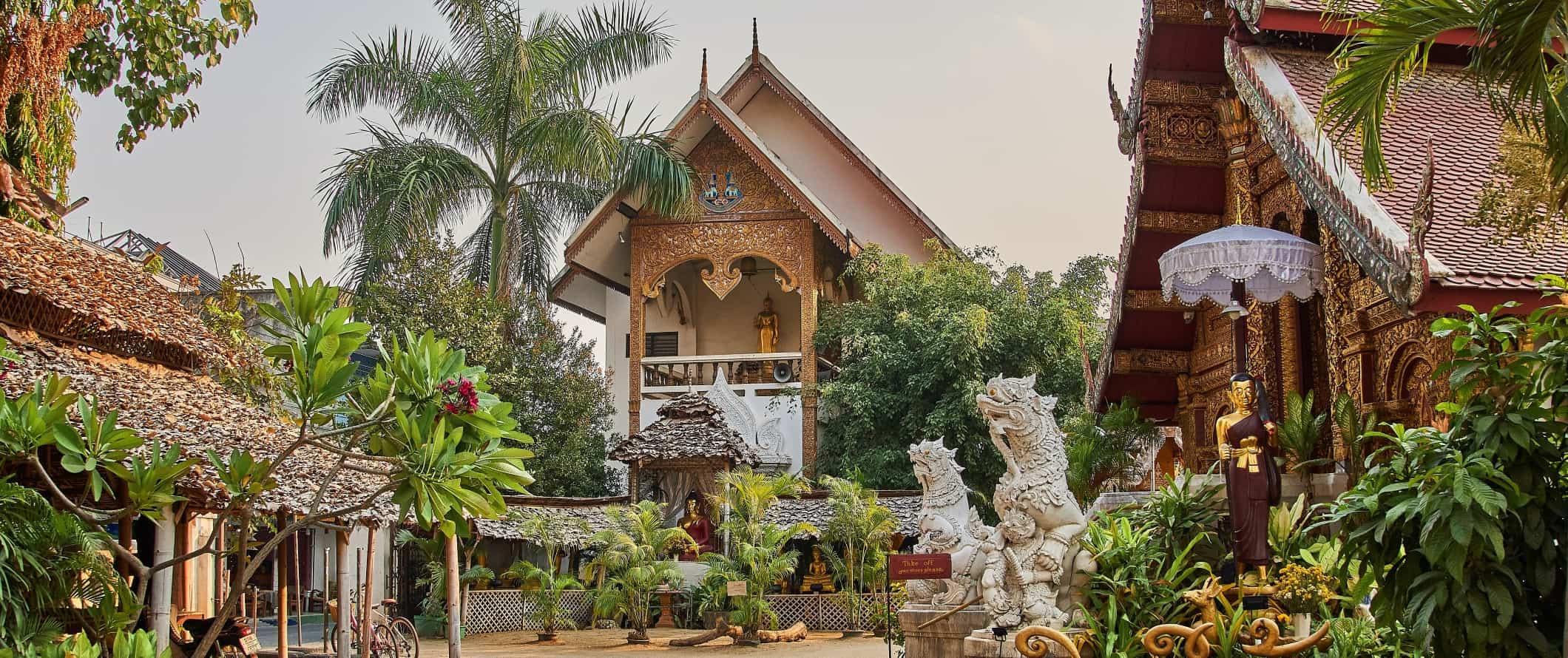 Accommodation – Thailand is very cheap, though the north and bigger cities are far cheaper than the islands. Hostels, which are increasingly widespread throughout the country, range from 270-450 THB per night in a 4-6-bed dorm. Larger dorm rooms with 10 or more beds can be found for 170-250 THB.
You can find cheap guesthouses for as little 400 THB per night in cities and 300 THB per night in the countryside, though in the big cities like Chiang Mai and Bangkok, rooms cost about 400-700 THB per night.
On the islands or for a nicer room with an air-conditioner, expect to pay 600-850 THB per night. Basic bungalows cost about the same.
Hotels start at around 1,350 THB per night and go up from there. Big resorts on the islands start at 2,100 THB per night for a bungalow on the beach.
Airbnb is also growing in Thailand and a good number of cities have a nice selection. Renting private rooms is not common, but renting full apartments is very affordable for the quality of what you get, starting at around 600-900 THB per night.
Food – Thailand's neighboring countries all influence the country's aromatic, spicy, and flavorful cuisine, which uses many ingredients to create layers of flavor. Typical spices and fresh herbs include garlic, basil, galangal, cilantro, lemongrass, kaffir lime leaves, chilies, and fish sauce. No matter what region you're in, you can expect to find a variety of curries, salads, soups, and stir-fries.
Rice and noodles are central to Thai food, while the meat is usually pork, chicken, fish, or seafood, which is everywhere on the islands and coastal areas. Popular dishes throughout the country include pat tai (a fried noodle dish, more commonly known to Westerners as pad thai), tom yum goong (hot and sour soup with shrimp), massaman curry, som tam (spicy papaya salad), kao phad (fried rice), khao man gai (rice with boiled chicken), and satay (grilled meat on skewers, served with a peanut dipping sauce).
Food is really cheap in Thailand, especially in the bigger cities. Street food can cost as little as 20 THB, though on average you'll spend about 45-80 THB per meal if you want something really filling. If you stick to the local street food, you can eat for around 180-275 THB a day.
Sit-down Thai restaurants begin at 65 THB for a dish like pad thai or curry. In bigger cities, the malls have huge (and popular) food courts where you can get a filling meal for around 60-100 THB.
Knowing that their target customers are primarily tourists, Western food venues can be pricey compared to Thai food. Most western dishes (burgers, pizza, pasta, etc.) cost between 170-340 THB, though they can be higher in fancier establishments. Most Western food also pales in comparison to its original so it's best to skip it altogether. I mean, you didn't come all this way to have a crappy burger or pizza, right?
When it comes to drinking, going to bars can become pricey. The cheapest beers cost about 60-85 THB each, a glass of wine costs 120 THB, and cocktails cost around 290-400 THB. You can save money by buying beers from 7-Eleven for half that price.
For more detailed price breakdowns and specific food recommendations in each place, visit the specific city guide.
And since food is so cheap, there's no point in grocery shopping unless you're looking to get some pre-made salads or fruits.
Activities – Jungle trekking costs 2,000-2,685 THB per day, cooking classes are 1,000-1,300 THB, and seeing a Muay Thai fight is around 1,500 THB. Most parks and national museums cost between 50-200 THB to get into (as a non-Thai, you'll always pay a higher rate). A PADI dive certification course (very popular in Thailand) costs around 10,000 THB but often includes accommodation. A two-dive boat trip costs around 2,500 THB.
Always book your tours and activities when you arrive. Stick to travel agents who are selling on the ground (they're easy to find, and your guesthouse will probably have someone who can book activities for you). Keep in mind that you have more bargaining power if you go with a group. If the first travel agent won't negotiate with you, move on to the next. Booking tours online is always more expensive.
Backpacking Thailand Suggested Budgets
If you're backpacking Thailand, budget between 800-1,125 THB per day. On this budget, you'll be staying in a dorm room, eating food from the street stalls, enjoying a couple of drinks per day, using public transportation to get around, and doing mostly free or cheap activities like swimming, hiking, and relaxing on the beach.
On a mid-range budget of 1,750-2,700 THB per day, you can stay in a private hostel room or guesthouse with air-conditioning, eat a few meals at Western or sit-down restaurants, rent a motorbike or scooter, travel between cities by train or cheap flight, and do more paid activities like jungle treks and diving.
On a "luxury" budget of around 3,725–5,450 THB per day or more, you can stay in a hotel, eat out anywhere you want, drink more, island-hop as much as you want, and do whatever tours and activities you want. This is just the ground floor for luxury though. The sky is the limit!
Accommodation
Food
Transportation
Attractions
Average Daily Cost
Backpacker
300-500
175-300
100-200
225-600
800-1,125
Mid-Range
550-850
425-700
250-350
525-800
1,750-2,700
Luxury
1,050-1,400
875-1,200
500-850
1,300-2,000
3,725-5,450
Thailand Travel Guide: Money-Saving Tips
Thailand is an inexpensive country so it's hard to overspend here unless you're trying to splash out. If you're on a really tight budget (or just want to cut costs), here's how to save even more money during your visit.
Go local – The easiest way to save money in Thailand is to simply live like a local. Take local buses, eat street food, drink local beer. The average Thai lives on a less than 7,750 THB per month in Bangkok, and on even less in the countryside. Keep it simple to keep it affordable.
Eat street food – Thailand's best food is on the street, and it costs a fraction of a restaurant meal. Stick to street food if you're on a budget.
Take advantage of happy hour – Thailand's many happy hours have half-priced drinks and 2-for-1 specials. If you want to hit the bar, stick to drinking during happy hours.
Buy beer at 7-Eleven – Buying beer at Thailand's ubiquitous 7-Elevens and drinking outside will save you quite a bit on your bar tab. It's usually 50% cheaper than drinking at the bar.
Don't book tours before you arrive – Want to take a cooking class? Go zip-lining? Trek in the jungle? Dive? Wait until you get into Thailand to book anything. Travel agencies are located all over the tourist areas, looking to sell their tours. While you're able to purchase these tours online before you arrive, you'll be paying a lot more that way. Instead, book when you arrive so you can haggle for a better deal.
Stay with a local – Nothing's cheaper than sleeping for free. Couchsurfing connects you with locals who give you not only a free place to stay, who can introduce you to all the great places to see. Just make sure to send your requests early!
Pack a water bottle – A water bottle with a purifier comes particularly in handy in Southeast Asia as the tap water isn't potable. My preferred bottle is LifeStraw, which has built-in filters to ensure your water is always clean and safe (it's good for the environment too).
(Hey there! Wait one second! Did you know I also wrote an entire guidebook to Thailand filled with – not only even more detailed information on the things included on this page but also itineraries, practical information (i.e. hours of operation, phone numbers, websites, prices, etc), cultural insights, and so much more? It has everything you want in a guidebook – but with a focus on budget and cultural travel! If you want to go into more depth and have something to take on your trip, click here for more about the book!)
Where to Stay in Thailand
Looking for accommodation in Thailand? Here are some of my favorite places to stay in Thailand. (For more suggestions, check out the specific city guides.)
How to Get Around Thailand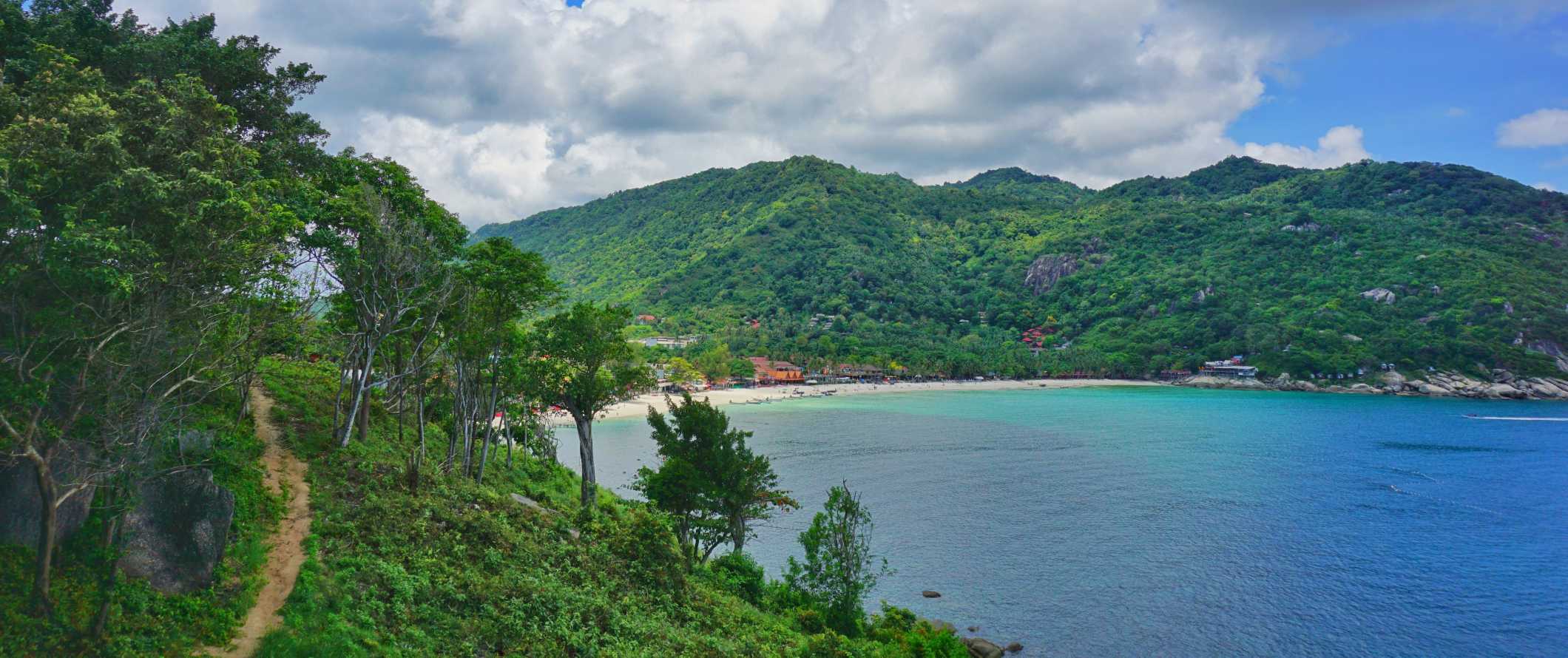 Public transportation – Local buses cost as little as 8 THB per trip and the Metro and Skytrain in Bangkok cost 16-52 THB per trip. Songthaews are the most common mode of local transportation in many places. These converted pick-up trucks don't follow set stops, simply going wherever their riders ask. They generally cost 30-50 THB for a ride.
Taxis – Metered taxi rides are usually 60-100 THB each. Always stick to the metered taxis, otherwise, you'll get charged an overpriced ride. If you notice your driver not using the meter, get out and find a driver who will.
Tuk-tuks are un-metered and generally more expensive, costing 100-235 THB per ride. Be sure to agree on a price before you take off. I generally try to avoid tuk-tuks, but for very short distances they can be fun.
Motorbike taxis (in orange vests) are available all over the country with short trips costing about 35-80 THB, but you need to negotiate the price.
Ridesharing – Grab is Asia's answer to Uber. It works the same way: you hire a driver to take you somewhere via the Grab app, and you can pay via the app or in cash. It's often more affordable than a regular taxi, though drivers are a bit unreliable.
Boats and ferries – Travel between islands and beaches is best done by long-tail boat, which costs around 150-275 THB per person for shorter trips. Bigger cities like Bangkok have regular ferries, costing 13-32 per ride.
Bus – Coach buses in Thailand are incredibly cheap and a great way to get around the country. For intercity travel, you'll pay more for better services like sleeper buses and air-conditioning.
A budget bus from Bangkok to Chiang Mai takes 10 hours and costs about 529-617 THB, while a first-class ticket for the same journey costs 825 THB. Bangkok to Trat (where you can then change to a ferry taking you to Ko Chang) takes 5 hours and costs about 250-300 THB. A two-hour bus journey from Bangkok to Kanchanaburi is just 120-140 THB.
You can check ticket prices and book bus tickets at aggregators for all the different bus companieshere and here.
Train – Trains in Thailand tend to be slow, but they're an incredibly scenic option for getting around. Taking the train is a genuine Thai experience, making the journey as much a part of your trip as the destination. While they may not be as quick, the trains are relatively comfortable and cheap, and safer than traveling by road.
Train service around the country is cheap. Day trains cost as little as 30-50 THB and night trains start at 875 THB for second-class without air-conditioning. A train from Bangkok to Chiang Mai takes 11-13 hours and costs 715-900 THB, while Bangkok to Pattaya takes 4 hours and costs 30-50 THB.
There is a new Bangkok–Vientiane train for getting to Laos, which takes 11-13 hours and costs around 1,000 THB. Taking the train is also a convenient way to travel between Bangkok, Penang, Kuala Lumpur, and Singapore.
You can check schedules on the State Railway of Thailand website.
Flying – Flights around the country have come down significantly in price due to the recent rise of low-cost airlines, with prices ranging between 825-4,500 THB.
Flights to the islands tend to be higher in price than flying between large cities or popular destinations. For example, Bangkok to Phuket, Chiang Mai, or Krabi all cost 450-825 THB for a one-way ticket, while a one-way from Bangkok to Koh Samui can be found for around 2,150 THB.
Budget-friendly airlines in Thailand include:
Hitchhiking – Hitchhiking in Thailand is perfectly safe, though it's not common. Dress respectably, smile while making eye contact with drivers, and use a cardboard sign to tell people where you're headed. Be prepared for long bouts of no pick-ups, especially if you're traveling through more rural areas. Pack plenty of water and a light meal or two. Hitchwiki is a great resource for more hitchhiking tips.
Car rental – Car rentals aren't super cheap here, usually costing around 800 THB per day for a multi-day rental. I'd skip the car rental as public transportation is faster and cheaper and accidents here are common.
When to Go to Thailand
While Thailand is not a huge country, climate and temperature do still vary depending on what region you're in. Overall, the best time of year to visit Thailand is between November to March. The high season (cool/dry) is from November to March. Temperatures during this time are usually 30°C (86°F) or higher (yes, that is "cool" in Thailand).
If you plan on being in the north during this time, temperatures can drop quickly in the evenings. Bring warm clothing!
The shoulder season is from April to June, and it is HOT. Temperatures can be unbearable for those who are not used to them. Expect day highs over 35°C (95°F).
Monsoon hits the northern area at the end of May, bringing daily bouts of rain (though the weather is still warm). The low season is the rainy season, from July to October. Rainfall can be dramatic, ranging from light showers to major flooding. June and August have the heaviest rains, but things wind down during October. You might still get some afternoon showers, but October is also generally a good time to visit.
(Hey there! Wait one second! Did you know I also wrote an entire guidebook to Thailand filled with – not only even more detailed information on the things included on this page but also itineraries, practical information (i.e. hours of operation, phone numbers, websites, prices, etc), cultural insights, and so much more? It has everything you want in a guidebook – but with a focus on budget and cultural travel! If you want to go into more depth and have something to take on your trip, click here for more about the book!)
How to Stay Safe in Thailand
Thailand is a safe place to backpack and travel – even if you're traveling solo, and even as a solo female traveler. Violent attacks against tourists are uncommon. People who get in trouble here are usually involved with drugs or sex tourism so if you avoid those, you'll likely not have any serious issues.
Solo female travelers should feel safe here, though the standard precautions apply (always keep an eye on your drink at the bar, never walk home alone intoxicated, etc.)
Petty theft (including bag snatching) can occur so always keep an eye on your belongings, especially while taking crowded public transportation.
There are some common scams around, such as unmetered taxis, but for the most part, this is a safe place to travel. For tips on specific scams to avoid, read this post on common travel scams to avoid.
If you experience an emergency, dial 191 for assistance (112 from a mobile device).
Always trust your gut instinct. Make copies of your personal documents, including your passport and ID. Forward your itinerary along to loved ones so they'll know where you are.
The most important piece of advice I can offer is to purchase good travel insurance. Travel insurance will protect you against illness, injury, theft, and cancellations. It's comprehensive protection in case anything goes wrong. I never go on a trip without it as I've had to use it many times in the past.
The widget below can help you pick the right policy for your trip:
Thailand Travel Guide: The Best Booking Resources
These are my favorite companies to use when I travel. They consistently have the best deals, offer world-class customer service and great value, and overall, are better than their competitors. They are the companies I use the most and are always the starting point in my search for travel deals.
Skyscanner – Skyscanner is my favorite flight search engine. They search small websites and budget airlines that larger search sites tend to miss. They are hands down the number one place to start.
Hostelworld – This is the best hostel accommodation site out there with the largest inventory, best search interface, and widest availability.
Agoda – Other than Hostelworld, Agoda is the best hotel accommodation site for Asia.
Booking.com – The best all around booking site that constantly provides the cheapest and lowest rates. They have the widest selection of budget accommodation. In all my tests, they've always had the cheapest rates out of all the booking websites.
Get Your Guide – Get Your Guide is a huge online marketplace for tours and excursions. They have tons of tour options available in cities all around the world, including everything from cooking classes, walking tours, street art lessons, and more!
SafetyWing – Safety Wing offers convenient and affordable plans tailored to digital nomads and long-term travelers. They have cheap monthly plans, great customer service, and an easy-to-use claims process that makes it perfect for those on the road.
LifeStraw – My go-to company for reusable water bottles with built-in filters so you can ensure your drinking water is always clean and safe.
Unbound Merino – They make lightweight, durable, easy-to-clean travel clothing.
Get the In-Depth Budget Guide to Thailand!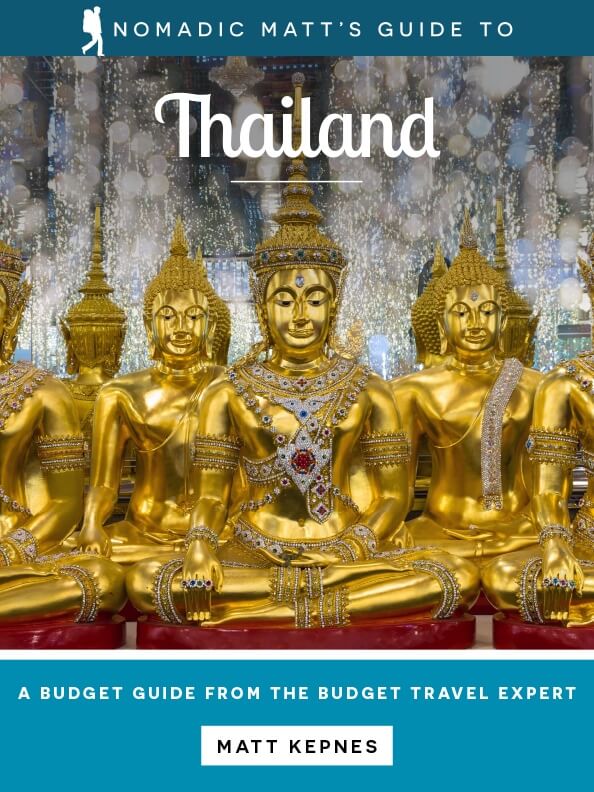 My detailed 350+ page guidebook is made for budget travelers like you! It cuts out the fluff found in other guidebooks and gets straight to the practical information you need to travel around Thailand. You'll find suggested itineraries, budgets, ways to save money, on and off-the-beaten-path things to see and do, non-touristy restaurants, markets, bars, safety tips, and much more! Click here to learn more and get your copy today.
Thailand Travel Guide: Related Articles
Want more tips for your trip? Check out all the articles I've written on Thailand travel and continue planning your trip: