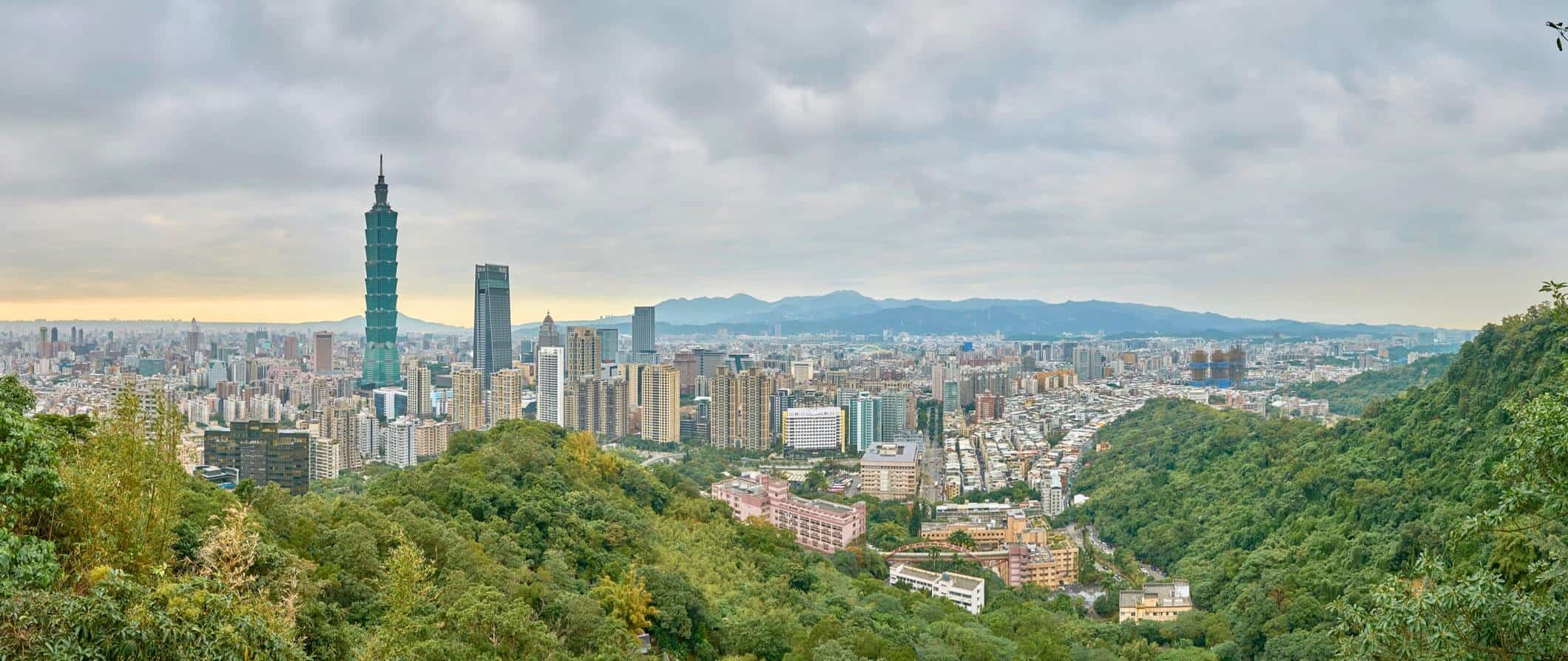 Taiwan is one of the most underrated budget destinations in Asia. It offers a beautiful — and super affordable — mix of east and west, blending the culture and cuisines of mainland China, Japan, and Hong Kong — and all with a fraction of the crowds.
I don't think enough people visit Taiwan. I spent time here as an English teacher and recently revisited the country. There are lots to do here: from hiking to eating at night markets, drinking at tea houses, lounging on beaches, and enjoying the country's amazing night life. The food is here is some of the best in the region and it's off the beaten path image means you won't find huge crowds.
This travel guide to Taiwan will help you plan your trip, save money, and make the most of your visit!
Top 5 Things to See and Do in Taiwan
1. Visit Jiufen
Jiufen is one of Taiwan's most popular tourist destinations. Here you'll find all kinds of historic teahouses built into the hillside. The center of the city and its historic streets and buildings are all preserved and look as they did 100 years. Come early to beat the crowds.
2. Soak in the Hot Springs
The Beitou Hot Springs are only 30 minutes from downtown Taipei. There are lots of resorts, spas, and inns in the area. Visit the Hot Springs Museum, the Xinbeitou Historic Station, and Thermal Valley (a sulfurous lake nearby that has walking trails) while you're here.
3. Explore Taroko National Park
This national park offers visitors a chance to hike through beautiful mountainous terrain and gorges. It spans almost 100,000 hectares and is one of only nine national parks in Taiwan. Some suggested trails are Shakadang, Changchun, Swallow Grotto, and Lushui-Heliu.
4. Visit Taipei 101
Opened in 2004, this was the tallest building in the world until 2010 (when the Burj Khalifa took its place). Standing 508m (1,667ft) tall, it towers over Taipei. There is an observation platform on the 89th floor. You can also go up to the 91st floor for an outdoor platform.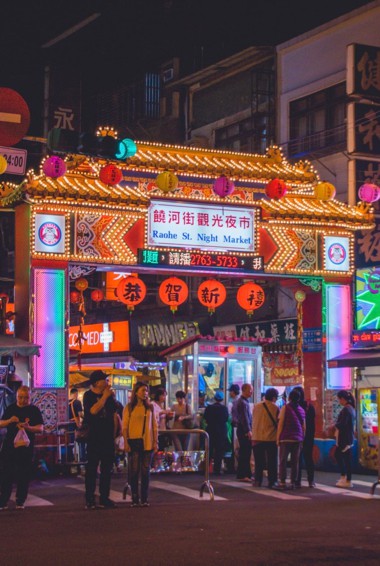 5. Explore the night markets
Taipei is home to dozens of night markets. Shulin Night Market, Raohe Night Market, Tonghua Night Market, Snake Alley, and Ningxia Night Market are all worth spending some time exploring. The food at these markets is the best (and cheapest) in the city.
Other Things to See and Do in Taiwan
1. Visit Taipei
Taipei is the epicenter of the country. You'll find sprawling food markets, a wild nightlife, spacious parks, and all kinds of interesting and quirky museums. Plus, the nearby mountains are full of easy and accessible hikes. Be sure to take a free walking tour, visit the National Palace Museum, see some temples (especially Confucius Temple and Bao-an Temple), and visit the Chiang Kai-shek Memorial Hall. I can't sing the praises of this city highly enough (I once used to live here). For even more on the city, here's my full list of things to see and do in Taipei!
2. Go island hopping
The Pescadores Islands are an archipelago off the west coast. There are 90 islands in the region, perfect for exploring on a day trip. You can take a boat tour that visits several islands in the region, allowing you to snorkel, see sea turtles, and wander through traditional aboriginal villages. Expect to pay around 3,200 NT$ ($110 USD) for a full-day multi-island tour.
3. See Tianhou Temple
Located in Taipei, this is one of the oldest temples in the city. Tianhou (also known as Mazu Temple, after the in-house deity Mazu, goddess of the sea) was built in 1746 and is one of three major temples in Taiwan from the Qing period. It's a beautiful Taoist temple filled with mythological creatures, incense, lucky goldfish, and people paying respect to the gods. Admission is free.
4. Hit the beach
The beaches of Kenting on the southern tip of the island are the best place to enjoy the summer weather. White Sand Bay is the most popular beach and a great place to swim, snorkel, and soak up the sun. Other beaches worth checking out are Fulong Beach, South Bay, Dawan Beach, Laomei Beach, and Little Bali Bay.
5. See the Lantern Festival
The famous Taiwan Lantern Festival is held every February/March and involves releasing hundreds of paper lanterns into the sky. There's also a huge parade with floats, most of which relate to the year's animal (from the Chinese zodiac). Thousands of people gather to watch and take part. To ensure the environment is protected, make sure you use a biodegradable eco-friendly lantern.
6. Hike Jade Mountain
Jade Mountain, with its peak at 4,000m above sea level, is a popular day hike. There's a special train that will take you to the peak before dawn (150 NT$/$5 USD). The hike up is around 45-90 minutes if you want to do that instead (it will be dark though). Afterward, you can train back down or hike down and take in the views of the Alishan National Scenic Area and its forests and mountains.
7. Visit Fo Guang Shan Monastery
This Zen monastery in Kaohsiung is a massive complex with by eight towering pagodas that flank the monastery's Big Buddha (which, at 36-meters tall, is the highest seated bronze Buddha in the world). Built in 1967 and spanning over 74 acres, the complex has a spacious outdoor walkway lined by manicured gardens as well as the huge pagodas. There are also over 14,000 statues of the Buddha here. Admission is free and there's a delicious vegetarian restaurant inside with a huge buffet.
8. Visit the National Palace Museum
This museum, located in Taipei, has a collection of over 70,000 artifacts from Imperial China. Most of the collection was brought to Taiwan during the Chinese Civil War (1929–1947). In addition to their permanent exhibits, there are also rotating exhibits throughout the year as well as a section for children. There are free daily tours in English as well as a detailed audio guide if you'd rather explore yourself. Admission is 350 NT$ ($12 USD).
9. See the Chiang Kai-shek Memorial Hall
Officially known as Liberty Square, this national monument was built in 1976 in honor of Chiang Kai-shek, former president of the Republic of China. He ruled mainland China from 1928 to 1949, and then in Taiwan from 1949 until his death in 1975. The memorial also houses a library and a museum that documents Chiang Kai-shek's life and career. Admission is free.
10. Take a cooking class
Taiwan is a foodie's dream and I always overindulge while I'm here. Noodle soups, incredible rice dishes, amazing buns, dumplings, and scallion pancakes, are just some of the local offerings. While cooking classes here are a little pricey, I think they are worth it if you really want to learn about the food. Expect to pay around 2,000 NT$ ($67 USD) for a class.
11. Go hiking
Taipei has plenty of hiking trails just outside town that are easily accessible. There are easy, moderate, and challenging trails, as well as both short and full-day hikes. Some suggested trails to check out are Xiangshan (easy, 45minutes), Bitoujiao (moderate, 2-3 hours), Jinmianshan (easy, 1.5 hours), Huang Didian (hard, 5 hours), and Pingxi Crag (moderate, 2-3 hours).
12. Visit Orchid Island
Located 64km off the southeastern coast, this lush, volcanic island offers hiking, swimming, diving, and amazing hot springs. Here you'll also find underground houses, built to avoid the numerous typhoons that ravage the region. The island is home to only 5,000 people. Flights from Taipei take just over an hour and cost 2,900 NT$ ($100 USD).
13. Hike Wuling Peak
For more hiking, head to Wuling Peak on Hehuan Mountain. Located in Central Taiwan, it stands 3,275 meters above sea level and makes for a good day trip for anyone looking to spend more time outdoors. The peak here is so high, you can actually look down into a sea of clouds below. A round-trip hike takes around 2-3 hours. Be sure to bring a raincoat as well as water and sunscreen.
14. Explore the Northern Coastline
Head to the coast to see the otherworldly lunar-like landscapes at Yehliu Geopark. There are all kinds of unique rock formations here, including one that looks like Queen Elizabeth (which took over 4,000 years to form). It's a popular tourist attraction so try to get here early to beat the crowds. Admission is 80 NT$ ($2.75 USD)
15. Visit Tainan
This is Taiwan's oldest urban area, established by the Dutch East India Company in 1624. Located in the south near Kaohsiung, Tainan was the capital of Taiwan from 1683-1887. There are all kinds of temples to visit here (don't miss the Confucius Temple), several night markets, a historic old town, and a massive department store reminiscent of the Ginza district in Tokyo. There is also a nearby mangrove and wildlife reserve (it's part of Taijiang National Park) just 30 minutes away by car.
16. Explore Taichung
Taichung is located in west-central Taiwan and is the second-largest city in the country. Spend some way walking the Parkway (a corridor of greenery perfect for walking and exploring), visit the Feng Chia Night Market, see the botanical garden, and explore the massive National Museum of Natural Science. If you're a history buff, don't miss the Taichung Folklore Park which is home to several traditional Taiwanese homes and buildings that showcase the country's history.
Taiwan Travel Costs
Accommodation – Hostels dorms with 6-8-bed cost between 240-600 per night ($8-20 USD). Every place has free wi-fi and most hostels have self-catering facilities and include free breakfast.
Budget hotels start at 860 NT$ ($30 USD) for a small room with a double bed. Most rooms have AC but free breakfast is rare.
Airbnb is available around the country with private rooms starting at 725 NT$ ($25 USD) per night, though they average at least double that. For an entire home or apartment, expect to pay at least 1,600 NT$ ($55 USD).
Wild camping is generally prohibited but there are a few campgrounds around the country. Expect to pay at least 300 NT$ ($10 USD) for a basic plot without electricity.
Food – Taiwanese cuisine is a mix of influences, from Chinese, Japanese (owing to the Japanese occupation), and Western traditions. Seafood is a huge staple, with squid, crab, and shellfish being especially popular. Braised pork, oyster omelets, fish balls, and stinky tofu are just some of the many dishes you'll find around the country.
Food at the outdoor markets will cost around 35-80 NT depending on what you get. An order of dumplings will cost around 40 NT. Noodle soup or a basic rice dish costs between 30-100 NT$ ($1-3.50 USD).
A meal at a simple sit-down restaurant serving local cuisine costs around 100 NT$ ($3.50 USD).
Western food will cost between 100-300 NT. Burgers are on the lower end while pizza on the higher end.
Fast food is pretty popular here. MosBurger (the best fast food joint in the country) costs around 165 ($5.50 USD) for a combo meal. Sushi, one of the most popular food option, costs 300–450 NT ($10-15 USD) for a meal. (Plates at the conveyer belt places are around 30 NT each.
A three-course meal at a medium fancy restaurant costs 350 NT$ ($12 USD) including a drink. A beer or a latte/cappuccino costs around 80 NT$ ($2.75 USD) while a bottle of water costs ($0.70 USD).
For a week's worth of groceries including staples like rice, seasonal produce, and seafood, expect to pay 870-1,170 NT$ ($30-40 USD).
Backpacking Taiwan Suggested Budgets
On a backpacker budget of 890-1,040 NT$ ($30-35 USD) a day, you can stay in a hostel dorm, eat out at the markets or cheap restaurants serving traditional cuisine, limit your drinking, do free walking tours, and take public transportation to get around.
On a mid-range budget of 2,300-2,600 NT$ ($80-90 USD) per day, you can stay in a budget hotel or Airbnb, enjoy some Western food, drinks, take high-speed train, occasional taxi, and visit some museums.
For a luxury budget of 6,500 NT$ ($225 USD) per day, you can stay in a four-star hotel, rent a car, take guided tours to the islands, go diving, take taxis to get around, eat out at any restaurant you want, and visit as many attractions as you want. The sky is the limit!
You can use the chart below to get some idea of how much you need to budget daily. Keep in mind these are daily averages – some days you'll spend more, some days you'll spend less (you might spend less every day). We just want to give you a general idea of how to make your budget. Prices are in USD.
Accommodation
Food
Transportation
Attractions
Average Daily Cost
Backpacker
$10
$10
$5
$5-10
$30-35
Mid-Range
$35
$15-20
$20
$10-15
$80-90
Luxury
$75
$45
$75
$30
$225
Taiwan Travel Guide: Money-Saving Tips
Taiwan is an affordable country so you don't need to worry about breaking the bank here. As long as you stick to local cuisine and limit your drinking, you'll be hard pressed to spend a lot of money. I had to try to spend money here! Here are a few tips on how to save money in Taiwan:
Skip the high-speed trains – The high-speed trains in Taiwan are super convenient but expensive. Stick to the slower local trains, which are about 50% cheaper than the HSR.
Eat at the food markets – The food in Taiwan is world-class and the best food is at the night markets that dot all the cities. You'll find most meals cost around 30-80 NT$ ($1-2.75 USD).
Avoid Western food – Western food is twice the price of Taiwanese food. Stick to traditional cuisine to save money.
Go hiking – Spend your days hiking Taiwan's many mountains and trails. The country is so small that you are never far from any park, they are well connected to public transportation, and they are all free.
Take free walking tours – Taipei, Jiufen, Tainan, and Kaohsiung all have free walking tours from Like It Formosa. They're my favorite walking tour company in Taiwan. Their tours are fun, informative, and free.
Bring a reusable water bottle – The tap water here needs to be boiled before drinking so bring a bottle with a filter to ensure you have safe drinking water. LifeStraw makes a reusable bottle with a built-in filter to you can be sure you water is safe and clean.
Where To Stay in Taiwan
Here are a few of my favorites to stay in the country:
How to Get Around Taiwan
City transportation – All of the major cities have public buses. Fares start at 15 NT$ ($0.50 USD) go up depending on how far you travel.
Taipei and Kaohsiung both have reliable, clean, and safe metro systems with tickets costing between 30-65 NT$ ($1-2.25 USD). A single-day pass in Taipei costs 150 NT$ ($5.15 USD) while a day-pass in Kaohsiung costs 180 NT$ ($6.15 USD).
Bus – The bus is the cheapest way to get around Taiwan. Intercity coach buses are available to all major cities around Taiwan, including Taipei, Taichung, Tainan, and Kaohsiung. They are comfortable, modern, safe, and have air conditioning (too much, usually, so bring a sweater). The two main intercity bus companies are Ubus and Kuo-Kuang Bus. For fares and timetable information, visit taiwanbus.tw.
A bus from Taipei to Kaohsiung takes around five hours and costs 300-500 NT$ ($10-17 USD) while the 3-hour trip from Taipei to Taichung costs as little as 90 NT$ ($3 USD).
Train – The high-speed trains (HSR) in Taiwan are super convenient, however, they only go down the west side of the island. They are also very expensive. For example, a ticket from Taipei to Kaohsiung costs around 1,500 NT$ ($51 USD).
The "local" trains are much more affordable, often 50% cheaper. The trip from Taipei to Kaohsiung on a local train costs just 845 NT$ ($28 USD). It's also just 539-739 NT$ ($18-25 USD) from Taipei to Tainan and around 375 NT$ ($12.50 USD) from Taipei to Taichung via the local train.
The HSR line doesn't pass through city centers, so you'll either need to take a bus or train from the HSR station, costing more time and money.
Flying – Domestic flights are relatively affordable, however, they are much more expensive than the bus or train. The 2-hour flight from Taipei to Kaohsiung costs around 3,300 NT$ ($115 USD).
Flights to neighboring Hong Kong start at 3,600 NT$ ($125 USD) and take 5 hours while flights to Shanghai take 4 hours and cost 5,000 NT$ ($171 USD).
Car Rental – Car rentals here are expensive, usually costing at least 2,200 NT$ ($75 USD) per day. You will need an International Driving Permit (IDP) to rent a vehicle here.
Hitchhiking – Taiwan is a great place to hitchhike. While locals rarely do it, they're familiar with foreigners who do and are usually happy to pick people up. For more information, check out Hitchwiki.
When to Go to Taiwan
July and August are the hottest months in the country and the most popular time to visit. Temperatures often hit 35°C (95°F) and prices are a little higher as well.
Winters in Taiwan are a little rainy but still warm, with daily highs around 18–20°C (65-68°F). Prices are a bit lower and it's the perfect time to visit the relaxing (and relatively empty) hot springs. Expect big crowds in Taipei in December-January for Chinese New Year.
The shoulder months of May-June and September-October offer the best balance of crowds, weather, and price. It's still warm enough to enjoy the outdoors and do some hiking without getting rained out.
How to Stay Safe in Taiwan
Taiwan is very safe, consistently ranking well on the Global Peace Index. Crimes against tourists are rare. Pickpocketing while rare is still possible, especially in crowded urban areas and at night markets, so be sure to keep your valuables secure when out and about.
But, overall, you are really, really, really unlikely to encounter any problems in Taiwan and I never felt unsafe in the country.
Solo female travelers needn't worry about visiting here. As long as you take the standard precautions (don't walk alone at night, don't get intoxicated alone, etc.) you should be fine.
Earthquakes are common in the region so make sure you're familiar with your accommodation's emergency exits. Between July and November, typhoons can occur so make sure you stay up to date on the latest weather — especially if you're near the coast or out hiking.
110 is the emergency number for police while 119 is the emergency number for fire and ambulance.
The most important piece of advice I can offer is to purchase good travel insurance. Travel insurance will protect you against illness, injury, theft, and cancellations. It's comprehensive protection in case anything goes wrong. I never go on a trip without it as I've had to use it many times in the past. You can use the widget below to find the policy right for you: