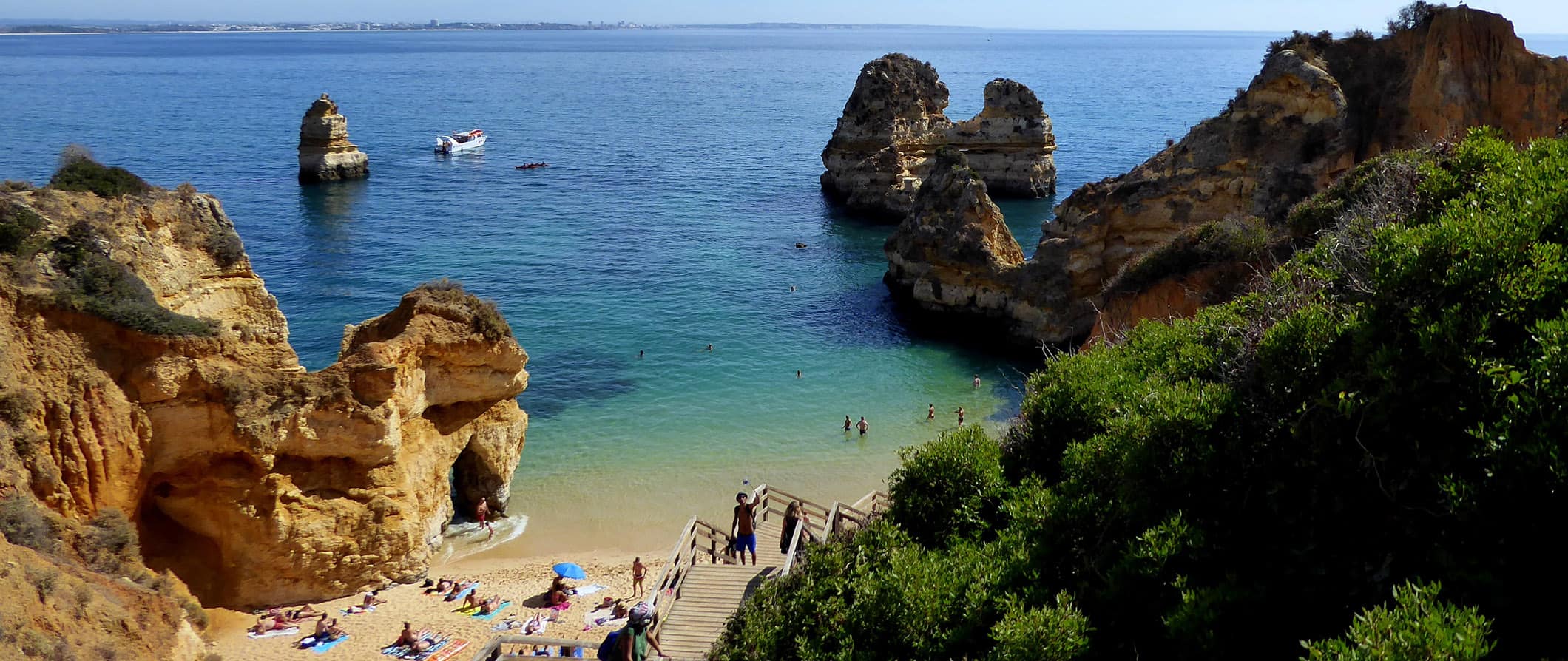 The historic town of Lagos lies in the Algarve, Portugal's southernmost region. Once a famous seaport (this area is where many of Portugal's 15th-century expeditions departed from), nowadays visitors come to indulge in its fantastic range of restaurants, beautiful beaches, and wild nightlife.
Home to just over 30,000 people, during the summer Lagos becomes the center of partying for backpackers in Portugal, boasting endless bar crawls, booze cruises, and fun in the sun. Even if partying isn't your thing, there's plenty to do here. The city makes a great base of operations to explore neighboring towns, coves, and beaches.
This travel guide to Lagos will help you plan your trip, save money, and make the most of your time in this laid-back coastal paradise.

Porto
Top 5 Things to See and Do in Lagos
1. See the city castle
Built by the Moors in the 10th century, this small castle has been restored and turned into a museum. Don't forget your camera because once you're at the top there are breathtaking views of the sea. It's located close to the center of town too.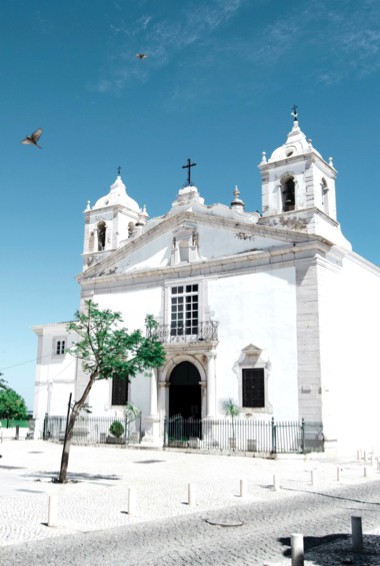 2. Explore the historic churches
See the Church of Santa Maria, which became the parish church of Lagos after the old parish church was destroyed in the 1755 earthquake. Then visit the 18th-century Church of Santo António just off the waterfront. Its altar is decorated with some of Portugal's most iconic Baroque gilt carvings.
3. Check out the grottos
Just a few miles from Lagos is the famous Ponte de Piedade, where you'll find some cool coastal rock formations. This secluded area makes for a wonderful day trip, during which you can relax in the sun and swim in the clear water. It's just 2.8km (1.7mi) from the city center.
4. Lounge at the beach
One of the main reasons to visit Lagos is to laze on one of its beaches. The beaches range from the long, broad Meia Praia on the eastern edge of town (it's usually crowded in summer with volleyball and beach bars), to the secluded coves beneath the towering cliffs of the Ponta da Piedade.
5. Hit the waves
The Algarve is a popular spot for watersports, especially surfing, kayaking, and kitesurfing. It's easy to rent equipment (there are a ton of shops) and if you're a newbie, you can take lessons. Lessons for surfing and kitesurfing cost 50-150 EUR for a 3-hour class.
Other Things to See and Do in Lagos
1. Go scuba diving
With around 850km (528mi) of coastline, this region of Portugal is home to numerous underwater caves and shipwrecks. It's one of the best diving spots in Europe. Pedra de Ancora boasts a fabulous reef filled with lobsters and drum fish while swarms of fish can be found in Porto de Mos. Arriefes and The Cave are perfect dive spots for beginners. A single-tank dive starts at 55 EUR.
2. Visit the fish market
Mercado Municipal is a three-story market known for its freshly caught fish. Get here early (6-7am is best) to see fisherman unload their catch and locals vie for the freshest fish. While the fish vendors can be found on the ground floor, you'll also find local produce, cheese, butcher shops, herbs, nuts, and oils spread throughout the market's three floors. This is a cool place to spend a morning taking in the local pace of life.
3. See the Old Slave Market
In one corner of the Praca da Republica, under the arches of the old customs house is the original home of Europe's first slave market. The market opened in 1444 and it is said that within a century up to 10,000 slaves were being shipped annually from Africa. Today, this area is a museum. Exhibits include displays that detail the lives of slaves, as well as artifacts like manacles, weapons, maps, and the complete history of the port and slave market in Lagos. It's a sobering but important visit. Admission is 4 EUR.
4. Walk along the town walls
The town ramparts and fortification walls originally date as far back as the Roman era. They were expanded to accommodate the town's growth during the period of Arab rule and then again during the Christian annexation a couple of centuries later. The walls as seen today date to the 16th-century when Barbary pirate raids were common and Spain was threatening invasion. Today, the walls still circle the entire city, so walking them in their entirety may be more exercise than you want. Don't miss the Porta de São Gonçalo, which is flanked by Albarran towers, and the fort of Ponte de Banderia. These are the most well-preserved sections of the wall.
5. Tour the Municipal Museum
Located in a Baroque church annex, the Municipal Museum is next to St. Anthony's church and houses a collection of archaeological artifacts and religious art. The museum was founded by Dr. José dos Santos Pimenta Formosinho in 1932. Here you can learn about the history of Lagos and the surrounding region. It's a good way to spend a couple of hours when you tire of the beach. Admission is 3 EUR.
6. Go horseback riding
Horseback riding is one of the most popular activities in the region. In spring and autumn, riding along the beaches is ideal as there are very few tourists (this isn't possible in summer when the beaches are crowded with people). In summer, opt to explore the nearby lagoons and forested trails. A two-hour ride costs 45-60 EUR per person.
7. Visit the Science Center
If you need a break from the sun, the Ciencia Viva Science Center is a neat place to spend a couple hours. It offers hands-on, interactive exhibits focusing on ancient Portuguese seafarers. There are three themed areas: orientation and navigation, life on board the ship, and distance communication. Learn about the sea route to India, old-world navigation techniques, Morse code, and more. It's super fascinating! Admission is 3 EUR.
8. Take a food tour
One of the best ways to get to know a new culture is by its food. Food Tours Algarve offers a food and wine tour that visits five restaurants in Lagos and includes around ten traditional dishes. The tour is 3.5 hours and guides you through local neighborhoods, offering interesting history, architecture, and cultural insights. If you're a foodie, this is a must! Tickets are 75 EUR.
For more information on other cities in the Portugal, check out these guides:
Lagos Travel Costs
Hostel prices – For a bed in a dorm with 4-8 beds, prices range from 16-30 EUR per night. Private rooms cost 55-85 EUR. Hostels here offer free Wi-Fi and many also include breakfast.
Camping is available outside the city for those who have a tent (and a vehicle). Prices start around 20 EUR for a basic plot without electricity for two people.
Budget hotel prices – There aren't too many two-star budget hotels in Lagos, but a three-star hotel starts at 80-100 EUR per night. Some include free breakfast and free Wi-Fi is standard.
On Airbnb, entire apartments range from 50-140 EUR per night while private rooms cost 30-70 EUR per night.
Average cost of food – Fish and seafood form the backbone of Portuguese cuisine (Portugal eats the most seafood per capita in Europe). Cod, sardinhas assadas (grilled sardines), sea bass, and shellfish are some of the most common staples. Other popular dishes include Cozido à portuguesa (boiled stew), Peixinhos da horta (breaded and fried vegetables), and cured ham. Be sure to also try the prego (beef sandwich) or the bifana (pork sandwich). You can find them at local cafes for just 5 EUR.
You can find snacks in bakeries for under 4 EUR while light meals and sandwiches cost 7-8 EUR. Try a bifana, sautéed pork seasoned with garlic, spices, and white wine, served on a roll. Dried octopus (polvo seco) is good, Bolas de Berlim (doughnuts filled with doce de ovos) is another tasty choice as well.
If you want a nice three-course meal with table service and drinks, you're looking at spending closer to 20 EUR. For a more casual dining experience, expect to pay closer to 10 EUR.
Fast food (think McDonald's) is around 7 EUR for a combo meal. A large pizza costs 13 EUR while Chinese food is 7-9 EUR for a main dish.
Beer costs around 2 EUR while a latte/cappuccino is just under 2 EUR. Bottled water is less than 1 EUR.
For a week's worth of groceries, expect to pay between 30-35 EUR. This gets you basic staples like pasta, vegetables, and some meat.
Backpacking Lagos Suggested Budgets
On a backpacker budget of 40 EUR per day, you can stay in a hostel dorm, cook all your meals, limit your drinking, use public transportation to get around, and stick to mostly free activities like swimming and enjoying the beach. If you plan on drinking, add 5-15 EUR per day to your budget.
On a mid-range budget of 115 EUR per day, you can stay in a private Airbnb, eat out for a few meals and cook the rest, enjoy a few drinks, take the occasional taxi to get around, and do more paid activities like visiting some museums and going scuba diving.
On a "luxury" budget of 215 EUR or more per day, you can stay in a hotel, eat out for all your meals, drink more, rent a car to get around, and do whatever tours and activities you want. This is just the ground floor for luxury though. The sky is the limit!
You can use the chart below to get some idea of how much you need to budget daily, depending on your travel style. Keep in mind these are daily averages — some days you'll spend more, some days you'll spend less (you might spend less every day). We just want to give you a general idea of how to make your budget. Prices are in EUR.
Accommodation
Food
Transportation
Attractions
Average Daily Cost
Mid-Range
50
35
15
15
115
Lagos Travel Guide: Money-Saving Tips
If you find cheap accommodation, cook your meals, and stick to mostly free activities, you're going to easily be able to keep your budget intact. Just be aware that prices increase during the summer. With that in mind, here are some tips to help you save money in Lagos:
Use Airbnb – Because this is such a popular tourist destination, many hotels raise prices substantially during the summer months. There also are not a lot of budget two-star hotels here either. However, many locals rent out apartments or run small guest houses on sites like Airbnb. These can be significantly cheaper or will at least offer you better value for your money. Just be sure to book early!
Say "no" to bread – When eating out, a selection of bread and olives might be brought to your table before your meal. These aren't free so just say no if you don't want to pay for it.
Stay with a local – If you plan ahead, you can usually find a nice Couchsurfing host for your stay. This way, you not only have a free place to stay but you'll get to connect with a local who can share their insider tips and advice.
Cook your own meals – Restaurants are cheap here but eating out all the time will add up. If you're on a tight budget, save yourself some money by cooking your own meals.
Bring a water bottle – The tap water here is safe to drink so bring a reusable water bottle to save money and reduce your plastic use. LifeStraw is my go-to brand as their bottles have built-in filters to ensure your water is always clean and safe.
Where to Stay in Lagos
Lagos has lots of hostels, but keep in mind they fill up fast in the summer. Also, be aware that some hostels may have limited availability or amenities due to COVID. Here are my suggested and recommended places to stay in Lagos:
How to Get Around Lagos
Bus – Lagos is a small city and is very walkable. There is limited public transportation in the city. Onda bus is the local company. Bus #1 circumnavigates the city and tickets cost 1.20 EUR. You can buy a day pass for 3.60 EUR.
Bicycle – Bike rentals start at 18 EUR for a half-day and 22 EUR for a full day. Rent from Coast Supply Co. or Lagos Bike Tours; they're the best options in the city.
Taxi – Taxis in Lagos start at 3 EUR and go up 0.68 EUR for every kilometer. Most drivers speak English but showing them the address on your smartphone will help. If you're on a budget, skip the taxis. They get expensive fast!
Car rental – You don't need a car to get around Lagos, however, if you plan to go on a day trip, a car rental can give you more freedom and flexibility. They start at just 25 EUR per day for a multi-day rental.
When to Go to Lagos
Peak season in Lagos is during the summer months of June-August. Temperatures during that time hover around 24-27°C (75-80°F). This is also the busiest time to visit the city so expect prices to increase as well. The overall atmosphere during this time is lively and there are lots of places to swim or relax on the beach so it's still worth visiting during peak season.
If you're on a budget, the best time to visit Lagos is during the shoulder season. April-May and September-October are still warm so you can enjoy the outdoors without as many crowds. Temperatures during this time hover between 12-22°C (53-71°F). Prices are cheaper too. It may be a bit rainy but you can still enjoy the city without much inconvenience.
Winter is from November to February. It gets cold and most everything has closed up shop so you won't find much going on if you visit during the winter. Temperatures vary but overall temperature hovers around 15°C (59°F). I wouldn't visit in the winter if you can avoid it as the rest of the year is much more enjoyable. That said, if you're already in Europe and need to winter somewhere, southern Portugal is one of the warmest places on the continent!
How to Stay Safe in Lagos
Lagos is very safe and violent attacks here are uncommon. Petty crime is rare, though pickpocketing can occur so be aware of your surroundings when you're in busy markets, using public transportation or in touristy areas. Keep your valuables secure and out of sight just to be safe.
You won't find a lot of travel scams in the city but read this article on major travel scams to avoid just in case.
Young backpackers here may be approached and offered drugs as Portugal has decriminalized drug use. Always decline the offer politely but firmly and continue on your way.
If you go out drinking, always keep an eye on your drink and never walk home along intoxicated.
If you experience an emergency, dial 112 for assistance.
The most important piece of advice I can offer is to purchase good travel insurance. Travel insurance will protect you against illness, injury, theft, and cancellations. It's comprehensive protection in case anything goes wrong. I never go on a trip without it as I've had to use it many times in the past. You can use the widget below to find the policy right for you:
Lagos Travel Guide: The Best Booking Resources
These are my favorite companies to use when I travel to Lagos. They are included here because they consistently find deals, offer world-class customer service and great value, and overall, are better than their competitors.
Skyscanner – Skyscanner is my favorite flight search engine. They search small websites and budget airlines that larger search sites tend to miss. They are hands down the number one place to start.
Momondo – This is my other favorite flight search engine because they search such a wide variety of sites and airlines. I never book a flight without checking here too.
Airbnb – Airbnb is a great accommodation alternative for connecting with homeowners who rent out their homes or apartments.
Hostelworld – This is the best hostel accommodation site out there, with the largest inventory, best search interface, and widest availability.
Couchsurfing – This website allows you to stay on people's couches or in their spare rooms for free. It's a great way to save money while meeting locals who can share the ins and outs of their city. The site also lists events you can attend to meet people (even if you're not staying with someone).
Booking.com – The best all-around booking site that constantly provides the cheapest and lowest rates. They have a no money down policy, great interface, and the widest selection of budget accommodation. In all my tests, they've always had the cheapest rates out of all the booking websites.
Intrepid Travel – If you want to do a group tour around Portugal, go with Intrepid Travel. They offer small group tours that use local operators and leave a small environmental footprint. If you go on a tour with anyone, go with them. And, as a reader of this site, you'll get a discount when you click the link!
Rome2Rio – This website allows you to see how to get from point A to point B in the best and cheapest way possible. It will give you all the bus, train, plane, or boat routes that can get you there as well as how much they cost.
World Nomads – I buy all my travel insurance from World Nomads. They have great customer service, competitive prices, and in-depth coverage. I've been using them since I started traveling in 2003. Don't leave home without it!
EatWith – This website allows you to eat home cooked meal with locals. Locals post listings for dinner parties and specialty meals that you can sign up for. There is a fee (everyone sets their own price) but this is a great way to do something different, pick a local's brain, and make a new friend.
Lagos Gear and Packing Guide
If you're heading on the road and need some gear suggestions, here are my tips for the best travel backpack and for what to pack!
The Best Backpack for Travelers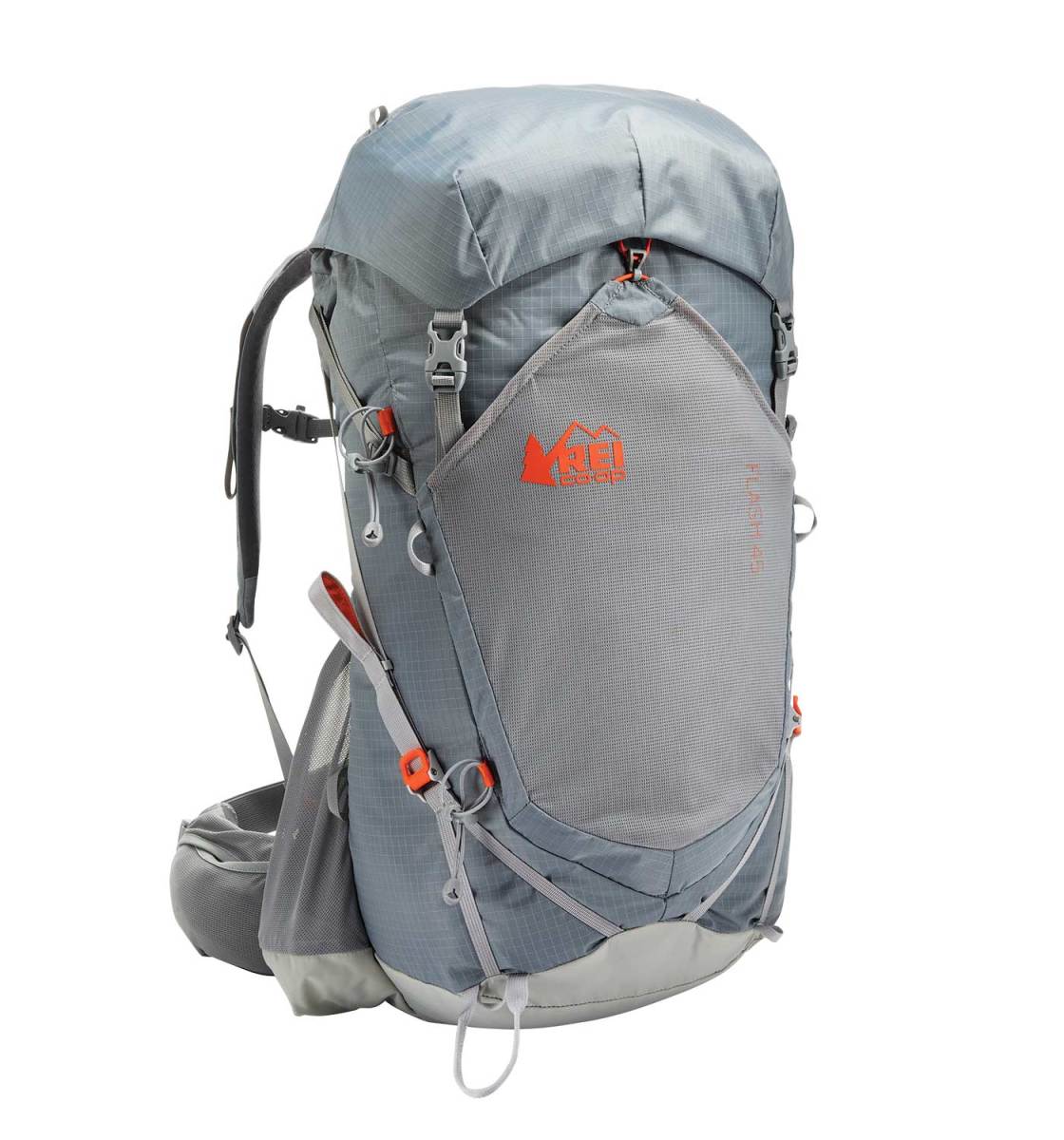 What's the best backpack for traveling long-term? I recommend the
REI Flash 45 Pack
. It's light and comfy, front loading, and fits perfectly in an airplane's overhead bin.
Size:
45-47L
Straps:
Thick and cushy with compression technology that pulls the pack's load up and inwards so it doesn't feel as heavy.
Features:
Removable top lid, large pocket at the front, hydration compatible, contoured hip belt
If you want something different, refer to my article on how to choose the best travel backpack for tips on picking a pack and other backpack suggestions.
What to Pack for Your Trip
Clothes
1 pair of jeans (heavy and not easily dried, but I like them; a good alternative is khaki pants)
1 pair of shorts
1 bathing suit
5 T-shirts (Unbound Merino is my preferred company. If you're a member of NM+, you can get 15% off your purchase)
1 long-sleeved T-shirt
1 pair of flip-flops
1 pair of sneakers
6 pairs of socks (I always end up losing half)
5 pairs of boxer shorts (I'm not a briefs guy!)
1 toothbrush
1 tube of toothpaste
1 razor
1 package of dental floss
1 small bottle of shampoo
1 small bottle of shower gel
1 towel
Deodorant
Small Medical Kit (safety is important!!!)
Miscellaneous
Female Travel Packing List
I'm not a woman, so I don't know what a woman wears, but Kristin Addis, our solo female travel guru, wrote this list as an addition to the basics above:
Clothing
1 swimsuit
1 sarong
1 pair of stretchy jeans (they wash and dry easily)
1 pair of leggings (if it's cold, they can go under your jeans, otherwise with a dress or shirt)
2-3 long-sleeve tops
2-3 T-shirts
3-4 spaghetti tops
1 light cardigan
Toiletries
1 dry shampoo spray & talc powder (keeps long hair grease-free in between washes)
1 hairbrush
Makeup you use
Hair bands & hair clips
Feminine hygiene products (you can opt to buy there too, but I prefer not to count on it, and most people have their preferred products)
For more on packing, check out these posts:
Lagos Travel Guide: Related Articles
Want more info? Check out all the articles I've written on backpacking/traveling Portugal and continue planning your trip: