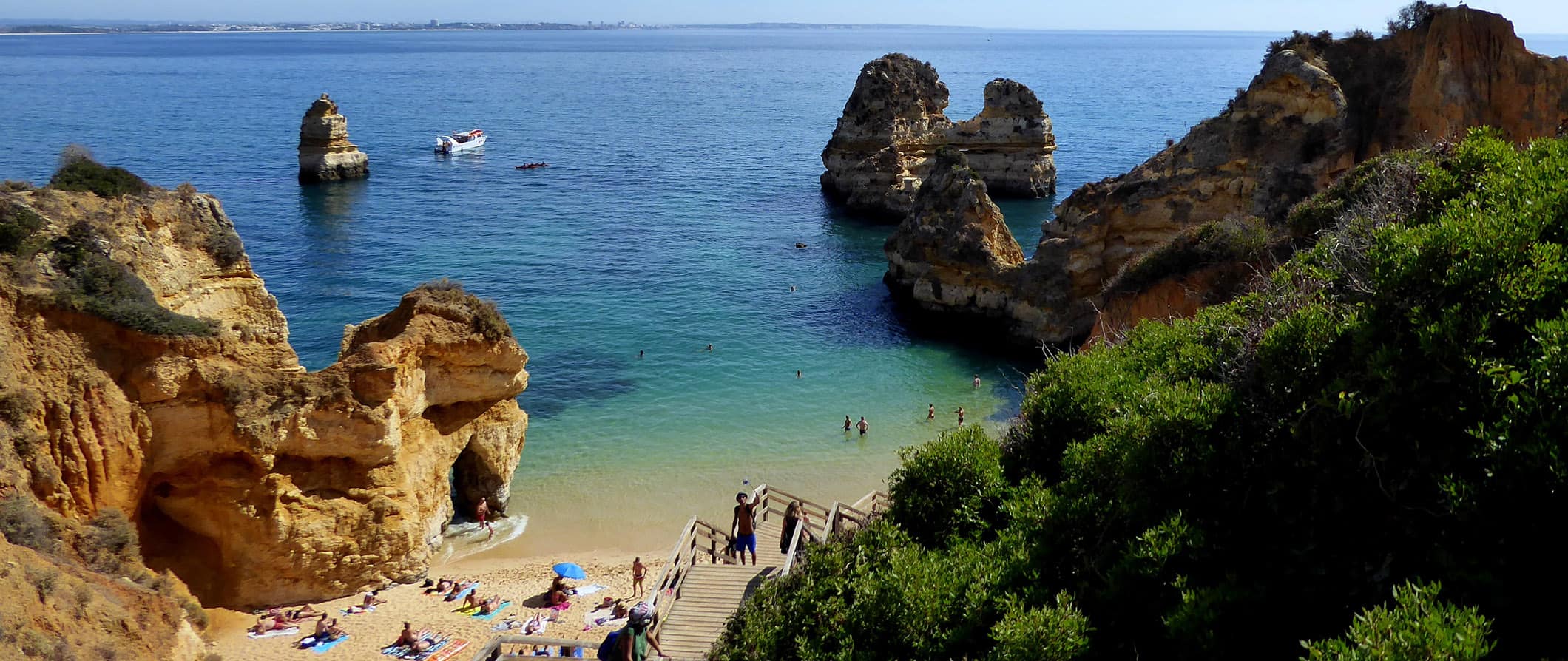 If idyllic beaches are your thing, then a trip to the Portuguese town of Lagos will be right up your alley. This historic town lies on the Algarve and used to be the capital of the region before an earthquake wrought havoc on it in 1755. Once a famous seaport, nowadays most visitors visit Lagos to indulge in its fantastic range of restaurants (with excellent sea food dishes), beaches, and wild nightlife. During the summer time, this city becomes the center of partying for backpackers in Portugal with endless bar crawls, booze cruises, and fun in the sun. The city also makes a great base of operations to explore neighboring towns, coves, and beaches!
Top 5 Things to See and Do in Lagos
1. See the city castle
There is a small castle sitting by the river that has been very nicely restored and turned into a small museum. Don't forget your camera because once at the top there are breathtaking views of the sea. It's located very close to the center of town.
2. Explore the historic churches
Built in the 16th Century, the Church of Santa Maria became the parish church of Lagos in the mid-18th century after the old parish church was destroyed in the 1755 earthquake. The 18th-century Church of Santo António sits just off the waterfront The altar is decorated with some of Portugal's most notable baroque gilt carvings.
3. Check out the grottos
Just a few miles from Lagos is the famous Ponte de Piedade where you have some of the nicest rock formations in Portugal. This secluded area makes for a wonderful day trip, during which you can relax in the sun and swim in the beautiful water.
4. Lounge at the beach
One of the main reasons to visit Lagos is to laze on one of its beaches. The beaches range from the long, broad Meia Praia on the eastern edge of town, (usually crowded in summer with a young crowd, volleyball games, and beach bars), to the secluded coves beneath the towering cliffs of the Ponta da Piedade.
5. Hit the waves
The Algarve is a popular spot for watersports, especially surfing, kayaking, and kite surfing. It's easy to rent equipment (there are a ton of shops), or if you're a newbie, arrange lessons before you get out on the water.
Other Things to See and Do
(Click the title to expand the text)
1. Go diving
The coastline between Lagos and Sagres is the site of numerous underwater caves and shipwrecks. One dive with equipment will cost you 70 EUR.
2. Visit the fish market
Get here early and see a wonderful selection of fresh seafood as it's pulled in from the ocean. On the first floor, there is a fruit and veg market, and above that are the terrace and rooftop veranda with restaurants. This is a great place to spend a morning and buy some fresh food.
3. See the Old Slave Market
In one corner of the Praca da Republica, under the arches of the old customs house is what was Europe's first slave market. The market opened in 1444 and it is said that, within a century, up to 10,000 slaves were being shipped annually from Africa just to meet Portuguese demand alone. The museum for the slave market is open daily except for Mondays from 10am-12:30pm and 2pm-5:30pm. Admission is 4 EUR.
4. Walk along the town walls
The town walls in Lagos originally date as far back as the Roman or Carthaginian era, but they were expanded to accommodate the town's growth during the period of Arab rule. The walls offer great views of Lagos.
5. Check out the Municipal Museum
The municipal Museum is next to St. Anthony's church, and houses a collection of archaeological artifacts, and religious art. It also has information about the history of the town. It's a good way to spend a few hours when you tire of the beach. Entrance is 3 EUR. The museum is open daily except for Mondays, from 9:30am-12:30pm and 2pm-5pm.
6. Go on a trail ride
A couple of companies offer trail rides around the Lagos area. This is a nice way to break up your beach time with something a little more physical. You can arrange a ride that is as short as an hour, or up to several days. A two-hour ride costs around 45 EUR.
7. Visit the Science Center
Traveling with kids? If you need some time out of the sun, the Ciencia Viva Science Center is a great way to kill some time with hands-on, interactive exhibits. Entrance for adults is 3 EUR. The museum is open daily except for Mondays, from 10am-6pm.
Typical Costs
Hostel prices
– Prices start around 9 EUR per night for a 4-6 bed dorm in a centrally-located hostel. Private rooms that sleep 2 (twin beds) average around 30 EUR per night. Hostels here offer free linens and free WiFi. Many also offer free breakfast. My suggested place is:
Budget hotel prices – A room in a centrally-located 3-star hotel starts at around 33 EUR per night. These hotels offer private bathrooms, double beds, WiFi and many offer free breakfast.
Average cost of food – You can find snacks in bakeries for around 2 EUR, light meals and sandwiches for around 7 EUR, and fast food.
Transportation costs – Lagos is a very walkable city, but it also does have a zone-based public bus system in the town.
Suggested daily budget
35-40 EUR / 36-41 USD (Note: This is a suggested budget assuming you're staying in a hostel, eating out a little, cooking most of your meals, and using local transportation. Using the budget tips below, you can always lower this number. However, if you stay in fancier accommodation or eat out more often, expect this to be higher!)
Money Saving Tips
Look for alternative accommodation – Because this is such a popular tourist destination, many hotels have raise prices substantially during the summer months. However, many locals rent out apartments or run small guest houses on sites like Airbnb. These can be significantly cheaper or will at least offer you better value for your money.
Free museum visits – Most museums are free on Sundays.
Say "no" to bread – When eating out, a selection of bread and olives will be brought to your table before your meal. These aren't free, so just say no!
Couchsurf – If you plan ahead, you can usually find really nice Couchsurfing hosts all throughout the country. This way, you not only have a place to stay, but you'll have a local host that can tell you the best places to go and things to see.
My Must Have Guides For Traveling to Lagos
Photo credits: 3