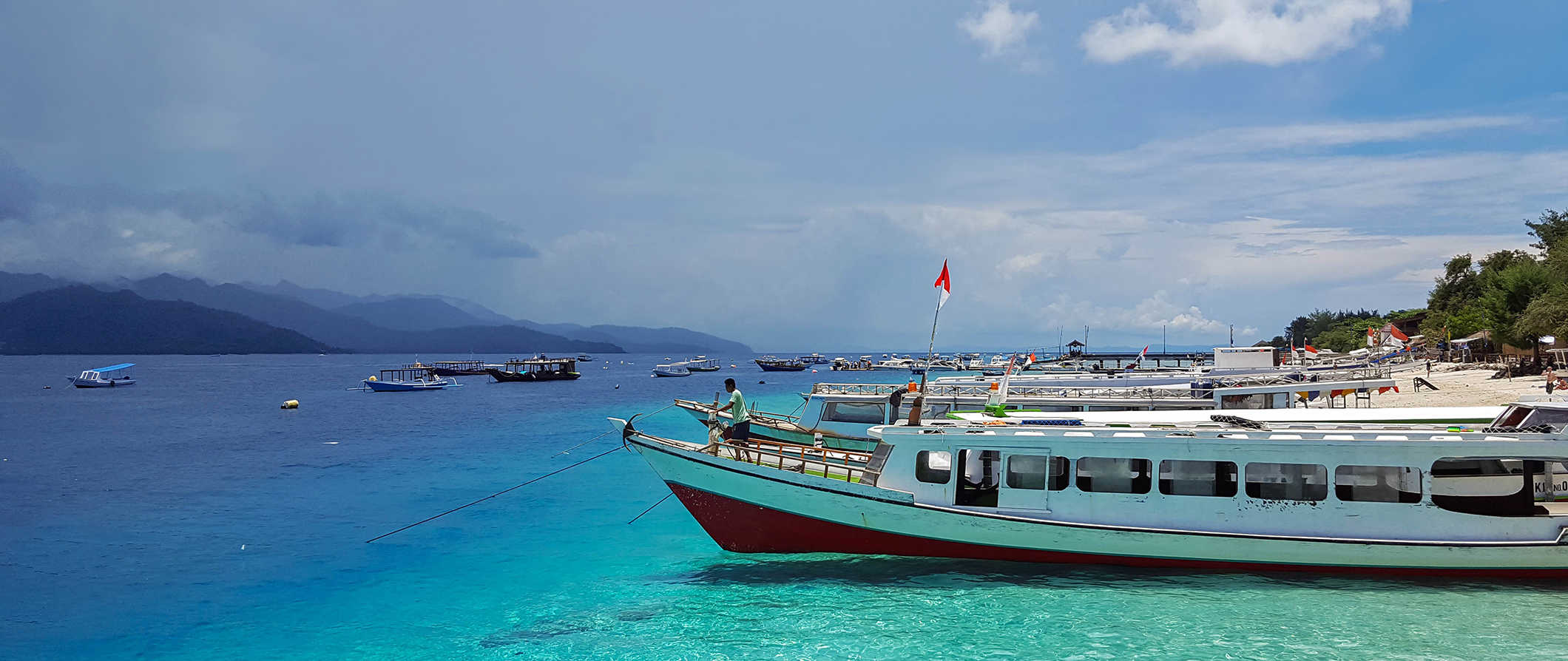 Situated just off the coast of Lombok in Indonesia, the Gilis are made up of three small islands: Gili Air, Gili Meno, and Gili Trawangan. Over the years, these sleepy little islands have become a huge destination for backpackers and budget travelers. Though they are not as tranquil and cheap as they were in the past, if you are looking for a quiet alternative to Bali with even better beaches and seafood, come to the Gilis. They are a wonderful destination to relax and soak up the sun! I was always amazed at how few crowds there were on the islands. This guide will help you take advantage of that. Go, relax, get a tan, and enjoy!
Top 5 Things to See and Do in the Gili Islands
1. Lounge on the beaches
The Gili islands have beautiful beaches and you can find most people each day sitting on the beach getting some sun. The sand is white and soft and the water clear and warm. It's really a beach paradise here.
2. Go scuba diving
All three islands have scuba diving training centers. Lionfish, scorpion fish, cuttle fish, octopus, and different types of rays litter the waters around the islands. In my opinion, the diving here is better than Bali (it's cheaper to learn here too!). An Open Water certification, for example, will only cost around 6,000,000 IDR.
3. Go surfing
The southern tip of Trawangan has the best surfing with good waves all year round. If you want to stay at a surf camp, expect to pay around 6,000,000 IDR for a week (includes lessons, accommodation, meals, yoga, and other activities).
4. Visit the sea turtles
Gili Trawangan and Gili Meno have hatcheries that lie right on the island's big beaches, but you can also go snorkeling around the turtle populations. Check with your hotel for the best spots of the moment for catching the sea turtles, and rent some snorkeling gear.
5. Bike the islands
These islands are so small, that it won't take you long to tour each one by bike. Pack some snacks, some beach gear, and make an afternoon of it! Bike rentals start around 135,000 IDR per hour.
Other Things to See and Do
(Click the title to expand the text)
1. Go snorkeling
You can take a private boat if you are with a large enough group or join other people or you can rent snorkeling gear for half a day from one of the centers near the beach. The three-island snorkel trip will take in the tropical fish, turtles, and various wildlife of the waters. Renting the gear is quite cheap, usually costing just 15,000 IDR (or less).
2. Check out the local bars and nightlife
Gili Trawangan is the party island out of the three, whereas Air is the quietest. Party nights are regular and are rotated between the bars, which usually stay open until 4 am. When the islands are busy, the famous Full Moon parties are held on the beach on the southern part of Trawangan with a DJ playing beats to sunrise.
3. Get involved in water sports
You can hire a fishing boat for the day or if you want something a bit different parasailing, water-skiing, wakeboarding are available activities here. Prices will vary, but activities like wakeboarding and parasailing generally cost around 800,000 IDR per person.
4. Go kayaking
On the northern side of Trawangan you can rent kayaks or take a guided tour of the island by kayak. Karma Kayaks is a good place to rent them from. On your trip you'll probably encounter rays, turtles and other wildlife. A guided day trip will cost around 300,000 IDR per person.
5. Try freediving
Some of the dive schools in the Gili Islands offer freediving lessons. Make sure you ask a lot of questions to the divemasters about regulations and safety procedures before booking. Beginner courses last a couple days and will cost around 3,700,000 IDR per person.