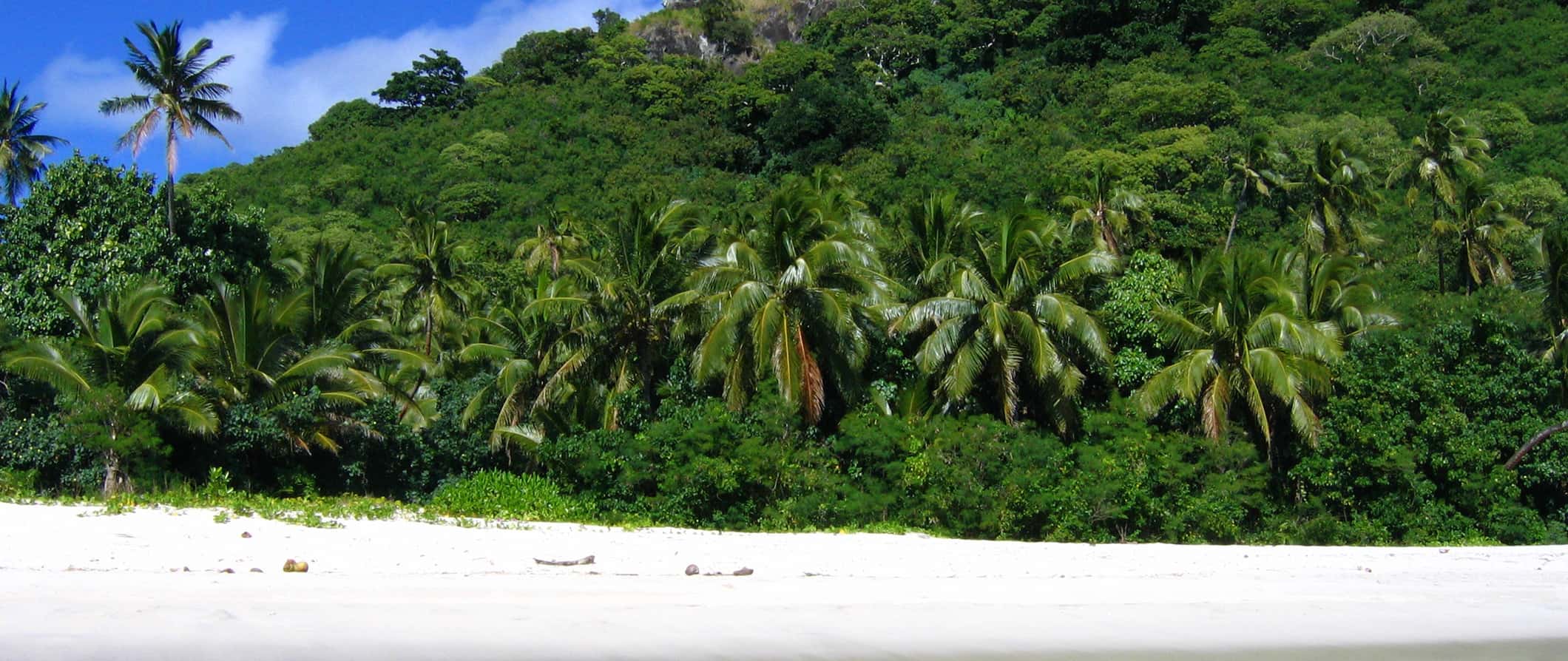 The Yasawa Islands are located in northwest Fiji and make up one of the most popular regions in the country, especially among budget travelers. Approximately 30 resorts are spread through the 12 major islands in the group. Most resorts provide basic accommodation, include meals, and contain access to natural and cultural sites. These islands cater to those who are not looking to spend thousands per night at a resort but still want tropical serenity. I loved my time here and would go back in a heartbeat. It's the biggest backpacker destination in the country, too, due to it's low prices. If you're on a limited budget, definitely visit the Yasawas!
Top 5 Things to See and Do in the Yasawa Islands
1. Scuba Dive
Given the tropical waters that surround the islands, it's no surprise Fiji is home to some incredible snorkeling and diving. Diving is very cheap in these islands. I spent 640 FJD to get
my PADI certification
. That's about half the cost of getting it in the US!
2. Sawailau Caves
You can visit these two separate caves through an organized tour. The first cave is accessible by foot (you just need to descend some stairs), but, to get to the second, you need to swim underwater a bit. The caves are an interesting experience but nothing extraordinary if it's not your first time spelunking. Expect to pay around 55 FJD.
3. Visit the villages
An excellent way to experience traditional life and mingle with the locals, villages are located on the larger islands. You can experience dance performances, traditional ceremonies, church services, and sample traditional food.
4. Attend a Kava Ceremony
Kava kava is a root that has extremely calming effects when ingested (it's a mild sedative). Kava ceremonies are traditional and, at night time, you'll see almost all the locals sitting in a circle drinking it. I participated in a few ceremonies while I was on the islands. I found it made me sleep better. It didn't induce some weird drug effect that people assume it does.
5. Take a plantation tour
Ask the locals to take you through their plantations and show you the bananas, papaya, mangoes, breadfruit, cassava, and other fruits and vegetables. Most of the food grown on the islands ends up on your plate at night.
Other Things to See and Do
(Click the title to expand the text)
1. Take a hike
Most all of the islands have good hiking. In Wayalailai, you can climb to the top of the mountain to see the sunrise, or hike the length of the island and cross the spit to Waya. Guides are available, or you can go alone. No matter what island you are at, the hiking is pretty easy and can be done in flip flops.
2. Go kayaking
Most of the islands offer sea kayaking and the water is calm and safe to kayak around. Most resorts have kayaks for rent or offer organized sightseeing tours.
3. Just relax
Honestly, these islands are far removed from civilization. You aren't going to find TV, phone service, or constant Internet. Sit around, go for a swim, get a tan, drink a beer, read a book, and chill out. There's no need to do anything else here.
4. Take a Fijian Cooking Class
Fijian cuisine has obvious influences from other South Pacific countries, as well as from China and India. All in all, this makes for an interesting mix of flavors. Take a cooking class at one of the resorts, and then enjoy eating the food you've learned to prepare. Prices vary but expect to pay around 75 FJD per person for a full-day class.
5. Swim with manta rays
This is a seasonal activity, available from May to October. During these months, manta rays pass through the channel between Drawaqa and Nanuya Balavu Islands to feed. Organized tours allow you to get up close and personal with them. Expect to pay around 30 FJD for a tour.
6. Go fishing
Many resorts offer the opportunity to arrange a fishing trip with the locals. It's a great chance to see the islands from another angle and get to know a few Fijians. Prices start around 25 FJD per person.
Typical Costs
Hostel prices
– Dorm beds generally cost between 45-85 FJD per night while private rooms will be 125 FJD and up. On Beachcomber, expect prices are double. Free breakfast is generally included, however kitchen facilities are virtually nonexistent (which should be fine, since your meals are generally included). WiFi access is limited, so use this time as a chance to disconnect and relax! While camping is available for those who have tents, you will essentially be camping at the backpacker resorts for about the same price (wild camping isn't allowed). You can book your hostel with
Hostelworld
.
Budget hotel prices – There are only a few private, upscale resorts in this island chain. Rooms at these upscale resorts cost around 1,500 FJD (or more!!) per night. There are bungalows available around the islands, usually costing around 250 FJD per night. Airbnb isn't a viable option here are there are only a couple properties in all of the islands. Stick to budget hostels or bungalows if you're on a budget. Use Booking.com as they consistently return the cheapest rates.
Average cost of a food – There are no public restaurants in the Yasawa Islands. Each resort as its own dining facilities and meals are included in the price of your room.
Transportation cost – If you came by the "yellow boat" (Yasawa Flyer) then it will pick you up on its daily run and take you to your next island. Island-hopping passes (the Bula pass) come as 5, 7, 10, 12, 15, or 21-day passes. Prices will be between 277-512 FJD depending on how long you want. While you can buy individual tickets to the island, the prices are quite high so you're better off buying a Bula pass.
Suggested daily budget
250-300 FJD / 110-140 USD (Note: This is a suggested budget assuming you're staying in a hostel, eating out a little, cooking most of your meals, and using local transportation. Using the budget tips below, you can always lower this number. However, if you stay in fancier accommodations or eat out more often, expect this to be higher!)
Money Saving Tips
Get a Bula Boat Pass – Even if you won't use all your days the price of the pass still works out cheaper than paying as you go. If you plan to go multiple islands, you'll spend more money, so this is a great deal.
Stock up before you go – Buy water and alcohol before you get to the islands as they cost about 40% less on the mainland.
Skip Beachcomber island – Beachcomber, the famous party island, is a waste of time and drastically overpriced. Everything costs double on this island. You can have an equally good time on South Sea or Bounty Island. They both look the same as Beachcomber and aren't as expensive.
My Must Have Guides For Traveling to the Yasawa Islands