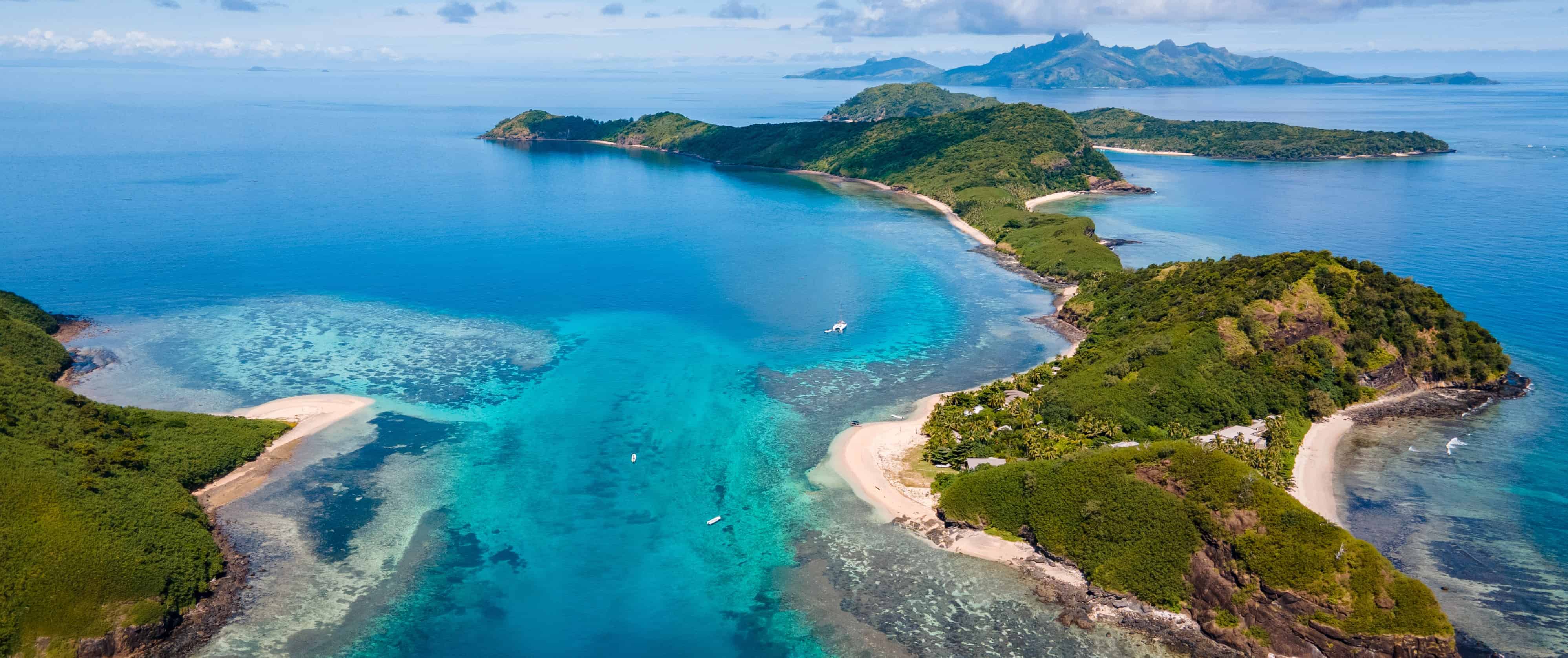 Fiji is a collection of islands spanning over 1,600 kilometers in the South Pacific Ocean. There are two main islands, Viti Levu and Vanua Levu, and nearly 900 smaller islands and inlets.
Settled thousands of years ago by Austronesian peoples, Europeans made landfall in 1643 when Dutch explorer Abel Tasman "discovered" the islands. Over 100 years later, British explorer James Cook arrived and by 1874 the islands were annexed and made into a Crown colony by the British. This lasted until 1970 when Fiji regained its independence.
Though famous for expensive bottled water and fancy resorts, a vacation here doesn't need to break the bank. Inexpensive accommodation and food, combined with the fact most Pacific flights include a stopover here, makes the islands an affordable place to visit (I found Fiji way more affordable than I thought it would be when I first visited).
This travel guide to Fiji can help you plan your trip, save money, and make the most out of your time in this tropical paradise!
Click Here for City Guides
Top 5 Things to See and Do in Fiji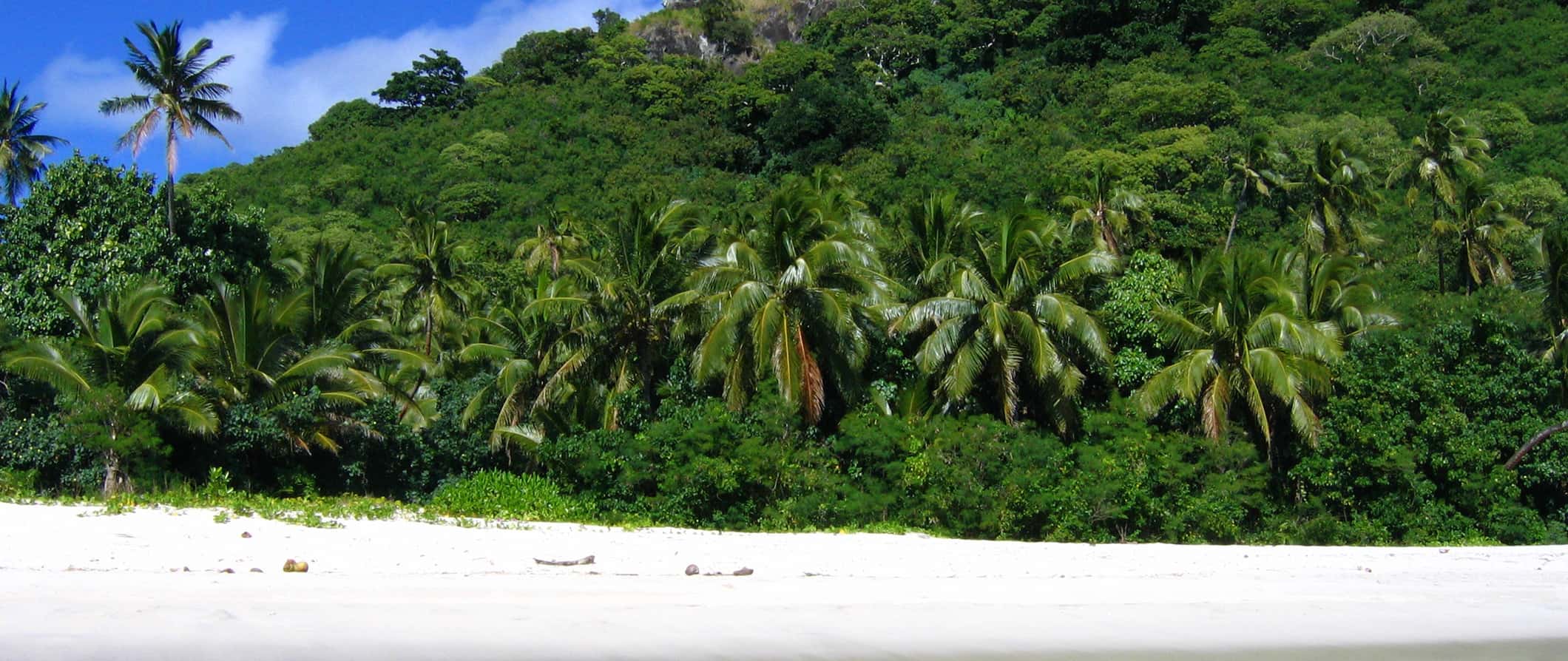 1. Explore the Mamanucas
The Mamanucas are a group of islands popular with watersport enthusiasts. Most people visit on a day trip from Nadi to enjoy world-class surfing breaks, soft corals, and incredible marine life. But, once the day-trippers, leave the place is yours!
2. Visit Suva
Situated on the island of Viti Levu, Suva is the capital of Fiji. Head to the municipal market on Saturday to pick up souvenirs and inexpensive food. If you're here in July or August, check out the fire-walking festival at the Mariamma Temple.
3. See the Fiji Museum
This museum detailing South Pacific culture and Fiji's history is one of Suva's best attractions. You'll find Indian art exhibits, HMS Bounty relics, and artifacts that showcase traditional Fijian life, such as cannibal forks, shell jewelry, and tribal weaponry. Admission is 10 FJD.
4. Explore the Yasawas Islands
The Yasawa Islands are popular with budget travelers for their inexpensive accommodation, cheap transportation, and late-night parties. If you are going, spend time at some of the lesser-known islands in this chain for quieter nights and cheaper prices.
5. Go diving
I learned to dive in Fiji and it was one of the most incredible things I've ever done. The visibility is fantastic, with depths of up to 40 meters (131 feet). Famous dive spots include Astrolabe Reef, Beqa Lagoon, and Rainbow Reef. Expect to pay from 295 FJD per trip.
Other Things to See and Do
1. Explore Bouma National Heritage Park
This national park, located on the north of Taveuni Island, is among the top attractions in the country. The park is covered in waterfalls plunging into deep pools perfect for swimming, and coastal forest trails ideal for hiking. The picturesque Tavoro Waterfalls are near the visitor center but if you want to do more strenuous trekking, do the Vidawa Rainforest Trail. It's a half-day guided hike (you must take a tour) that ends at the waterfalls. It's led by shamans who give you a natural history of the park. It's around 130 FJD for the tour, but if you just want to visit the park, there's a 15 FJD entrance fee.
2. Visit Koroyanitu National Heritage Park
This is another ideal place for hiking. You can climb up Castle Rock for a bird's eye view over the Mamanucas and Yasawa Islands (it's a challenging four-hour hike one-way). There's also a two-hour hike that takes you past a giant waterfall and to the Navuratu village. There are six eco-friendly villages inside the park and the locals maintain the trails and the landscape (you can visit the villages). Admission to the park is 25 FJD.
3. Go whitewater rafting
For an adrenaline-packed day, go white-water rafting on the Upper Navua River. It winds through the highlands of Viti Levu, offering waterfalls and all grades of rapids that are perfect for beginners and seasoned pros. Many people combine whitewater rafting with kayaking along the rivers and mangroves. This trip is expensive at around 480 FJD per person, but it makes for a fun day trip.
4. Visit the old capital of Levuka
Fiji's original capital, Levuka (founded in 1820), is on the island of Ovalau. The small town, home to just 1,100 people, has largely escaped the influx of tourism and has been designated a UNESCO World Heritage Site for its preservation as a late colonial Pacific port town. There's a small community museum, but other than that, there's not much to do other than enjoy the quiet atmosphere, the architecture, and the surrounding scenic mountains.
5. Go surfing
Fiji offers some of the world's best surfing with countless famous sites like Cloudbreak and Lighthouse Rights. The breaks here aren't ideal for beginners, but there are calmer waters at Sigatoka. Head to the Mamanuca islands to try out windsurfing and kitesurfing as a bonus. Expect to pay about 200 FJD for a full day of surf lessons.
6. Visit the Garden of the Sleeping Giant
Originally the garden of actor Raymond Burr (he starred in the Tv shows Perry Mason and Ironside in the 1950s-70s), the Sleeping Giant covers over 50 acres of land and is filled with native orchids, exotic plants, and tropical flowers. A jungle walk takes you past a huge lily pond and through native forest. Admission is 18 FJD.
7. Try kava
Kava, which is made from a root with the same name, is the drink of choice in Fiji. It causes a numbing sensation on the lips and mouth and relaxes you. Make sure you go "high tide" and get the big cup! One of the best ways to experience kava is to participate in a village ceremony (it involves sitting on the floor and following some rituals as you drink). Some tours include this, but they're usually full-day village tours starting from about 370 FJD. If you're on a budget, it's best to just find some locals and drink with them!
8. Hike Colo-i-Suva Forest Park
This rainforest park is brimming with exotic birds and tropical plants. There are about 7 kilometers (4 miles) of hiking trails leading to several natural pools on Waisila Creek that make refreshing swimming holes. It's a small park, but it makes for a quiet retreat from Suva. Admission is 10 FJD per person.
9. Visit Sri Siva Subramaniya Swami Temple
This is the largest Hindu temple in the Pacific and can be found at the base of Main Street in Nadi. You'll see traditional Dravidian architecture here, with wooden carvings of deities from India as well as incredibly colorful ceiling paintings. Be sure to cover your knees and shoulders and leave your shoes at the door.
Fiji Travel Costs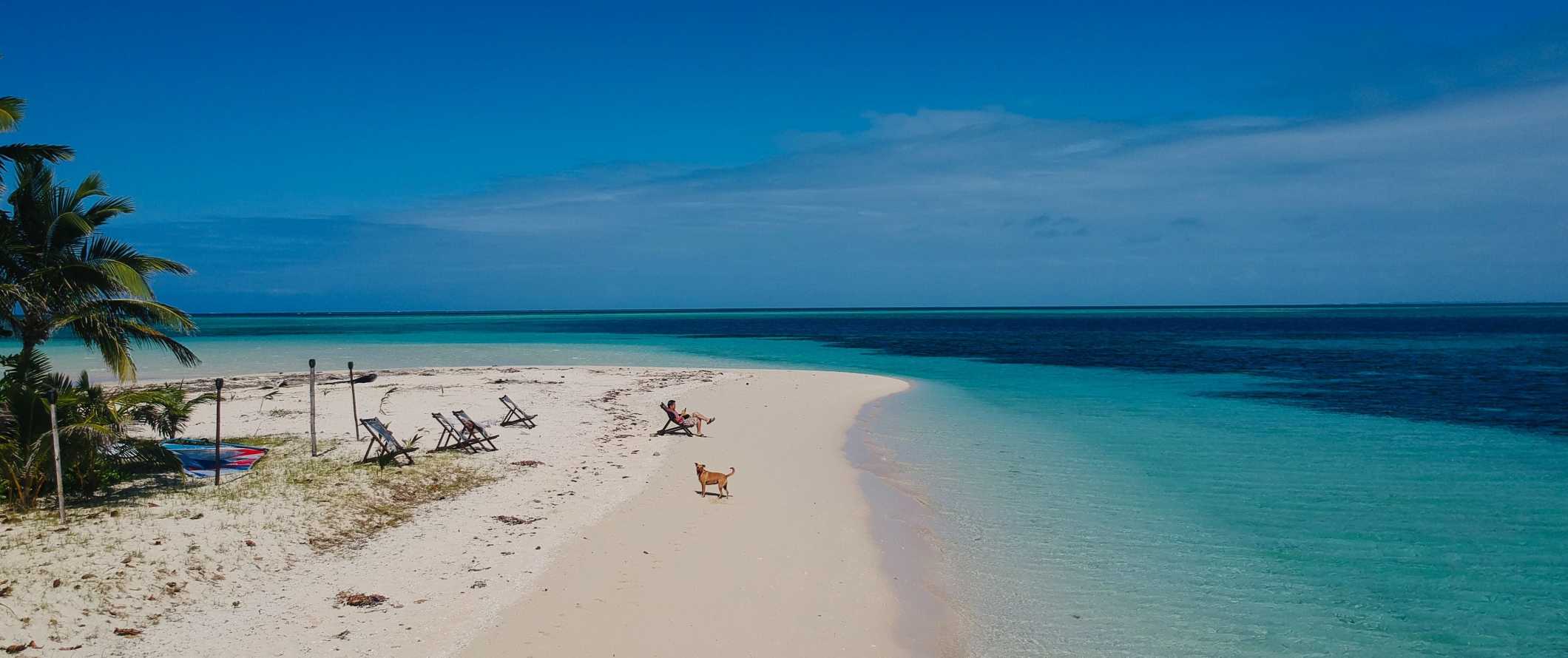 Hostel prices – A bed in a 4-6-bed dorm costs around 35-55 FJD per night. For a room with eight beds or more (some dorms have 20-30 beds), expect to pay 15-20 FJD. A private room costs 85-125 FJD per night. Free Wi-Fi is common but not offered everywhere. Only some hostels have self-catering facilities.
Wild camping is frowned upon, though if you're traveling with a tent some hostels offer space to pitch a tent at a discount.
Budget hotel prices – Budget hotels start at 135 FJD per night. Expect basic amenities like free Wi-Fi and TV.
There are lots of Airbnb options around Fiji. A private room is about 48-85 FJD per night while a full apartment averages 170-290 FJD per night.
Food – Fijian cuisine offers a healthy mix of seasonal produce, seafood, and rice. Roti and curry are popular dishes, and tubers (yams, cassava) and coconuts form the basis of many traditional dishes. Breakfast has strong Western influences, composed of cereal, tea/coffee, and eggs. Soups are common for lunch while heartier stews are a go-to dinner choice. Be sure to try fish suruwa (fish curry) and kokoda (marinated raw fish marinated with tomatoes and chilies).
There are lots of roadside food stands on the main roads and in the more populated areas. These feature local Fijian curries and stews for under 5 FJD. In just about any town, you'll be able to get big plates of dhal, roti, and chutney for less than 10 FJD.
Eating out at a mid-range restaurant costs about 40-55 FJD, including a drink. On most islands, your accommodation includes three meals per day, so you won't get much choice, especially on islands that only have a resort on them.
Buffets are also popular options and cost about 65-85 FJD for dinner (less for breakfast). Domestic beer at the bar costs around 6.50 FJD.
Since Fiji is a popular vacation spot, there are lots of high-end dining options (usually in resorts or hotels). Four-course meals cost about 200 FJD, or 300 FJD with wine. Individual plates cost about 65-80 FJD for seafood like lobster or crab.
If you plan on cooking your own meals, a week's worth of groceries costs between 65-110 FJD. Just keep in mind that many markets won't let you buy items like tomatoes or onions separately, you'll have to purchase them in a bundle. It's only worth buying groceries on the larger islands where food isn't included in your accommodation.
Activities – Most museums and attractions cost 10-20 FJD. Diving trips cost 295 FJD while white-water rafting is around 480 FJD for a day trip. Surf lessons cost around 200 FJD. Village tours (including kava ceremonies) cost around 370 FJD.
Backpacking Fiji Suggested Budgets
If you're backpacking Fiji, expect to spend about 105 FJD per day. This budget covers a hostel dorm, using public transportation to get around, cooking your meals and eating some street food, limiting your drinking, and doing mostly free and cheap activities like hiking and swimming.
A mid-range budget of about 220 FJD per day covers staying in a private Airbnb room, eating out for most of your meals, enjoying a few drinks, taking the occasional taxi to get around, and doing some paid activities like diving and visiting museums.
On a "luxury" budget of about 470 FJD or more per day, you can stay in a hotel, eat out for all your meals, drink more, island-hop, rent a car, and do whatever tours and activities you want. This is just the ground floor for luxury though. The sky is the limit!
You should expect about a 10-20% price increase on hotel accommodations during peak season (December/January and July). If you're traveling away from the main islands, like into the Yasawa Islands, you can expect to pay nearly double these prices.
You can use the chart below to get some idea of how much you need to budget daily, depending on your travel style. Keep in mind these are daily averages – some days you'll spend more, some days you'll spend less (you might spend less every day). We just want to give you a general idea of how to make your budget. Prices are in FJD.
Accommodation
Food
Transportation
Attractions
Average Daily Cost
Backpacker
40
35
10
20
105
Mid-Range
60
50
20
90
220
Luxury
135
120
65
150
470
Fiji Travel Guide: Money-Saving Tips
If you stick to free and cheap things to do in Fiji (like hiking and going to the beach), you can visit for very little money without missing out on much. For everything else, here are some ways to save money in Fiji:
Use "share taxis" – As the name suggests, these taxis pick up as many passengers as possible and charge the same as a bus fare, which is a good option for longer journeys.
Eat at snack stands – The cheapest food in Fiji is found on the snack stands dotting the roads. You can pick up curry or fish and chips for as little as 3 FJD.
BYO Everything – If you are going to the outer islands, bring as much as possible. Things are about 50% cheaper on the main island so save money and buy water, snacks, and alcohol ahead of time.
Book a driver – If you can round up a few people, hire a driver for a full day. It should cost about 100 FJD if you haggle, and it's a LOT cheaper than taking taxis everywhere or getting a rental car (if you're short on time and do not want to use public transportation everywhere).
Pack a water bottle – The tap water on the main islands is generally safe to drink, though I would bring a waterbottle with a filter just in case. My preferred bottle is LifeStraw. It ensures your water is clean and safe while helping you avoid single-use plastic.
Where to Stay in Fiji
There are lots of budget accommodations in Fiji. All the islands are different and there are so many islands that I can't list everything here. As long as you don't stay at the resorts, you'll find something affordable! Here are my recommended places to stay in Fiji:
How to Get Around Fiji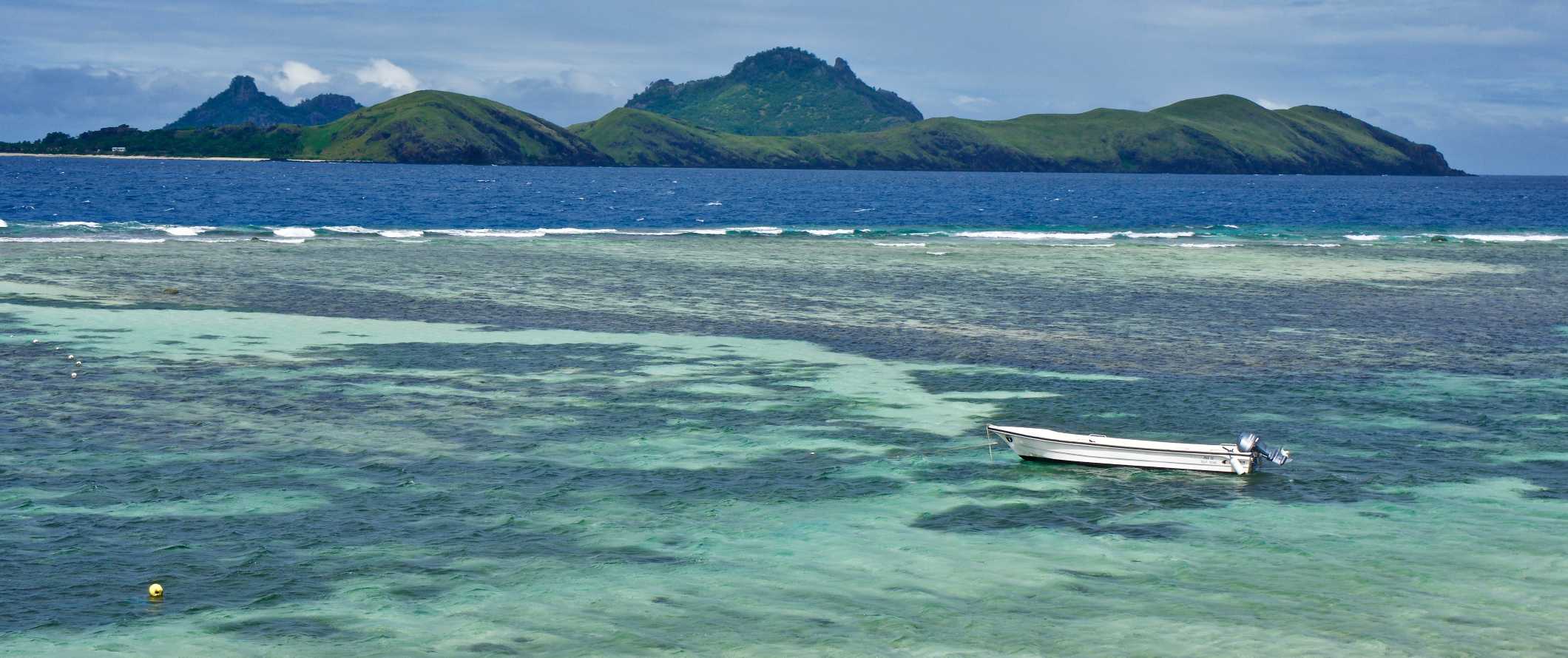 Bus – Buses are efficient and inexpensive in Fiji, with bus services provided by Coral Sun, Sunbeam, and Pacific Transport. The 4-hour journey from Suva to Nadi on the main island costs between 7-20 FJD, depending on the date and time. A bus between Suva and Naviti costs about the same.
On the smaller islands, you can show up at a bus stop and flag down a bus. Any journey shouldn't cost more than a few dollars. Mini-buses and converted trucks are abundant!
Ferry – Ferries run between the islands of Viti Levu and Vanua Levu, Ovalau and Kadavu, and Vanua Levu and Tavaeuni. Each island has many different routes, often with multiple journeys each day. Fares start from about 16 FJD.
Some of the main ferries are:
Bligh Water Shipping
Goundar Shipping
Patterson Brothers Shipping
Not many services go to the Outer Islands, and the boats that do are slow and unreliable. Some islands only receive a ferry arrival once a month! Goundar Shipping visits Vanuabalavu, Cicia, and Rotuma, but you'll have to call ahead to check the schedule.
Additionally, you can get an inter-island ferry pass (called a Bula Pass) for the Yasawa Islands that costs around 458 FJD for five days. Longer passes are also available:
7-8 days for 603 FJD
9-10 days for 696 FJD
11 days for 773 FJD
13 days for 824 FJD
15 days for 870 FJD
Note that the ferry pass company prices their passes in USD so these currency conversions will fluctuate.
Flying – To get between islands, the easiest way is to fly. Flights are surprisingly cheap too. A 30-minute flight between Nadi and Suva costs as little as 140 FJD. Suva to Koro Island is about 190 FJD and takes 35 minutes. Nadi to Cicia Island is about 325 FJD and takes nearly four hours.
Taxis – A taxi around Suva costs around 10 FJD. Outside of Suva, taxis tend to be unmetered, and you should negotiate your fare before you get in.
Car Rental – Renting a car is not cheap, costing around 120 FJD per day for a multi-day rental. Unless you are splitting it with friends, I'd skip the rental. Drivers need to be at least 21 years of age.
Hitchhiking – Hitchhiking here is relatively easy and safe, though rides are only really common near the larger towns and cities. Expect long waits the further away from the capital you travel. For more tips and info, check out Hitchwiki.
When to Go to Fiji
Fiji has more than one peak season. December and January are very busy as Australians and Kiwis flock to the islands during their school holidays. July is another popular time to visit for great temperatures, but expect higher prices for accommodations. In December, the average daily high is 31°C (88°F), while it's around 28°C (82°F) in July.
The low season is in November and then February-April. Both periods occur during Fiji's wet season, with lots of rain and high humidity. It can be uncomfortable, but prices tend to be lower.
I recommend hitting up Fiji during the shoulder season, from May-June or August-October. The temperatures are still warm, there's less rainfall, and there's a low risk of cyclones (October-May is cyclone season in the Pacific). It's still hot during this time, with the average daily temperature in May being 29°C (84°F)!
Safety in Fiji
Fiji is very safe. This is a relaxed island nation with little to worry about while you're here. Like any destination, your biggest concern is a petty crime like pickpocketing. With that in mind, leave your valuables at home and keep an eye on your belongings at all times, especially while at the beach.
Men are often approached by locals trying to sell sex workers or marijuana. Both are illegal, so politely decline and walk away.
Solo female travelers should feel safe here, though take the standard precautions while you're here (don't leave your drink unattended when out at the bar, don't walk home alone at night if intoxicated, etc.)
Cyclone season in the Pacific runs from October to May, so keep an eye on the forecast and make alternative travel plans if necessary. Make sure you have travel insurance if you visit during this time.
Scams here are rare, but if you're worried about getting ripped off you can read about common travel scams here.
If you experience an emergency, dial 911 for assistance.
Always trust your gut instinct. Make copies of your personal documents, including your passport and ID. Forward your itinerary along to loved ones so they'll know where you are.
The most important piece of advice I can offer is to purchase good travel insurance. Travel insurance will protect you against illness, injury, theft, and cancellations. It's comprehensive protection in case anything goes wrong. I never go on a trip without it as I've had to use it many times in the past. You can use the widget below to find the policy right for you:
Fiji Travel Guide: The Best Booking Resources
These are my favorite companies to use when I travel. They consistently have the best deals, offer world-class customer service and great value, and overall, are better than their competitors. They are the companies I use the most and are always the starting point in my search for travel deals.
Skyscanner – Skyscanner is my favorite flight search engine. They search small websites and budget airlines that larger search sites tend to miss. They are hands down the number one place to start.
Hostelworld – This is the best hostel accommodation site out there with the largest inventory, best search interface, and widest availability.
Booking.com – The best all around booking site that constantly provides the cheapest and lowest rates. They have the widest selection of budget accommodation. In all my tests, they've always had the cheapest rates out of all the booking websites.
Get Your Guide – Get Your Guide is a huge online marketplace for tours and excursions. They have tons of tour options available in cities all around the world, including everything from cooking classes, walking tours, street art lessons, and more!
SafetyWing – Safety Wing offers convenient and affordable plans tailored to digital nomads and long-term travelers. They have cheap monthly plans, great customer service, and an easy-to-use claims process that makes it perfect for those on the road.
LifeStraw – My go-to company for reusable water bottles with built-in filters so you can ensure your drinking water is always clean and safe.
Unbound Merino – They make lightweight, durable, easy-to-clean travel clothing.
Top Travel Credit Cards – Points are the best way to cut down travel expenses. Here's my favorite point earning credit cards so you can get free travel!
Fiji Travel Guide: Related Articles
Want more info? Check out all the articles I've written travel in Fiji and continue planning your trip: