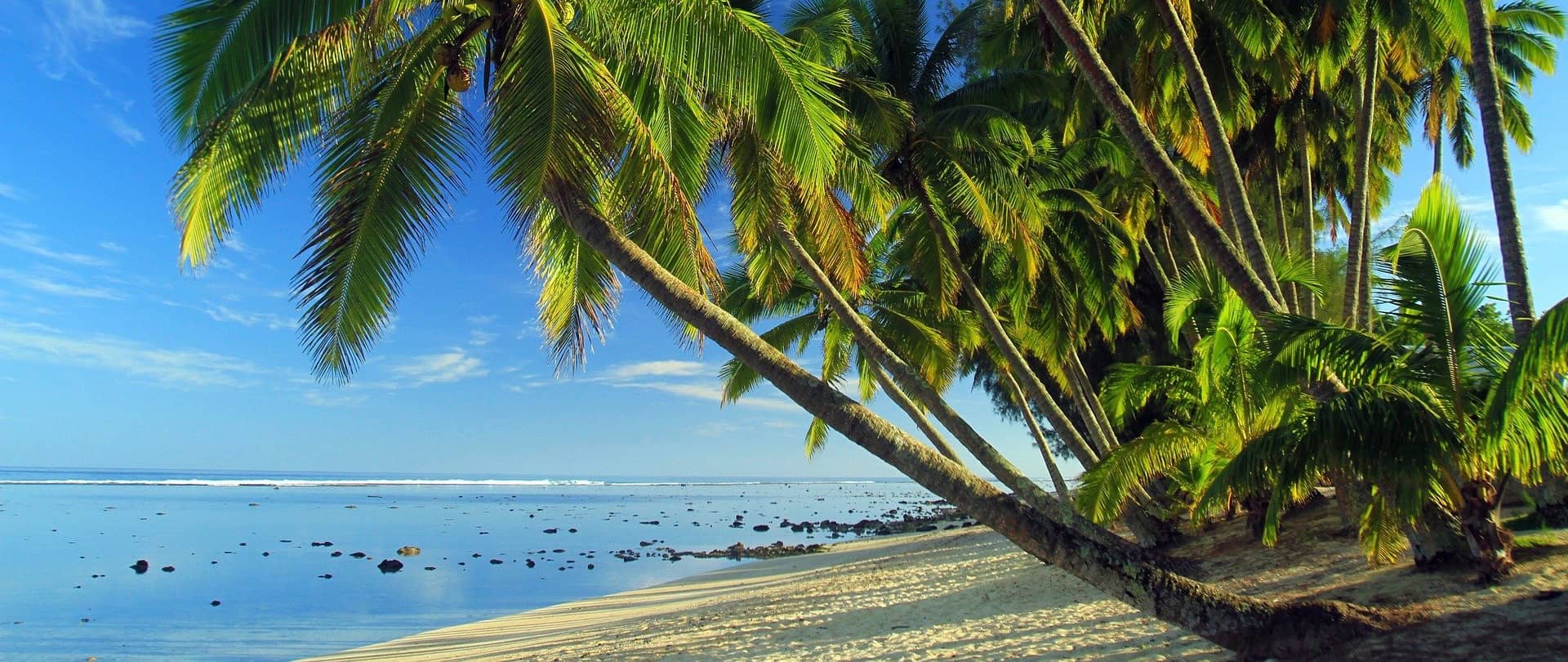 The Cook Islands consist of 15 islands scattered over an area stretching some 2 million square kilometers in the Pacific Ocean. While the islands are named after 18th-century British explorer Captain James Cook, Polynesians have actually inhabited the islands since at least 1000 CE (Cook wasn't even the first European to arrive here; the Spanish and Portuguese both "discovered" the islands first).
Today, this tropical haven is home to crystal-clear waters perfect for snorkeling, diving, kayaking, and swimming. While there are plenty of resorts here if you want to splash out and relax, you can also get off the grid and visit some of the more remote islands to hike and indulge in the stunning natural landscapes.
Rarotonga is the largest and most visited island, however, I suggest you visit a few islands while you are here because once you leave the main island you'll have miles of beaches virtually to yourself!
This travel guide to the Cook Islands can help you plan your trip, save money, and make the most of your time in this tropical paradise!
Top 5 Things to See and Do in Cook Islands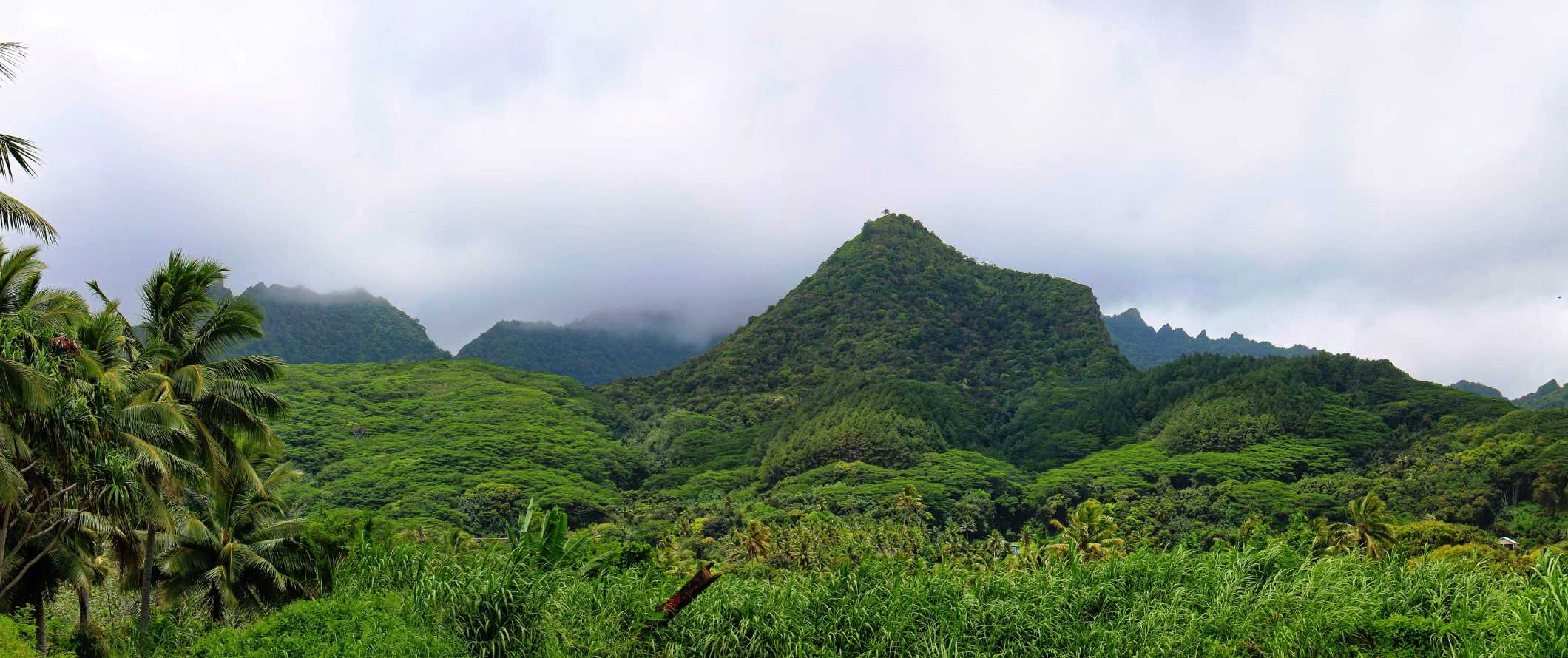 1. Explore Aitutaki Island
A one-hour flight from Rarotonga, this island has an endless sprawl of pristine beaches and the world's largest coral lagoons, inhabited by huge clams and multicolored tropical fish. It's the perfect place to disconnect.
2. Hike around Rarotonga
There are several excellent hiking trails around Rarotonga, including Papua Waterfall, Avana Valley, and Raemaru Lookout. The Cross-Island Track is a strenuous but rewarding hike. You can also do a guided hike with Pa's Trek starting from 70 NZD.
3. Watch a traditional dance show
Te Vara Nui Village is the cultural center where you can learn about the history of the region's indigenous population. The most popular activity is Ura Po, a dinner and show of song and dance on floating and fixed stages surrounded by botanical gardens and waterfalls. It costs about 115 NZD.
4. Go diving
The Cook Islands have great diving with caves, canyons, and colorful coral reefs teeming with hundreds of fish. Expect to see sea turtles, rays, reef sharks, and even humpback whales. A two-tank dive costs between 135-150 NZD.
5. Hang out on Atiu
Atiu Island is untouched, never crowded, and just as stunning as the other islands. It's a great place for bird watching (you can see the rare kopeka here). You can also explore the island's many limestone caves, including Anatakitaki with its 15 passageways. Tours cost 30-50 NZD.
Other Things to See and Do in the Cook Islands
1. Take a fishing trip
The Cook Islands offer exceptional opportunities for deep-sea fishing. The currents, reefs, and marine topography foster ideal conditions for wahoo, barracuda, dolphin fish, yellowfin and skipjack tuna, sailfish, marlin, and mahi-mahi. Expect to pay at least 200 NZD per person for group a fishing charter, with lunch included.
2. Go kayaking
Kayaking is an easy and relaxed way to explore the sheltered lagoon around Rarotonga. The best place for kayaking on Rarotonga is around Muri Beach as the water is crystal clear and perfect for snorkeling too. Kayak rentals cost around 40 NZD per day for a single and 50 NZD for a double.
3. Visit the Aitutaki Marine Research Center
This small research center works on marine restoration projects, including rehabilitating marine life like green sea turtles and giant clams. You can learn more about the center's research work and see some of the marine life up close during a tour of the facility. Admission is free, though they run on donations so give generously if you can.
4. Shop at Punanga Nui Market
This market in Rarotonga is the place to be on a Saturday morning. It's filled with shops selling locally-made handicrafts, jewelry, artwork, and even handmade ukuleles (they are popular in the country). You'll also find fresh fruit, baked goods, smoothies, and coffee. There's usually live music too. Though Saturday is the biggest day, it's also open every day of the week except Sunday.
5. Visit the Arai-Te-Tonga Marae
Not far from Rarotonga are the ruins of an ancient royal court and the island's most important marae site (a site used by the indigenous for celebrations, funerals, and other tribal events). It dates to around 1250 CE and features a 10-foot-tall platform and large stone pillars. Though most of the area is overgrown, it's a nice spot to soak up the historical atmosphere. It's free to visit too.
6. Go swimming at Papua (Wigmore's) Waterfall
Papua Waterfall is the most popular waterfall in the Cook Islands. To get there, take a quick hike from the trail starting on the eastern side of the abandoned Sheraton resort. You'll find a stunning cascading waterfall with a refreshing swimming pool at its base (but note that this waterfall dries up in the dry season). If you don't want to hike, you can pay 5 NZD to drive up the road leading to the waterfall.
7. Take a food tour
Cook Islands Tours has a dinner tour that includes three courses in three different homes. You get to meet locals, listen to music, and eat lots of food. The 4.5-hour tour costs 99 NZD. You can also enjoy a homecooked meal or a cooking class with EatWith, which pairs you with local Cook Islanders.
8. See the sunset at Black Rock
Black Rock, on the northwestern side of Rarotonga, is the most popular place to watch the sunset. The famed Black Rock forms a sharp contrast against the sunset sky. If you scramble to the top, you get a sweeping view over the ocean.
8. Visit the island of Mauke
Mauke is one of the smallest islands in the Cook Islands, and its name translates to "The Place Where My Heart Rested." This island is covered in exotic flowers and greenery with locals taking pride in their elaborate gardens. Visit the colorful Ziona church to admire its carved coral portals and go swimming in the freshwater pools of Vai Tango cave (locals often visit the cave to swim on Sundays after church). Another cave worth exploring is Moti Cave, also known as the 'Cave of 100 Rooms'.
9. Stroll through the Maire Nui Gardens
For a relaxing stroll, visit this 7-acre botanical garden on Rarotonga to learn more about the lush flora of the Cook Islands. Stop by the café after your visit for some local food and drinks. Donation-based admission.
10. Learn some history at the Cook Islands National Museum
This small museum in the capital of Avarua focuses on the culture and history of the Cook Islands. The collection includes indigenous ceremonial objects, carved wooden sculptures, fishing equipment, and tools from archaeological excavations. There's also an exhibit on tivaivai, a quilting tradition specific to the Cook Islands. Entrance is 5 NZD.
Cook Islands Travel Costs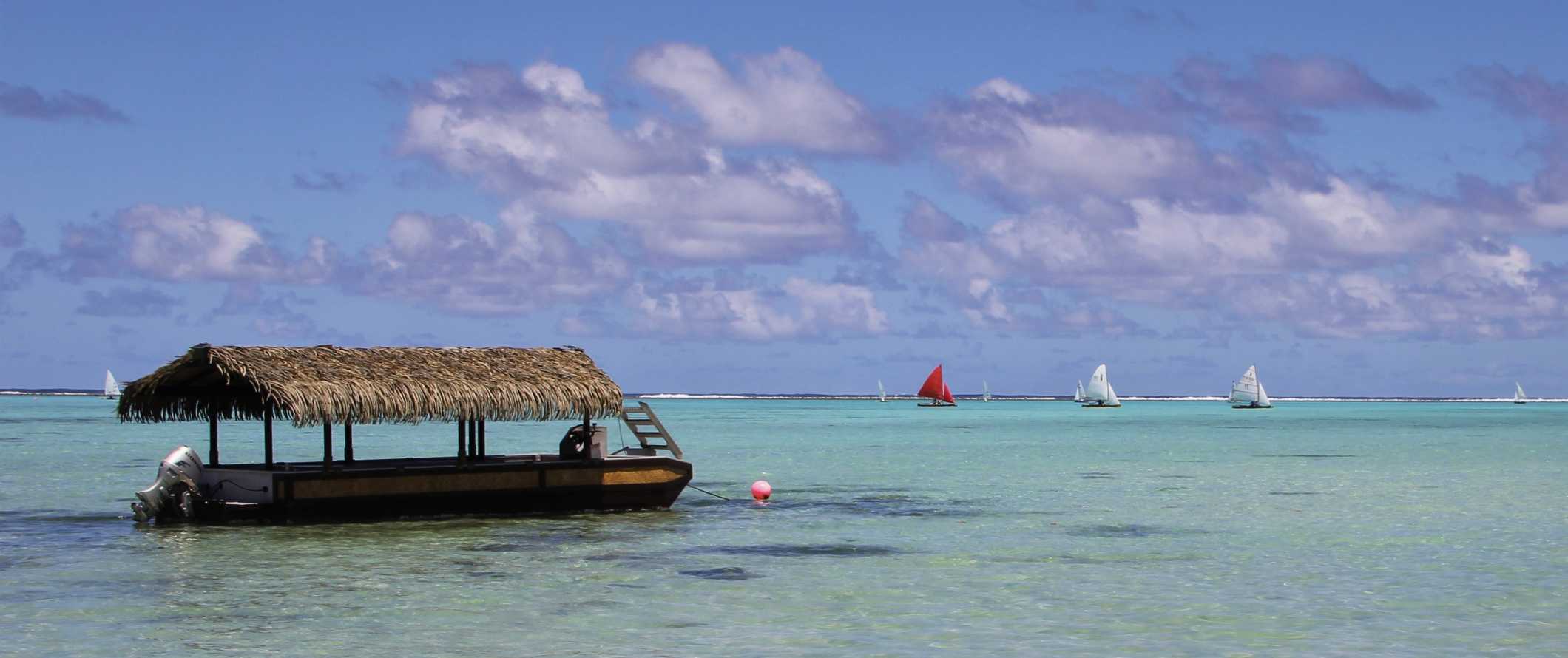 Accommodation – There are not many hostels in the Cook Islands (and most have closed due to COVID). The majority of budget accommodations are located on Rarotonga. A bed in a 4-6 bed dorm costs around 18-28 NZD per night, with rates generally getting cheaper the longer you stay. A private room for one person costs 35-40 NZD, while a double private room is about 40-55 NZD. In many places, you must stay a minimum of three nights.
For those traveling with a tent, camping is not allowed in the Cook Islands.
Budget hotels start at about 150 NZD per night. Free Wi-Fi isn't standard, though most hotels include free breakfast.
Airbnb is available in the Cook Islands with private rooms costing 50-70 NZD per night. An entire house/apartment starts at 125 NZD per night.
Food – Cuisine in the Cook Islands is heavily based on seafood and fresh produce (specifically coconuts, as well as taro, citrus fruits, bananas, mangoes, and breadfruit). Popular dishes include curried octopus, ika mata (marinated raw fish), poke, and the traditional umukai (food cooked in an underground oven).
If you're on a budget, you can eat cheaply at food carts and markets. While you can find food like sausages for 2 NZD or a smoothie for 6 NZD, most dishes at the Muri Night Market cost closer to 16 NZD. You'll get a filling meal for that amount, including dishes like poke, pizza, pork belly, and garlic prawns. You can get a traditional umu plate (smoked chicken and pork with spinach, potato salad, and taro) for 18-23 NZD. A coconut lamb curry is about 16-24 NZD.
A large platter of seafood costs 24-28 NZD, while fish and chips cost around 11-15 NZD. You can get a giant fish sandwich from the popular Mooring Cafe for 13 NZD, but it's enough for two meals. A burger combo is about 10-14 NZD and beer is another 8 NZD. A coffee at the Cook Islands Coffee Company is 3 NZD.
At higher-end restaurants, expect to pay about 37 NZD for a seafood platter or seared tuna. Pasta dishes cost around 22 NZD, while a glass of wine costs around 9 NZD. At the iconic Trader Jack's in Avarua, you can get local favorites like smoked marlin for 23 NZD or a ribeye steak for 34 NZD.
If you cook for yourself, you can spend about 118 NZD on groceries per week. Since food is imported here, prices are high and you'll have a hard time finding fresh fruits and veggies.
Activities – Diving costs between 135-150 NZD for a two-tank dive while an open water certification is around 550 NZD. Kayak rentals start around 40 NZD. Guided tours and hikes range from 30-70 NZD while a traditional cultural performance and dinner costs around 115 NZD.
Backpacking the Cook Islands Suggested Budgets
If you're backpacking the Cook Islands, expect to spend about 85 NZD per day. This budget covers a hostel dorm, taking the bus to get around, cooking all your meals, limiting your drinking, and sticking mostly to free and cheap activities like hiking and relaxing on the beach.
A mid-range budget of about 175 NZD per day covers staying in a private Airbnb, eating out for most of your meals, enjoying some drinks, renting a scooter to get around, and doing some paid activities like kayaking or diving.
On a "luxury" budget of 380 NZD or more per day, you can stay in a hotel, eat out for all your meals, drink more, visit other islands, and do more guided tours. This is just the ground floor for luxury though. The sky is the limit!
If you visit the Cook Islands during the rainy season (December-April), you can save about 25% on hotel rates.
Accommodation
Food
Transportation
Attractions
Average Daily Cost
Backpacker
30
20
15
20
85
Mid-Range
60
45
30
40
175
Cook Islands Travel Guide: Money-Saving Tips
Like most Pacific islands, the Cook Islands aren't the cheapest place to visit — but they are a lot cheaper than other destinations in the region. If you're looking to cut your costs when you visit, here are some of my suggestions:
Bike the islands – Skip the taxis and get a bicycle rental! Bike rentals are around 20-30 NZD per day but can go as low as 13-15 NZD per day on multi-day rentals. It's a cheap, fun way to explore.
Eat the local food – A full plate of local food only costs around 6 NZD if you stick to the small, traditional eateries instead of eating at the resorts and main tourist areas.
Shop duty-free – If you plan on drinking wine or hard alcohol, buy it at duty-free ahead of time rather than buying it on the island. Beer might be cheap enough, but most other alcohol is expensive.
Stay with a local – If you plan ahead, you can usually find a Couchsurfing host (although there are not many hosts in the Cook Islands). This way, you not only have a place to stay but you can connect with a local who can share their insider tips.
Save on inter-island flights – Domestic flights between the islands are crazy expensive, but if you show up at the Air Rarotonga office to book a last-minute flight, you might get a big discount.
Use hotel points – If you want to splash out, cash in your travel hacking points so you can stay in a resort. Having free accommodation will drastically lower your costs! Here's how to get started earning free flights and hotels!
Pack a water bottle – The tap water here is generally considered safe so you can skip the bottled water. You'll save money and lower your reliance on single-use plastic. That said, having a reusable water bottle with a filter is a good idea just to be safe. My preferred bottle is LifeStraw since it has a built-in filter to ensure your water is always clean and safe.
Where to Stay in the Cook Islands
There are not many budget accommodations in the Cook Islands and you're often required to book a minimum of three nights at many places. Here are some suggested places to stay in the Cook Islands to help you get started:
How to Get Around the Cook Islands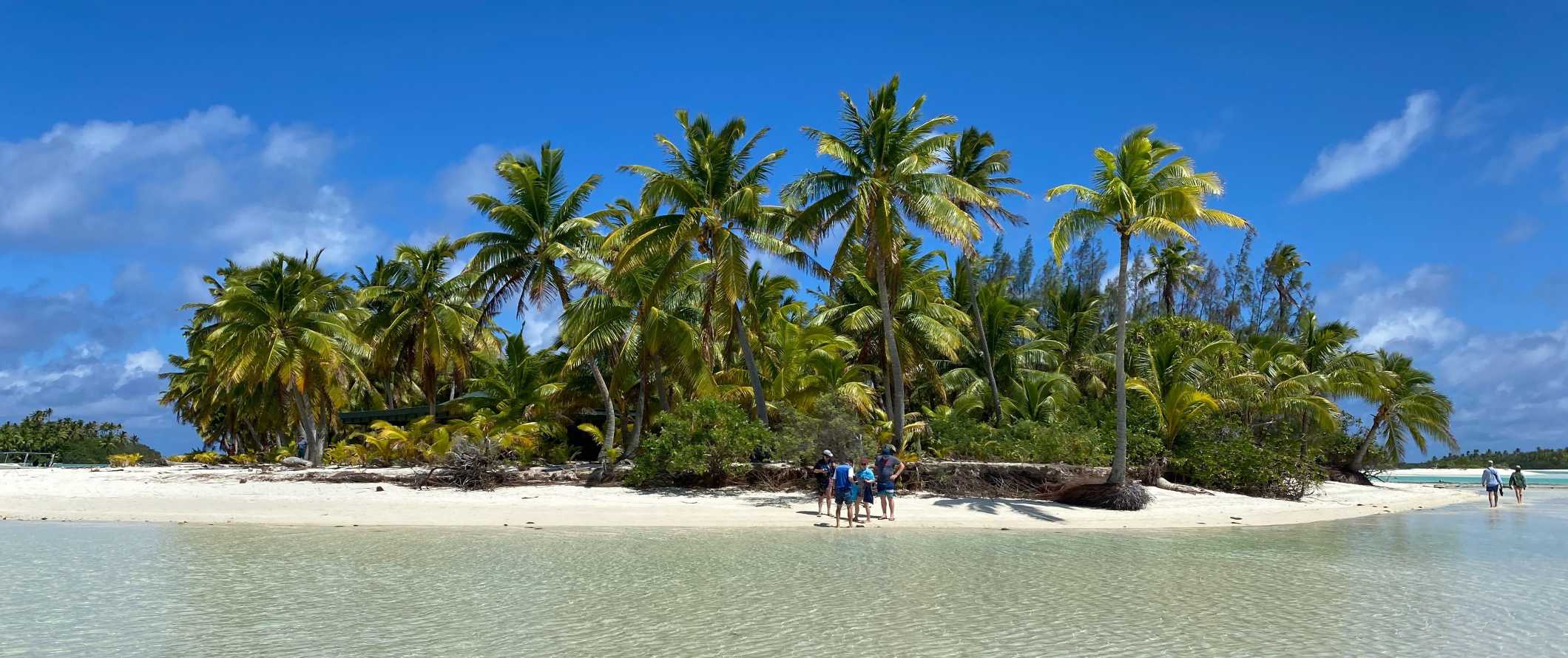 Bus – Buses are the most common way to get around Rarotonga. Buses leave from the Circle Island Bus Stop and take a circular route around the island, departing about every hour. It's 5 NZD for a one-way ticket and 8 NZD for a round-trip, or you can get a 10-ride pass for 30 NZD. There are also day passes available for 16 NZD. You can purchase tickets and passes on the bus.
Aitutaki Island does not have a bus system, but most people just walk everywhere.
Scooter Rentals – Scooters are a convenient and fun way to get around the Cook Islands, and there are tons of rental places. You can find rates for about 27 NZD per day, or 115 NZD per week.
BT Rentals and Adventure Cook Islands are two good rental places. On Aitutaki Island, check out Aquila Rentals or inquire at Aitutaki Lagoon Resort & Spa.
Bicycle – Bicycles are another cheap way to get around the Cook Islands. At Adventure Cook Islands, bike rentals are for 16 NZD per day, or 13 NZD if you book two days or more. If you're staying on Aitutaki Island, most hotels and resorts offer bicycle rental services.
Taxis – Taxis are readily available everywhere in the Cook Islands. Just look for the bright green cars. It costs about 3 NZD per kilometer with a minimum fare of 10 NZD. An airport transfer costs around 25-35 NZD.
Car rental – Car rentals in Rarotonga start at 60 NZD per day for a multi-day rental. An International Driving Permit (IDP) is required if your license is not issued in English. Drivers need to be at least 21 years of age.
Flying – Flights from Rarotonga to Aitutaki take around one hour but cost upwards of 300 NZD round-trip. The flight from Rarotonga to Mauke takes around one hour as well and costs 275 NZD round-trip.
Hitchhiking – Hitchhiking in the Cook Islands is very easy and you usually don't need to wait long for a ride. Some people with scooters will pick you up and they usually won't have an extra helmet so keep that in mind as you search for a ride. Hitchwiki is the best resource for additional tips and info (it currently doesn't have much, but check back in case it gets updated).
When to Go to the Cook Islands
There's no bad time to visit the Cook Islands. Even in the summer months (January-February), temperatures are still a balmy but comfortable 29°C (84°F). Winter (June-August) is also very pleasant, with the average high about 25°C (77°F).
Keep in mind that the rainy season is from December to April, and there is some risk for hurricanes. On the other hand, the rain doesn't tend to last very long, and the days are mostly sunny regardless. The driest season is from June to August.
If you want a relaxing trip, avoid June to August. This is when New Zealanders and Australians take their winter vacations, and things get super busy. If you do decide to come during this time, make sure you book your accommodations well in advance.
How to Stay Safe in the Cook Islands
The Cook Islands are very safe. Even the risk of petty crime like pickpocketing is very low here. That said, don't leave any valuables unattended on the beach and always keep your possessions secure and out of reach when on the bus.
Solo female travelers should feel safe here, though the standard precautions apply (don't leave your drink unattended at the bar, never walk home alone intoxicated, etc.)
Hurricanes (cyclones) are a real risk between November and March. Keep this in mind while you're planning your trip and make sure you have travel insurance if you visit.
Dengue Fever has been on the rise in recent years, so keep yourself well covered and always have the insect repellant handy.
Scams here are rare, but if you're worried about getting ripped off you can read about common travel scams to avoid here.
If you experience an emergency, dial 999 for assistance.
Always trust your gut instinct. Make copies of your personal documents, including your passport and ID. Forward your itinerary along to loved ones so they'll know where you are.
The most important piece of advice I can offer is to purchase good travel insurance. Travel insurance will protect you against illness, injury, theft, and cancellations. It's comprehensive protection in case anything goes wrong. I never go on a trip without it as I've had to use it many times in the past. You can use the widget below to find the policy right for you:
Cook Islands Travel Guide: The Best Booking Resources
These are my favorite companies to use when I travel. They consistently have the best deals, offer world-class customer service and great value, and overall, are better than their competitors. They are the companies I use the most and are always the starting point in my search for travel deals.
Skyscanner – Skyscanner is my favorite flight search engine. They search small websites and budget airlines that larger search sites tend to miss. They are hands down the number one place to start.
Hostelworld – This is the best hostel accommodation site out there with the largest inventory, best search interface, and widest availability.
Booking.com – The best all around booking site that constantly provides the cheapest and lowest rates. They have the widest selection of budget accommodation. In all my tests, they've always had the cheapest rates out of all the booking websites.
Get Your Guide – Get Your Guide is a huge online marketplace for tours and excursions. They have tons of tour options available in cities all around the world, including everything from cooking classes, walking tours, street art lessons, and more!
SafetyWing – Safety Wing offers convenient and affordable plans tailored to digital nomads and long-term travelers. They have cheap monthly plans, great customer service, and an easy-to-use claims process that makes it perfect for those on the road.
LifeStraw – My go-to company for reusable water bottles with built-in filters so you can ensure your drinking water is always clean and safe.
Unbound Merino – They make lightweight, durable, easy-to-clean travel clothing.
Top Travel Credit Cards – Points are the best way to cut down travel expenses. Here's my favorite point earning credit cards so you can get free travel!
Cook Islands Travel Guide: Related Articles
Want more info? Check out all the articles I've written on backpacking/traveling in the Pacific and continue planning your trip: