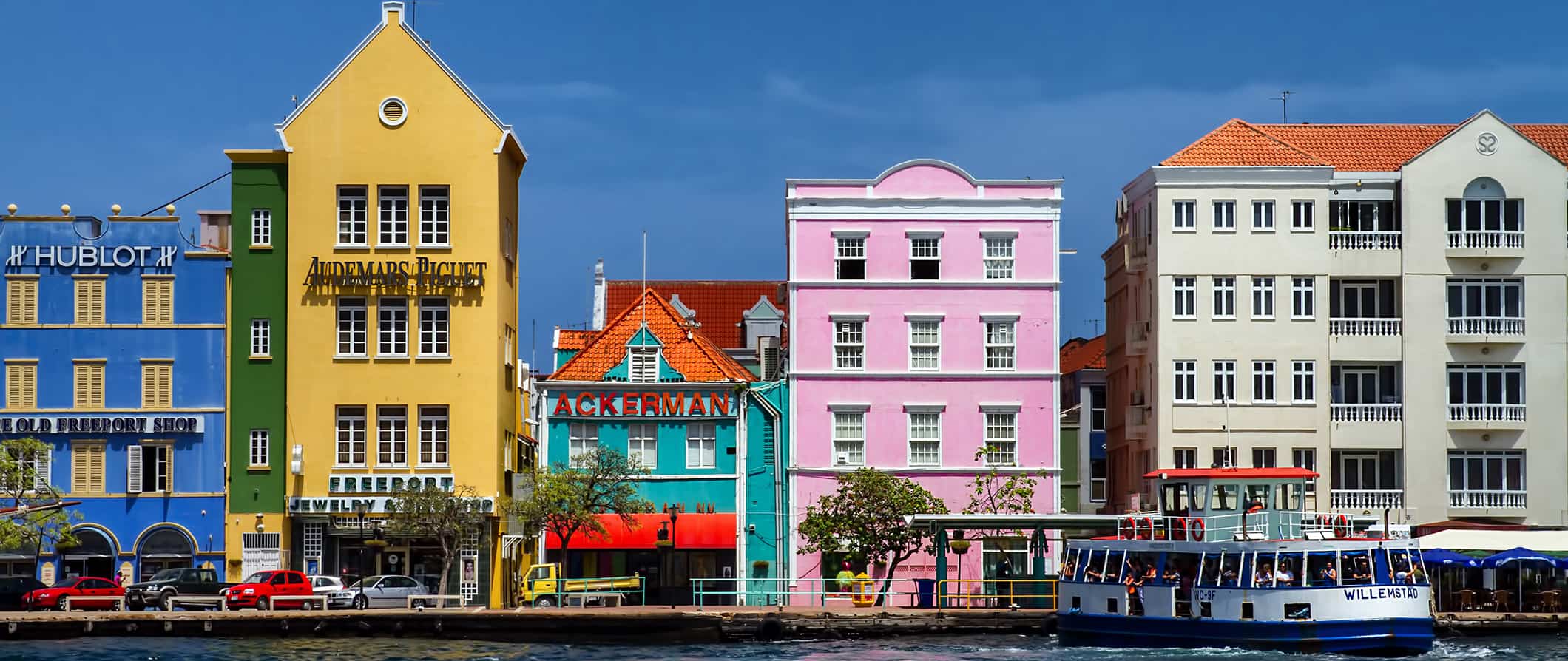 Along with Aruba and Bonaire, Curaçao is one of the three "ABC" islands of the Lesser Antilles in the Caribbean.
As the largest and most populated of the Netherlands Antilles, Curaçao has the most going on and the most "social life." It's the hippest island in the chain and the most visited by younger travelers (it has a lot fewer resorts than Aruba).
The island's capital, Willemstad, is a bustling city with brightly colored Dutch architecture, and its Old Town area is a UNESCO World Heritage Site. The island boasts delicious restaurants, hidden beaches, and has a lot to see and do.
That said, I didn't love Curaçao. I liked it and I'm glad I went but I didn't love it the way other people do. I'm more "in like" with it.
But that doesn't mean it's not worth visiting!
This Curaçao travel guide has all the practical information you need to help you plan your visit so you can decide for yourself whether this idyllic island is for you!
Top 5 Things to See and Do in Curaçao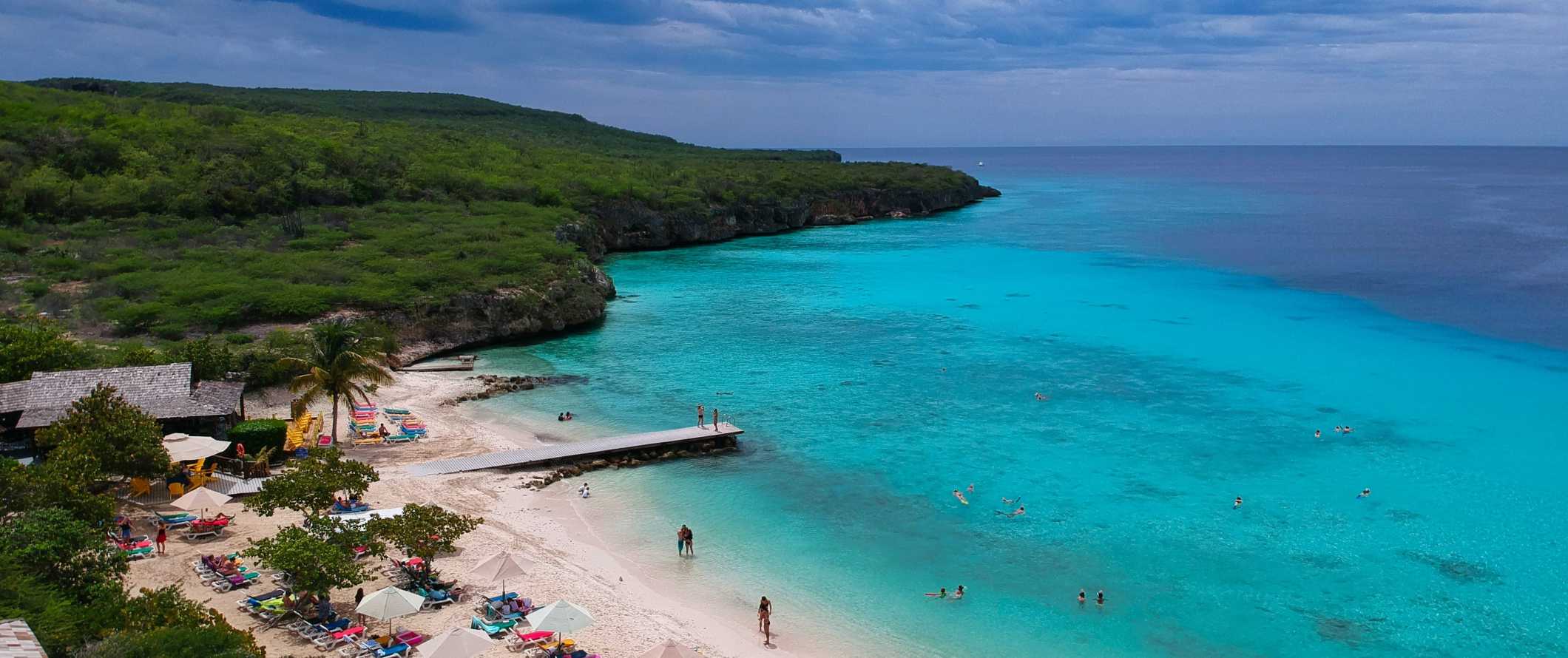 1. Have fun on Mambo Beach
There are plenty of nightclubs on the island but, for the craziest beach parties, go to Mambo Beach. At Wet'n Wild, the beach is transformed into an open-air nightclub. Live music and DJs keep the party going, especially on Sunday nights.
2. Tour the Hato Caves
">Located near the airport, these caves were once hiding spots for escaped slaves, who would hide in them for weeks or even months at a time. You can take a 45-minute guided tour and see the stalagmites, stalactites, bat colony, and cave drawings, which date back over 1,500 years. Admission is 16 ANG.
3. Explore Willemstad
Willemstad is like a colorful and tropical version of Amsterdam (after all, the Dutch did colonize the island). It even has sidewalk cafes and waterways. Both the Punda and Pietermaai areas are chock full of restaurants, galleries, and shops.
4. Hike around Christoffel Park
Hit the trails around this huge national park to see deer, 10-foot-high cacti, iguanas, rabbits, and rare plant life, including wild orchids. Admission is 25 ANG, including admission to the Savonet Museum, which has exhibits about the life of early settlers in the area (as well as the indigenous Arawak).
5. Dive the Superior Producer
This ship sank in 1978 and its cargo of whiskey and clothes washed up on the coast of Willemstad. These days, the shipwreck makes for one of the most interesting dive spots around the island as the entire vessel has been taken over by coral, sponges, sea whips, and gorgonian. Two-tank dives start from 160 ANG.
Other Things to See and Do in Curaçao
1. Hang out on Blauwbaai Beach
Blauwbaai (Blue Bay) is the busiest beach on Curaçao, offering a wide stretch of white sand, bright blue waters, and swaying palm trees. There are also restaurants and bars along the beach, so you're always within reach of a cocktail or a snack. It costs 15 ANG to visit, including a sun lounger.
2. Relax on Daaiboo Beach
If you find some of the more popular beaches on Curaçao too crowded, head to Daaiboo Beach. You'll get to enjoy soft sands and a turquoise sea in relative peace. A lot of locals hang out here, and the shallow, clear water makes for good snorkeling. There's no entry fee, and the food and drinks nearby are cheaper than at Blauwbaai. If you're in the mood for beach hopping, other great beaches on the island include Playa Lagun, Cas Abbo Beach, and Playa Porto Marie.
3. Dive the Mushroom Forest
Curaçao's Mushroom Forest teems with marine life like sea turtles, porcupine fish, and parrotfish. The base of the corals has been slowly eroded by waves, fish, sponges, and clams over time, creating the appearance of huge mushrooms growing on the ocean floor. A two-tank dive costs around 160 ANG.
4. Enjoy Curaçao Carnival
January marks the beginning of the Curaçao Carnival when the whole island turns into a colorful celebration of friendly competitions, public parties, and street parades. The Carnival wraps up at the end of March (yes, it's a very long party), with the burning of King Momo at midnight. The life-sized, straw-filled effigy symbolizes infertility, sins, and bad luck.
5. Kayak around the coast
A leisurely guided paddle through Curaçao's Caracas Bay brings you to secluded beaches and historical landmarks, like Fort Beekenburg. Bring some snorkeling gear and explore the shallow waters around the coast, or chill out and soak up the sun before paddling back across the bay. Tours start from about 108 ANG.
6. See the Queen Emma Bridge
This long pontoon bridge in Willemstad was built in 1888 to connect the Punda and Otrobanda neighborhoods. It's pedestrian-only and unique for its hinged structure with two propellers; the entire bridge can swing parallel to the shore so that boats can come and go out of St. Anna Bay. It's fun to be on the moving bridge as it swings!
7. Visit Fort Amsterdam
Built in 1635, Fort Amsterdam is the oldest fort on Curaçao. It's a UNESCO World Heritage Site and once was the island's most important fortification. Nowadays it's home to the governor's house and several government offices as well as the Fortkirche, the oldest church on Curaçao. You can visit the church, which contains its original pulpit, as well as a small historical museum. It's free to visit.
8. Tour Shete Boka Park
Sheta Boka Park covers 10 kilometers (6 miles) of the island's rocky northern coast. There are 10 secluded beaches here, with several of them being home to three different species of sea turtles and their nests. Boka Tabla is the most popular inlet, especially for its deep underground cave. There's also a "secret" blow hole area located near Westpunt (the only way to get there is by off-roading). Jeep tours in the park and to the blowhole start from about 116 ANG.
9. Visit the salt flats
Called saliñas, Curaçao's salt flats are no longer harvested for their "white gold." Located in the former Jan Thiel plantation, this bleached landscape has some unique flora and fauna and it's also a great place to see flamingoes. Walking tours around the salt flats cost around 45 ANG and last 2-2.5 hours.
10. Take a trip to Klein Curaçao
A mere 24 kilometers (15 miles) of choppy water separates Curaçao and Klein Curaçao (Little Curaçao). This is a great day trip for snorkelers, divers, and sun-worshippers. The island is almost completely uninhabited but there are a few things its former residents left behind including an old (but functional) lighthouse. Klein, like Curaçao, was part of the 17th and 18th-century slave trade through the Dutch West India Company, and many African slaves were buried here when they were forced to quarantine after falling ill en route to Curaçao. The white sand beach here is longer than any beach on the main island and the coral reefs, clear waters, and abundant marine life makes a visit worth the trip. Bring sunscreen as there's not much shade. Charters cost around 175 ANG per person.
11. Visit the Kurá Hulanda Museum
This museum is located in the home of a 19th-century merchant and slave owner and tells the story of the African slave trade on Curaçao. The exhibits include 18th-century artifacts and scale models as well as collections of pre-Columbian gold, Mesopotamian relics, and Antillean art. It's a humbling experience. Admission is 17.80 ANG. Guided tours need to be arranged in advance.
For information about other Caribbean destinations, check out these guides:
Curaçao Travel Costs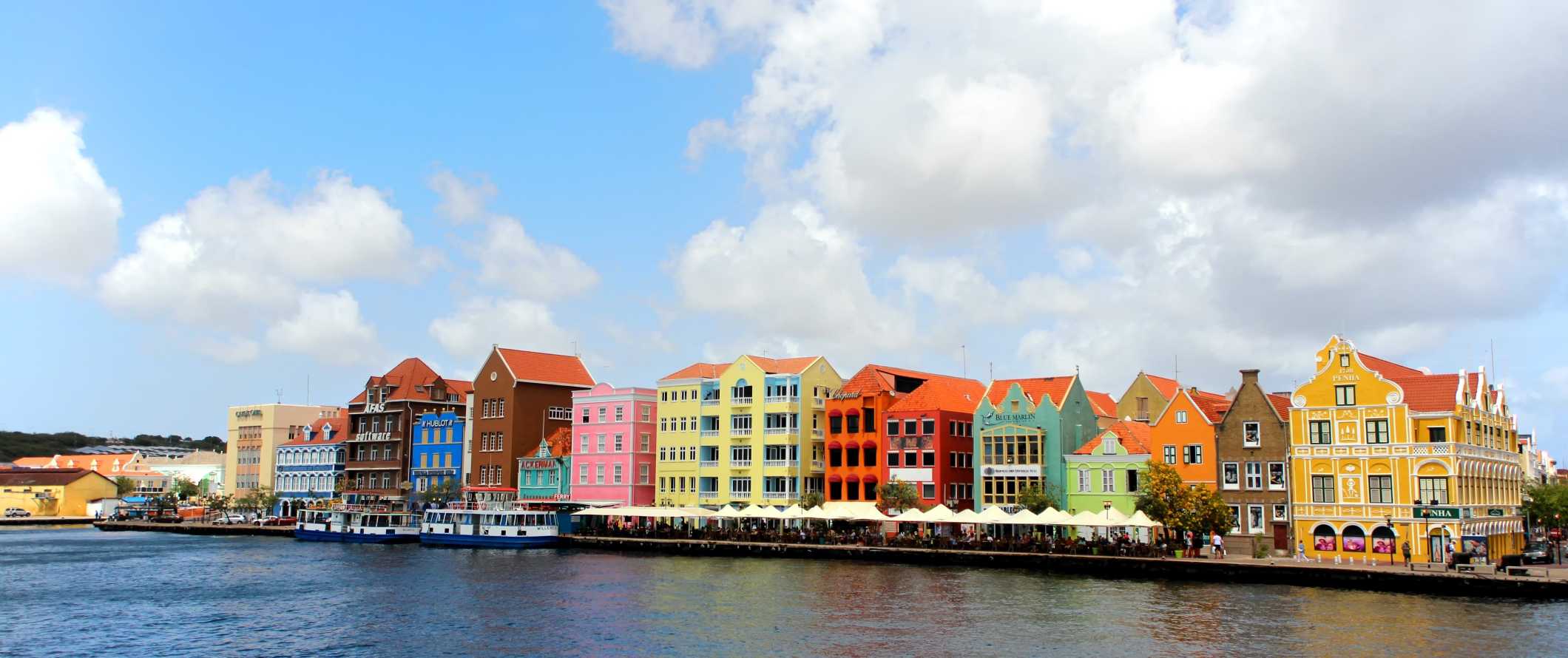 Hostel prices – A bed in a 4-6-bed dorm costs between 45-55 ANG per night. A dorm with eight beds or more isn't much cheaper, costing about 40 ANG per night. Private rooms cost about 80 ANG per night for singles and 120 ANG for doubles. Free Wi-Fi and self-catering facilities are standard.
Budget hotel prices – Budget hotels start at 200 ANG per night. Amenities like free Wi-Fi are common, but not included everywhere. Some budget hostels also have pools.
On Airbnb, private rooms average around 140 ANG per night while an entire home/apartment averages closer to 250 ANG per night.
Average cost of food – The cuisine in Curaçao is a mix of Dutch, Caribbean, African, and South American flavors. Seafood, of course, is king, with mahi-mahi, red snapper, and grouper all being commonly caught around the island. Fresh fruit is also super popular. Be sure to try keshi yena (a baked cheeseball with meat), stoba (a hearty meat stew, usually with goat), raw herring, fish tacos, fresh mussels, and oliebollen (small fried donuts).
Sandwiches, burgers, and other fast food costs between 6-14 ANG per meal. A combo meal at McDonald's costs about 15 ANG.
A casual restaurant meal of seafood or other local cuisine costs around 23 ANG. If you want to splash out, a three-course meal with a drink at a mid-range restaurant costs closer to 55 ANG.
Beer is 5-8 ANG while a latte or cappuccino is around 6.50 ANG. Bottled water is 3 ANG.
If you plan on cooking your own food, basic groceries for one week cost about 115-125 ANG. This gets you staples like rice, pasta, seasonal produce, and some meat or fish.
Backpacking Curaçao Suggested Budgets
If you're backpacking Curaçao, my suggested budget is around 100 ANG per day. This assumes you're staying in a hostel dorm, cooking all of your meals, limiting your drinking, taking public transportation to get around, and sticking to mostly free activities like hanging out at the beach. If you plan on drinking, add 10-20 ANG to your daily budget.
On a mid-range budget of 235 ANG per day, you can stay in a private Airbnb, enjoy a few drinks, eat some meals out, take the occasional taxi to get around, and do more paid activities like snorkeling or diving.
On a "luxury" budget of 505 ANG or more per day, you can stay in a hotel, eat out for all your meals, drink as much as you'd like, rent a car or take more taxis, and do whatever tours and activities you want. This is just the ground floor for luxury though. The sky is the limit!
Accommodation
Food
Transportation
Attractions
Average Daily Cost
Backpacker
40
20
20
20
100
Mid-Range
110
55
40
45
250
Curaçao Travel Guide: Money-Saving Tips
Costs in Curaçao can really add up if you're not careful — but it's not nearly as expensive as other islands in the Caribbean. Here are some of my recommended ways to save money in Curaçao:
Stay with a local – If you plan ahead, you can usually find a Couchsurfing host in Curaçao. This is the best way to save money, as you'll get free accommodation while getting to connect with a local who can share their insider tips and advice with you.
Have a BBQ – BBQing on the beach is a popular local activity and can help you save a lot of money on food. A lot of beaches have BBQ pits, including Daaibooi Beach. Cooking your own meals, in general, is going to save you a lot so skip the restaurants.
Avoid the taxis – The taxis here are very expensive. They should be avoided at all costs!
Rent a car – Getting your own set of wheels is the most economical and convenient way to get around to the far parts of the island (especially if you're not traveling alone). Not renting one was my biggest mistake when I visited Curaçao!
Visit in the shoulder season – Prices can be as much as 50% cheaper for accommodation and activities, so avoid the peak season to save money (more on this below).
Bring a water bottle – The tap water here is safe to drink so bring a reusable water bottle to save money and reduce your plastic use. LifeStraw is my go-to brand as their bottles have built-in filters to ensure your water is always clean and safe.
Where to Stay in Curaçao
Curaçao's hostels are clean, comfy, and well-maintained. Many of them even have pools or easy access to the beach. My suggested places to stay in Curaçao are:
How to Get Around Curaçao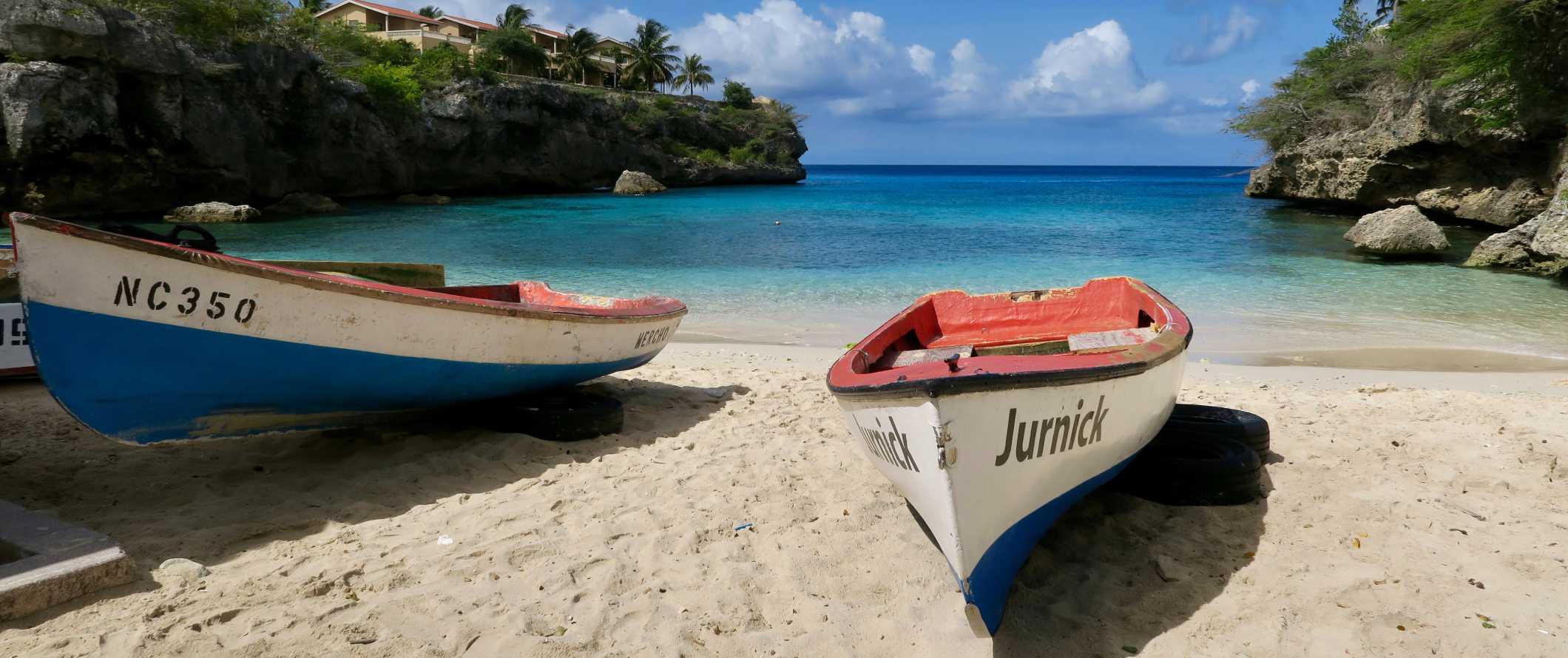 Public transportation – Curaçao has a public bus network, although it's very limited. There are buses to the West End (Willemstad) departing from Otrobanda and buses to the southeast leaving Punda (also in Willemstad). Fare cost around 2 ANG.
Taxis – Taxis in Curaçao are safe and reliable. Although not all of them have meters, most of them have rate sheets. They're best for getting around Willemstad, as longer journeys cost much more. A taxi from one end of Willemstad to the other is about 30 ANG, while Willemstad to Mambo Beach is about 50 ANG. Compared to the bus, they're super pricey so skip them if you're on a budget!
Car Rental – A car rental is one of the most economical and efficient ways to get around the island, and there are several major car rental chains at the airport. Rentals cost around 75 ANG per day for a multi-day rental.
Bicycle – Although Curaçao is a Dutch colony, it's surprisingly hard to get around here on a bicycle. Expect to spend around 40 ANG per day for a bike rental (30 ANG if you rent for a week or more).
Hitchhiking – Hitchhiking is not common in Curaçao so stick to taking the bus or renting a car.
When to Go to Curaçao
December to April are the busiest months in Curaçao. This is when hotel rates are the highest and prices for activities spike. On the other hand, the water visibility is ideal for diving and snorkeling. Average daily temperatures during this time hover around 30°C (87°F).
Personally, I recommend visiting Curaçao between May-November. During this off-peak season, accommodation and activity rates are up to 50% lower than in the peak season. The beaches are much less busy during this time and temperatures are still hot and pleasant in both July and August.
Curaçao is also outside the hurricane zone, so you don't have to worry too much about tropical storms.
How to Stay Safe in Curaçao
Curaçao is considered one of the safest places to visit in the Caribbean. It's a small island with little crime. Solo female travelers should generally feel safe here, however, the standard precautions apply (never leave your drink unattended at the bar, never walk home alone intoxicated, etc.).
Don't leave your valuables out in the open at the beach (or anywhere) to avoid petty theft. Also, don't walk around certain areas alone at night, including the back streets of Punda.
Scams here are rare, but if you're worried about getting ripped off, you can read about common travel scams to avoid right here.
As with the neighboring "ABC" islands, hurricanes are rare here and shouldn't be a major concern like elsewhere in the Caribbean.
If you experience an emergency, dial 911 for assistance.
Always trust your gut instinct. Make copies of your personal documents, including your passport and ID. Forward your itinerary along to loved ones so they'll know where you are.
The most important piece of advice I can offer is to purchase good travel insurance. Travel insurance protects you against illness, injury, theft, and cancellations. It's comprehensive protection in case anything goes wrong. I never go on a trip without it as I've had to use it many times in the past.
Curaçao Travel Guide: The Best Booking Resources
These are my favorite companies to use when I travel. They consistently have the best deals, offer world-class customer service and great value, and overall, are better than their competitors. They are the companies I use the most and are always the starting point in my search for travel deals.
Skyscanner – Skyscanner is my favorite flight search engine. They search small websites and budget airlines that larger search sites tend to miss. They are hands down the number one place to start.
Hostelworld – This is the best hostel accommodation site out there with the largest inventory, best search interface, and widest availability.
Booking.com – The best all around booking site that constantly provides the cheapest and lowest rates. They have the widest selection of budget accommodation. In all my tests, they've always had the cheapest rates out of all the booking websites.
Intrepid Travel – If you want to do group tours, go with Intrepid. They offer good small group tours that use local operators and leave a small environmental footprint. And, as a reader of this site, you'll get exclusive discounts with them too!
Get Your Guide – Get Your Guide is a huge online marketplace for tours and excursions. They have tons of tour options available in cities all around the world, including everything from cooking classes, walking tours, street art lessons, and more!
SafetyWing – Safety Wing offers convenient and affordable plans tailored to digital nomads and long-term travelers. They have cheap monthly plans, great customer service, and an easy-to-use claims process that makes it perfect for those on the road.
Curaçao Gear and Packing Guide
If you're heading on the road and need some gear suggestions, here are my tips for the best travel backpack and for what to pack!
The Best Backpack for Travelers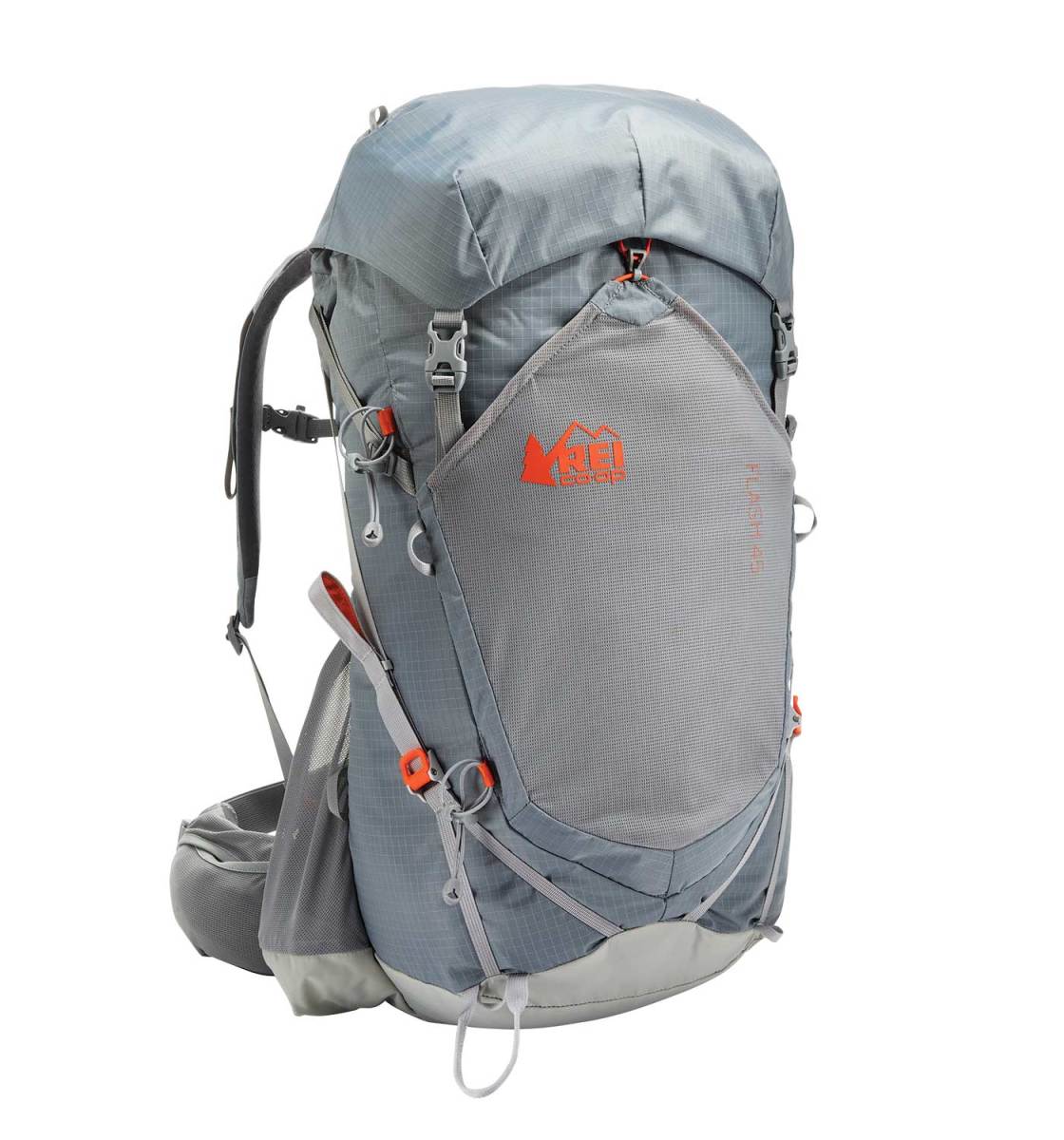 What's the best backpack for traveling long-term? I recommend the
REI Flash 45 Pack
. It's light and comfy, top loading, and fits perfectly in an airplane's overhead bin.
Size:
45-47L
Straps:
Thick and cushy with compression technology that pulls the pack's load up and inwards so it doesn't feel as heavy.
Features:
Removable top lid, pocket at the front, hydration compatible, contoured hip belt
If you want something different, refer to my article on how to choose the best travel backpack for tips on picking a pack and other backpack suggestions.
What to Pack for Your Trip
Clothes
1 pair of jeans (heavy and not easily dried, but I like them; a good alternative is khaki pants)
1 pair of shorts
1 bathing suit
5 T-shirts (Unbound Merino is my preferred company. If you're a member of TNN+, you can get 15% off your purchase)
1 long-sleeved T-shirt
1 pair of flip-flops
1 pair of sneakers
6 pairs of socks (I always end up losing half)
5 pairs of boxer shorts (I'm not a briefs guy!)
1 toothbrush
1 tube of toothpaste
1 razor
1 package of dental floss
1 small bottle of shampoo
1 small bottle of shower gel
1 towel
Deodorant
Small Medical Kit (safety is important!!!)
Miscellaneous
Female Travel Packing List
I'm not a woman, so I don't know what a woman wears, but Kristin Addis, our solo female travel guru, wrote this list as an addition to the basics above:
Clothing
1 swimsuit
1 sarong
1 pair of stretchy jeans (they wash and dry easily)
1 pair of leggings (if it's cold, they can go under your jeans, otherwise with a dress or shirt)
2-3 long-sleeve tops
2-3 T-shirts
3-4 spaghetti tops
1 light cardigan
Toiletries
1 dry shampoo spray & talc powder (keeps long hair grease-free in between washes)
1 hairbrush
Makeup you use
Hair bands & hair clips
Feminine hygiene products (you can opt to buy there too, but I prefer not to count on it, and most people have their preferred products)
For more on packing, check out these posts:
Curaçao Travel Guide: Related Articles
Want more info? Check out all the articles I've written on backpacking/traveling the Caribbean and continue planning your trip: