Dubbed "the land of fire," Azerbaijan is a former Soviet republic famous for its high-tech capital city of Baku, the Great Caucasus mountains, and strange fire phenomenon (hence the nickname).
I knew two things about Azerbaijan before I visited: it won the Eurovision Song Contest in 2011, and it has a lot of oil money.
But, when I backpacked around Azerbaijan, I found it to be one of those "undiscovered gems" that too many people skip!
Azerbaijan was such an amazing, wonderful, beautiful, and friendly place. Baku, the capital, is a modern city steeped in oil money with a recently built subway, fast wifi, and tons of Parisian-style and futuristic buildings, while the rest of the country is incredibly rural with small towns surrounded by gorgeous mountains and farmland. In tiny villages, older men with canes sat in town squares gazing at passersby.
Locals, who don't see many visitors, are very welcoming. There's a lot of history here, incredible national parks, and fantastic hiking.
Coming here is coming to a part of the world free from the negatives of tourism where you can enjoy people and places in an authentic way.
So get going to one of my new favorite countries!
From things to do, costs, ways to stay safe, save money, get around, and more, this comprehensive Azerbaijan travel guide will help you plan your dream trip by giving you all the tips, tricks, and travel hacks you need.

Azerbaijan
Top 5 Things to See and Do in Azerbaijan
1. Visit Baku
Baku, the capital city, lies along the Caspian Sea and is a somewhat curious mix of old walled city and modern skyscrapers. It's a cool small city that only needs a day or two. You'll find good food, a few interesting museums, and amazing wine bars.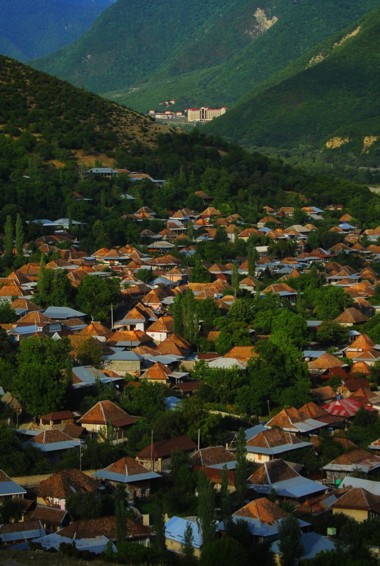 2. Visit Sheki
Sheki is a famous stop on the Silk Road, where you will find the old caravanserai (inn with a courtyard), which housed traders and merchants back in the day. Built like a castle to protect merchants (high walls, one gate), it dates back to the early 18th century.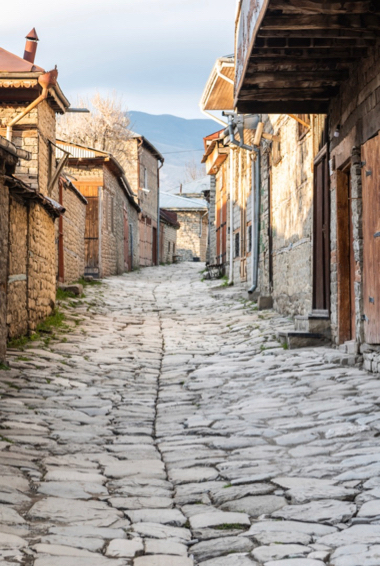 3. Go to Lahij
Lahij is beautiful, with cobblestone streets and stellar views of the valley. There are some ruins on the trail leading up from the nearby river and waterfall but be warned: it's a steep 3.7 miles (6km) up and the ruins (really just a wall) are easily missed.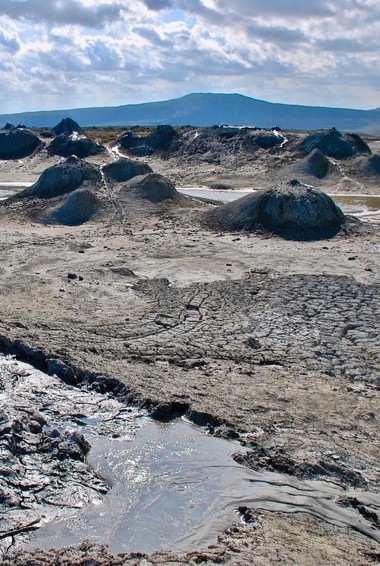 4. See the Gobustan Petroglyph Reserve
In the UNESCO-listed Gobustan Petroglyph Reserve home to 6,000 rock paintings that are up to 40,000 years old. The well-preserved sketches display ancient populations traveling on reed boats, men hunting antelope and wild bulls, and women dancing. Entry fee is 4 AZN ($2.35 USD).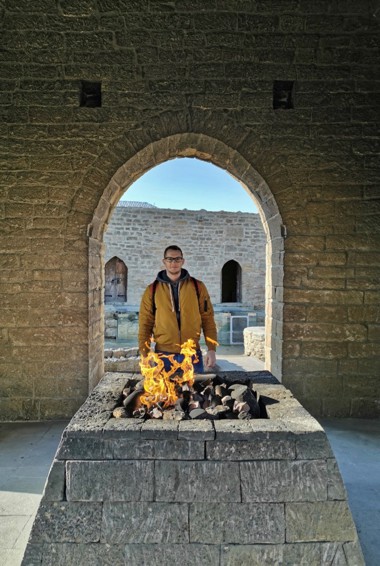 5. Visit Ateshgah
Ateshgah is a temple just outside Baku that has been used as a Hindu, Sikh, and Zoroastrian place of worship (now it's a center for Zoroastrians). Each room has detailed panels about the history of the temple, the pilgrims, and the Zoroastrian religion. In the center of the complex is a flame representing God, which was once fuelled by natural gases. It's open daily 10am-6pm and admission is 2 AZN ($1.20).
Other Things to See and Do in Azerbaijan
1. Check out the mud volcanoes
Azerbaijan is home to nearly a third of the world's mud volcanoes, which form when pockets of underground gas force their way to the surface. They're like geysers, but with mud, and since they're not made from magma, the mud is usually icy (just above freezing temperature). The ones at Gobustan National Park are the most popular to visit from Baku on a day tour (it's possible to take a bus to the park's entrance but finding the volcanoes isn't easy). Tours start from about 60 AZN ($35 USD).
2. Discover the Sheki Khan's Palace
The Sheki Khan's Palace was built in 1797 and was once the summer residence for the Khans. Located in Sheki, it is one of the most ornate and iconic buildings in South Caucasus. Its shebeke windows (incredibly delicate stained glass with geometric patterns, made specifically by Azerbaijan masters) casts brilliant rays of colored light across the entire interior. The palace opens daily from 10am-6pm and costs 2 AZN ($1.25 USD).
3. Palace of the Shirvanshahs
Within Baku's walled Inner City is the sandstone Palace of the Shirvanshahs. The palace was built in the 15th century and included a mosque, bathhouse, and mausoleum, as well the famous Maiden Tower with its panoramic views of the city. (Fun fact: They still have no idea what this tower was built for.) The Palace is open daily from 10am until 6pm and admission is 2 AZN ($1.20 USD) or 6 AZN ($3.60 USD) for a guided tour.
4. Relax on the beaches of the Absheron
During the summer months, the residents of Baku migrate to their country houses (known as dachas) on the Absheron Peninsula to escape the city heat. In recent years, thanks to the resorts popping up along the coast, tourists are following suit. To get there, you can take a taxi or a public bus. The public beaches at Mardakan or Buzovna are two popular choices for sunbathing and swimming in the warm waters of the Caspian Sea.
5. Go hiking in the Guba region
Head north by bus to the mountain town of Quba for a cooler climate, old mosques, and traditional carpets in beautiful alpine surroundings. There's a lot of hiking here, and many people also visit Tenghi Canyon. You can also stop in Khinalig, a major Zoroastrian center, or Krasnaya Sloboda, the only all-Jewish town outside of Israel, populated by the Juhuro, or Mountain Jews. Although you can travel here and hike independently, you will also find many companies offering organized day tours to the region starting from around 38 AZN ($23 USD).
6. Hit the slopes
Azerbaijan may not be known internationally for its skiing, but it does have two developing winter resorts that offer an "off-the-beaten-path" winter experiences: Shahdag Mountain Resort, and Tufandag Mountain Resort. The ski season is very short, lasting just two months, from mid-December to late February. To buy a ski pass for the day will cost about 20 AZN ($12 USD), and expect to pay 34 AZN ($20 USD) for a lesson.
7. Go to Quba
Head north by bus to the mountain town of Quba for a cooler climate, old mosques, and traditional carpets in beautiful alpine surroundings. There's a lot of hiking here, too, and many people also visit Tenghi Canyon. You can also stop in Khinalig, a major Zoroastrian center, or Krasnaya Sloboda, the only all-Jewish town outside of Israel, populated by the Juhuro, or Mountain Jews.
8. Go to Qabala
Once strategically located along the middle of the Silk Road, this dusty, old, not-so-small town now houses several ancient monuments, including a thousand-year-old defense tower, a 13th-century mosque, and a mausoleum. Take an early bus from Sheki and spend the night here. All the attractions are close together, so you can easily see the town in a day.
9. Hang out in Ganja
Azerbaijan's second biggest city dates back to the sixth century. There's an attractive square near another caravanserai (similar to the one in Sheki), some traditional churches, a very odd house made from bottles, and the Tomb of Nizami Ganjavi, the country's most famous 12th-century poet (he's kind of a national hero). It's a good stopover on the way south.
10. Visit Lankaran
Before heading back to Baku, go south visit this sleepy resort town on the Caspian Sea. See the Old Prison and Lighthouse (Stalin was a prisoner here for a while), visit the ancient bazaar, the 18th-century fortress, and the 19th-century mosque. You can spend a good day sightseeing here and then another on the beaches further south in Kenaramesha. If you have more time, take a day trip to the Ghizil-Agaj State Reserve, which is home to about 250 bird species. You can take organized tours from town.
11. SKIP Yanar Dag (aka the "burning mountain")
Yanar Dag is a natural gas fire that blazes continuously on a hillside just outside Baku. Marco Polo once described the land in this area as being on fire because of phenomena like this, but this is the only fire left. It's really small, so I wouldn't make the journey specifically to see this, but it's included in most tours anyway.
Azerbaijan Travel Costs
Accommodation – There are only a handful of hostel options in Azerbaijan, with prices starting around 12 AZN ($7 USD) for a bed in a 8-10 person dorm, while a 4-6 person dorm costs about 17 AZN ($10 USD) per night. These prices are pretty consistent everywhere in the country.
For a private room, expect to pay at least 43 AZN ($25 USD) per night. Most hostels have self-catering facilities and wifi, but not free breakfast.
Budget hotels and guesthouses are much more common in the country and they will start around 51 AZN ($30 USD) per night for a double or twin. Airbnb has lots of options too, with shared rooms (like dorms) starting from 17 AZN ($10 USD). Private rooms are about 60 AZN ($35 USD), while full homes or apartments are about 119 AZN ($70 USD).
For anyone traveling with a tent, wild camping is legal in Azerbaijan so feel free to pitch your tent anywhere, apart from a few national parks where it is forbidden (including Shirvan, Ag Gol or Absheron National Park). If you prefer to stay in a campsite with amenities, there are some campgrounds scattered around. You won't find any online booking though, keep your eyes peeled for signs when you get to a new place.
Food – Street food like döner kebabs should cost less than 2 AZN ($1.15 USD). At a local restaurant, you'll pay about 8.50 AZN ($5 USD). Look for traditional meals, like plov, or pilaf, which uses saffron-flavored rice, fried meat, and vegetables. A three-course meal at a higher end restaurant will cost about 40 AZN ($23 USD).
Fast food like McDonald's will cost you about 8 AZN ($5 USD) for a meal.
You can expect to pay 1.50 AZN ($0.90 USD) for a beer. If you are planning to cook your own food, a week's worth of groceries will cost between 60-77 AZN ($35-45 USD) but since most places don't have kitchens, you're better off just buying snacks and grab and go meals if you don't want to eat at a restaurant.
Backpacking Azerbaijan Suggested Budgets
If you are backpacking Azerbaijan, my suggested budget is 68 AZN ($40 USD). This will cover staying in a hostel, eating street food and cooking some meals, visiting a few attractions, and using local transportation.
On a mid-range budget of about 136 AZN ($80 USD) per day, you can stay in a budget hotel or private Airbnb room, eat out a lot more, take some guided tours, take some taxis, and visit more attractions.
If you want luxury, plan to spend about 366 AZN ($215 USD) per day. This will get you just about everything you want, including four-star hotels, a rental car, eating out for all your meals, and doing all the activities and tours you want.
Use the chart below to get some idea of how much you need to budget daily, depending on your travel style. Keep in mind these are daily averages – some days you'll spend more, some days you'll spend less (you might pay less every day). We want to give you a general idea of how to make your budget. Prices are in USD.
Accommodation
Food
Transportation
Attractions
Average Daily Cost
Backpacker
$10
$10
$5
$15
$40
Mid-Range
$30
$15
$10
$10
$25
Luxury
$60
$70
$35
$50
$215
Azerbaijan Travel Guide: Money Saving Tips
Although it's rich in oil money, Azerbaijan is still an affordable destination. Baku can be kind of expensive but, once you leave the capital, prices drop considerably and it's easy to see a lot and spend a little, especially since so much of the country revolves around hiking and the outdoors. But, like all places, there are ways to save money so here are my tips on saving money when you visit Azerbaijan:
Take a free walking tour – While in Baku, take a free walking tour to familiarize yourself with the city. I recommend using Baku Free Tour.
Wild camp – It's free to wild camp in Azerbaijan, so bring a tent and camp just about anywhere you like!
Cook your own meals – Some hostels here don't include kitchen facilities, so if you want to save money, make sure you book accommodation that does. Buying your own groceries may not be as glamorous as going out to eat, but it will save you money!
Couchsurf – If you plan ahead, you can usually find nice Couchsurfing hosts throughout the country. This way, you not only have a place to stay, but you'll have a local host that can tell you the best places to go and things to see.
Walk everywhere – All of the major towns and cities in Azerbaijan are quite walkable, so skip the public transportation if you want to save a few extra dollars.
Enjoy the free spaces – There are plenty of free parks as well as many free hiking trails around the country. Save your budget and enjoy the outdoors!
Have an ISIC Card – To save 20-50% on the cost of admission to museums and other tourist attractions, be sure to present a valid student card. The ISIC is typically accepted in places where a foreign student ID is not.
Where To Stay in Azerbaijan
Azerbaijan had a boom in 4-5 star hotels during the first influx of tourism, but now there are more budget-friendly accommodations for backpackers. New hostels are popping up all the time, but most of them are still in Baku. Here are some of my favorite places to stay in Azerbaijan:
How to Get Around Azerbaijan
Public Transportation – Public transportation prices will vary by city, but expect to pay around 0.20 AZN ($0.15 USD) for a standard adult ticket for the bus.
If you need to take a taxi, prices start around 1.89 AZN ($1.10 USD) and cost around 0.60 AZN ($0.35 USD) for every kilometer.
Baku has a subway system that costs 0.30 AZN ($0.17 USD) per ride, and you'll need a prepaid smart card to access the metro.
Bus – Buses and minibuses (marshrutkas) are the most common options for intercity travel. All prices are fixed and very affordable — expect to pay about 1 AZN ($0.60 USD) for a 50-mile (80-kilometer) trip. You'll likely pay the bus driver directly.
Trains – Trains in Azerbaijan are a lot slower and less frequent than buses; however, if you're not in a rush, night trains can be an excellent option to save on a night's accommodation.
Baku connects directly with Tbilisi in Georgia, Moscow, Rostov, Kiev, Kharkiv (Ukraine), Brest (Belarus) as well as towns and cities within Azerbaijan. It is possible to travel across Azerbaijan overnight in a reserved sleeping berth for as little as 8.55 AZN ($5 USD). Booking in advance is advisable during the peak season to ensure you can reserve a bunk.
For detailed information on the trains in Azerbaijan and to book, use TuTu.
Budget Airlines – The main airline that services all major cities in Azerbaijan is Azerbaijan Airlines. A flight from Baku to Gandja costs as little as 56 AZN ($33 USD) which includes checked baggage. However, unless you are pressed for time, I'd wouldn't fly. It's a hassle and expensive.
Car Rental – If you're driving, make sure to buy an International Driving Permit (IDP) as you'll need one for any car rental! It costs about 34 AZN ($20 USD) and is valid for one year after the date of issue (plus it's valid in 150 countries). Car rentals can sometimes be as low as 60 AZN ($35 USD) per day.
Hitchhiking – Hitchhiking in Azerbaijan is pretty safe in the countryside (I wouldn't do it in the Baku region), but it's not for everyone. HitchWiki is the best website for hitchhiking info. It is generally expected that you will pay a share of petrol to the driver.
When to Go to Azerbaijan
The best time to visit Azerbaijan really depends on the activities you want to do. Spring and early summer are the nicest months for hiking and enjoying outdoor activities, with temperatures usually between 50-68°F (10-20°C).
From April to June is when the flowers are in full bloom in the lowlands, and July is a popular month for trekking. It's still warm during this time, but there aren't as many crowds. This time of year is especially good for outdoor activities. August can be particularly hot, with temperatures as high as 104°F (40°C).
Temperatures drop below freezing in the winter months, but if you're here to ski, this is the time to do it. Although Azerbaijan has a large Muslim population, the locals celebrate Christmas with markets and festivals throughout December.
How to Stay Safe in Azerbaijan
Azerbaijan is very safe. Super safe. The country is ruled by one of those "president for life" guys and, in order to increase tourism, has created severe punishments for crimes against tourists. Therefore, you are unlikely to get in trouble because everyone knows the harsh penalties if they get caught. There's a lot of tourist police around too.
But, more than that when you get our of Baku, the cities and towns are pretty small and everyone knows everyone. People aren't going to try to scam you.
But always trust your gut instinct. If a taxi driver seems shady, stop the cab and get out. If your hotel is seedier than you thought, go somewhere else. Make copies of your personal documents, including your passport and ID.
If you don't do it at home, don't do it in Azerbaijan!
For more in-depth coverage of how to stay safe in Azerbaijan, check out this post we wrote that answers some frequently asked questions and concerns.
The most important piece of advice I can offer is to purchase good travel insurance. Travel insurance will protect you against illness, injury, theft, and cancellations. It's comprehensive protection in case anything goes wrong. I never go on a trip without it as I've had to use it many times in the past. You can use the widget below to find the policy right for you:
Azerbaijan Travel Guide: The Best Booking Resources
These are my favorite companies to use when I travel to Azerbaijan. They are included here because they consistently find deals, offer world-class customer service and great value, and overall, are better than their competitors. They are the ones I use the most and are always the starting points in my search for travel deals.
Momondo – This is my favorite booking site. I never book a flight without checking here first.
Skyscanner – Skyscanner is another great flight search engline which searches a lot of different airlines, including many of the budget carriers that larger sites miss. While I always start with Momondo, I use this site too as a way to compare prices.
Airbnb – Airbnb is a great accommodation alternative for connecting with homeowners who rent out their homes or apartments. (If you're new to Airbnb, get $35 off your first stay!)
Hostelworld – This is the best hostel accommodation site out there, with the largest inventory, best search interface, and widest availability.
Couchsurfing – This website allows you to stay on people's couches or spare rooms for free. It's a great way to save money while meeting locals who can tell you the ins and outs of their city. The site also lists events you can attend to meet people (even if you're not staying with someone).
Booking.com – The best all around booking site that constantly provides the cheapest and lowest rates. They have a no money down policy, great interface, and the widest selection of budget accommodation. In all my tests, they've always had the cheapest rates out of all the booking websites.
Intrepid Travel – If you want to do a group tour around Europe, go with Intrepid Travel. They offer good small group tours that use local operators and leave a small environmental footprint. If you go on a tour with anyone, go with them. And, as a reader of this site, you'll get a discount when you click the link!
The Man in Seat 61 – This website is the ultimate guide to train travel anywhere in the world. They have the most comprehensive information on routes, times, prices, and train conditions. If you are planning a long train journey or some epic train trip, consult this site.
Rome 2 Rio – This website allows you to see how to get from point A to point B the best and cheapest way possible. It will give you all the bus, train, plane, or boat routes that can get you there as well as how much they cost.
EatWith – This website allows you to eat home cooked meal with locals. Locals post listings for dinner parties and specialty meals that you can sign up for. There is a fee (everyone sets their own price) but this is a great way to do something different, pick a local's brain, and make a new friend.
World Nomads – I buy all my travel insurance from World Nomads. They have great customer service, competitive prices, and in-depth coverage. I've been using them since I started traveling in 2003. Don't leave home without it!
Azerbaijan Gear and Packing Guide
If you're heading on the road and need some gear suggestions, here are my tips for the best travel backpack and for what to pack!
The Best Backpack for Travelers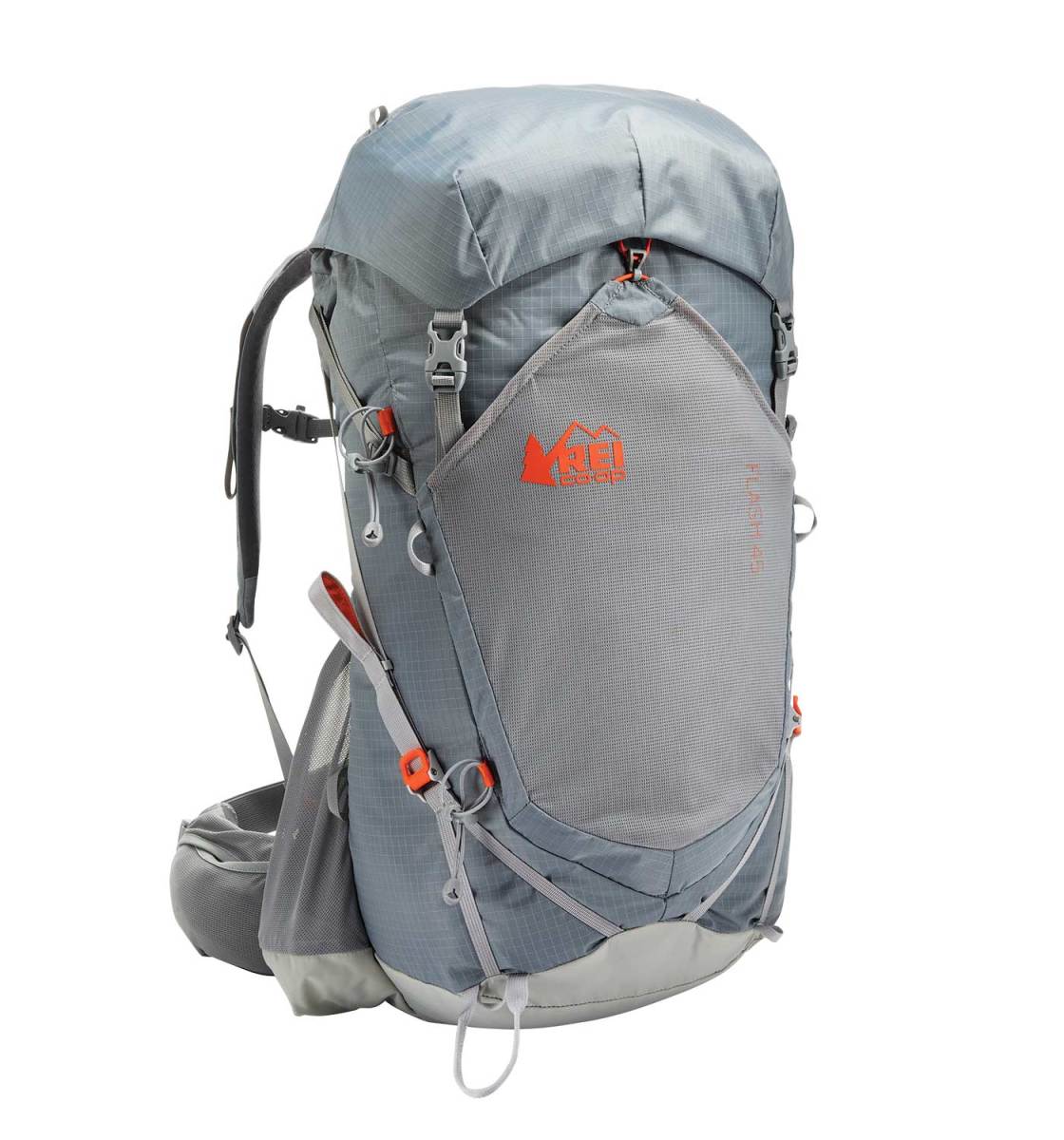 What's the best backpack for traveling long-term? I recommend the
REI Flash 45 Pack
. It's light and comfy, front loading, and fits perfectly in an airplane's overhead bin.
Size:
45-47L
Straps:
Thick and cushy with compression technology that pulls the pack's load up and inwards so it doesn't feel as heavy.
Features:
Removable top lid, large pocket at the front, hydration compatible, contoured hip belt
If you want something different, refer to my article on how to choose the best travel backpack for tips on picking a pack and other backpack suggestions.
What to Pack for Your Trip
Clothes
1 pair of jeans (heavy and not easily dried, but I like them; a good alternative is khaki pants)
1 pair of shorts
1 bathing suit
5 T-shirts (Unbound Merino is my preferred company. If you're a member of NM+, you can get 15% off your purchase)
1 long-sleeved T-shirt
1 pair of flip-flops
1 pair of sneakers
6 pairs of socks (I always end up losing half)
5 pairs of boxer shorts (I'm not a briefs guy!)
1 toothbrush
1 tube of toothpaste
1 razor
1 package of dental floss
1 small bottle of shampoo
1 small bottle of shower gel
1 towel
Deodorant
Small Medical Kit (safety is important!!!)
Miscellaneous
Female Travel Packing List
I'm not a woman, so I don't know what a woman wears, but Kristin Addis, our solo female travel guru, wrote this list as an addition to the basics above:
Clothing
1 swimsuit
1 sarong
1 pair of stretchy jeans (they wash and dry easily)
1 pair of leggings (if it's cold, they can go under your jeans, otherwise with a dress or shirt)
2-3 long-sleeve tops
2-3 T-shirts
3-4 spaghetti tops
1 light cardigan
Toiletries
1 dry shampoo spray & talc powder (keeps long hair grease-free in between washes)
1 hairbrush
Makeup you use
Hair bands & hair clips
Feminine hygiene products (you can opt to buy there too, but I prefer not to count on it, and most people have their preferred products)
For more on packing, check out these posts:
Azerbaijan Travel Guide: Suggested Reading
Splendid Azerbaijan: The History and Culture of the Land of Fire, by Glen Alberto Salazar
If you are looking for a great introduction to Azerbaijan then "Splendid Azerbaijan: The History and Culture of the Land of Fire" is a great way to discover the hidden secrets of the land of fire. The book goes through the history of the country in chronological order starting at its prehistoric roots taking the reader right through to modern day Azerbaijan. What I enjoyed about this book was the author's no bias approach in telling the story of the country. It also presents an introduction to the language which will come in handy when traveling.

Black Garden: Armenia and Azerbaijan Through Peace and War, by Thomas de Waal
The history of the conflict Armenia and Azerbaijan were pulled into is complex, messy, and ultimately helped bring them independence and put an end to the Soviet Union. If you are traveling through the south Caucasus this offers a compelling account of the conflict. Described as 'part contemporary history, part travel book, and part political analysis' it is a must-read if you want to really understand what happened in this country during this time.




The Ghost of Freedom: A History of the Caucasus, by Charles King
The Ghost of Freedom sheds light on the complex and turbulent history of The Caucasus area including shedding light on the ongoing disputes between Georgia and Azerbaijan and the ongoing war in Chechnya. For most of the twentieth century, The Caucasus lay inside the Soviet Union as countries in the area declared independence more issues arose. This book paints a rich portrait of one of the world's least understood regions. King tells the story well and goes into just enough detail to answer all of your questions and more.



Azerbaijan Diary: A Rogue Reporter's Adventures in an Oil-rich, War-torn, Post-Soviet Republic, by Thomas Goltz
Goltz found himself in Baju in mid-1991 during the chaotic aftermath of Azerbaijan's independence from the Soviet Union. This book is a diary of his time there during the post-soviet chaos. It is a really interesting read and Goltz positioning as an outsider looking in makes for an interesting perspective. It's a quick read and it is mostly made up of article the author wrote during his time there that he has edited together, so it does feel a bit clunky at times. It is still very worthwhile reading if you are traveling to the area though.
The Caucasus: An Introduction, by Thomas de Waal
Written by journalist Thomas de Waal (the author of Black Garden) this book is especially interesting if you have an interest in economics and politics. The book focuses on the post-Soviet history of Armenia, Georgia, and Azerbaijan, three of the countries that make us the Caucasus. The book offers a well-written and dynamic account of this turbulent region. It delves into the political issues the region has faced after the 1991 conflicts as well as examining the role the region provides as a major energy producer and exporter. It is a short book and perfect reading for a vivid and compelling account of the modern history of this region.
Azerbaijan Travel Guide: Related Articles
Want more info? Check out all the articles I've written on backpacking/traveling Azerbaijan and continue planning your trip: