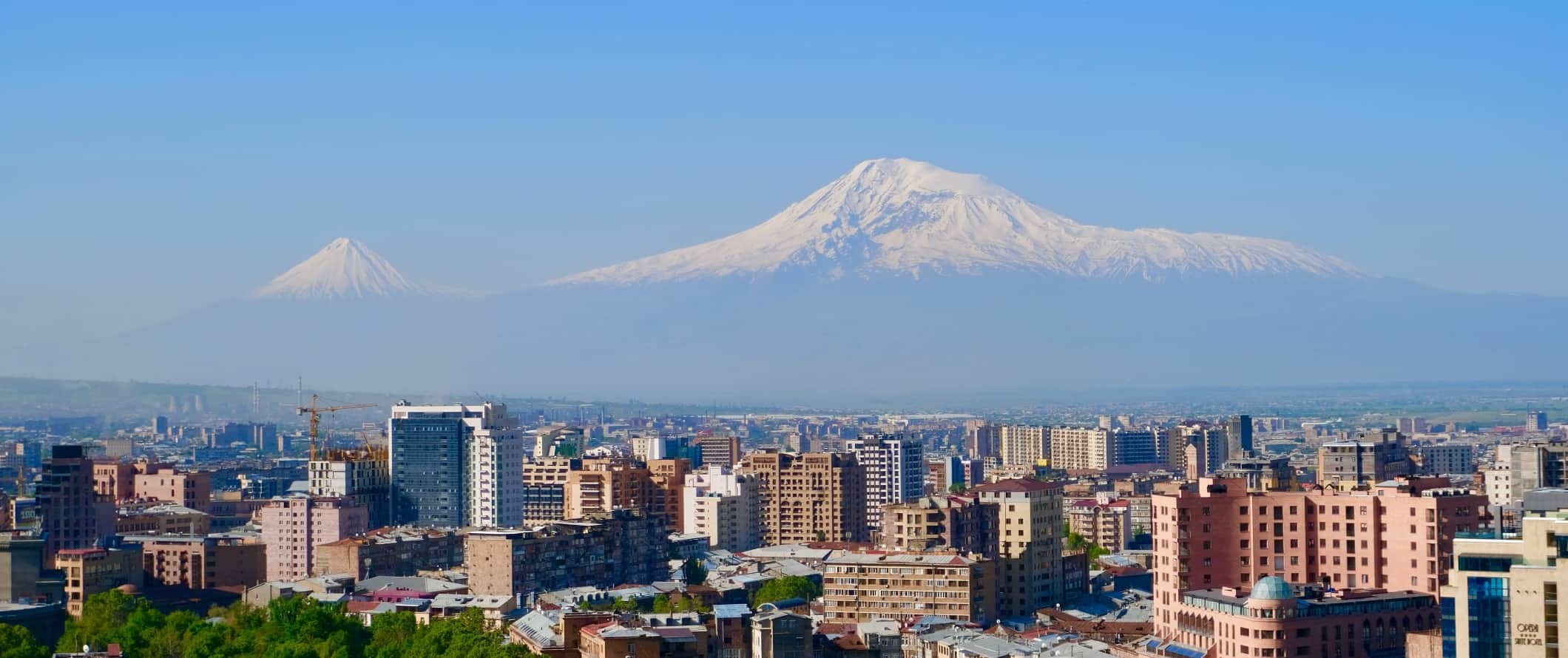 Straddling the divide between Asia and Europe, Armenia might be one of the final travel frontiers left on the planet for adventurous backpackers. Visiting Armenia isn't often on a traveler's to-do list, despite its beautiful snowy mountain peaks and many perfectly preserved medieval monasteries.
But their loss is your gain as the country is virtually untouched by mass tourism.
Armenia's history is complicated and often tragic, marked with countless years of warfare and the infamous Armenian Genocide in which the Ottoman government murdered 1.5 million Armenians in the early 1900s.
Learn more about the country's past by visiting the many historical monuments and religious structures scattered around the country, including the 4th-century Etchmiadzin Cathedral and the Greco-Roman Temple of Garni.
Armenia's dramatic landscape of jagged mountains and deep, rugged valleys — especially in the Geghama mountain range — is perfect for trekking, biking, and off-roading.
Moreover, Armenians love chatting with visitors. You don't have to try hard to meet the locals here as they're going to want to know why you are visiting since so few people do!
This travel guide to Armenia will help you plan your trip, save money, and make the most of your time in this underrated gem!
Top 5 Things to See and Do in Armenia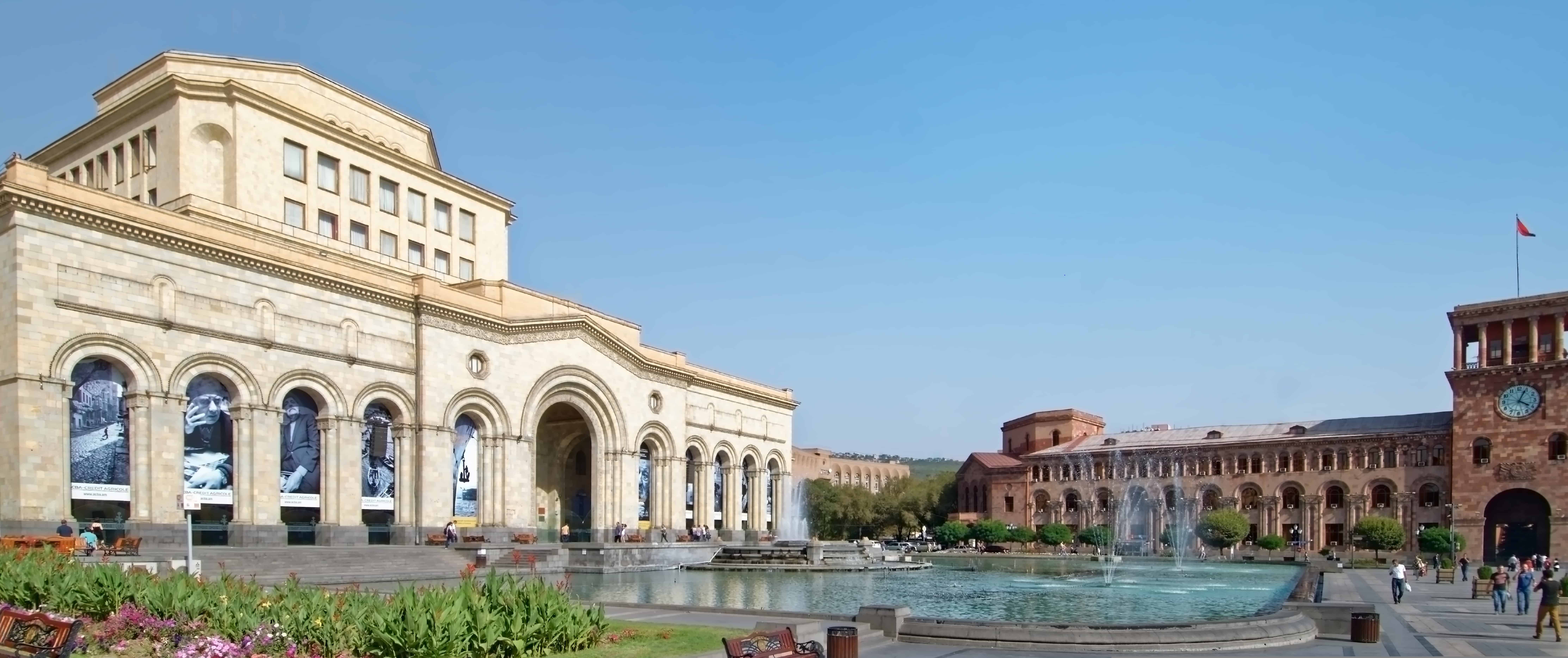 1. See Mount Ararat
This dormant volcano is technically a part of Turkish territory and is believed to be the final resting spot of Noah's Ark. While you can't hike the mountain from Armenia, you can certainly admire it up close from the Khor Virap monastery, located just 50 kilometers (31 miles) from Yerevan!
2. Visit Yerevan
Known as Armenia's "Pink City" for the rose-colored volcanic material used for much of the city's buildings, Yerevan is home to wide tree-lined boulevards, busy town squares, and a thriving cafe culture. Try the city's famous dark coffee; it's rich, sweet, and packed with caffeine.
3. Go Skiing in Tsaghkadzor
Thanks to its mountainous terrain, Armenia has become a hit with extreme sports lovers. During the winter, Armenia is transformed into a ski and snowboarding haven. Tsaghkadzor ski resort in the Marmarik river valley is the most popular place to go. A day ticket costs 12,000 AMD.
4. Visit Dilijan National Park
Dilijan National Park is easily one of the most scenic destinations to visit in Armenia, boasting wide swatches of forested hills and green meadows home to thousands of plant species. Hike the well-marked trails to springs and monasteries or spend some time at scenic Parz Lake.
5. Visit the Genocide Museum
The Armenian Genocide Memorial & Museum stands as a powerful reminder of the genocide that took place in Armenia between 1915-1922 at the hands of the Ottoman Empire. Inside is a collection of photographs, documents, newspaper reports, and films curated to tell the story of this tragic event in Armenian history. Admission is free but donations are welcomed.
Other Things to See and Do in Armenia
1. Take the cable car to Tatev Monastery
This medieval monastery was built between the 9th-13th centuries and is unique thanks to its position on the edge of a deep gorge. The inside is covered in 10th-century frescoes and vaulted stone ceilings, while the exterior has many pointed domes and is surrounded by tall stone fortress walls that drop off immediately into the gorge below. There are stunning views and photography spots all around the complex as well. The only way to visit the monastery is by taking the cable car across a 5,752-meter cableway (the longest in the world) suspended 320 meters (1,049 feet) above the River Vorotan. The cable car ride takes around 15 minutes, and a round-trip ticket is 5,000 AMD. Tatev is about 3.5 hours from Yerevan.
2. Visit Shikahogh State Reserve
Shikahogh State Reserve is the second largest forest in Armenia and is home to some diverse wildlife including leopards, bears, wild goats, and vipers. There are lush mountain hiking trails (although they are not always well maintained) that lead you to Iron Age tombs, medieval churches and monasteries, waterfalls, crystal-clear springs, and even abandoned towns. The 11-kilometer (7-mile) route from Mount Khustup to Shishkert village is tough but incredibly scenic.
3. Swim in Lake Sevan
Also known as the "Armenian Sea," Lake Sevan is a massive lake (it covers 5% of the country) located high in the Caucasus mountains. Known for its incredible biodiversity and stunningly stark landscapes, Lake Sevan is a popular destination for domestic and foreign travelers alike. Come here to relax in one of the lakeside villages, visit medieval monasteries, and swim in the lake (if it's warm enough or you're brave enough!). The lake is so high in altitude (1,900 meters above sea level) that if you sit on the riverbank, it almost looks like the river is running into the sky. You can wild camp here for free as well. Lake Sevan is around 65 kilometers (40 miles) from Yerevan. The most common way to get here is by marshrutka (minibus), which takes around an hour.
4. See Geghard Monastery
Geghard Monastery is a World Heritage-listed complex named from the lance that pierced Christ's side at the crucifixion. The buildings are partially carved out of the mountains and surrounded by cliffs along the Azat River Gorge. Inside the 13th-century Avazan Chapel is a sacred spring that runs through the monastery, and the original reason for the founding of the area as a religious site back in the 4th century. Today, visitors fill up bottles to take the holy water home. Admission is free.
5. Visit the Echmiadzin Cathedral
Located only 20 kilometers (12 miles) from Yerevan, no visit to Armenia would be complete without seeing the Echmiadzin Cathedral. The cathedral was built following the country's adoption of Christianity in 301 CE, making it the first country in the world to do so. The cathedral is the oldest in Armenia and is often cited as the oldest cathedral in the world. The cathedral's museum has some fascinating artifacts, including a supposed piece of the cross on which Jesus was crucified, the spear that pierced Jesus' side, and a piece of Noah's Ark. Admission to the museum is 1,500 AMD.
6. Explore Gyumri
The city of Gyumri is one of Armenia's most ancient settlements, dating back nearly 3,000 years. Starting from the busy Vardanants Square at the center of town, walk to the Kumayri Historic District, a sort of open-air museum filled with historic buildings like the Sev Ghul fortress and the Paris Hotel (used as a maternity hospital during Soviet times). Be sure to visit the Dzitoghtsyan Museum of Social Life (1,000 AMD entry), which showcases life in the area from the 19th century to the 1920s, or the Aslamazyan Sisters House-Museum (300 AMD entry), with works from two sisters who helped bring equality to Armenian women through their art.
7. Experience the healing waters of Jermuk
With over 40 natural thermal springs, Jermuk is the most popular spa town in Armenia, with a variety of resort hotels and spas (rooms start at 15,000 AMD). Get a free sample of healing mineral water from the Gallery of Water, where natural mineral water flows into 5 different stone urns, each with different healing properties and temperatures (be careful as some are very hot). While you're there, make sure you venture to the Jermuk waterfall, which, at 70 meters tall (230 feet), is Armenia's second-largest waterfall. Jermuk is about 3 hours from Yerevan.
8. Visit the Army of Stones
Karahunj, otherwise known as Zorats Karer (or Army of Stones in English), is Armenia's oldest and most popular megalithic site. Located at an altitude of 1,770 meters (5,800 feet) on a rocky plateau, no one knows how these 200 stones got here. Even stranger is the fact that each stone has 5-centimeter holes in it. There are many different theories on how and why the stones are here, but the most popular theory is that the site was constructed in the 6th century BCE for stargazing.
9. Take a wine tasting tour
With over 500 unique and native varieties almost unknown to the world outside Armenia, taking a wine tour is a must for any wine lover. In fact, the oldest wine cave in the world (it's 6,000 years old!) is near Areni. Sadly, during Soviet rule, many of the wineries were shut down. It is only in the last decade that Armenia has begun to reconnect with its winemaking roots. Wine tours from Yerevan start from 37,000 AMD for a tour of one winery and go up to around 75,000 AMD for a full-day tour.
10. Go to the Erebuni Historical & Archaeological Museum-Reserve
This archaeological site encapsulates the ancient Erebuni Fortress, which dates to 782 BCE, a whole three decades before Rome was even established, and after which the city of Yerevan was named. The entire complex is now an outdoor museum, with an indoor component as well. The museum contains more than 12,000 artifacts offering insights into Armenia's ancient history and the establishment of the city of Yerevan. You'll also learn about what daily life was like in the palace of Argishti I, one of the greatest kings of ancient Urartu. Admission is 1,000 AMD or 2,500 AMD with a guide.
11. See Noravank
Built in the 13th century, legend has it that when the Mongols conquered Armenia hundreds of years ago, it was God himself that saved the Noravank monastery. Delicately carved stonework and religious reliefs (including depictions of God) decorate the three churches here. Unlike the many other Armenian monasteries that are located on top of mountains and gorges, Noravank is set on the floor of a deep valley, with towering red cliffs rising up on either side of the complex. Visiting the site is free, though the museum is 500 AMD. The monastery is around 122 kilometers (76 miles) from Yerevan.
Armenia Travel Costs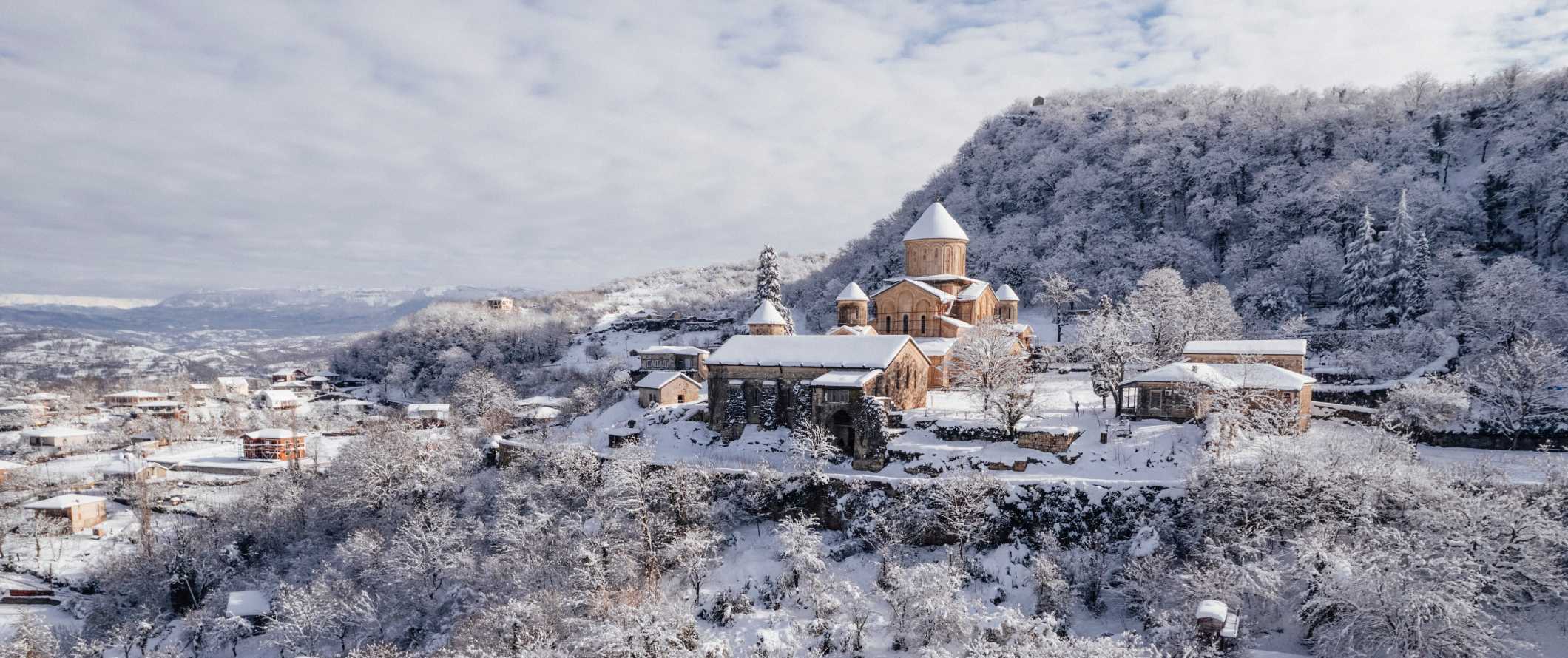 Accommodation – There are a limited number of hostels in Armenia and most of them are in the capital, Yerevan. A bed in a 4-6-bed dorm costs 5,000-7,500 AMD, while a bed in an 8-bed-dorm costs 3,000-4,000 AMD. A private double room in a hostel is around 10,000-15,000 AMD with a shared bathroom. Standard amenities include Wi-Fi and bedding. Free breakfast and shared kitchens are common as well (though not all hostels have them).
Camping is available around the country. For those not traveling with a tent, you can often rent them at the Tourist Information Centers. Wild camping is free, but if you prefer camping on a campsite, prices start at around 4,000 AMD per night for two people and a tent.
Budget hotels average around 8,000-9,850 AMD per night. Free Wi-Fi is standard and free breakfast is usually included.
Airbnb is available though the options are limited. Private rooms start around 10,000 AMD per night while entire homes/apartments average closer to 25,000 AMD.
Food – Armenia is a landlocked country with a long history of trade, meaning that Mediterranean, Middle Eastern, and Eastern European countries have all left their mark on the country's cuisine.
Fresh and dried herbs create flavorful dishes, and common spices include black pepper, sumac, cumin, mint, and cinnamon. Staple vegetables include eggplant, cucumber, bell pepper, tomato, and onion. Legumes, especially chickpeas and lentils, are also used as central ingredients in many dishes. Pork, lamb, and beef are the most common meats. Though meat is predominant in the cuisine, because of the fasting periods in the Armenian Apostolic religion, there are many traditional dishes that are entirely plant-based as well.
Common dishes include a variety of cold salads, yogurt soups, boereg (filled pastry pies), bozbash (lamb stew), khorovats (grilled meat skewers), tolma (stuffed grape leaves), kyufta (a type of meatball), and harissa(a porridge that's considered Armenia's national dish). Traditional lavash bread, a flatbread made from wheat and baked in a clay oven, is integral to Armenian cuisine and is served with most meals.
Street food like shawarma or lahmajun (Armenian pizza) costs less than 1,000 AMD, and a glass of tan (a salty yogurt drink) shouldn't be more than 300 AMD.
For an inexpensive meal at an Armenian restaurant, expect to pay around 1,250-2,750 AMD for traditional food like spa (an extra creamy soup), kyufta (meatballs), or Armenian cheese with basturma (dried meat with spices) wrapped in a piece of Armenian pita bread.
Higher-end or Western restaurants cost about 6,000-8,500 AMD per meal. Even Chinese takeout restaurants, normally a mainstay of the budget traveler, are more expensive than Armenian meals, costing at least 3,800 AMD for a dish.
In terms of drinks, expect to pay 600 AMD for a beer, 700 AMD for a glass of Armenian wine, 1,000-1,500 AMD for a cocktail, 800 AMD for a cup of Armenian coffee, and 1,200 AMD for a cappuccino.
If you plan on cooking your own meals, a week's worth of groceries should cost around 12,000-16,000 AMD but, with food prices being so low, it's better to eat street food and enjoy the food the country has to offer!
Activities – A lift pass for skiing costs around 12,000 AMD while the round-trip cable car to Tatev Monastery is 5,000 AMD. Museums usually cost between 1,000-1,500 AMD. Full-day wine tours can cost upwards of 75,000 AMD while a tour of an individual winery usually costs around 37,000 AMD.
Backpacking Armenia Suggested Budgets
On a backpacking budget of about 17,500 AMD per day, you can stay in a hostel dorm (or camp), eat street food or at inexpensive restaurants, cook some of your meals, use local transportation (including some intercity buses), limit your drinking, and stick to mostly free or cheap activities like hiking and museum visits.
On a mid-range budget of about 43,000 AMD, you can stay in a private hostel or Airbnb, eat any budget restaurant meal you want, enjoy a few drinks, take some taxis to get around, take intercity trains, and do more paid activities like ride the cable car to Tatev Monastery and do a winery tour.
On a "luxury" budget of about 77,000 AMD per day, you can stay in a hotel, eat anywhere you want, drink more, rent a car to get around, and do whatever tours and activities you want. This is just the ground floor for luxury though. The sky is the limit!
Accommodation
Food
Transportation
Attractions
Average Daily Cost
Backpacker
6,000
5,000
2,500
4,000
17,500
Mid-Range
10,000
12,000
6,000
15,000
43,000
Luxury
15,000
17,000
10,000
35,000
77,000
Armenia Travel Guide: Money-Saving Tips
Armenia isn't going to break your bank. There are so many free activities here, especially if you're enjoying the outdoors, that it's hard to spend a lot. Throw in cheap food, beer, and accommodation, and you can really stretch your budget here. However, if you're looking to lower your expenses even more, here are some ways to save money in Armenia:
Take a free walking tour – Yerevan Free Walking Tour is a great way to get familiar with the city and the culture. Just be sure to tip your guide at the end!
Hitchhike and wild camp – If you really want to save money in Armenia, it is one of the easiest countries in the world to hitchhike. You will likely never wait long. Wild camping is also legal, and it is very common for friendly Armenians to invite you to their home for food so bring a tent when you visit.
Cook your own meals – Some hostels here don't include kitchen facilities, so if you want to save money, make sure you book accommodation that does so you can buy cheap groceries and cook some meals.
Stay with a local – If you plan ahead, you can usually find a Couchsurfing host that can provide free accommodation and share their insider tips with you. It's the best way to save money and meet locals.
Enjoy the free spaces – There are plenty of free parks as well as many free hiking trails around the country. Save your budget and enjoy the outdoors!
Pack a water bottle – The tap water here isn't really safe to drink so bring a reusable water bottle with a filter to save money and reduce your reliance on plastic bottles. My preferred bottle is LifeStraw because it has a built-in filter to ensure your water is always clean and safe.
Where to Stay in Armenia
There are very few hostels in Armenia, and the few they have are in Yerevan and Tsaghkadzor. My suggested places to stay are:
How to Get Around Armenia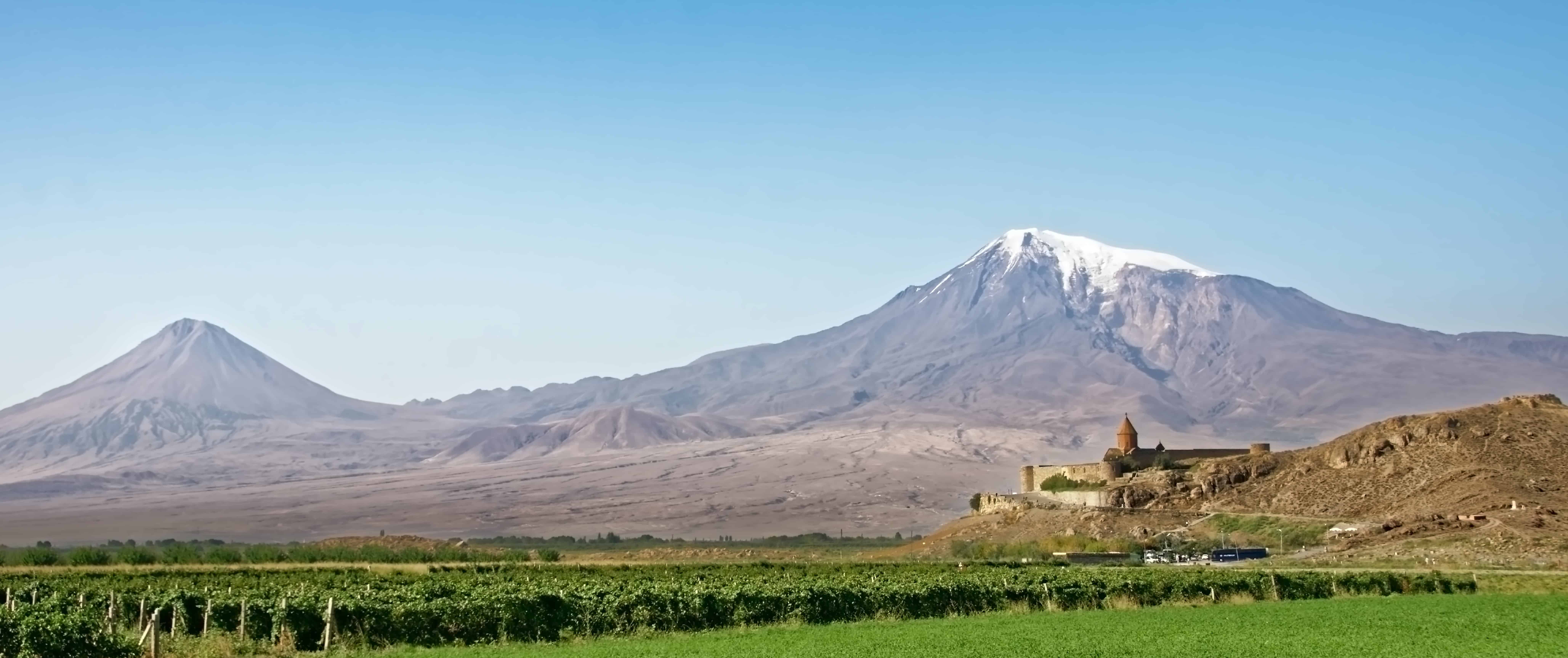 Public transportation – Public transportation isn't the best in Armenia. The public transport websites aren't translated into English, so it is much better to ask at your hostels for guidance to help you use the local and intercity buses. In the cities, it is easy to walk from place to place.
Yerevan has five trolley bus routes with a ride costing around 50 AMD. There's also a subway with one line and ten stations, and public buses. A one-way fare on the bus and subway is around 100 AMD.
If you're flying into Zvartnots International Airport, you can reach the center of Yerevan by bus or taxi. Aerotaxi is the official airport taxi but be aware drivers often won't turn on the meter, so you need to negotiate a price, which should be around 3,000 AMD. A bus is around 300 AMD.
Bus – Intercity transport in Armenia is best done by bus and minibus (marshrutka). Intercity buses are relatively inexpensive but navigating the bus stations can be tricky as English isn't widely spoken. Ask in your hostel the day before for someone to help you work out which bus you need and then you will just have to look for that bus when you arrive at the station.
Bus fares average about 716 AMD per hour of travel, but even a short route can end up taking quite a while with lots of stops.
Trains – There are daily trains connecting Yerevan to Gyumri (3 hours), Yeraskh (1.5 hours), Araks (1 hour), Ararat (1 hour), and Hrazdan (1.5 hours). In the summer months, the Hrazdan line gets extended to Lake Sevan. One-way tickets cost between 3,500-12,500 AMD.
Train tickets to nearby cities outside of Armenia, such as Tbilisi, cost around 9,800-12,000 AMD for a one-way ticket. You can purchase tickets online at the official railway website, Railway.am.
The trains that run most regularly are slow trains that are Soviet-era relics, meaning they are uncomfortable and lack the usual amenities you might expect from trains. The express trains, however, are modern and air-conditioned. Unfortunately, these cost more and run less frequently.
Flying – There are only two international airports in Armenia so although air travel is possible, it is far from cost-effective. Often you don't save much time due to layovers. A flight from Gyumri to Yerevan starts at 95,000 AMD. Only fly if you are short on time and flush with cash.
Car Rental – Driving is definitely the most convenient way to get around Armenia. Car rentals can sometimes be as low as 12,000 AMD per day, and the more days you book, the better the price. If you're driving, make sure to get an International Driving Permit (IDP) in advance as you'll need one for any vehicle rental.
Hitchhiking – It is very common to hitchhike in Armenia, and you won't have to wait long for a ride. Hitchwiki is the best website for additional hitchhiking info and tips.
When to Go to Armenia
The best time to visit Armenia is at the beginning or end of summer (May-June or September-October). During these months, the weather is mild, making it perfect for outdoor explorations. The temperature hovers around 20°C (68°F) but be aware that it can be very rainy throughout May and thunderstorms are common.
Summers are hot, with temperatures soaring as high as 35°C (95°F). Things tend to cool down in the evenings, however, with a gentle mountain breeze providing some welcomed relief after a long, hot day.
If you are visiting for skiing, December is the best winter month for hitting the slopes. Temperatures drop below freezing, and the northern regions receive a lot of snowfall. Cities like Yerevan get a lot quieter during these months as everyone hides from the cold.
You don't have to worry about inflated prices or crowds even during the summer peak season. Armenia isn't a very touristy destination, and you often have whole sites all to yourself.
How to Stay Safe in Armenia
Armenia is a very safe country to travel around — even if you're traveling solo, and even as a solo female traveler. Violent crime here is rare.
There aren't any specific scams to look out for either, though sometimes taxi drivers will try to overcharge you. You can avoid this by agreeing on a price before entering the taxi (ask your hotel/hostel staff for a price estimate if you're not sure what to pay).
If you're worried about getting ripped off you can read about common travel scams to avoid here.
Petty theft and pickpocketing are rare but can occur so always keep your valuables (specifically your wallet and phone) secure and out of reach. This is especially important in crowds or on busy public transportation.
Solo female travelers should feel safe here, though the standard precautions apply (never accept drinks from strangers, don't leave your drink unattended at the bar, don't walk around intoxicated at night, etc.).
If you rent a vehicle, don't leave any valuables in it overnight. Break-ins are rare, but it's always better to be safe than sorry.
There's often political turmoil with neighbors so keep an eye out on that and avoid protests or demonstrations while in Armenia. Avoid the Nagorno-Karabakh region on the border with Azerbaijan due to armed conflict.
If you do experience an emergency, dial 112 for assistance.
Always trust your gut instinct. Make copies of your personal documents, including your passport and ID. Forward your itinerary along to loved ones so they'll know where you are.
The most important piece of advice I can offer is to purchase good travel insurance. Travel insurance will protect you against illness, injury, theft, and cancellations. It's comprehensive protection in case anything goes wrong. I never go on a trip without it as I've had to use it many times in the past. You can use the widget below to find the policy right for you:
Armenia Travel Guide: The Best Booking Resources
These are my favorite companies to use when I travel. They consistently have the best deals, offer world-class customer service and great value, and overall, are better than their competitors. They are the companies I use the most and are always the starting point in my search for travel deals.
Skyscanner – Skyscanner is my favorite flight search engine. They search small websites and budget airlines that larger search sites tend to miss. They are hands down the number one place to start.
Hostelworld – This is the best hostel accommodation site out there with the largest inventory, best search interface, and widest availability.
Booking.com – The best all around booking site that constantly provides the cheapest and lowest rates. They have the widest selection of budget accommodation. In all my tests, they've always had the cheapest rates out of all the booking websites.
HostelPass – This new card gives you up to 20% off hostels throughout Europe. It's a great way to save money. They're constantly adding new hostels too. I've always wanted something like this and glad it finallt exists.
Get Your Guide – Get Your Guide is a huge online marketplace for tours and excursions. They have tons of tour options available in cities all around the world, including everything from cooking classes, walking tours, street art lessons, and more!
The Man in Seat 61 – This website is the ultimate guide to train travel anywhere in the world. They have the most comprehensive information on routes, times, prices, and train conditions. If you are planning a long train journey or some epic train trip, consult this site.
Rome2Rio – This website allows you to see how to get from point A to point B the best and cheapest way possible. It will give you all the bus, train, plane, or boat routes that can get you there as well as how much they cost.
FlixBus – Flixbus has routes between 20 European countries with prices starting as low 5 EUR! Their buses include WiFi, electrical outlets, a free checked bag.
SafetyWing – Safety Wing offers convenient and affordable plans tailored to digital nomads and long-term travelers. They have cheap monthly plans, great customer service, and an easy-to-use claims process that makes it perfect for those on the road.
LifeStraw – My go-to company for reusable water bottles with built-in filters so you can ensure your drinking water is always clean and safe.
Unbound Merino – They make lightweight, durable, easy-to-clean travel clothing.
Armenia Travel Guide: Related Articles
Want more info? Check out all the articles I've written on backpacking/traveling Armenia and continue planning your trip: