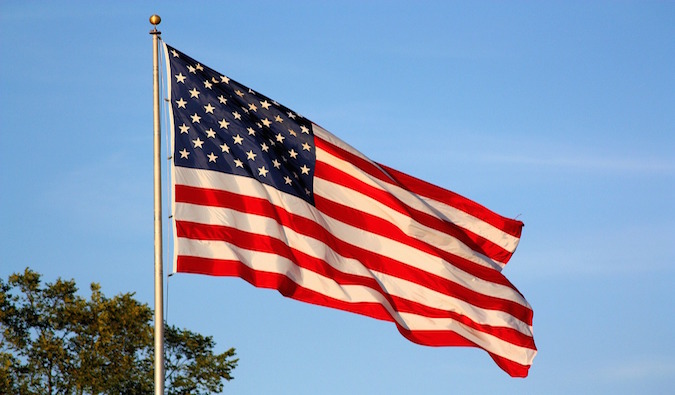 Posted: 10/10/2017 | October 10, 2017
We've all heard the alarming statistic—only 40% of Americans own a passport.
That number is rising, but only because Americans are now required to show a passport when going to Mexico and Canada. Vice Presidential candidate Sarah Palin first got her passport last year and has only traveled overseas to military bases in Iraq and Germany. In fact, she's implied that traveling is for the rich:
"I'm not one of those who maybe come from a background of, you know, kids who perhaps graduate college and their parents get 'em a passport and give 'em a backpack and say go off and travel the world. Noooo. I worked all my life…I was not, uh, a part of, I guess, that culture."
So why is it that the world's superpower, a country with 300 million people, turns a blind eye to the rest of the planet, and political figures tout their lack of overseas travel as a plus? I believe there are a few reasons:
First, there's size. Forget about post-9/11 politics for a moment. Most family vacations in America are to other parts of America. Why? Because the US takes up the width (and a lot of the height) of a whole continent, and we have all the world's environments in our states. Need beaches? Head to Florida. The tropics? Hawaii. Desert? Arizona. Cold tundra? Alaska. Temperate forests? Washington. This attitude about America having all you need is best summed up by a response I got from a friend in Iowa: "Why would you want to go to Thailand? It's far and scary. If you want beaches, just go to Florida." Americans simply don't see the need to go anywhere else when they can do it all in their own country, especially when they're afraid of the world.
Which brings me to my second point—fear. Americans are just scared of the world. I mean, really scared. Maybe even petrified. In this post-9/11 world, Americans have been taught that the world is a big, frightening place. There are terrorists outside every hotel waiting to kidnap you. People don't like you because you're American. The world is violent. It's poor. It's dirty. It's savage. Canada and Europe are OK, but if you go there, they'll still be rude to you because you're American. No one likes us.
Even before 9/11, the media created an environment of fear. If it bleeds, it leads, right? Prior to 9/11, the media played up violence at home and abroad. Pictures of riots in foreign streets, threats against Americans, and general violence were all played up to portray a volatile and unsafe world. After 9/11, it only got worse. Politicians now tell us "they hate you," as former NYC Mayor Rudy Guiliani did during his campaign. It's US vs. THEM!!!
Bombarded by this for decades, Americans think this myth is reality and don't want to leave the States.
People always ask me why I want to leave the US to travel. Isn't the US just as good? "No one likes us out there," people say. To Americans, the world is a scary place, and it's a perception only reinforced by the media and politicians.
Finally, it's because of cultural ignorance. Yes, I said it—Americans are ignorant. Ignorant as in they simply don't know what is going on outside their own borders, not that they're dumb. I don't blame them, really. When you're told the world is scary, why would you want to care about it? Why would you want to go to places where they supposedly want to kill you?
So Americans don't put an emphasis on learning about the world. We don't take languages, we avoid overseas programs, and we don't talk about our world in schools. Our schools teach one foreign language: Spanish, and that's only because there's a large Spanish-speaking population in the country, not because we want to go to Spain—or Mexico right next door. The media doesn't focus on the world unless it relates to something bad, and our politicians encourage us to erect walls, not break down barriers.
Some people argue that it's because America is "far" from the rest of the world, as if there's an insurmountable distance to go to get places. However, New Zealand is farther geographically from everything, yet New Zealanders are encouraged to go out and explore the world. In the age of the Internet, Twitter, YouTube, and airplanes, it's easy to go places. Distance is no excuse.
Americans don't travel because of culture, not location. Sure, it's not universal. There are plenty of Americans out there exploring the world and breaking down cultural barriers. They come back, dispel myths, and encourage their friends to become more aware of the world. But even in the more liberal places in America, you see the attitude that America is the world's only safe country and that most of the world is pretty scary. Americans have an image of the world that is totally divorced from reality.
The sad irony is that we created the world we are so afraid of. America's push for a globalized world brought many players onto the stage. It helped the Chinese dragon emerge from its cage, brought India into the game, helped Brazil's economy grow, and tore down communism. Now, we look at the world and are terrified that we no longer understand it or our place in it. Instead of trying to learn more, we erect barriers and bury our heads in the sand.
Yet, I am hopeful. The future of the world requires more integration, and young Americans growing up in this post-9/11 environment are actually more interested in learning about other countries than shunning them. They want to travel and explore the world. I think the future will be bright, as long as political leaders don't wall us off completely before then.
For more about why American's don't travel, here are a couple follow-up articles I wrote a couple of years after this one:
Book Your Trip: Logistical Tips and Tricks
Book Your Flight
Find a cheap flight by using Skyscanner. It's my favorite search engine because it searches websites and airlines around the globe so you always know no stone is being left unturned.
Book Your Accommodation
You can book your hostel with Hostelworld. If you want to stay somewhere other than a hostel, use Booking.com as it consistently returns the cheapest rates for guesthouses and hotels.
Don't Forget Travel Insurance
Travel insurance will protect you against illness, injury, theft, and cancellations. It's comprehensive protection in case anything goes wrong. I never go on a trip without it as I've had to use it many times in the past. My favorite companies that offer the best service and value are:
Want to Travel for Free?
Travel credit cards allow you to earn points that can be redeemed for free flights and accommodation — all without any extra spending. Check out my guide to picking the right card and my current favorites to get started and see the latest best deals.
Ready to Book Your Trip?
Check out my resource page for the best companies to use when you travel. I list all the ones I use when I travel. They are the best in class and you can't go wrong using them on your trip.