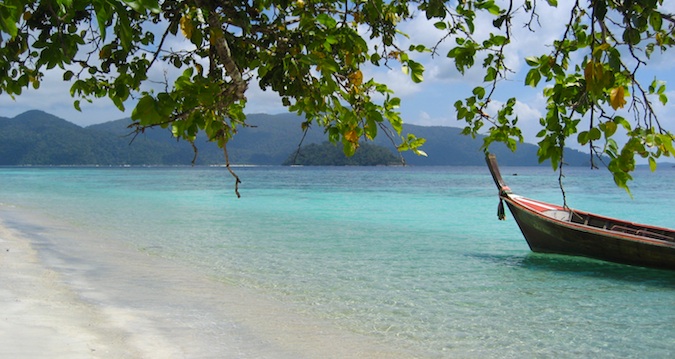 Last Updated: 2/2/2020 | February 2nd, 2020
Every industry has its own "best practices" — proven rules and standards that guide the industry and the people in it. Travel is no different. There are many "rules to live by" that can help us navigate the unknown world with fewer mistakes.
I have my own golden travel rules.
Over the past ten years, I've learned a lot of tips and tricks that have helped me thrive when I travel. When I first set out in 2006, I made a lot of mistakes. (Ok, I still make some mistakes.)
And that's not a bad thing. If you don't make mistakes, you aren't trying new things and pushing yourself out of your comfort zone.
Mistakes are going to happen.
But, over the years, I've developed a list of 27 golden rules for travel. These guidelines help me save money, make friends, stay safe, and fit into the local culture.
If you follow them, you'll become a master traveler, able to travel the world with swashbuckling zeal and expert ninja-like knowledge… all without breaking the bank so you can keep cutting a path forward through the world for longer:
1. Be adventurous – You only live once. You're going to get chances to do wild things you've never dreamed of doing when you travel. Don't hold back. Count to three, say "screw it," and take the leap. You didn't come this far for nothing. Say yes when someone asks you to go rock climbing, salsa dancing, spelunking, or try the world's hottest pepper despite not liking spicy food.
There's no one around to judge you. No one cares what you do. No rumors will be spread. Push yourself to do something new and daring at least one.
2. Get a no-fee ATM card – Why give your money to the banks? Get an ATM card that doesn't charge any fees and use that extra money for more traveling. Over the long term those $2-5 charges really add up. I use Charles Schwab as my bank, but you can also find many others that offer no-fee accounts — or use a one that is part of the Global ATM Alliance, and pay no fees within that network.
This article can show you how to avoid bank fees when you travel (and will give you a list of suggested cards too).
3. Get a rewards credit card – Why pay for travel when you can get it for free? Use a travel rewards credit card to earn points and miles that can be redeemed for free travel.
You're already spending the money anyway so why not get rewarded for it?
Travel credit cards come with tons of perks and huge bonuses that can be redeemed for free flights right away. Plus, they get you the best exchange rate on your purchases.
Having one is an absolute must.
Want to know how I get hundreds of thousands of points per year and fly for free? Sign up for my free primer on the art of travel hacking and I'll show you.
4. Always carry backups – Always carry a backup bank and credit card in case one is lost, stolen, or hacked. That way while you are fixing the issue, you still have access to your money. Instead of the problem crippling your trip, it merely is an annoyance. This has happened to me before and, I can ensure you, you'll be thankful you followed this advice!
5. Only carry what you need – When you leave to go out for the day, only care the cash you need and one credit card. You don't want to get robbed and lose everything. Leave the backups and extra locked back at your hostel!
6. Join a frequent flier program – Get rewarded for all of those flights you'll be taking by joining a frequent flier program. That way you'll earn miles, perks for flying, and free flights. Miles are like money — and you wouldn't waste money, would you? No! So, sign up for a loyalty program, and collect points. Even if it takes you years to get a free flight, at least you are not being wasteful!
7. Travel alone at least once – Few things are as liberating as solo travel. As a solo traveler, you're free to do whatever you want. When you travel solo, the world is your oyster. You're free to do whatever you want, whenever you want. To me, it's the purest sense of freedom there is.
But beyond that sense of freedom, solo travel actually teaches you a lot about yourself. Travel is an amazing personal development tool after all, and solo travel is one of the best ways to learn and grow and challenge yourself.
Without anyone around you, you have to solve the problems you face on the road. You have to figure out how to get from point A to B, deal with people who speak a different language, get comfortable eating alone, find things to do, and work out problems that arise. It's you and your wits. That forces you to grow in ways you won't in the comfort of your home or with a group.
While it won't be for everyone, I still encourage everyone to try solo travel at least once. Even if you don't love it, you'll learn a ton about yourself in the process.
8. Learn basic phrases – Locals don't expect you to be an expert in the local language, but learning a few basic phrases will go a long way to endearing you and making them go the extra mile for you. It will bring a smile to their face that you tried! "Hello," "how are you?" and "thank you" go a long, long way no matter where you go.
9. Stay in hostels – Get to know other travelers and experience the communal spirit of traveling by staying in hostels a few times. They aren't all the dirty party places you see in movies. Most hostels are very clean, offer breakfast, have comfy beds and Wi-Fi, organize events, and know the local area very well. They also aren't just for young backpackers; you'll find people of all ages (and even some families) staying there. Try them out. You may like it.
Here is a list of the best hostels in the world to get you started!
10. Use tourist boards – Local tourist offices are a wealth of knowledge. When you get to a new destination, visit the tourist office and ask the staff an insane number of questions about the place. They exist solely to help you get the most of your visit and it's their job to know everything and everything about a place. Plus, they often have tons of discounts not found anywhere else.
Visiting one is often one of the first things I do in a new city.
11. Try new foods – Culture is often best experienced through food. Don't be afraid to try new things. Get out of your comfort zone and experiment. You might actually like it (those fried caterpillars in Zambia were delicious!).
12. Be flexible with your plans – Travel is a series of happy accidents with way leading to way. Don't skip going to that random city with the friends you just met because your itinerary says something different. You'll regret it.
Go with the flow and be open to new things.
This will make your travels a lot more stress-free.
12. Pack light – Take it from a former over-packer: you never need half the stuff you take. Put everything you think you need in a pile and then remove half of it. The lighter you travel, the easier you travel.
Here's our suggested packing lists:
14. Take extra money – Something always happens that you never planned for that will cost you extra money. I never thought I would fly last-minute to Fiji, need to replace my camera in Italy, or buy an extra iPhone cable in Australia. Always take extra money just in case. You may not need it, but you don't want to be without a little extra when something bad happens.
When you start planning for your trip, set aside a $300-500 emergency slush fund in for accidents.
15. Get lost – Meander through a new city without a map. Get lost — because in the end, you aren't really getting lost, you're just discovering new experiences. So put down the map and wander. Eventually, you'll find your way.
16. Call home – Your parents miss you. Don't forget to call and say hello.
17. Get a phone — It will be easier to stay in touch with friends (and call home), meet up with other travelers, and contact hostels with a phone. SIM cards and prepaid phones are cheap, so there's no excuse not to stay connected.
But don't be glued to your phone. I see too many people hooked on their phone these days. But it is still a good idea to carry one for emergencies, especially when they are so accessible and affordable now.
18. Travel slow – This isn't a race or a competition. I know you want to get a lot in with your limited time, but you see a lot more when you see a lot less. Travel slow and experience each place. Don't race from train station to station; that will set you up for a stressful, unenjoyable time. With travel, less is more.
19. Live somewhere once – Stop at least once. Get to know a place. Learn the language. Make local friends. Explore. Become the local. Living in a foreign place gives you a different perspective on life and a real sense of what it's like to be an outsider.
Plus, living a foreign place and surviving will help you gain a lot of confidence.
20. Avoid taxis – They just cost a lot. Don't use them unless you don't have any other option.
21. Bring a reusable water bottle – Not only are all those disposable plastic water bottles bad for the environment but the cost adds up over time. A water bottle here, a water bottle there, and you've spent $50 on water alone. Get a reusable bottle and drink the tap water in conjunction with a SteriPen or LifeStraw water purifier.
22. Buy travel insurance – You never know what could happen on the road — but something always does. I've had to deal with lost baggage, broken gear, delayed flights, and even some pretty serious injuries. Without travel insurance, I would have not only had to pay out of pocket for these expenses but I would have been left to navigate them alone.
Buy travel insurance so that if you're injured or you break your camera, you're covered. Plus, you're friends and family will be able to relax knowing that, should something happen, you're covered. It's only a few dollars a day. It's worth the peace of mind.
Here's the link to our resource page with all our articles on the subject!
23. Bring basic first-aid – Cuts and scrapes happen, and you can get what you need most anywhere in the world, but it's still good to carry bandages, antibacterial cream, and some hydrocortisone cream in your first aid kit just in case. Also, carry duct tape — you'll never know when it'll come in handy.
Here are some tips on how to pack a suggested first add kit.
24. Get off the beaten path – London, Paris, and the temples of Kyoto are all amazing for a reason, but get off the beaten path, go away from the crowds, and explore on your own. Find something new, stick out, meet the locals, and discover. The road less traveled is usually a good one.
25. Take photos of your friends – Years from now, you'll want to look back at your younger self and see all the people who changed your life. Nostalgia can be a wonderful thing. Make sure you take photos of your friends. You'll want them later.
26. Use the sharing economy – The rise of the sharing economy has made backpacking so much easier and cheaper. From ridesharing, house sharing, and meetup websites, there are so many ways you can get off the tourist trail and experience day-to-day life with locals! Here are some suggested websites:
And finally, the most important tip of them all….
27. Ignore all my tips and do whatever you want – It's your trip. Go where you want, when you want, and for how long you want. Don't worry about this or that. Make mistakes. Learn. Make more mistakes. Have fun and become a better traveler. At the end of the day, you won't look back and think "if only I had more miles" but instead "damn, that was a lot of fun."
So get out there and have some fun!
You deserve it.


Book Your Trip: Logistical Tips and Tricks
Book Your Flight
Find a cheap flight by using Skyscanner. It's my favorite search engine because it searches websites and airlines around the globe so you always know no stone is being left unturned.
Book Your Accommodation
You can book your hostel with Hostelworld. If you want to stay somewhere other than a hostel, use Booking.com as it consistently returns the cheapest rates for guesthouses and hotels.
Don't Forget Travel Insurance
Travel insurance will protect you against illness, injury, theft, and cancellations. It's comprehensive protection in case anything goes wrong. I never go on a trip without it as I've had to use it many times in the past. My favorite companies that offer the best service and value are:
Want to travel for free?
Travel credit cards allow you to earn points that can be redeemed for free flights and accommodation. They are what keep me traveling so much for so little. Check out my guide to picking the right card and my current favorites to get started and see the latest best deals.
Ready to Book Your Trip?
Check out my resource page for the best companies to use when you travel. I list all the ones I use when I travel. They are the best in class and you can't go wrong using them on your trip.