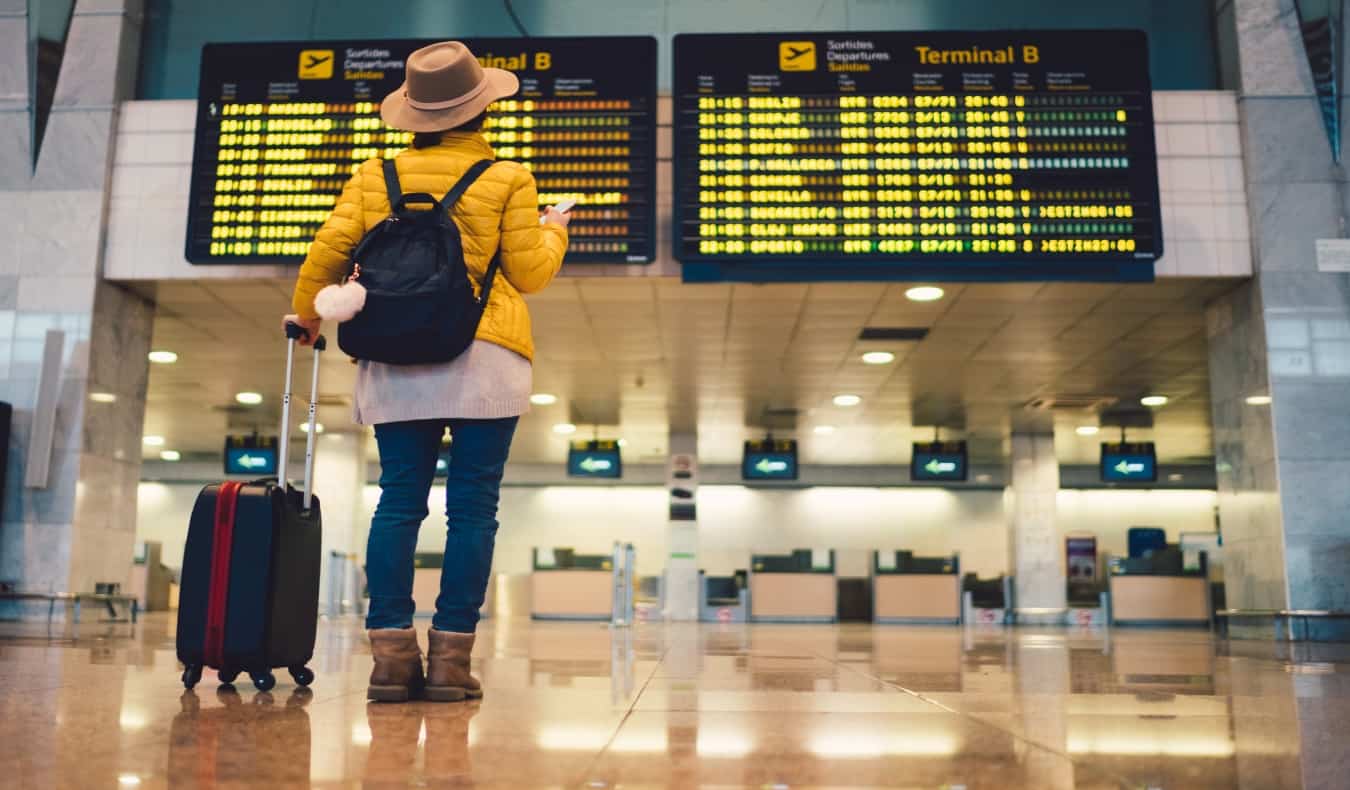 Last Updated: 7/28/2023 | July 28th, 2023
These days, there are a million and one ways to make budget travel a reality. From embracing the sharing economy to working overseas or volunteering abroad to hunting down cheap flights, traveling has never been easier or more affordable. Even with the pandemic-related price increases, travel is still relatively cheap and there are lots of deals out there to be found.
But the most incredible way to lower your costs even further? Travel hacking.
It's something I've been doing for years, which has enabled me to earn more free flights and free hotel stays than I can count. And if you're not doing it, you're leaving a lot of money on the table and paying way more for travel than you should be!
What is travel hacking?
Travel hacking is the art of signing up for travel credit cards and collecting credit card points, hotel points, and/or airline miles you can cash in for free flights, flight upgrades, hotel stays, transportation, and much, much more.
While there are a ton of advanced tips, tricks, and hacks to out there (and we go over a lot of them in my guide on the subject), many people don't even know where to start. The process seems daunting because of all the programs and credit cards out there. Which card do you get? How do you know you're maximizing your points? And just how do you redeem them for rewards?
It's a lot to wrap your head around.
But travel hacking is a lot easier than it seems. By just tweaking how you pay for groceries, gas, and dining out, you'll be able to start earning points and miles toward free travel today.
In this Travel Hacking 101 guide, I'll explain the basics, so you can stop leaving money on the table and start making your travel dreams a reality.
Here is how you get started:
Step 1: Figure out your goal(s)
The first thing you want to do when it comes to travel hacking is to figure out your goal(s). What are you looking to achieve?
Are you saving for a big family trip? Do you just want the odd free economy flight or hotel here and there? Or are you more interested in a huge first-class upgrade? Or are you an avid flyer who wants perks, like lounge access and free upgrades?
There's no wrong answer, so spend some time pondering this. If you just go into travel hacking without direction, you're going to get lost.
You'll need to do this because it will help you pick the cards and spending strategies that will get you closer to your goal(s). There are hundreds of travel credit cards to choose from, and they all have their own pros and cons.
For example, if you're a loyal flier with American Airlines, the best cards to start off with would be those that are AA branded. That way, you can jump-start your point balance as well as get the perks that those cards come with (free checked bags, priority boarding, etc.).
If you're looking to go to Europe on a United partner, you'll want to apply for the cards that get you United or Star Alliance points.
Always like staying at a specific hotel chain? Get that particular brand's card.
If you just want points to spend wherever you choose, get a Chase, Citi, Capital One, or American Express® Card, because you can use their points with a variety of travel companies.
Once you decide your goal(s), you can figure out the cards and programs that will get you there.
Step 2: Get a travel credit card
Once you know your goals to and what perks are important to you, you can start to browse for a credit card.
Note: Travel hacking is impossible without a credit card. You just cannot get enough points otherwise. Here's everything you need to know about credit cards and why they aren't as evil as society makes them out to be.
While many introductory cards are free, the best travel credit cards usually have an annual fee. However, this fee, which can range from $99 to $500, is usually waived for the first year. You can also often get it waived in subsequent years if you call and threaten to cancel the card. I do that often to avoid the fee.
Some things to remember before you apply for a card:
There is no perfect card — each has its pros and cons based on your goals. Don't listen to blogs touting some card as "the best."
Aim to get a card with a low annual fee and no foreign transaction fees (so you can use it abroad without paying extra).
Make sure the welcome bonus is attainable (more on that below).
Remember that you need to pay off your monthly balances to make travel hacking worthwhile, so only apply for a card if you're able to pay off your expenses each month.
Here's what the ideal card should have:
A huge welcome bonus – The best travel cards all offer a sizable introductory bonus. It will be these welcome points that jump-start your account and get you closer to a free flight or hotel stay. Typical travel credit card welcome bonuses range between 40,000 to 60,000 points, though sometimes they can be as high as 100,000. That's why cards are so great: you get an instant balance of tens of thousands of points for very little work.
A low spending minimum – Unfortunately, in order to get the great welcome bonuses these cards offer, there is usually a required spending minimum in the first few months. I typically sign up for cards with a minimum spending requirement of $3,000 USD in a three- to six-month period. While there are ways to temporarily boost your spending, it's best to get the bonus using normal day-to-day spending. Only apply for a card or cards that you can meet the minimum spend(s) on to qualify for the welcome bonus(es). (More on minimum spending requirements in the next step.)
An added category spending bonus – Most credit cards offer one point for every dollar spent. However, good credit cards will give you extra points when you shop at specific retailers, use their online portals, or, if it is a branded credit card, shop with a particular brand. This will help you earn points much more quickly.
Special travel perks – All of these travel credit cards offer great perks. Many will give you a special elite loyalty status or other perks. Travel hacking is not just about just getting points and miles, it's about what else comes with the card that makes your life easier!
No foreign transaction fees – Credit cards are great to use overseas because you get the best possible exchange rate from them. But if you are paying a fee every time you use the card, then it's less good. Nowadays there are so many cards offering no foreign transaction fees that you should never, ever, ever have to get one with a foreign transaction fee.
Step 3: Earn the welcome bonus
As mentioned, the most important part about signing up for a new credit card is to make sure you earn the welcome bonus. Most cards offer this bonus if you spend a set amount within the first few months of receiving a card (usually the first three months). These offers can be huge, often equal to the cost of a round-trip flight.
Obviously, it would be silly to pass up the chance at a free flight, so make sure you can meet the minimum spending requirement for the welcome bonus before you pick a card. If you can't meet the spending requirement, there's no point in signing up just yet.
That might mean waiting until your next big purchase (e.g., waiting until you need a new computer, a new couch, etc.) or waiting until a big holiday like Christmas or a loved one's birthday, so you can earn more points than your normal spending.
If even that isn't going to do the trick, you'll need to get creative.
For example, when you go out for dinner, pay for the bill on your credit card and have everyone pay you back. That way, the cost will go toward your minimum spending requirement. Additionally, if any friends or family are planning big purchases, ask them if you can put them on your card so you can get the points. That's another easy way to meet the minimum spend without having to shop til you drop.
Step 4: Maximize your category spending
Most travel credit cards offer category bonuses. That means that instead of getting just 1 point per every dollar spent, you might get 2 or 3 or even 10 when you shop in particular categories. Restaurants, supermarkets, and gas are three of the most common ones, but there are lots more too.
To maximize your points, always use the right card for each purchase.
If you just have one card to start, just put everything on that card to maximize your points. Once you start branching out and have a few cards, just keep track of the main category bonuses so you don't miss out by using the wrong card. Earning double, triple, or even 10x the points can drastically speed up your earnings, so don't skip out on the category bonuses!
Step 5: Redeem your points and miles
It's time to cash those points in and make your travel dreams a reality! Depending on your spending and financial situation, maybe you've been able to save up enough in just a few months. Maybe it's taken you a couple years. Either way, it's time to reap the rewards of your travel hacking! (If you want to learn more on how to do that, get this guide I wrote.)
FREQUENTLY ASKED QUESTIONS
Now that we've laid out the steps, I wanted to answer some common questions I get about travel hacking.
Can non-Americans travel hack?
Yep! While the US definitely has the best travel hacking cards, many other countries have similar cards too, including Canada, the UK, Australia, and most of Europe.
Start by checking with your local airline to see if it has a branded credit card. You can also check in with your bank and ask what cards are available. Every country is different, so you'll need to ask around to get the ball rolling.
Here are some posts to help you get started:
Do I need to pay off my bill every month if I want to travel hack?
Yes. Credit cards charge huge interest fees, which will eat up whatever small benefit you get from the points.
Can you travel hack even if you have bad credit?
Yep! You'll likely need to start slow, with a card that doesn't have amazing perks. However, over time, you can build your credit up as long as you're paying off your bill every month. If you have bad credit, start with a prepaid or secured credit card to build back your credit.
Does opening a new card hurt my credit rating?
Opening or closing a lot of credit cards at once can hurt your credit. However, applying for a few credit cards over a period of time won't ruin your score. Sure, it will slightly dip every time there is an inquiry, whether for a credit card or home loan or car loan — that's how the system is set up. But so long as you space out your applications and pay off your bills each month, you won't find any long-term damage to your credit. I have dozens of cards and apply for and cancel them regularly, and my credit score is excellent.
***
Travel hacking can be intimidating, but it's really just the art of being smart with your spending on the right one or two credit cards. You don't really need to do more than that. While you can also dive much deeper in the hacking game (some people really go down the rabbit hole on this!), it's not all that necessary.
Don't leave money on the table. Get a card, earn the welcome offer, maximize your points — and then do it all over again! Eventually — with no unnecessary spending — you'll reach your goal and get to enjoy some awesome travel perks!
Book Your Trip: Logistical Tips and Tricks
Book Your Flight
Find a cheap flight by using Skyscanner. It's my favorite search engine because it searches websites and airlines around the globe so you always know no stone is being left unturned.
Book Your Accommodation
You can book your hostel with Hostelworld. If you want to stay somewhere other than a hostel, use Booking.com as it consistently returns the cheapest rates for guesthouses and hotels.
Don't Forget Travel Insurance
Travel insurance will protect you against illness, injury, theft, and cancellations. It's comprehensive protection in case anything goes wrong. I never go on a trip without it as I've had to use it many times in the past. My favorite companies that offer the best service and value are:
Want to Travel for Free?
Travel credit cards allow you to earn points that can be redeemed for free flights and accommodation — all without any extra spending. Check out my guide to picking the right card and my current favorites to get started and see the latest best deals.
Need Help Finding Activities for Your Trip?
Get Your Guide is a huge online marketplace where you can find cool walking tours, fun excursions, skip-the-line tickets, private guides, and more.
Ready to Book Your Trip?
Check out my resource page for the best companies to use when you travel. I list all the ones I use when I travel. They are the best in class and you can't go wrong using them on your trip.