Posted: 07/20/2010 | July 20th, 2010
Last weekend I met some old friends from college I haven't seen since graduation. They wanted to know one thing about my travels: "What were my crazy stories? What were the wild things that have happened to me?" I don't often think about the crazy things that happen while I'm traveling. To me, they are just part of the whole travel experience- stories no good or worse than all the rest. Even the bad is still good. Yet forced to think about it, I've realized a lot of random, crazy, and interesting things have happened to me over the last 4 years, highlights of which include:
I got lost in the jungle. While taking a trip to Costa Rica, my friends and I ended up reading the map wrong and wandered lost around Arenal National Park without a flashlight, food or water. What was supposed to be a quick trip to see the sunset turned out to be a 5 hour ordeal. As night came, we used our cameras as flashlights and tried to follow our tracks back. We eventually found a road, flagged down a car, and bribed him to take us back to the town.
Also, my bus broke down in the outback. While traveling in Western Australia, our tour bus broke down in the middle of the outback right after we had lost cell phone reception. We waited 3 hours for a car to take our driver to the nearest town and 2 more for the tow truck. It was a great time though- we drank our beer, played trivia games, and worked on our tan. It was a bonding experience.
My dive partner kicked out my regulator. While learning to scuba dive, my partner accidentally kicked my regulator out of my mouth 15 meters below water. Luckily, I remembered to breathe out and grab my regulator. Within seconds my instructor was assisting me but it was a scary experience and it took me about 10 minutes and half the oxygen tank to calm down. I never breathed so deep in my life.
I almost got in a fight with an Amsterdam cab driver. Coming back from the Amsterdam casino, I split a cab with two Russians who were heading in the same direction. I got out first and paid my portion of the cab fare to them. The driver wanted me to pay the whole fare. No way, I replied, we are splitting it. This is what I owe and I got out. The Russians were fine with that and took my money but the cab driver was not. He got out too and decided he wanted something of this. I stood my ground, the Russians wide eyed in the car, and the driver threatening me. Seeing his scare tactics weren't going to work, he yelled at me in Turkish, got back in the cab, and drove off.
I permanently scarred a friend. Years ago at a beach party in Thailand, my friend (who's the size of a small truck) and I (not the size of any truck) decided we should film ourselves where I beat him wrestling. Running into frame, I tackle him and we wrestle for a bit. A friend from my guesthouse runs over and breaks it up. "Dude, what are you doing? He's huge!" "Don't worry- we're friends." I replied. At that time, I noticed my friend was bleeding. Apparently, I tackled him onto a few beer bottles and sliced his arm open. Rushing him to the hospital, we got him stitched up but to this day he has 3 large scars covering most of his left arm. I guess I don't know my own strength.
I fell into the ocean. Back in 2006 when I was in Italy, I was taking some photos of the Cinque Terra. I was trying to get a good angle and crept down this boat ramp. Well, I missed the algae growing on the ramp, slipped (flip flops don't give you good traction), and slid down the boat ramp into the water. While I was completely soaked, the worst part was breaking the camera I had bought 2 months before I went on my trip. That and the Italian kids who witnessed this whole scene laughing at me.
Thai police officers got me drunk. On multiple occasions. One of my favorite streets in Thailand is Soi 11 and at the beginning of the street is a food stall where every night these cops drink. One night they called me over after I finished my soup and offered me some whiskey. You don't say no to cops in Thailand so I drank. And drank. And drank some more. After that, every time I walked by, we would drink and eat. I would teach them English, they taught me bad words in Thai. It was a great experience.
Speaking of Thailand, I got drugged there once. For my last night in Thailand in 2007, my friend Dan and I went out for a few drinks. We started with our customary red bull and vodka. After that, I don't know what happened. The next thing I remember is waking up on Dan's couch the following morning. Knocking on Dan's door, he opens it and goes "What are you doing here?" We had no memory of the previous night but I still had my ID and all my money. Whoever drugged us did a poor job of doing so but I make it a point to watch all my drinks being made now.
Two M87 grenades blew up near me. A few months ago, Thailand had political unrest that led to a multi-day street battle in Bangkok. Much of the city center was set on fire. I got out weeks before that but before I did, while eating dinner in the Silom area, 2 M87 grenades went off right near me. It's the closest I ever plan to get near anything like that again.
I was hospitalized for food poisoning. While in Central America, I ate some bad sushi and upon returning home to the United States, found out that I had a parasite that had inflamed my intestine so much it was effectively closed. I was in the hospital for 3 days on a morphine drip. When I got out, I was so skinny, my girlfriend at the time told me I looked like Skeletor.
Traveling is about taking the good with the bad. On the surface, these stores might make you wonder why I would go back to these places, not get scared away, or continued on a journey. It's because the unexpected makes life interesting. Nothing is risk free and each of these stories led to an opportunity or bond that wouldn't have occurred otherwise.
How to Travel the World on $50 a Day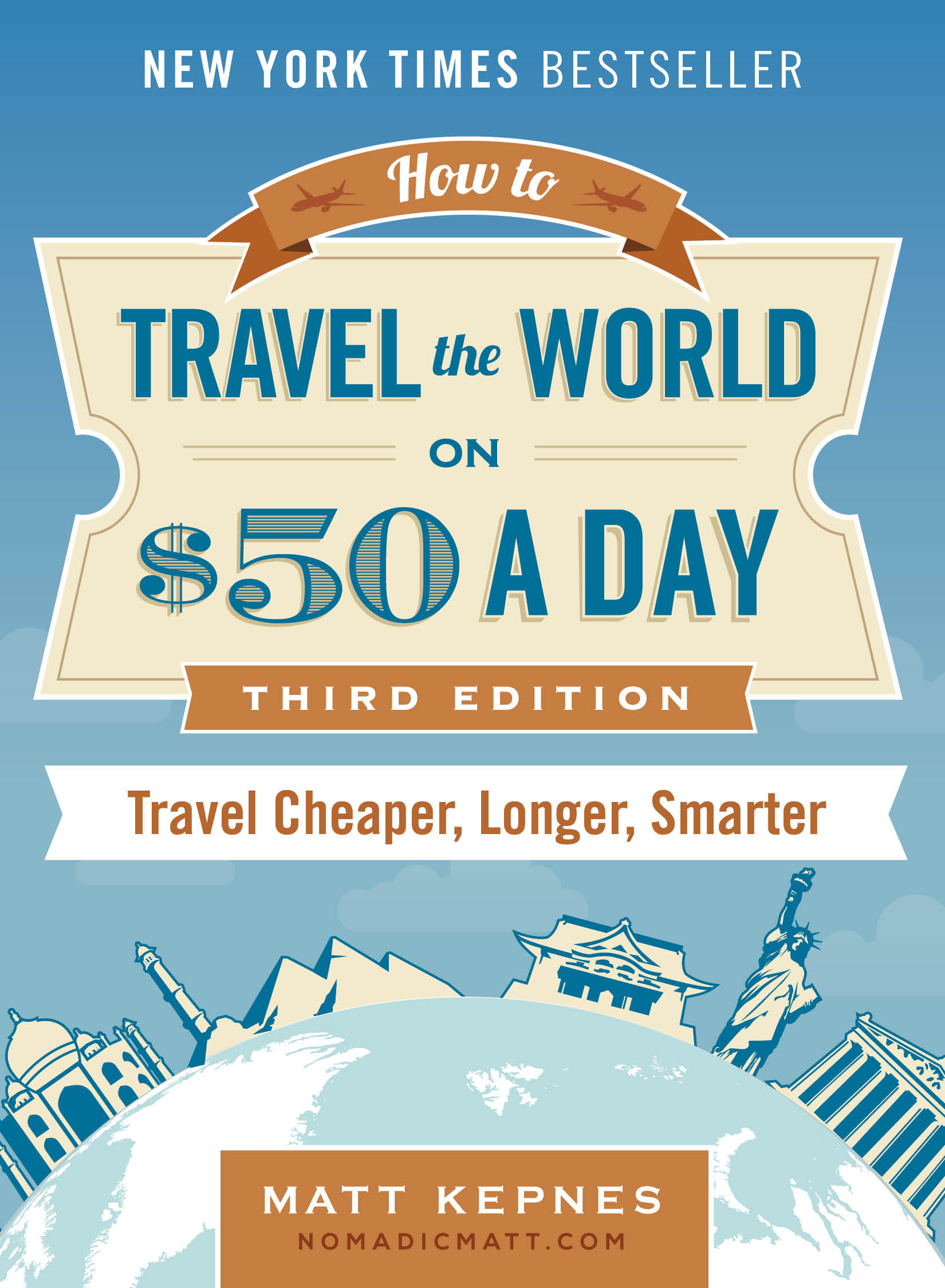 My New York Times best-selling paperback guide to world travel will teach you how to master the art of travel save money, get off the beaten path, and have a more local, richer travel experiences.
Click here to learn more about the book, how it can help you, and you can start reading it today!