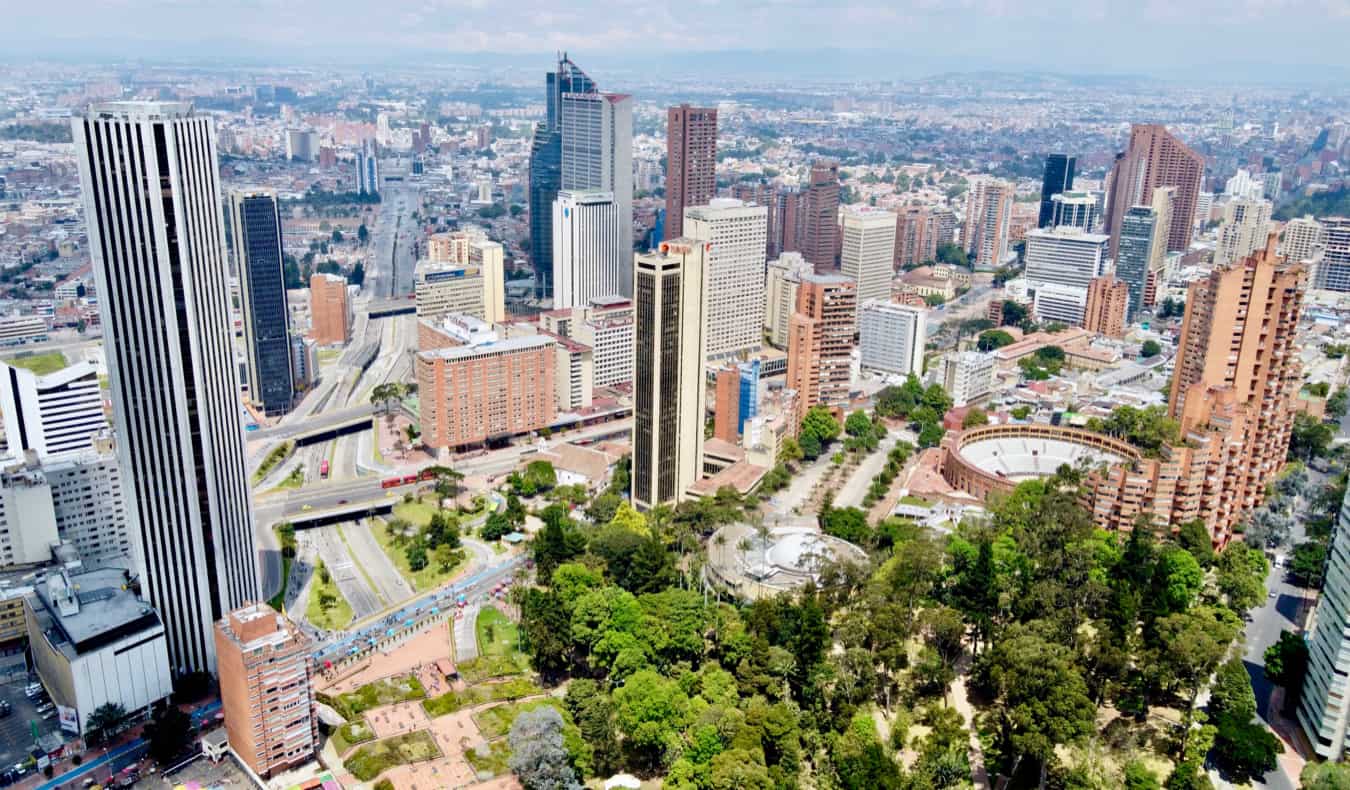 Last Updated: 7/29/23 | July 29th, 2023
The capital of Colombia, Bogotá was the home to the region's indigenous people, the Muisca, when the Spanish came around plundering gold and resources, and it's been the country's main city ever since.
Before I went, everyone told me Bogotá wasn't anything special: dirty, crowded, hard to get around, and lacking the charm of the other big cities in Colombia.
"Spend a few days there and move on," they all said.
Well, I spent a few days there — and then a few more.
I LOVED Bogotá.
It felt like the most "Colombian" city I visited. It's not like the gringofied cities in the rest of the country. Its "gritty" nature was what appealed to me.
Bogotá was a vibrant, lively city I couldn't get enough of.
The museum scene is incredible, there's a lot of history, a blossoming art community, an exciting food scene, a wild nightlife, and super welcoming people.
It is also a huge city with a ton of tours, day trips, and other things to do. You could easily spend a week here.
To help you make the most out of your visit, here are my top 20 things to see and do in Bogotá.
Things to See and Do in Bogotá
1. Take a Free Walking Tour
One of my favorite things to do when I get to a new destination is to take a free walking tour. It's a great way to get the lay of the land, see the main sights, and have a local expert answer any and all of my questions.
BeyondColombia has a great free walking tour that will give you a solid introduction to the city. They also offer a free food tour, which is a terrific way to get a taste of some local Colombian dishes (you'll spend around 37,000 COP on food for the tour). Just be sure to tip your guides!
2. Wander Plaza Bolívar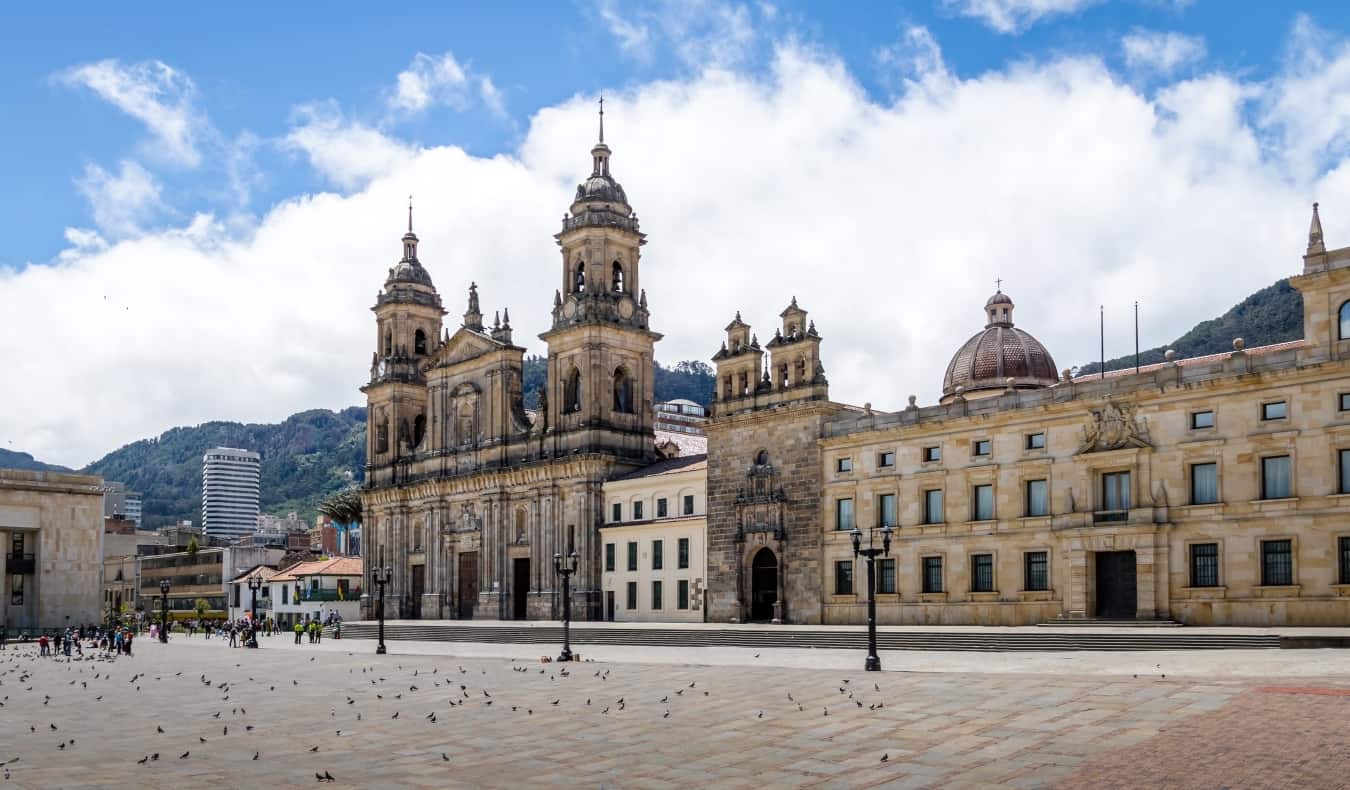 This is the main square of Bogotá, home to Colombia's Palace of Justice, the Cathedral of Bogotá, the mayor's office, and the Capitol Building. It's the historical heart of the city, with buildings from as early as the 16th century. Under the Spanish, the plaza was home to bullfights, circus acts, and public markets. Watch out for the plethora of pigeons!
3. Stroll in the Botanical Gardens
Opened in 1955, the Botanical Garden of Bogotá is home to almost 20,000 plants. There is a focus on regional plants, usually those that are endemic to the Andes and other high-alpine regions of the continent. It's a really peaceful place to walk around, and there are some food stalls nearby, so you can grab a quick bite as you explore the gardens and browse the exotic flowers and trees.
Cl. 63 No. 6895, +57 1-437-7060, jbb.gov.co. Open Tuesday-Friday, 8am-5pm (9am-5pm on weekends). Admission is 10,000 COP for adults and 5,000 COP for children.
4. Attend Gringo Tuesdays
This is a weekly language exchange that evolves into an international party. Every Tuesday, you can meet with other locals and travelers for a few hours of conversation. Once that's over, the real party begins and goes late into the night. It's a fun, social night out if you're looking to meet fellow travelers. A lot of hostels organize party buses to the event, so if you're coming from La Candelaria, this is a good transportation option.
Street 85 No. 11-53, Promenade del Faro, +57 311-492-0249, instagram.com/gringotuesdays. Every Tuesday, the language exchange occurs 4pm-8pm, followed by the party, which runs 8pm-3am. It's free entry until 6pm, 10,000 COP from 6pm-8pm, and 20,000 COP from 8pm onwards.
5. Visit the Museo del Oro (The Gold Museum)
This is the most interesting museum in the entire country and sees over half a million tourists every year. Opened in 1939, the Gold Museum documents the importance and use of gold in pre-Hispanic civilizations in Colombia and is home to over 55,000 gold items. There's a lot of information to take in, so be sure to get the audio guide (8,000 COP) or join one of the daily free tours.
Cra. 6 No. 15-88, +57 1-343-2222, banrepcultural.org/bogota/museo-del-oro. Open Tuesday-Saturday 9am-7pm and Sundays 10am-5pm. Admission is 5,000 COP for adults and free for children. Admission is also free for adults on Sundays, but it gets busy quickly so be sure to arrive early!
6. Climb Monserrate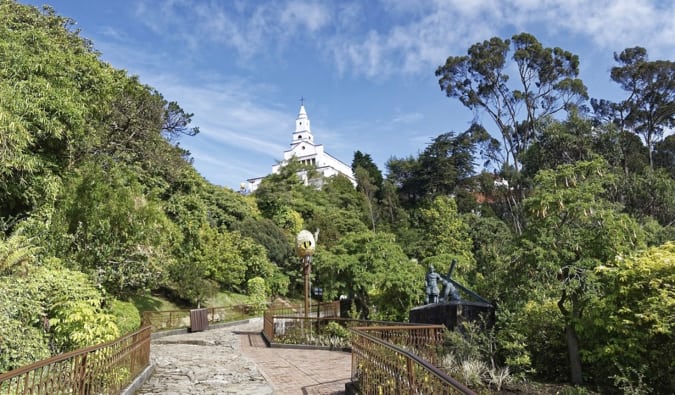 Standing tall at over 3,000 meters (9,840 feet), you can see Monserrate from pretty much everywhere in town. It's a popular spot to take in the view, and since there is a church at the summit, it's also a popular spot for local weddings. You can walk up yourself in under an hour, or you can take a cable car or funicular to the top. Keep in mind that the walk up isn't that safe at night or alone — thieves scout out the route. Be careful!
monserrate.co. The funicular runs Monday-Saturday 6:30am-11:30am and Sundays 5:30am-6pm. The cable car is available Monday-Saturday, 12pm-10pm and Sundays 5:30am-6pm (ticket offices close one hour beforehand). Tickets for either vehicle are the same price: round-trip tickets cost 23,500 COP for adults (14,000 COP on Sundays).
7. Check out the Museo de Botero
Founded in 2000, this museum is home to one of Latin America's most important art collections. The museum was created after Fernando Botero donated hundreds of his works to the Banco de la República de Colombia with the promise that they would be displayed in a free museum for everyone to see. In addition to his own pieces, included in the donation were works by Monet, Picasso, and other world-famous artists.
Cl. 11 No. 4-41, +57 1-343-1316, banrepcultural.org/bogota/museo-botero. Open Monday and Wednesday-Saturday 9am-7pm and Sundays 10am-5pm (closed Tuesdays). Admission is free with free audioguides as well.
8. Wander the Usaquén Market
Every Sunday, artisans line the cobblestoned streets to sell all sorts of local crafts and goods. While it's usually referred to as a flea market, things here are a bit nicer and more upscale than some of the other markets. It's still quite affordable, though, and makes for a fun way to spend the day.
Carrera 6A entre Calles 119 y 120A. mercadopulgasusaquen.com. The market runs 9am-5:30pm every Saturday, Sunday, and holiday Mondays.


9. Explore La Candelaria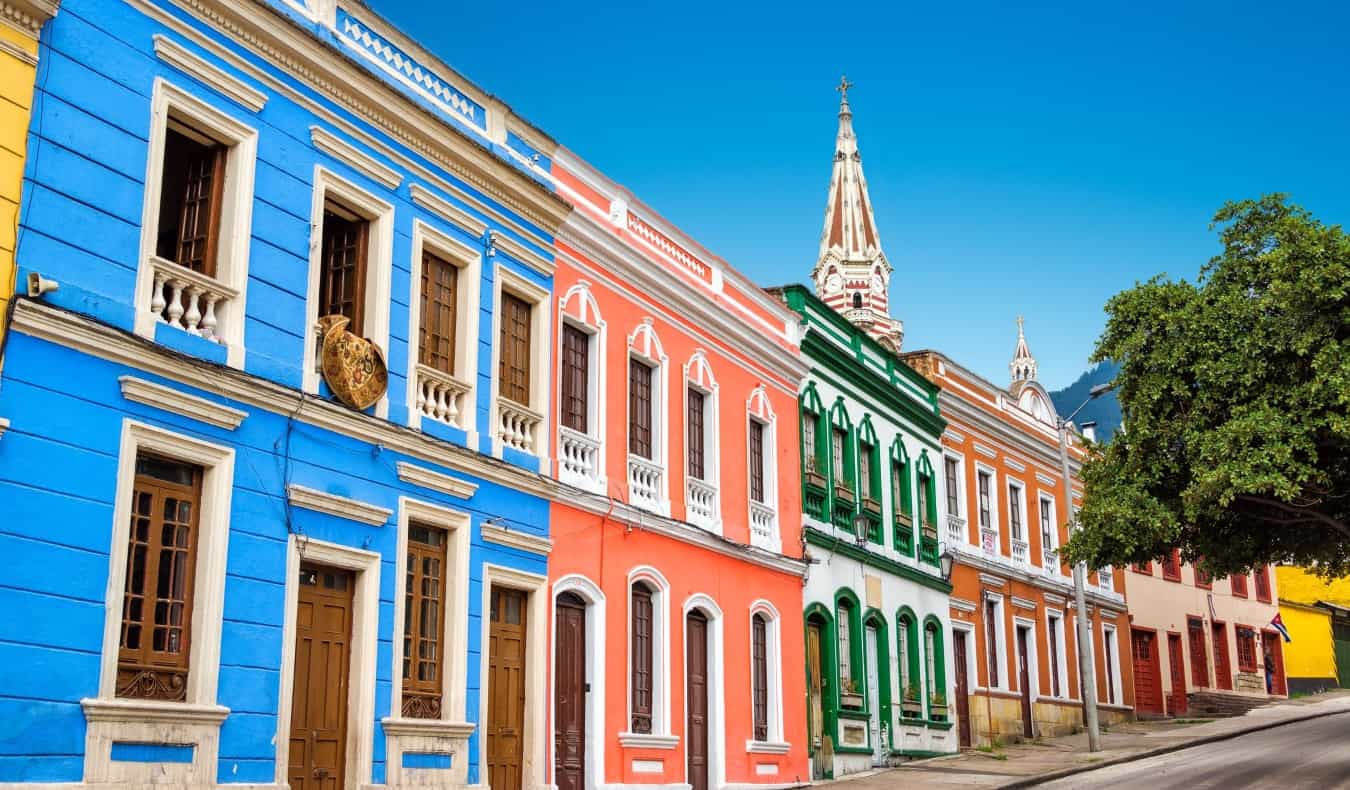 I really loved this neighborhood. This is the old part of Bogotá. You can wander the narrow cobblestone streets and take in the eclectic architecture, with art deco, colonial, and baroque styles all calling the neighborhood home. Many of the city's best attractions (also, many hostels) are here too, such as the Botero Museum, the Gold Museum, and several churches and universities.
Watch live music while hanging at Plaza Chorro de Quevedo, try the local chicha (a drink made from corn, often fermented to be alcoholic) on the side streets, and take in some of the amazing restaurants in this district.
Gran Colombia Tours offers a tour of the neighborhood that also includes local coffee and fruit juice tastings. It's a really great tour and gives you a lot of information.
10. Discover the National Museum of Colombia
Situated in the heart of Bogotá, this is the oldest and biggest museum in the entire country (and one of the oldest on the continent). Built in 1823, it's home to over 20,000 pieces of art and historical artifacts, some dating as far back as 10,000 BCE. The building was actually used as a prison initially (it definitely looks imposing) until it transitioned into a museum in 1946. If you're a history buff or just want to learn more about the country, this museum is a must.
Carrera 7 No 28-66, +57 1-381-6470, museonacional.gov.co. Open Tuesday-Sunday, 9am-6pm. Admission is 46,000 COP for foreign adults. Entrance is free on Wednesdays from 3-5pm, and the last Sunday of the month.
11. See the Santuario Nuestra Señora del Carmen
The National Shrine of Our Lady of Carmen is a Gothic church located in La Candelaria. The church has a red-and-white striped pattern — both on the outside and inside — making it look like a giant candy cane. Built from 1926 to 1938, the church stands almost 60 meters tall (196 feet) and has some incredible Byzantine and Moorish art.
Cra. 5 No. 8-36, +57 1-342-0972. Unfortunately, opening hours for the interior are erratic.
12. Eat your way around the city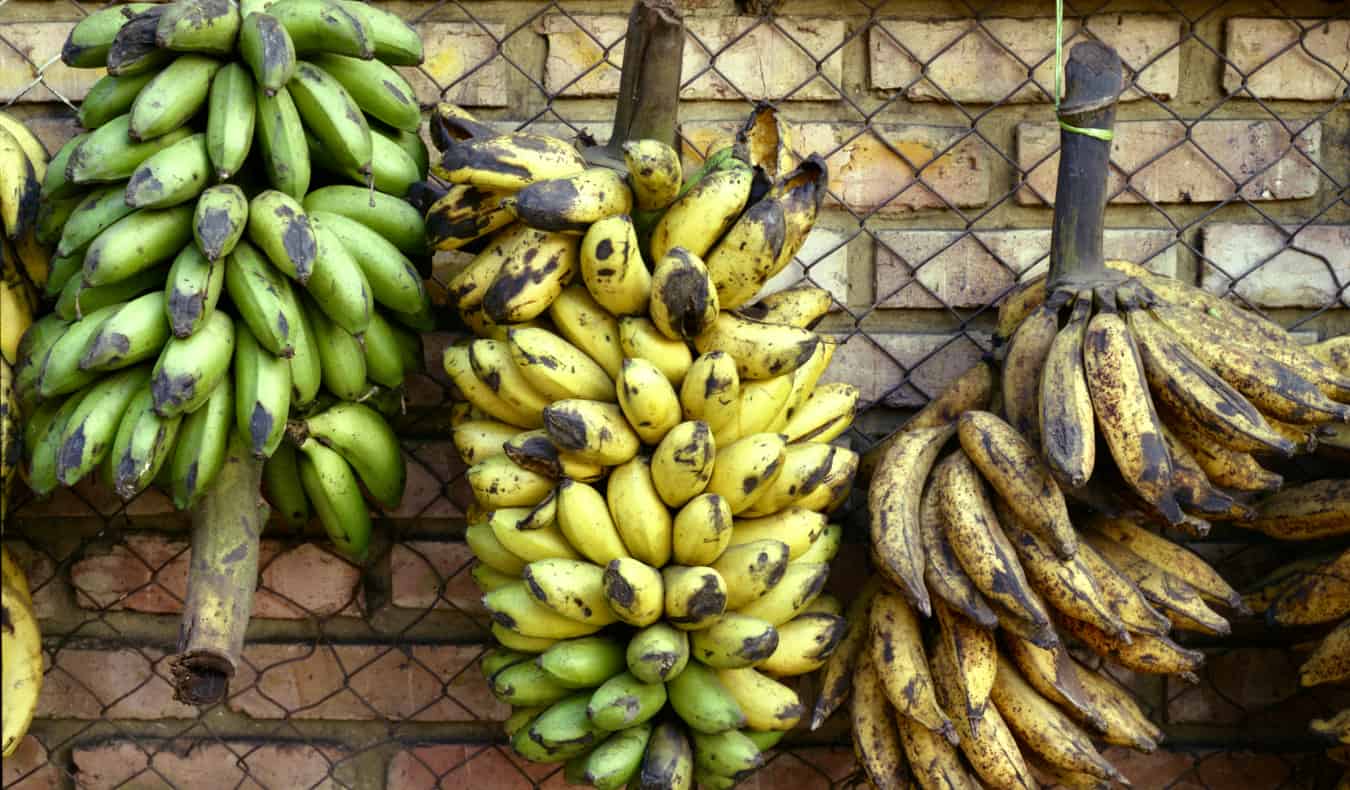 Colombian food is a blend of indigenous, Caribbean, and European traditions. Bogotá is a great city for foodies, with typical dishes from the city including ajiaco (a creamy soup with 3 types of potatoes, corn, legumes, and chicken) and puchero (a meat stew with root vegetables like yuca, squash, and potato). Of course, like in the rest of the country, tasty street snacks like arepas, tamales, and empanadas are plentiful. My favorite places to eat in Bogotá are Mesa Franca, Salvo Patria, El Chato, and Prudencia.
The best way to get a sense of the culinary offerings, though, is to take a food tour. The True Colombian Experience takes you on a food-tasting extravaganza that lasts three hours, stopping at seven different eateries within the La Candelaria neighborhood. It's the best food tour in the city.
13. Sample the local brews
Bogotá (and the country as a whole) has a growing craft beer scene. On this three-hour tour, you'll learn the history of Colombian beer and taste some of the best craft brews in town at a mix of historic and newer, trendy bars and breweries. The tour includes a bottle of beer, 5 pints of beer, plus samples, so it's definitely one for beer lovers! I had a blast and learned a lot.
14. Visit Simon Bolívar Metropolitan Park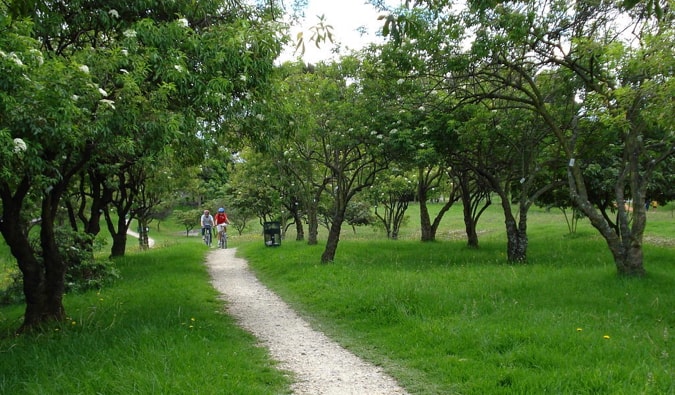 This is one of the most popular parks in Bogotá. Created in 1979, it spans almost 1,000 acres. You can find people exercising, relaxing, or attending concerts here. The park is named after the famous Simón Bolívar, who led the liberation of the region from its Spanish overlords.
Open daily 6am-6pm. Admission is free unless there is a concert or event in progress.
15. Explore Parque 93
This park is in the district of Chapinero, one of the nicer areas of town, known for having some of the best restaurants, nightclubs, and bars in the entire city. The park itself is fairly new, having opened in 1979. It's home to an ongoing rotation of temporary art exhibitions and is a great place to just stroll around or have a picnic. It's more frequented by locals than tourists, so it's a great place to really soak up local life.
16. Visit the Iglesia de San Francisco
Built in the 16th century, this Catholic church is the oldest surviving church in Bogotá. The interior is incredibly ornate, with a beautiful altar that dates back to the 17th century. It's still in use, and you'll likely see some locals praying during your visit, so make sure to dress appropriately and be respectful.
Av. Jimenez De Quesada No. 7-10, +57 1-341-2357.Open Monday-Friday 6:30am-10:30pm; 6:30am-12:30pm and 4pm-6:30pm on Saturdays; and 7:30am-1:30pm and 4:30-7:30pm on Sundays. Admission is free.
17. Explore the Museo Santa Clara
This church was built in the 17th century and is actually one of the oldest in the entire country. It was deconsecrated in the 1960s and converted into a museum by the government. There are over 148 baroque paintings that almost entirely cover its walls, making this one of the most beautifully decorated churches you'll see in Colombia.
Cra. 8 No. 8-91, +57 1-337-6762, museocolonial.gov.co. Open Tuesday-Sunday, 9am-5pm. Admission is 6,000 COP for adults and 2,000 COP for children. Admission is free the last Sunday of the month and every Wednesday from 3pm-5pm.
18. Explore the street art scene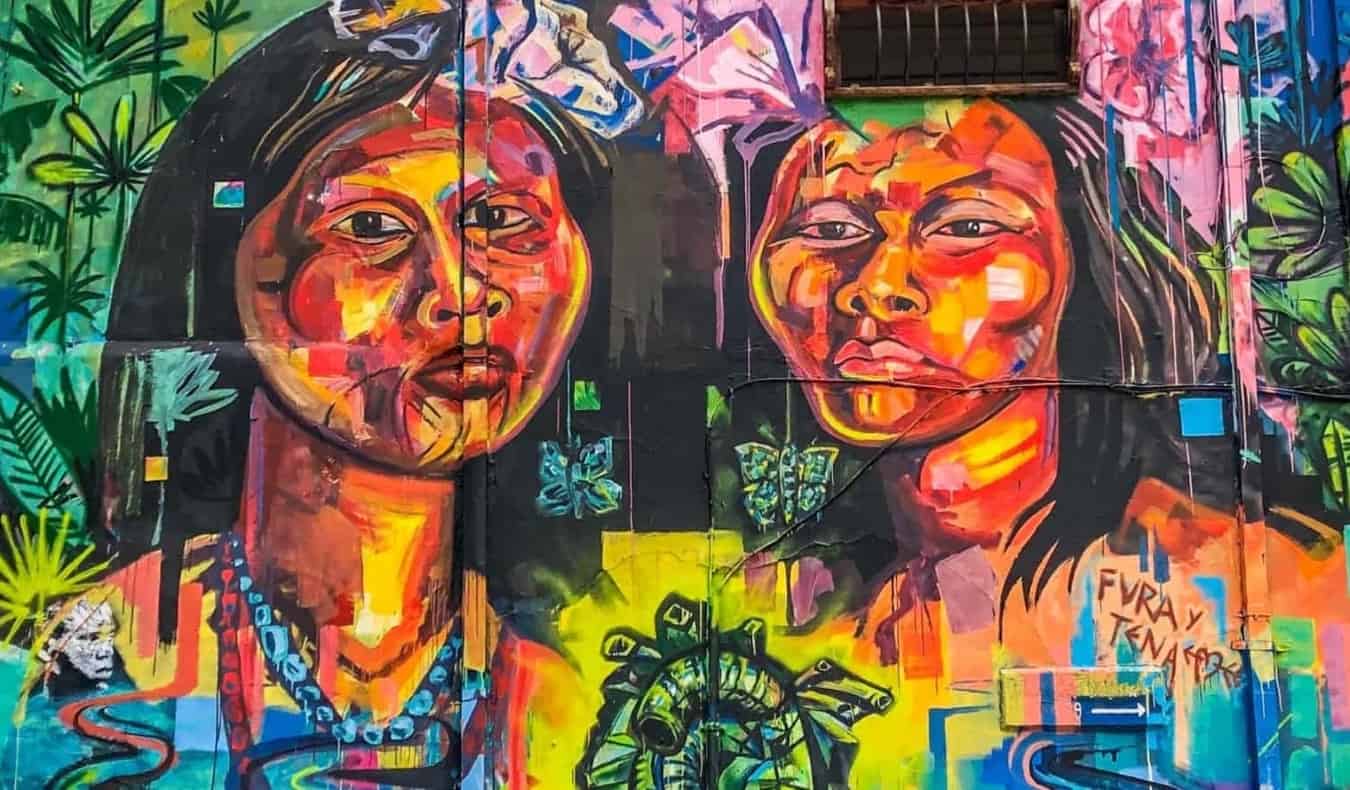 Bogotá is all about its street art. Walk around areas like La Candelaria or Las Aguas area (by the TransMilenio station) and there are tons of beautiful murals. To get the best experience and context, check out Bogotá Graffiti Tour. The tour operates by donation, using the money raised to reinvest in future community art projects.
19. See Bogotá by bike
Exploring a city by bike is a great way to cover more ground, and while it might seem surprising, Bogotá is a pioneer in cycling. Every Sunday since the 1970s, cyclists (and pedestrians) take over the city's streets during La Ciclovía, when 120 kilometers of the city's streets are closed to traffic from 7am-2pm. It's a great way to enjoy the city like the locals do in this beloved institution. You can rent a bike for 15,000 COP per hour, or 100,000 COP for 8 hours.
If you won't be in the city on a Sunday or want a more guided experience, Bogota Bike Tours offers daily tours. You'll visit local fruit markets, a traditional coffee roastery, the bullfighting stadium, the historic center, and many different plazas, parks, and neighborhoods. Tours last around 4 hours. You cover a lot of ground. It's really fun.
20. Grab a snack from La Puerta Falsa
This little shop has been serving locals for over 200 years! La Puerta Falsa (The False Door) is a small restaurant with room for fewer than 20 people, yet the tamales and ajiaco soup have been community staples for generations. If you're looking to try traditional Colombian food, this is the place to go!
Calle 11 No. 6-50, +57 1-286-5091, restaurantelapuertafalsa.inf.travel. Open daily 7am-7:30pm (Sundays until 6pm) though its schedule isn't set in stone.

Day Trips from Bogotá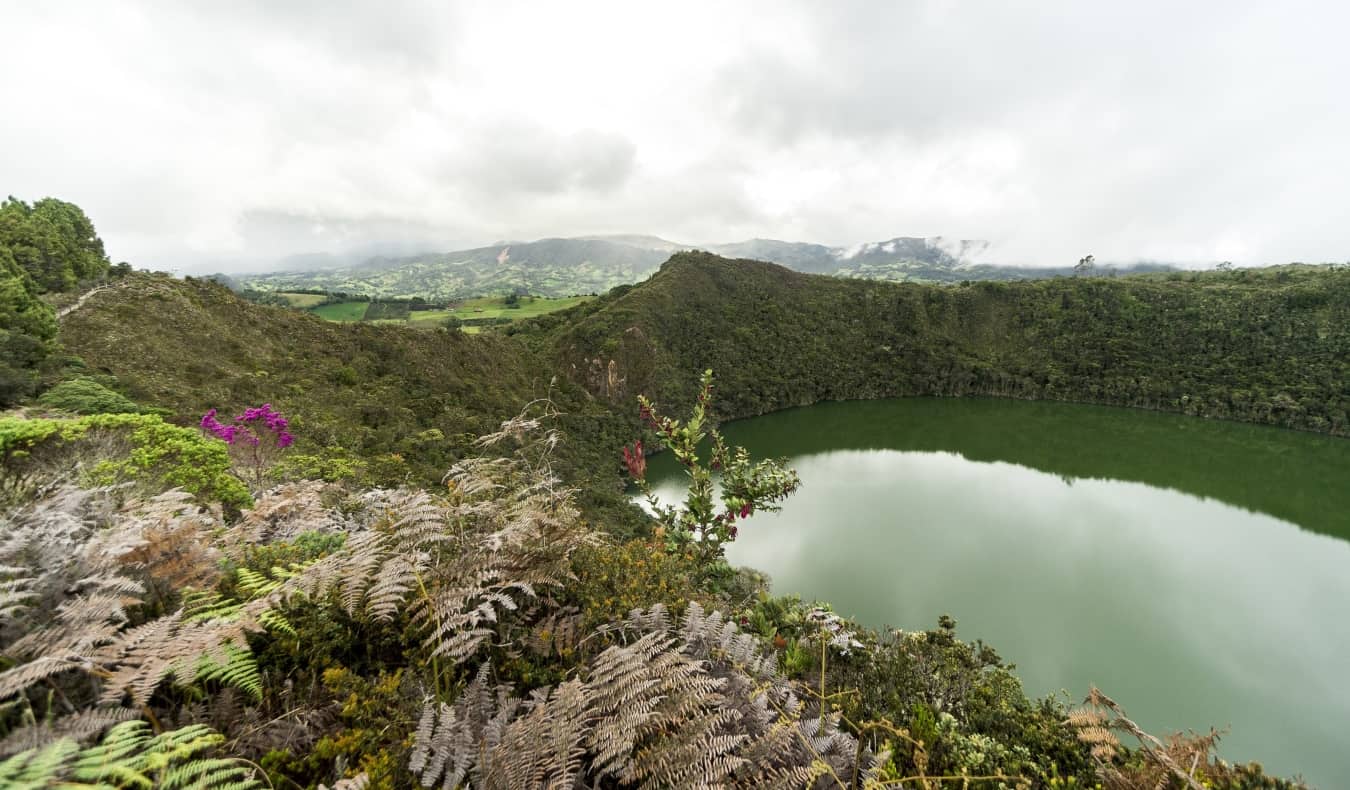 Head to the Laguna de Guatavita (Lake Guatavita)
If you want to take a break from the city and get some fresh air, head out on a day trip to Lake Guatavita. Located around 60 kilometers (37 miles) north of Bogotá, this small lake is a sacred site to the region's indigenous people and is apparently where the rumors of El Dorado originated. There are also hot springs in the nearby town of Sesquilé if you're in need of some relaxation.
Day trips to the area last around 6 hours and vary in price. Many day trips, like this one, combine a trip to Guatavita and the Salt Cathedral in one adventure-filled day! This is one of the most popular activities. It's best to do on a tour because it's hard to get there on your own.
See the Salt Cathedral
Located about an hour's drive from Bogotá in the city of Zipaquirá, the Salt Cathedral is a Roman Catholic church built in the tunnels of an old salt mine. It's 200 meters (656 feet) below ground, making this one of the more unique religious sites in the country, if not the world. Every Sunday, up to 3,000 people attend church services here. Bogotá City Bus runs day trips to the cathedral, including round-trip transportation and skip-the-line entrance.
Parque de la Sal, +57 315-760-7376, catedraldesal.gov.co. Open daily 9am-5:40pm. Admission is 98,000 COP for foreigners, with discounts available for seniors.
Where to Stay in Bogotá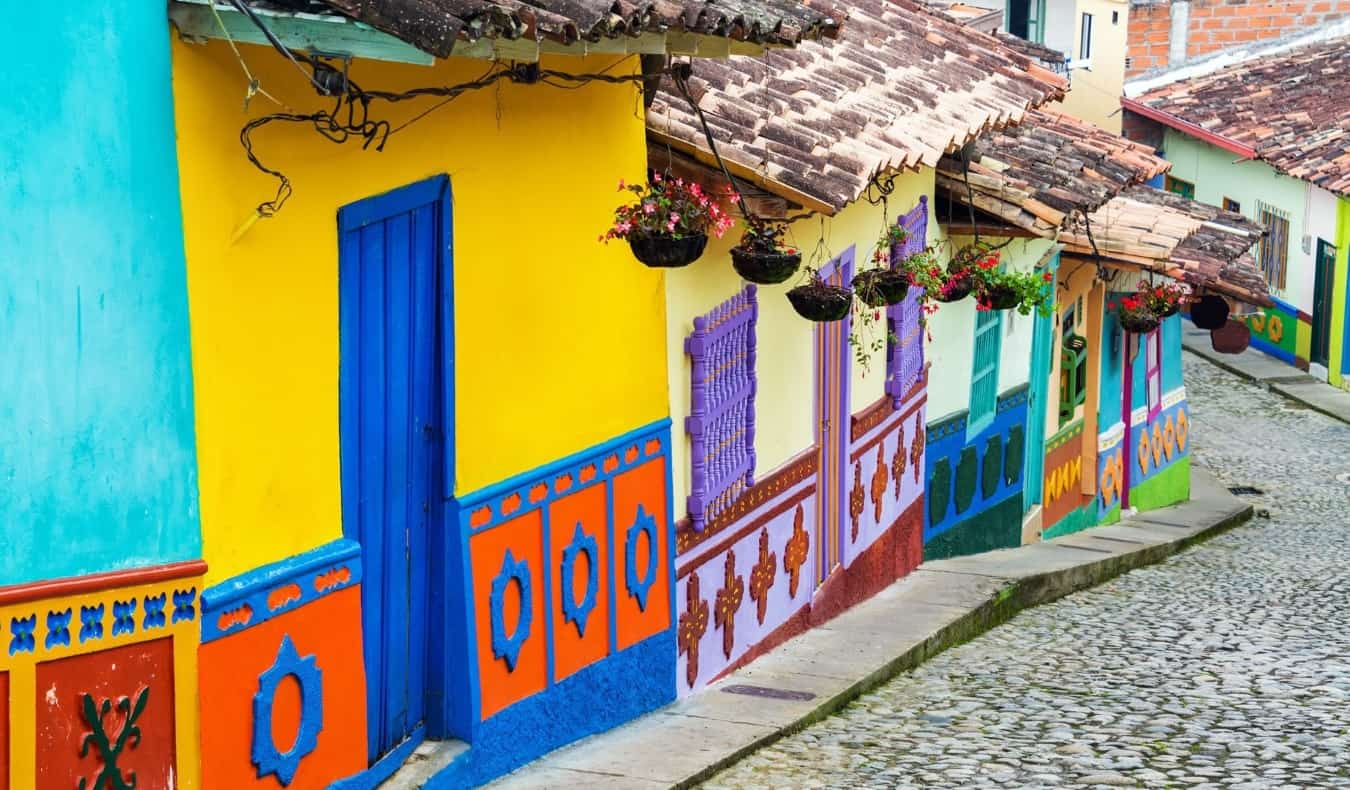 Bogotá is a huge city, and it's divided into different Estratos, or zones. When booking accommodation, be sure to check the area as many parts of the city are unsafe. La Candelaria is the most popular with backpackers. All of the main attractions and sights are quite walkable from here, which saves you money on transportation. It is reasonably safe during the day, though you should use caution at night.
Two areas of the city that are considered safer are Zona Rosa and Chapinero. However, they are both more expensive areas and too far away from downtown to walk to all of the main tourist attractions.
With that in mind, here are some of my suggested places to stay in Bogotá:
Staying Safe in Bogotá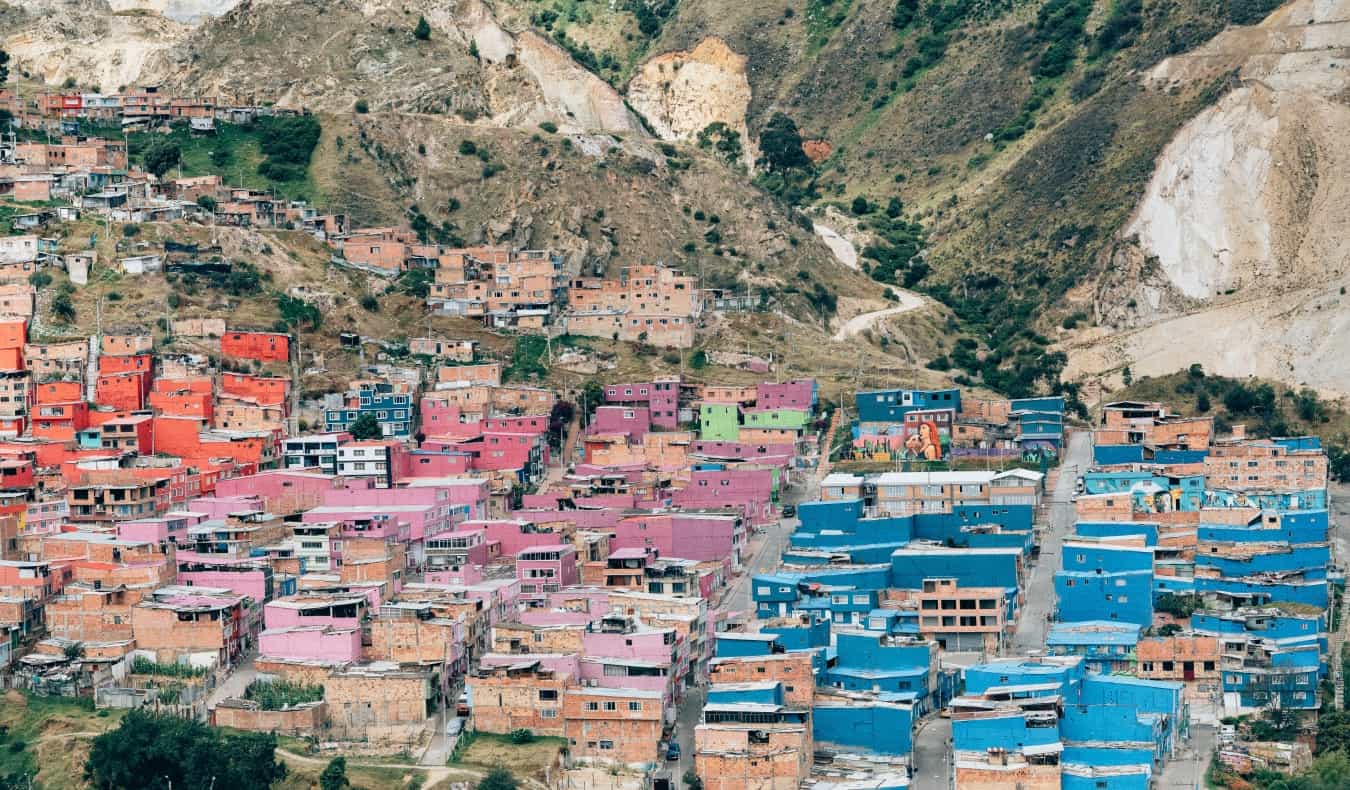 As I mentioned above, some areas of the city are safer than others. Safety is one of the biggest concerns for people when planning a trip to Bogotá. "No dar papaya" is a common saying in Colombia, which translates as "don't give papaya." It means don't give anyone the chance to steal your stuff by walking around and being flashy or reckless. You need to be cautious here.
That means no walking around with your phone out, never keeping anything in your pockets (especially when on public transport), and always keeping hold of your bag. If you are eating out, keep your backpack on your lap or place your foot or a chair leg through your strap. It is very common for someone to try to do a bag swap (meaning they swap their empty bag for yours).
For more in-depth coverage of how to stay safe in Colombia, check out this post that answers some frequently asked questions and concerns.
Also, make sure to purchase good travel insurance. I recommend Safety Wing.
***
It's true that Bogotá is an "edgy city" where you have to be more alert than in other places. Yet I loved the atmosphere and vibe of the city. It had grit (kind of like Naples, Italy). I loved the art, the museums, and the food. The city has so much to offer travelers. You can really fill a lot of time between all the sights, tours, parks, and activities. I would have liked to stay longer in Bogotá if I could.
I'd budget three to five days for your visit. It will definitely be worth it.
Book Your Trip to Colombia: Logistical Tips and Tricks
Book Your Flight
Use Skyscanner to find a cheap flight. They are my favorite search engine because they search websites and airlines around the globe so you always know no stone is left unturned.
Book Your Accommodation
You can book your hostel with Hostelworld as they have the biggest inventory and best deals. If you want to stay somewhere other than a hostel, use Booking.com as they consistently return the cheapest rates for guesthouses and cheap hotels. Two of favorite places to stay are:
For all the best neighborhoods and more suggestions on where to stay, here's my detailed neighborhood breakdown of the city.
Don't Forget Travel Insurance
Travel insurance will protect you against illness, injury, theft, and cancellations. It's comprehensive protection in case anything goes wrong. I never go on a trip without it as I've had to use it many times in the past. My favorite companies that offer the best service and value are:
Looking for the Best Companies to Save Money With?
Check out my resource page for the best companies to use when you travel. I list all the ones I use to save money when I'm on the road. They will save you money when you travel too.
Want More Information on Colombia?
Be sure to visit our robust destination guide on Colombia for even more planning tips!