I associate Seattle with three things: Starbucks, music, and hippies. It's a city filled with coffee shops, where musicians and artists entertain while residents talk about saving the world. It's a liberal city, it's an alternative city, but it's also a cool city. It's clean, sits next to water and nature, and has great food and an exciting nightlife.
I expected all of these things when I went to Seattle. Over the years, I have heard people talk about Seattle and its charm. Seattle had to be cool, I thought. After all, everyone loves it.
When I went to Seattle last month, I discovered that it wasn't what I thought it would be. I thought Seattle was a great place to visit, but I wouldn't live there. For me, the measure of a truly amazing city is if I could see myself living there. I could live in many cities, but I don't think that I would want to live in Seattle. It was too small for me.
However, that's not to say I don't enjoy my time there. I found that there was a lot to do and some amazing food to dine on. These are some of the things I enjoyed:
Pike Place Market – Pike Place Market is located right downtown near the waterfront and is one of the major "things to do" here. The stores open early, and you'll find people selling all sorts of fish, produce, food, jams, flowers, and gifts. The market is filled with people all day, so expect crowds no matter when you go. There is some great food, but expect to pay more than you would elsewhere in the city. Don't forget to see the famous fish throwers. It's fun to watch!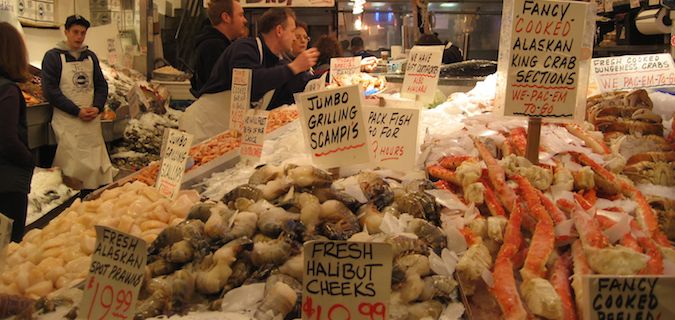 Woodland Park Zoo – Woodland Park Zoo? which spreads across 65 acres, has more than 1,000 animals from 290 species. While I am not a big fan of zoos (I don't like caged animals), this zoo does a nice job of treating the animals better and providing detailed educational information to visitors.
Mount Rainier National Park – There are hundreds of miles of hiking at this national park, located about 90 miles from the city. You'll find the best weather in the summer, but the fall foliage is something not to be missed.
Space Needle – Probably the city's best-known landmark, the Space Needle offers breathtaking views of the city and surrounding mountains from the top. The elevators travel at 800 feet per minute, which is as fast as a raindrop falls to earth. There's also a rotating restaurant at the top, offering the same beautiful and panoramic view.
Seattle Art Museum Downtown – A 48-foot Hammering Man sculpture marks the outside of this vast museum. There are a lot of good art exhibits, with a heavy focus on modern art. There are always special exhibits (when I was there, it was Picasso). Try to visit its special museum nights when the museum offers live music, drinks, and interactive art activities. It's a better way to spend an evening than at the bar.
Japanese Garden – I love Japanese Gardens, and I was impressed by the one in Seattle. It's peaceful, with a waterfall, koi fish, turtles, rock gardens, and bonsai trees. It's a good place to relax and contemplate life. It's located in the Arboretum on the east side of the city.
Ballard Locks – The locks provide a link for boats between the Puget Sound and the Ship Canal. Locals and tourists alike watch the parade of boats pass through as the locks' water levels are adjusted. I highly recommend the fish ladder, which allows salmon to pass between the fresh and salt water. There are glass panels below the water line to watch the fish as they swim upstream. It's pretty cool.
Pioneer Square – Located right near the Underground Tour, Pioneer Square is where Seattle began. You'll find old Gold Rush buildings, big squares, and a lot of history. I liked seeing the old brick buildings and salons. The area has a certain old-time charm to it. And supposedly, the best coffee in town is at the nearby Zeitgeist coffee shop.
Boeing Museum of Flight – If you like planes, this place is a must see. You'll see planes through the ages and get a chance to see the original Boeing "factory." You can see an original Air Force One too. Keep in mind, this place is located south of the main part of the city.
Fremont Troll – Located under the north side of Aurora bridge (where else would you find a troll?), this troll eating an original Volkswagen Beetle troll was commissioned as an art project by Fremont. Visitors are encouraged to climb on the troll and have fun.
The Underground Tour – I heard mixed things about this tour but I really liked it. You learn a lot about the early history of the city, how it was constructed, and what life was like back in the 1800s. You're taken to the original sidewalks BELOW the current ones when original Seattle was 14 feet lower. The jokes may be cheesy, but I highly recommend it for the history lesson you get.
If you are looking for cheap food, head to Chinatown for dim sum and cheap dumplings.
If you want to tour the bay but not pay a lot of money, take the ferry to Bainbridge Island. It's only $8.20 for walk-ons aged 19-64, and you to see part of the harbor without paying the huge price of the tour boats.
While I don't get all the hype about Seattle, it's a good city. You should visit because there's great food, it's beautiful and clean, and it's set right between the mountains so it's perfect for nature lovers. While the city didn't live up to the hype, I'd love to come back one day and explore more. After all, every city deserves a second chance.