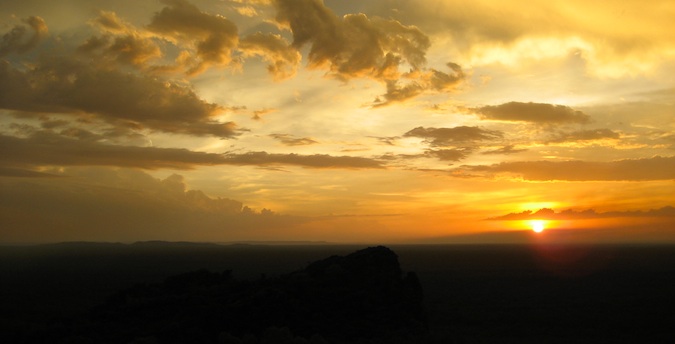 Updated: 12/04/19 | December 4th, 2019
As I lay on a beach of the island of Ko Lipe in Thailand, my Kiwi friend Paul turned to me and asked nonchalantly, "Backgammon?"
"Of course," I replied. "What else is there to do?"
We'd play for hours before heading to our favorite restaurant in the "town center." The owner would teach us Thai and the local Chao Lay language while laughing at our inability to handle spicy food. We'd laugh along with him, share some jokes, and head back to the beach.
Then, at night, we'd walk barefoot to the island's main beach and, with the generators buzzing in the background, drink and smoke with our other friends into the wee hours of the morning.
When the generators turned off and we only had starlight to light our way, we would bid each other good night until morning, when we would do it all over again.
When I first started traveling, I imagined myself as Indiana Jones on the quest for the Holy Grail (definitely not some weird crystal-skull space aliens like in the last movie). My Holy Grail was that perfect travel moment in some off-the-beaten-path city no one had ever visited before. There, I'd have a chance encounter with a local that would give me a window into the local culture, change my life, and open my eyes to the beauty of humanity.
In short, I was looking for my version of The Beach.
The Beach was a book published in the 1990s about backpackers in Thailand who, fed up with the commercialization of the backpacker trail in Asia, sought out a more authentic, pristine paradise.
It crystallized what backpackers imagine themselves doing.
Ko Lipe was an island filled with banana pancakes, Wi-Fi, and tourists. It wasn't that place no one had ever heard about, but it was my paradise. Just off the tourist trail enough to be remote but still on it enough where I'd have some modern amenities.
To me, The Beach exists. It's not a particular place or destination. It's a moment in time when complete strangers from opposite ends of the world come together, share memories, and create bonds that last forever.
You find those moments constantly when you travel, and when you do, you begin to realize what travel has been trying to teach you from the beginning:
No matter where you are in the world, we're all really the same.
And that simple realization is the most exciting "Aha!" moment you can ever experience.
After my trip to Costa Rica, my mind couldn't stop thinking about elsewhere. Elsewhere was a place of foreign lands and people.
Of hiking.
Of discovery.
Of cafes laughing with new friends.
Of freedom.
Of unencumbered possibility.
My current life was a prison. A prison that kept my new found uncaged spirit confined to routine and dread. I had seen the light in Costa Rica. Out there in the world, people were repeating my adventure while I entered data into Microsoft programs and scheduled calls and meetings for my boss.
If only I was out there in my mythical elsewhere, my life would be better and more exciting.
But traveling around the world has taught me that the grass on your neighbor's lawn is the exact same shade of green as your own.
The more you travel, the more you realize that daily life and people around the world are exactly the same.
Everyone wakes up, worries about their kids, their weight, their friends, and their job. They commute. They relax on the weekend. The go grocery shopping. They listen to music and love movies. They laugh, they cry, and worry just like you.
How they do these things may be different but why they do them isn't.
Humans are the same no matter where you go in the world.
Local culture is simply how different people do things. I love how the French obsess over wine, the Japanese are so polite, Scandinavians love their rules, Thais seem to have a clock that is forever 20 minutes late, and Latin cultures are passionate and fiery.
That is culture. That variety is why I travel.
I want to see how people live life around the world, from the farmers on the Mongolian steppe to the office workers in fast-paced Tokyo to the tribes of the Amazon. What's the local take on the mundane stuff that I do back home?
Bill Bryson once said we travel to watch with excitement people doing the mundane stuff we do back home.
I think he's right.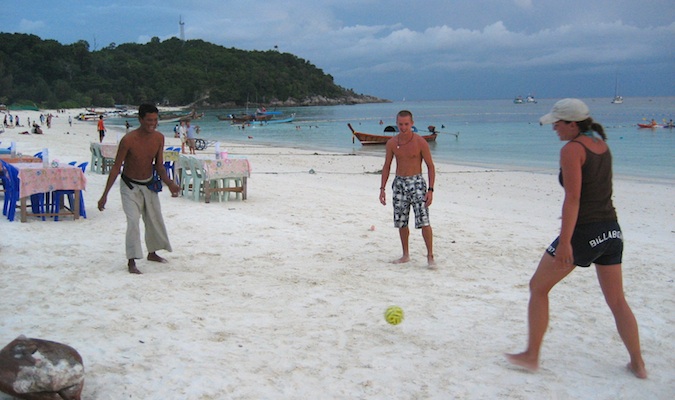 We may want to believe that the world is nonstop excitement everywhere but where we are — but it's not.
It's the same.
I used to live in Bangkok teaching English. While I had flexible hours, I still dealt with commutes, bills, landlords, wearing suits to work, and everything else that comes with an office job. I got together with friends after work for dinner and drinks and did it all over again the next day.
There I was, continents away from home, and I was simply living my 9 to 5 all over again. It felt different to me because it was in a new place — but, as I reflect on it now, it was essential the same thing but different background.
And all the locals around me imagined life back in the United States as exciting as I imagined life in other countries.
The day-to-day life of people halfway across the world is no different than yours.
You'll find people doing things differently wherever you are. Sure, it's fun eating on the Seine, sailing the Greek islands, or racing a motorcycle around Hanoi. But locals aren't doing that every day. They're simply living their lives (I mean think of how often you're a tourist in your own town? Not often I bet).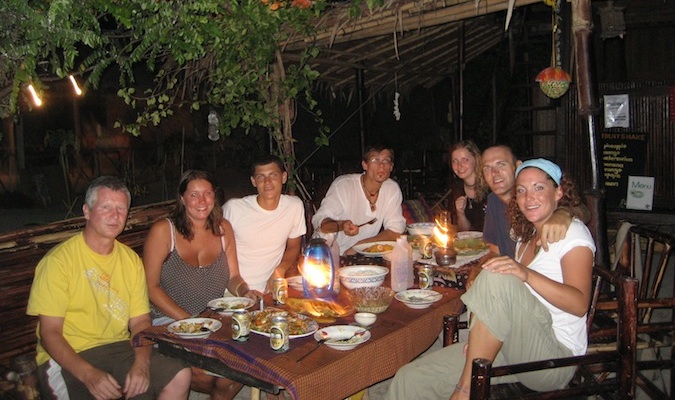 When you realize how alike our lives are, you realize we're all in this together. You no longer see people as some "other," but instead recognize yourself in them — the same struggles, hopes, dreams, and desires you have, they have for themselves.
That's the most important lesson I've learned after ten years as a nomad.
And so, when an interviewer asked me last week about the greatest thing traveling the world has taught me, my mind instantly raced through all those moments on Ko Lipe, and without hesitation, I replied:
"We're all the same."


Book Your Trip: Logistical Tips and Tricks
Book Your Flight
Find a cheap flight by using Skyscanner. It's my favorite search engine because it searches websites and airlines around the globe so you always know no stone is being left unturned.
Book Your Accommodation
You can book your hostel with Hostelworld. If you want to stay somewhere other than a hostel, use Booking.com as it consistently returns the cheapest rates for guesthouses and hotels.
Don't Forget Travel Insurance
Travel insurance will protect you against illness, injury, theft, and cancellations. It's comprehensive protection in case anything goes wrong. I never go on a trip without it as I've had to use it many times in the past. My favorite companies that offer the best service and value are:
Want to Travel for Free?
Travel credit cards allow you to earn points that can be redeemed for free flights and accommodation — all without any extra spending. Check out my guide to picking the right card and my current favorites to get started and see the latest best deals.
Need Help Finding Activities for Your Trip?
Get Your Guide is a huge online marketplace where you can find cool walking tours, fun excursions, skip-the-line tickets, private guides, and more.
Ready to Book Your Trip?
Check out my resource page for the best companies to use when you travel. I list all the ones I use when I travel. They are the best in class and you can't go wrong using them on your trip.