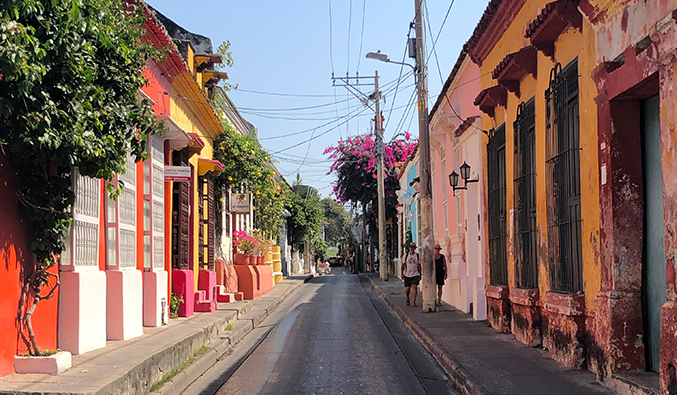 Updated: 9/15/22 | September 15th, 2022
During its narco heyday, Cartagena was considered the only "safe" spot in Colombia for tourists. It was where foreigners vacationed, cruise ships docked, and rich Colombians built their vacation homes.
Today, this colorful colonial city remains one of the most popular destinations for tourists and Colombians alike. Rich Colombians — and now foreigners — still build vacation homes here, cruise ships still dock, and the influx of tourists has grown due to an increasing number of direct flights from North America and Europe.
But out of all the stops on my Colombian tour, Cartagena was the one I was least excited about.
As one of the best-preserved and historic cities in the country, I knew I would love its narrow colonial streets, ancient walls, grand plazas, and Spanish-style houses with their giant doors and wooden terraces, not to mention the restaurants whose tables spilled into busy plazas.
But I was not so eager to be in such a touristy, crowded city for five long days. However, a friend was flying down for a quick vacation and he was not keen to go elsewhere on a long bus. So I would be stuck in this tourist magnet.
Cartagena turned out to be everything I thought it would be.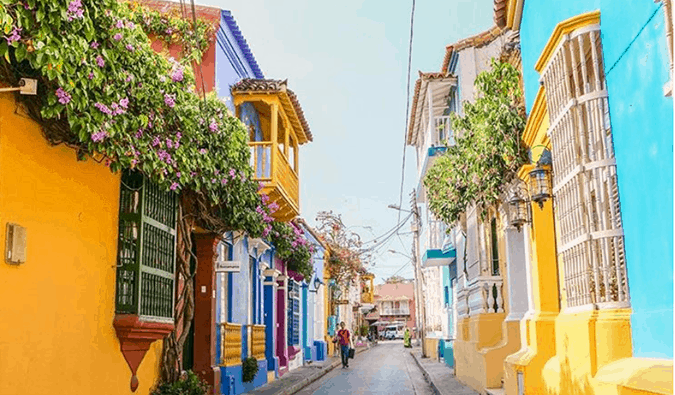 It had the kind of heat and humidity that melted you in place, it was very expensive, and it was filled with throngs from cruises, tours, and bachelor and bachelorette parties, as well as gringos trying to score drugs (and shady streetside pushers happy to oblige).
Throw in packed streets and too few interesting activities and I was ready to get out of there as soon as I could. (Seriously. After a couple of museums, a walking tour, and a visit to a beach or two, you've pretty much seen the city.)
But when it did come time to leave, I found myself downright crestfallen.
I had grown to really love Cartagena.
In the midst of all those touts and tourists, I had found an architecturally beautiful and vibrant city. A place on whose edges the crowds disperse and lovely little cafés appear. A city with cutting-edge restaurants, lively music, town squares full of life, and funky bars.
Early in the morning, before the heat of the day drove me inside and the cruise ships let their armies loose, I'd wander the empty streets of the Old Town, taking copious pictures as the light dangled perfectly between the streets. I got my tea and breakfast at the same shops. Waved hello to locals sitting in the parks. Busy Cartagena seems like a quiet town at 8am.
In Getsemani, the backpacker area, I found colorful homes, squares filled with vendors, cheap eateries, and heaving bars. I'd sit at night with my street food, watching bands and performers, including a duo who flawlessly reenacted "Thriller."
And in Bocagrande, a Miami-style neighborhood for the rich and famous, I saw how the well-to-do lived, enjoyed some of the better beaches in the area, and strolled along its long promenade.
My friend and I dove into the city's fabulous gastronomy scene, one of the best in Colombia, and gorged on delicious ceviche, empanadas, brick-oven pizza, and traditional Colombian food. (It was all really impressive for such a small city. See the bottom of the post for recommendations.)
In beautiful colors that must be mandated by the government, the vibrantly painted buildings and heavy doors with shapes and designs that could inspire their own blog gave Cartagena an upbeat feel.
Spending extra time doing nothing allowed me to linger a bit longer, explore some hole-in-the-wall shops, sit in squares with a beer, and head over to the least touristy beach possible: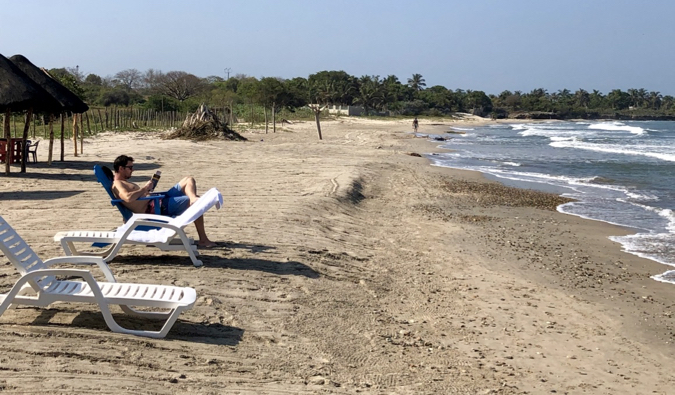 (It was just me, my friend Ryan, and some kids on a boogie board.)
I had fallen in love with Cartagena because there wasn't much to do there. I couldn't fill my days with activities. All I could was just chill and relax.
Sure, the crowds couldn't be ignored, since I always had to jostle for space, but as I drank tea, ate well, strolled the picturesque city walls, and made a local friend who took me out with his family and friends, I thought about how there's always another side to a destination.
Whenever you visit somewhere, there always seems to be an area that most travelers never enter, as if an invisible barrier keeps them from going just one step farther.
But it's in that extra step that we find the "local," non-touristy parts of town, away from the crowds.
So too is there a time barrier. As travelers, we often swoop in, take photos, see the attractions, eat the food, and leave claiming some sort of deeper knowledge. We see a snapshot of life and create a complete history from that one image.
I heard it from many people before I visited:
"Cartagena is an overpriced, touristy city. It's good for just a few days. See it, leave it."
On one level, that is true. It is overpriced. It is touristy. And, if you're in a rush, you don't need a lot of time to check off the boxes.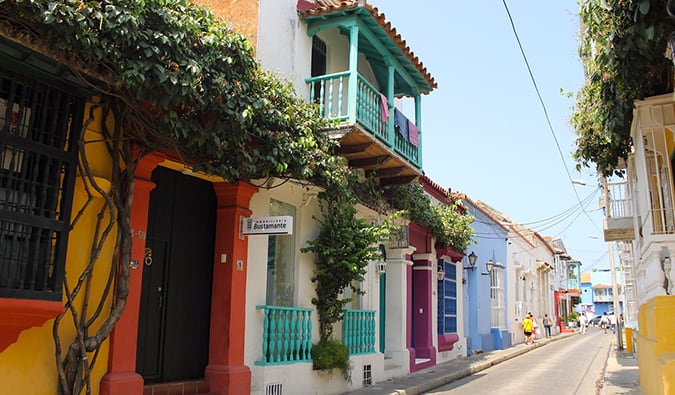 But, beneath the layers, like all cities, there was a non-touristy version.
Like the invisible line that keeps tourists in their zone, all I had to do was wait out the invisible time barrier to see it. Suddenly, the switch was flipped, the doors opened, and Cartagena revealed some of its secrets.
And when I stopped trying to be a tourist looking for sights and accepted for the city as it was, Cartagena became a place I couldn't get enough of.
If I had only stayed a few days, I probably would have felt about the city the way most others seem to.
But when you stop putting cities into the pre-framed images you have for them, they tend to surprise. Those extra days just allowed me to enjoy the city for what it was: somewhere to relax, eat, and slow down.
Recomended places to eat
Carmen – Very, very high-end gastronomy. This place is not cheap, but it was the best meal I had in Colombia. I can't recommend it enough. Come for lunch, when you won't need a reservation.
La Mulata – A nice little café for lunch.
Demente – Awesome pizza and cocktails in a rustic setting.
El Punto – Across the street from Cafe Stepping Stone, this hole-in-the-wall restaurant serves traditional Colombian food at dirt-cheap prices.
Don Juan – Another high-end dinner restaurant. If you're looking for something classy that serves good, solid food, check it out.
La Cevichería – Bourdain put this spot on the map as having the best ceviche in the city. I don't know if it's true, but everything here was top-notch. Come early, as it gets super busy the second it opens.
Book Your Trip to Cartagena: Logistical Tips and Tricks
Book Your Flight
Use Skyscanner to find a cheap flight. It is my favorite search engine because it searches websites and airlines around the globe, so you always know no stone is being left unturned.
Book Your Accommodation
You can book your hostel with Hostelworld as they have the biggest inventory and best deals. If you want to stay somewhere other than a hostel, use Booking.com as it consistently returns the cheapest rates for guesthouses and hotels.
Don't Forget Travel Insurance
Travel insurance will protect you against illness, injury, theft, and cancelations. It's comprehensive protection in case anything goes wrong. I never go on a trip without it, as I've had to use it many times in the past. My favorite companies that offer the best service and value are:
Looking for the Best Companies to Save Money With?
Check out my resource page for the best companies to use when you travel. I list all the ones I use to save money when I'm on the road. They will save you money too.
Want More Information on Colombia?
Be sure to visit our robust destination guide to Colombia for even more planning tips!