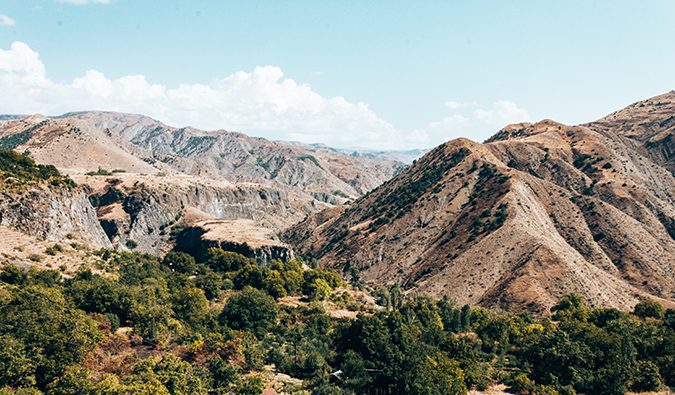 Last Updated: 2/2/2020 | February 2nd, 2020
I never got to Armenia when I was in the Caucasus. I was bummed because there so much history there. Next trip, right? Well, Carine and Derek love Armenia so much, they've visited four times over the past few years. So, in this guest post, they are going to give us their best tips for saving money when you visit Armenia!
Armenia is one of the oldest nations on earth. Its roots date back to 860 BCE, and its capital, Yerevan, just celebrated its 2,800th anniversary, making it one of the oldest continuously inhabited cities in the world. The nation has a very rich culture, a ton of beautiful places to explore, amazing food, and some of the most hospitable people you've ever met. Having been to Armenia four times, we've found it to be one of our favorite places on earth.
The crowds have not made it yet to this beautiful part of the world, which is why we often hesitate to share our love for Armenia with others (we want to keep it our little secret as a budget-friendly destination).
But Matt convinced us otherwise, so here we are, sharing our 19 best tips for saving money in the country:
1. Walking around the cities
The cities in Armenia are very walkable. They're easy to navigate and well marked. You can even get from one end of the capital Yerevan to the other in 30-40 minutes. Walking is also the cheapest and healthiest way to get around. So bring comfy shoes — they will come in handy!
And if you get lost, just ask the locals. They're so helpful and love showing their city off. Don't be surprised if they end up walking with you to your destination and inviting you over for coffee and cake as well!
2. Take a free walking tour in Yerevan.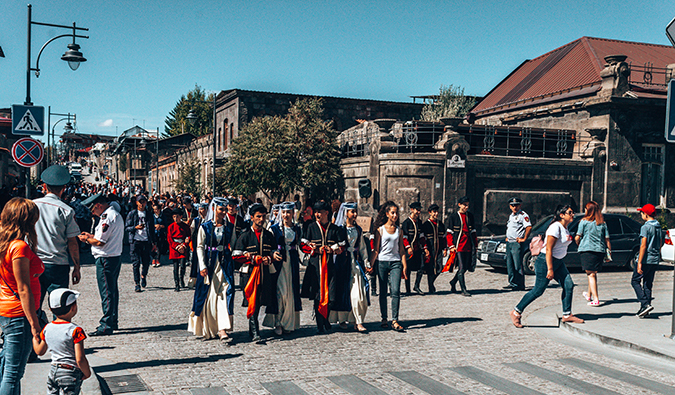 There is so much to see and do in Yerevan. The best way to get a taste of it is to join a walking tour with Yerevan Free Walking Tours. The tour lasts about three hours, covering almost 2.5 miles (4 kilometers) and about 25 points of interest. To join, just meet at 5 pm (17:00) by the entrance to the History Museum on Republic Square.
3. Use the GG or Yandex apps instead of taxis.
Although there are taxis, the fastest way to get around is to use the GG or Yandex apps. Like Uber, they call on drivers in your area to pick you up. GG only works in larger cities at the moment.
Rides within Yerevan will cost you about $3-4 USD, depending on how far you're going. Rides to the airport will set you back about $6.
If you want to call on a regular taxi, make sure you agree on the price before getting in, especially at the airport. This is where regular taxis will most often try to charge you double what you'll pay on GG or Yandex. Sure, it's convenient not having to wait for your ride to get there, but is it really worth the extra money? Probably not. Offer to pay them the same thing GG would charge, plus an extra 100 AMD (or dram) ($0.21 USD) to avoid the wait.
A little note about cars in Armenia: Although they surely had seat belts at one point in time, they are not frequently used. Don't be surprised if there is no buckle or seat belt at all. Especially, don't be surprised if the driver just shrugs off your comment about it!
4. Hop on a marshrutka to get around Yerevan.
One of the cheapest ways to get around the larger cities is by taking marshrutkas (minibuses). Cities are working on putting together a map of the various routes, but for now, you can use the A2B Transport app on Android, or if you know Armenian, check out Marshrut.info (although your browser may offer to translate the page into English, too).
Riding a marshrutka costs 100 AMD ($0.21 USD), which you pay before getting off, or when the driver asks you. To get off at your stop, just say kangnek (kang-nek), which means 'Stop here'. The bus will pull over at the next stop to let you off.
Also, here are a few tips to help you enjoy the ride: Sit in the front when you can; you'll be more comfortable. If you take one of the minivan marshrutkas, you open and close your door. Just make sure you don't slam the door too hard, or you'll hear it from the driver. Sometimes seating will get tight, so you may need to stand. Also, don't be surprised if women ask you to hold on to their purses, groceries, or babies if you do have a seat — although the nice thing to do is to offer them yours!
5. Take a bus between cities.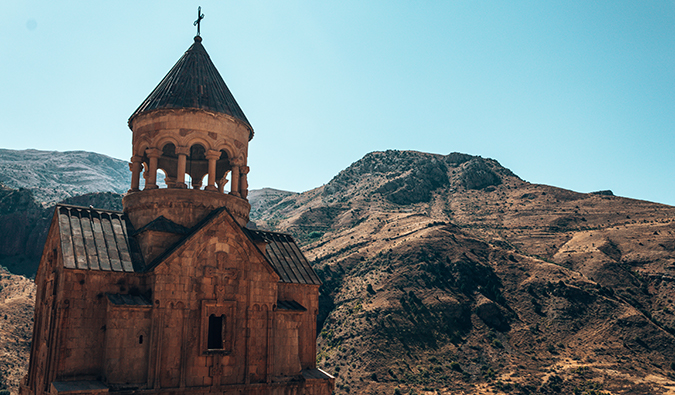 Although tourism infrastructure is slowly being built, it's still quite easy to get around the country, even if most people don't speak English.
There are larger buses that go from city to city, though most are to and from Yerevan. These are also called marshrutkas. Costs vary between $0.50 to $5.00 USD depending on where you're going. Your money will be collected before the marshrutka leaves.
Just know that there's no actual bus schedule: they usually head out to larger cities (Gyumri, Vanadzor, Dilijan) when they're full. If not, they leave on the hour — just don't expect them to be very timely! You can grab one at any of the three bus stations in Yerevan.
On your ride, it may happen that they may need to refill the marshrutka with gas. Many vehicles in Armenia run on compressed natural gas and propane, so during the fill-up, you will be asked to get out of the vehicle as a safety precaution.
6. If you're in a rush to get to a new city, take a shared taxi.
You can also take a shared taxi, which usually leaves from Yerevan's main bus station. You'll split the fare between 3-4 people. There is no schedule for departures. Again, they wait until the taxi is full before they head out.
Costs vary between $5 and $10 USD per person, depending on where you're going. You can negotiate with the driver, though. If each person pays a little more for their fare, they won't wait to fill up to go.
Our tip here would be to find friends at your hostel that want to go to that same city. They'll help you fill that taxi up faster.
7. Just hitchhike to get around (and make friends).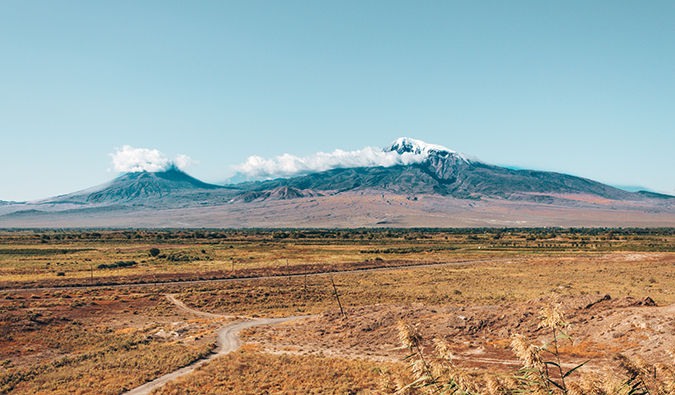 This is definitely the cheapest and most fun way to go! Even locals recommend it to get around. They call it avtostop, which comes from the Russian word for hitchhiking. When traveling outside of Yerevan, it can often be easier to hitchhike between villages than to wait for a marshrutka. However, it's not the most time-conscious way to do it.
You'll notice that Armenians are very friendly, generous, and hospitable, so they're very willing to pick up strangers looking for a ride on the side of the road. However, if you end up making friends with the driver, they will insist you come over for drinks and food before they drop you off at your desired destination. If you want, you can try and tip the driver, but chances are, they'll kindly refuse.
A few tips here to ensure safe and easy travel: We recommend you look clean, travel in groups of two or three people, and to have a mixed-sex group. Also, women shouldn't be offended if the driver (likely a male) only speaks to the men of the group! Armenia is still a very traditional country.
8. In Yerevan, take the metro.
Yerevan's metro system is little known to visitors, but it is displayed on Google Maps and is one of the best ways to get around the city. It's also one of the things residents of Yerevan are very proud of. The Karen Demirchyan Yerevan Metro covers 2 miles (13 kilometers) and has about 10 stops. Tickets cost 100 AMD (or $0.21 USD), so it's really cheap to get from one end of the city to the other. In the summer months, it's also the coolest mode of transportation.
There is no metro card to speak of. Simply go to the counter and exchange your money for a token to get you through the gate. Also note that for some odd reason, you're not allowed to take pictures in the metro, even though most stations are beautifully built.
9. Hostels and homestays are your best bet for cheap short-term stays.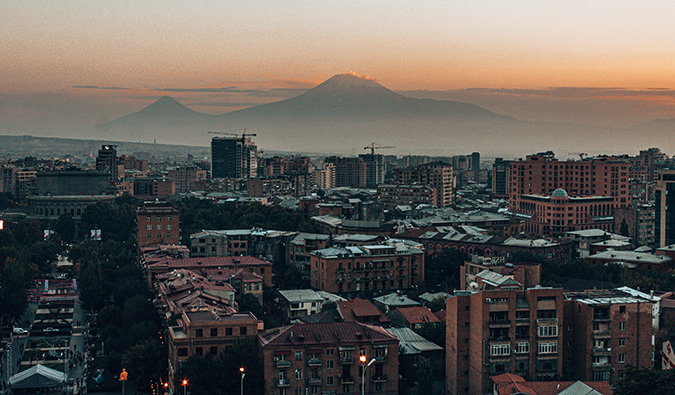 If you're on a tight budget and don't mind sleeping in large, 20+-bed dorms, there are spots available in Yerevan for as little as $3 USD, slightly out of the center of Yerevan. If you want a smaller dorm, around four to six people, expect to pay about $15 USD per bed. These types of dorms are closer to the city center. At that price, certain hostels even have private rooms available.
Armenia is also a great place to do a homestay. If you want to connect with residents on a different level, we highly recommend doing this. It's one of our favorite ways to get to know the culture and to experience how locals live. The family you choose will treat you like one of their own, hence feeding you like crazy. We would especially recommend this in smaller towns, where you can actually learn a lot about life outside of Yerevan.
10. Airbnb is a great option for longer stays.
Airbnb is quickly growing in Armenia, especially among expats who rent out their places during the months they're not around. You can find great options in the center of Yerevan for $40 USD or less. This will give you access to an entire apartment with a kitchen, which is a great way to save money as well. You may even be able to negotiate the price if you're staying for longer periods of time.
11. Couchsurfing is great for if you're on a super tight budget.
With such hospitable people, it's not surprising to see tons of great options for Couchsurfing, mainly in Yerevan. If you like staying with a local, this is one of the best options. Just don't be surprised if your host ends up adopting you at the end of your visit!
12. Visit Armenia in the shoulder seasons for the best pricing.
The busiest time to visit Armenia is during the summer. June to September are when you can expect to see crowds and high prices. However, if you go to Armenia in April or May or the end of September through mid-November, the crowds will have subsided, and prices will drop. This is when you can find cheaper accommodations, and even negotiate prices for longer stays.
13. For cheap eats, look for typical Armenian meals.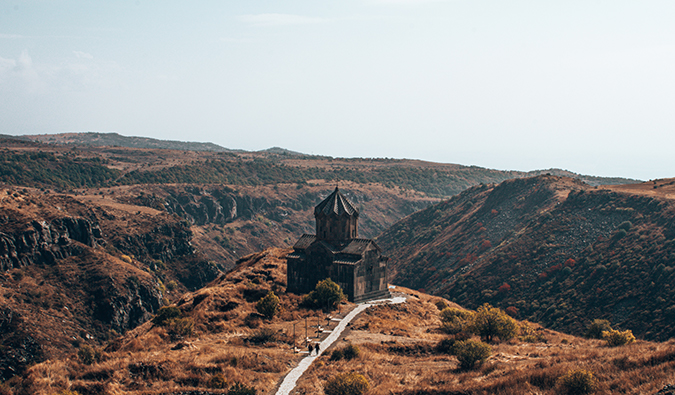 You'll find a lot of cheap and delicious options typical of Middle Eastern cuisine and influenced by the Caucasus region. You can eat local treats like lahmajoun (Armenian pizza) for as little as $2 USD per plate. Another great cheap option is getting shish taouk or wraps from hole-in-the-wall restaurants. These bad boys will also only set you back $3-4, depending on what you put in them. Another delicious and cheap option is khatchapuri (cheese-filled bread), a typical Georgian meal that is served all over Armenia.
Some of the best homemade meals are sold on the side of the road. You'll see plenty of people selling their fresh produce, homemade wine, vodka, sweets, and other treats all over the country, mainly on large "highways." You'll also find these stalls set up near some of the more popular tourist destinations, like Garni, Geghart, and Noravank. These will only be a fraction of the cost of what is sold in grocery stores, and they'll be much more delicious, that we promise! If you buy a few things from the same stall, you can negotiate the price. Also, don't be shy to ask for a sample!
14. If you have a kitchen, cooking in is always the cheapest option.
If you plan on cooking in, expect to spend $20-30 USD for weekly groceries, split between two people. You can either get your goods at grocery stores like Sas, Vas, or Parma, or head to a market to get them straight from the source. In Yerevan, the Gum Market (pronounced "Goom"), or Gumi Shuka, is a great place to shop and observe residents in their daily routine.
15. Avoid the produce at the supermarkets.
The best place to get fresh produce is not in grocery stores. It is often imported from far-off countries and packaged in a lot of plastic. For the best produce, be sure to check out the fruit stalls that are on every street corner or behind a group of large buildings. They have local goods that are in season, and often you can negotiate a good price, especially if you're buying a larger volume.
16. Drink the tap water.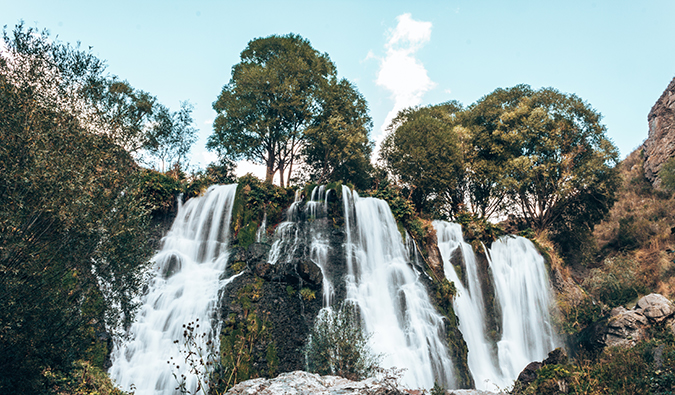 The water in Armenia is perfectly safe to drink straight from the tap. Even while you're out exploring, you'll find public water fountains, called pulpulaks, everywhere, from public parks to street corners, all over Yerevan and in larger cities. These fountains are almost always running, providing fresh drinking water to those in need.
You can get a sip of water straight from a pulpulak or fill up your own water bottle. To redirect the flow of water at an angle for the bottle, simply place your finger on the spout, and voilà! (As an eco-friendly tip that helps you save money and the environment, make sure you have a reusable water bottle.)
17. Get the best souvenirs at Vernissage in Yerevan.
You will notice a ton of handicrafts and other goods being sold all over the country. If you find something special in one of the villages you visit, get it there. But if you're looking to get souvenirs for friends and family back home, be sure to check out the Vernissage in Yerevan. Although Sunday is the big day when all the merchants are present, you can still score great finds any day of the week.
Your best bet is to walk around once to see what's available and compare prices. Then go back to the stalls with the best prices and try to negotiate a little more. Try to wait until the end of the day to get the best prices, as most merchants will want to go home.
18. Don't be afraid to bargain on prices.
We mentioned it before, and we'll say it again: don't be afraid to bargain on goods. Although tourist prices aren't as exaggerated as in other parts of Asia, you can still knock off a good percentage by negotiating with the seller. Just be fair with your final price. It may seem like a few dollars for you, but it may mean the difference between having a meal that night or not for the seller.
19. Visit Armenia's top sites for free.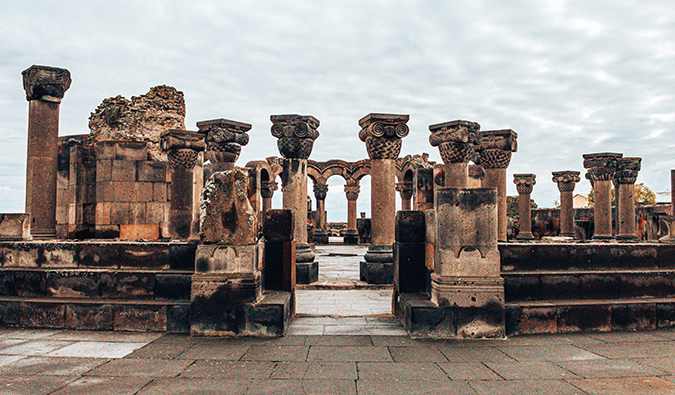 One of the best things about Armenia — as if we haven't listed off enough of them — is that most of the popular sites of interest are free. Noravank, Geghart, Khor Virap, the Areni winery (including a wine tasting) — all these amazing sites are free to enter and visit.
***
We loved our time in Armenia and would highly recommend it to anyone looking to get away from the crowds and travel on a budget. Your dollars go so much further here than in most other countries. Yet you'll never be lacking in delicious food or comfortable amenities. And too add to all of this, you'll have a ton of beautiful sights to visit and kind people to share your journey with!
Carine and Derek spend half the year traveling the world and the other half exploring their home province of Quebec. Their goal is to inspire everyone to chase their wildest dreams and to leave a positive impact on Earth. Their blog, We Did it Our Way, focuses on eco-friendly travel guides to both popular destinations, as well as off-the-beaten-path locations, on how to live and travel sustainably, and on tips for content creation. Carine and Derek are also on Instagram (@wediditourway) where they share their pictures and eco-tips.
Book Your Trip to Armenia: Logistical Tips and Tricks
Book Your Flight
Use Skyscanner or Momondo to find a cheap flight. They are my two favorite search engines because they search websites and airlines around the globe so you always know no stone is left unturned. Start with Skyscanner first though because they have the biggest reach!
Book Your Accommodation
You can book your hostel with Hostelworld as they have the biggest inventory and best deals. If you want to stay somewhere other than a hostel, use Booking.com as they consistently return the cheapest rates for guesthouses and cheap hotels. My favorite places to stay are:
Don't Forget Travel Insurance
Travel insurance will protect you against illness, injury, theft, and cancellations. It's comprehensive protection in case anything goes wrong. I never go on a trip without it as I've had to use it many times in the past. My favorite companies that offer the best service and value are:
Looking for the Best Companies to Save Money With?
Check out my resource page for the best companies to use when you travel. I list all the ones I use to save money when I'm on the road. They will save you money when you travel too.
Want More Information on Armenia?
Be sure to visit our robust destination guide on Armenia for even more planning tips!