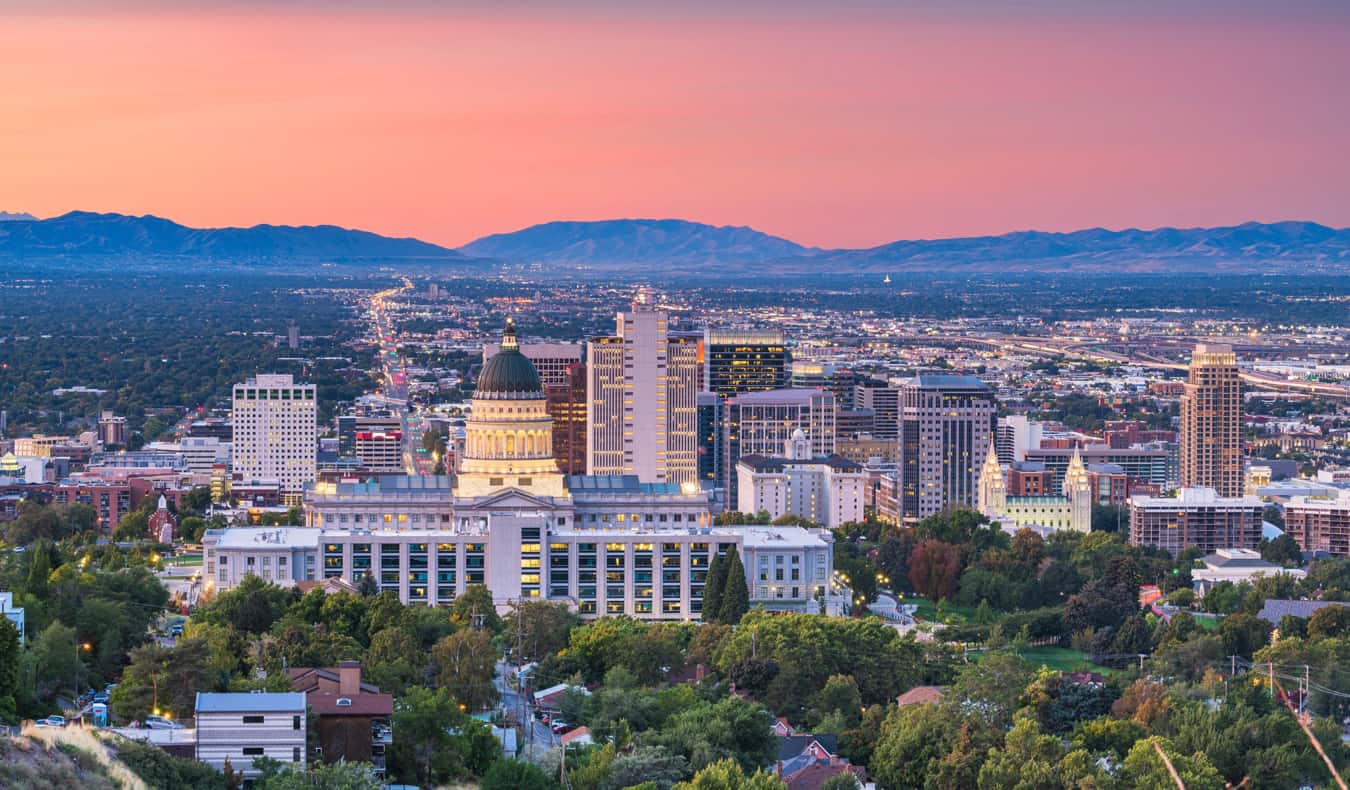 Posted: 6/22/21 | June 22nd, 2021
Salt Lake City never appealed to me.
Founded on unceded Shoshone land in 1847, Great Salt Lake City, as it was originally known, was a refuge for Mormons facing persecution back east. At the time, it (and the state we now call Utah) were located beyond the official US border so Mormons could do whatever they liked.
The city's location was chosen by church founder, Brigham Young, who is said to have seen the valley in a vision. While there were already indigenous people living in the area, an outbreak of measles brought by the Mormons essentially wiped them out within the first year. However, the surviving natives nevertheless helped the settlers survive and adjust to life in the area.
During the 1800s, the city saw an influx of new LDS converts, as well as those chasing the gold rush. Within a few decades, Salt Lake City was one of the most populous places in the American West. Nowadays, the city is a major airport hub, still the center for the LDS church, and does less mining and more health care technology!
Having grown up in New England, my view of Utah was: "Pretty state, but why would I want to hang out with boring Mormons?"
However, the older I've gotten, the less snotty I've become. Part of travel is challenging your preconceived notions of places and people. You can't do that with a "why would I bother with that place attitude?" I love finding out I am wrong about them. The more wrong you are, the more you grow.
My view on places is "why wouldn't I want to go there?!"
Over the years, I've heard whispers that Salt Lake City is actually pretty cool and not the stodgy place we imagine it to be.
So, on my last road trip, I decided to spend a lot of time there. I wanted to know if it was as cool as people say. Was it really "the next Austin"?
The city's proximity to the mountains and a plethora of national parks really appealed to me. And I'd heard about how, having loosened continually alcohol restrictions since the mid-2000s, microbreweries have been popping up left and right. Plus, thanks to its cheap cost of living and a major airport, a lot of young people have been moving there in recent years.
Over the last decade, Utah's population grew by over 18%. Many of those people settled in SLC, where 72% of its population is under 44.
So, dear readers, I can confirm that, yes, Salt Lake City is indeed cool. I found so much to love about it.
And I am fully aware that's very clichéd for a travel writer to say, "I went to X destination and it was cool and hip and different!" as if I'm the first person to discover it. Or that a place, because it's different than what I like, can't be cool in its own right.
I know I'm late to writing about how Salt Lake has changed.
What I'm saying is that I never gave the city much thought and I now kick myself for not having done so. Don't make my mistake. The pretentiousness of youth, huh?
What did I love about the place?
It also has a surprisingly robust art scene. Downtown, you'll find lots of art galleries, collectives, design studies, and museums, including the Utah Museum of Fine Arts and the Utah Museum of Contemporary Art. I didn't expect a city so steeped in art.
And the brewery scene, while not as robust as in Austin or Portland, was much bigger than I thought. There are almost twenty in SLC, not counting the taprooms that also dot the downtown area. I was really curious about the evolution of the beer scene here, as there are still lots of restrictions — breweries can't serve alcohol over 5% on tap, and cocktails are measured (there's no free pour here) — and a variety of licenses are needed. Restaurants serving alcohol require patrons to also order food (only 30% of their sales can be from alcohol, so ordering food when you drink is required). Bars also must serve food at all times too — though one got around this by charging $100 for nachos, simply to comply with the law; the bartender said only one person ever bought it.
But Salt Lake City's proximity to the outdoors was what really turned me onto the place — and a big reason why so many people are moving here. Whether for a few hours or an entire day, it's easy to just walk out of your house and into nature, since you're close to a number of mountains, ski areas, and national parks. Moreover, from town, you can hike or bike numerous trails into the surrounding hills; I spent some hours hiking the trails near the statehouse.
The thing that probably won me over the most was, of course, people. More than that, it was an experience with them that will be my most lasting memory from my visit. While at a brewery, my friends and I were giving up our table to a group of people when one of them said "Are you Nomadic Matt?"
Responding in the affirmative, she invited us to a house party later on. My friends didn't feel like it but I told them I would go.
So, after dinner, I went to a good old fashioned house party. There I met some new Salt Lakers: young folks who moved from various parts of the country for work and were drawn to the city's cheap cost of living and proximity to the mountains. I was at a house party with 25-year-olds and it was super fun. All of them lived in the Sugar House neighborhood, which is full of twentysomething, trendy bars, and hipster restaurants. That's the new "hot" area of town.
There was still a lot I didn't get to experience in Salt Lake City, of course. Many locations were still closed due to COVID (surprisingly, the Mormons had the strictest regulations and seemed to take masking and social distancing more seriously than the rest of the city's citizens). Many of the art galleries were on limited hours, I left with a long list of breweries and restaurants still to visit, and I definitely didn't do as much hiking as I wanted (I never do).
But SLC is in fact very wonderful. Here you'll find a city full of good beer, wonderful restaurants, lots of hiking and outdoor sports opportunities, and warm, welcoming people. It's definitely an "up and coming city" but probably a decade away from really being "the next Austin."
If, like me, you hadn't thought about going there, now is the time to change your mind.
Book Your Trip to the United States: Logistical Tips and Tricks
Book Your Flight
Use Skyscanner to find a cheap flight. They are my favorite search engine because they search websites and airlines around the globe so you always know no stone is left unturned.
Book Your Accommodation
You can book your hostel with Hostelworld as they have the biggest inventory and best deals. If you want to stay somewhere other than a hostel, use Booking.com as they consistently return the cheapest rates for guesthouses and cheap hotels.
Don't Forget Travel Insurance
Travel insurance will protect you against illness, injury, theft, and cancellations. It's comprehensive protection in case anything goes wrong. I never go on a trip without it as I've had to use it many times in the past. My favorite companies that offer the best service and value are:
Looking for the Best Companies to Save Money With?
Check out my resource page for the best companies to use when you travel. I list all the ones I use to save money when I'm on the road. They will save you money when you travel too.
Need an Affordable RV for Your Road Trip?
RVshare lets you rent RVs from private individuals all around the country, saving you tons of money in the process. It's like Airbnb for RVs.
Want More Information on the United States?
Be sure to visit our robust destination guide on the USA for even more planning tips!