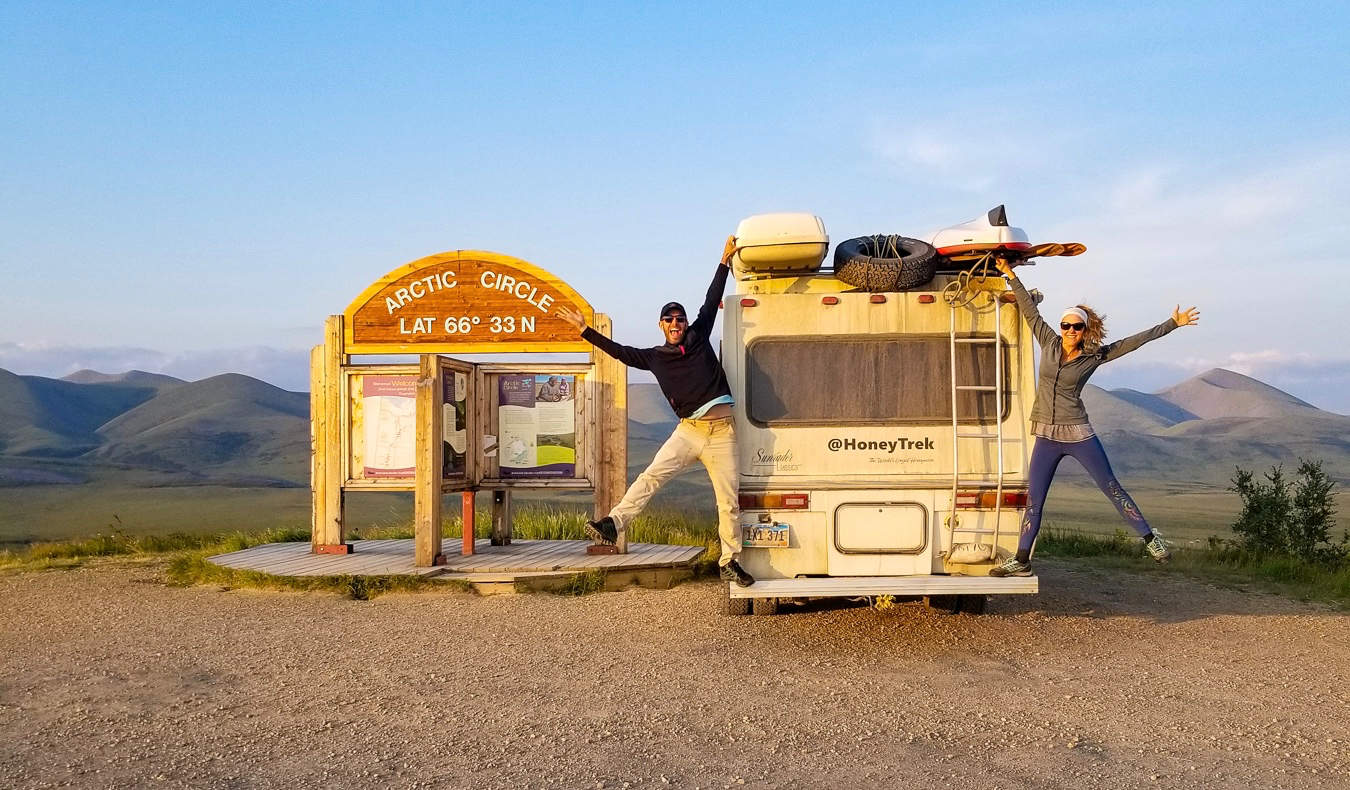 Posted: 8/27/20 | August 27th, 2020
Since international travel on pause, people have turned to exploring their own backyards. From the U.S. to Canada to England, Europe, and New Zealand, people are getting in cars, campervans, and RVs and heading out on road trips. After all, it allows you to social distance while still getting outside!
Today, I've invited my friends Mike and Anne from HoneyTrek to share their RV tips and advice. They're full-time RVers and will help you get your next RV adventure started easily and on a budget!
A couple of years back, the van life craze had everyone curious about rubber-tramping across North America. Maybe you thought, nah, I prefer my city apartment or jet-setting abroad.
Then COVID-19 hit. All of a sudden, getting out of Dodge with a house on wheels started to sound really good, didn't it?
There is no doubt that RVing is one of the easiest and safest ways to travel right now. No crowded planes or questionable hotel rooms required — an RV gives you the freedom to explore and the peace of mind of having your own space.
Over the course of our eight-year "HoneyTrek" we've tried virtually every style of travel — backpacking, house-sitting, small-ship cruising, backcountry camping, five-star honeymooning, etc. — but the day we rented a campervan in New Zealand, we knew this was our preferred mode of travel.
For the past three years, we've been traveling full-time in our 1985 Toyota Sunrader "Buddy the Camper," from the Baja Peninsula to the Arctic Circle and 47 states in between.
We've learned a lot along the way and are excited to share what we think are the most important things to know before setting out on your RV journey.
Here's a video we just filmed which covers all the basics (or read the post below):


How to Pick the Right Size RV
For maximum adventure and comfort, we'd recommend a camper around 21 feet long. We know those big RVs tricked out like a penthouse apartment look tempting, but remember that every foot in length costs mobility. A shorter rig allows you to:
Access rugged terrain
Fit in a normal parking space, even parallel park
Avoid length restrictions on some of America's most beautiful winding roads and ferry rides
Get better gas mileage (Most rigs get 6–10 MPG. Ours gets 19.)
Have less stuff to break, which means more time exploring and having fun!
And, while even shorter 16- to 19-foot-long campervans do have the ultimate mobility, there are a few things you should know before you fall for that adorable Westfalia or stealthy Sprinter.
First, life ain't so pretty without your own indoor shower and bathroom. And, while we respect the vanlifers who make do with public restrooms, bucket toilets, and catholes (digging a hole outside when you need to go to the bathroom), let us tell you the virtues of having a flushing loo: privacy, cleanliness, and autonomy.
We can be in a city center or a protected conservation area and conveniently and responsibly stay the night. In these unprecedented times, it's more important than ever to be self-sufficient and not rely on shared facilities.
Besides a bathroom, a 19- to 22-foot long RV is big enough to also give you a proper bed and ample storage while still being small enough to explore with wild abandon.

How to Get Power (A.K.A. the Virtues of Solar)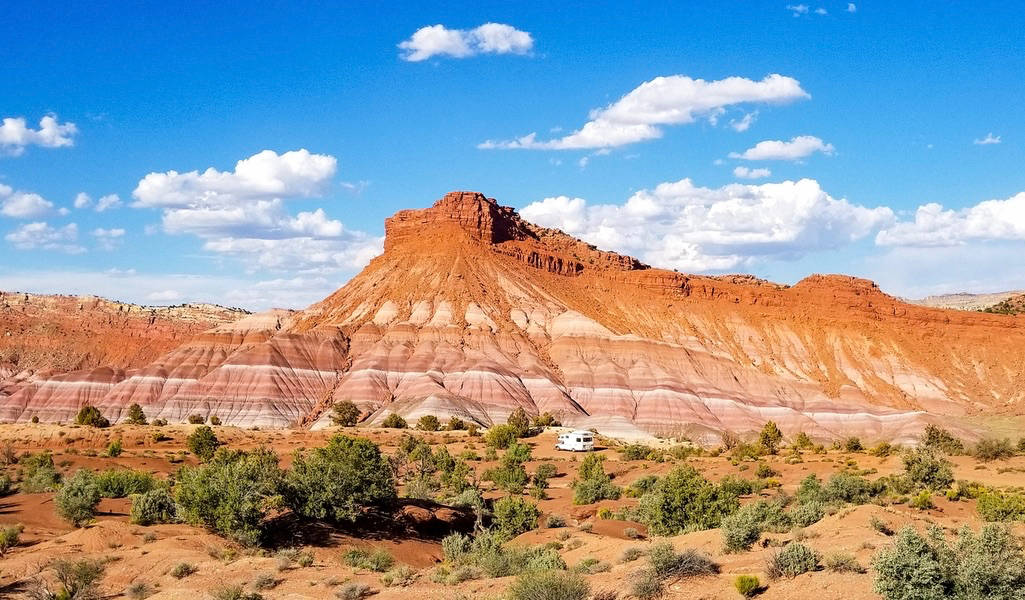 RVs and campers have a house battery to run the lights, water pump, fans, and power electronics. Here are the various way to keep it charged:
Drive a few hours per day
Pay to plug in at a campground
Run a generator
Have solar panels
Your average road trip will likely give you enough charge from driving, but if you really need power, an RV park is never far away. If you are looking to slow-cruise the wilderness and lower your environmental impact, solar panels are a must. The simplest and most affordable option ($70–150 USD) is to get a portable panel and use it whenever you're stopped in order to charge up the house battery of your RV. This obviously isn't as convenient or powerful as an integrated system, but it should be enough to keep your phone and laptop charged.
If you are in this for the long haul, though, you're going to want to install a solar system. We bought 300 watts of flexible monocrystalline solar panels, installed them to the roof, and wired them all together with a charge controller, lead-acid battery, and power inverter in about 20 hours — all for $1,200 USD.
If you want the best efficiency and lifespan, spring for a lithium-ion deep cycle battery, like the Relion RB100. If a DIY electrical project sounds too scary, you can have it professionally installed for $1,000–2,000 USD. We know that's is a chunk of change, but investing in solar has allowed us to spend the last three years without having to ever pay for electricity, worry about running out of power, or generating any greenhouse gases.

How to Get Internet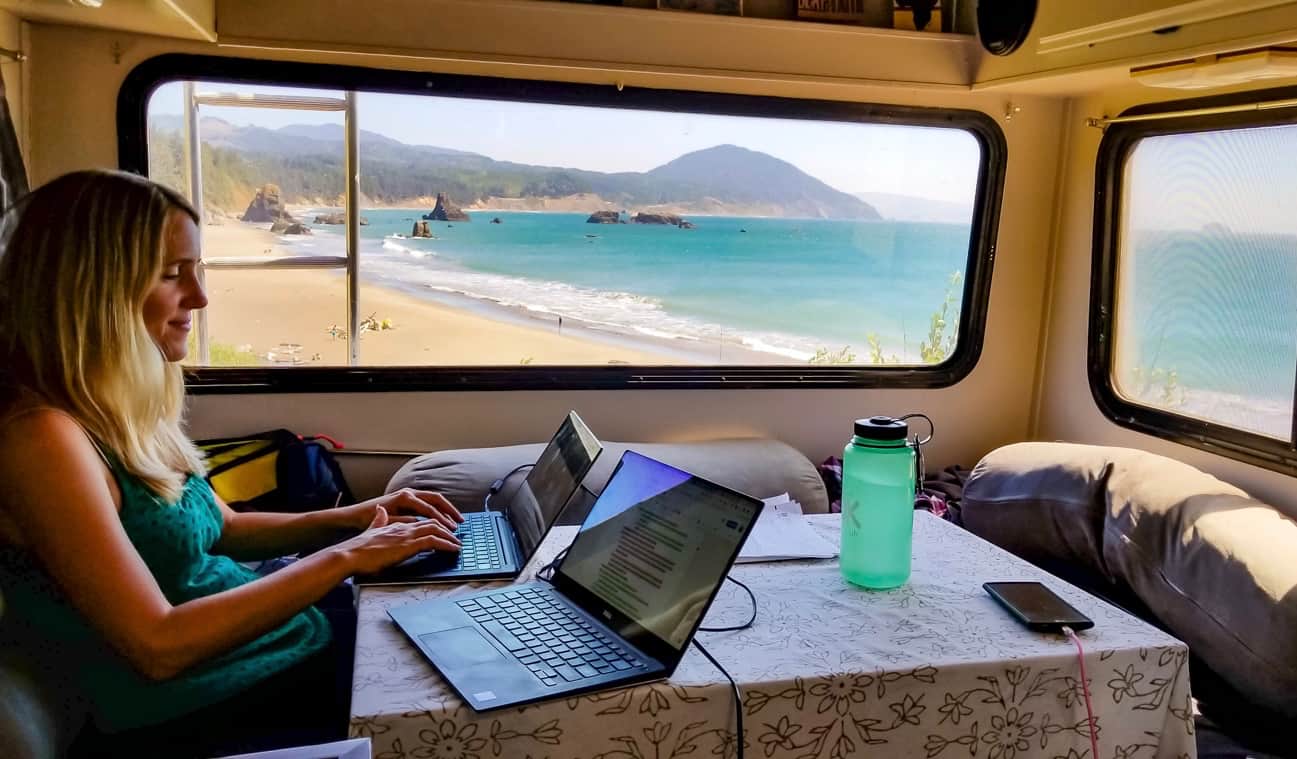 Your smartphone is your on-the-go router. It's important to use a carrier with an extensive national network (AT&T or Verizon) so as to get reception in remote areas (the dream is to be using your laptop from a secluded beach, right?).
We use our Verizon phone as a hotspot for our two laptops, getting 50GB unthrottled per month, plus unlimited calls and texts, for $109 USD.
While that's a decent amount of data, it's not a home internet plan through which you can be streaming all day. If you'll be on the road for more than a couple weeks, monitor your usage with the GlassWire app and install NetLimiter on your laptop to help ration your data. Save your big downloads and uploads for free Wi-Fi zones.
We love working at libraries, not just for the internet but for their inspiring spaces, peace and quiet, community offerings, and open invitation to stay all day.
And, when all else fails, McDonald's and Starbucks have wifi that's usually strong enough to tap from the comforts of your camper.

How to Find Places to Camp
Your basic campground typically offers a flat parking spot with a picnic table, fire pit, and shared bathroom for $10–30 USD per night. If you bump up to $35–80 USD a night, you're in RV park territory and will likely get power, water, sewer, and shared amenities like a clubhouse and a pool.
But did you know there are tens of thousands of free campsites scattered around the wilds of the USA? The federal government has reserved 640 million acres of public lands (national forests, BLM [Bureau of Land Management] land, national conservation areas, etc.) for your enjoyment. These sites are pretty bare-bones (sometimes it's just a clearing in the forest) but, since we have a self-contained camper with our own drinking water and bathroom, all we really want is a peaceful spot with a good view.
This style of independent camping has many names: dispersed camping, wild camping, dry camping, freedom camping, and most commonly "boondocking." We find our favorite boondocking spots via the Ultimate Campgrounds app, which we use to see what sites are nearby.
If we're striking out on that app, we turn to iOverlander and FreeCampsites.net.
With these apps, we're able to find great camping on the fly and rarely pay a dime.
That said, there is a time and place for more traditional campgrounds. They can be a great way to meet other campers, enjoy a few extra services, or stay in the heart of a national park. ReserveAmerica.com is the main campground portal (290,000 listings!) for public (national and state parks) and private campgrounds. HipCamp.com also has extensive offerings and is our favorite for unique sites on private land — it's like the Airbnb of camping. KOA has tons of options too.
If you know there is a certain place you want to be on a specific night, you can book in advance. But also just don't be afraid to go with the flow — there is always a beautiful boondocking spot somewhere!

Urban Boondocking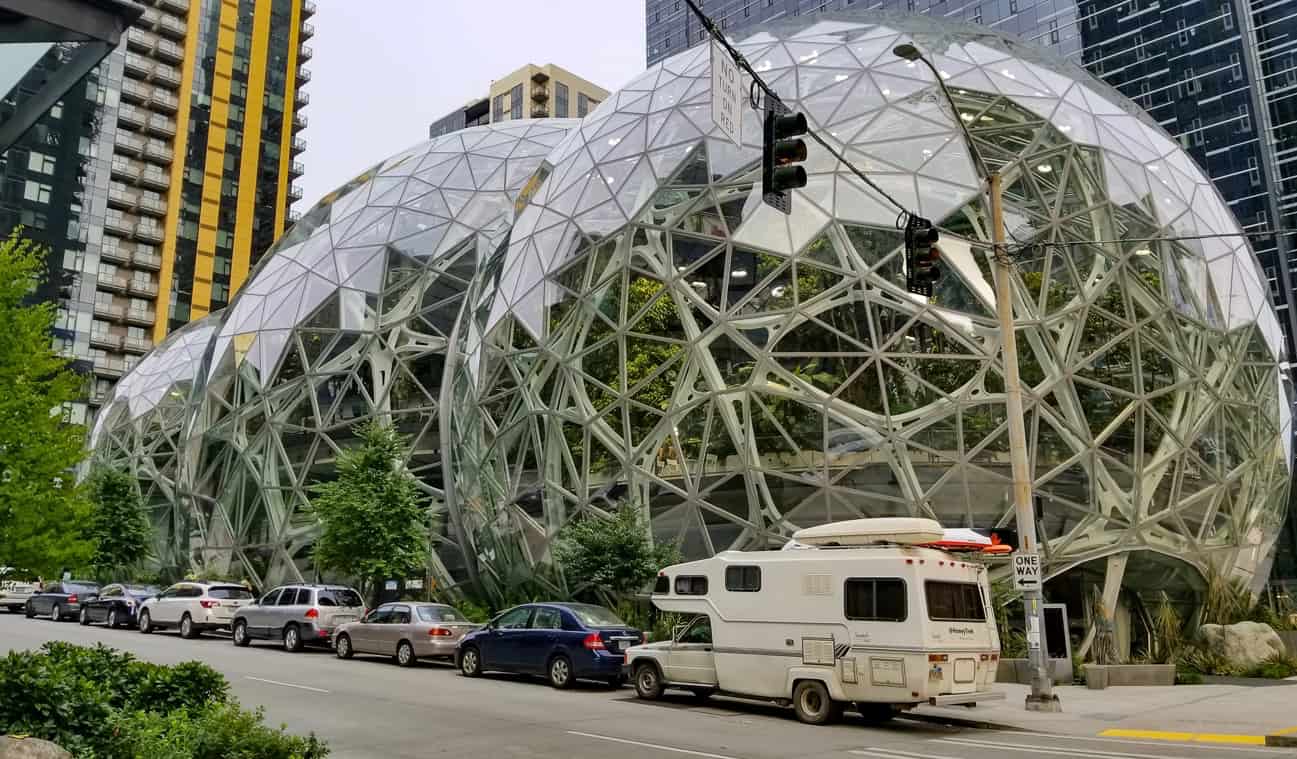 Speaking of boondocking, it's not just for the woods. We have spent countless nights "camping" in the heart of cities, and if you adhere to a few simple rules, you can feel confident doing the same:
Obey all street signs and curb markings and keep the meter fed. If it says "no overnight parking," take heed. If there is any ambiguity in the signage (street cleaning conflicts, permit parking, etc.), find another spot.
Don't overstay your welcome. We usually limit our time in the same parking spot to two nights.
Don't draw attention to yourself with excessive lights, music, noise, etc. Even though our 1980s RV is far from a stealth camper, we have slept in over 50 cities and never been asked to "move along."
Be smart, be respectful, and the world is your campground.

How to Save Money on Gas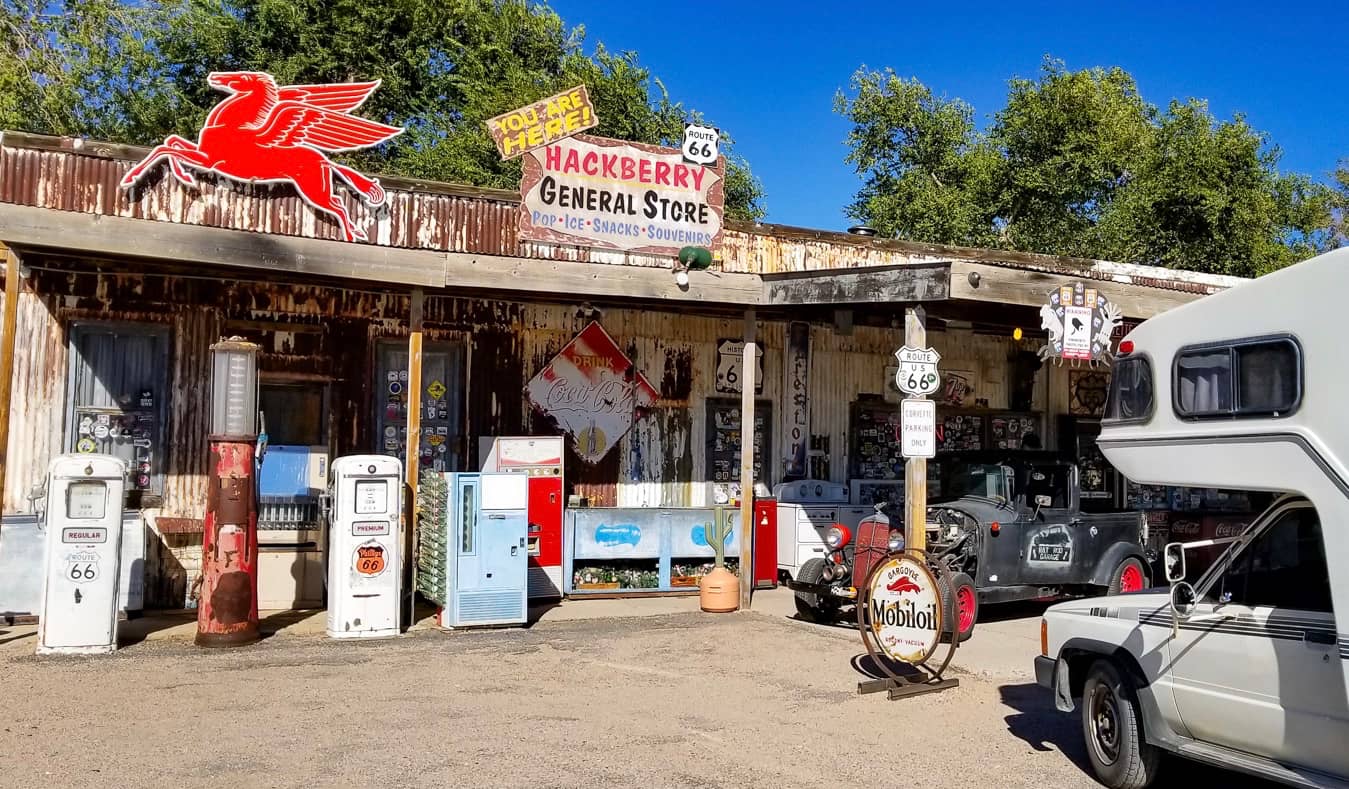 We know gas is only around $2 USD/gallon at the moment, but when it comes to your long-term travel budget, every bit counts. Here are some tips to save at the pump:
Get the GasBuddy app. It allows you to see the gas prices along your route, often saving upwards of 50 cents per gallon, particularly if you can wait to cross a state line or get farther off the highway.
Get yourself a Chase Freedom Unlimited card; certain months of the year, they offer 5x points on your fill-up.
Sign up for gas station rewards programs, especially Shell and Pilot, which give 3–5 cents off per gallon.
Keep your tires inflated at the recommended PSI, and drive under 55mph. In addition to the gas savings, it's safer and prolongs the life of your rig.
How to Find the Back Roads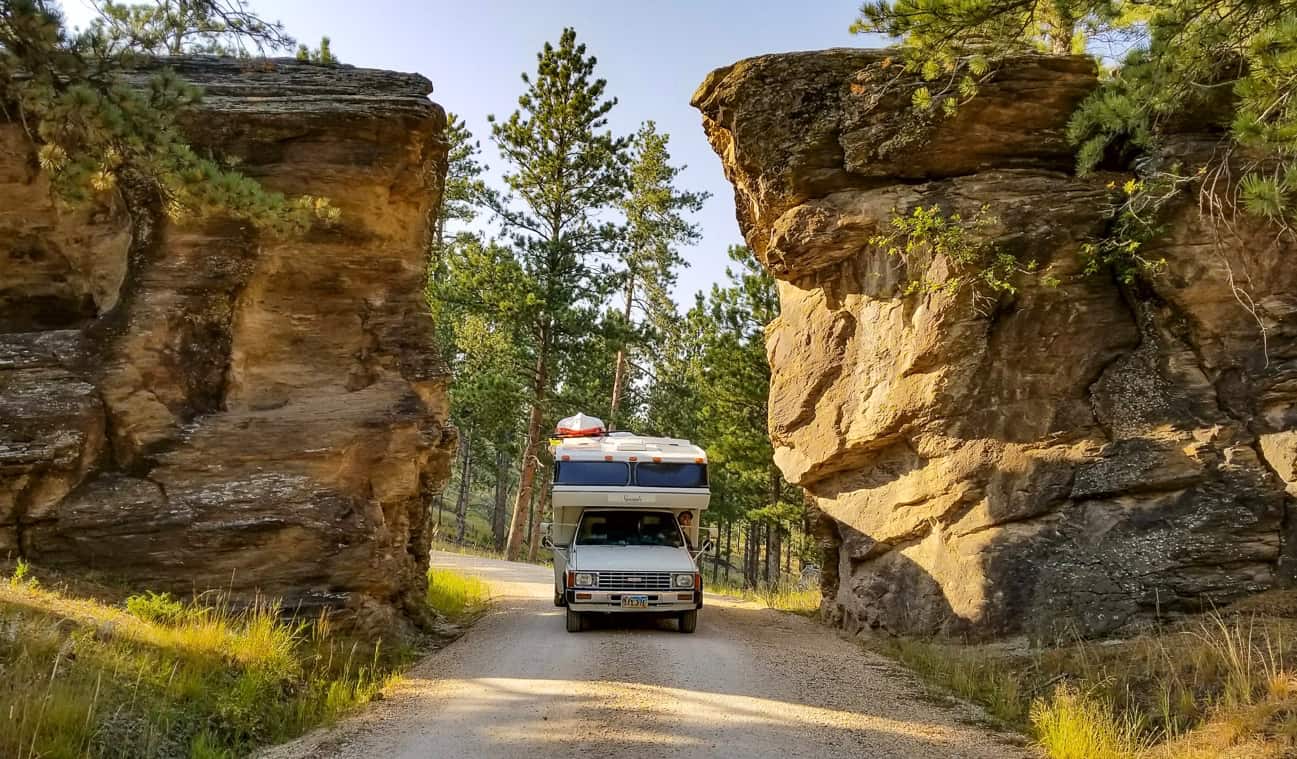 Set your GPS to "avoid highways" and you'll discover just how beautiful this country can be. Interstates have blazed straight lines across the nation but the old network of roads, working with the contours of the land and connecting historic towns, still exists.
The best routes are America's Byways, a collection of 150 distinct and diverse roads protected by the Department of Transportation for their natural or cultural value.
Even better than that website (because you can't rely on back roads' cell reception) is a hard copy of the National Geographic Guide to Scenic Highways and Byways. It maps out the prettiest drives in every state, with something to marvel at even in "the flyover states." We refer to it every time we start a big drive and discover interesting landmarks, quirky museums, scenic viewpoints, quintessential eateries, and short hikes, which always improves the ride.

Take Glamping Breaks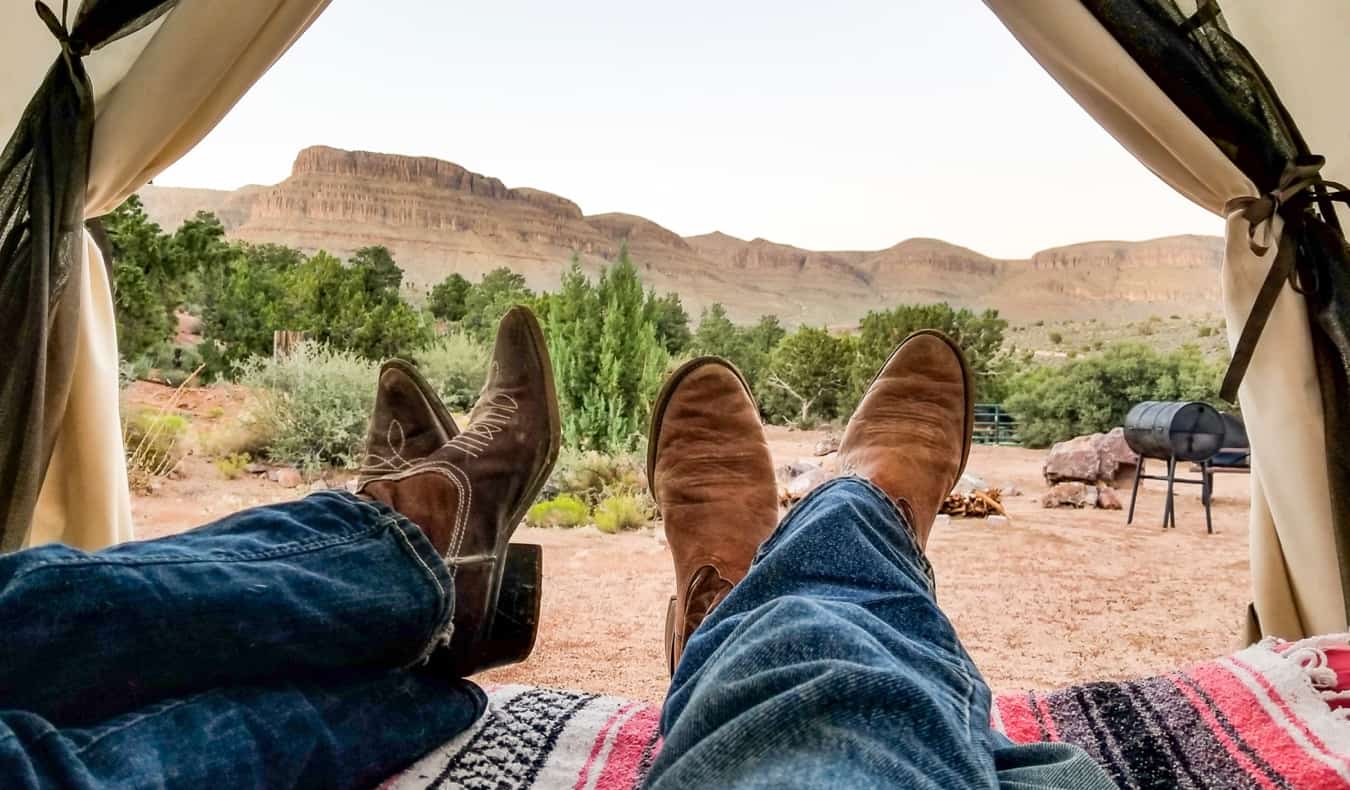 To make sure you don't burn out on small-space, off-grid living, treat yourself to the occasional glamping getaway. Creative outdoor accommodations with a plush bed, hot shower, and friendly host always remind us how much we love the woods.
When we get to a glamp camp, we can walk away from our normal responsibilities (setting up camp, cooking for ourselves, and DIY everything) and truly relax. A gorgeous treehouse, dome, yurt, or safari tent has been designed with your enjoyment in mind, and if you need anything, your host is at the ready.
A little pampering and fresh take on the outdoors will give you the energy to keep on truckin'.
To find fabulous getaways along your route, check out our glamping book, Comfortably Wild: The Best Glamping Destinations in North America.

How to Protect Yourself and Your Ride
You'll be exploring remote areas, going down rough roads, and having wild adventures (get excited!). Consider these three forms of protection and you'll be ready for whatever comes your way:
RV insurance – While this is specialty car insurance, the good news is it can be cheaper than insuring a sedan (we pay $375 USD a year for our Progressive plan).
Travel insurance – While most people think of travel insurance for big international trips, it usually kicks in 100 miles from your house, covering health emergencies, trip delays, canceled reservations (from campgrounds to river rafting excursions), and a variety of other snafus. Rather than getting insurance every time we hit the road, we use the Allianz so we're automatically covered wherever we go throughout the year.
Roadside assistance – Good ol' AAA does have RV plans, but we like that Good Sam is designed specifically for RVers and doesn't charge a premium for it. An annual membership covers towing RVs of all sizes, tire blowouts, running out of gas, locking your keys in your vehicle, plus lots of other benefits and travel discounts.
***
As full-timers, we're incredibly passionate about RVing and lot to share road trip itineraries, advice about buying a vintage camper, and lessons learned from three years on the road. While there is a lot to know about RV travel, renting a camper is a safe and easy way to get started. And there is a wonderful RV and #vanlife community online that will be happy to help too.
Mike and Anne Howard left on their honeymoon in January 2012 and never came home. They created HoneyTrek.com to chronicle their journey across all seven continents and help people realize their travel dreams. They are the authors of National Geographic's bestselling book, Ultimate Journeys for Two, and the first-ever book on glamping in North America, Comfortably Wild.

Book Your Trip: Logistical Tips and Tricks
Book Your Flight
Find a cheap flight by using Skyscanner. It's my favorite search engine because it searches websites and airlines around the globe so you always know no stone is being left unturned.
Book Your Accommodation
You can book your hostel with Hostelworld. If you want to stay somewhere other than a hostel, use Booking.com as it consistently returns the cheapest rates for guesthouses and hotels.
Don't Forget Travel Insurance
Travel insurance will protect you against illness, injury, theft, and cancellations. It's comprehensive protection in case anything goes wrong. I never go on a trip without it as I've had to use it many times in the past. My favorite companies that offer the best service and value are:
Want to Travel for Free?
Travel credit cards allow you to earn points that can be redeemed for free flights and accommodation — all without any extra spending. Check out my guide to picking the right card and my current favorites to get started and see the latest best deals.
Need Help Finding Activities for Your Trip?
Get Your Guide is a huge online marketplace where you can find cool walking tours, fun excursions, skip-the-line tickets, private guides, and more.
Ready to Book Your Trip?
Check out my resource page for the best companies to use when you travel. I list all the ones I use when I travel. They are the best in class and you can't go wrong using them on your trip.