Posted: 05/08/2014 | May 8th, 2014
Many of you may have noticed the many changes to frequent flier programs lately. Delta has completely revamped their program to be revenue-based instead of distance based, United has devalued their reward chart and added a revenue requirement, Air Canada devalued their rewards last year (twice), and American Airlines has made a number of unannounced changes to their program, including adding two new reward tiers.
The North American frequent flier market isn't looking so good. Across the world, frequent flier programs were never that generous to begin with, and though there have not been any major international program changes as of late, I'm sure they will one day follow suit.
But that's something to worry about in the future. For now, let's discuss what has changed. For us budget travelers, what do these changes mean? How does this affect travel hacking, loyalty programs, and everything in between?
Here is my take:
Miles are like travel money. The more you have, the better. But just like regular money, miles lose value over time through inflation and overprinting. Essentially, the more miles the airlines "print," the less valuable they become. A mile today doesn't take you as far as a mile did yesterday. There are so many miles in circulation right now (there are more miles than there is money in the world) that it's become too easy to earn and, in some ways, redeem them.
To correct this, airlines devalue their miles by increasing the amount needed for a reward ticket and placing restrictions on when you can use them. This happens every few years, and while it's never good for the consumer, it's to be expected. The airlines are constantly changing their award programs. Like others, I'm only really bothered when there isn't any warning. (Once US Airways and American merge their frequent flier programs, I expect a big devaluation to occur.)
That is why it's important to spend your miles when you have them. Miles hoarding is never a good idea because they are a depreciating asset. Use them once you have enough for the reward ticket you want because you never know when the programs are going to change. (Disclosure: I'm kind of a hoarder. I have over 250,000 American Airlines miles, though I've redeemed over 100,000 this year so far.)
Luckily, recent changes don't spell the end of travel hacking and your ability to score free trips. Airlines are going to require more miles for travel rewards and there will be less availability of seats. However, while having to use more miles sucks and devaluations will continue, as long as you can still rack up a ton of points through credit card bonuses, online shopping, fake spending, surveys, and more, these frequent flier programs still continue to work in our favor. Miles are still so easy to get that the end is not near.
For now, the game continues. It may not be as good as it once was, but it's still one worth playing. (Note: You can also use the Chase and American Express programs that transfer to multiple travel partners — that way your points aren't tied to one program.)
Moreover, I don't believe these changes spell the demise of frequent flier programs. The programs have clear perks, including upgrade access, priority boarding, lounge access, and quicker check-in at the gate.
But since you receive a lot of these perks with branded airline credit cards and so many miles are being sold to banks as card sign-up bonuses, there is currently a glut of elite status members and miles.
In light of that, many of these changes are meant to reward an airline's best customer: the travelers who pay full fare. Those are an airline's bread and butter, not the person who flies the most. Moving to a revenue-based model serves to reward those high-spending travelers.
I've gotten a lot of emails from people worried about these changes. Should they stay loyal? Are miles over? What does this mean for them? The future doesn't look bright but now is not the time to completely worry.
In light of these changes, I once again reiterate that unless you are flying enough to earn mid-tier status on an airline, I don't think you should be loyal to one specific airline. The vast majority of branded airline credit cards offer essentially the same perks as the lowest level status: free checked bags, priority access, priority boarding, and discounts on in-flight food and beverage. Mid-tier status is when you actually start to get the good perks (upgrades and international lounge access), so unless you can reach that level, it's not worth being loyal when you can get bottom tier benefits so many other ways.
For non-frequent fliers who may only take a handful of flights a year, go with the cheapest flight and/or travel hack to collect points to travel for free. Don't be loyal to a specific program. It's not worth it.
The last few months have seen major changes in frequent flier programs and there will be more to come. I think most programs are going to move to reward their high-spending customers and include a revenue component for gaining and maintaining status (though that may be waived if you have the airline's branded credit cards).
But, while these changes aren't great for consumers, the end is not nigh. There are still plenty of opportunities and ways to use frequent flier programs to our benefit.
*****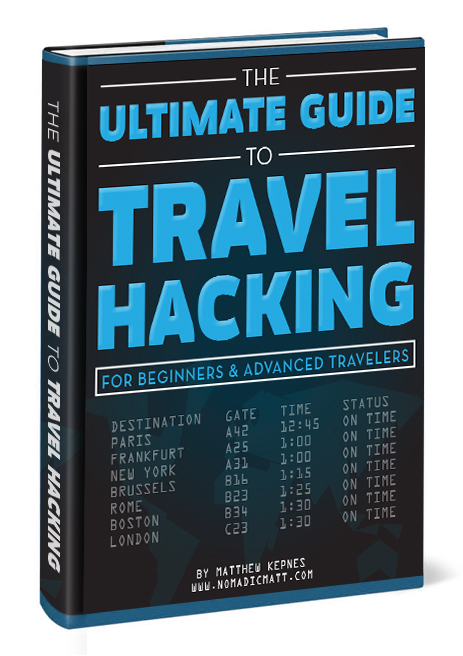 If you're looking to get into travel hacking and want to know how to earn enough miles and hotel points to go anywhere you want… without having to spend extra money or leave your couch,
I've written a guide to travel hacking
that will walk you through all of the basic and some of the advanced techniques that can be used to go anywhere for free. It also features interviews with other prominent travel hackers to give a wider range of tips and strategies you can use!
Click here to learn more
!