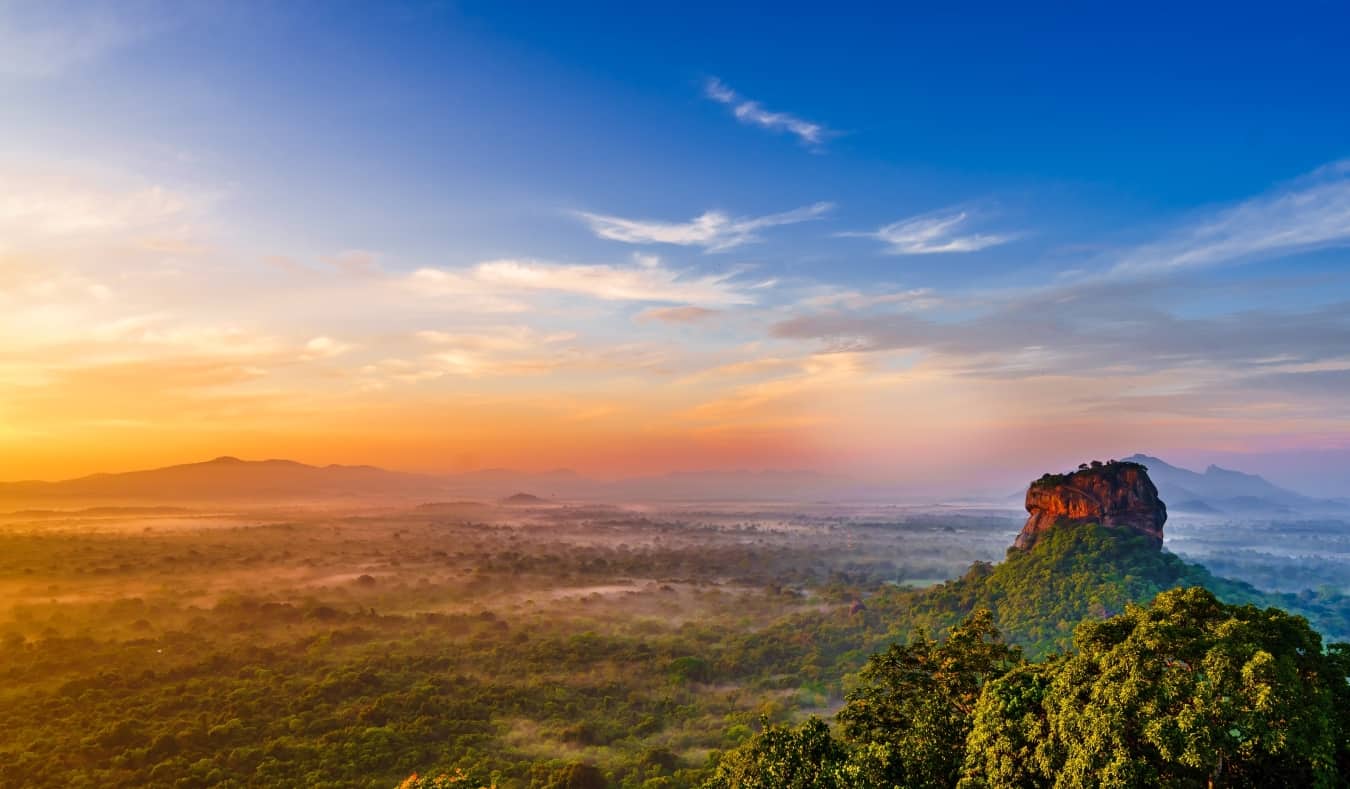 Last Updated: 9/14/23 | September 14th, 2023
A few years back, I went to Sri Lanka and, outside a few facts I'd picked up by reading the news and talking to friends over the years, I realized I knew shockingly little about the country.
I knew it was once ruled by the British, there was a long conflict between the Tamils and Sinhalese, the country produces a lot of tea, it has beyond-delicious food, its capital is Colombo, and there are some amazing jungles and beaches to explore.
But, beyond that superficial understanding, I knew nothing.
I couldn't tell you if the country was cheap or inexpensive, what to see, one famous ruin, safety issues, where in the country is popular to visit, how to get around, what their currency or culture is, or anything in between.
Sri Lanka was a blank slate to me.
I never like to go somewhere new blind — it's a sure-fire way to get ripped off, eat the wrong thing, get sick, make a cultural faux pas, and, generally, have something go badly.
Knowledge is power and, given that so much information is available online, I feel like going somewhere without any understanding of that place shows a laziness in your planning and a sign that you're an unskilled traveler.
So, when planning my trip there, I needed to do some preparation. Normally, if I have enough of a basic understanding of a place, I just wing it — I've been to neighboring countries, know people, or have read enough to have an idea. Sri Lanka required some work.
Faced with a knowledge gap, here's what I did — and you should do — when you travel somewhere you've never been before:

1. Buy a Travel Guide
I think guidebooks are still important for travelers. Even though their practical information is often out of date, I love flipping through them to get an overview of how to get around, form ideas on what to see and do, develop itineraries, and look at the maps and featured places.
Reading guidebooks helps me put together the foundation of my planning. Besides, there's just something enjoyable about holding a book and highlighting places that reading a blog doesn't offer.
For this trip, I bought the Rough Guide to Sri Lanka. In addition to Rough Guides, I love Lonely Planet. I like the the guides' look, organization, light weight, and emphasis on budget travel.

2. Read Travel Blogs
Next, I went searching for travel blogs. Guidebooks are a good foundation, but blogs can fill in a lot of gaps as you can find more up-to-date information and off-the-beaten-path destinations, and ask questions of the bloggers. I searched, read, and searched some more for content and stories that gave me a sense of the destination. Here are a few blogs worth checking out:
Simply doing some Googling will get you great results, but if you want to go straight to some tried-and-trusted sources, here's my list of favorite travel blogs.

3. Ask Friends/Family for Advice
Once I had my guide and read over some blogs, I asked friends and family for their advice (or if they knew anyone who could give me advice). It turned out I had a few friends who had been there recently and a few with family there. They gave me advice, tips, and suggestions on hotels and restaurants, and connected me to family members.
Then, when I landed, I had some people to stay with, show me around, and help me get situated. Nothing beats a local host.

4. Ask Other Travelers
Now I know that not everyone has a friend group that travels as avidly as mine. But everyone (that's reading this blog at least) can use the internet to find new friends and connections. I suggest using networks like Couchsurfing, joining Facebook groups, and even posting to your personal social media accounts. You never know who might know someone that's been where you're going!
For me, with so many people reading this blog, I figured there must be some readers who had been there. The tweets, Facebook posts, and blog posts that I wrote produced a flurry of messages with tips and advice, and even some locals looking to meet up.
It was incredibly helpful, and then I already had some people to hang out with right when I got there!

5. Read Some Books
As I've said in the past, you can't know a place if you don't know its history. With a long flight ahead, I bought a few books about Sri Lanka's history so I could get a better understanding of the country's rich history.
Here's what I read:
Here are some of my other recommended travel reads:
6. Learn How to Stay Safe
Getting a sense of what to watch out for in terms of general safety is a good idea no matter where you're going, but especially in a place that's completely unknown to you.
You'll want to be aware of any common travel scams to look out for as well as how to conduct yourself in the destination. Even things like learning the general dress code and local customs will go a long ways to helping you blend in. It's not just respectful of the place you're visiting, but will help you avoid standing out as a target for opportunistic petty theft.
Here are a few of our safety guides to help you get started planning your next trip:
7. Get Travel Insurance
I recommend getting travel insurance no matter where you're going. It's the number one thing that I never leave home without, and I recommend that you don't either. Travel insurance will protect you against unexpected costs that could arise if something goes wrong on the road, whether it be a broken arm, smashed phone, or a stolen bag. When going to an unknown place, definitely get travel insurance.
Here are some posts to start with:
***
Visiting a place you know little about in a region you've never been to can be somewhat intimidating. To go somewhere completely different pushes you out of your comfort zone and that can be a tricky thing.
Even after fifteen years of travel, I still have a small amount of trepidation before I go somewhere completely new.
But talking to friends, family, readers, and bloggers gave me a sense of the destination: an affordable, safe place with friendly locals, delicious food, and slow transportation. "Everyone is incredibly nice and helpful, but don't expect to get anywhere fast unless you hire a driver" was the common refrain.
For the first time in a long time, I went to a place I knew nothing about. I was so excited to backpack and figure things out on the way again! Sri Lanka sees a lot of tourists and it's not completely "off the beaten track" but it was different to me.
You never know what a place is really like until you go, but upon following the steps above, you'll bring your destination into focus rather than it being a complete blur. Sure, your plans, routes, and ideas may change when you hit the ground. But you'll have a better idea as to what you're getting yourself into and what to expect. That all made me feel slightly more comfortable about visiting.
This is not about scheduling all your days and all your activities. This is simply about being more informed about the destination you are visiting.
Because a smart and informed traveler is a better traveler.
Book Your Trip: Logistical Tips and Tricks
Book Your Flight
Find a cheap flight by using Skyscanner. It's my favorite search engine because it searches websites and airlines around the globe so you always know no stone is being left unturned.
Book Your Accommodation
You can book your hostel with Hostelworld. If you want to stay somewhere other than a hostel, use Booking.com as it consistently returns the cheapest rates for guesthouses and hotels.
Don't Forget Travel Insurance
Travel insurance will protect you against illness, injury, theft, and cancellations. It's comprehensive protection in case anything goes wrong. I never go on a trip without it as I've had to use it many times in the past. My favorite companies that offer the best service and value are:
Want to Travel for Free?
Travel credit cards allow you to earn points that can be redeemed for free flights and accommodation — all without any extra spending. Check out my guide to picking the right card and my current favorites to get started and see the latest best deals.
Ready to Book Your Trip?
Check out my resource page for the best companies to use when you travel. I list all the ones I use when I travel. They are the best in class and you can't go wrong using them on your trip.