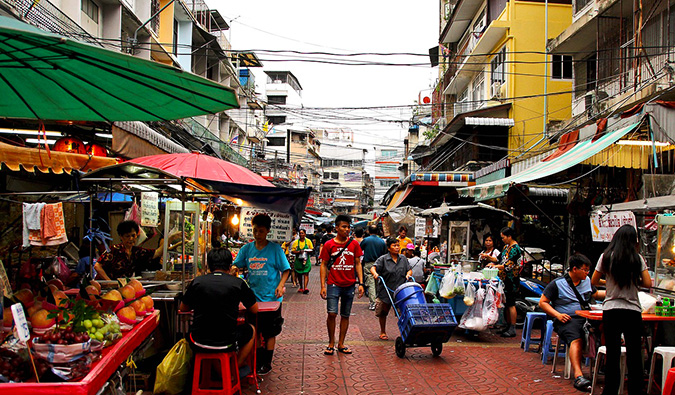 "Ladies and gentlemen, welcome to Bangkok's Suvarnabhumi Airport."
These were words I hadn't heard spoken in two years. And they'd been sorely missed. After landing in Bangkok, I glided effortlessly through an airport where I've been countless times and made my way to the train into the city. It was a routine I followed without thinking, and I easily made my way to my hotel (I used points to stay for free at the new W Hotel, one of the nicest W hotels I've ever stayed at, but that's a different story). After check-in, I dropped my bag and headed to the nearby street market, ordering sorely missed pork noodle soup and Thai lemon tea. (Tip: if you're looking for a market in Thailand, find an office area. Where there are hungry office workers, there is great street food.)
The sights, sounds, and smells had a comforting familiarity to them. After a long flight from San Francisco, I felt at home.
And as I sit here staring out across the city, I ponder what that word "home" really means. Is it a place or a state of mind? A feeling? Can you have more than one home? Is it where you live? Grow up? Own property?
To me, a home is where your heart feels most comfortable. It's a place you step into with ease, and your heart says, "Yes, this is it" and wraps that place around itself like a warm, cozy blanket. A house is simply a physical structure filled with stuff, but a home…that's where you know you belong.
For me, that's Paris, Stockholm, New York, Hong Kong, Amsterdam, and Bangkok. There are many other destinations that I love and return to often, but they aren't home. My heart doesn't belong in them. They're lovely to visit, but I wouldn't want to grow old there. However, put me in any of those destinations listed above and I'd happily stay there until my dying day.
Traveling has taught me that the word "home" transcends a physical place. As I've traveled the world, I've learned I fit into many places. This has given me insight into people and the rhythm of life. There's a certain universality to life around the world. I think that's why so often we can easily and (sometimes) accurately compare cities. It's taught me that the grass is never greener because at its core, the grass is always the same.
And no city crystallizes this better for me than Bangkok. It was where I first really stopped and lived. It was a place where I built a whole life and got a job, friends, a girlfriend, and a routine. I came here a stranger, not speaking the language and knowing only one person, and I left with a life.
I learned to survive.
I grew up.
Learning that home can be so many places made the world a lot smaller to me. It's no longer the idea that there is "my home" and "other places in the world" because the world is my home.
I know that might come off as a bit "out there," but when you can move so easily and feel at ease in so many places, it makes the world a bit smaller, less foreign, and a lot less scary.
But no matter where I go, what I do, or how long I'm gone, Bangkok will always be home to me.
That's why I'll never stop getting emotional when I hear those eight magical words: "Ladies and gentlemen, welcome to Bangkok's Suvarnabhumi Airport."
Travel is a wonderful experience, but sometimes there's nothing more wonderful than coming home.