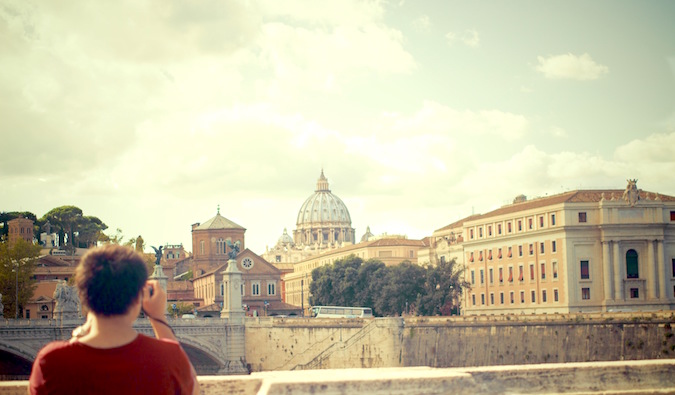 Last Updated: 3/10/21 | March 10th, 2021
When you don't have much money, travel seems like a fantasy. When you have debts, loans, or a crummy job; sleep on your friend's couch; or can barely afford McDonald's, traveling is a pipe dream that will probably never come true.
It's something you'll to have to put off until you have money.
Or so everyone says.
But after over ten years of traveling the world, I don't think that's the case. I think being broke is the best reason to start traveling.
When you have the fewest options is when you really have the most options. When you're at the bottom, you can only go up.
As Janis Joplin said, freedom is just another word for nothing left to lose.
When you don't have any money or a great job, there's little downside to picking up, saying goodbye, and going off to travel. You'll ride out the storm, maybe find something you really love to do, and gain life experience and the soft interpersonal skills employers today find valuable.
The world is full of opportunities (and jobs), so if you've exhausted those in your area, why not try a new one? If you're willing to go out and grab life by the horns, you'll find plenty of opportunities out there to earn money, travel, and find what you love.
Open yourself up to new possibilities and experiences. Don't suffer in that crummy job that barely pays the bills. Move somewhere. Pick up and start over. It's what our ancestors used to do. They moved to where the opportunity was and they thrived because of it.
Where would we be if they didn't constantly try to seek a better life but instead sat and watched Netflix?
I know picking up and leaving when you're struggling can seem scary. We often leave a situation only when we are the most secure. When you're struggling, your thoughts are more likely to be, "if I can just get ahead a little, then I'll be ready to go."
However, there's no perfect time to travel.
There's no right moment.
If you're in a bad situation, look for new opportunities. Once you've tracked them down, try them out. If you fail, you simply come back to exactly where you started. If you ask me, that's a much better option than the alternative: continuing down a path that leaves you unhappy — and that will probably drag you down for the rest of your life/
Unless you seize the moment, that temp job you're in just until you find something new is more likely to be the job you still have years from now.
If you're in a place you don't like, are working a job you hate, or have debt, there's no better time to say fuck it, move overseas and either find work or travel (or both).
You can volunteer, work in a restaurant or bar, do farm work, busk, be an aupair, be a tour guide, or start a blog.
My friend Mark Manson started his blog when he was sleeping on his friend's couch counting pennies to afford McDonald's because he figured what else did he have to lose?! (He's now a New York Times best-selling author!)
One of my favorite scenes in one of my favorite movies, Up in the Air, is when George Clooney's character fires J. K. Simmons' character Bob.
Bob is obviously upset — he has kids (one with asthma) and he feels like a failure. Instead of being sympathetic, George Clooney tells him he is a failure and reads Bob's résumé: he went to the French culinary institute to study cooking and worked in a fancy French restaurant. To quote the film:
I see guys who work at the same company for their entire lives, guys exactly like you. They clock in, they clock out, and they never have a moment of happiness. You have an opportunity here, Bob. This is a rebirth. If not for you, do it for your children.
What George is telling Bob is that now he has a chance to follow his dreams: to work with food instead of a job that saps his soul — because he has nothing left to lose.
If you were faced with such an opportunity to change — to use a setback or constrained circumstances to instead actually do something different — would you take it?
It's super hard to go against the current. Life gets away from us as the days tick by. But eventually one must say, "not today, not anymore."
Use the websites like Worldpackers or Trusted Housesitters to find new work or accommodation opportunities.
With a little research you can open yourself up to the world and all the jobs and opportunities in it.
There are ways to earn extra money via sharing-economy websites like Uber, Lyft, EatWith, TaskRabbit, and a plethora of other random side jobs from the sites listed in the previous paragraph to pad your wallet.
Once you find yourself overseas, you can get a working holiday visa, use job boards and local expat stomping grounds to find jobs, or take freelance work via a website like Upwork.
If I was broke, young, or in a job I didn't like, I would first try to teach English overseas. You don't need to be a teacher to do this — just a native English speaker (though having a degree will help if you want a better-paying job). There are tons of TEFL courses out there that can help you get started.
Best of all, many schools abroad will even pay for your flight to and from the country!
If I wasn't a native English speaker, I would use websites like iTalki or Cambly and teach people my language!
You get paid to be someone's language partner. There's nothing like getting paid to have a conversation in the language you speak every day. These sites are hugely popular — and you don't need to be a teacher.
Find something that moves you forward — even if it's only a little bit. Then take the next step. Then the next. Then another.
Maybe along the way, you may find yourself with a new passion or in a new situation where you happen to feel at home.
But while you're trying something new, you'll at least be able to pay off some of your debt, have some cool adventures, and gain some life experience.
The world can be your oyster if you truly grab it! Whether you make minimum wage, are in a wheelchair, or come from a developing country, you can make it happen.
When you expand your worldview, you increase your possibilities.
Don't make excuses as to why you can't — find all the ways you can.
Stretch yourself. Piece a few things together. Use the web. Break out of your immediate circle.
The world can be your oyster if you let it.


Book Your Trip: Logistical Tips and Tricks
Book Your Flight
Find a cheap flight by using Skyscanner. It's my favorite search engine because it searches websites and airlines around the globe so you always know no stone is being left unturned.
Book Your Accommodation
You can book your hostel with Hostelworld. If you want to stay somewhere other than a hostel, use Booking.com as it consistently returns the cheapest rates for guesthouses and hotels.
Don't Forget Travel Insurance
Travel insurance will protect you against illness, injury, theft, and cancellations. It's comprehensive protection in case anything goes wrong. I never go on a trip without it as I've had to use it many times in the past. My favorite companies that offer the best service and value are:
Want to Travel for Free?
Travel credit cards allow you to earn points that can be redeemed for free flights and accommodation — all without any extra spending. Check out my guide to picking the right card and my current favorites to get started and see the latest best deals.
Ready to Book Your Trip?
Check out my resource page for the best companies to use when you travel. I list all the ones I use when I travel. They are the best in class and you can't go wrong using them on your trip.