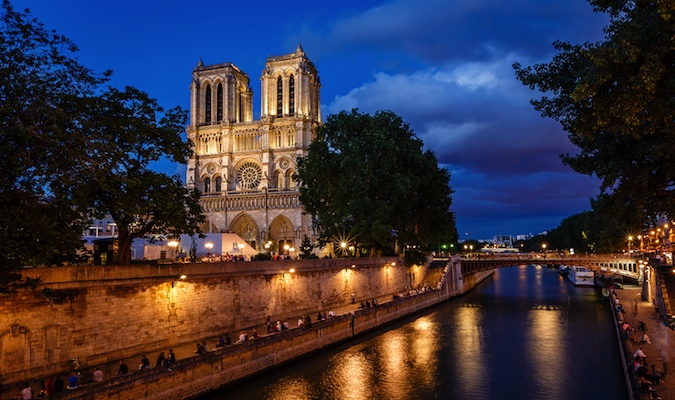 Posted: 09/04/2014 | September 4th, 2014
From the first moment I looked upon Paris, I was in love. Paris was everything I thought it would be: beautiful, sophisticated, ancient, orderly, and relaxed. All the clichés I had heard were true. As I exited the subway for the first time, I stared at the Arc de Triomphe and then down the Champs-Élysées as fashionably dressed people in their fitted pants, beautiful dresses, and black jackets moved around me.
It was love at first sight.
Subsequent visits only deepened my love for the city. When I went last month to lead a tour through Europe (which included the city), I added extra days for the City of Light. I couldn't bear to not have time alone with my Paris.
Paris has been written about countless times over the decades – and will continue to be until we can longer write. It is a city that enchants and captivates most of us. As Hemingway said, Paris is a moveable feast. It goes with you anywhere. To me, Paris is the best of society — smart, classy, sophisticated, and soulful. Its seemingly endless history mixes effortlessly with modern life.
Paris constantly reveals herself through solitary walks through her history, from the Place de la Concorde where Marie Antoinette, King Louis XVI, and countless others lost their heads, to the Tuileries Garden built to accompany its namesake palace that burned down in 1871. There is the Louvre, a centuries-old royal residence turned art museum; the ancient Sainte-Chapelle, home to stained glass windows dating to the 13th century; Notre-Dame, whose presence looms over the city's historic center; the Jardin de Luxembourg; Montmartre; and the Eiffel Tower. The Latin Quarter, with its patchwork of winding streets that used to be home to working-class Parisians and artists, always seems to reveal something new.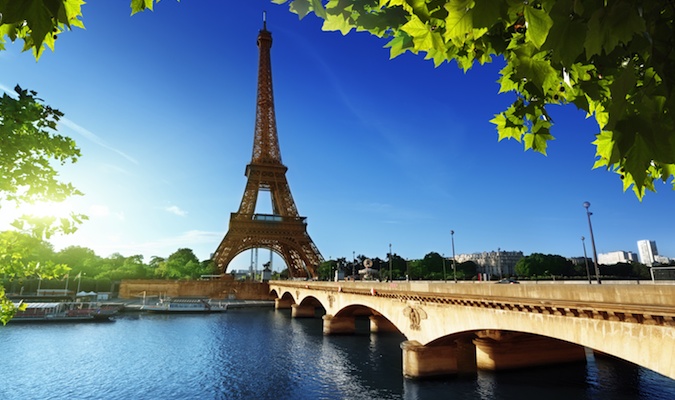 And, when my mind loses itself in history, my senses pull me back into the present. Sharply dressed Parisians I see make me reconsider my drab backpacker uniform of a t-shirt and jeans, and think, "I can do better." The smells from the patisseries turn me, a hater of desserts, into a lover of them. How can one deny such exquisitely glazed and decorated tarts? These visual treats are a delicious work of art. All the fromage shops, bakeries, and markets where one can fill up for only a few euros make expensive Paris a foodie's budget dream. A trip to Paris is nonstop eating, with rich food washed down by smooth red wine. In Paris, gluttony is not excess but a way of life.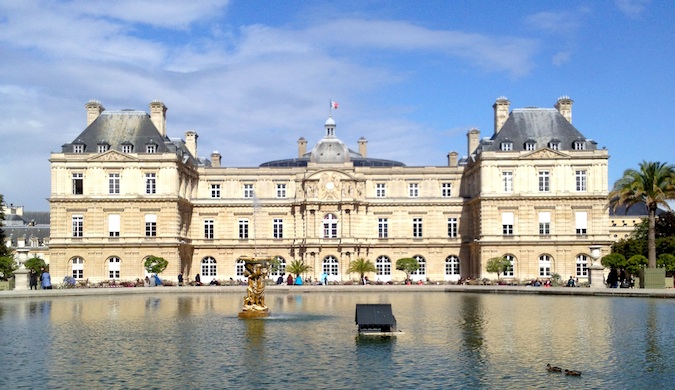 Although I love my home in NYC, the city's hustle and bustle and dog-eat-dog mentality often clashes with the go-with-the-flow attitude I've learned from traveling.
Paris is the opposite of New York. Here people stop to appreciate the little things in life — lunches that linger over wine, two-month vacations, picnics in the park, shops closing at an early hour, and daily market outings. In Paris, life is a play and each act is dedicated to what matters most: food, wine, friends, love, and conversation. Here one lives life rather than racing through it.
I idealize Paris. I know this. My romantic notion of the city, born of books and movies, is only reinforced by each visit. And, like any long-distance love affairs, we idealize the good and gloss over the bad. Daily life in Paris may not be as romantic as I believe. The city may not be so perfect. It has its flaws, especially it comes to race relations and class divide. It has problems.
But we all need some romance in our lives and Paris is mine.
And, for now, I am happy with my teenage love affair.
Get My COMPLETE Paris Guide for Budget Travelers!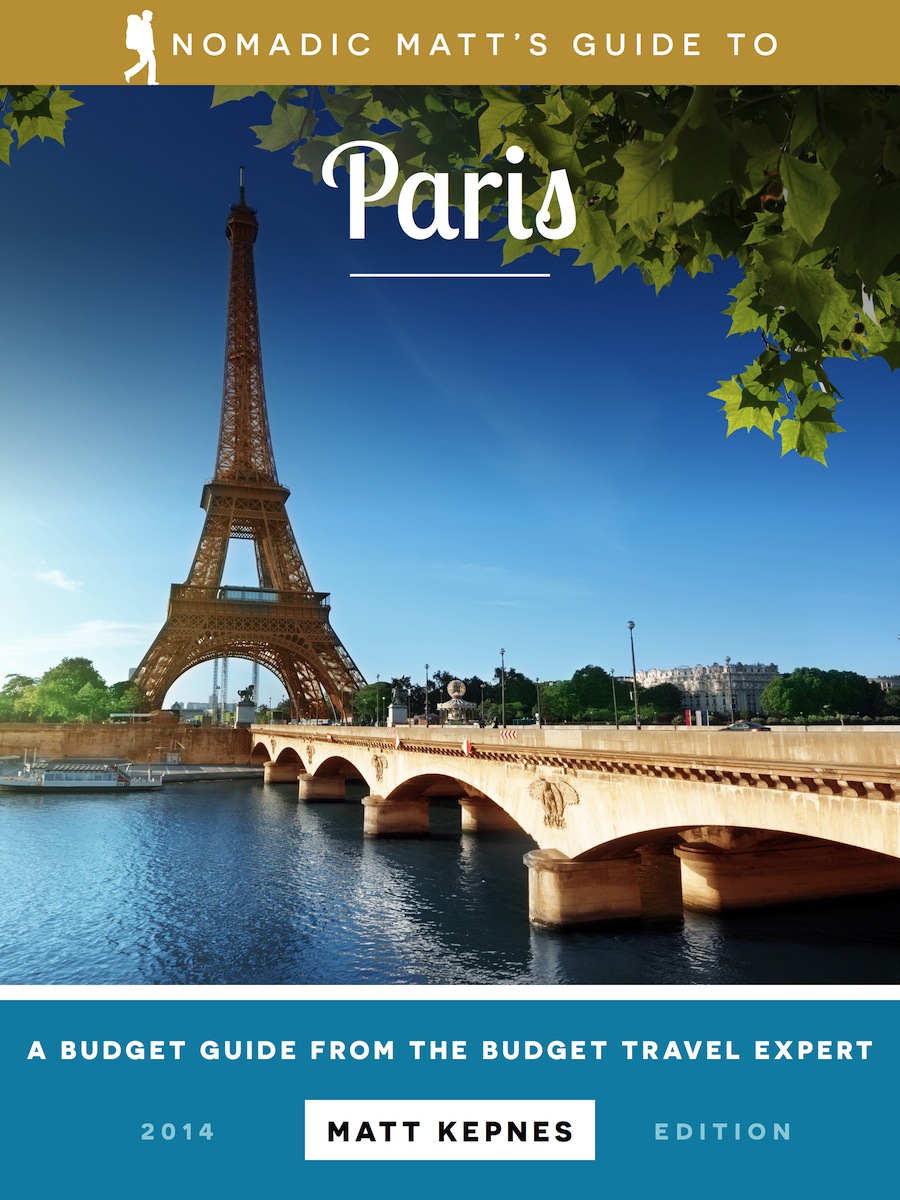 For more in-depth information, check out my guidebook to Paris written for budget travelers like yourself! It cuts out the fluff found in other guides and gets straight to the practical information you need to travel and save money in one of the most beautiful and romantic cities in the world. You'll find suggested itineraries, budgets, ways to save money, on and off the beaten path things to see and do, non-touristy restaurants, markets, and bars, and much more!! Click here to learn more and purchase the book.
Book Your Trip to Paris: Logistical Tips and Tricks
Book Your Flight
Find a cheap flight to Paris by using Skyscanner or Momondo. They are my two favorite search engines. Start with Momondo.
Book Your Accommodation
You can book your hostel in Paris with Hostelworld. If you want to stay elsewhere, use Booking.com as they consistently return the cheapest rates. (Here's the proof.)
Don't Forget Travel Insurance
Travel insurance will protect you against illness, injury, theft, and cancellations. I never ever go on a trip without it. I've been using World Nomads for ten years. You should too.
Need Some Gear?
Check out our resource page for the best companies to use!
Want More Information on Paris?
Be sure to visit our robust destination guide on Paris for even more planning tips!