I don't write about food often. I always have these grand desires to do so, but I never feel like I'm in a city long enough to make an expert judgment on the "best places to eat in city X." It's only when I spend extended time in a place — like I have in New York City and Bangkok — that I feel comfortable recommending a list of restaurants.
But over the years, I've done a lot of European travel and accumulated a fair list of favorite eateries, so instead of talking about one city, I've decided to provide a more general list of my favorite restaurants around Europe. I may not be a culinary expert, but I can promise a divine meal at any of the following places:
(This list is alphabetical by city)
Amsterdam
Burger Bar, Kolksteeg 2 – The best burger place in Amsterdam (and maybe Europe), with tons of topping options, thick juicy patties, and delicious fries.
Website: www.burger-bar.nl
Pancakes!, Berenstraat 38 – Delicious traditional Dutch pancakes with tons of topping choices — I'm a big fan of the strawberries and whipped cream! It's a small place, so try to avoid peak eating times as the wait can get quite long. Large portions.
Website: www.pancakesamsterdam.com
Barcelona
Les Quinze Nits, Plaza Reial, 6 – Delicious food for great value in the famous Plaza Real. It's a bit touristy, but even the locals come here for the value. Typical Spanish menu. Avoid the long lines at dinner and go for lunch.
Website: www.lesquinzenits.com
La Fonda, Escudellers, 10 – Good food with large portions, near Plaza Real. Their set menu will give you more than you can eat featuring beautiful decor and a robust wine selection.
Website: www.lafonda-restaurant.com
Allium Restaurant, Carrer del Call, 17 – Local and natural food restaurant that serves delicious, local ingredients with a nice rustic decor. Friendly staff, very well priced. This was my favorite restaurant in Barcelona.
Website: www.alliumrestaurant.es
Pinotxo, La Boqueria – Just inside the food market, this little stall is always packed and serves some of the most famous tapas dishes in the area. I stopped there while on a food tour, and it was delicious. Try the chickpea salad.
Website: pinotxobar.com
Berlin
Mustafa's, Mehringdamm 32 – The world's best kebabs and durums. I love the parsley and lemon juice they use with their salad. The line can stretch around the block and you can wait for up to an hour, but it's worth it.
Website: mustafas.de
Bordeaux
Le Petit Commerce, 22 Rue Parlement Saint-Pierre — This restaurant is on my favorite street in France, with its cute cafes, musicians, and cobblestone streets. It's everything you envision a French street to be. I was shown this place by a local friend and eat here every time I'm in Bordeaux. They serve mostly seafood. Try the sea snails. Delicious!
Website
La Tupina, 6 Rue Porte de la Monnaie — A more high-end restaurant that serves rustic, country dishes common to the region. Very traditional,authentic, delicious, but not easy on the wallet. It was one of the best meals I've ever had though. That chicken was heaven.
Website: www.latupina.com
Bratislava
Bratislava Flagship Restaurant, Nám. SNP 469/8 — Once a large theater, this beer hall/restaurant serves local cuisine at cheap prices and is a popular establishment with university students. Long tables, great for groups.
Website: www.bratislavskarestauracia.sk
Brussels
Maison Antoine, Place Jourdan 1 — The best frites (french fry) shop in the whole city!
Website: www.maisonantoine.be
Bucharest
Caru' cu Bere, Strada Stavropoleos 5 — The oldest German beer hall in Bucharest, serving hearty German and Romanian food. Very meat heavy, strong beer, and cheap prices. They also have free Wi-Fi.
Website: www.carucubere.ro
Budapest
Central Market Hall, Vámház körút 1–3 — The central market in the city has a lot of traditional places to eat. It's touristy (it's the central market after all!), but I still found the food tasty. My favorites are the shops on the second floor, on the right side, closest to the front.
Website: www.piaconline.hu
Bulgaria
Happy Sushi, located throughout Bulgaria – A sushi chain found around the country. The sushi was surprisingly high quality, with huge portions for a price any traveler could afford.
Website: happysushi.bg
Helsinki
Aino, Esplanadi 21 – Traditional Finnish food, a bit on the pricey side (30 euros for a meal), but tasty. Try the reindeer. Rudolph tastes delicious!
Website: www.ravintolaaino.fi
Ios, Greece
The Nest, Chora Village – Best Greek food on the island. Their soup is also the best hangover cure.
Website
Kyiv
Puzata Khata, Baseina St 2 — A local cafeteria/buffet-style eatery where the food is cheap and authentic. You never spend more than a few dollars for a hearty meal.
Website: www.puzatahata.com.ua
Lisbon
Instinctus, Rua de Santa Cruz ao Castelo 35 – A tiny place run by a sweet lady. Set menu: four courses with four glasses of wine. OK food, but the tons of wine, good ambience, and host make it a place worth visiting.
Website: instinctus.webnode.pt
Munich
Augustiner Bräustuben, Landsberger Straße 19 – A German beer hall I stumbled across serving traditional and hearty meals. You're seated at long tables with other parties, so it's an easy way to make friends. Since it's so out of the way, most people are curious to know how you found it.
Website: www.braeustuben.de
Naples
Di Matteo, Via dei Tribunali, 94 — This pizza place was recommended to me by a friend as the "best pizza in Naples." I'm not sure if that's true, but it was so delicious I ended up eating here every day. Good selection of toppings too.
Website: www.pizzeriadimatteo.com
Nice
La Rossettisserie, 8 Rue Mascoïnat — I also found this little rotisserie place randomly. They serve five dishes: chicken, beef, lamb, veal, and pork with potatoes and a few appetizers. It's small restaurant with an intimate setting, candles, fresh bread, and lots of wine choices.
Website: www.larossettisserie.com
Paris
L'Ardoise Gourmande, 12 Rue de Belzunce — This out-of-the-way restaurant a few blocks from Gare du Nord serves traditional French food with generous pours of wine. Their tasting menu is the best value. Their fish, or whatever is in season, is always prepared well.
Website: www.ardoisegourmande.com
Jeanne A, 42 Rue Jean-Pierre Timbaud) — This eat-in épicerie and wine shop offers delicious food (especially meats and cheeses) and is my favorite spot in Paris. The prix-fixe menu offers the best value at 30 euros for dinner with an appetizer and main dish. Be sure to try their lamb and duck — they are famous for it!
Website: www.jeanne-a-comestibles.com
Rome
Hamasei, Via della Mercede 35 — The best sushi in Rome.
Website: www.roma-hamasei.com
Al Vero Girarrosto Toscano, Via Campania 29 — Very traditional Tuscan food, famous (and rightly so) for their antipasto. Endless rounds of food, good-sized portions, and excellent wine. Expensive.
Website: alverogirarrostotoscano.com
Stockholm
Garlic and Shots, Folkungagatan 84 – Everything here is garlic flavored. Delicious, but don't go breathe on someone after. Don't walk away without trying the garlic shots either.
Website: www.garlicandshots.com
Hermans, Katarina / Sofia Fjällgatan 23B – All-you-can-eat vegetarian buffet overlooking the harbor.
Website: www.hermans.se
Sushi Devil, Tegnérgatan 43 – Best sushi place in all of Stockholm.
Website: www.hattorisushidevil.se
Valencia
La Pepica, Paseo Neptuno, 2, 6, 8 -The best paella I've ever had was here. This place has been around since 1898 and is located right on the beach.
Website: www.lapepica.com
So there you go: my favorite places to eat in Europe. I've eaten at a lot more than just these above, and I'm sure I'm forgetting some great places, but this is a good starting point for when you get hungry and aren't sure where to eat!
Get Your In-Depth Budget Guide to Europe!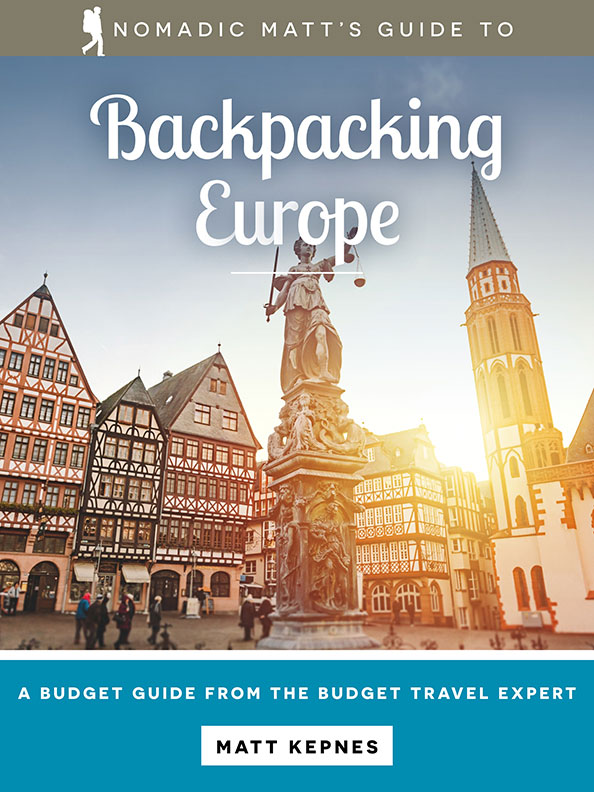 My detailed, 200+ page guidebook is made for budget travelers like you! It cuts out the fluff found in other guidebooks and gets straight to the practical information you need to travel and save money while backpacking around Europe. You'll find suggested itineraries, budgets, ways to save money, on and off the beaten path things to see and do, non-touristy restaurants, markets, and bars, and much more! Click here to learn more and get started!

Book Your Trip to Europe: Logistical Tips and Tricks
Book Your Flight
Find a cheap flight to Europe by using Skyscanner or Momondo. They are my two favorite search engines. Start with Momondo.
Book Your Accommodation
You can book your hostel in Europe with Hostelworld. If you want to stay elsewhere, use Booking.com as they consistently return the cheapest rates. (Here's the proof.)
Don't Forget Travel Insurance
Travel insurance will protect you against illness, injury, theft, and cancellations. I never ever go on a trip without it. I've been using World Nomads for ten years. You should too.
Need Some Gear?
Check out our resource page for the best companies to use!
Want More Information on Europe?
Be sure to visit our robust destination guide on Europe for even more planning tips!