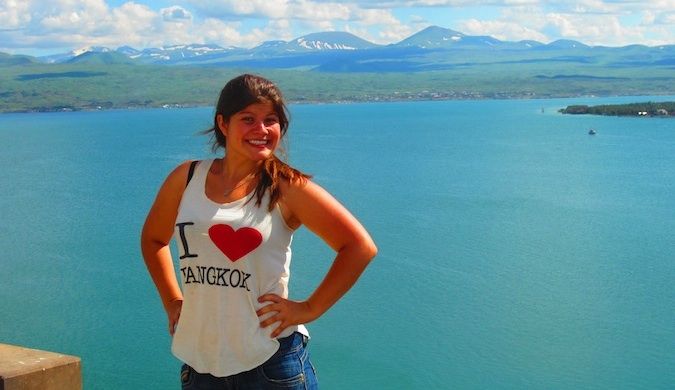 Posted: 12/03/2012 | December 3rd, 2012
Greetings from Africa! While I'm busy trying to snap a photo of a lion, this week I want to share stories of readers who used my tips and advice to realize their own travel dreams. If you've been thinking about traveling for a while, let these reader stories inspire you and show you that the advice here can work for anyone!
Our first success story comes from Lauren, a 22-year-old native of Dallas, Texas. Before leaving America to travel, Lauren worked for a company that helped students prepare for college entrance exams. On the road for seven months already, she spent a year saving up the $18,000 USD she wanted for her trip. I wanted to interview Lauren to show that (a) you can save substantial sums of money even if you are young and (b) young, solo women need not be afraid to travel alone.
Nomadic Matt: Tell everyone your story!
Lauren: I've always had my eye on the map. I started traveling in my early teens because my aunt and uncle were generous enough to assent to the absurd demands of a 13-year-old ("I want to go to Rome! Let's go!").
Those first few trips changed the way I saw the world and approached my future. I always knew I wanted to return to the big world and wander around until my feet couldn't take it anymore.
I put off leaving, though. There was never a right time. There was never enough money.
I don't know what made me finally decide to go, or when I made that decision. I think it was caused by something close to desperation. I was just ready to break. I couldn't drive down the same highway every day anymore. I knew there was a big world waiting out there, because I had seen it.
But once you make the decision, everything kind of falls into place. The only thing I regret is not doing it years earlier.
I'm always curious — how did you stumble across this site?
I actually found your site through the flight hacking post you did on Lifehacker about a year ago. It was just what I was looking for at the time, and when I clicked the link to your website, it opened up a whole new world. Here was someone who did exactly what I wanted to do and was still doing it.
He didn't fall off the face of the planet for leaving his job and flying across the world.
He says it's not impossible.
He says it's not expensive.
He says that I can do it…so maybe I can.
What kind of trip were you planning at the time?
At that time, this was all just a dream. I was saving for a trip, but I still didn't believe it was possible. I'd mention it to family or friends, and it just didn't seem real. The hope, though, was to leave my job and, after traveling around cheaply for a while, find somewhere that I really loved and stay there for a few months to restore my funds.
It seemed crazy at the time, you know, almost like an inside joke with myself, something that I was planning but that could never actually happen. And then I saw your website and I realized it was something that could happen.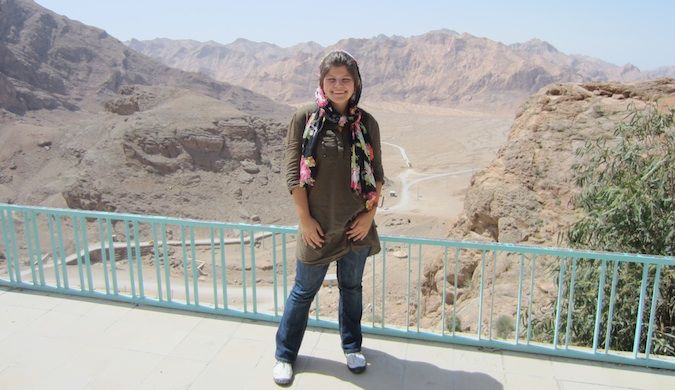 I believe anyone can do this! What did you see in this site that really helped you?
You helped me understand how to deal with the little stuff that can really seem like a barrier at first: deciding on a travel credit card, choosing a destination, creating a budget for different regions of the world, visas, understanding different kinds of flights and how to book them cheaply.
I think you explain this stuff really well and are very efficient at it — after all, it's what brought me to your site in the first place.
But what's most important, and what kept me coming back, is that you proved that even though you left your job — and this is a crazy American fear — you did not fall off the face of the planet. In fact, you're still alive! You figured out how to make money doing something else and you didn't become homeless (well…) or destitute in the process.
I think that's what most of us fear when we start thinking about doing something like this.
A lot of people will call you crazy when you say you want to try something different, and it's just not true. I really loved when you showed us how it all started — I think that's what people like to see the most, or at least that's what I held on to. About you going to Thailand and meeting those people and deciding that was it, you were going.
Reading every last page of the guidebook and making the decision and sticking to it. Really cool. Practical information can go a long way for people who are considering long-term travel, but I think what most of us are looking for is a confirmation that we're not crazy and that we can have what we want if we'll just take the first step toward it.
Were you afraid of anything before you went on your trip?
I want to say that I wasn't afraid, but I guess that would be a lie. I know I was seriously anxious about the little details. Credit cards, packing stuff, travel insurance, getting from point A to point B.
I remember spending hours and hours trying to figure out how credit card points work, and then how foreign transaction fees and stuff like that work, trying to choose the best bank and applying and all of that. That's when I really started to scour your website for the practical information and you really came through.
Then there's the stuff I mentioned earlier, being afraid that I was screwing up my life and trying not to listen to the people who told me I was doing so. It was really good to have a kind of virtual community to come home to just to remind me that I wasn't crazy.
I remember when you said one of the most brilliant things ever: "Everyone says I'm running away." If only they knew, right? Yeah, you're running away from fear and absurdity, but unlike the people who tell you this, you're the one embracing your life.
That thought really stuck with me and helped me get through the times when I was bombarded with questions about my (nonexistent) plans and when I started to feel aimless.
How did a 22-year-old save so much money in such a short time?
I lived without a car, lived with my parents, sold my things, brought PB&J and ramen noodles to the office, downgraded my phone plan, downgraded my coffee order, took advantage of freebies.
I know not everybody has the opportunity to do the big money savers like living with their parents, but there are still a whole lot of things you can do that add up quickly, and you really don't need to save up all that much to get out there.
I read blogs like Get Rich Slowly and The Simple Dollar in addition to yours for saving ideas and inspiration. I made saving a game. I wrote down everything I spent and tried to spend less and less each week. I took advantage of big credit card sign-up bonuses (but I never, ever, ever used that credit card to rack up debt!).
You just have to get used to delayed gratification. You're not going to remember coupon cutting or wearing the same old clothes or giving up those things in storage when you're on a beach in Thailand.
What about life on the road has surprised you the most?
How easy it is (most of the time). How easy it is to meet people, how easy it is to get from place to place, how easy it is to watch your life change before your eyes.
Sure, I have those days where even doing the simplest task seems impossible because of language barriers or other circumstances, but the easy days far outweigh the hard ones.
Do you have any problems staying on budget?
I write down everything I spend. People look at me like I'm crazy when I do it, and I look at them like they're crazy for not doing it. Don't look up five months from now and say you don't know where the money went for your year-long trip. There are plenty of pre-made spreadsheets and apps out there that you can use, or go analog and use a journal.
Whatever you do, write down everything you spend. Period.
While I travel, I also make sure to invest in experiences that are important to me (drinking lots of local coffee, enjoying the nightlife, being flexible enough to say yes to last-minute invitations), but I balance it out by skimping on the things that don't make much of a difference to me (eating at restaurants, sleeping comfortably, transportation). That way I still get to enjoy the things I like and don't really feel like I'm missing out because of the budget.
What one thing that you thought would be a challenge has turned out not to be?
The packing list.
I spent so much time and money trying to choose the best gear, and the reality is that I have very few things left that I originally brought with me. You don't have to go out and buy a bunch of new stuff when prepping for a trip. You can do it all with things you already have at home, except maybe a travel backpack.
What advice would you have for others who want to do what you are doing?
Letting go is so important. Realizing that you can't control every little detail of your life. Those people who look like they have their whole lives planned out? They don't. It's impossible.
And anyway, if it were possible, where is the fun in that? There is always something better than you could imagine, and if you don't open yourself up to experience that opportunity, you never will. It's about being fearless. Letting go of everything that holds you back so that you can have the world.
Lauren is a prime example that you don't need to be established to go out into the world. You can be young and broke but still manage to save enough for a trip around the world. She also shows that, as a solo female traveler, many of your fears are overblown, and you will manage to be okay using the same common sense you did back home.

Become the Next Success Story
One of my favorite parts about this job is hearing people's travel stories. They inspire me, but more importantly, they also inspire you. I travel a certain way, but there are many ways to fund your trips and travel the world. I hope these stories show you that there is more than one way to travel and that it is within your grasp to reach your travel goals. Here are more examples of people who found a way to pay for their adventure around the world:
We all come from different places, but we all have one thing in common: we all want to travel more.


Book Your Trip: Logistical Tips and Tricks
Book Your Flight
Find a cheap flight by using Skyscanner. It's my favorite search engine because it searches websites and airlines around the globe so you always know no stone is being left unturned.
Book Your Accommodation
You can book your hostel with Hostelworld. If you want to stay somewhere other than a hostel, use Booking.com as it consistently returns the cheapest rates for guesthouses and hotels.
Don't Forget Travel Insurance
Travel insurance will protect you against illness, injury, theft, and cancellations. It's comprehensive protection in case anything goes wrong. I never go on a trip without it as I've had to use it many times in the past. My favorite companies that offer the best service and value are:
Want to Travel for Free?
Travel credit cards allow you to earn points that can be redeemed for free flights and accommodation — all without any extra spending. Check out my guide to picking the right card and my current favorites to get started and see the latest best deals.
Need Help Finding Activities for Your Trip?
Get Your Guide is a huge online marketplace where you can find cool walking tours, fun excursions, skip-the-line tickets, private guides, and more.
Ready to Book Your Trip?
Check out my resource page for the best companies to use when you travel. I list all the ones I use when I travel. They are the best in class and you can't go wrong using them on your trip.