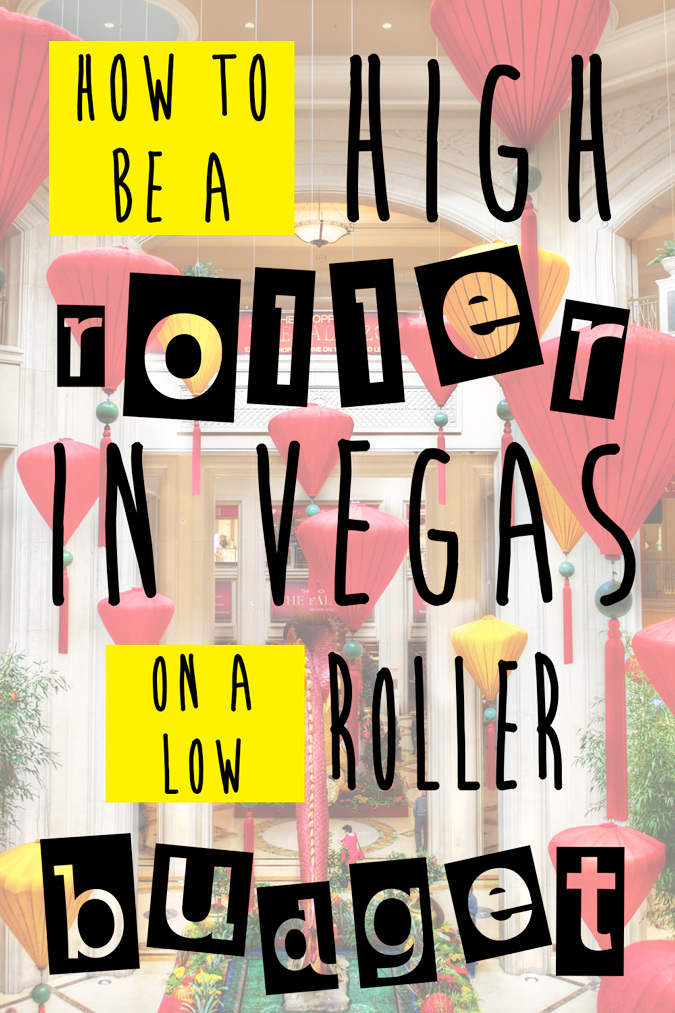 I love Las Vegas. I avoided going for years because I like to gamble, but when I finally went, I found the city offered a lot more than just ways to lose money. Many people think Vegas is expensive, but it doesn't have to be. There are plenty of ways to experience Vegas without breaking the bank. Today, I've enlisted my friend Abby Tegnelia, editor of Vegas Magazine and all-around Vegas guru to show us how to have a first-class Vegas vacation without going home broke.
In recent years, the Las Vegas Strip has exploded with five-star dining, A-list shows, and world-famous nightclubs. But not everyone can afford to pay top dollar for a Hangover-worthy weekend or a food fest that belongs in the pages of Gourmet. While it's easy to blow the bank the second you land in Vegas, the gambling mecca has also made it easier to experience its newly diversified entertainment offerings at a fraction of full price.
First and foremost, to be treated like a VIP, you must act like a VIP. Don't drink out of a yardstick. Don't slam that last cocktail after dinner, on the way out of the club, or even at brunch, as your group is waiting to leave. Leave half-empty glasses; it means you're not worried about where the next drink is coming from. Acting like you own the place will help you get treated as such.
How to Eat Five-Star Food on a One-Star Budget

Prime-time seating at the Strip's five-star restaurants is between 8 and 10pm, but these hot spots like to be full all the time, so most have both happy hour and pre-show menus to kick off their evenings between 4 and 7pm. (Details can vary between restaurants, so be sure to call first.) Belly up to the bar if you don't want to commit to a full table seating but are still hungry to try some famous food at low prices. Or sit down in the early evening for a pre-theater meal. (You don't have to produce a theater ticket to keep the reservation.)
Here are just a few of Vegas's gourmet restaurants where the cost of a meal under normal conditions could reach into the hundreds of dollars, but you can use this tip to enjoy a five-star meal for between $40 and $80 (wine pairings might be more):
L'Atelier Joel Robuchon, MGM Grand
Milos, Cosmopolitan
Jean-Georges Steakhouse, Aria
Carnevino, Palazzo
Michael Mina, Bellagio
Eiffel Tower, Paris
American Fish, Aria
Reverse Happy Hour


Most Vegas restaurants stop serving food by 10:30pm, but there are so many performers finishing up about that time that the Strip has a tradition of the post-10 (or 11, depending on the place) "reverse happy hour," with food and drinks starting as low as $3.
Best reverse happy hours:
Firefly (two blocks off-Strip)
Bootlegger Bistro (old-school Italian, five minutes from Mandalay Bay, "graveyard specials")
Holstein's, Cosmopolitan
Blue Ribbon Sushi, Cosmopolitan
Red Square, Mandalay Bay
Stripburger, Fashion Show Mall
Ra Sushi, Fashion Show Mall
Brunch


Whether you're pulling off a hair of the dog or are simply looking for a daytime gossip fest with the girls, a boozy brunch is a Sin City staple. And in Vegas, the best ones come with unlimited food and drinks on the weekends. (I order my mimosas bottomless and tell them to "hold the juice.")
Best brunches
Simon, Palms Place: most popular with the nightlife crowd. It boasts an all-you-can-eat sushi-and-bagel bar, plus a full a la carte menu, in addition to an all-you-can-eat menu for $40. Don't forget to check out the $21 all-you-can-drink champagne or mimosas or $17 Bloody Marys.
Border Grill, Mandalay Bay: enjoy all-you-can-eat five-star Mexican small plates, both sweet and savory, for $30, plus $6 bottomless mimosas or $10 bottomless Bloody Marys. (Locals can ask for a frequent diner card for 15 percent off.)
La Cave, Wynn: On Sundays only, one of the Strip's fanciest resorts offers a $40 all-you-can-eat brunch with mouth-watering dishes such as truffled grits, Canadian bacon, and French toast, plus $20 all-you-can-drink mimosas, caipirinhas, or mojitos.
How to Enjoy the Nightlife Like a Celebrity

To many, the holy grail of a weekend in Vegas seems to be getting into the Strip's world-famous nightclubs. The good news? Unlike other club-centric destinations such as South Beach and LA, Vegas is somewhat of a democracy. If you patiently stand in line and follow the dress code, you will eventually get in.
If you don't have an expensive table reservation or know someone at the door, you are committed to arriving early if it's a busy night. I recommend being there by 10pm.
Being a group of guys is hard, so be prepared to shell out full price for entry. Clubs prefer a 2:1 girl-guy ratio. If at all possible, guys should try to meet some girls earlier in the evening and go to the line with them. There is a good chance that you won't go to the end of the line; instead, you could be put in one of the "half-way" lines. You still might have to pay full price, but there's a chance you won't, and at least you won't have to stand in line as long.
If you meet one of the VIP hosts and aren't sure if you'll go to the club, know that the lists close at 9pm. Try to call or text by about 7 or 8 to confirm your place on the list to beat the rush. Know your assets: if you're a group of young, pretty girls, ask your host to let you know if any of his tables of guys are looking for girls to hang out with them. Tip: Many of the nightclub workers also have drink tickets for free cocktails, so it never hurts to ask them to share!
Girls, do stop and talk to the promoters handing out flyers. Their job is to get as many ladies into the club as possible, so you can easily get free entry with those flyers. Sorry, guys, but you're out of luck there.
There's a separate line at every club for hotel guests, so make sure to bring your room key. Depending on the night, you may also get a discounted rate.
If you're not staying at the hotel whose club you're trying to get into, you can also make a dinner reservation at the associated restaurant if it has one. Dining at Tao or Lavo will get you into their clubs that night, and noshing at Andrea's at Encore will garner a hand stamp for Surrender.
If a local puts you on a list through someone high-level at the club, make sure to mention that name at the door. Otherwise, you might be stuck in a longer line than you need to be.
All bets are off after about 2am, when the hosts have seated most of their big clients, and the lines of people trying to get in have waned. If you manage to reach your VIP host via text, he'll probably be finished with those paying customers. He can, therefore, run down to get you outside to let you in and might be more generous with his drink tickets or finding you a place to sit. That said, if he's partying too hard, he might not get your text to begin with.
Matt's tip: To cut down on expensive drinks at the clubs, drink on the casino floor. The drinks are free as long as you're playing one of the games. Sit down at a penny slot machine, play slow, and drink fast. You can have 10 drinks for the price of one at the club! Just make sure you tip the waitress.
Vegas Shows Without the Vegas Price

My favorite part about living near the Strip is getting to see so many shows. Similar to the discount booths in Manhattan for Broadway shows, Tix 4 Tonight has booths at Fashion Show Mall, Circus Circus, Town Square, Four Queens downtown, and various other locations around town. There you can find tickets for shows that night for 50 percent off. The booths open at 10am and accept both major credit cards and cash. Get there early! The location in front of the giant Coke bottle and M&M store is notorious for having the longest line, so try to avoid it.
Also make sure to grab a Vegas2Go, which is a coupon and listings book for shows and some food specials. They're in kiosks all over the Strip, or ask the concierge at your hotel. Also check Vegas.com daily. It offers rotating deals on various shows.
Car Rentals: A Final Note
Here's where I would save your money. Unless you're planning on some off-Strip activities on your own, there's no need to rent a car. The airport is 10 minutes from any hotel, so a cab is easiest. And even if you do decide to go off-roading or to the Hoover Dam, there are plenty of shuttle options when you make your reservations.
Many people tell me they arrive in Vegas feeling overwhelmed by everything there is to do. Las Vegas can cause sensory overload and leave you unsure where to begin. By knowing a few tips and tricks, your trip to Vegas can be a wonderful time where you're treated like a VIP without having to spend VIP money.
For more on visiting Vegas and saving money, read these other articles on the blog:
Abby Tegnelia started a travel blog, Day Dream Away, while living in Costa Rica. She has since moved back to Las Vegas, where she tears it up on the Strip as editor-in-chief of Vegas Magazine.