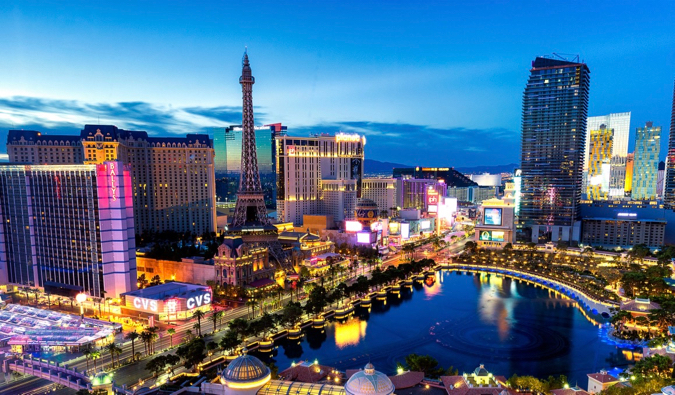 Last Updated: 5/10/2022 | May 10th, 2022
I love Las Vegas. I avoided going for years because I like to gamble and didn't want to empty my bank account. However, when I finally went, I found the city offered a lot more than just ways to lose money.
Most people think Vegas is expensive — and it certainly can be if you splash out and indulge (or are terrible at playing cards!) — but it doesn't have to be. There are plenty of ways to experience Vegas without breaking the bank.
Today, I've enlisted my friend Abby Tegnelia, former editor of Vegas Magazine and all-around Vegas guru to show us how to have a first-class Vegas vacation without going home broke.
In recent years, Las Vegas has exploded with five-star dining, A-list shows, and world-famous nightclubs.
But not everyone can afford to pay top dollar for a Hangover-worthy weekend or a food fest that belongs in the pages of Gourmet.
While it's easy to blow the bank the second you land in Vegas, the gambling mecca has also made it easier to experience its newly diversified entertainment offerings at a fraction of the full price.
To help you plan your trip and keep your budget intact, here's everything you need to know to be a high roller in Vegas on a low-roller's budget!

How to Eat Five-Star Food on a One-Star Budget
Prime-time seating at the Strip's five-star restaurants is between 8pm-10pm, but these hot spots like to be full all the time so most have both happy hour and pre-show menus to kick off their evenings between 4pm and 7pm. (Details can vary between restaurants, so be sure to call first.)
Belly up to the bar if you don't want to commit to a full table seating but are still hungry to try some famous food at low prices. Or sit down in the early evening for a pre-theater meal. (You don't have to produce a theater ticket to keep the reservation.) Some also have prix fixe lunch menus as well.
Here are just a few of Vegas's gourmet restaurants where the cost of a meal under normal conditions could reach into the hundreds of dollars, but you can use this tip to enjoy a five-star meal for under $100 (wine pairings might be more):
L'Atelier Joel Robuchon (MGM Grand)
Estiatorio Milos (The Venetian)
Jean-Georges Steakhouse (Aria)
Michael Mina (Bellagio)
Eiffel Tower (Paris)
Reverse Happy Hour
Many Vegas restaurants stop serving food by 10:30pm, but there are so many performances finishing up about that time that the Strip has a tradition of the post-10 (or 11, depending on the place) "reverse happy hour" with food and drinks starting as low as $5.
Some of the best reverse happy hours in Vegas are:
Sugarcane Raw Bar and Grill (The Venetian)
Ra Sushi (Fashion Show Mall)
PKWY Tavern (multiple locations)
The Yard House (multiple locations)
Izkaya Go
Brunch
A boozy brunch is a Sin City staple. And in Vegas, the best ones come with unlimited food and drinks on the weekends. Here are some of the best brunches in town:
Border Grill (Mandalay Bay): For $44, you can enjoy all-you-can-eat five-star Mexican small plates, both sweet and savory. You can also add bottomless mimosas, micheladas, and Bloody Marys for an additional $27.
La Cave (Wynn): On Sundays only, one of the Strip's fanciest resorts offers a $49 all-you-can-eat brunch with mouth-watering dishes such as truffled grits, Canadian bacon, and French toast, plus $34 all-you-can-drink mimosas, caipirinhas, or mojitos.
The Wynn Buffet (Wynn): One of the few restaurants that offer brunch on Fridays, The Wynn Buffet is $50 for unlimited gourmet food, with an add-on "Endless Pour" for $28 per person. Due its popularity, advance reservations for priority seating are highly recommended (otherwise the wait can be extensive).
How to Enjoy the Nightlife Like a Celebrity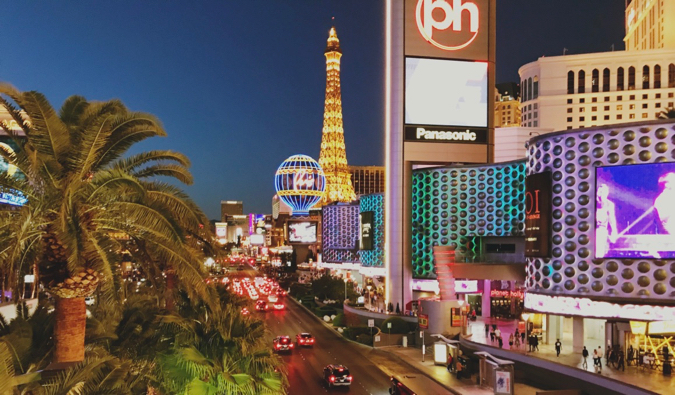 To many, the holy grail of a weekend in Vegas seems to be getting into the Strip's world-famous nightclubs. The good news? Unlike other club-centric destinations such as South Beach and LA, Vegas is somewhat of a democracy. If you patiently stand in line and follow the dress code, you will eventually get in.
If you don't have an expensive table reservation or know someone at the door, you'll need to make sure you arrive early if it's a busy night. I recommend being there by 10pm at the latest.
Being a group of guys will make it harder to get in, so be prepared to shell out the full price for entry. Clubs prefer a 2:1 girl-guy ratio. If at all possible, guys should try to meet some girls earlier in the evening and go to the line with them. There is a good chance that you won't go to the end of the line; instead, you could be put in one of the "halfway" lines. You still might have to pay full price, but there's a chance you won't, and at least you won't have to stand in line as long.
If you meet one of the VIP hosts and aren't sure if you'll go to the club, know that the lists close at 9pm. Try to call or text by about 7 or 8 to confirm your place on the list to beat the rush. Know your assets: if you're a group of young women, ask your host to let you know if any of his tables of guys are looking for girls to hang out with them. Tip: Many of the nightclub workers also have drink tickets for free cocktails, so it never hurts to ask them to share!
If you're a group of women, stop and talk to the promoters handing out flyers. Their job is to get as many ladies into the club as possible, so you can easily get free entry with those flyers. Sorry, guys, but you're out of luck there.
There's a separate line at every club for hotel guests, so make sure to bring your room key. Depending on the night, you may also get a discounted rate.
If you're not staying at the hotel whose club you're trying to get into, you can also make a dinner reservation at the associated restaurant if it has one. Dining at Tao or Lavo will get you into their clubs that night, and eating at Andrea's at Encore will garner a hand stamp for Surrender.
If a local puts you on a list through someone high-level at the club, make sure to mention that name at the door. Otherwise, you might be stuck in a longer line than you need to be.
All bets are off after about 2am, when the hosts have seated most of their big clients, and the lines of people trying to get in have waned. If you manage to reach your VIP host via text, he'll probably be finished with those paying customers. He can, therefore, run down to get you outside to let you in and might be more generous with his drink tickets or finding you a place to sit. That said, if he's partying too hard, he might not get your text to begin with.

Vegas Shows Without the Vegas Price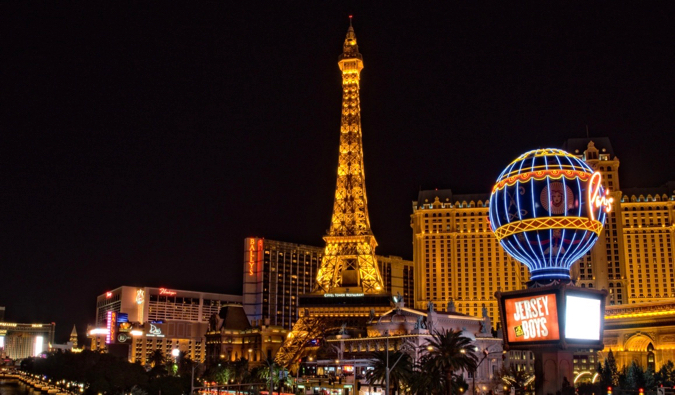 My favorite part about living near the Strip is getting to see so many shows. Similar to the discount booths in Manhattan for Broadway shows, Tix 4 Tonight has booths at Bally's Grand Bazaar Shops, Showcase Mall, Casino Royale, and various other locations around town. There you can find tickets for shows that night for 50% off.
The booths open at 10am and accept both major credit cards and cash. Get there early!
Also make sure to visit Vegas.com, which has listings and deals for shows and some food specials. You can often find some good deals here.

More Money-Saving Tips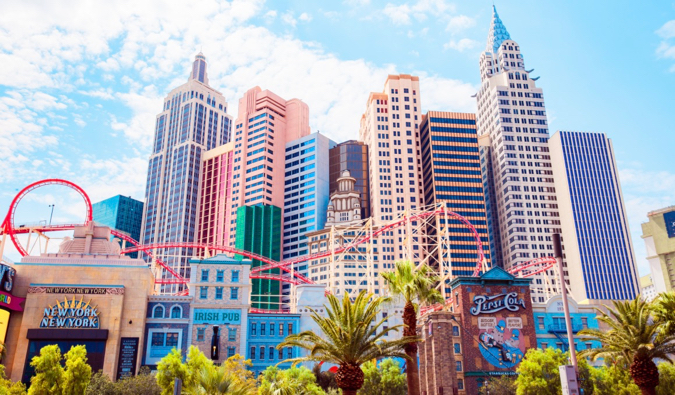 Here are a few money-saving tips you can use to keep your budget intact while still having an amazing trip:
1. Skip the weekend – Most people visit Las Vegas on a Friday or Saturday and stay for the weekend which means this is the most expensive time to visit. By visiting the city during the week you can avail yourself of the significantly reduced room rates and restaurant prices.
2. Gamble responsibly – It's Vegas, of course, so you'll want to risk a few dollars in a casino, but don't go wild. Only gamble what you can comfortably afford to lose, because chances are, the house will win.
3. Get comps – If you're gambling, the casino will often reimburse some of your losses in the form of meals, discounted show tickets, and rooms. Make sure to ask about these (they're offered often to returning visitors too, so make sure you don't unsubscribe from the hotel/casino's mailing list).
4. Use coupons – Coupons are almost a currency in Las Vegas; casinos will give you a book of them when you sign up for a (free) player's card and you'll find 2-for-1 offers on meals in restaurants on the Strip.
5. Don't pay cabs with a credit card – Taxis charge a service charge when you pay with a credit card (up to $3 sometimes!). Avoid the charge by paying cash.
6. Eat at the buffet – Vegas has some of the best food in the world. With all the money flowing in, that should be no surprise, but if you really want to save money on food, stick to the all-you-can-eat buffets. Buffets cost about $20-35 — but you can eat enough to keep you going for a long time!
7. Pre-drink at the casino – To cut down on expensive drinks at the bar or club, drink on the casino floor first. The drinks are free as long as you're playing one of the games so just sit down at a penny slot machine, play slow, and drink fast. You can have 10 drinks for the price of one at the club! Just make sure you tip your server.
A Note About Car Rentals
Here's where I would save your money. Unless you're planning on some off-Strip activities on your own, there's no need to rent a car. The airport is 10 minutes from any hotel, so a cab is easiest. And even if you do decide to go off-roading or to the Hoover Dam, there are plenty of shuttle options when you make your reservations.
I'd only suggest renting a car if you plan to drive to the Grand Canyon or spend a couple of days outside the city. Otherwise, skip the rental and save your money.
***
Many people tell me they arrive in Vegas feeling overwhelmed by everything there is to do. Las Vegas can cause sensory overload and leave you unsure where to begin. By knowing a few tips and tricks, your trip to Vegas can be a wonderful time where you're treated like a VIP without having to spend VIP money.
Abby Tegnelia is a former travel blogger and former editor-in-chief of Vegas Magazine. She currently resides in Saratoga, NY. You can follow her adventures on Twitter.
Book Your Trip to Las Vegas: Logistical Tips and Tricks
Book Your Flight
Use Skyscanner to find a cheap flight. They are my favorite search engine because they search websites and airlines around the globe so you always know no stone is left unturned!
Book Your Accommodation
You can book your hostel with Hostelworld as they have the biggest inventory and best deals. If you want to stay somewhere other than a hostel, use Booking.com as they consistently return the cheapest rates for guesthouses and cheap hotels. My favorite places to stay in the city are:
Don't Forget Travel Insurance
Travel insurance will protect you against illness, injury, theft, and cancellations. It's comprehensive protection in case anything goes wrong. I never go on a trip without it as I've had to use it many times in the past. My favorite companies that offer the best service and value are:
Looking for the Best Companies to Save Money With?
Check out my resource page for the best companies to use when you travel. I list all the ones I use to save money when I'm on the road. They will save you money when you travel too.
Want More Information on Las Vegas?
Be sure to visit our robust destination guide on Las Vegas for even more planning tips!