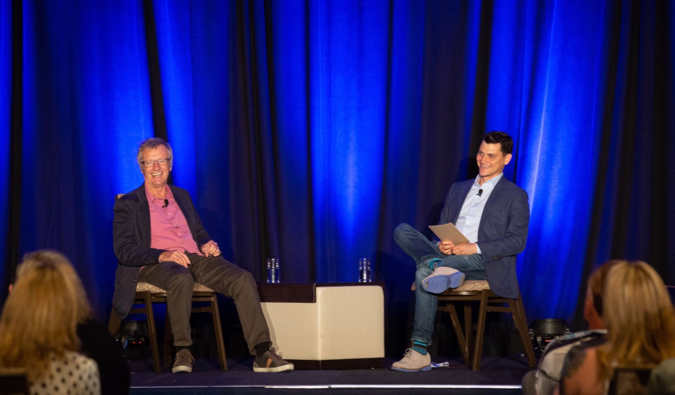 Updated: 08/04/19 | August 4th, 2019
In 2019, one of the keynote speakers at TravelCon was Tony Wheeler, the founder of Lonely Planet. I've been fortunate enough to chat with Tony a few times over the years, and I was honored when he agreed to speak at our conference. With TravelCon19 in the books, I thought it would be a good time to re-share this interview with Tony from 2011 so we could step back in time and see just what has changed in the industry since then.
Starting a travel blog is a lot of work. But it also has its perks. One of those perks?
Running a travel blog has allowed me to meet amazing people from all around the globe.
But it's also given me a chance to meet my travel heroes.
I've had drinks with Pauline Frommer, met Rick Steves, became friends with Johnny Jet and Matt Gross (the former Frugal Traveler), hung out with Rolf Potts, and chatted about flights with George Hobica, just to name a few. I even got to meet Cheryl Strayed earlier this year.
Having been blogging and traveling for over a decade now, the list of amazing people I've met has grown long — and I'm incredibly grateful for the opportunities I have been given. One of those opportunities occurred back in 2011.
As my blog began to grow, I was getting more and more press attention. One day, I received an email from Lonely Planet. They wanted to put me in touch with their founder, Tony Wheeler.
I was stunned.
This was a huge opportunity.
After I calmed down, I sent Tony an email.
We exchanged a few emails back and forth and he agreed to do an interview for the blog (I confess, I gushed a bit about his influence on my travels. I couldn't help it!)
Here is that original interview, from 2011. A lot has changed since then — yet so much is still the same!
Nomadic Matt: Your Guide to Southeast Asia changed guidebooks and travel. It created a mass-market and accessibility that didn't exist before. How does having such a big impact on travel make you feel?
Tony Wheeler: Great. Looking back, we were there at the start of something big happening. Travel was becoming more affordable and accessible, so there was a demand for destination information. That's how Lonely Planet started, with people asking us for our recommendations for destinations because we'd been there and done it. This led to the creation of our first guidebook, Across Asia on the Cheap.
There's actually a book about to be published by a guy who tries to travel around the region today using one of our original books, Southeast Asia on a Shoestring (now 36 years old). Amazingly, he finds lots of places either still in operation or run by the children or even grandchildren of the people we encountered when we researched the guide in 1974. Travel is constantly changing and developing, but the need for trusted, accurate information about destinations is still there. More people travel further and longer and in different ways. Our guides continue to provide the tried and tested recommendations that our first guide, Across Asia on the Cheap, was founded on.
Lonely Planet is considered the bible for young backpackers and long-term travelers. It's the book they use far more than any other guide out there. Is that the market you had always hoped for, given that was the style of travel you started with?
We started out doing books for people just like us, young and penniless. Obviously, we've changed over the years and so have the books! But although we cover the upscale travel just as much as backpacking these days, I still have a real soft spot for the backpackers — they're travel pioneers, they're often pioneering new routes and new ways of travel, and let's face it, there's no travel experience like the first-time travel experience.
I reckon gap-year travelers learn more in that year than they did in their last five years of school. Or the next years of university! I also like the tough-travel, off-the-beaten-track information, which is why I've enjoyed myself using our guide to Africa in the Democratic Republic of Congo these past three weeks.
In the book The Beach, there is a line: "Once it's in the Lonely Planet, it's ruined." That comment reflects a feeling that Lonely Planet (and guidebooks in general) sterilize places and turn them into tourist traps. How do you react to such criticism?
The key here is that Lonely Planet guidebooks are just that — a guide. We encourage travelers to use our guides as a starting point, by providing them with the tools to create their own adventures.
Tourists will visit destinations regardless; we are just providing them with the tools to travel independently and put their tourist pounds back into the local economy.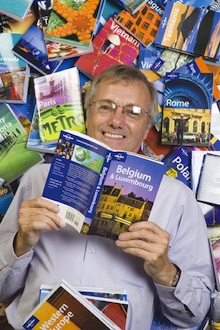 It has always been paramount to us that Lonely Planet encourages responsible, independent, and ethical tourism. Our guides advise travelers about the local history, politics, culture, wildlife, and economy so that they can get to the heart of the place and understand the destination they are visiting.
I have dedicated my life to travel and am a strong believer in its benefits, both for the traveler and the local community that they are visiting.
Travel broadens the mind by sharing cultures, language, and traditions. It is impossible to argue that tourism doesn't influence destinations, but there are many factors contributing to the growth of tourism, not least flight routes and the declining cost of travel.
Are there any aspects of travel that have changed over the last 20 years that you DON'T like? Why?
A lot of people will say the greater ease of travel, communication, and information have taken the romance out of travel, but I reckon things like Internet cafés are just a new version of poste restante. There'll be just as many tales of Internet café meetings and romances as "sitting on the steps of the post office reading long-lost letters."
The saddest change is a post-9/11 security one. Of course, I hate all the farting around with metal detectors and X-ray machines (and I could design a better way of doing it than 90% of airports I pass through), but the biggest one is that you can't go up on the flight deck anymore. While you never could on US airlines, elsewhere in the world if you asked nicely you could generally get invited up to the flight deck to have a look over the pilot's shoulder.
The one occasion I flew Concorde I went up the sharp end, and twice I even got to sit in on a landing of a 747.
On the flip side of that question, what do you see as the more positive aspects of how travel has changed over the last 20 years?
Romance or not, I'd be lying if I said I didn't like the ease of doing things these days, whether it's booking a hotel, getting a seat on a plane in Congo or a train in Switzerland, and that you can download visa application forms instantly. (Iran was amazingly wired and helpful in that respect the last time I went there.)
And that almost anywhere you can get a free or near-as-damn-it free local SIM card for your phone is also amazing — so I've had my own phone number everywhere from Afghanistan to Zambia — as is ATM machines spitting out currency in the weirdest and most unlikely places.
Where do you see guidebooks going in the digital age?
It's often said there's as much print as ever; it's just not necessarily on paper anymore. I think we're going to keep on researching things: to do a good job you have to go there, you cannot research a place from behind a desk or in front of a computer. But whether that "guidebook" will be a book or an iPhone app, who knows?
What do you think of travel blogs?
Great. The best travel blogs publish such a wealth and diversity of travel articles. It is a fantastic community and it's exciting to watch it grow.
Do you believe there is a professional quality to travel blogs that is on par with guidebooks?
Some of them. But then there are some good guidebooks and some crap ones as well.
Which blogs do you like? What are some examples of "good ones"?
I don't follow any blogs, but if I'm looking for something connected to some trip or place or idea I'm thinking about then I often end up on somebody's blog. The Congo trip I've just done was very mundane, but God, there are some great Congo stories out there.
Like the one by a Belgian couple who slogged their way right across the country, all but destroying their Land Cruiser en route and putting it through the sort of hell Toyota could hardly have dreamed up. And I've gone down plenty of "roads" on Land Cruisers where, at the end, I thought "What a vehicle! Amazing!"
Why did you sell your stake in Lonely Planet?
We didn't want to run it forever, and it was time for a change.
Now that you have sold Lonely Planet, how are you keeping yourself busy?
Traveling! I'm working on a new travel book, and Lonely Planet keeps asking me to do some things.
So you are still involved with LP? Is that as an advisory role, or do you have a special title?
A title? A role? Something I get paid for? No. But I write a monthly column for the LP magazine, I seem to write a lot of intros/forewords/columns/etc. for assorted LP books, and I'm still often asked to front for something, appear for something, etc. with LP. And for the rest of my life I'll be "one of the people who started LP."
And I'll never be able to go anywhere without sending back corrections/additions/suggestions for the relevant book. Incidentally, I never had an LP business card with a title or role on it.
If you have one piece of advice for travelers, what would it be?
Go. And go somewhere interesting.


How to Travel the World on $50 a Day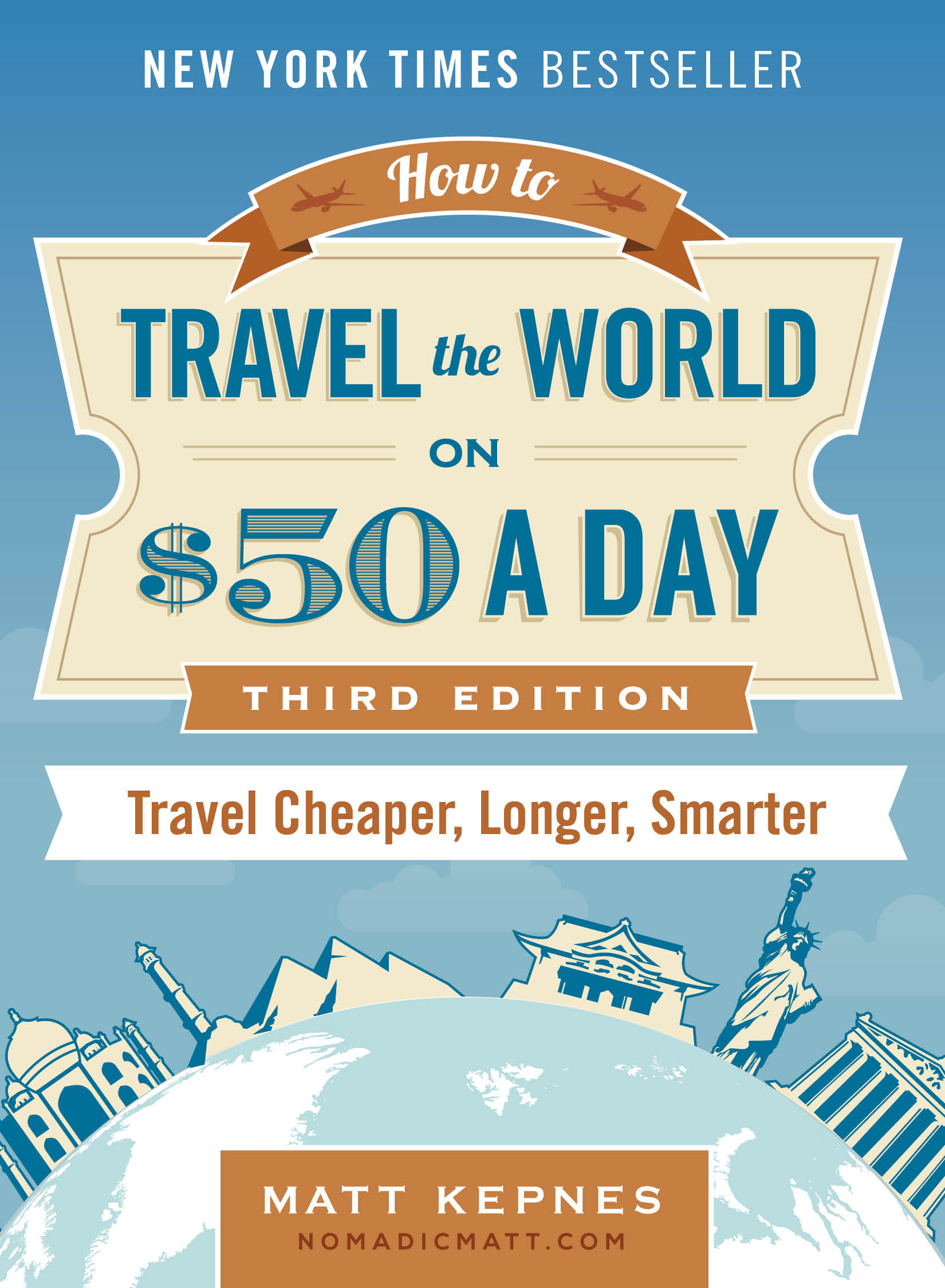 My New York Times best-selling paperback guide to world travel will teach you how to master the art of travel so that you'll get off the beaten path, save money, and have a deeper travel experience. It's your A to Z planning guide that the BBC called the "bible for budget travelers."
Book Your Trip: Logistical Tips and Tricks
Book Your Flight
Find a cheap flight by using Skyscanner. It's my favorite search engine because it searches websites and airlines around the globe so you always know no stone is being left unturned.
Book Your Accommodation
You can book your hostel with Hostelworld. If you want to stay somewhere other than a hostel, use Booking.com as it consistently returns the cheapest rates for guesthouses and hotels.
Don't Forget Travel Insurance
Travel insurance will protect you against illness, injury, theft, and cancellations. It's comprehensive protection in case anything goes wrong. I never go on a trip without it as I've had to use it many times in the past. My favorite companies that offer the best service and value are:
Want to travel for free?
Travel credit cards allow you to earn points that can be redeemed for free flights and accommodation. They are what keep me traveling so much for so little. Check out my guide to picking the right card and my current favorites to get started and see the latest best deals.
Ready to Book Your Trip?
Check out my resource page for the best companies to use when you travel. I list all the ones I use when I travel. They are the best in class and you can't go wrong using them on your trip.