It seems that everyone is going to Thailand right now. I have friends thinking about going, friends going, and friends there already. It must be all that snow and cold weather in the Northern hemisphere right now! At the end of last year, I spent a considerable amount of time in the city. It's one of my favorite cities in the world.
Bangkok usually leaves travelers unimpressed, given its pollution, traffic, and lack of tourist attractions. I played tour guide to a few friends when I was in the city and, while they enjoyed the food and nightlife, they didn't think there was much to do. And they're right — there isn't much to do here in the traditional tourist sense, and most people can't wait to get out.
I used to feel that way until I lived here and saw that Bangkok actually has a lot to offer. It just reveals its secrets slowly to those with the time to explore the hidden gems of this megacity. It requires you to leave the tourist ghettos of Khao San and Silom and find a city full of things to do, places to eat, and bars, clubs, and sites to visit.
What to See and Do in Bangkok

Below are my favorite places to visit and things to see:
The Grand Palace
Hours: 8:30am–3:30pm daily. Price: 500 baht
This is Thailand's royal palace. It was built at the end of the 18th century by King Rama I and is the official residence of the current monarch (though he doesn't actually live there anymore; now it's just used for ceremonies). It's a beautiful palace filled with numerous temples, including Wat Pra Kaeo, which houses the 15th-century Emerald Buddha statue, whose robes are rotated three times a year by the king himself.
The Jim Thompson House
Hours: 9am– 5pm daily; the last guided tour starts at 5pm. Price: 150 baht, discounts for students
Jim Thompson was a former American spy and silk merchant in Thailand during the 1950s and 1960s. He built his traditionally Thai home in Bangkok and decorated it with beautiful teak wood furniture and a surrounding garden. He vanished mysteriously in 1967 while in Malaysia. His house is now a monument to traditional Thai architecture. A visit here is one of my favorite things to do in the city. The proceeds are used to help underprivileged kids.
Wat Arun
Hours: 8:30am–5pm daily. Price: 50 baht
This is a gorgeous Buddhist temple on the edge of the Chao Phraya River opposite the Grand Palace. It has one main spire and four small ones and is so iconic that you'll find it on Thai money. From the top of the main spire, you get sweeping views of the city, making for amazing photographs during sunrise and sunset. The stairs are steep, so be careful.
Wat Pho
Hours: 8am–6:30pm daily. Price: 100 baht
Massages daily from 8am to 5pm; price: from 260 baht/hour
Wat Pho is famous for two things: a larger-than-life golden reclining Buddha statue and a relaxing massage school. It's located right next to the Grand Palace. There's also a food market across the street.
Chatuchak Weekend Market
Hours: 6am–6pm daily
The weekend market is the ideal place to buy anything and everything. This enormous market (it's really huge!) offers the best place to get gifts, find knockoffs, barter, or eat delicious traditional food. It's open on the weekends and is one of the must-dos in the city.
Terminal 21
Hours: 10am–10pm daily
This is my favorite mall in the city. It's airport-themed, and every floor features a different region of the world. There's free Wi-Fi, restaurants on every floor, a movie theater on the top floor, and one of the best mall food courts in the country.
Khao San Road
Khao San Road is the infamous backpacker/tourist street in Bangkok. All travel paths seem to lead to and from here. But it's more than just a transit hub for travelers heading to other parts of Thailand and Southeast Asia. This is the epicenter of backpacker life, and you'll find endless bars, shops, street food, international restaurants, vendors, locals, and activity all day and all night.
Chinatown
Chinatown is the place to go eat, especially for delicious seafood at night. The area is flooded with a river of people all jockeying for space on the tiny streets. Be prepared to push your way through, especially on Sampaeng Lane, the area's long shopping street. You'll also find a large flower market near the river.
Where to Eat

Bangkok has some of the best Thai and international food in the world, and there's nothing you can't get (except Ethiopian, as that restaurant recently closed). Whenever I leave Bangkok, I miss the variety of food I can get in the city. Within walking distance of my apartment are delicious local food, great Mexican, good Italian, and one of my all-time favorite sushi places. You can eat like a king in this city.
My favorite markets are:
Chinatown (You can't go wrong with anywhere in Chinatown!)
Little Arabia (Middle Eastern food)
Nang Loeng (fairly close to Democracy Monument)
Ramkamhaeng (opposite Ramkamhaeng University)
Soi Rambuttri (at the end, near the 7-Eleven)
Sukhumvit Soi 33 (Amazing Pad Thai, soup, and noodle vendors)
Victory Monument
(I don't eat at a lot of Thai restaurants, so I can't list much else other than markets, but for a list of Thai restaurants in Bangkok, visit Migrationology. He knows the best places.)
After gorging on Thai food, you might want to get something else. Unfortunately, all the really good international food is pretty expensive. Compared to back home, it's not expensive, but by local standards, it's pricey. I love good food as much as the next person, but I hate paying a lot for it. So after a few years living in Bangkok, I've managed to find a few good deals. Here are some of my favorite and reasonably priced Western restaurants:
Bella Napoli
This is my favorite Italian place in Bangkok. You'll get the best pizza in the city, along with other delicious Italian specialties.
Isao
This is one of my favorite sushi restaurants in the entire world. Everything here is delicious. There's a robust menu and constantly changing specials. Make sure you try the Winter Roll — it's my favorite.
La Monita Taqueria
This hip, new Mexican place serves strong drinks and spicy food!
May Kaidee's Vegetarian Restaurant
Located near Khao San Road, this restaurant is an institution in Bangkok and serves the best vegetarian Thai food in the area. Try the Massaman curry and spring rolls — they're heavenly. They also offer cooking classes.
Pizzeria Limoncello
While Bella Napoli serves the best pizza, for higher-end Italian fare, come here. It's popular with expats and is a great date spot.
Shoshana Restaurant
If you want traditional Middle Eastern and Israeli food, head to Shoshana. Their falafel is to die for.
Tapas Café
They have the best Spanish tapas in the city. Their patatas bravas are delicious, and they make tasty squid dishes too.
Best Places to Drink

Bangkok's nightlife is legendary. From Khao San Road to Patpong to the expat bars to the clubs, Bangkok is a party town. The nights here never have to stop. In recent years, there's been a growing cocktail bar and beer scene. While expensive, if you're looking for more than Chang Beer and cheap whiskey, you can now find it in the city. Here are my favorite watering holes:
Apoteka
Bangkok's Prohibition-style speakeasy serves drinks in the fashion of an old drugstore, with specials like the "Penicillin." If you want fancy, well-made cocktails, this is the place!
Brick Bar
Although this bar is located on Khao San Road, you'd never know it. Set in the back of the Buddy Lodge complex, hardly any foreigners wander in here. This is a Thai bar that plays ska and reggae music. A good place to get away from the tourists.
Cloud47
Cloud47 gives you a great view over the tiny side streets and roads of Silom. The bar is worth the visit, but skip the food.
Robin Hood
This popular English pub has ample seating, good imported beers, and tasty food. It's mostly a local/expat watering hole and fills up quickly when football (soccer) or any sports game is playing.
Route 66
Route 66 is part of the RCA music and club complex and is split into separate rooms: east for hip-hop, west for Thai live-band music, and north and south for everything else. It's a huge venue but incredibly popular with expats and Thais (RCA in general is). Few tourists come here.
The Dubliner Place
Another popular pub, this place features regular live music, a very typical pub menu, and lots of sporting events on TV.
Whisgars
Thai's love Whiskey but it's taken years (thanks in part to high taxes and import duties) for proper Whiskey bars with a wide selection to appear in the city. While there's a few new scattered throughout, this one is my favorite. They have an extensive cigar and Whiskey menu (though I only stick to the former). It's the one place in the city where I have found good Scotch! It's not cheap but you don't need many!
Smalls
Located in the Silom area of town, this multi-story bar gets going late at night is good for dancing, cheap drinks, and has a lovely rooftop!
Soi Rambuttri and Khao San Road
More an area than a specific place but if you are a backpacker, want to see backpackers, or really want to get crazy, this area is where you go. Buckets and towers of beer flow like candy in Willy Wonka's factory and it's really easy to meet people here. On weekends, it's incredibly popular with Thai college students too. I usually start at the quiet Soi Rambuttri before moving over to the crazier Khao San.
Once you peel away the layers, you'll find a vibrant city that is more than just temples, tourists, and touts. You'll find great international cuisines, world-class bars and clubs, an assortment of activities, great places to shop, interesting neighborhoods, and much more. If you get off the Lonely Planet trail and out of the main areas, you'll find a city that is much richer, vibrant, and dynamic than you could ever imagine.
LEARN EVERYTHING YOU NEED TO KNOW WITH MY HUGE GUIDEBOOK TO BANGKOK!!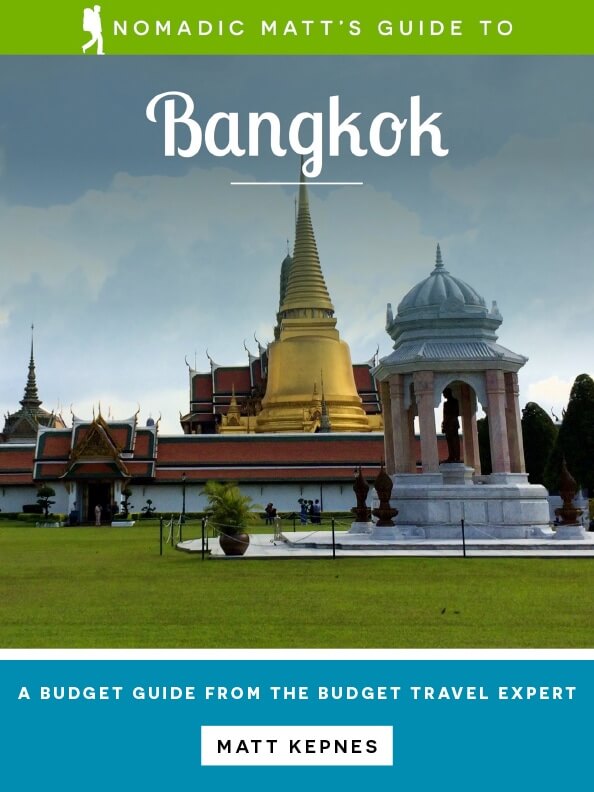 My detailed, 80 page guidebook is made for budget travelers like you! It cuts out the fluff found in other guidebooks and gets straight to the practical information you need to travel and save money while in Bangkok, a city I used to call home (so I know it really well!). You'll find suggested itineraries, budgets, ways to save money, on and off the beaten path things to see and do, non-touristy restaurants, markets, and bars, and much more!!
Click here to learn more and get started.
Book Your Trip to Bangkok: Logistical Tips and Tricks
Get Your Guide
Check out my detailed guide to planning a visit to Bangkok with suggested itineraries and information on places to stay, things to do, where to eat, and how to get around. Just click here to get the guide and continue planning today!
Book Your Flight
Find a cheap flight by using Skyscanner or Momondo. They are my two favorite search engines, because they search websites and airlines around the globe, so you always know no stone is being left unturned.
Book Your Accommodation
You can book your hostel with Hostelworld. If you want to stay elsewhere, use Booking.com as it consistently returns the cheapest rates for guesthouses and cheap hotels. I use it all the time.
Don't Forget Travel Insurance
Travel insurance will protect you against illness, injury, theft, and cancellations. It's comprehensive protection in case anything goes wrong. I never go on a trip without it, as I've had to use it many times in the past. I've been using World Nomads for ten years. My favorite companies that offer the best service and value are:
Looking for the best companies to save money with?
Check out my resource page for the best companies to use when you travel! I list all the ones I use to save money — and I think they will help you too!