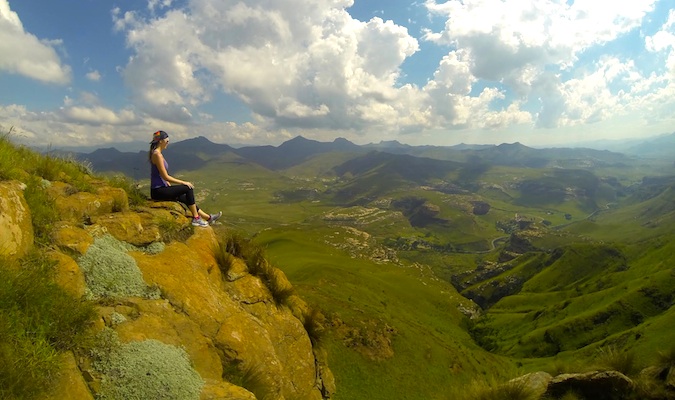 Last Updated: 3/9/23 | March 9th, 2023
Kristin Addis from Be My Travel Muse is an expert on on solo female travel. It's an important topic I can't adequately cover, so I brought her in to share her advice. In this post, she shares her advice on traveling South Africa.
When I started planning my South Africa trip, a lot of questions went through my mind:
Is a country that big easy to travel around?
Is it expensive?
Is it safe?
The resources I found online were vague, negative, or simply nonexistent. I'd have to either cancel my trip or dive in and figure it all out for myself.
I chose the latter.
After traveling through the country for close to two months, I discovered a wide variety of reasonably affordable ways to navigate South Africa safely and easily.
To help you do the same, here's my breakdown of how to get around South Africa on a budget:
Traveling South Africa By Bus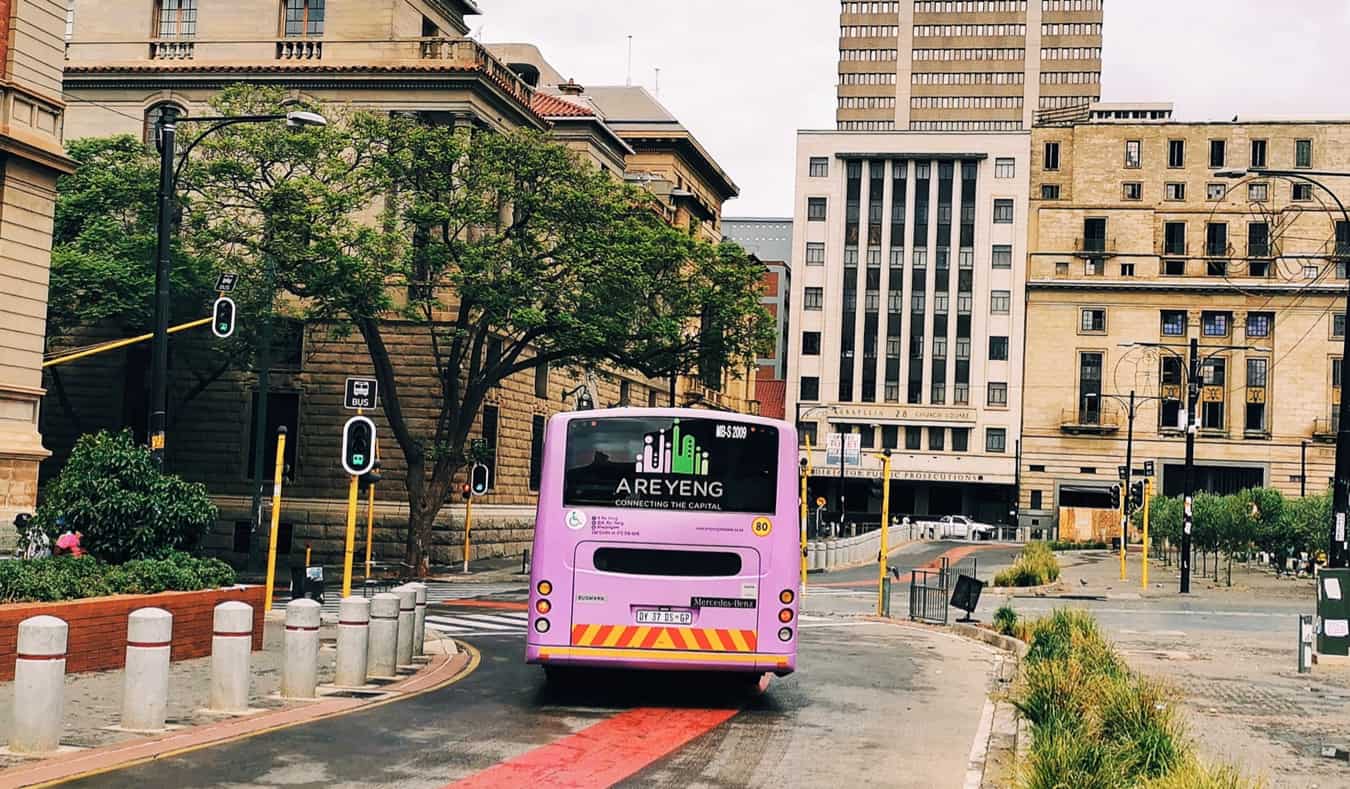 There are several companies that run in the country including Greyhound, Intercape, and Baz Bus (which caters specifically to backpackers).
Baz Bus runs a route from Port Elizabeth to Cape Town (or vice versa) with several stops along the way. You can hop on or off whenever you want and can begin your trip anywhere, but as those two cities have major airports, most people start in one or the other.
(Matt says: I've taken similar buses in New Zealand and Australia. They can be good for people who want to meet other travelers.)
The most popular Baz Bus option is the unlimited one-way hop-on/hop-off pass. It costs 3,700 ZAR and covers the 750 kilometer distance between Port Elizabeth and Cape Town. You have no time limit and have unlimited travel in one direction, allowing you to have as many stops as you want. A return pass costs 4,800 ZAR.
Baz Bus is not a big money saver, as the fares are more than the train and other bus companies, but it is a convenient option for those who are happy to travel along the popular routes and meet other backpackers. The route includes the big cities in South Africa, popular spots along the coast, and the famous Garden Route in the Western Cape.
The drawbacks to taking the bus include dealing with a lack of transport once you're at your destination, though shuttles to various local attractions, such as the bungee jump in Wilderness, are sometimes available at an additional cost. You'll also need to be flexible with your schedule since the shuttles don't run every day.
The biggest drawback for me was that the buses run along one set route and only go to the most popular tourist destinations and drop off only at certain backpacker accommodations. So, for those who like to head off the beaten path, it's not a great option.
For comparison, a Greyhound or Intercape bus from Port Elizabeth to Cape Town will cost around 280-460 ZAR each way. Bus tickets from Johannesburg to Cape town cost between 370-930 ZAR each way. The journey is around 18-20 hours. The buses are large, air-conditioned, comfortable, and filled with locals, not backpackers.
Be sure to bring along snacks (and water) as well as some entertainment, as the buses run on a tight schedule and most stops are very brief, if they happen at all.
During the high season (December and June through August), you should book ahead as buses fill up quickly.

Traveling South Africa By Air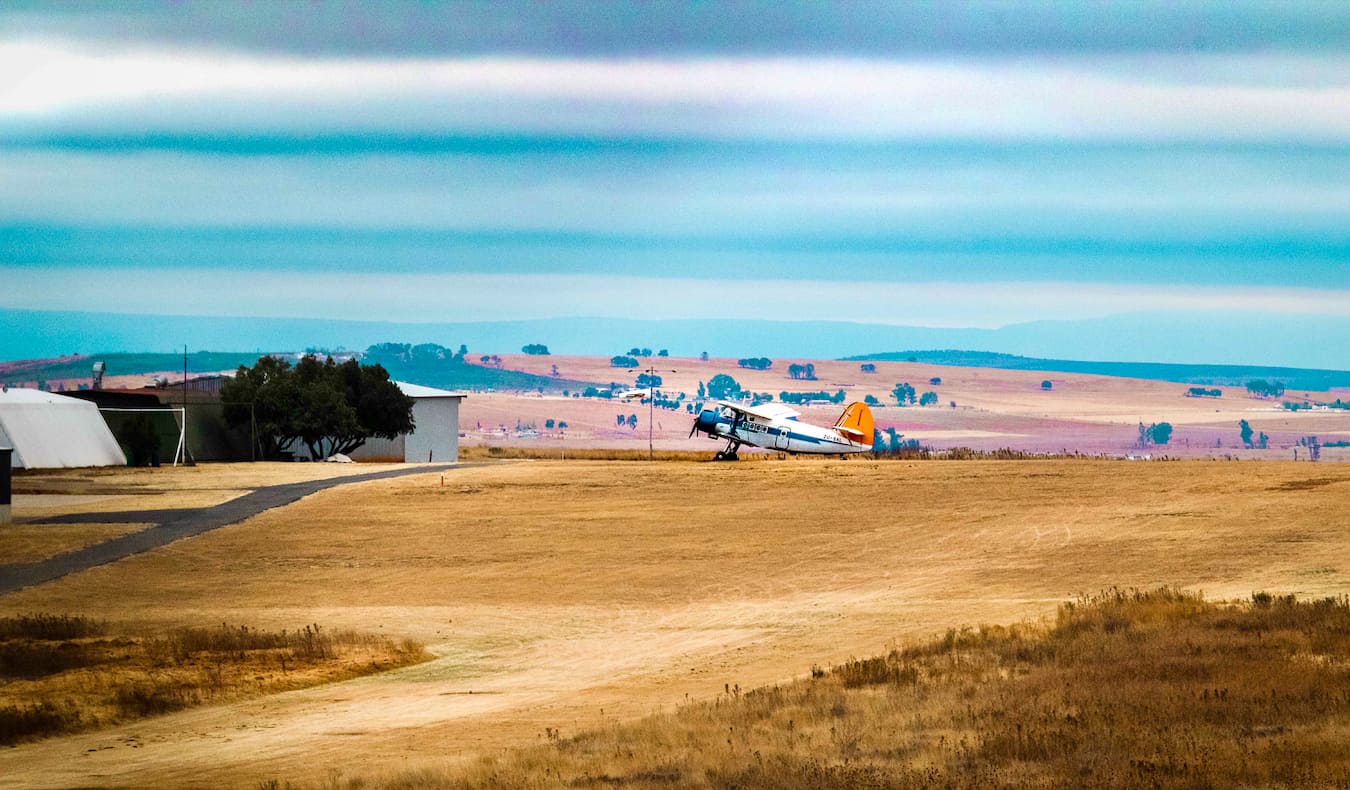 Flying around South Africa isn't that expensive. Budget Airlines like Mango serve all major — and even some minor — airports in the country with several flights per day. They are easily booked online using any major credit card. For example, a return ticket from Johannesburg to Durban is only 1,300 ZAR.
Even last-minute flights, as long as they still have quite a few seats left, tend not to go up in price if it's a major route. For a last-minute planner like me, that was a real treat! For less common routes or smaller airports, prices go up the closer the date is.
Unsurprisingly, inconvenient times and early morning flights tend to be the cheapest. As with most budget airlines the world over, checked baggage and meals onboard cost extra.
While flying is probably the cheapest option, it's also the least sustainable. And, when you factor in getting to and from each airport you don't end up saving a huge amount of time if you're just traveling a short distance.
However, if you're on a tight schedule then flying is probably your most budget-friendly option.

Traveling South Africa By Car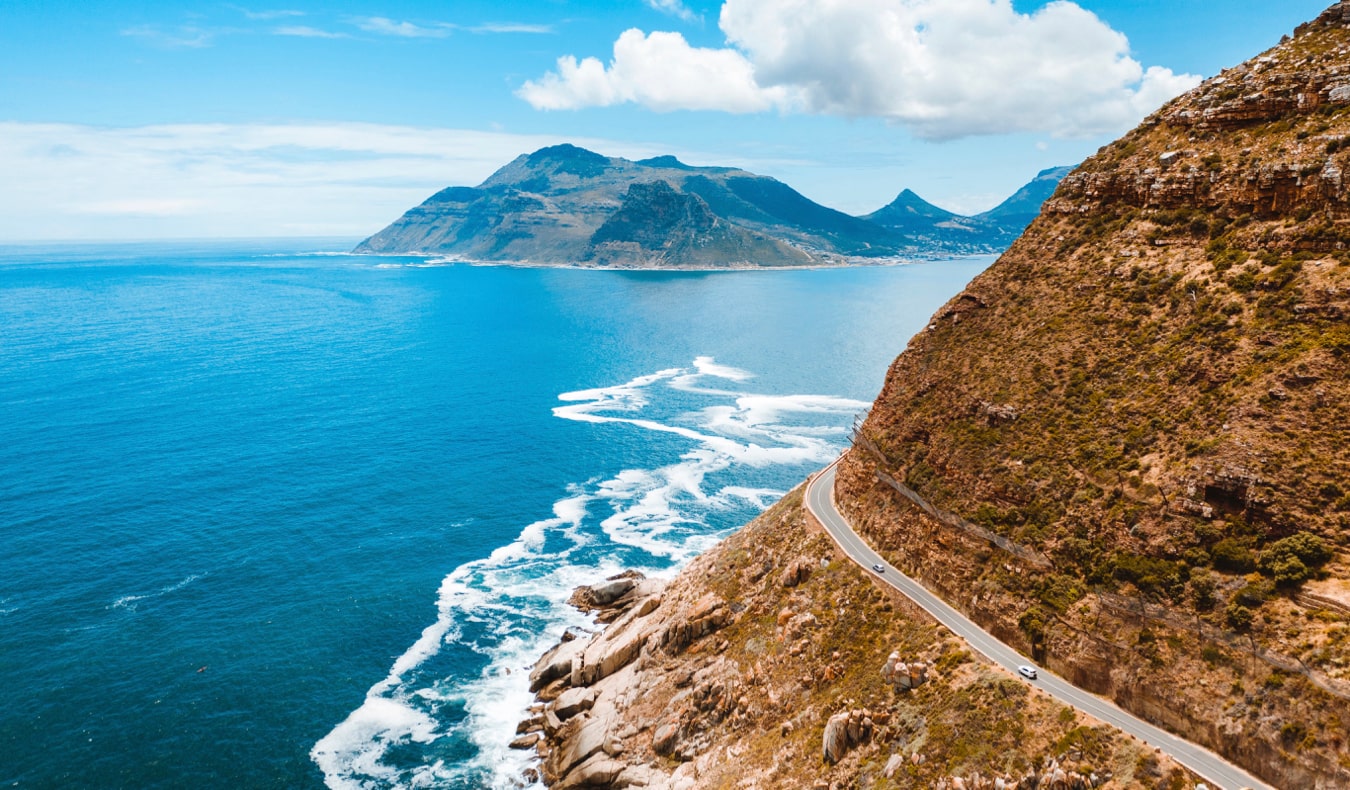 When I told my friends I was planning to drive solo through South Africa, they immediately tried to talk me out of it, envisioning dangerous roads, thieves, and no one to help should something go wrong.
In truth, road-tripping through South Africa is not much of a problem at all, as other cars are passing by all the time should a breakdown occur, and South Africans are incredibly friendly and helpful.
That's not to say driving in South Africa is without risk. There are carjackings from time to time, and break-ins are common. But being aware of this and taking precautions to keep valuables hidden and doors locked greatly reduces the risks.
Renting a car is the most convenient way to get around since you can get to many out-of-the-way parks, cities, and destinations. If you would rather not travel alone but still want to rent a car, post on travel forums such as:
For the best car rental prices, use Discover Cars.
Additionally, ask around hostels as there are usually people looking (or offering) rides (I found my partner in crime through a friend of mine). Not only will you get to meet new people but you'll be able to split the gas costs, saving you money.
I rented a Volkswagen Vevo, which we booked online and picked up in person. The price worked out to be 4,350 ZAR for two weeks, including gas, the fee for dropping off in a different city than we rented in (we picked the car up in Johannesburg and dropped it off in Cape Town), and insurance.
During my trip, gas cost around 17 ZAR per liter. As of 2023, it's closer to 23 ZAR per liter. If you choose a smaller car, mileage can be quite good. To keep costs low, we also gave rides to other backpackers we met along the way in exchange for a bit of gas money.
While it's possible to buy a cheap car and sell it later, the paperwork can sometimes take months to go through and thus is not the best for travelers who don't plan to spend ages in the country.
A small manual car will do for most popular destinations in South Africa. I'll admit, a 4×4 would have been helpful for a few of the lesser-visited places that we went to during our road trip, such as the amphitheater hike in the Drakensberg mountains. But they are more expensive to rent and use more fuel. I'd only rent one if you plan on getting off the beaten path often.

Traveling South Africa By Train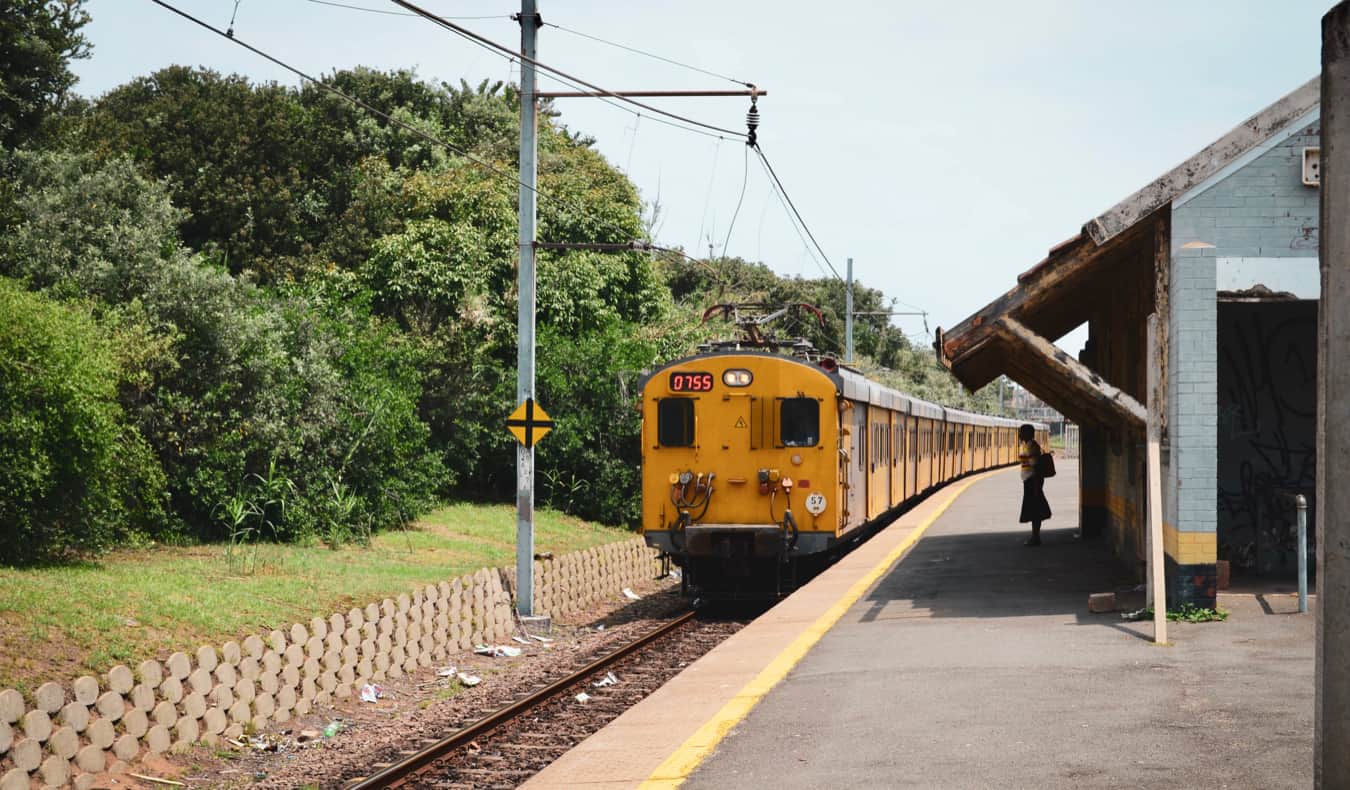 South Africa has a lot of train tracks; however, most aren't in use as the population has increasingly come to rely on the extensive highway system. Essentially, just the major cities in South Africa are accessible by train.
Shosholoza Meyl (South African Railways) has long-distance trains that serve Cape Town, Port Elizabeth, Bloemfontein, Durban, East London, Johannesburg, Queenstown, and East London. They're comfortable and safe and make various stops at smaller towns along the way.
The fares are some of the cheapest available for any mode of transport in South Africa, running as low as 330 ZAR for a sleeper berth from Johannesburg to Durban. They're safe, comfortable, and one of the best-kept secrets of traveling South Africa.
For those who are interested in some luxury, the famous Blue Train, which runs from Pretoria to Cape Town, costs 41,380 ZAR for a luxury double berth. The trip lasts a few days and includes wine, cigars, great food, and comfortable compartments. It's the fanciest way to see the country!

How to Stay Safe in South Africa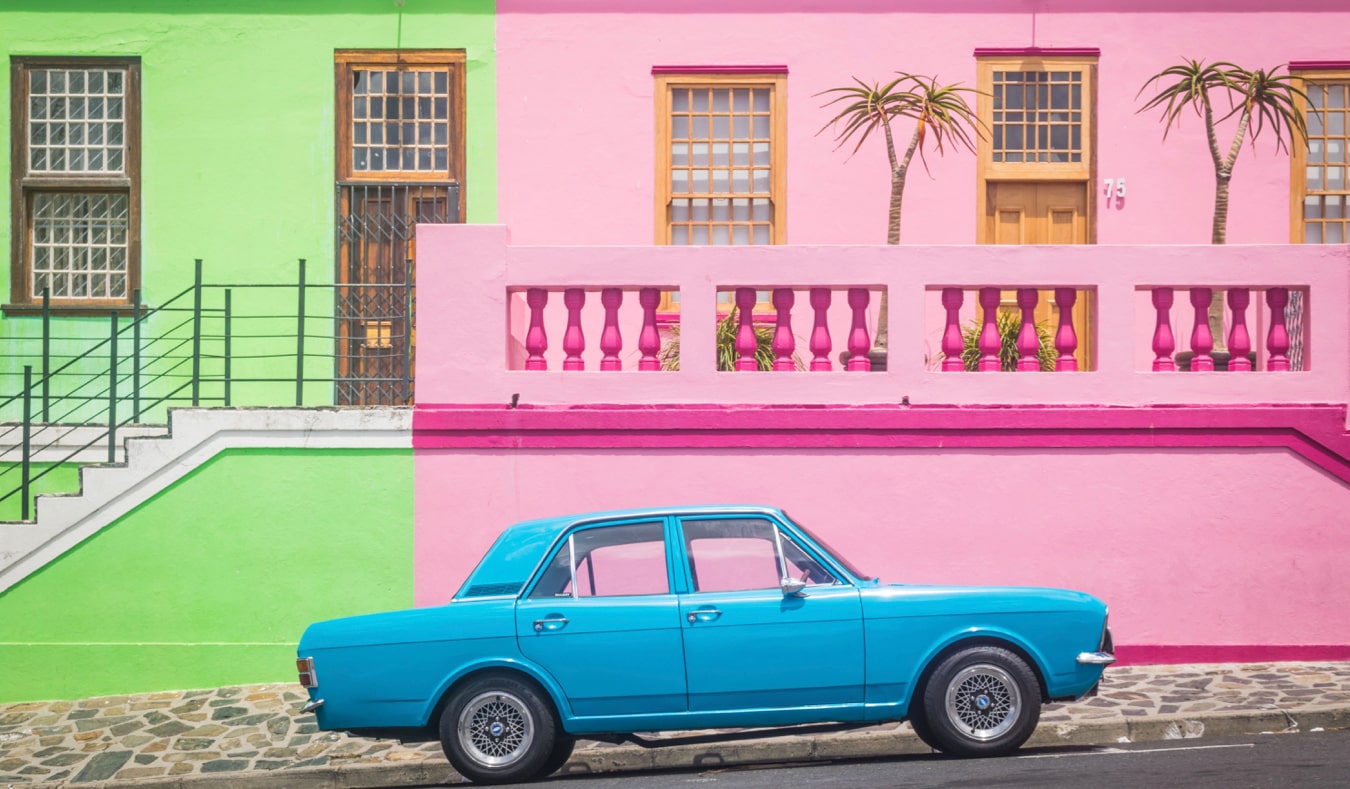 One last issue of safety: South Africa isn't more dangerous for a solo traveler than your typical big city in the United States. I was surprised to see that the murder rate in Detroit is actually significantly higher than that of South Africa.
That said, muggings are still common, especially amongst tourists and particularly in Cape Town and Johannesburg. Given the high level of rape and theft in South Africa, I wouldn't advise hitchhiking (which is something I usually love to do!).
Additionally, one shouldn't walk around alone at night, be flashy, or leave things showing in the car, but much of that is true around the world.
For more safety tips, here's a complete guide to staying safe in South Africa.
***
There are numerous ways to get around South Africa, and after testing several methods, I think the best is a car rental. Nothing else offers the flexibility, convenience, and reasonable price tag. If a car rental isn't your thing and you're solo, I'd consider the Baz Bus.
That said, regardless of which of the above transport methods you choose, South Africa is easy and relatively affordable to travel around, whether you're solo, in a group, or a duo.
Kristin Addis is a solo female travel expert who inspires women to travel the world in an authentic and adventurous way. A former investment banker who sold everything and left California in 2012, Kristin has solo traveled the world ever since. You can find more of her work at Be My Travel Muse or on Instagram and Facebook.
Book Your Trip to South Africa: Logistical Tips and Tricks
Book Your Flight
Use Skyscanner to find a cheap flight. They are my favorite search engine because they search websites and airlines around the globe so you always know no stone is left unturned.
Book Your Accommodation
You can book your hostel with Hostelworld as they have the biggest inventory and best deals. If you want to stay somewhere other than a hostel, use Booking.com as they consistently return the cheapest rates for guesthouses and cheap hotels.
Don't Forget Travel Insurance
Travel insurance will protect you against illness, injury, theft, and cancellations. It's comprehensive protection in case anything goes wrong. I never go on a trip without it as I've had to use it many times in the past. My favorite companies that offer the best service and value are:
Looking for the Best Companies to Save Money With?
Check out my resource page for the best companies to use when you travel. I list all the ones I use to save money when I'm on the road. They will save you money when you travel too.
Want More Information on South Africa?
Be sure to visit our robust destination guide to South Africa for even more planning tips!