On the second Wednesday of the month, Kristin Addis from Be My Travel Muse writes a guest column featuring tips and advice on solo female travel. It's an important topic I can't adequately cover, so I brought in an expert to share her advice. This month her column is on safety in South Africa.
At the dinner table back home in California, I asked my friends to name the first thing that came to their minds when they thought about South Africa. I expected them to say things like "elephants!" and "Lion King!" but instead "Ebola," "soccer," and "crime" were among the responses I got. When I told them that I would be traveling there by myself, they were horrified at the thought.
This is proof to me that much is misunderstood — or at the very least generalized and oversimplified — about this country, which has a lot more going for it than some misplaced Ebola rumors and a World Cup that took place a few years ago. South Africa is huge and diverse, spanning 471,000 square miles, with a population of over 53 million and eleven official languages.
Why South Africa gets a bad rap

South Africa is the first country where the locals have repeatedly told me that muggings and violent crime are a big problem and, according to most I've spoken with, on the rise. It seemed to me that South Africans were among the first to caution me about the dangers traveling around the country.
According to this post by the BBC, the rate of violent crime is the ninth highest in the world, and incidence of rape is the highest in the world. And in a 2012 study by the United Nations Office on Drugs and Crime, South Africa had an annual intentional homicide rate of 30 deaths per 100,000 inhabitants.
While this may seem high, it's lower than Detroit (54), Honduras (92), and Belize (44). Moreover, the homicide rate has gone down since apartheid ended, and there have been no murders in Cape Town's five safest neighborhoods, where tourists tend to flock. It's not a war zone — most violent crime takes places between people who know each other in dangerous neighborhoods that tourists don't tend to visit. Tourists in South Africa are the targets mainly of petty crime.
The country's history — apartheid's forced racial separation followed by its abolition and the subsequent movement toward reconciliation spearheaded by former President Nelson Mandela — lends a bit of understanding to where the country is today. Though still rife with political, economic, and racial struggles, South Africa is not as scary and dangerous as it is often perceived.
Staying safe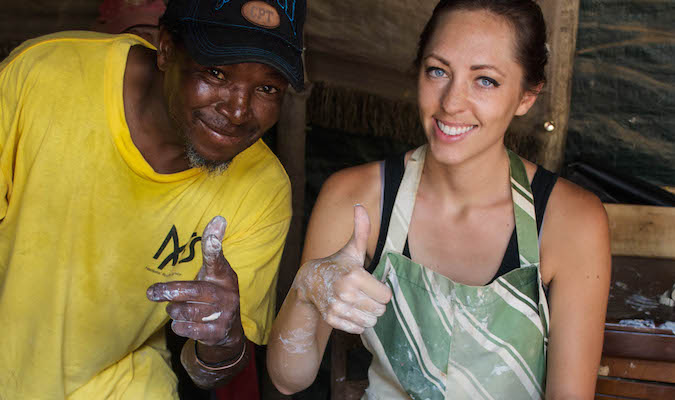 After spending nine weeks solo traveling through the country, I did find that I had to take more precautions than I do in Southeast Asia or Germany, but the dangers are not all that different from the big cities back home in the United States or other parts of Europe.
While much of staying safe means following the safety rules you obey back home and following your intuition, the following are some tips to make your visit to South Africa more likely to be hassle-free.
Know where not to go
Though crime rates are higher in the townships, which are settlements established during apartheid for forced racial segregation, staying safe does not mean staying out of them altogether. Some of my favorite memories, such as drinks shared around an unlicensed bar, little kids swinging from my arms, and delicious streetside BBQ, all came from my time spent in the townships.
They're friendly places. They're just better visited during daylight hours and with a local guide who lives there and knows the lay of the land. This can be organized through your guesthouse or by seeking information from the tourism board. Soweto in Johannesburg, for example, has everything from biking to bus tours and welcomes tourists thanks to the benefits of the money they bring in.
Don't walk at night
People tend to become targets by walking in cities rather than taking private or public transportation. Even in a group, pickpocketing can occur, but it's much more likely to happen when walking alone. Avoid walking alone when possible, especially at night.
Don't be flashy
Wearing jewelry and designer clothing and taking your phone out when out and about are all great ways to become a target. Bringing expensive jewelry on vacation is not advisable in the first place, but if you do have pricey things like a camera, keep them hidden. And never keep your passport on you.
The more likely it seems that you're a foreigner who does not know the lay of the land, the more likely you are to become a target for petty theft. Put the phone away and take it out when safely at home or in a café.
Lock your car doors and keep valuables hidden
Other common occurrences, especially in big cities like Cape Town and Johannesburg, are car break-ins and carjackings.
Avoid these by keeping the doors locked while driving and keeping absolutely everything — sunglasses, phones, bags, and wallets — out of sight. Nothing of value or anything that seems like it could possibly be valuable, including cheap sunglasses, should be visible when the car is parked and unattended.
In the big cities, unlicensed parking attendants are always around to "watch" your car for you, so throw them a tip now and then for keeping an eye out for your car when you're not around.
Have a dummy wallet
Though I believe I stayed safe mostly because I didn't walk around much, there were a few times when I got tired of being scared and walked short distances instead of taking a taxi or a bus. To protect my belongings, I carried a "dummy wallet" that had just a few canceled credit cards and a bit of petty cash in it, while I hid everything else in my shoe or, honestly, in my bra.
If anyone approached me, I planned to freely hand over my bag so that the thief had something to take while the rest was safely hidden. It never came down to this, as I never experienced any crime first-hand, but I felt ready should a thief approach.
Be aware and listen to your instincts
It also helps to be hyper-aware. If you must walk, take in your surroundings, look in every direction, make a point of letting everyone know that you're paying attention by keeping your head up and looking alert. Try never to be alone on a sidewalk, and get as close to families as possible.
I once walked down a quiet side street in the up-and-coming Woodstock area of Cape Town and, realizing nobody was around, immediately turned around and went back to the busy main road. It felt sketchy, and my alarm bells sounded.
If someone appeared to be paying me too much attention, I'd look that person in the eye and say "hello" or step into a store with other people inside.
Use universal common sense
I thought about my safety precautions in South Africa compared to what I would do at home. I certainly wouldn't walk around most parts of Los Angeles or other major American cities alone and wouldn't even consider it at night, particularly not with my phone out. I guard my bag like a hound in most major European cities due to the incredibly high pickpocketing rates. It really wasn't so different in South Africa.
It's very easy to travel safe in South Africa. You just need to take more precautions than you would in, say, Germany or Thailand.
It used to be that I couldn't answer the question when asked about my favorite country I've been to. Now I reply "South Africa." Though statistics can make it seem like a scary place, in reality I spent much more time enjoying myself than ever worrying about being robbed or becoming a victim of violent crime. While safety should always be foremost in your mind, South Africa did not feel scary, uncomfortable, or dangerous.
Kristin Addis is a solo female travel expert who inspires women to travel the world in an authentic and adventurous way. A former investment banker who sold all of her belongings and left California in 2012, Kristin has solo traveled the world for over four years, covering every continent (except for Antarctica, but it's on her list). There's almost nothing she won't try and almost nowhere she won't explore. You can find more of her musings at Be My Travel Muse or on Instagram and Facebook.