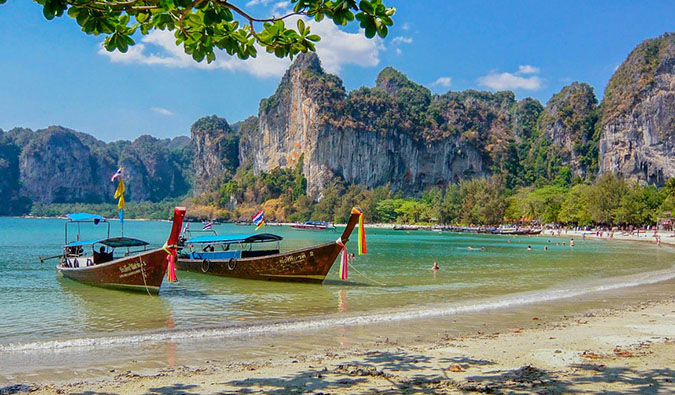 Last Updated: 8/30/22 | August 30th, 2022
Traveling around Thailand can cost as little or as much as you want it to. This is a country that covers all budgets, where you can stay in 250 THB dorm rooms or 30,000 THB luxury resort suites. Dig into street food for pennies or dine on gourmet dinners for hundreds. Relax on free beaches and visit inexpensive attractions or take expensive tours where your every need is catered to.
There's something for every budget here in Thailand.
Thailand is a cheap country to live in and travel around. I usually spend very little money here. But that changed when my friends came, and why that changed is important for anyone planning to come to Thailand.
How much does it cost to travel around Thailand?
Your Thailand costs will vary greatly depending on the kind of traveler you want to be. I've been visiting the country for over a decade and I've seen it change a lot. Here's how much you can expect to spend and how to save money in the country.

How Much Does it Cost to Visit Thailand?
On a recent visit to Thailand with my friends, we traveled for 24 days and I spent 47,888 THB or 1,995 THB per day (around $55 USD per day). Here's the breakdown (all prices are in Thai baht):
Accommodation (cheap guesthouses, nice beach bungalows, luxury jungle huts) – 13,565 THB
Flights around Thailand – 4,200 THB
Transportation (public buses, trains, taxis) – 1,470 THB
Ferry to, around, and from the islands – 1,875 THB
Diving in Ko Tao – 800 THB
Hiking in Khao Sok – 1,200 THB
Movie and popcorn (Sherlock Holmes 2—don't see it!) – 320 THB
Misc. (bug spray, toothbrush, etc.) – 363 THB
Drinks (it was the holidays!) – 10,115 THB
Jim Thompson House (museum in Bangkok) – 100 THB
Medicine (I popped my eardrum scuba diving!) – 1,890 THB
Food (street food, seafood dinners, amazing international meals in Bangkok) – 11,000 THB
Web stuff for work – 890 THB
Water – 100 THB
Total spent: 47,888 THB
For Thailand, that's a lot of money. But my friends had never been to the country before so we traveled a little faster than normal and stayed at nicer places than I normally would on a budget.
I love Thailand in part because traveling here is so affordable; backpacking around Thailand usually costs 800-1,125 THB per day, depending on how much alcohol you consume and how many days you spend on the islands, where costs are higher.
But when your time is limited and this is one of your two big trips all year, you don't want to scrape every penny. Vacations don't need to cost a fortune, but if you aren't traveling all the time, staying in the cheapest place to make your money last becomes less of an issue. You want nice things.
You travel faster. You take planes, not 12-hour trains. You cram more activities into your day. You pamper yourself more. You eat nicer meals.
And my friends definitely wanted all of the above.

How Much Do You Need to Travel Thailand?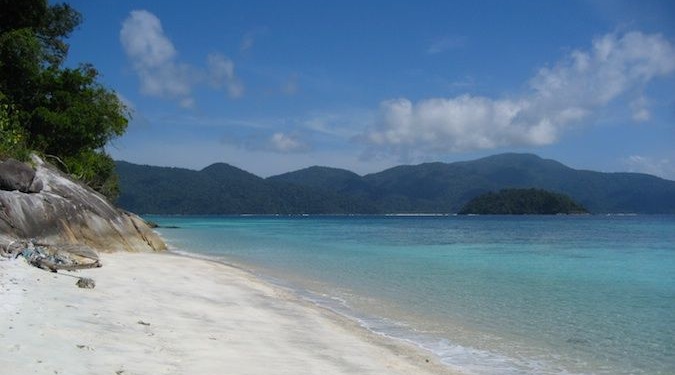 You don't need to spend a lot of money in Thailand, though it can certainly add up if you aren't aware of your spending.
If you're backpacking Thailand, plan to budget between 800-1,125 THB per day. This range gets you your own room (fan only) with a shared bathroom (or a dorm room on the lower end), food from the street stalls, a couple of drinks per day, a few tours here and there, and local transportation. If you're spending more time on the islands where things tend to be more expensive, budget towards the higher end or even upwards of 1,450 THB a day.
On a budget of around 1,750-2,700 THB per day, you would be able to fly between some destinations, eat more delicious seafood dinners and international meals, do more tours and activities, sleep in air-conditioned rooms, and drink more.
If you're looking to stay in Western hotels or expensive resorts, eat mostly Western food in tourist areas, drink a lot, do a lot of tours, and fly a lot, you should budget 4,000-6,000 THB per day. After that, the sky is the limit.
While all the money-saving tips mentioned on my website can be applied to any style of trip (saving money is universal), how fast you travel on a vacation dramatically changes how you spend money. We could have saved a lot of money getting around Thailand if we'd skipped the flights and taken the train, but my friends didn't have the time to spend 12 hours on a train. We flew, which is expensive during peak season. Naturally, our costs went up accordingly.
How to Save Money and Lower Your Thailand Costs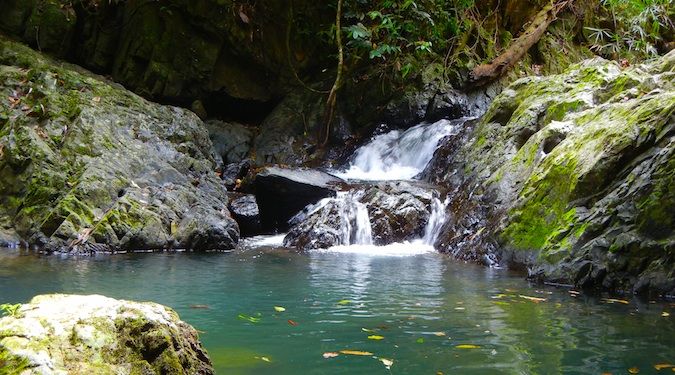 Thailand is an inexpensive country, but if you're on a really tight budget and need to lower your costs here's how to save even more money during your visit:
Get off of the tourist trail – The easiest way to save money in Thailand is to live like a local. Take the local buses, eat street food instead of standard restaurant food, and drink beer instead of other (more expensive) alcohol. In Bangkok, average Thai citizens live on a less than 8,000 THB per month. In the countryside, the average person lives on even less. Try to follow their example. Visit less touristy cities and islands, and you'll save big.
Book tours when you arrive – Want to take a cooking class, try zip-lining, or head out on a jungle trek? Or maybe you want to try scuba diving near the islands. No matter what you're looking to do, wait until you get into Thailand to book. Travel agencies are located everywhere so they are easy to find. These people are extremely friendly and easy to negotiate with, too. When it comes to tours, the general rule is that the more you buy, the better discount you can get. Grab a group of friends and sign up for tours together to increase your discounts. If the first travel agent won't negotiate with you, move on to another one. Sure, you could just purchase these tours online before you arrive, but you'll be paying a lot more. Wait until you arrive and you'll save a lot of money. For some estimated costs, jungle trekking costs 2,000-2,685 THB per day, cooking classes are 1,000-1,300 THB, and seeing a Muay Thai fight is around 1,500 THB.
Eat at the street stalls – Everyone agrees that the food from street vendors in Thailand is the best food in the country. Plus, it's ridiculously cheap. You can easily find a bowl of soup or noodles for under 50 THB. Street stalls line every block, making them a simple and cheap option for any meal.
Skip the Western food – Western food venues are always more expensive when compared to Thai food, costing at least 170-340 THB for a main dish. Since some of the ingredients need to be imported, you should expect the prices to be higher than any Thai food you'll find. And since most Western food places also pale in comparison what you get back home, it's best to just skip it altogether and enjoy the delicious local food.
Negotiate with tuk-tuk drivers – Unlike taxis, the tuk-tuks do not have meters. This means you need to agree on a price before you take off. If you don't, they'll be able to jack up the price on you. Drivers are always friendly but if you're going to act like a clueless tourist they will definitely take advantage of you and charge you a few extra bucks. While I generally try to avoid tuk-tuks, they are fine for short distances (and you need to try them at least once!).
Limit your drinking – You can save a lot of money by limiting how much alcohol you drink. Alcohol in Thailand can be quite expensive, so go for water if you're on a budget. If you are going to drink, be sure to take advantage of happy hour deals when you can and stick to beer instead of cocktails. To save even more money, buy your beer at 7-Eleven as it will be much cheaper than at the bar.
Use a hospitality exchange website – Sharing economy platforms like Couchsurfing allow you to stay with locals for free while giving you a local perspective on the destination. There are plenty of hosts here, both locals and expats, so be sure to check out to not only save money but get an insider experience.
Bargain hard – When you head to the markets you're going to have to bargain hard. Never take the first price and don't be afraid to walk away if you feel like you're getting ripped off. If you can, ask a local what prices you should expect to give you a point of reference. Just remember to bargain hard but don't be a jerk!
Pack a water bottle – A water bottle with a purifier comes particularly in handy in Thailand, where the tap water isn't potable. My preferred bottle is LifeStraw, which has built-in filters to ensure your water is always clean and safe (it's good for the environment too).
***
In the rush to see everything, you can spend a lot of money before you even realize it. I'll admit that the budget traveler I normally am went out the window on this trip. I would normally never fly around Thailand, stay at expensive resorts, or eat as much international food as I did with my friends.
A three-week vacation in Thailand might not be as cheap as a three-month backpacking trip, but it can still be inexpensive as long as you watch where your money goes and don't forget about keeping to a budget in your quest to see everything.
Thailand doesn't need to cost a fortune though and if you use these tips when you travel, no matter your travel style, you'll save money!


Get the In-Depth Budget Guide to Thailand!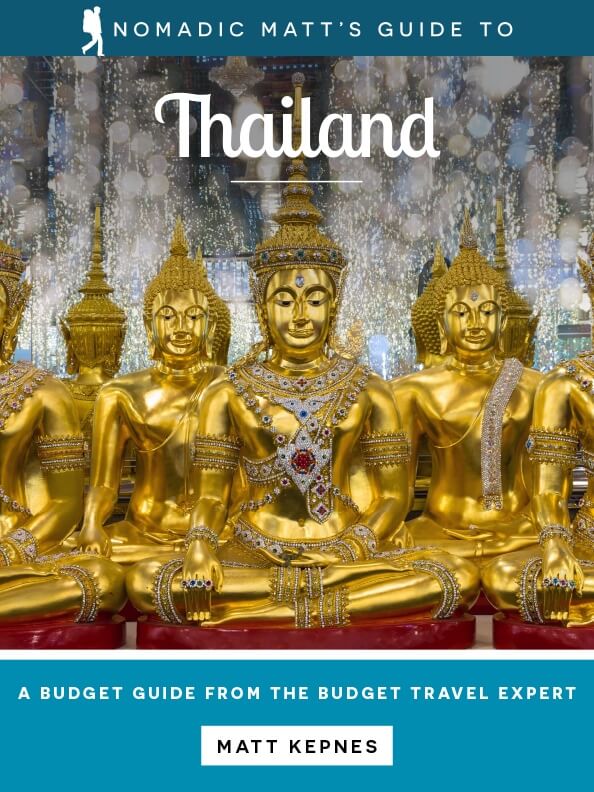 My detailed 350+ page guidebook is made for budget travelers like you! It cuts out the fluff found in other guidebooks and gets straight to the practical information you need to travel around Thailand. You'll find suggested itineraries, budgets, ways to save money, on and off-the-beaten-path things to see and do, non-touristy restaurants, markets, bars, safety tips, and much more! Click here to learn more and get your copy today.
Book Your Trip to Thailand: Logistical Tips and Tricks
Book Your Flight
Use Skyscanner to find a cheap flight. They are my favorite search engine because they search websites and airlines around the globe so you always know no stone is left unturned!
Book Your Accommodation
You can book your hostel with Hostelworld as they have the biggest inventory and best deals. If you want to stay somewhere other than a hostel, use Booking.com as they consistently return the cheapest rates for guesthouses and cheap hotels. My favorite places to stay are:
Don't Forget Travel Insurance
Travel insurance will protect you against illness, injury, theft, and cancellations. It's comprehensive protection in case anything goes wrong. I never go on a trip without it as I've had to use it many times in the past. My favorite companies that offer the best service and value are:
Looking for the Best Companies to Save Money With?
Check out my resource page for the best companies to use when you travel. I list all the ones I use to save money when I'm on the road. They will save you money when you travel too.
Want More Information on Thailand?
Be sure to visit our robust destination guide on Thailand for even more planning tips!