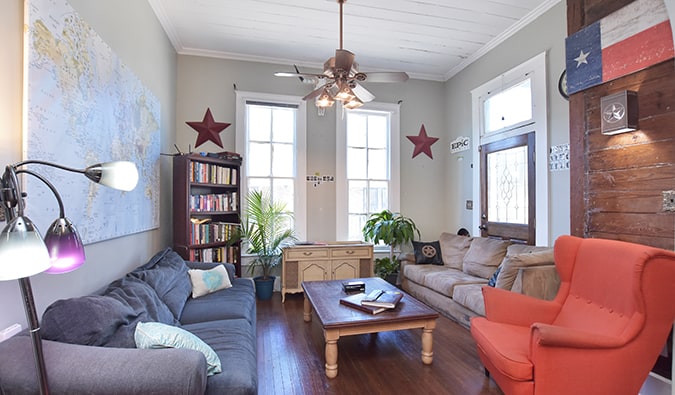 Posted: 01/21/19 | January 21st, 2019
I've wanted to own a hostel since I first started traveling. During my month on Ko Lipe in 2006, I spent my lazy days on the beach dreaming of opening one in New Zealand with some friends. It was going to be eco-friendly and called "The Greenhouse."
A few years ago, I actually ended up owning a hostel in Austin. During that time, a lot of new hostels were opening in the city. Competition for guests heated up. Austin is one of the fastest-growing cities in the country after all.
As my friend and I were thinking of ways to draw in guests, we stumbled onto the Hostelworld Elevate program.
(OK, he did. Then texted me all about it!)
What does this program do?
It gouges hostels owners — and lines Hostelworld's pockets.
As a consumer, I'm well aware that booking websites charge a commission for properties to be listed in their results. That's how they make money. And also that "featured" properties pay more for special placement on top of regular results. (They should just put the word "ad" up instead of being coy. We all know what's going on.)
I don't find anything wrong with that model. Hostels get access to a larger pool of guests, companies get money, consumers get a one-stop-shopping solution.
But this Hostelworld Elevate program is much more insidious than that.
Here's how it works:
Hostelworld, like all search sites, has a default search results listing (the one you get if you don't use a filter or sort by any criteria). Let's use Austin as an example: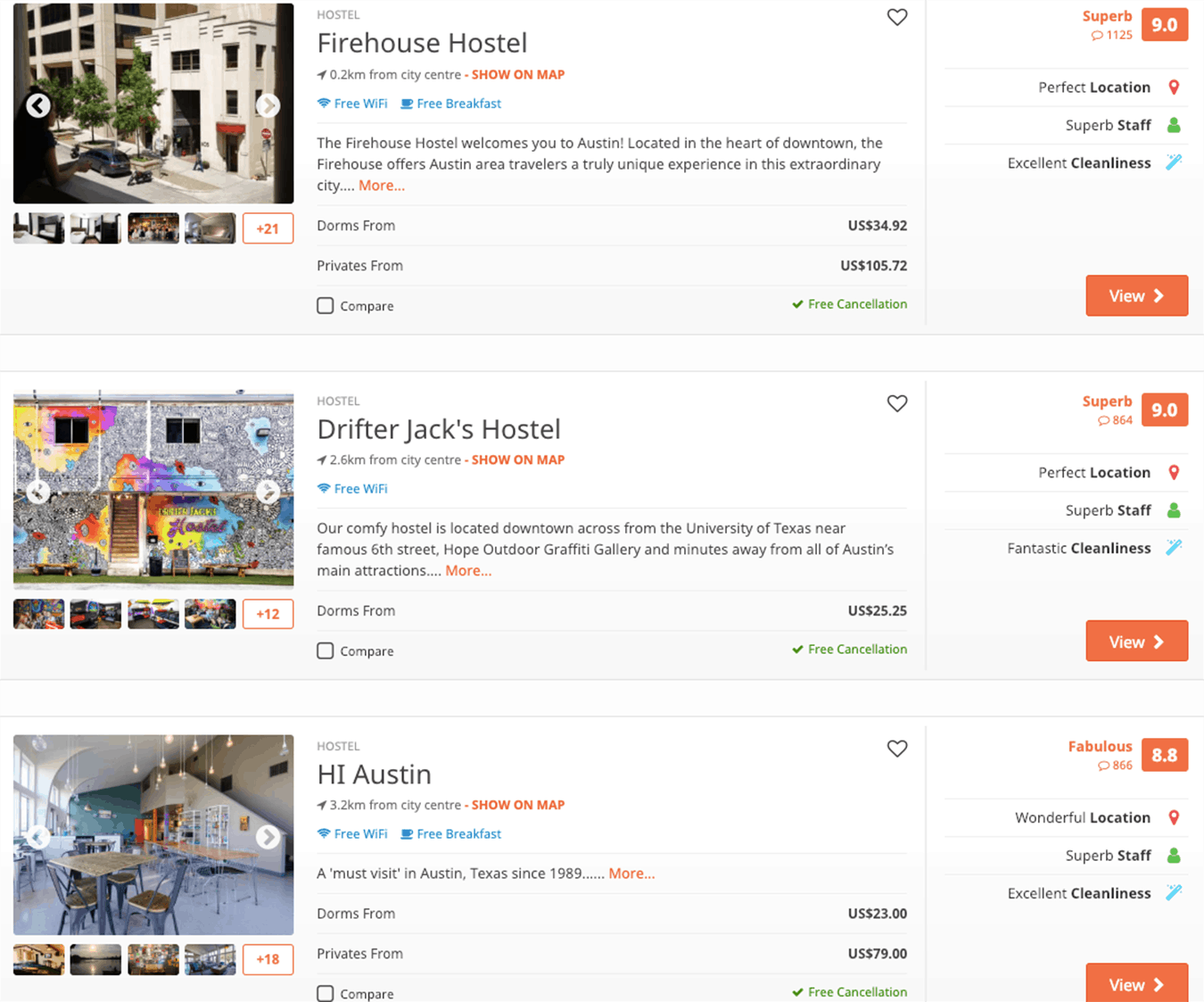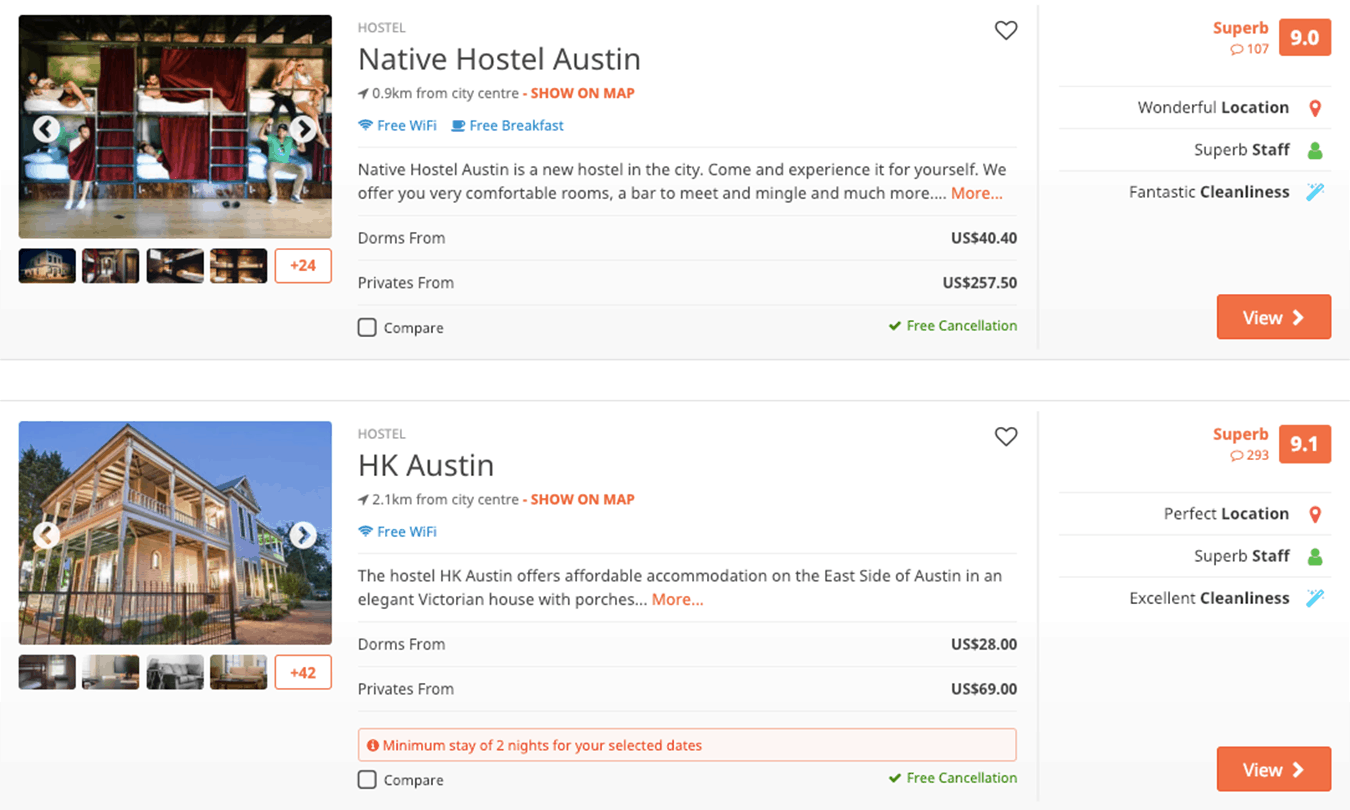 As you can see, we're #5 despite having the top rating in town.
The standard commission for Hostelworld is 15% per booking:

So how do we end up number five on this list?
Thanks to Hostelworld Elevate, hostels can pay more to rank higher in the results.
If we pay 25% commission, for example, we can go up two spots on this list. (That means the other hostels on this list may be paying even more than that to secure a higher ranking on the default search results.) It doesn't put us at the top as a featured listing or anything — this is just to move up on this default list.

In theory, we could jump to #1 in the default search results if we paid a lot more money to Hostelworld, regardless of how good our hostel is. As long as we are willing to pay to play, we can be anywhere we want to be.
However, we were definitely not going to pay the extra fee, even if that means sitting at the bottom of the default rankings as more hostels in Austin open up.
But Austin is a small sample size. There are only five hostels on the list, so even without paying, we aren't likely to be missed.
But think about big cities with hundreds of hostels, like London or Paris or Berlin or Sydney.
Who is going to scroll through pages and pages of results? How easy it to miss even the sites on the bottom of the default list when Hostelworld returns 20 results?
Have you ever wondered why so many of the top hostels on the default search results list seem to be bigger or part of chains?
Here's London as an example: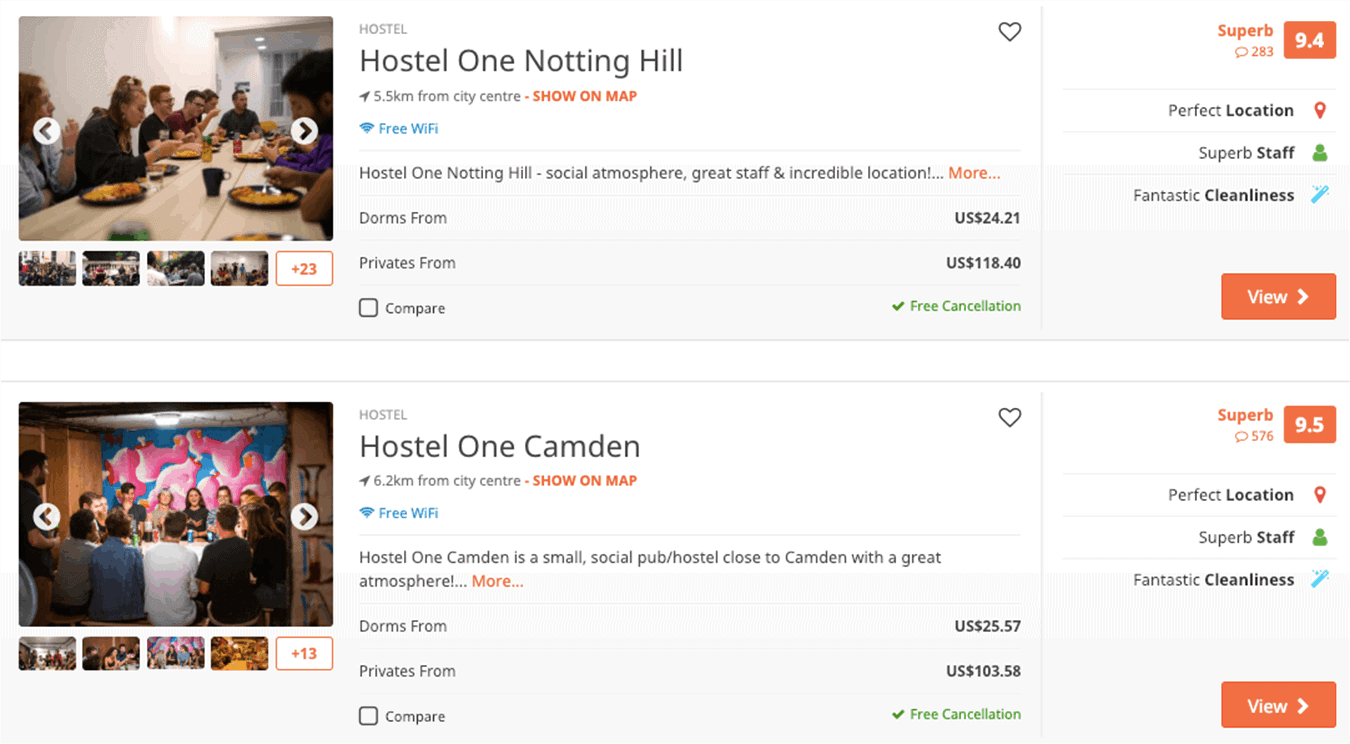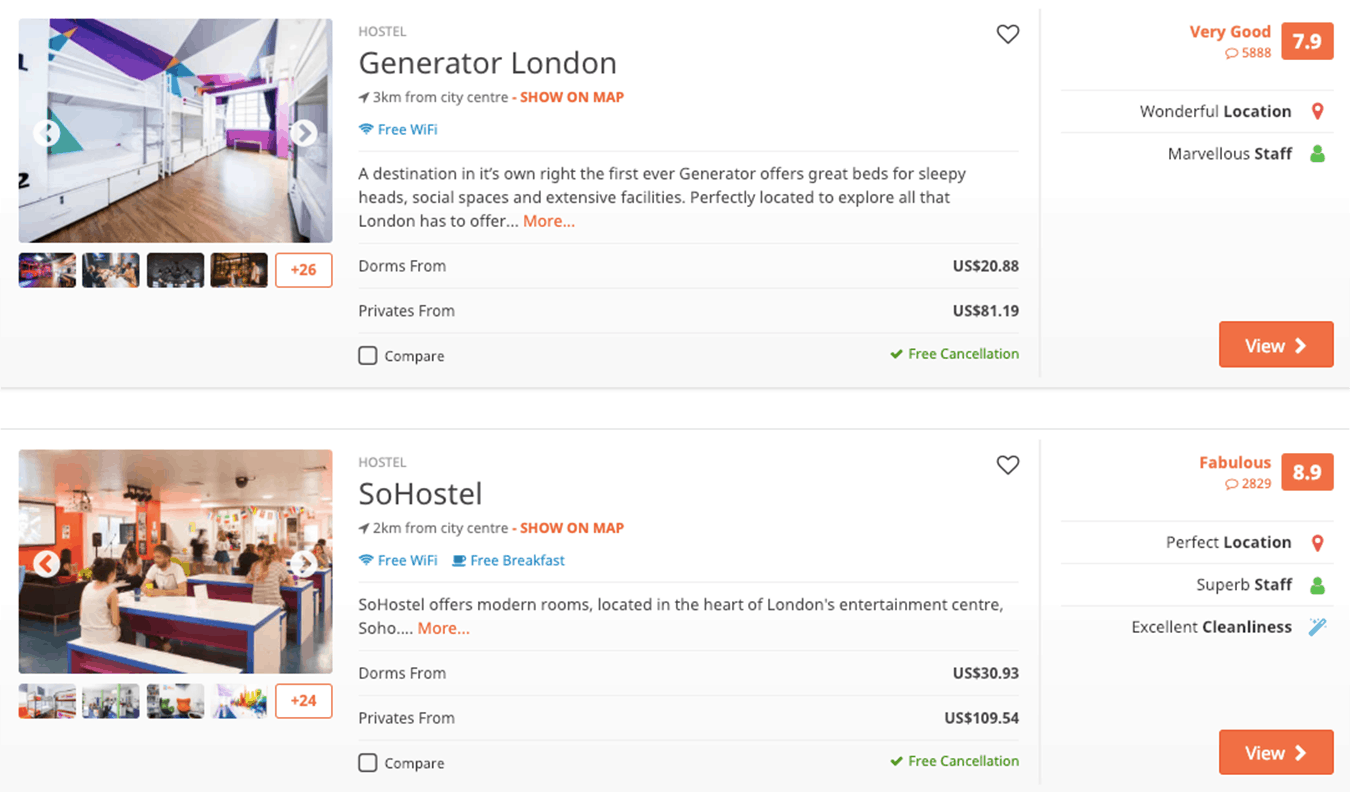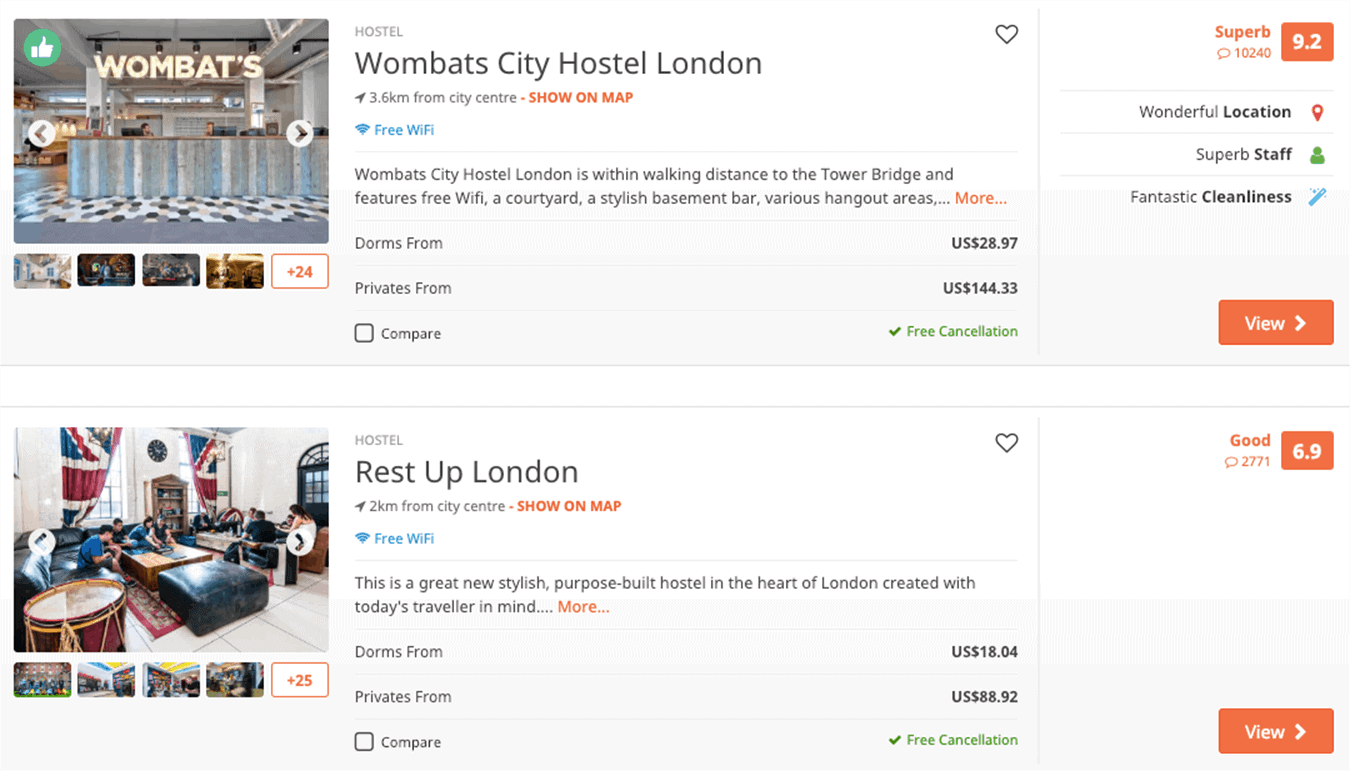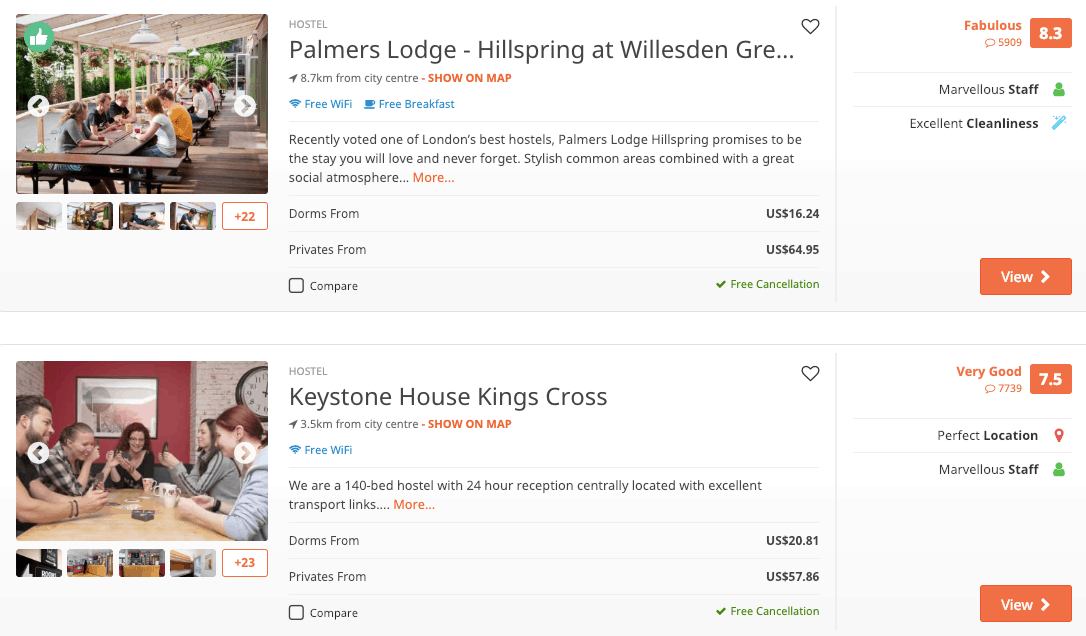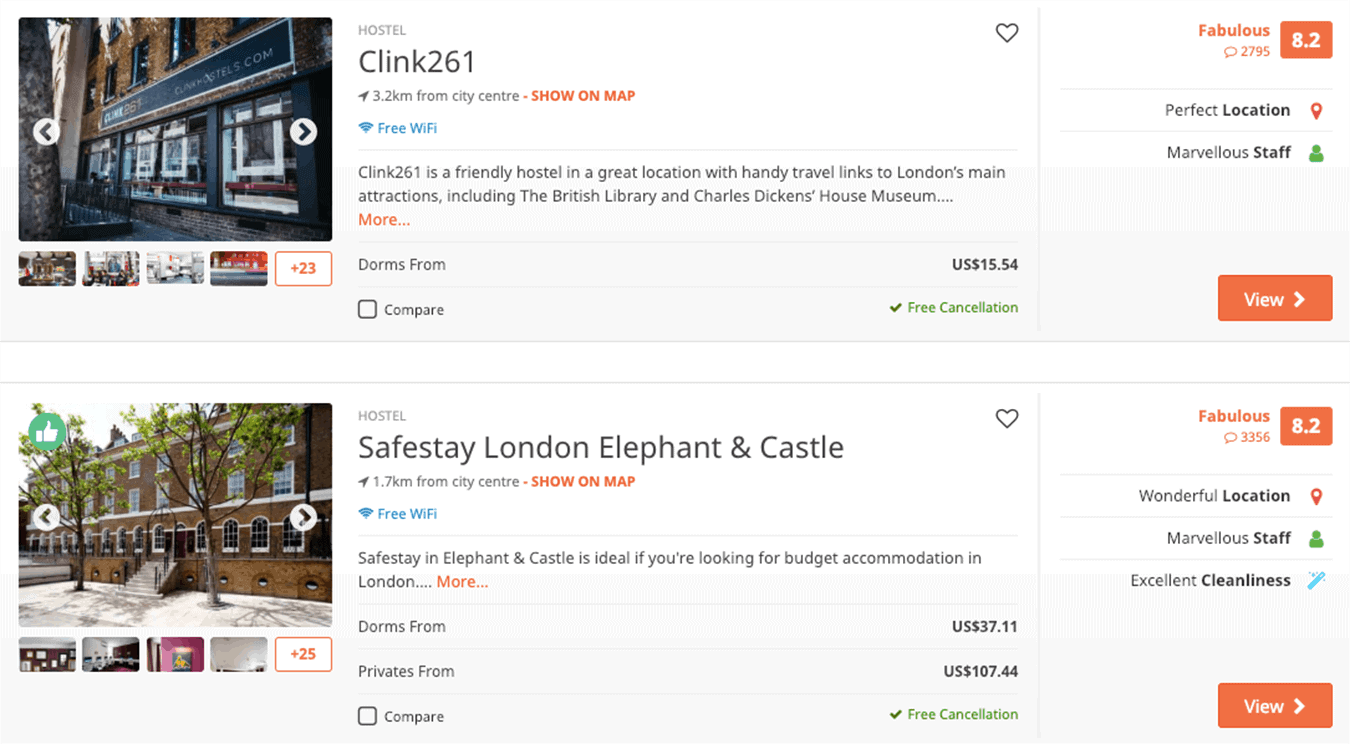 Look at all those chains! And here's Paris as an example too! Look at all the similar names here: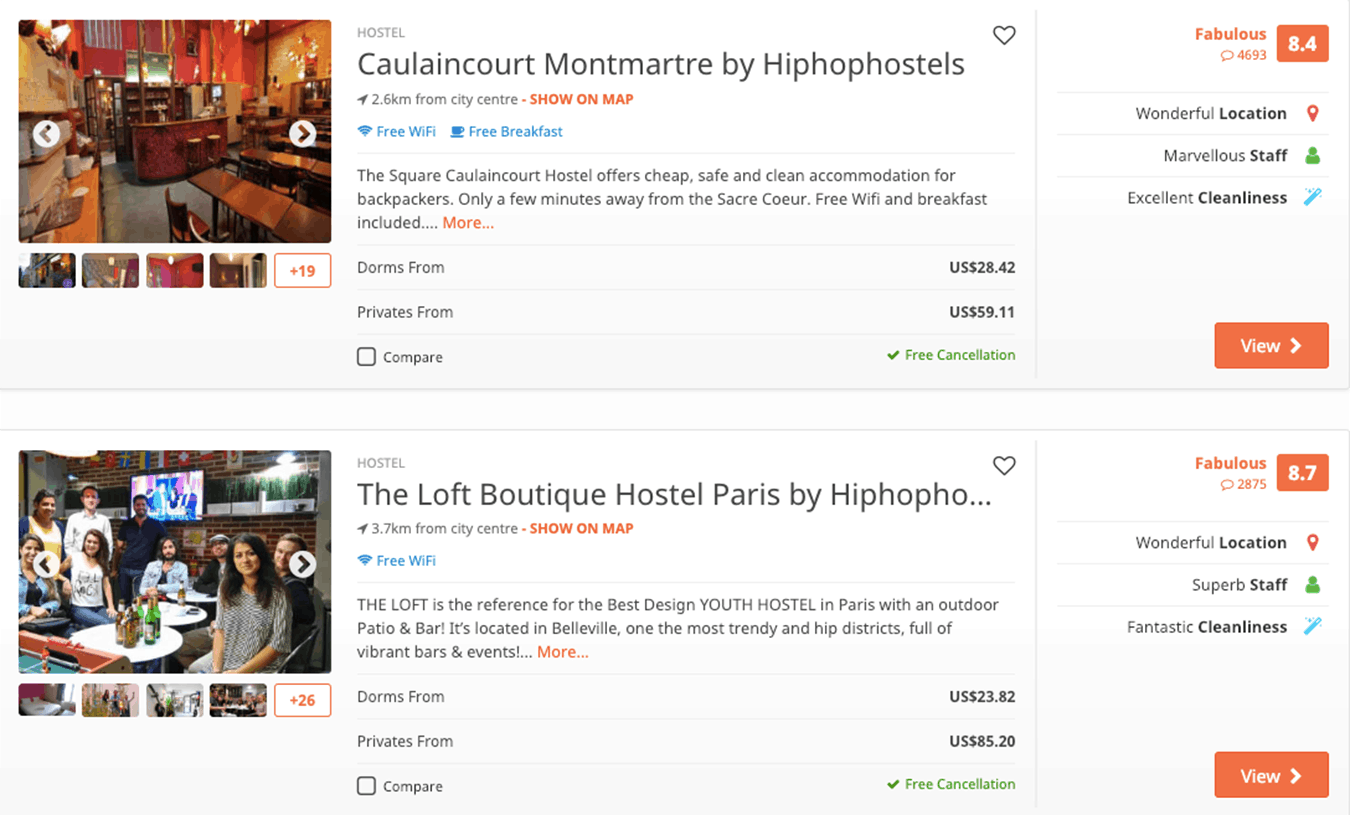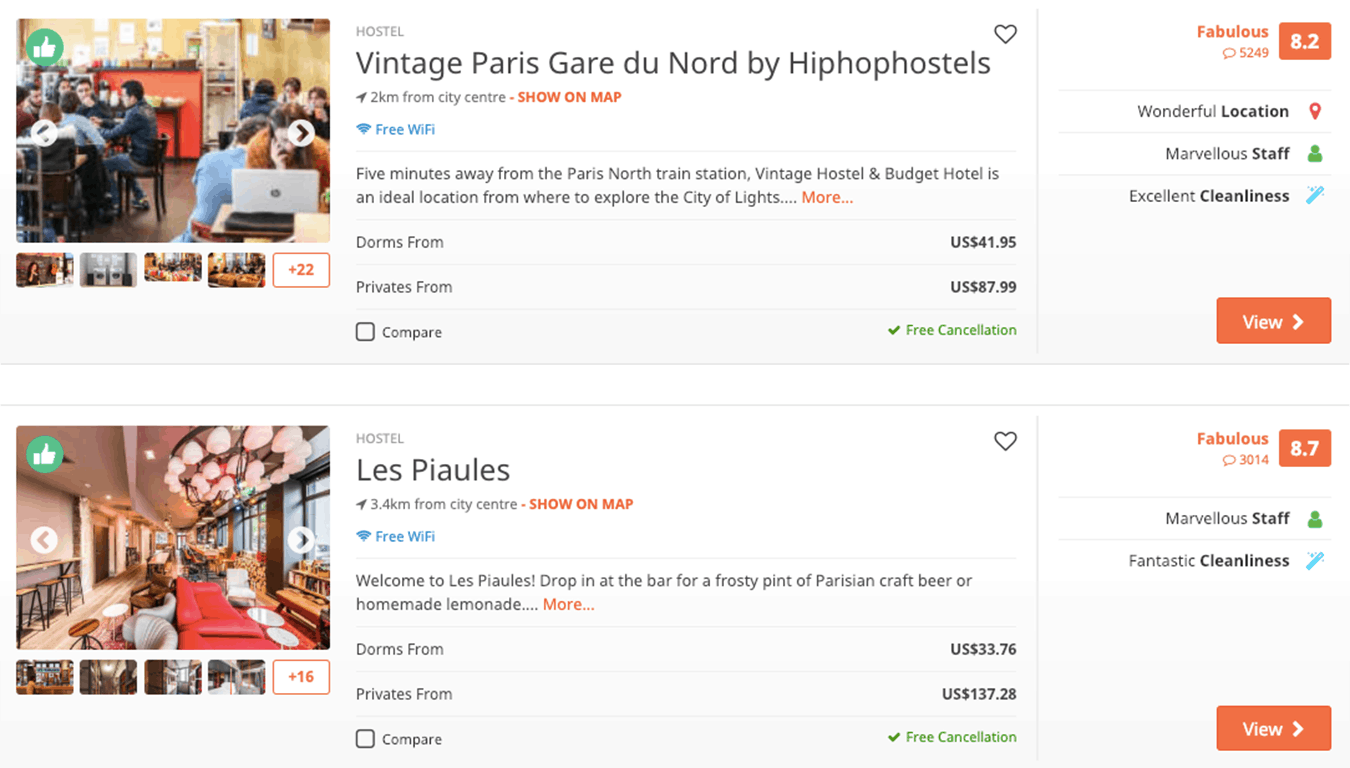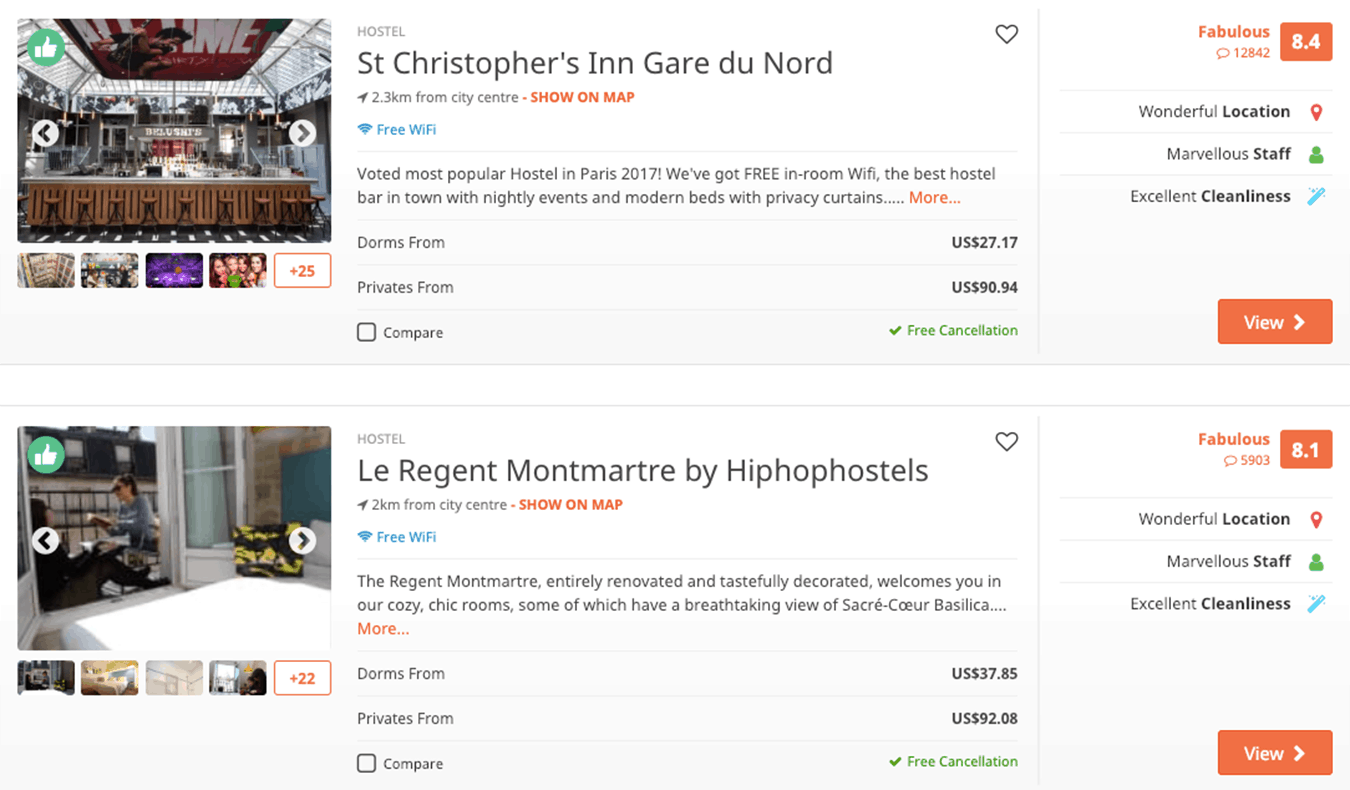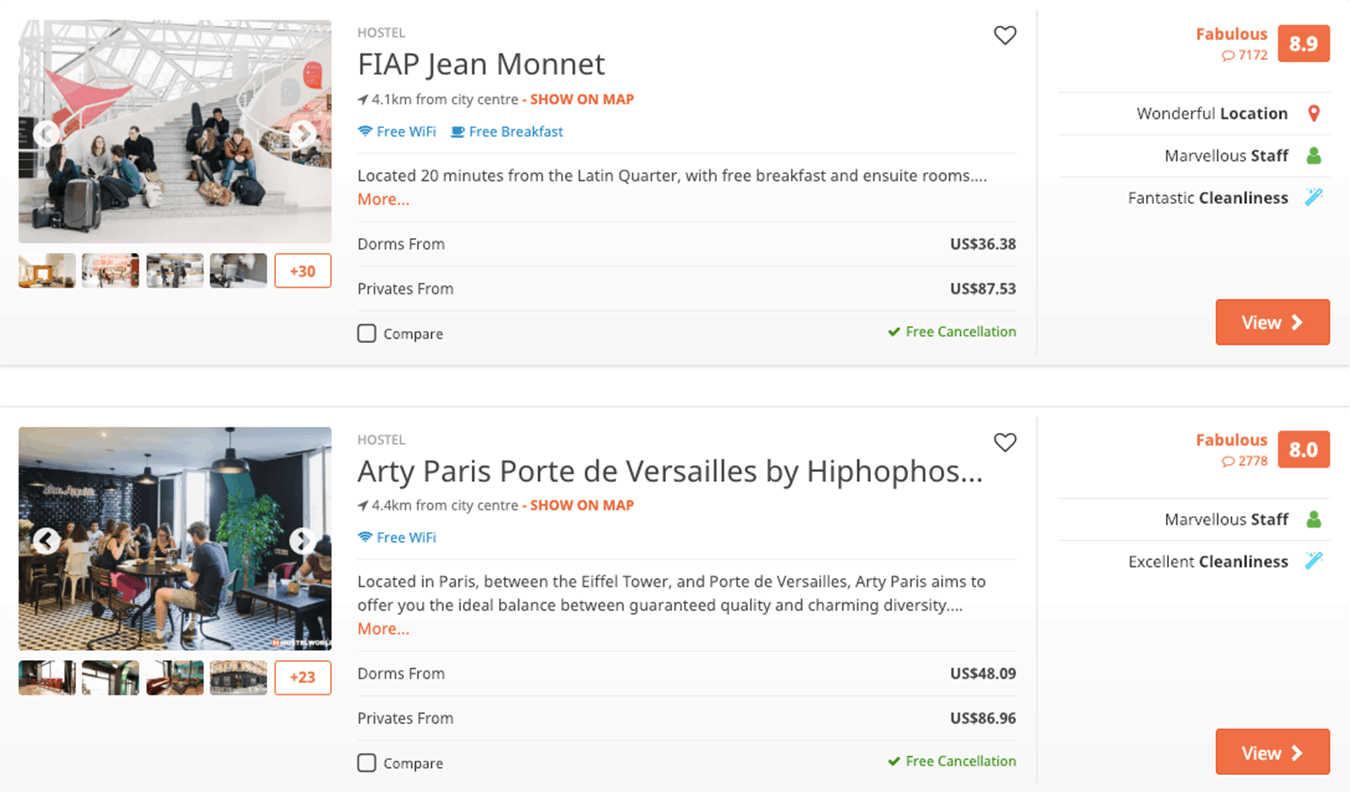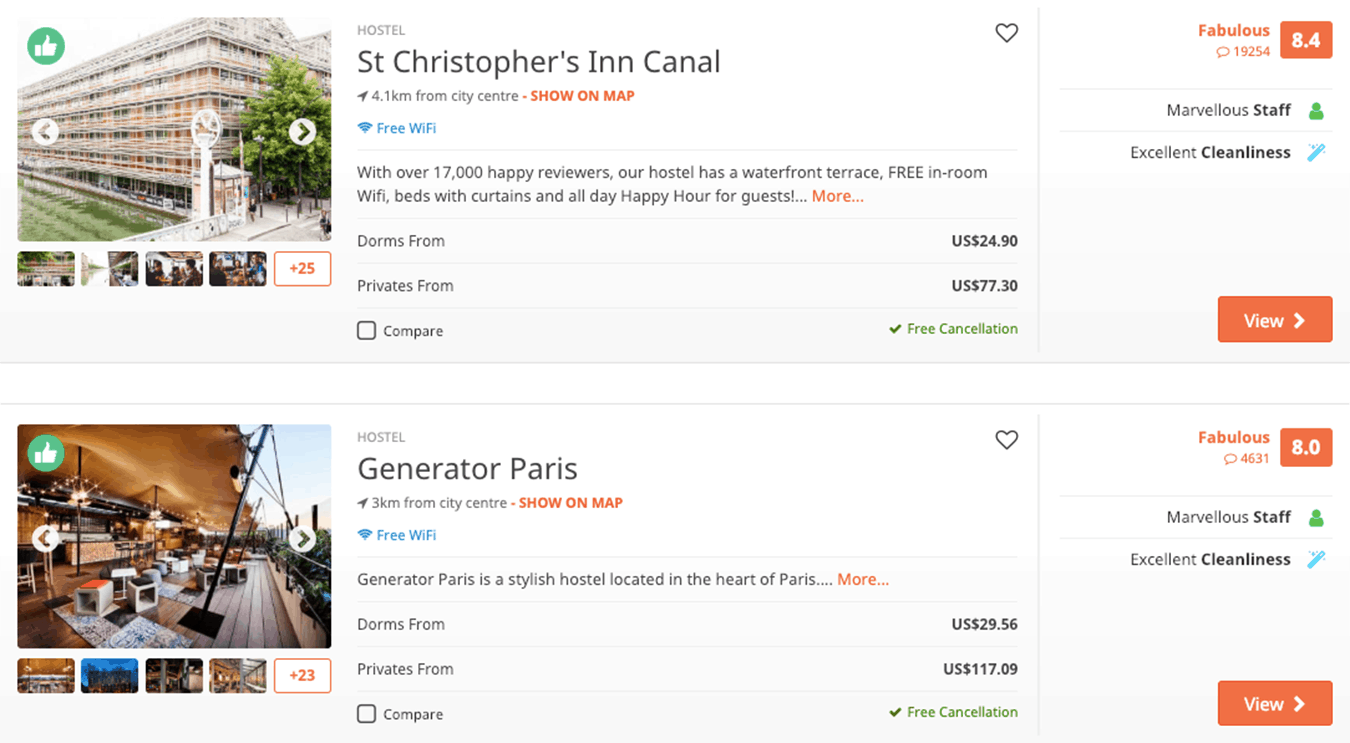 To the hostel owners out there, this is probably old news, but to me this was a huge shock.
To be fair, I don't know the exact formula Hostelworld uses to pick the default list without Elevate getting in the way but I do know that if you pay, you can be anywhere you want.
Which is why you see sooooo many chains as the tops results in so many cities. I can't prove it but based on what I know (and the fact these chains tend to have higher prices), I bet they are paying. I'm sure there are some chains out there who don't pay and still rank well. But my guess is that many of them do pay for their spot.
Small hostels like mine can't give that much money to booking sites. Hostels aren't a high-margin business. They are often a labor of love. Small, cozy, family-run hostels don't have the beds or cash flow to give 25% of their revenue to Hostelworld. Paying more for higher rankings would put many of us out of business.
(And you don't even get anything extra for paying more money — there's not even a support number or dedicated email address. It can take days to get an answer from someone at Hostelworld!)
Larger hostels with a lot of beds and/or that are part of chains can make that happen. They have the margins.
This might be why I sometimes see chains with low ratings on the top page (or like in Paris where 3 hostels from the same chain are in the top 5). This is, in part, why I think much of the default list is paid for.
That means that hundreds of hostels that might be great are stuck at the end of the default search results because huge chains can pay the higher fee for higher placement. (Imagine what the competition must be like to get to the top in a city like London! Yikes!)
I get why Hostelworld does this (and why hostels pay). It's a business decision. But not all decisions are good ones. I love Hostelworld, but this left a bad taste in my mouth. There are not a lot of other places where hostels can go to be found, especially since Hostelworld bought Hostelbookers, its biggest competitor.
Sure, there's Hostelz and Gomio, but they lack the inventory Hostelworld has.
So what can you, the consumer, do to make a huge and positive impact on the hostel owners of the world?
If you're going to use Hostelworld, just:
Sort by price
Sort by rating
This will ensure that any cheap and/or incredible hostels that get pushed down to the bottom of the search results because they don't want to pay the placement fee will not, in fact, get buried.
(You'd be surprised at how many people don't do this. Remember it's a lot easier to look at the options given to you, assume they are the best results, and pick from there. No one really knows how these default rankings work but a lot of people assume they work like Google. The best results are the top results (they aren't) so don't scroll further. This true for many websites. The path of least resistance always wins!)
Also, book directly with a hostel. Most hostels offer discounts if you book directly as an incentive to go around the large booking websites. I've seen lots of signs at hostels offering discounts when you book direct. The hostel keeps more of the money and you get a lower price. It's win-win.
Whatever you do, when you book your next hostel please don't reward this scheme and only pick hostels on the default search setting.


Book Your Trip: Logistical Tips and Tricks
Book Your Flight
Find a cheap flight by using Skyscanner. It's my favorite search engine because it searches websites and airlines around the globe so you always know no stone is being left unturned.
Book Your Accommodation
You can book your hostel with Hostelworld. If you want to stay somewhere other than a hostel, use Booking.com as it consistently returns the cheapest rates for guesthouses and hotels.
Don't Forget Travel Insurance
Travel insurance will protect you against illness, injury, theft, and cancellations. It's comprehensive protection in case anything goes wrong. I never go on a trip without it as I've had to use it many times in the past. My favorite companies that offer the best service and value are:
Want to Travel for Free?
Travel credit cards allow you to earn points that can be redeemed for free flights and accommodation — all without any extra spending. Check out my guide to picking the right card and my current favorites to get started and see the latest best deals.
Ready to Book Your Trip?
Check out my resource page for the best companies to use when you travel. I list all the ones I use when I travel. They are the best in class and you can't go wrong using them on your trip.