New York has a million delicious places to eat, and I was excited to try some of the best restaurants in the world.
Originally, when I moved to NYC, I had hoped to cook instead of eating out since I don't get to cook a lot on the road. But then all the great eating possibilities in New York City got to me, and I found myself unable to resist. I ate out. A lot.
Now, I know the city is filled with countless restaurants and that any list I write is going to be incomplete. After all, how many places could I really eat at in the two months I was there? Nevertheless, here are my favorite eateries in NYC:
Mizu Sushi (29 E 20th St)


As a sushi lover, many of the places I ate at this summer were sushi restaurants. One of my favorites was Mizu. The sushi is excellent, and their prices are reasonable for sushi in NYC. There's a large selection of fish, the quality is great, and they have a wide combination of rolls. Make sure you try the Botan Shrimp, King Salmon, and Naruto Roll. A large dinner for two with sake will cost about $130. The only downside is that the restaurant can get very loud when full.
John's of Bleecker Street (278 Bleecker St)


Pizza in New York is an institution, and I admit I'm no pizza guru. To me, it's bad, good, or really good. I can't make those fine pizza distinctions like some New Yorkers can. I qualify John's as really good. The thin-style pizza comes in huge portions big enough to serve three. Service is quick, but expect to wait during dinner for a table. The only downside is that they don't sell slices; you need to get a whole pie. The upshot, though, is that the leftovers are just as delicious and probably won't last long in your fridge.
5 Napkin Burger (630 9th Ave)


Looking for a huge sloppy burger and French fries? Try this spot. Its burgers are thick and juicy, and you can get them covered in cheese and bacon. The restaurant's name is misleading, though, as you'll need more than five napkins with one of these burgers. They come in buckle-busting portions. Beyond the burgers, they have great sandwiches and salads, and the fried pickle and pastrami appetizer is really good (tasty but not filling). When you're finished, wash it all down with a thick milkshake.
Nobu New York (105 Hudson St)


Nobu is one of the most popular sushi restaurants in the world. Nobu is a mecca for sushi lovers, and if you come to NYC and can afford it, eat here. It's worth every penny. They have over 12 international locations, but the New York City and LA restaurants are the most famous. This isn't a place to come to on a budget. Dinner will set you back a few hundred dollars, so you might be better off coming for lunch if you want to save money. Beyond the sushi, I recommend the rock shrimp tempura. It melts in your mouth.
Chelsea Market (75 9th Ave)


Chelsea Market is more a collection of eateries than a single restaurant. It's extremely popular and a great place to pop into when you need some groceries, a meal, or snacks. You'll find good Thai food here, and Amy's Bread has amazing French loaves. The Lobster Place has decent sushi but I really enjoy its clam chowder — and as a New Englander, I know clam chowder. If you want a meal with local and organic food, try the Green Table; the food is excellent, everything is well portioned, and they do very good drinks. It's my favorite spot to eat in Chelsea Market. It's not cheap, but it makes for a nice date place.
Locanda Verde (377 Greenwich St)


You'll find great Italian food in Tribeca. Locanda Verde's brunch is really great, with plenty of unique dishes to sample. Come for dinner for a more traditional Italian meal. The food is very flavorful and the portions are large. You might even spot a celebrity or two. You can't fail to be impressed with their wine list, which is longer than the menu. During the summer, Locanda Verde is especially popular with people who want to dine outside.
Shake Shack (SE corner of Madison Square Park)


The original restaurant is located in Madison Square Park, and its newest branch is in Times Square. Expect long lines at both locations, especially at lunchtime. Guests have been known to wait up to an hour for a chance to eat here; I waited 45 minutes for my burger. The burgers don't always live up to the hype, but going there is an experience. Standing in line for an hour with everyone else is pretty social and a good way to spend a warm afternoon. And in a place called the Shake Shack, the shakes must be good. (They are.)
Hill Country BBQ (30 W 26th St)


This is Texas BBQ at its finest. Hill Country is a great place to get messy with some ribs. The menu draws its inspiration from the grand old meat-markets-turned-barbecue-joints of central Texas. With its distinctive dry-rub style, Hill Country's brisket, sausage, ribs, and other meats are smoked low and slow. And like any good rib joint, Hill Country has a large selection of beer and tequila.
Blue Water Grill (31 Union Square W)


Located in a former bank, this three-floor, heavily marbled space is usually filled with business diners, couples, and tourists. The seafood menu has delicacies from all over the world. I highly recommend the King crab legs. It has a good wine selection too. Blue Water is located right in Union Square, so after dinner, it's easy to go out on the town or catch a movie at a nearby theater.
You could eat out for every meal and never get to all the amazing places to eat in New York City. I never got to Todd English's restaurant or Mario Batali's many locations. I never got to sample the ethnic food in Brooklyn or even Little Italy. I hear there's a lot of great Cajun food down in Staten Island. There are just too many restaurants in NYC. But I can promise you that if you come here and try any of these places, you're in for an excellent meal.
For more information on New York City, check out my city guide to NYC for more in-depth travel information.
Get the In-Depth Budget Guide to New York City!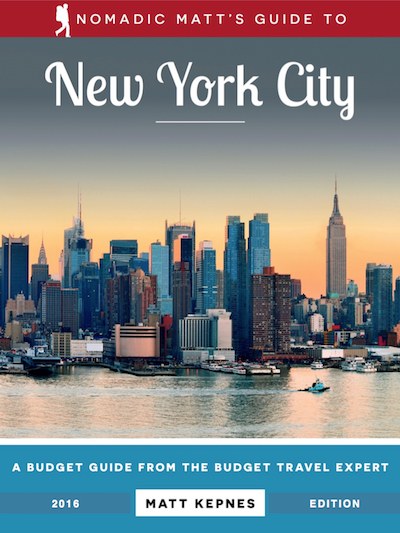 For more in-depth information and tips on NYC, check out my 100+-page guidebook written for budget travelers like yourself! It cuts out the fluff found in other guides and gets straight to the practical information you need to travel and save money the city that never sleeps. You'll find suggested itineraries, budgets, ways to save money, on- and off-the-beaten-path things to see and do, nontouristy restaurants, markets, and bars, and much more! Click here to learn more and get started.
Book Your Trip to New York City: Logistical Tips and Tricks
Book Your Flight
Find a cheap flight to New York City by using Skyscanner or Momondo. They are my two favorite search engines. Start with Momondo.
Book Your Accommodation
You can book your hostel in New York City with Hostelworld. If you want to stay elsewhere, use Booking.com as they consistently return the cheapest rates. (Here's the proof.)
If you're looking for more places to stay, here for my favorite hostels in New York City. If you're wondering what part of town to stay in, here's my neighborhood of New York City!
Don't Forget Travel Insurance
Travel insurance will protect you against illness, injury, theft, and cancellations. I never ever go on a trip without it. I've been using World Nomads for ten years. You should too.
Need Some Gear?
Check out our resource page for the best companies to use!
Want More Information on New York City?
Be sure to visit our robust destination guide on New York City for even more planning tips!