Last Tuesday, my book How to Travel the World on $50 a Day was released, and a lot of people seemed to wonder whether $50 per day was "extravagant" or just the right amount. I got asked questions like "Can it be done cheaper?" "Why $50?" and "What does that number include?"
Today, I want to talk about exactly that subject and magic number.
To answer those questions, let's first talk about where that number comes from. I didn't pick it out of hat! There's a reason why it's $50 a day and not $49, 37, or 69.50! Fifty dollars is a rolling average for a world trip that not only includes day-to-day expenses but also the cost of flights, travel insurance, your backpack, your gear, and special tourist discount cards.
That works out to be $18,250 USD for EVERYTHING for a year. It's all-inclusive. A lot of times when people say "You can travel Europe for $20 a day," they are only including day-to-day expenses.
I include everything because it's the only way to give an accurate answer to the question "How much do you really need?"
Now, I want to break that total down further.
First, let's discuss pre-trip expenses. There aren't a lot of big expenses before you go away, but there are some:
One-year travel insurance policy: $1,000
Flights: $2,700
A decent backpack: $200
ISIC (students/youth), YHA (hostel), VIP (backpacker) discount cards: $100
Note: The flight figure assumes you use budget airlines and rewards points to lower your expenses. If you don't, you're going to pay a lot more and waste a ton of money!
Before we even go, we're looking at spending $4,000. That's a large figure, but it takes care of all our sunken costs and on the road, the discount cards save us money on attractions, accommodation, and transportation. Averaging that amount over a year, we get about $11 per day.
Next, let's talk about expenses on the road, because this is where you are going to spend the majority of your money. In my book, I included the most popular destinations people visit on a round-the-world trip. Based on my travel experience, this is what I've found to be a good daily budget in each region:
South America: $30 per day x 90 days = $2,700
Europe (assuming a mix of Western and Eastern Europe): $50 per day x 90 days = $4,500
Southeast Asia: $25 per day x 90 days = $2,250
Australia: $55 per day x 60 days = $3,300
New Zealand: $50 per day x 30 days = $1,500
Total price = $14,250 USD
Adding both those numbers gives us exactly $18,250 USD — or $50 USD per day.
Will you actually be spending $50 USD every day? No. If you're spending $50 a day in Thailand, I'll find you and slap sense into you. You're spending way too much! If you spend $50 a day in Norway, you're doing great.
$50 per day is the amount you should budget to have a cheap but active trip that allows you to experience the places you go without blowing a ton of money.
Doing It Cheaper Than $50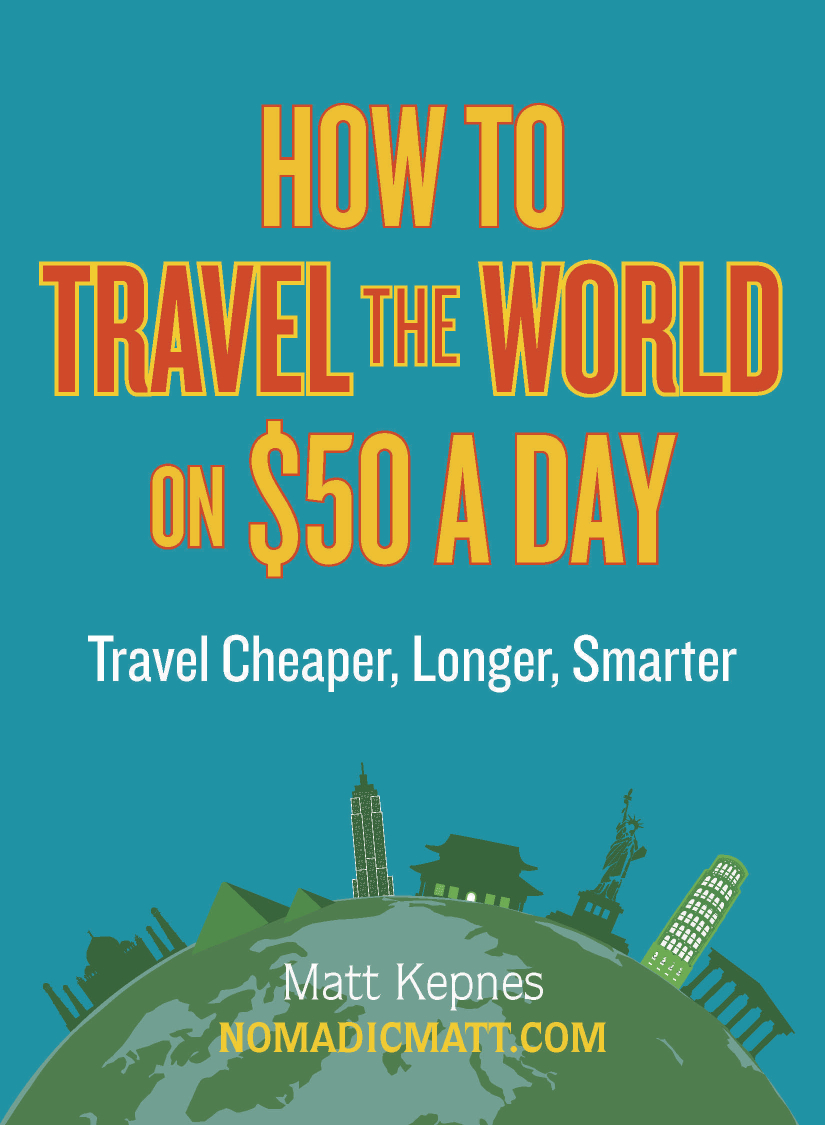 I often hear statements like "I did Australia for $20 per day" or "I only spent $12 a day in this country."
I wonder a few things when I hear that:
Where did you go?
What did you do?
Does that include your total expenses, or just your daily ones?
If you're traveling to cheaper regions of the world, you won't need nearly as much. If you are sitting in your hostel eating pasta, you can travel very cheap. If you decide not to include your flights in your daily budget, you can trick yourself into thinking you're spending less.
Can you travel for less than $50? Of course! I spent $30 USD per day in Holland when I was staying with friends and cooking all my own meals. And if you decide to camp, hitchhike, or never drink, your expenses can be cut even further.
Ultracheap travel is doable, but, for most people, not sustainable over the long term.
This book isn't about being a cheapskate — it's about being frugal and finding value. Too many travelers equate cheap with budget. Sometimes they have such a myopic view, they miss the forest through the trees. In my view, traveling the world on $10 a day just to say you did it is dumb. Travel and budget enough to experience the things that brought you to that country in the first place!
After all, what would be the point of saving all that money to then visit Italy and not see the David or eat a great pizza and drink delicious wine?
Using the plethora of savings tips and tricks in my book, you can lower your spending to less than $50. I'll show you how I, with ninja-like precision, use various discount cards, city cards, transportation passes, and hospitality services to lower my expenses without sacrificing comfort.
Traveling the world on $50 a day is about a philosophy as much as it is about a specific number. If you just focus on that number, you'll miss the entire point of the book — which is to get you to travel cheaper, longer, and smarter.
It's about bringing your total expenses down to as little as possible while still finding value, having fun, and checking items off that bucket list of yours.