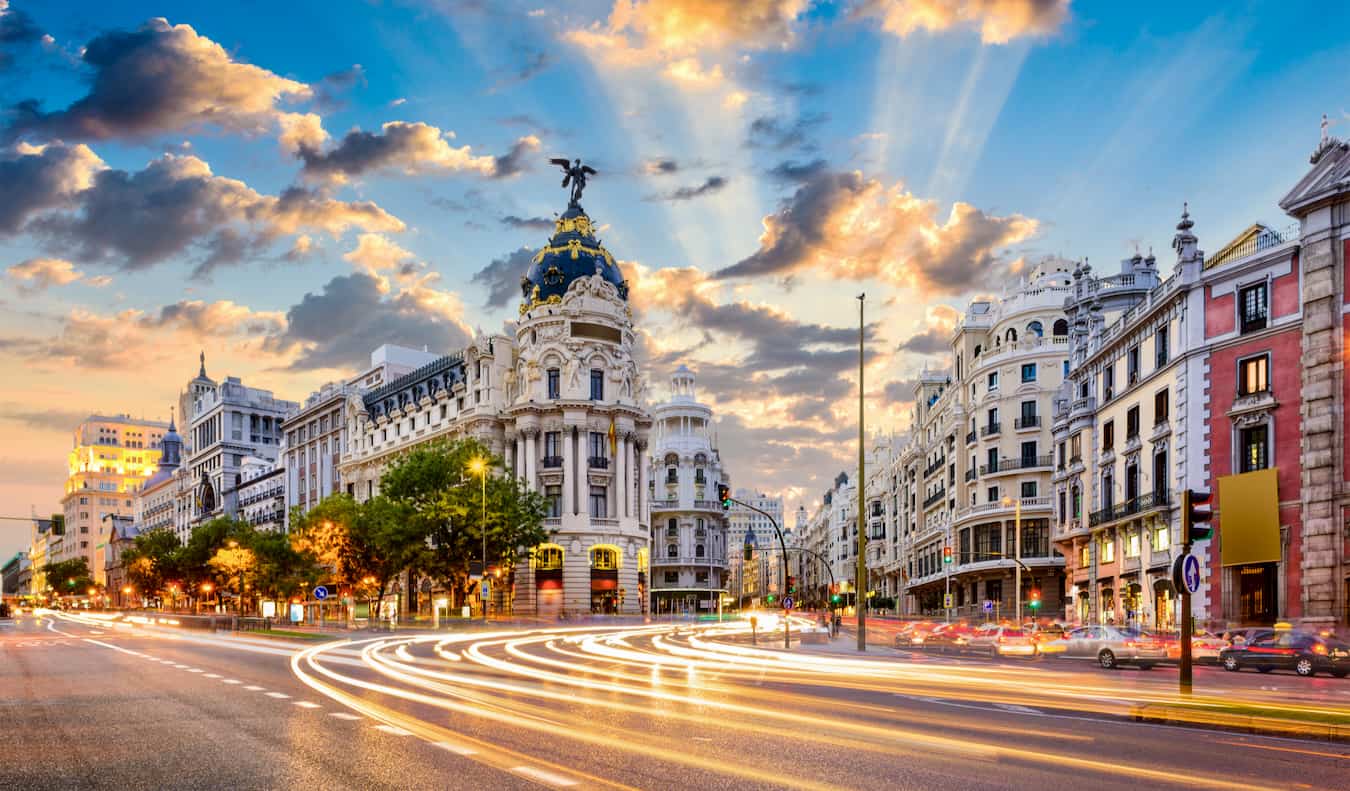 Last Updated: 5/17/23 | May 17th, 2023
When I first visited Madrid in 2009, I only saw my hostel's bed. I caught a bad cold in Barcelona which ruined my time in Madrid. I left what was supposed to be one of the best cities in the world sad, sick, and upset. I only ever saw the city on my way to the pharmacy.
Returning to Madrid years later, I vowed not to leave the city without experiencing its supposed sensory-overloading sights, sounds, and eats.
Taking the time to fully explore Madrid, I found a massive city that required planning and organization to effectively explore. Using what I learned in San Francisco, I took Madrid by storm and saw quite a bit (not everything, but enough to make me happy).
If, like me, you too only have a limited amount of time to see the city, here's a suggested itinerary for Madrid to help you plan your trip, save money, and see everything this amazing city has to offer!
Madrid Itinerary
Day 1: Royal Palace, Cathedral, Plaza Mayor, & more!
Day 2: Mercado de San Miguel, Monasterio de las Descalzas Reales, & more!
Day 3: Prado Museum, Naval Museum, Reina Sofía, & more!
Day 4: El Retiro Park, Museo de la Historia de Madrid, & more!
Other Things to Do in Madrid: Watching flamenco, seeing a soccer game, & more!
Madrid Itinerary: Day 1
Free walking tour
I'm a big fan of free walking tours. They provide a good orientation to for city, highlight its important sights, and provide a cursory overview of a city's history. On your first day, start the morning with a free walking tour and get a basic overview of Madrid.
The two most popular walking tours in Madrid are: New Madrid Walking Tours, which leave at various times throughout the day and Cat's Hostel Walking Tour, which goes daily at 10:20am.
Both tours are free but tipping the guide is appreciated.
Visit the Royal Palace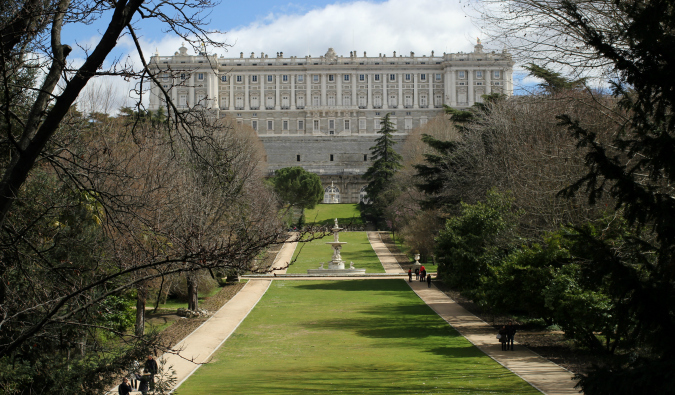 Though it's the official residence of the royal family, they don't actually live here anymore, and the palace is only used for official state functions. You can walk through the palace (both self-guided and guided tours are available) starting at the grand stairway and wander through lavishly decorated staterooms. My favorites are the green porcelain room and the dining room. There's also the Royal Armory, which houses a collection of medieval weapons and armor. Audio guides and pamphlets are not included in the admission price.
Oriente Square, +34 902 044 454, patrimonionacional.es. Open Monday-Saturday 10am–6pm (7pm in the summer) and 10am-4pm on Sundays. Admission is 12 EUR for an unguided tour or 16 EUR for a guided tour in Spanish. Admission to the kitchens is 6 EUR or 16 EUR combined with the palace. Skip-the-line tickets are 16 EUR.
The Cathedral of Madrid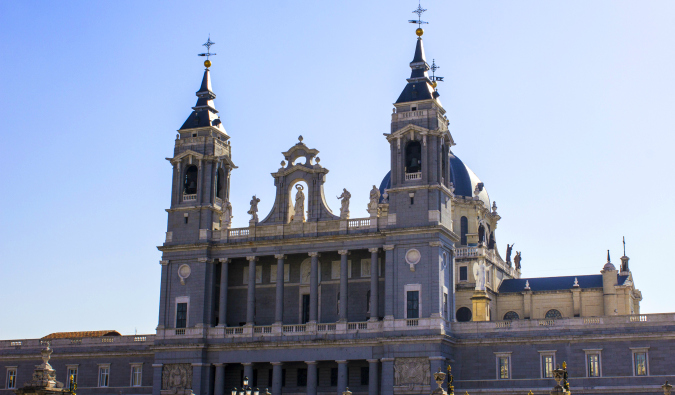 Across from the palace is the main cathedral of Madrid. Finished near the end of the 20th century, it's where the Prince and Princess of Asturias, Felipe and Letizia, were married in 2004. Official state ceremonies are held here, and while not the most beautiful cathedral in Europe, its roof provides some excellent photo opportunities of the Madrid skyline.
Calle de Bailén, 10, +34 915 422 200, catedraldelaalmudena.es. Open daily from 10am-8:30pm. Mass is held at 12pm, 6pm and 7pm. Admission is free, but donations are accepted. Dress respectfully as this is a place of worship.
Plaza Mayor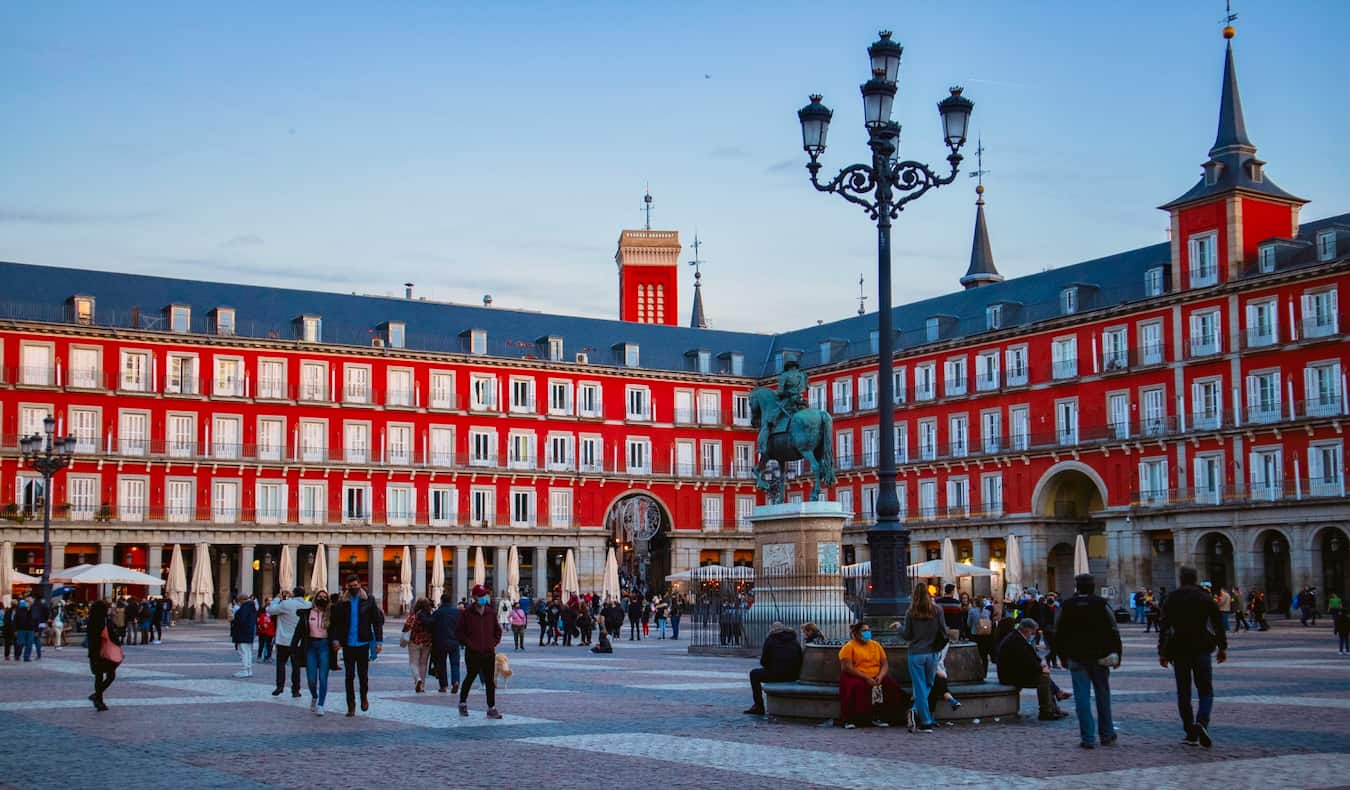 The most famous in the city and the starting point for most tours, this plaza once hosted bullfights, markets, symphonies, tournaments, and even executions. Now it's ringed with tourist shops, cafés, and restaurants. It's a good place from which to indulge in some people-watching, offers some good (though overpriced) bars, and occasionally has concerts and events.

Madrid Itinerary: Day 2
Food tour
To learn more about the history and culture behind Madrid's cuisine, take a food tour. It's the best way to eat your way around the city sampling the best eats Madrid has to offer while learning what makes the cuisine unique. Devour Tours runs in-depth food tours led by expert local guides that will introduce you to the food culture and its history. If you're a foodie like me who wants to learn more about the history and culture behind each dish, this tour is for you! Tours start at 99 EUR.
Here's a video from my food tour:
Mercado de San Miguel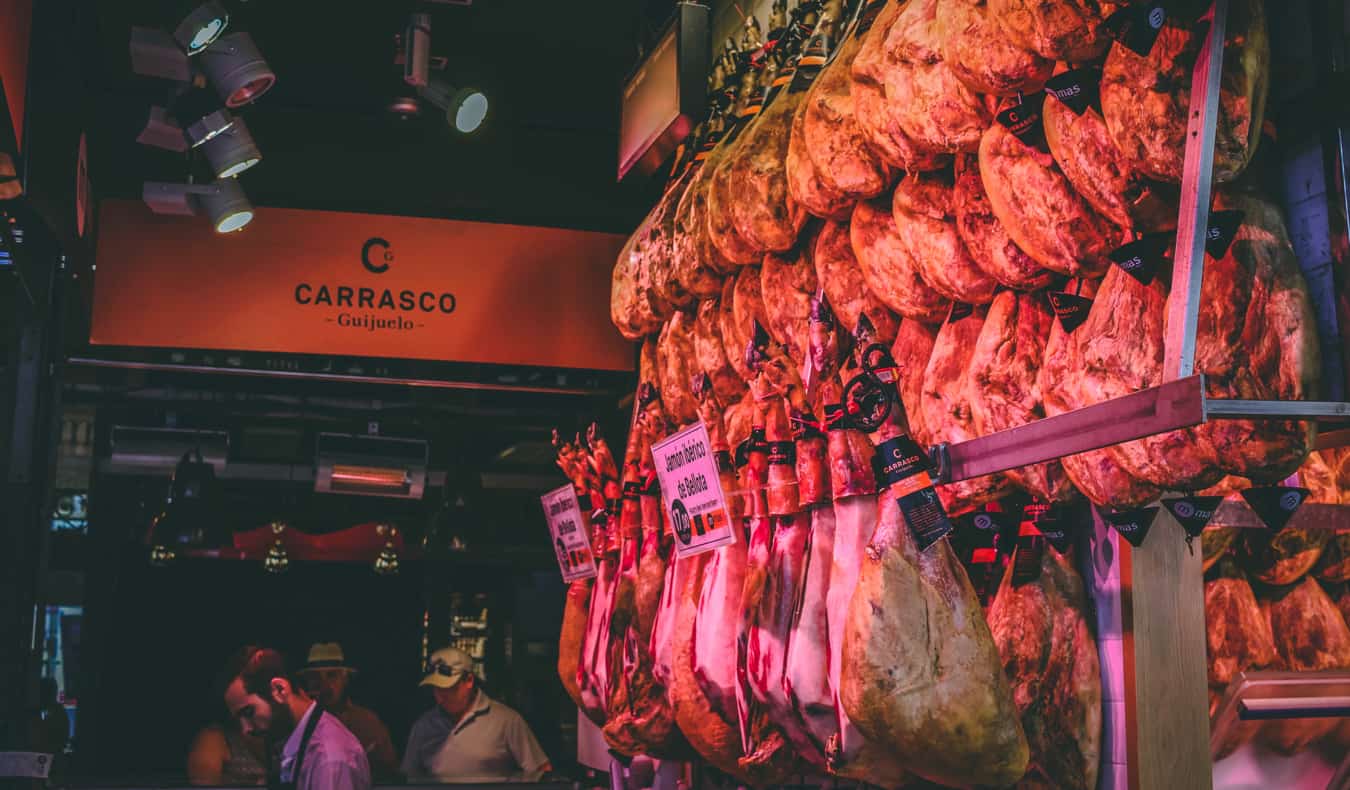 Near Plaza Mayor, this indoor market used to be a big central market before it fell into disrepair. Bought by a foodie and turned into a hip spot with lots of restaurants and stalls, the food here is delicious and surprisingly cheap considering its downtown location. I left full for 10 EUR. At night, it's busy with locals seeking after-work drinks and tapas. You'll visit this location on your food tour, but it's worth coming back to. It's open from 10am to midnight.
Plaza de San Miguel, +34 915 424 936, mercadodesanmiguel.es. Open Sunday-Thursday 10am–12am and 10am-1am on Fridays, Saturdays, and holidays.
Monasterio de las Descalzas Reales
Built in the 16th century, the Convent of Las Descalzas Reales (which means "Monastery of the Royal Barefooted") was the former palace of Emperor Charles V and Empress Isabel of Portugal. Single noblewomen were invited to reside here as nuns, bringing with them any wealth they had accumulated prior. Although it has a rather dull exterior, inside the building there are many works of art and the main staircase is decorated with mural paintings dating to the 16th and 17th centuries.
Plaza de las Descalzas, +34 914 54 88 00, patrimonionacional.es/real-sitio/monasterio-de-las-descalzas-reales. Open Tuesday-Saturday 10am–2pm and 4pm–6:30pm, as well as Sundays 10am–3pm. Closed Mondays. Admission is 6 EUR, with free admission on Wednesdays and Thursday evenings for EU residents. Access is by guided tour only.
Madrid Itinerary: Day 3
The Naval Museum
The Museo Naval de Madrid highlights the history of Spain's historic naval capabilities and accomplishments. It covers the 15th century to the present, with information on ships, wars, and colonies and how those all impacted Spain as a world power. The museum has all kinds of maps and drawings, as well as weapons and navigation equipment. It also houses the oldest map of the Americas, which was made in the year 1500. There's a detailed section on the (failed) Spanish Armada that I found pretty insightful too.
Paseo del Prado 3, +34 915 238 516, armada.defensa.gob.es/museonaval/. Open Tuesday–Sunday 10am–7pm (3pm in August). Admission is free but donations of 3 EUR per person are suggested.
The Prado Museum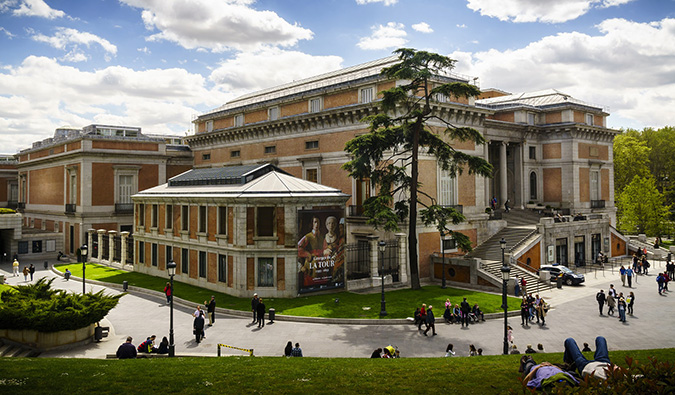 The Prado is considered one of the best museums on the planet. There are works from Spanish (El Greco, Velázquez, and Goya), Flemish and Dutch (Rubens, van Dyck, and Brueghel), Italian (Botticelli, Tintoretto, Titian, Caravaggio, and Veronese), and German (Albrecht Dürer, Lucas Cranach, and Baldung Grien) artists. I love the Prado and the tree-lined boulevard that leads to it.
Ruiz de Alarcón street, 23, +34 913 302 800, museodelprado.es. Open Monday-Saturday 10am–8pm and Sundays 10am–7pm. Admission is 15 EUR; however, free entry is available Monday-Saturday 6pm–8pm and Sundays 5pm–7pm.
Royal Botanical Garden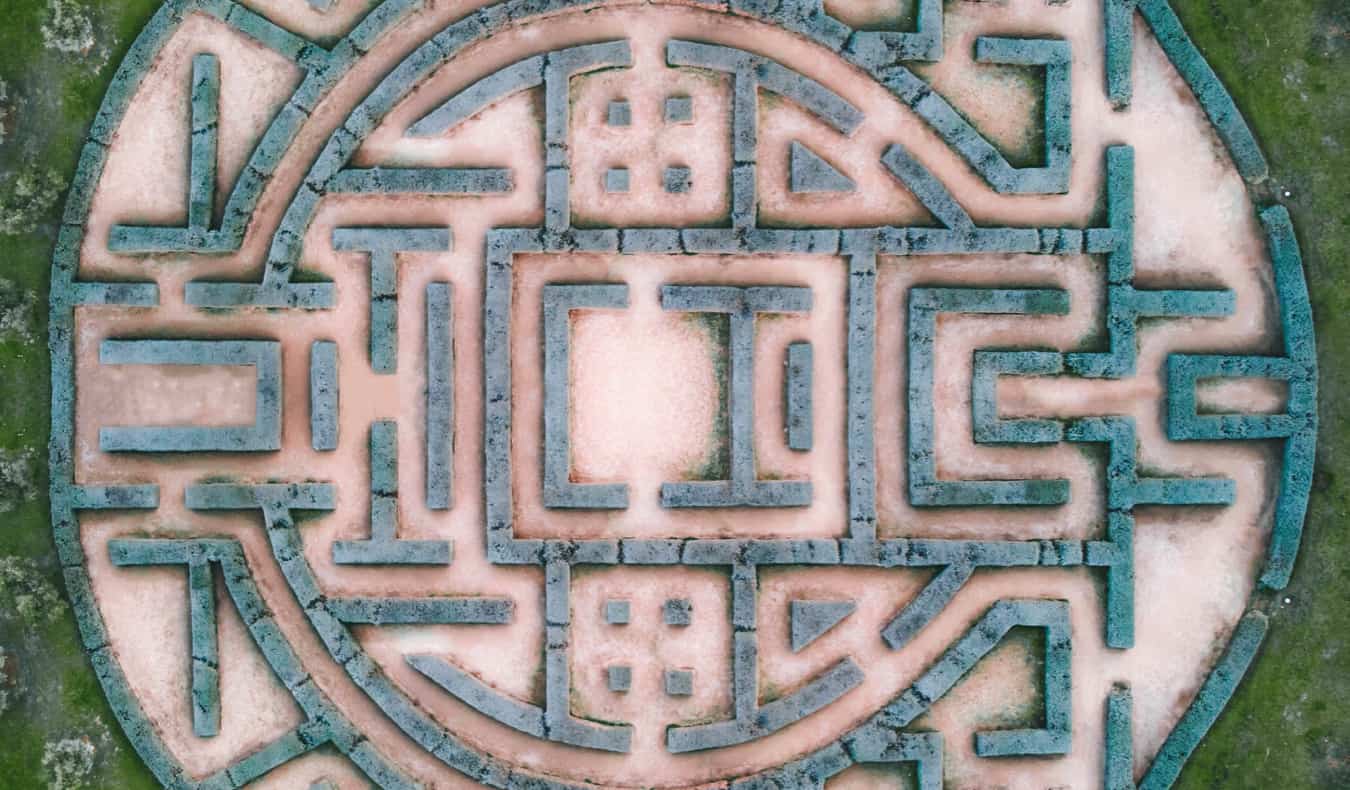 Built between 1797 and 1839, this park is right across from the Prado and boasts lakes, labyrinths, squares, fountains, and lots of flowers. There's even a little veggie garden during the summer months. While a beautiful place, the pollen really made my allergies go wild, so for people with similar afflictions, I'd pop a pill (and bring some tissues) before heading in.
Plaza de Murillo, 2, +34 914 203 017, rjb.csic.es/jardinbotanico/jardin/. Open daily from 10am; closes between 5:30pm and 9pm depending on the season. Admission is 4 EUR.
Reina Sofía
The Museo Nacional Centro de Arte Reina Sofía (Reina Sofía National Art Center) offers a fantastic collection of modern art. Works by masters like Picasso, Miró, Kandinsky, Dalí, and Bacon can all be found here. The centerpiece of the exhibit is Picasso's famous Guernica painting, a 1937 oil painting that's considered the most moving anti-war painting in the world. While I don't love modern art, even I enjoyed this museum.
Calle de Santa Isabel 52, +34 917 741 000, museoreinasofia.es. Open Mondays and Wednesday-Saturday from 10am–9pm, and Sundays from 10am-2.30pm. Tickets are 12 EUR and free from 7pm to 9pm on Mondays, Wednesdays-Saturdays, and Sundays from 12:30-2:30pm.
Tapas in La Latina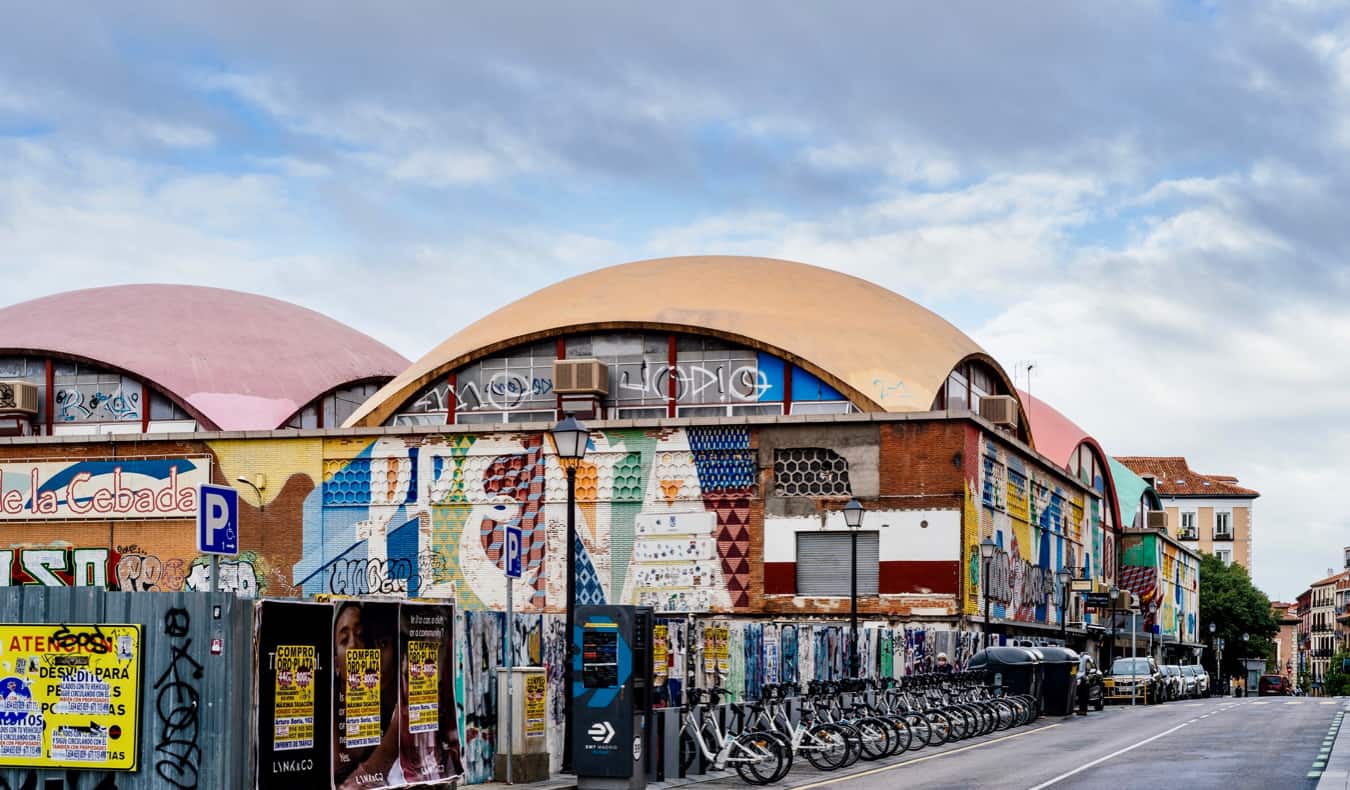 One of the most charming neighborhoods in Madrid, La Latina is also the culinary epicenter of the Spanish capital. In addition to the bounty that is Mercado de la Cebada (this neighborhood's market), streets are flanked by great tapas bars around Cava Alta and Cava Baja. It's a very popular place to go out for tapas – just be sure to get off these main two thoroughfares (which have become more touristy) and into the quieter streets for the local haunts.
Madrid itinerary: Day 4
El Retiro Park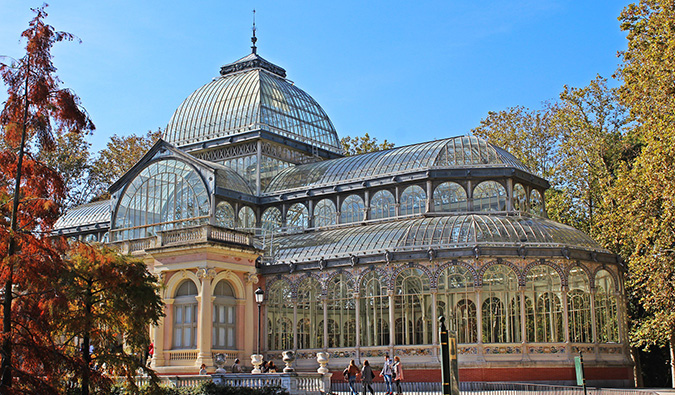 Officially known as The Buen Retiro Park, this is the main park of Madrid. A UNESCO World Heritage Site, it's the perfect place to relax on a sunny day. The park dates back to the 17th century and spans over 350 acres, making it the largest and most popular green space in the city. There is a large lake where you can hire a rowboat, a monument to the victims of the Madrid terrorist bombings (which killed 193 people and injured over 2,000 in 2004), and the Crystal Palace (a 19th-century conservatory that once held a human zoo).
Museo de la Historia de Madrid
Madrid's Museum of History opened in 1929 and sheds light on the city's evolution from the 16th century (when it became the capital) to World War I. It showcases daily life throughout the ages and offers a nuanced look at Madrid via artifacts, maps, paintings, and sculptures, including works by famous artists like Francisco Goya.
Fuencarral street, 78, +34 917 011 863, madrid.es/museodehistoria. Open Tuesday-Sunday 10am–8pm (7pm in the summer). Admission is free.
Círculo de Bellas Artes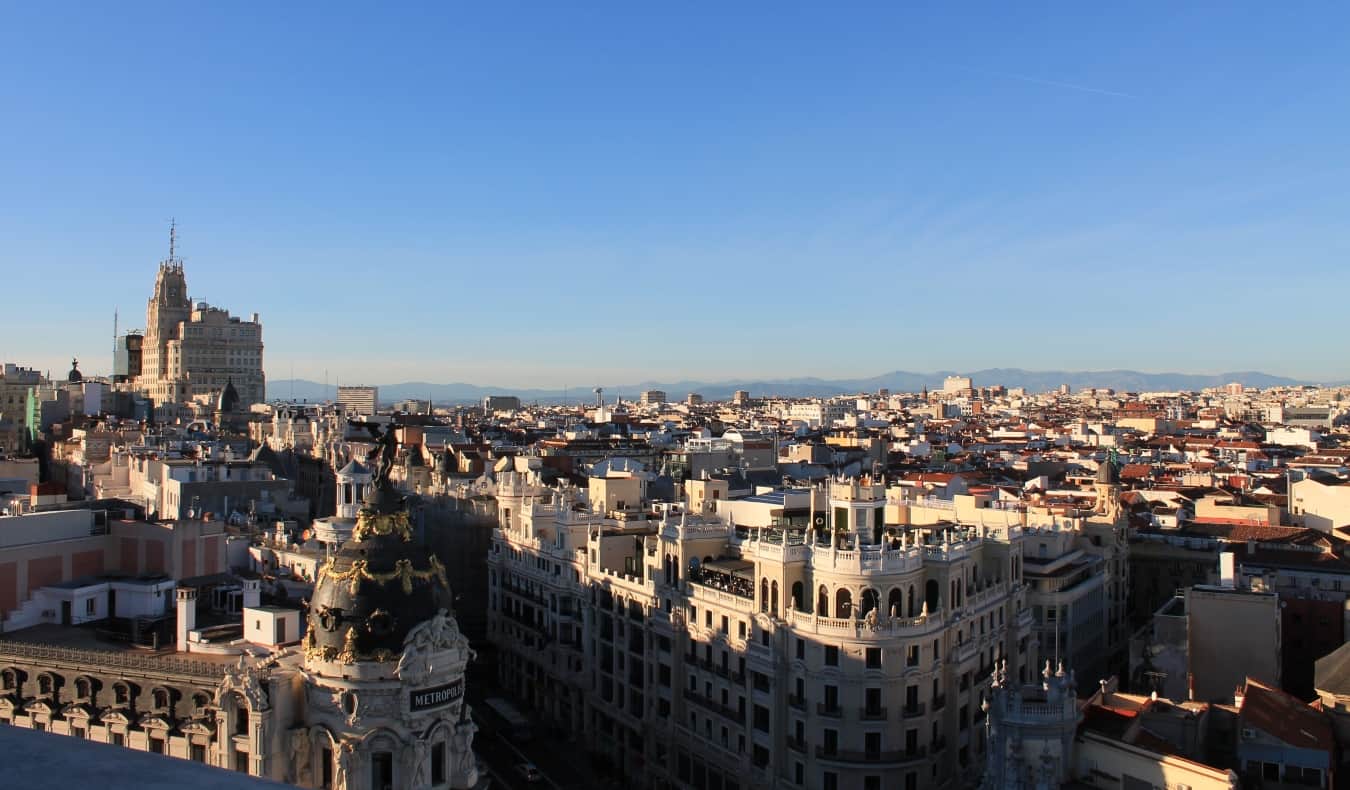 Founded in 1880 by a small group of influential artists, the Círculo de Bellas Artes (CBA), is one of the most important private cultural centers in Europe. It has exhibition rooms, a cinema, a theater, concert and lecture halls, artists' workshops, a library, a cafeteria, a rooftop, and many other facilities. But the main attraction here is really the rooftop, which offers spectacular views of Madrid and a unique perspective of the city's urban layout. There's also a bar/restaurant at the top to enjoy a snack or tapa while you're drinking in the views.
Alcalá, 42, +34 91 360 54 00, circulobellasartes.com. The rooftop is open daily, 10am-1am (until 1:30am on Fridays and Saturdays). Entry to the exhibitions and rooftop costs 5 EUR.
Other Things to Do in Madrid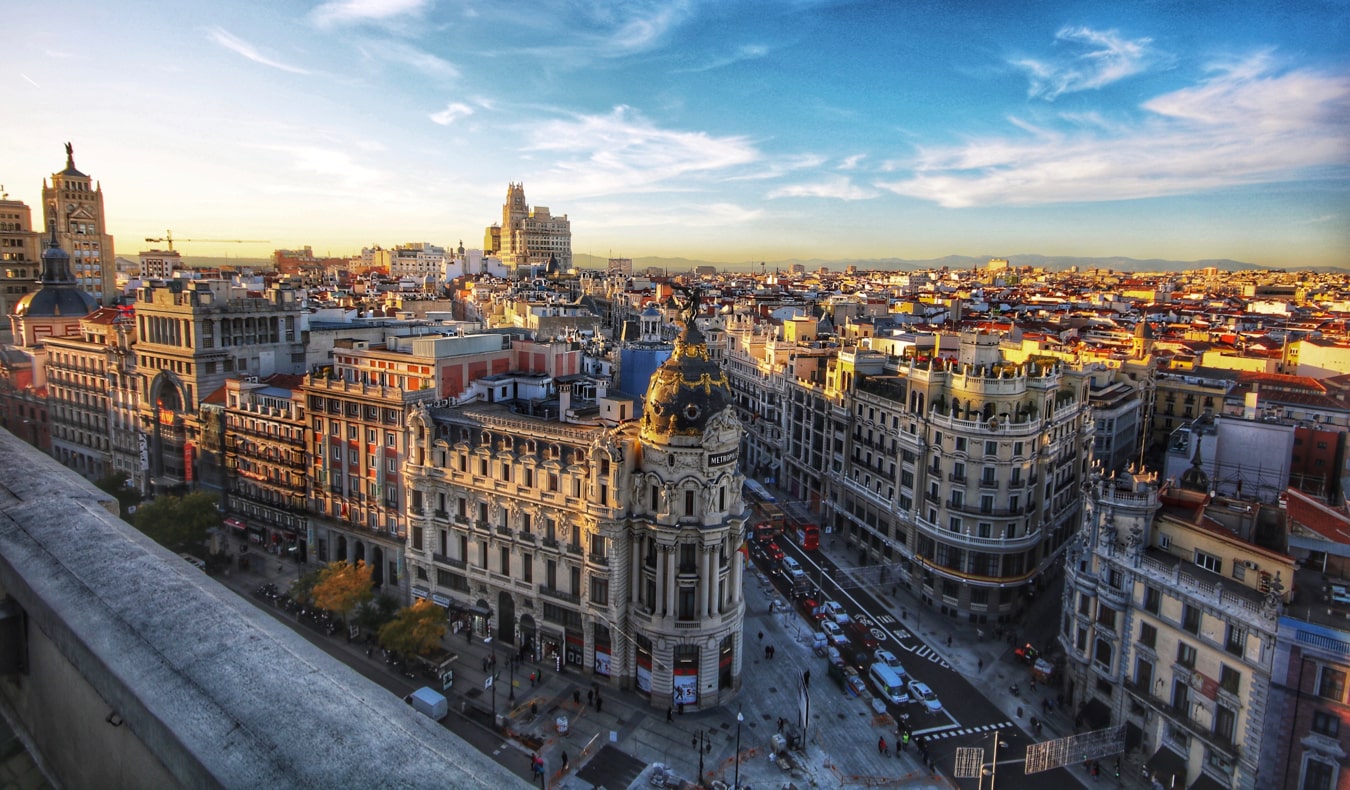 Wander the streets – Don't forget to just wander around Madrid and let chance happen. You never know where the day may take you when you walk out the door and get lost. It's a beautiful city to explore on foot.
Learn Spanish – If you have the time, learning the local language is the best way to immerse yourself in the culture, meet people, and deepen your understanding of the city. Spanish courses can last for a single week or longer. Many language schools offer a variety of affordable housing options, including staying with a local family. A one-week intensive course starts at around 200 EUR and there are usually discounts for packages and multi-week courses (the more you book, the more you save).
See the ancient temple of Debod – The Temple of Debod is an Egyptian temple from the 2nd century BCE. It was given as a gift to Spain by the Egyptian government as a thank-you for helping them relocate monuments from the Aswan Dam site (the Aswan Dam is the largest embankment dam in the world and was built across the Nile in the 1960s-70s). The temple was rebuilt in Spain between 1970-1972 and can now be found in Madrid's Cuartel de la Montaña Park. Although the inside of the temple is off-limits, you can still walk along the outside. It's closed on Mondays and admission is free.
Try Flamenco – Flamenco dancing is famous in Madrid, and you'll find plenty of opportunities in the city to see or learn this dancing style. Tickets for performances usually start around 20-35 EUR, while classes cost 15-30 EUR per hour.
Eat lots of ham – Spain is famous for its ham, and you'll find tons of places to enjoy it in Madrid. Just look for signs that say "Museum of Ham." There's no museum involved, just a lot of ham. Or visit the markets. Or the supermarket. Really, ham is everywhere. I'm pretty sure I ate a whole pig while in the city. God, I miss Spanish ham.
See a soccer match – Spaniards are crazy about fútbol, or soccer. Real Madrid, the capital's home team, is one of the most famous teams in the world. They play at Santiago Bernabéu Stadium, which has a capacity of over 81,000 people. Games here are super popular, and fans take them quite seriously. If they're playing during your visit, be sure to watch a game. It's an amazing experience! If you can't get to a game, you can always do a tour of the Bernabéu. Av. de Concha Espina, 1, +34 913 984 370, realmadrid.com. Open daily from 9:30am-7pm (10am-6:30pm on Sundays and public holidays). Tours are 15 EUR online or 18 EUR at the door, match tickets start at 35 EUR.
Shop at El Rastro – El Rastro is Madrid's Sunday morning (8am-3pm) flea market. Taking over numerous plazas and streets upon streets in the neighborhood of La Latina, stalls are grouped by theme: the antiques street, the vintage clothing street, the trading cards plaza, etc. Live musicians come out and play, there's street food to nibble on, and it's an incredible place to people watch. Just be extra aware of your things here, as the streets get incredibly crowded, and pickpockets are notorious for taking advantage of the chaos to swipe belongings.
Enjoy the nightlife in Malasaña – One of the hippest areas of the city, Malasaña is known to most Spaniards as being the center of the countercultural Movida movement, sparked when the Franco dictatorship ended in 1975. Today, it's filled with lively bars and clubs (and during the day, vintage clothing stores and ultra-cool cafes).
***
Madrid is one of Europe's most popular destinations, brimming with amazing food, a lively nightlife, and tons of things to see and do — no matter your interest or budget.
Fortunately, I've been able to visit many times since my first (unfortunate) visit, allowing me to enjoy the city's tapas, history, art, architecture, and crazy nightlife.
While the itinerary above packs in a lot of stuff, it represents a good starting point for planning your trip and managing your time. You'll find plenty of things to do and see in Madrid no matter what time of day it is or when you go. This city has a lot to offer!

Get Your In-Depth Budget Guide to Europe!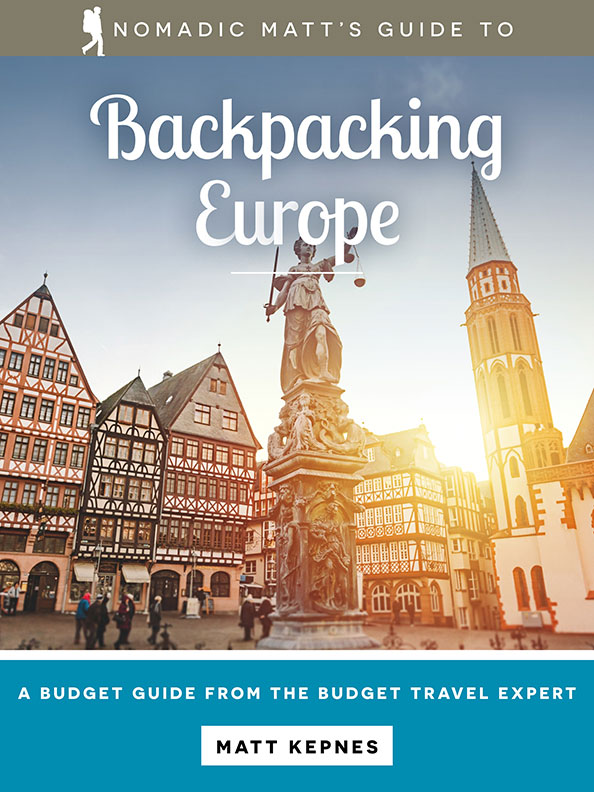 My detailed, 200+ page guidebook is made for budget travelers like you! It cuts out the fluff found in other guidebooks and gets straight to the practical information you need to travel and save money while backpacking around Europe. You'll find suggested itineraries, budgets, ways to save money, on and off the beaten path things to see and do, non-touristy restaurants, markets, and bars, and much more! Click here to learn more and get started!

Book Your Trip to Madrid: Logistical Tips and Tricks
Book Your Flight
Use Skyscanner to find a cheap flight. They are my favorite search engine because they search websites and airlines around the globe so you always know no stone is left unturned.
Book Your Accommodation
You can book your hostel with Hostelworld as they have the biggest inventory and best deals. If you want to stay somewhere other than a hostel, use Booking.com as they consistently return the cheapest rates for guesthouses and cheap hotels. My favorite places to stay are:
Don't Forget Travel Insurance
Travel insurance will protect you against illness, injury, theft, and cancellations. It's comprehensive protection in case anything goes wrong. I never go on a trip without it as I've had to use it many times in the past. My favorite companies that offer the best service and value are:
Looking for the Best Companies to Save Money With?
Check out my resource page for the best companies to use when you travel. I list all the ones I use to save money when I'm on the road. They will save you money when you travel too.
Want a Guide?
Madrid has some really interesting tours. My favorite company is Take Walks. They have expert guides and can get you behind the scenes at the city's best attractions. They're my go-to walking tour company!
Looking for more information on visiting Madrid?
Be sure to visit our robust destination guide to Madrid for even more planning tips!