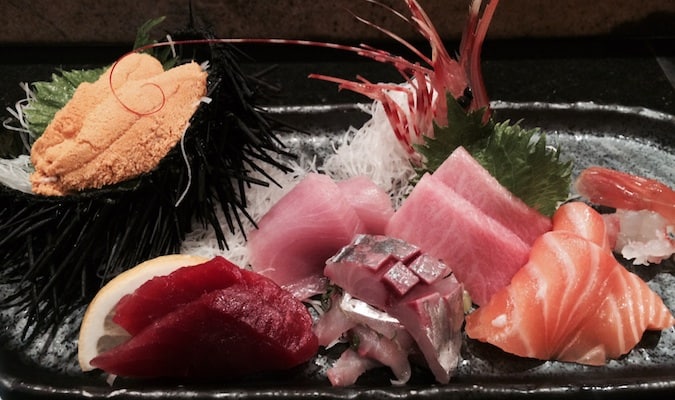 Last Updated: 10/25/20 | October 25th, 2020
In the past five months, I've driven over 12,000 miles on my cross-country book tour. I visited over 40 cities and ate hundreds of meals of varying quality: some were good, some thankfully very forgettable, and others of "OMG I can die happy now" quality.
These meals — whether in a high-quality sushi restaurant or a hole in the wall — showed me how delicious and diverse the food in America is.
After all those meals, here are my top 21 favorite restaurants in the United States where you can get delicious, high-quality, and affordable food. If you're road-tripping across the country or just visiting these cities, be sure to pop in to one of these restaurants.
1. The Daily Kitchen and Bar (Richmond, VA) — This place serves large-portioned salads, sandwiches, smoothies, and healthy dishes from a mostly organic menu. The food is of high quality and uses local ingredients when possible. With a friendly staff, large, open windows, and an outdoor terrace, it's the perfect place for lunch on a sunny day. thedailykitchenandbar.com.
2. Tupelo Honey (Asheville, NC) — So many people recommended this place to me, I had to try it. While the prices were more than I wanted to spend ($12 for the typical dish), the food and service were worth the splurge. On the weekends, the crowds come, so make sure you get there early. They are famous for their Bloody Marys and country soul food. I loved my Super Southern Breakfast Bowl with beans, grits, eggs, and bacon. tupelohoneycafe.com.
3. Acme Oyster House (New Orleans, LA) — Located off Bourbon Street in New Orleans, this tiny and dark restaurant fills up quickly (expect a line) with patrons who've come for the famous oysters. These meaty Gulf oysters are served on the half shell, or better yet, try them charbroiled — they are cooked to perfection. Skip their Bloody Marys though; they aren't that good. acmeoyster.com.
4. City Grocery (Oxford, MS) — If you're looking for a classy, upscale meal in a place with a wine bar and a romantic setting, check out City Grocery. The food is tasty, well portioned, and beautifully presented. Though the prices are not budget-friendly (a meal with wine will set you back $40), the meal was worth every penny. citygroceryonline.com.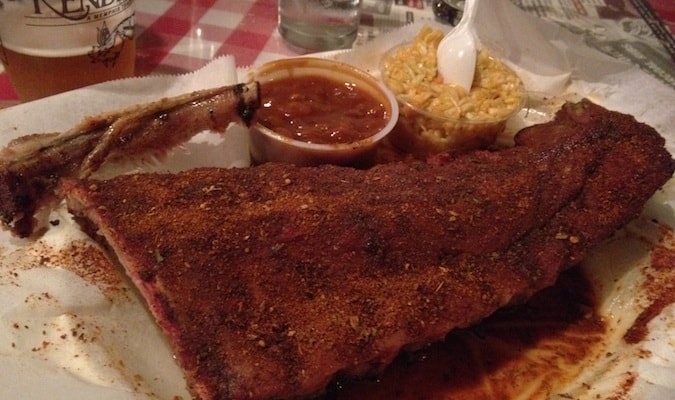 5. Charlie Vergos' Rendezvous (Memphis, TN) — Supposedly the best barbecue in Memphis, I liked the no-nonsense ordering: there's no dithering here, and the staff is blunt. The food comes fast and in large portions, with amazing rice and beans. My friend and I ate two racks of dry rub ribs that just burst with flavor. I could have even gone for a third rack, but my friend talked me out of it. I'm not sure I should have listened! hogsfly.com.
6. Gus's Fried Chicken (Memphis, TN) — Besides looking like the chicken place in Breaking Bad, this restaurant served the best fried chicken I've eaten in my life. The juicy, moist chicken with battered skin bursts with flavor in your mouth. It's freaking amazing! They also serve delicious fried green tomatoes and pickles. gusfriedchicken.com
7. Catalyst (Missoula, MT) — This is the best breakfast place in Missoula, with huge portions at incredible prices ($7–10 for a main course). Each meal is really two (so you'll have leftovers), and they have a wide range of hot sauces to spice up your food. You have to eat here if you are in town. Get the Heap or Breakfast Burrito. They were my two favorites. thecatalystcafe.com.
8. Marché (Nashville, TN) — This popular brunch spot (you'll find a long wait on the weekends) serves very traditional breakfast and brunch food (bacon, eggs, pancakes, etc.). Yet the simple menu provides superb quality, which explains the wait. For a solid, satisfying breakfast, Marché is the spot. marcheartisanfoods.com.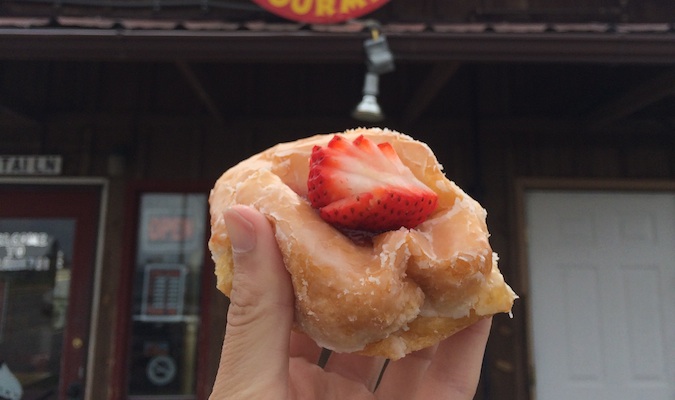 9. Granny's Gourmet Donuts (Bozeman, MT) — Though I don't normally eat donuts, this place came so highly recommended I had to try them. I'm glad I did. Not only are the donuts cheap (75 cents), they are sugary heaven! The strawberry donuts tasted as if sent from above. I ate four. My only regret is that I did not eat more. facebook.com/grannysgourmetdonuts.
10. Fong's Pizza (Des Moines, IA) — Recommended to me by a user on Twitter, this restaurant surprised me the most on my trip. It's an Asian-inspired pizza parlor. You wouldn't think Crab Rangoon, Kung Pao Chicken, or Hunan Beef pizza would be good, but you would be wrong — it's phenomenal. So is the potato skin pizza. Holy moly! With dozens of options to choose from, this restaurant serves a food combo that just shouldn't work but does. I hope they open a branch in NYC! fongspizza.com.
11. Five on Black (Missoula, MT) — Healthy lunch bowls at a reasonable price. It's a "build your own bowl" place so you can choose from a rice or salad base, various meats, sauces, and toppings with a Mexican flair (No, it's not like Chipotle…OK, maybe a little). The restaurant was crowded every time I went. Be sure to try the mango BBQ sauce. fiveonblack.com.
12. The Wandering Table (Spokane, WA) — A low-key restaurant serving a small menu but extremely delicious food. I loved the trout. There's an extensive wine menu, and the bartenders can make a really good Old Fashioned. While I ended up spending about $30 for my dinner, it was worth the splurge. thewanderingtable.com.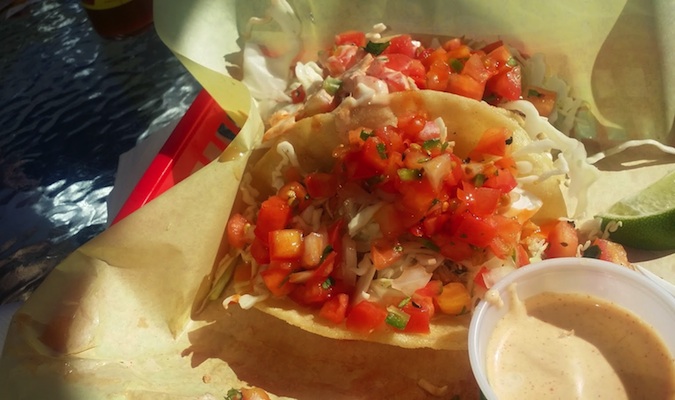 13. Tony's Crab Shack (Bandon, OR) — This little seafood shack was one of my favorite stops on the tour (Thanks, Yelp!) and serves inexpensive Pacific oysters ($1.75 each) and fish tacos so yummy they typically run out! My friends and I kept ordering, not because we were hungry but because we couldn't stop eating. You can get beer and wine here too, and the staff is super friendly and talkative. A great little place! tonyscrabshack.com.
14. Naan-N-Curry (San Francisco, CA) — I walked into this place because it was across from my hotel and I was craving Indian food. Going for the closest option turned out to be a wise idea. When tables full of Indians are eating at a place, you know it is going to be the real stuff. The naan was bigger than my face (and only $1), and the curries came in large portions and were spicy and full of flavor. I'm no Indian food expert, but this was damn good. Some of the best I've had in a long time. naancurry.com.
15. The Old Siam Thai Restaurant (San Francisco, CA) — After living in Thailand, I'm quite picky about my Thai food. Nothing in the United States really compares, and I'm always filled with disappointment. However, this restaurant was some of the best I've had outside Thailand. The very traditional menu was as close to what you'd get there. Highly recommended for Thai food lovers.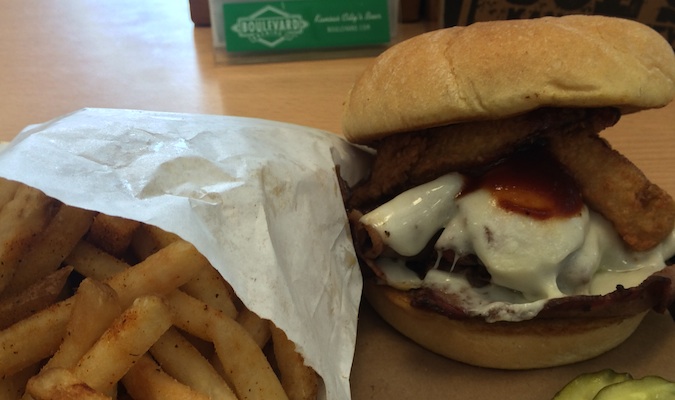 16. Joe's Kansas City Bar-B-Que (Kansas City, MO) — Trying BBQ restaurants was something I tried to do as often as possible. When I pulled into KC, I was told over and over again "Go to Joe's!" so I did…twice. Everything everyone said about it was an understatement. While they're famous for their Z-Man brisket sandwich, I found their pulled pork to be the best. Toss on gallons of their BBQ sauce and I can see why everyone keeps coming here. Expect long waits. joeskc.com.
17. Tilt (Portland, OR) — Serving gigantic portions of burgers and fries, this bar has an outdoor patio and industrial vibe to it. The food is delicious and the bar has a wide selection of micro-brew beer. Don't like beer? The bartenders make mean cocktails too. It's one of my favorite hangout spots while I'm in Portland.
18. Dan Tana's (Los Angeles, CA) — One of the oldest Italian restaurants in Los Angeles, this place used to be frequented by Frank Sinatra. A small place with dark wood paneling and checkered tablecloths, it looks straight out of the 1960s, with a very traditional (and expensive) menu. The food here is divine, just like your imaginary Italian grandmother used to make. It's full every night, so be sure to make reservations.dantanasrestaurant.com.
19. Sushi Ota (San Diego, CA) — This was the best sushi I had during my trip. The toro (fatty tuna) melts in your mouth, the uni (sea urchin) bursts with flavor, and the live shrimp is still moving when you eat it. The master chefs will keep serving you food until you tell them to stop. This is traditional Japanese — you eat the sushi exactly how it is put in front of you — and is easily one of the top five sushi meals I've had in my entire life. sushiota.com.
***
The United States has an abundance delicious food from coast to coast. My road trip barely scratched the surface, but if you too visit any of these cities or travel across the country, these restaurants will satiate your appetite.
Book Your Trip to the USA: Logistical Tips and Tricks
Book Your Flight
Use Skyscanner or Momondo to find a cheap flight. They are my two favorite search engines because they search websites and airlines around the globe so you always know no stone is left unturned. Start with Skyscanner first though because they have the biggest reach!
Book Your Accommodation
You can book your hostel with Hostelworld as they have the biggest inventory and best deals. If you want to stay somewhere other than a hostel, use Booking.com as they consistently return the cheapest rates for guesthouses and cheap hotels.
Don't Forget Travel Insurance
Travel insurance will protect you against illness, injury, theft, and cancellations. It's comprehensive protection in case anything goes wrong. I never go on a trip without it as I've had to use it many times in the past. My favorite companies that offer the best service and value are:
Looking for the Best Companies to Save Money With?
Check out my resource page for the best companies to use when you travel. I list all the ones I use to save money when I'm on the road. They will save you money when you travel too.
Want More Information on the United States?
Be sure to visit our robust destination guide on the United States for even more planning tips!